#TBT Seiko Sportsmatic 427980
Taking a Look at an Early Seiko Sports Watch
Today on #TBT we'll look at the Seiko Sportsmatic 427980. While it's not a landmark piece in any way, it represents an interesting transition in the brand's history.
The Seiko Sportsmatic 427980 isn't a particularly famous or collectible watch. It lacks a nickname or an association with someone or something famous. Instead, I'd classify it as a highly attractive vintage watch with some light sporting intent. And it just happens to take up a small corner in Seiko history.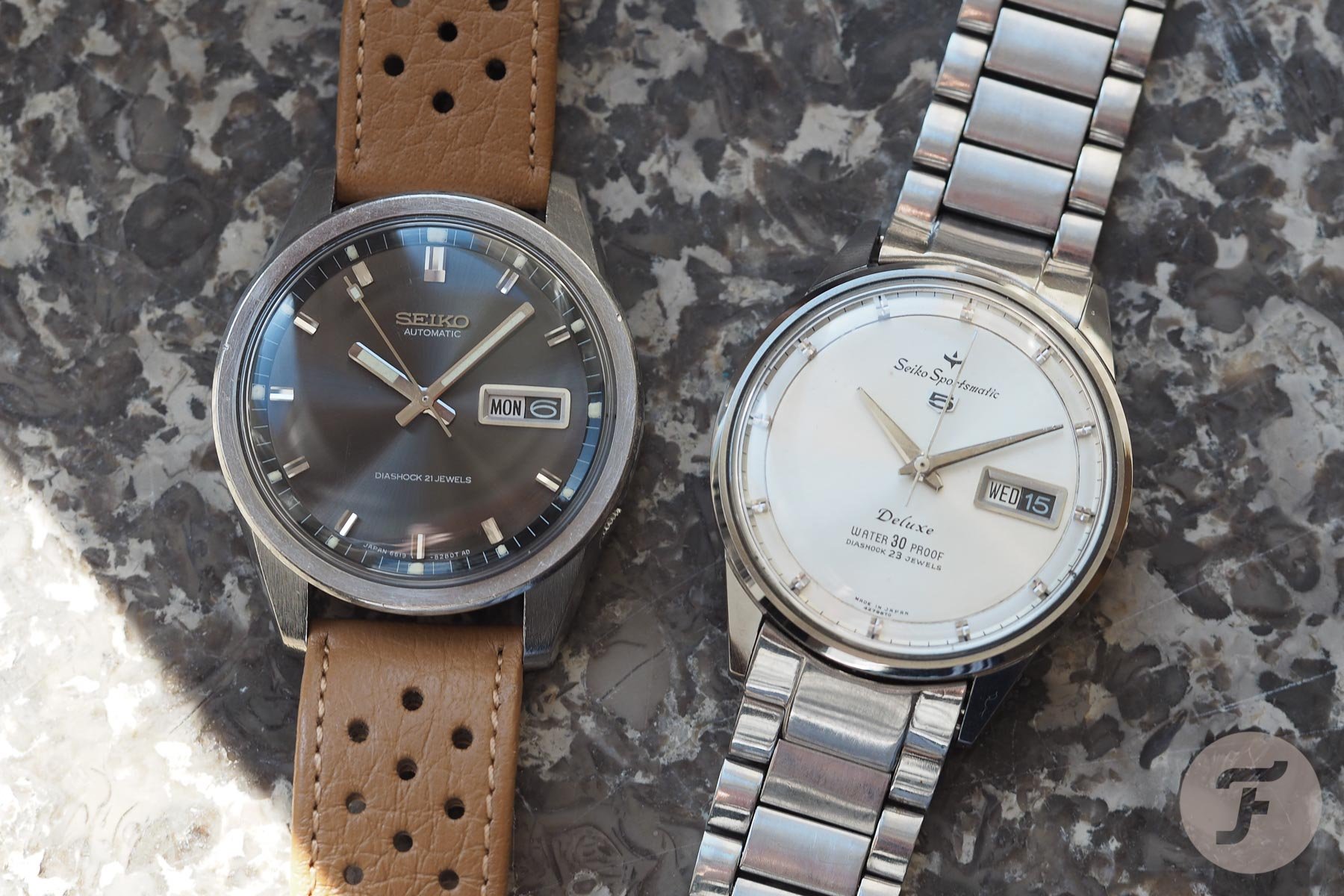 The Sportsmatic 427980 – A Transitional Watch
The Sportsmatic 427980 that sits before you was produced in 1964. That's an interesting year in Seiko annals primarily because it marked a change in the model naming system. Essentially, Seiko switched from numbers, often preceded by a "J" to an 8 digit format bisected by a hyphen. The old format was purely a number and gave no information on the movement.
Perhaps the 1964 Tokyo Summer Olympics inspired Japanese companies to modernize.
Other things also changed at this time such as the logo. Models like the 6217 "62MAS" ushered in the use of the block script that's still in play today. Older models used cursive script, a variety of fonts, and even symbols to signify the Seiko name. Perhaps the 1964 Tokyo Summer Olympics inspired Japanese companies to modernize. Either way, the Sportsmatic 427980 comes off as a bit of a holdout due to its old logo and script. To better illustrate the difference, see the 1967 Sportsmatic 6619 above next to today's subject.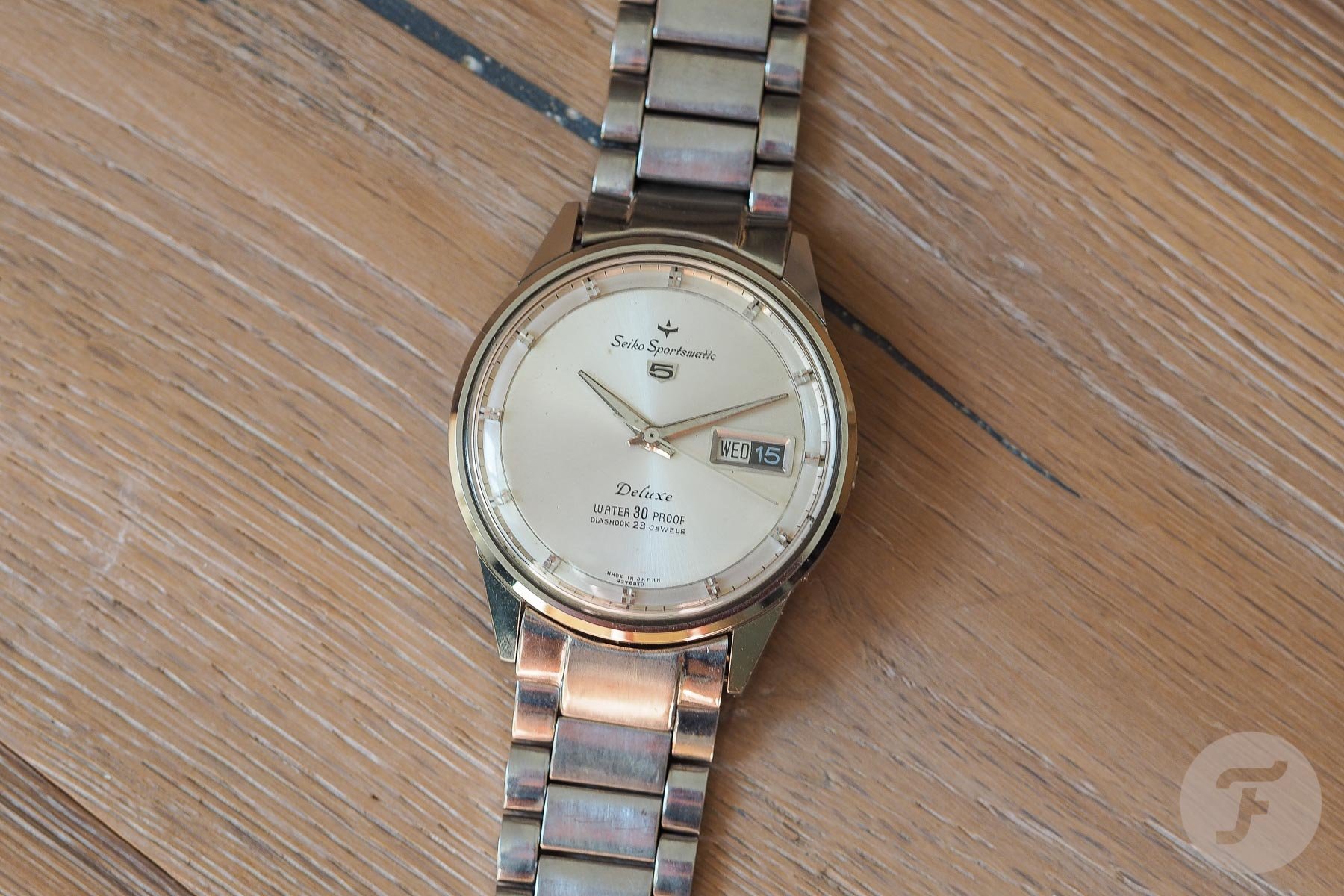 A Watch with Modern Proportions
While I've defined the Seiko Sportsmatic 427980 as old-fashioned compared to the changes at the brand, it's actually anything but. This stainless piece comes in at a satisfying 37mm in diameter and has a lug to lug of 44mm. That's not huge by today's standards, but it's definitely wearable. Unlike early 1960's watches, this one complements its 30 meter water "proof" claim with sporty, somewhat chunky, lugs.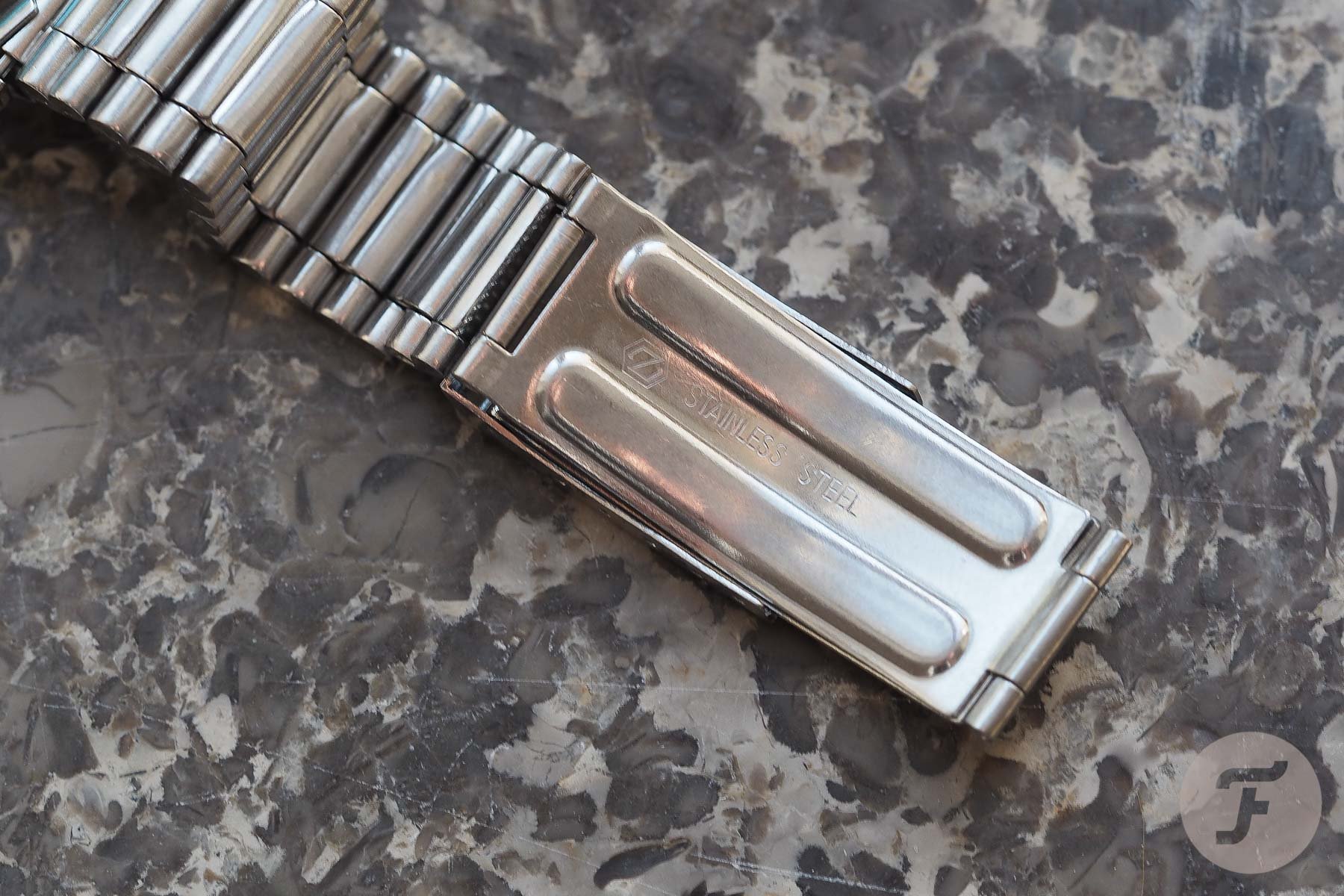 And then there's the bracelet. We often chide current Seiko bracelets, but I already found most 1970s offerings to be sharp, depilatory, and cheapish. that's not the case on the 427980. It's a well-executed Oyster design with removable links and a nifty snap clasp. Seiko resisted signing the outsides of the clasps in these days, but there's a cool little logo on the underside of one of its parts.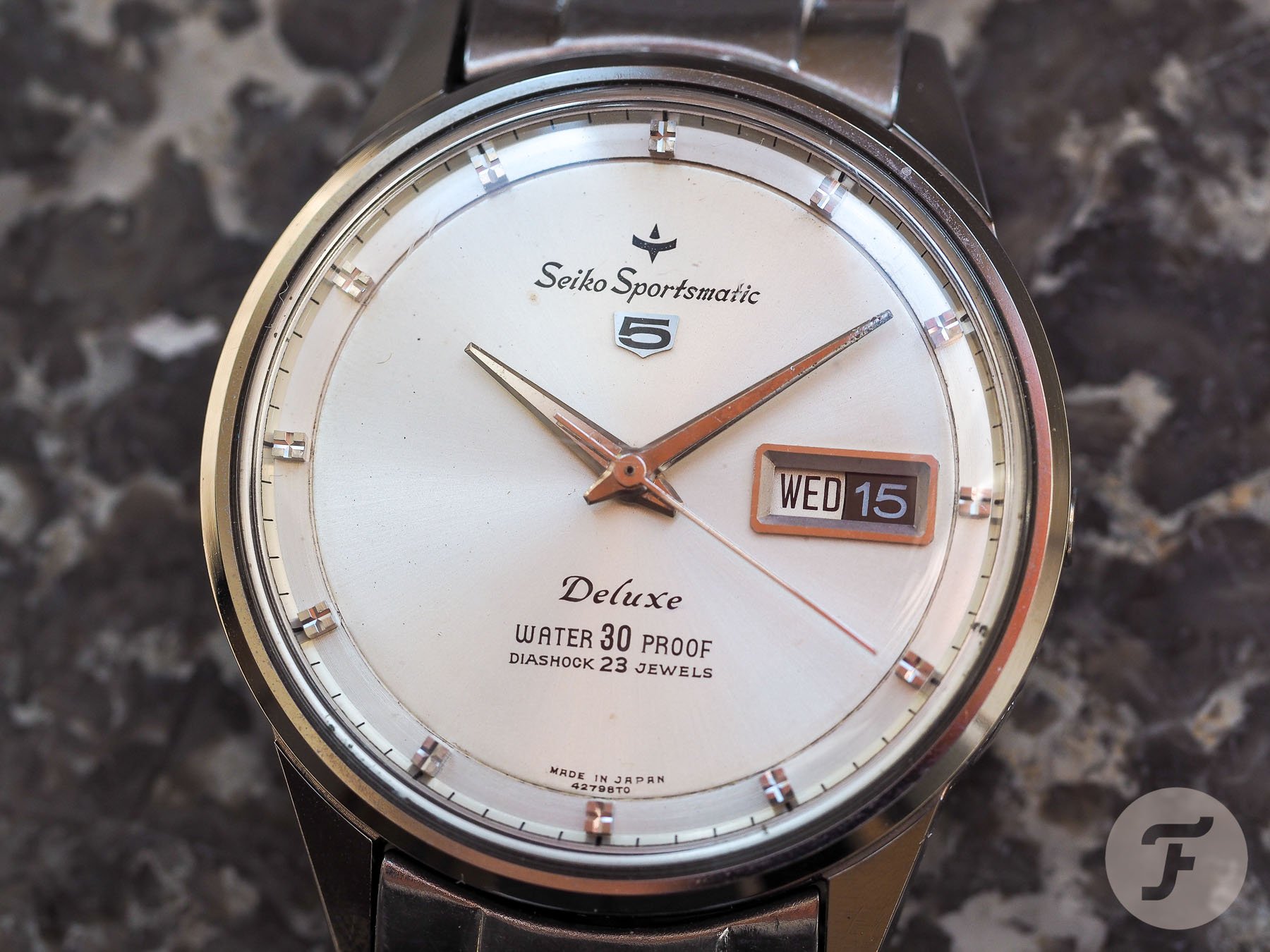 A Crisp, Clean Dial with Beautiful Details
What really drew me to the Seiko Sportsmatic 427980 was its dial. That sounds like a normal reason to buy a watch, but us Seiko geeks often buy purely for technical reasons. This watch has a silvery-white dial that, aside from some font and a day/date indicator, is damn near empty. It's downright sparse, especially on its left half. Seiko made a lot of dress watches during this period with similar looks and applied jewel-like indexes. I honestly find those too ornate for my taste, but this one struck my fancy for a couple of reasons.
The whole thing just comes off as cool and well-designed…
I love the applied "Seiko 5" shield, the waterproof statement, and the non-matching day and date wheels. The whole thing just comes off as cool and well-designed in my view. When one steps away, it's nice to think that someone likely spent so much time thinking about the composition of what could've been yet another anonymous dress watch.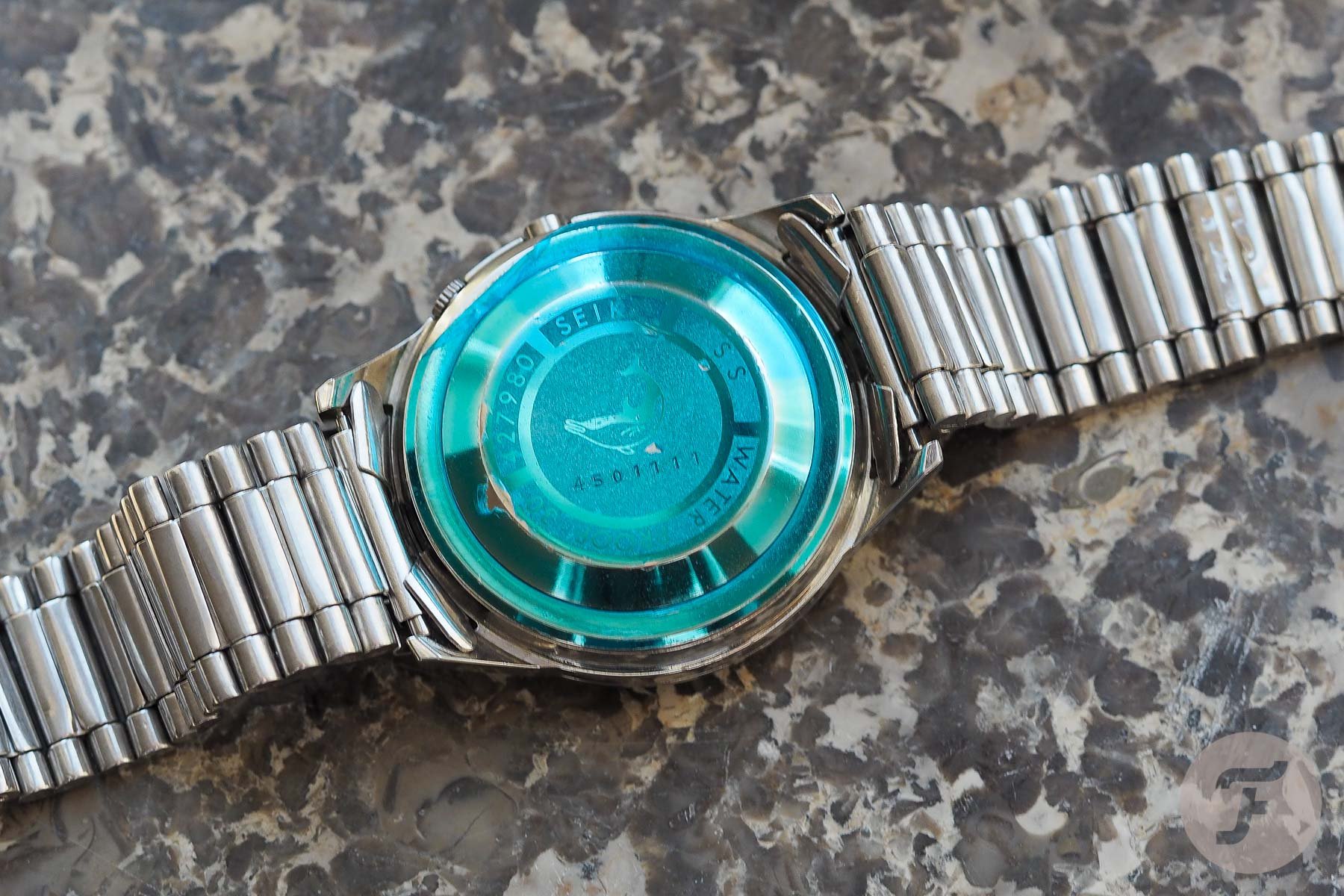 A Glorious Case Back
If you're a detail hound, you'll enjoy the other attribute that had me reaching for my wallet. The Sportsmatic 427980 has a glorious case back that typifies a lot of what Seiko was doing at the time. This one still has its protective blue sticker — the watch isn't NOS, but shows more "drawer" wear than anything else — but just look at that case back! The Dolphin is just perfect as is the alternating matte to polished finishing around it (the Dolphin was also on the 62MAS). These inscriptions weren't deeply engraved and finding one like this is difficult. If only for the condition of the snapback, I had to have it. I like the deeply inscribed scenes often found on watches today, but I do long for the simple beauty found on a watch like this.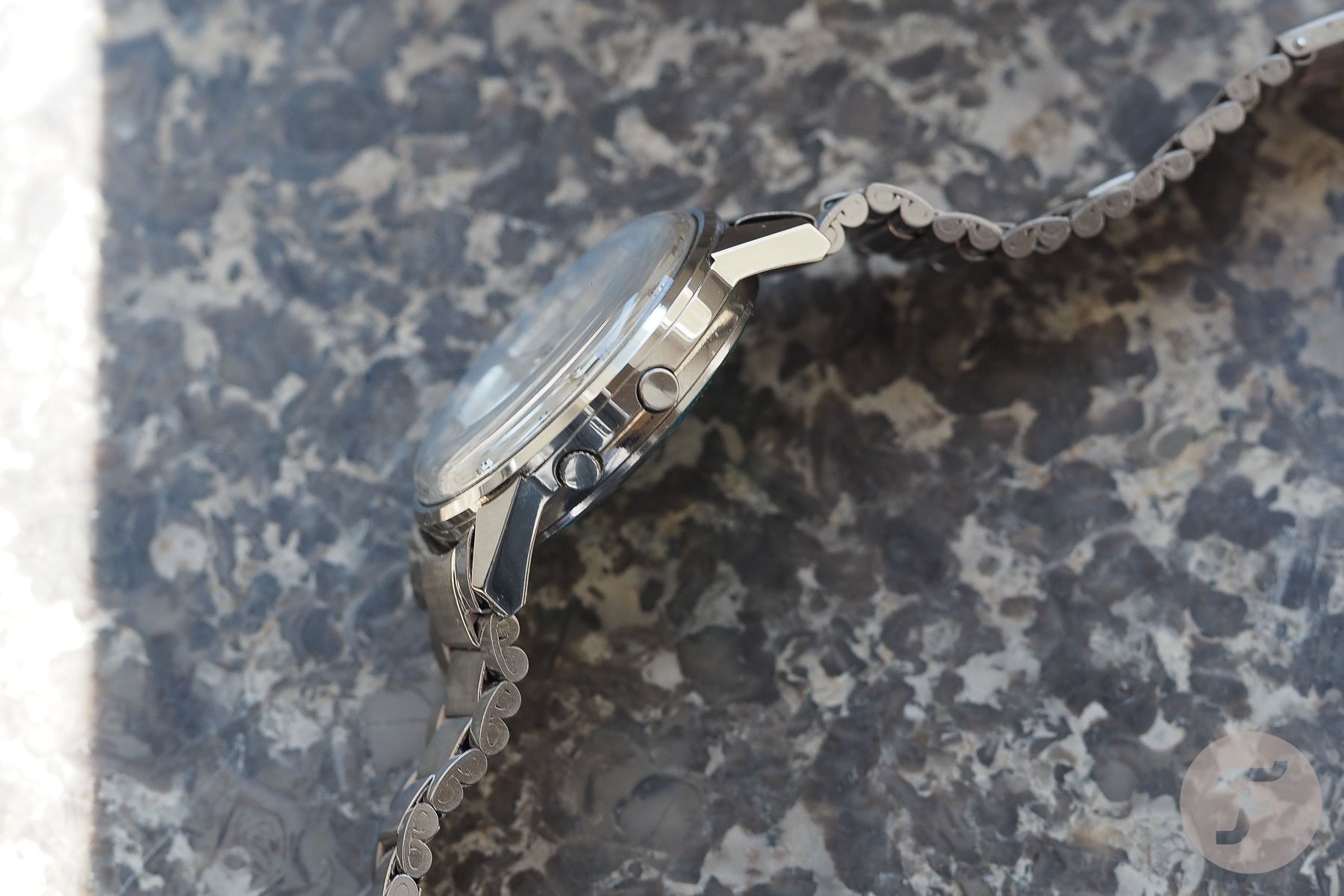 A Unique Movement
I've not removed the case back of the Seiko Sportsmatic 427980, but we can still talk about the movement. Here we have the Seikosha 7606a automatic is on timekeeping duty. It's a 23 jewel movement that cannot be hand wound — remember, this is a Seiko 5. Perhaps the most peculiar thing about it is that it uses two crowns. The normal time-setting crown is at 4 o'clock and it's painfully small to use — again, Seiko wanted you to set it and forget it. At 3 o'clock, we have an oddity that lasted from 1964 – 1967 during the production of the 7606a.
Seiko seemed to favor the push-button solution…
When the crown is depressed, the date changes rapidly. It's a weird stopgap solution from Seiko. Movements like the 6217 in the 62MAS used a typical crown twist to advance the date. Seiko seemed to favor the push button solution, though, as they would later introduce it into a single crown that handled time setting and date (and later, even the day) setting. Again, this doesn't make the 427980 super special, but I like to collect the evolution of things and this is a good example.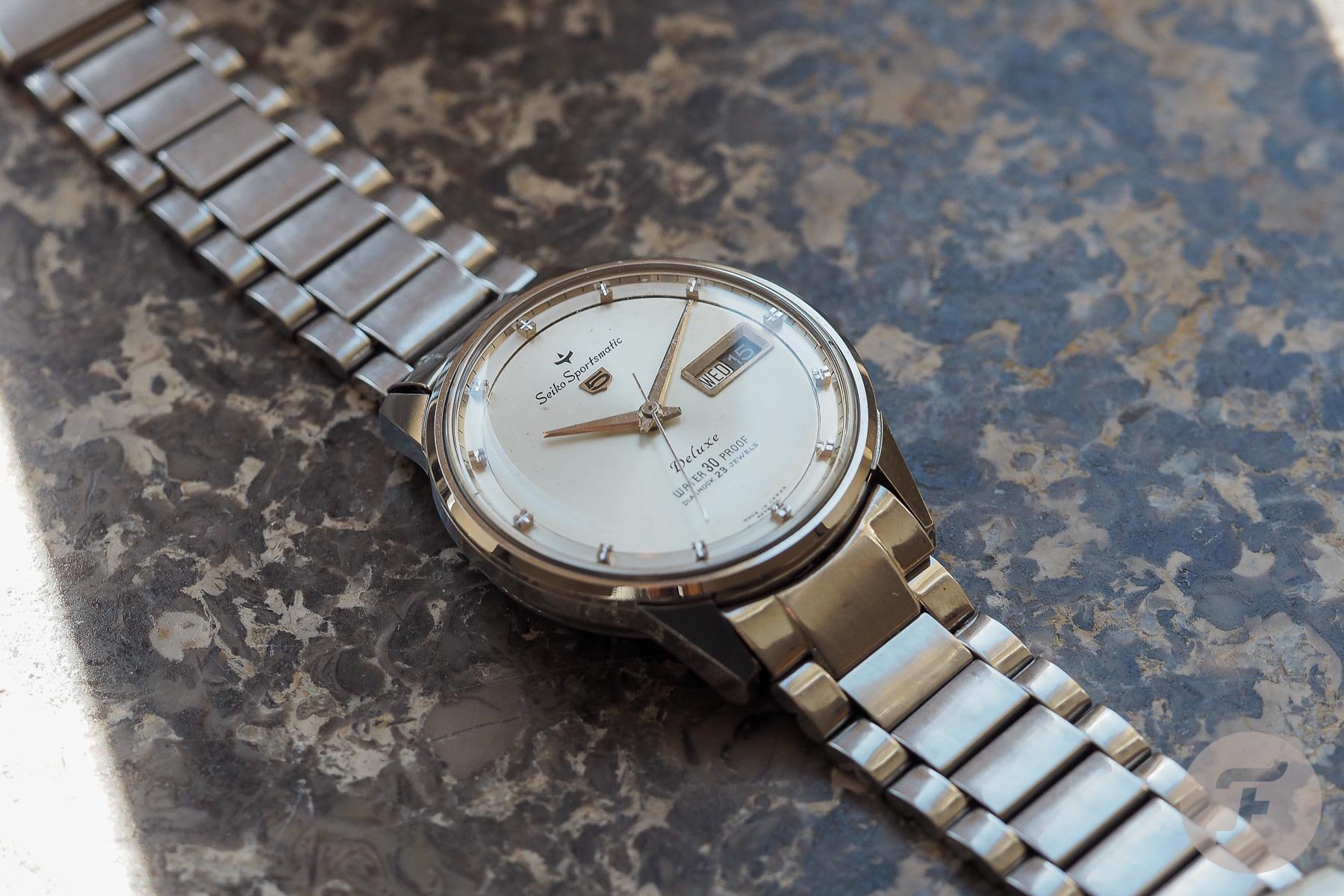 Finding a Sportsmatic 427980 and Final Thoughts
I sourced this Sportsmatic 427980 from Japan and I think it cost somewhere in the realm of $150. They're not overly common, but I have seen a few show-up for sale in this price range. There are some similar models using this movement and I've also seen gold plated versions. Whatever you choose, if the watch is working and only requires a light service, it's hard to lose at these prices. As said, this isn't a landmark Seiko design or model, but it represents great value along with a neat little slice of evolution in the brand's history.
Watch specifications
Dial
Silver White with Applied Indexes
Case Material
Stainless Steel
Case Dimensions
37mm Diameter, 44mm Lug to Lug, 13mm thickness, 19mm Lug Width
Case Back
Solid, Snap Back
Movement
Seikosha Caliber 7606A automatic, 23 jewels, non hand-winding, quickset date
Water Resistance
30 Meters
Strap
Seiko Stainless Steel Bracelet
Functions
Time (HH:MM:SS), Day, Date
Special Note(s)
Produced in 1964