The New Seiko Prospex 1970 Diver's Watches: Some History As New Willard Models Join The Lineup
The latest Seiko Prospex model will sit alongside the MM300
We take a look at the new Seiko Prospex 1970 Diver's Watch collection including a limited-edition tribute model to famed adventurer Naomi Uemura. These latest high-end Prospex models should please fans looking for an alternative to the "MM300."
These days, if you snooze off for a day or two, you miss something. Just a couple of weeks back, I focused heavily on the new 1959 Alpinist releases. In doing so, I overlooked the new Seiko Prospex 1970 Diver's Watch models. From a distance, I thought these were just some new variants of the "Willard" using the 6R35 movement. I was wrong, though. What we have here are new additions to the Prospex lineup with another new case and some differences to the dials. Before we get into the newest models, let's quickly run down the history of the Willard.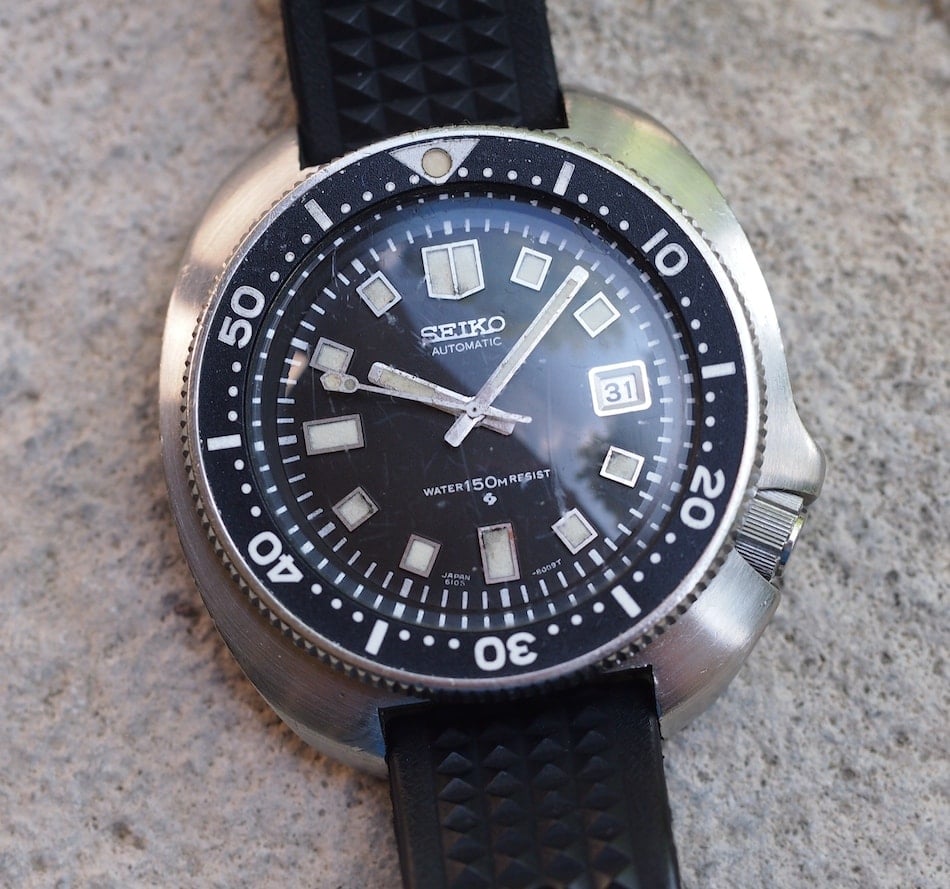 Seiko 6105-8110/9 "Captain Willard" — the original
The watch that started it all and inspired today's Seiko Prospex 1970 Diver's Watch models is the 6105-8110/9. This 44mm beast first debuted in 1970 and was made until 1977 when it was replaced by the equally iconic Turtle. These automatic 150-meter dive watches were popular amongst soldiers in Vietnam. As such, one found its way onto Martin Sheen's wrist during his portrayal of "Captain Willard" in Apocalypse Now. A clean design, a unique (but not so reliable) bayonet-style locking crown, and a stoplight seconds hand are just some of the key identifiers on this model. Vintage diver fans love these models and, because of this, they're rather valuable now.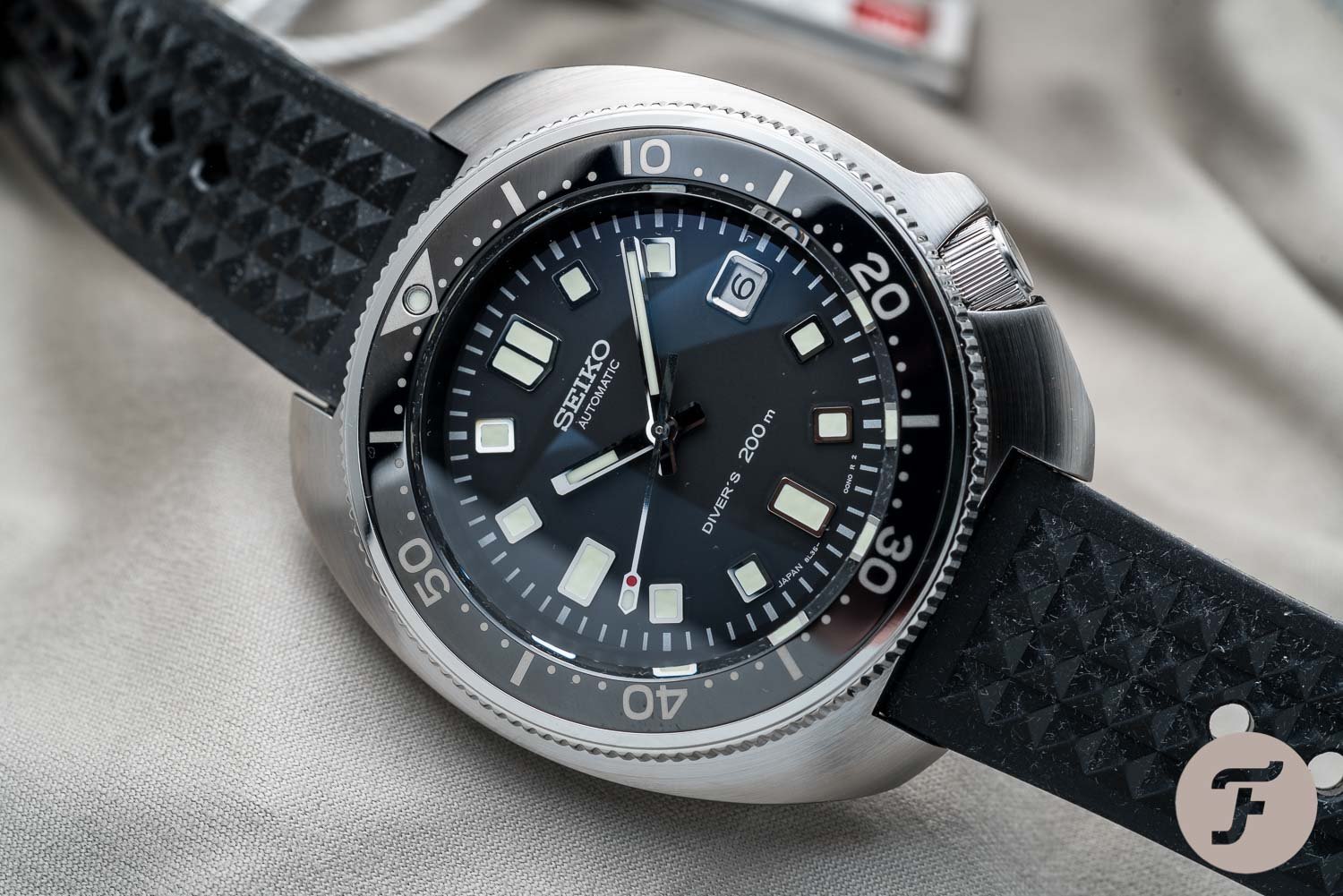 Seiko Prospex SLA033 1970 Diver — 2019
At Baselworld 2019, Seiko gave us the SLA033 1970 Diver Limited Edition. This watch followed the 2017 62MAS and the 2018 6159 reissues and brought the same high-end detailing to a beloved dive model. While the original 6105 was an affordable option during its run, this limited edition went down a far more expensive path. Seiko upped the case slightly to 45mm and brought water resistance to 200 meters. They also added Zaratsu polishing and the fantastic 8L35 automatic made in the Shizukuishi Watch Studio. The crown has the fabled "lock" inscription but is a traditional screw-down. They made 2,500 of these and they retailed for a fairly heady €4,350.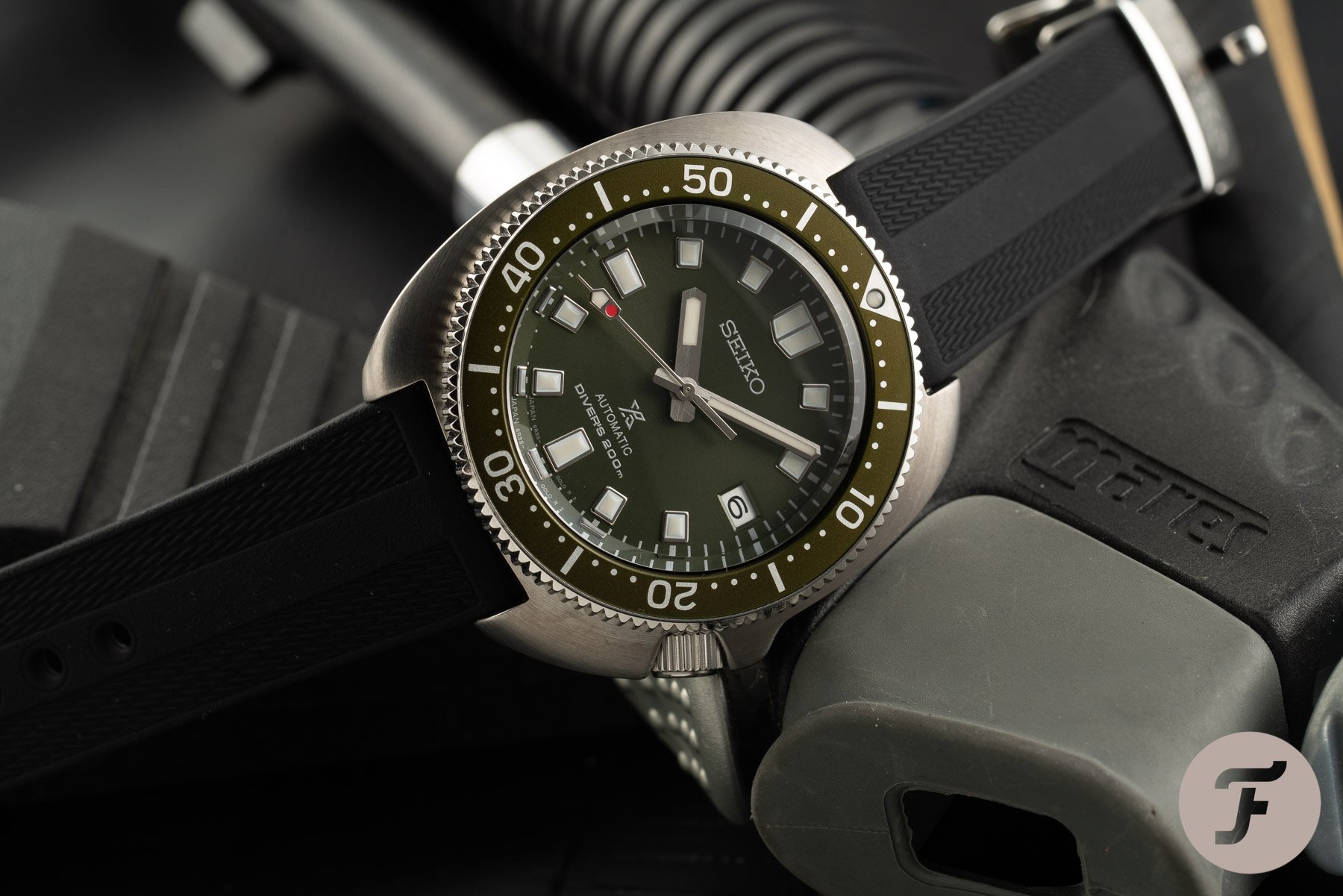 Seiko Prospex 1970 Diver Modern Reinterpretation — 2020
Hang on just a little bit longer. We're on the last stop of our recap journey before getting to today's Seiko Prospex 1970 Diver's Watch models. Normally, when Seiko releases a limited edition diver reissue such as the SLA033, they also come with a modern reinterpretation. For whatever reason, the Willard modern reinterpretations came a year later in 2020 and these were (and still are) big news. Seiko gave us the SPB151 (black on bracelet) and SPB153 (green on silicone) and forged a hit from the get-go in the world of relatively affordable divers. These 42.7mm by 13.2mm watches use the 6R35 automatic and come in between €1,150 and 1,350. People don't mind the Prospex symbol on the dial at all because these wear beautifully. Since their release, Seiko has added at least one limited boutique model in blue.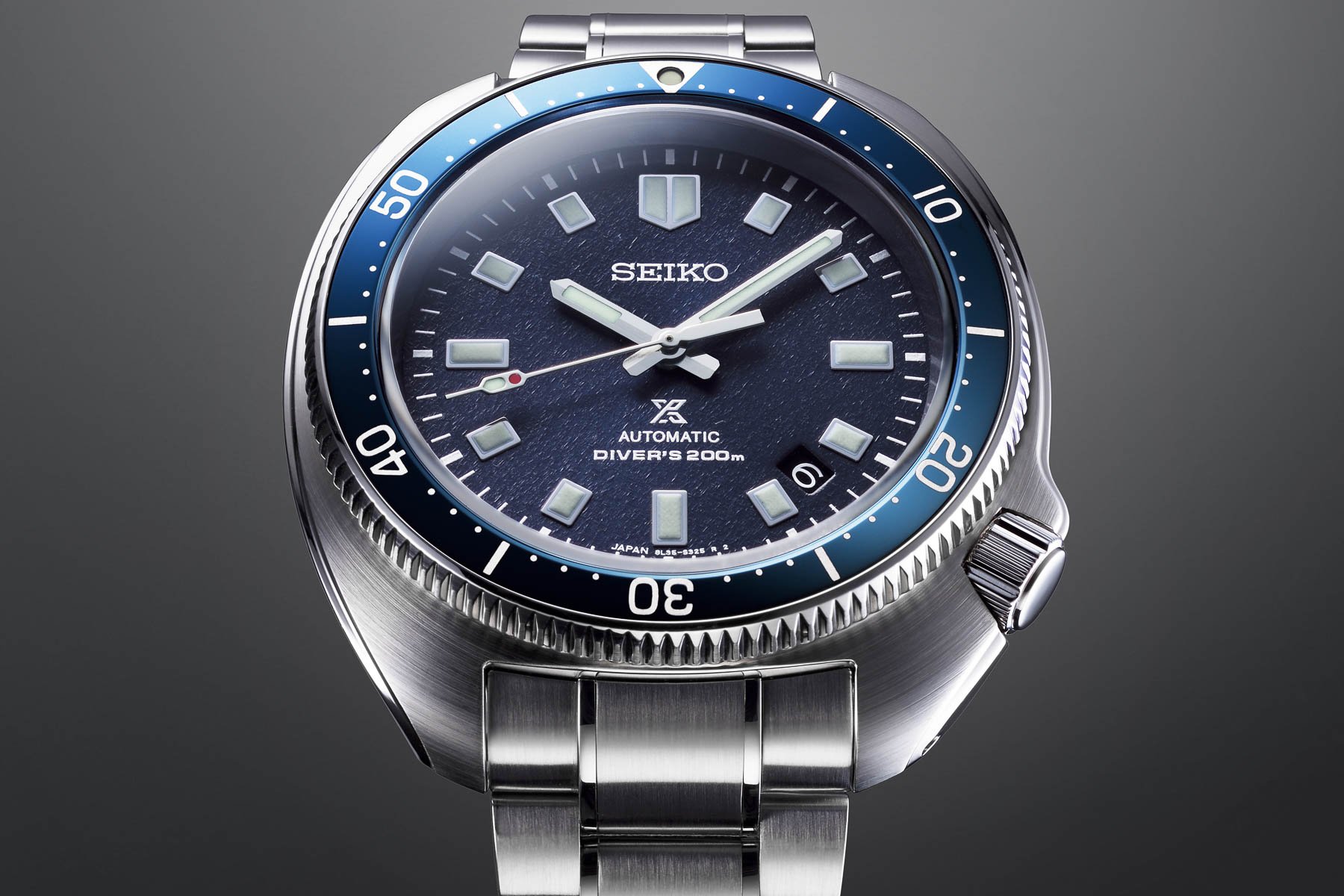 Seiko Prospex 1970 Diver's Watch models — today
After our trip down memory lane, it's time to discuss today's Seiko Prospex 1970 Diver's Watch models. Seiko also calls these modern reinterpretations of the original 1970 model, but these are definitely on the higher end of things. Initially, we will get two different models and both look really good. No matter which you choose, expect a historically correct 44mm diameter stainless case with super-hard coating and a thickness of 13mm. A curved anti-reflective sapphire crystal is standard. To help justify the premium pricing, Seiko brings in optically dazzling Zaratsu polishing and the same 8L35 automatic used on the SLA033.
These 200-meter watches feature cross-drilled lugs, unsigned screw-down crowns, and solid screw-in case backs. For the dials, we get the Prospex symbol and a curious date placement at 4:30. Some will moan about this, but Seiko stated a desire to provide a full luminous marker at 3 o'clock. Perhaps this was really in response to the new ISO requirement for lume at all hours? We also get the modern pointed hour hand just like in the lower-priced current models.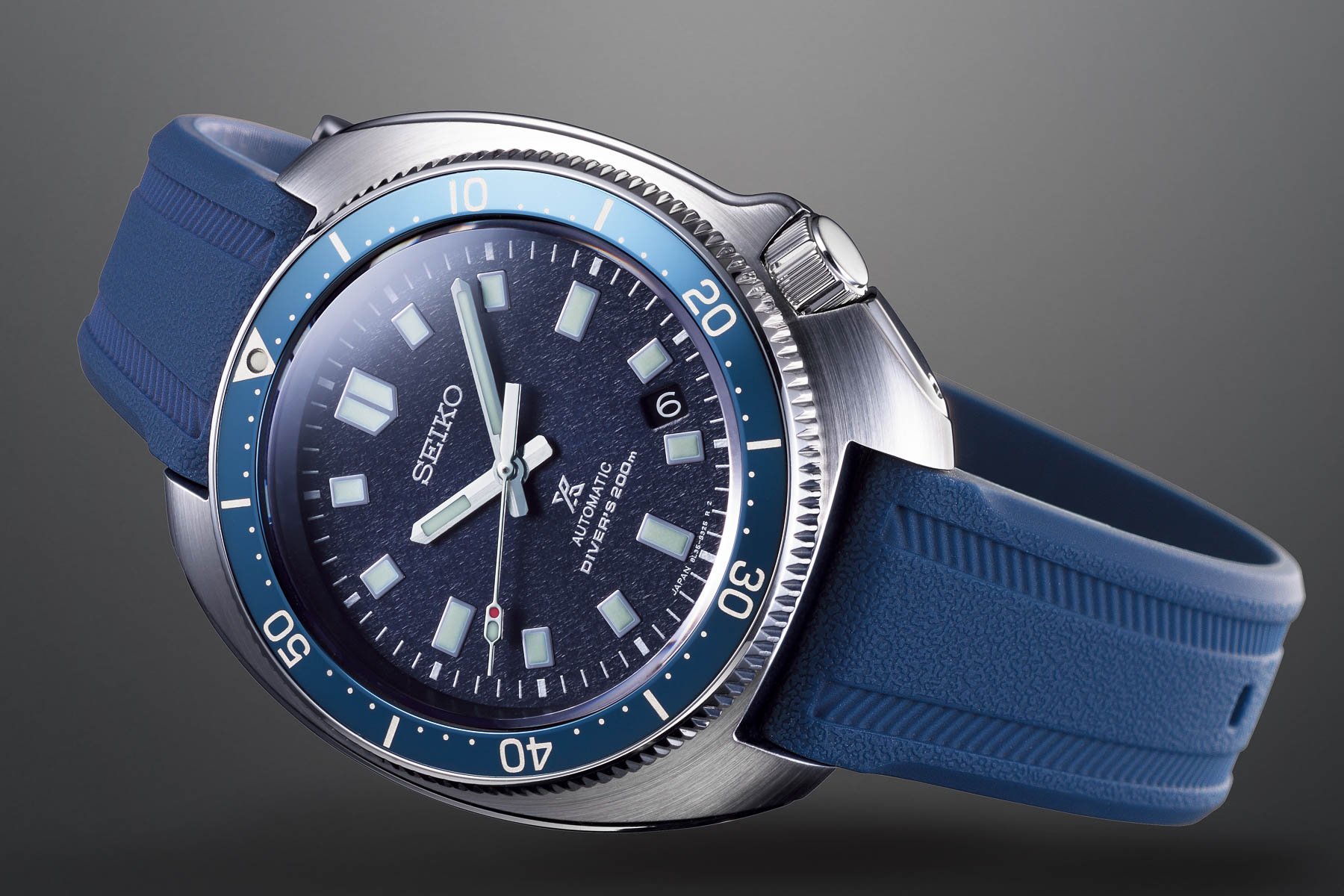 The SLA049 — 80th anniversary of Naomi Uemura
We've come to expect limited editions from Seiko, so today's news won't come as a surprise. The Seiko Prospex 1970 Diver's Watch lineup kicks things off with the SLA049. This watch is individually numbered to 1,200 pieces and celebrates Naomi Uemura's 80th Birthday. The famed, and sadly deceased, Japanese adventurer completed the five continents solo climbs during his lifetime. Notably, he wore a Seiko 6105 Willard from 1974–1976 when he completed a solo dogsled run from Greenland to Alaska. The Uemura limited edition features a textured dial that mimics the mountainous terrain. The color blue was chosen to represent the hue most often seen in earth's upper atmospheres. From the pictures, it seems that we have a black date wheel, which seems like a bit of an oversight. This watch will come with both a bracelet and a blue silicone strap. Pricing is set for €3,200 when the watches ship in July 2021.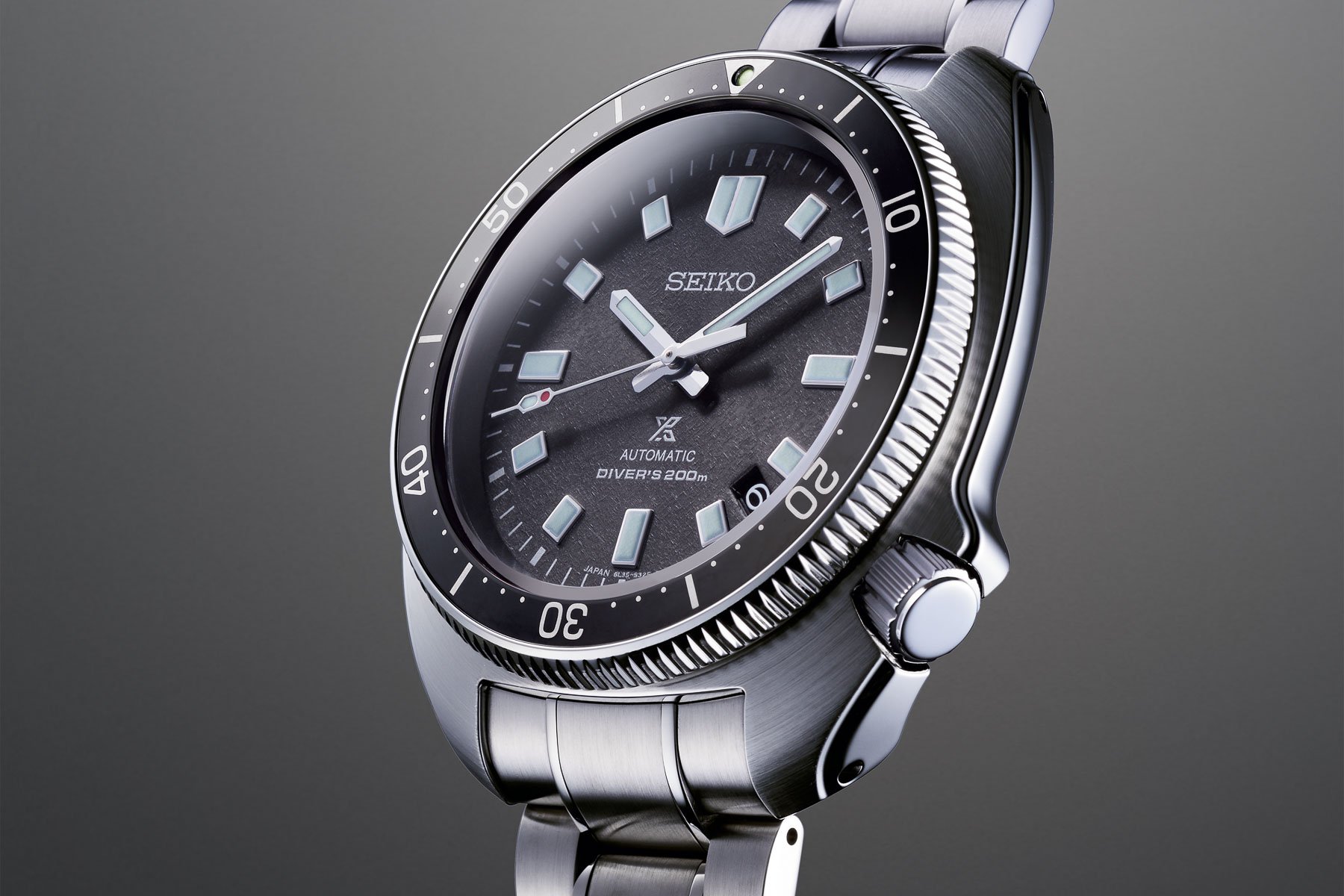 The SLA051 — the series production model
The Seiko Prospex 1970 Diver's Watch lineup also gains a regular production model as reference SLA051. This watch uses the same textured dial but in a charcoal grey hue. Just like on the blue version, Seiko is mum on the bezel inlay material composition. Unlike the limited edition model, this piece will only come on a bracelet. As a result, pricing is slightly lower at €3,000 when it arrives in July 2021.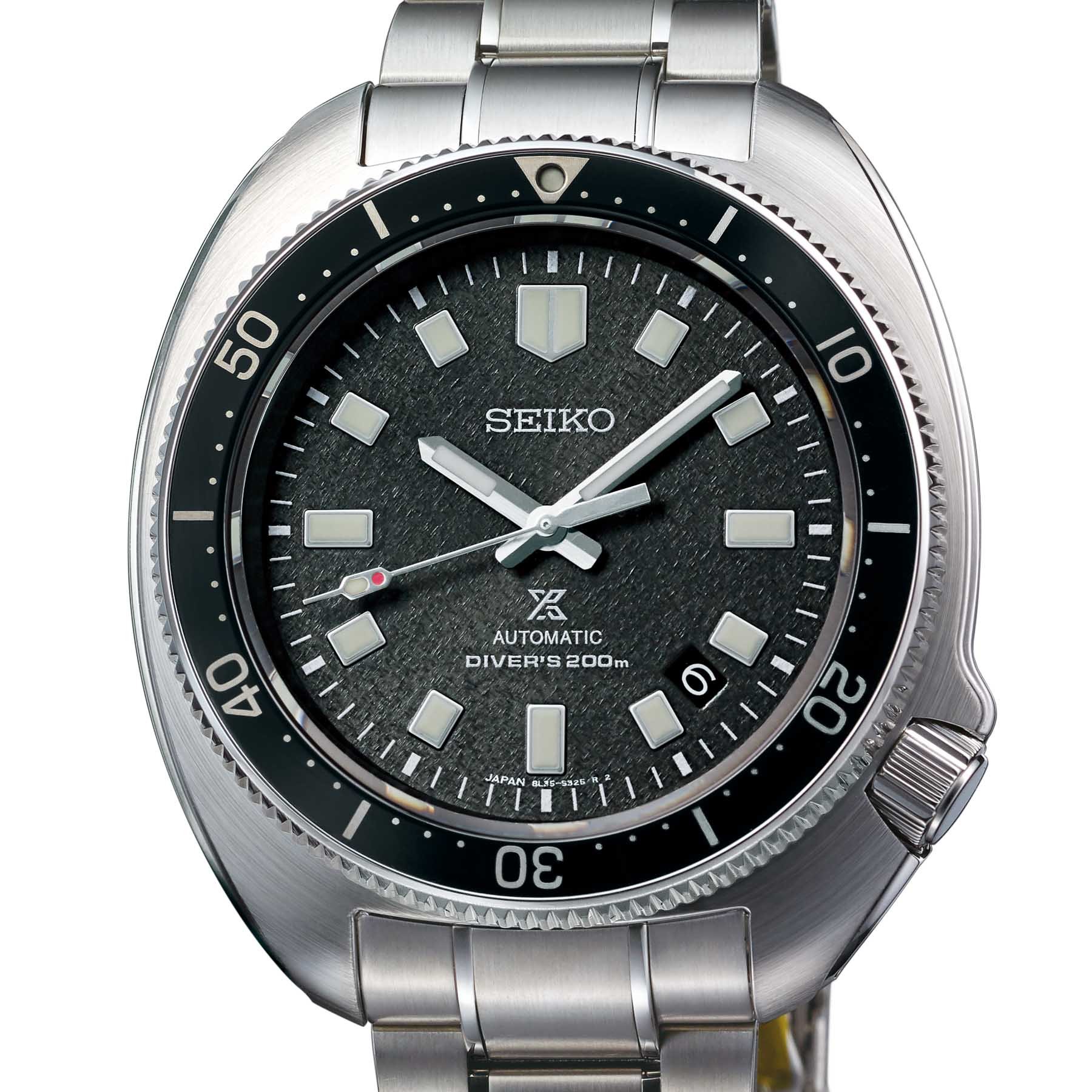 Thoughts and conclusions
I was a bit surprised to see these new Seiko Prospex 1970 Diver's Watch models. After all, this is now the third case type in this style within three years. Still, I've always felt that this is one of the brand's more unique designs and I'm happy to see models that offer a more wearable (translation: thinner) alternative to the similarly priced Prospex "Marinemaster" 300-meter diver. The biggest challenge I see with these models relates directly to Seiko. Namely, the lower-cost versions from last year don't look that much different.
In the metal, I am sure that these newest pieces will differentiate themselves due to the premium case finishing (they'd better) and textured dials. Plus, the movement is a clear difference-maker if you're familiar with what Seiko makes. Still, is there enough of a visual difference to make these feel special enough to spend nearly triple the money? Time will tell. For now, I'm happy to see a classic case silhouette make its way to more models and will look forward to seeing them as boutiques reopen.
For more information on the Seiko Prospex 1970 Diver's Watch models, visit the official Seiko site.
Watch specifications
Model
Prospex 1970 Diver's Watch
Reference
SLA049 (Blue) SLA051 (Charcoal Grey)
Dial
SLA049 (Textured Blue) SLA051 (Textured Charcoal Grey)
Case Material
Stainless Steel
Case Dimensions
44mm Diameter, 13mm Thickness
Crystal
Curved sapphire crystal with anti-reflective coating
Movement
Seiko caliber 8L35 automatic, 28,800vph, 26 jewels, 50 hours power reserve
Water Resistance
200 Meters
Strap
Stainless steel bracelet with dive extension, Blue silicone strap with pin buckle (SLA049 only)
Functions
Time (HH:MM:SS), Date, and External uni-directional dive bezel
Price
€3,200 (SLA049), €3,000 (SLA051)
Special Note(s)
SLA049 limited to 1,200 pieces. Both models available July 2021.