The Year of the Diver: Seiko Prospex at Baselworld 2018
Just like every year, Seiko is one of our favorite visits. They always bring some great limited edition pieces while updating their normal production line with competitive and attractive offerings. As always, there's a lot to see, so we'll break down the pieces into a couple articles. Today, we'll focus on the Prospex watches and we'll return with more on Grand Seiko, the Presage line and a few Astrons for good measure. Seiko Prospex at Baselworld 2018 was a big year for divers, especially with a look back at pieces 40 and 50 years ago – let's take a look.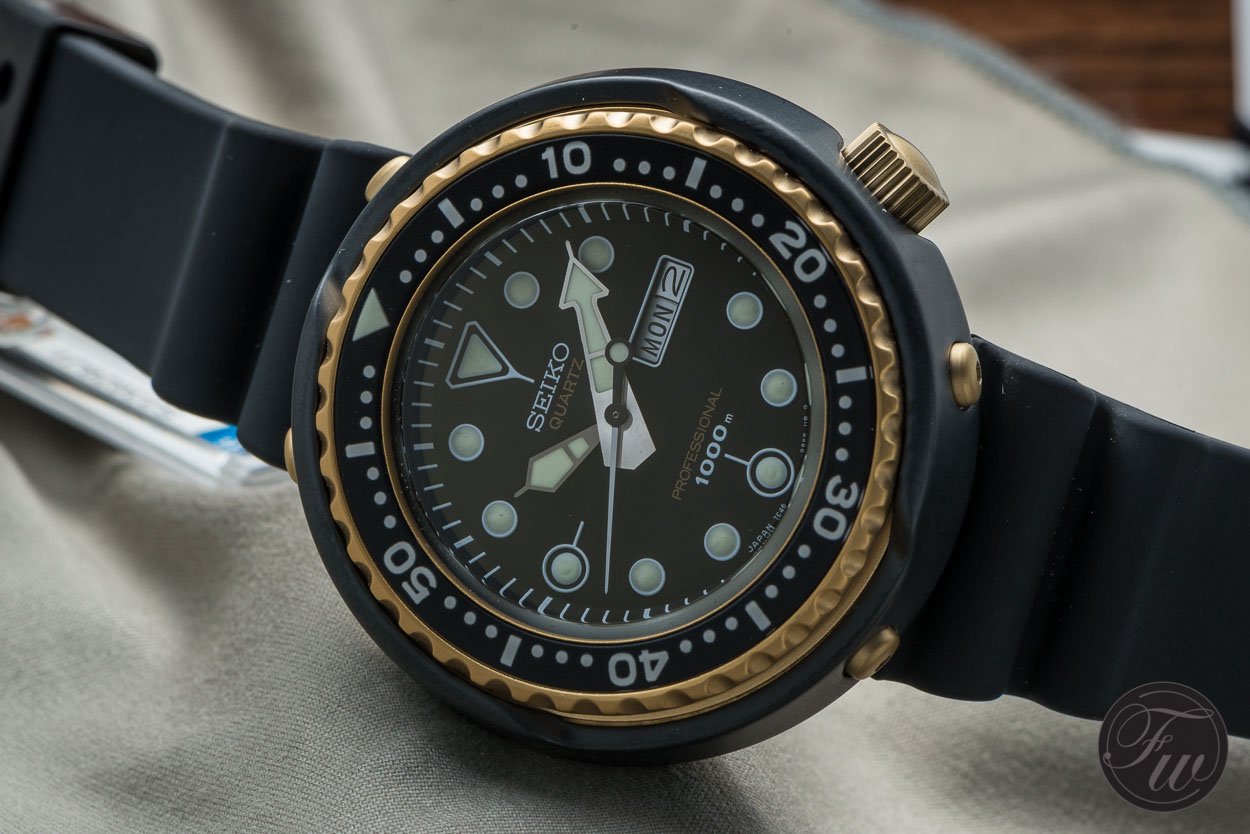 Seiko 1978 Quartz Saturation Diver's Re-creation Limited Edition  
We'll stay away from the mouthful of a name above and call this new piece from Prospex at Baselworld 2018 the Golden Tuna reedition (ref. S23626J1). Yes, it's been 40 years since the 7549 Golden Tuna was first released and the brand saw fit to commemorate the occasion with a reissue. Now, I have to admit, this is a great looking watch, but it is a bit of a strange one. Why is that?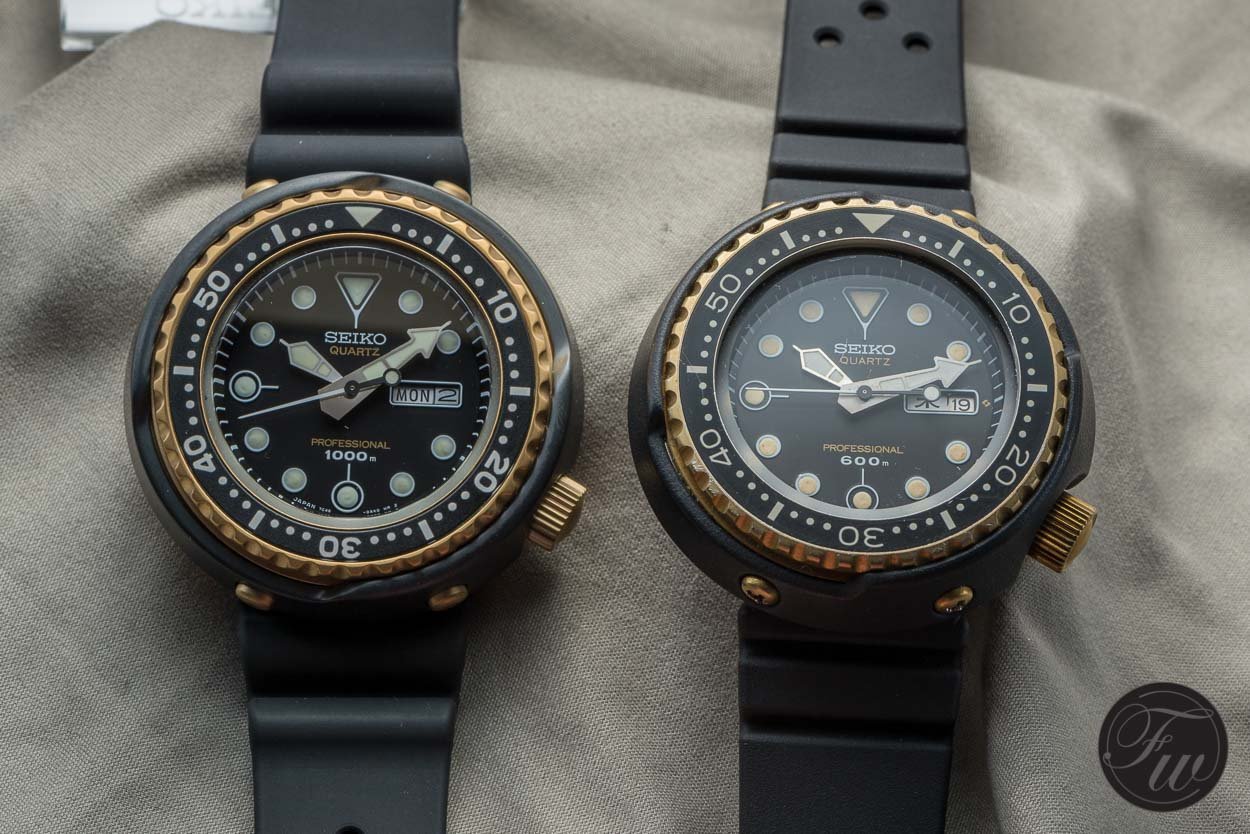 The original Golden Tuna (above) contained a 7549 movement and was water resistant to 600M. This new piece contains a 7C46 (that's fine and expected) but is resistant to 1000M. Essentially, due to the water resistance and movement used, it actually looks like the 2nd generation Golden Tuna that was released in the mid 1980's. Why Seiko didn't place 600M on the dial is beyond us, but the watch looks great nonetheless.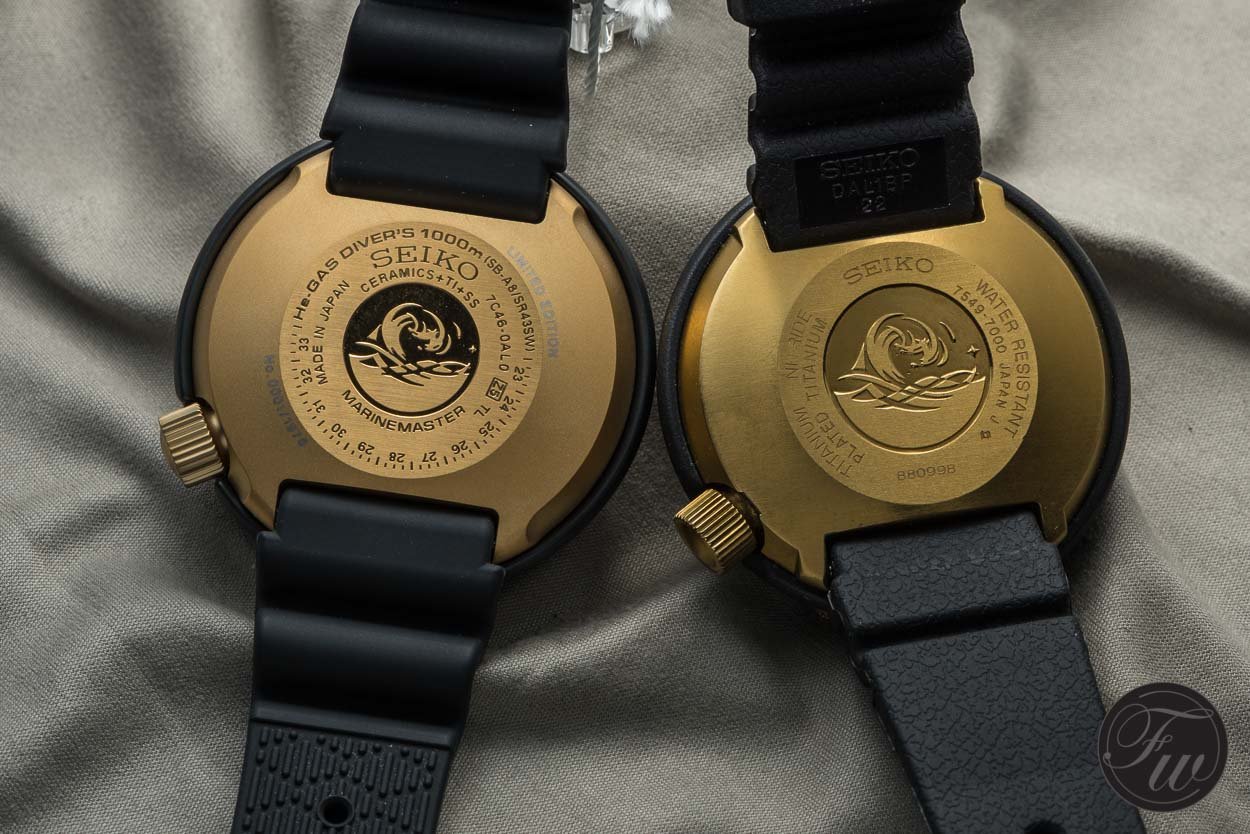 At just a shade under 50mm in diameter, the piece contains a titanium inner case and a zirconia shroud. The crystal is sapphire and it has Seiko's great new silicone band. This one isn't cheap at 2,400 Euros, but with only 1,978 being produced, we expect it will sell quickly. After all, who doesn't love a Golden Tuna?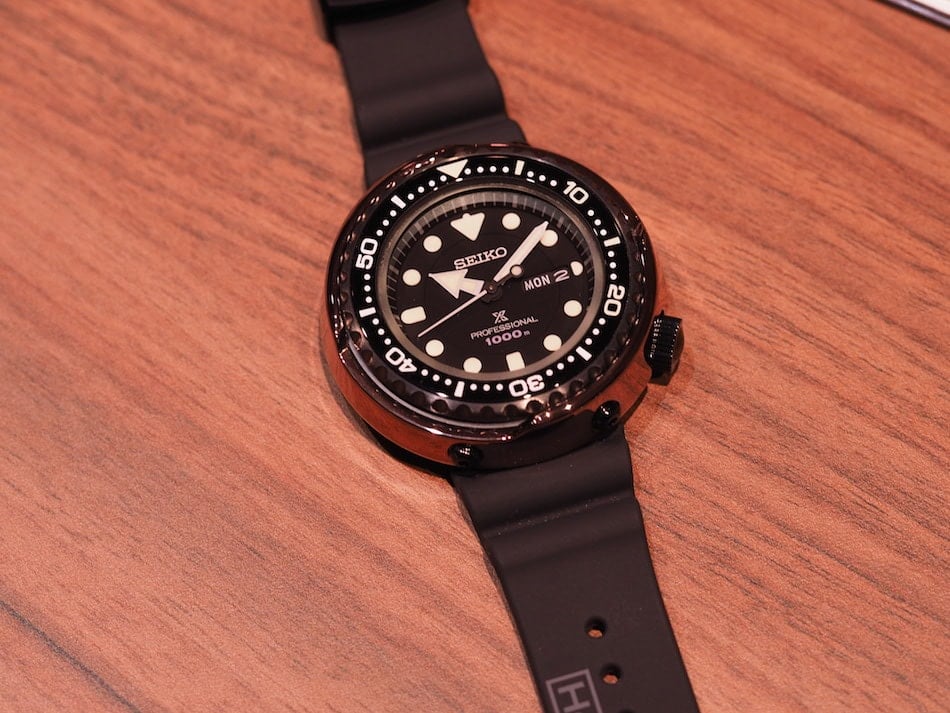 Seiko 1978 Quartz Saturation Diver's Commemorative Limited Edition  
We not only get a retro piece in celebration of 1978, but a new limited model (ref. S23627J1) to celebrate the date came from Seiko Prospex at Baselworld 2018. With this model, we get a violet gold-colored "Cermet" ceramic shroud and black titanium case.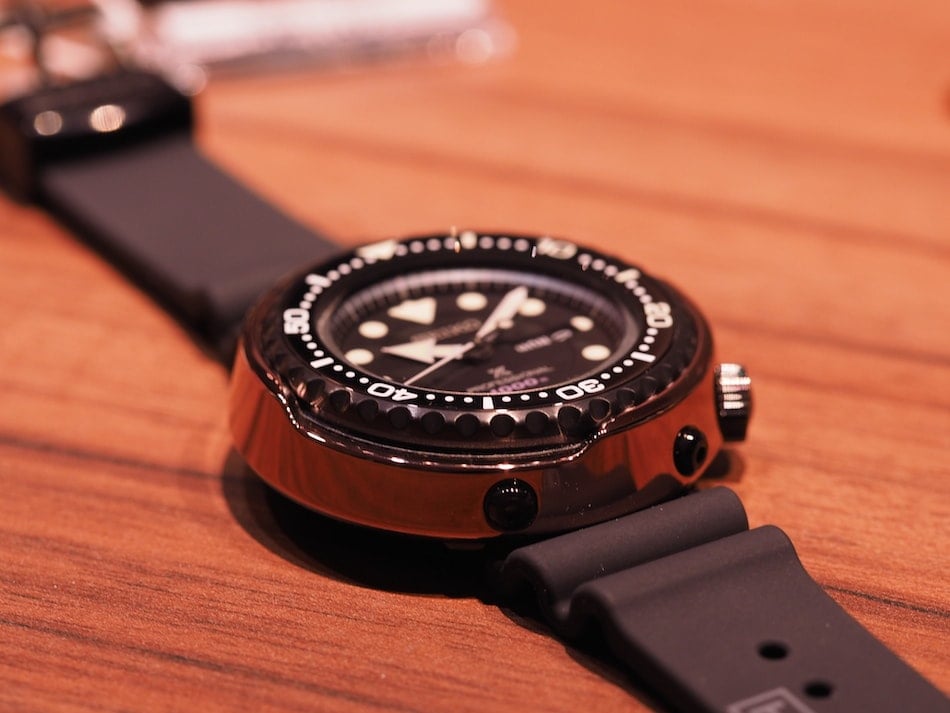 The size is the same as the Golden Tuna above and as you can see, the hands follow the design of recent Prospex divers. Of note, the unidirectional bezel contains luminous on the first 20 minutes of numbers and the crystal is sapphire. Seiko will produce 800 of these at a price of 3,000 Euros.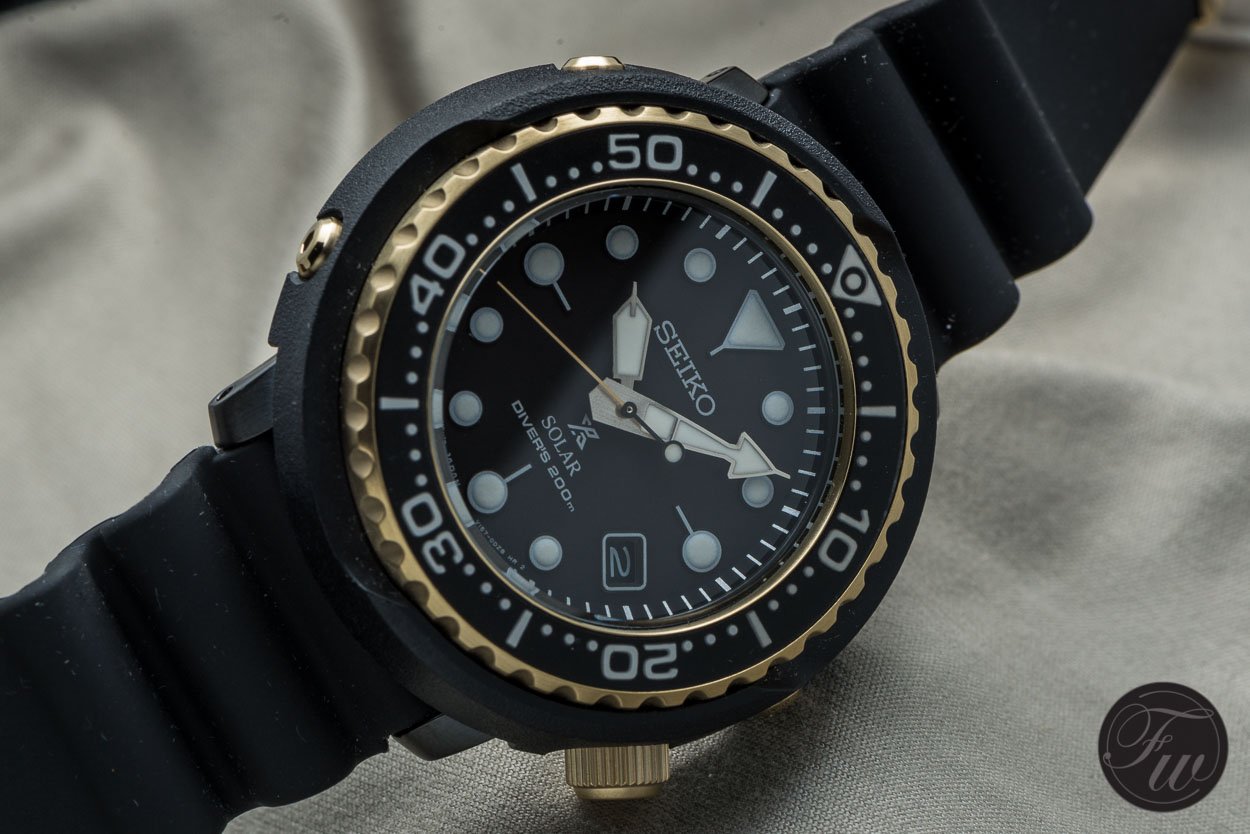 Seiko 1978 Quartz Diver's Modern Re-Interpretation                                     
For me these, solar-powered "Tuna-lites" were quiet hits from Seiko Prospex at Baselworld 2018. I've never been a huge fan of Seiko's lower-spec shrouded divers, but these watches – especially the Golden Tuna lookalike really were on the mark.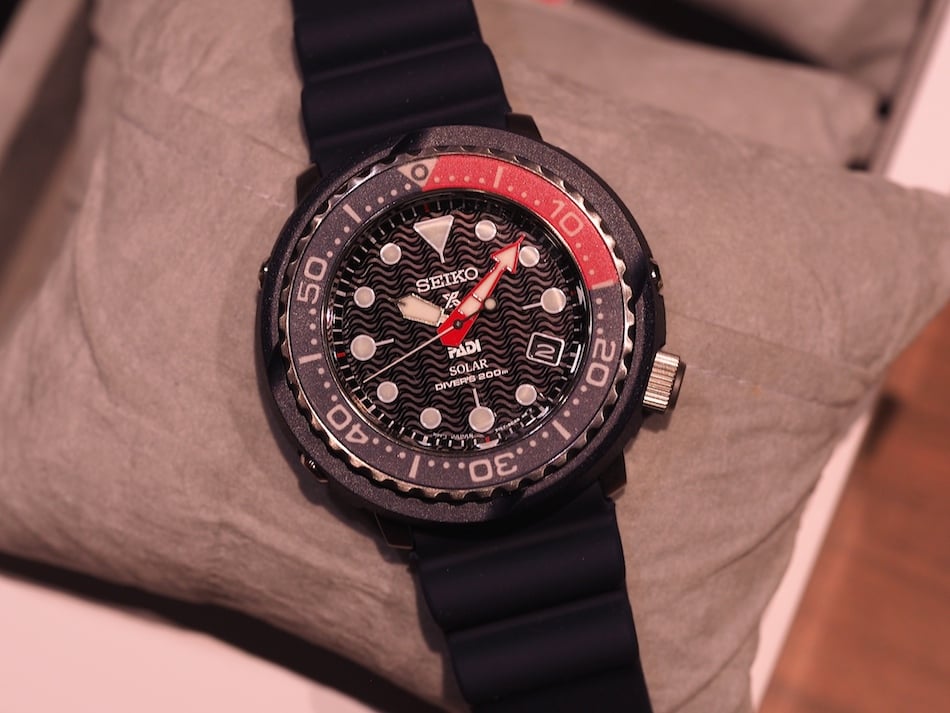 At 46.7mm in diameter and only 11.5mm thick, they fit really well. With a hard plastic shroud and steel case, they feel sturdy too. Hardlex is used for the crystal and the water resistance is a lower, but still respectable 200M. Three versions of this watch are available.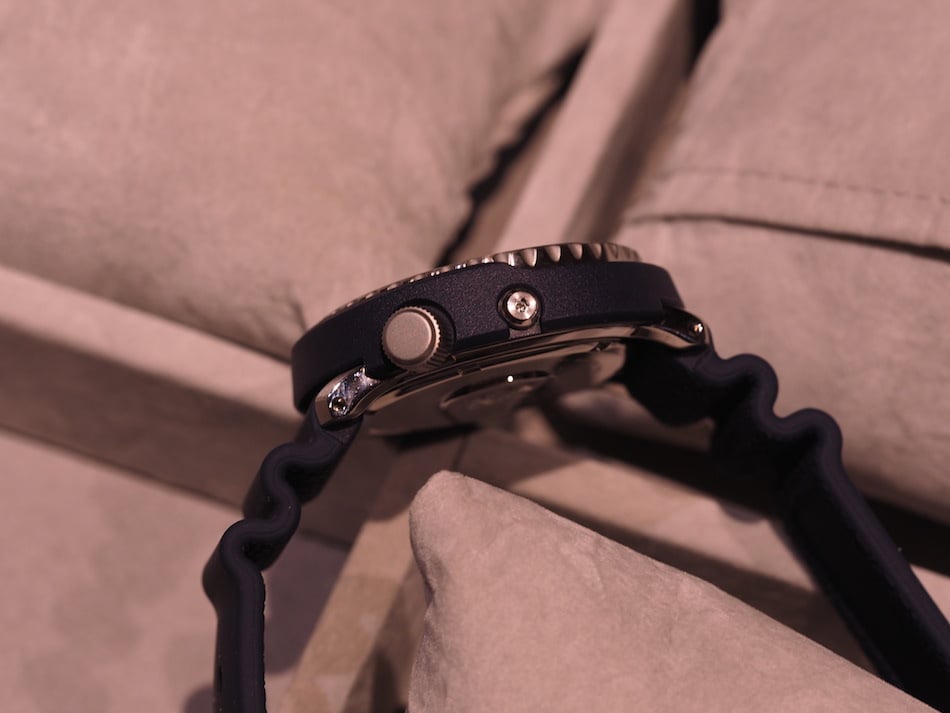 The fantastic golden version (ref. SNE498P1) retails for a more than reasonable 420 Euros, while the PADI Special Edition (SNE499P1) comes in at 400 Euros.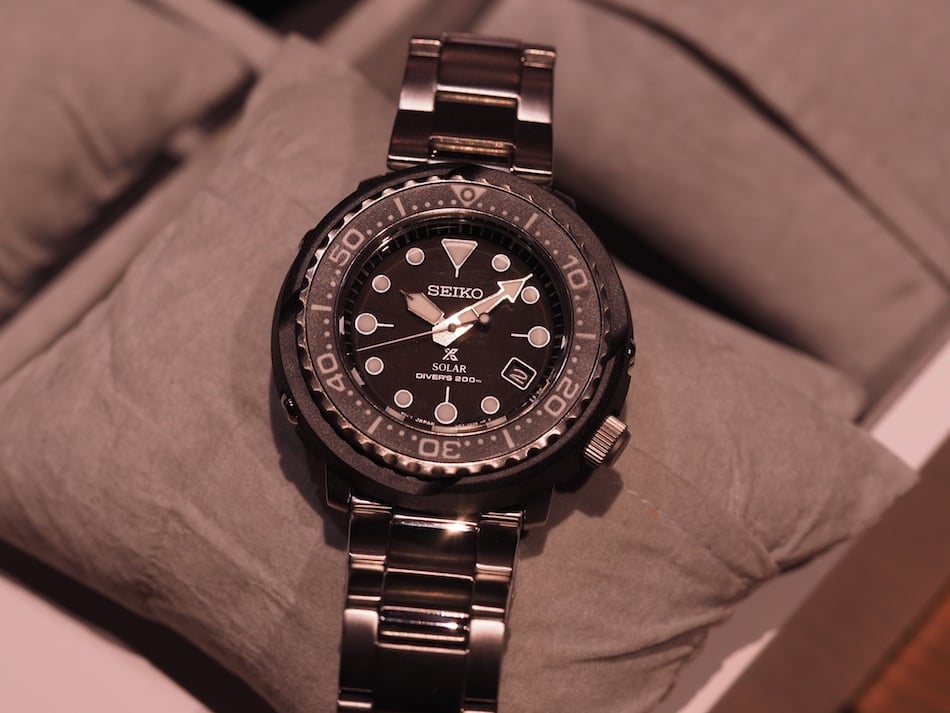 If a steel bracelet is your thing there's a black-dialed version with stainless hardware that costs 400 Euros. Again, this was a surprising favorite of mine and, once again, shows how the brand performs at all price ranges.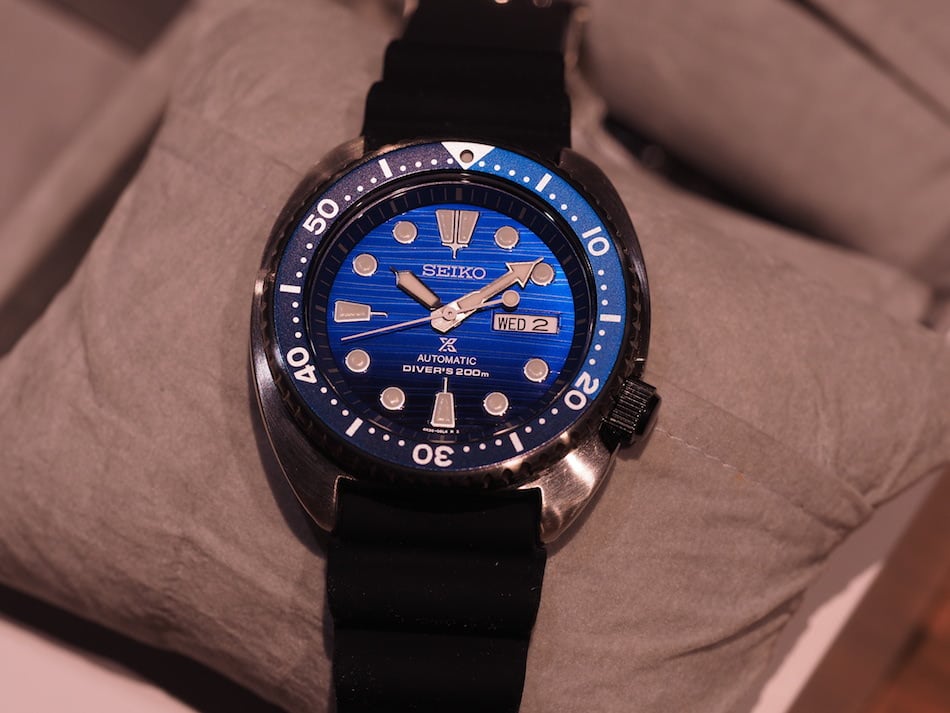 Seiko Prospex Save the Ocean 
With Seiko Prospex at Baselworld 2018, the brand announced a partnership with Fabien Cousteau and three new pieces to support his Ocean Learning Center. All three watches are normal production special edition pieces with beautiful blue "wave dials" that feature a gradient from dark blue to lighter blue. The first reference is a "Turtle" (ref. SRPC91K1) with a new, bi-colored blue bezel, black crown and the aforementioned wave dial. It will retail for 450 Euros.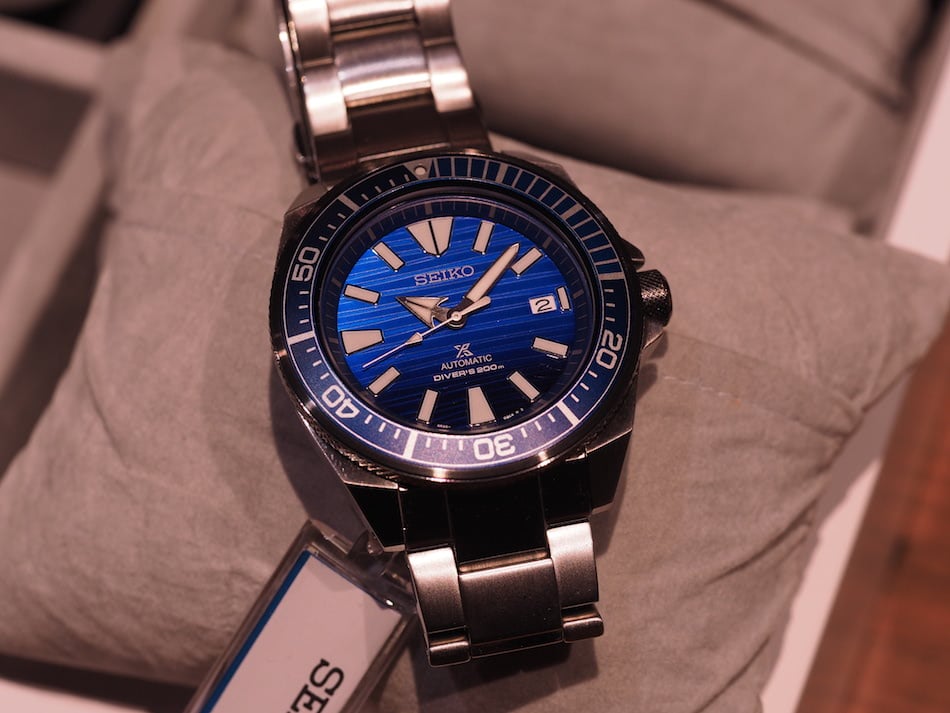 A Samurai diver with 4R35 movement (ref. SRPC93K1) also makes its way into the collection and will be priced at 490 Euros.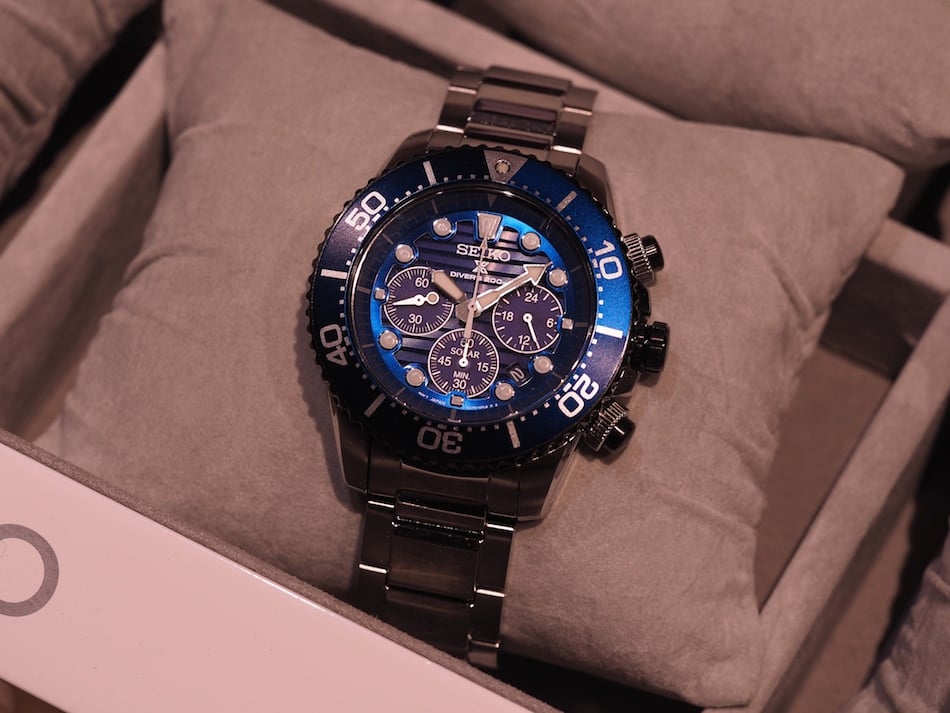 Finally, a solar chronograph completes the trilogy (ref. SSC675P1) and will sell for 430 Euros. I'm generally not one for gradient dials, but the blue takes on an amazing translucent quality when viewed at certain angles. I can imagine that they'd be stunning during the Summer in the sunlight or even when diving.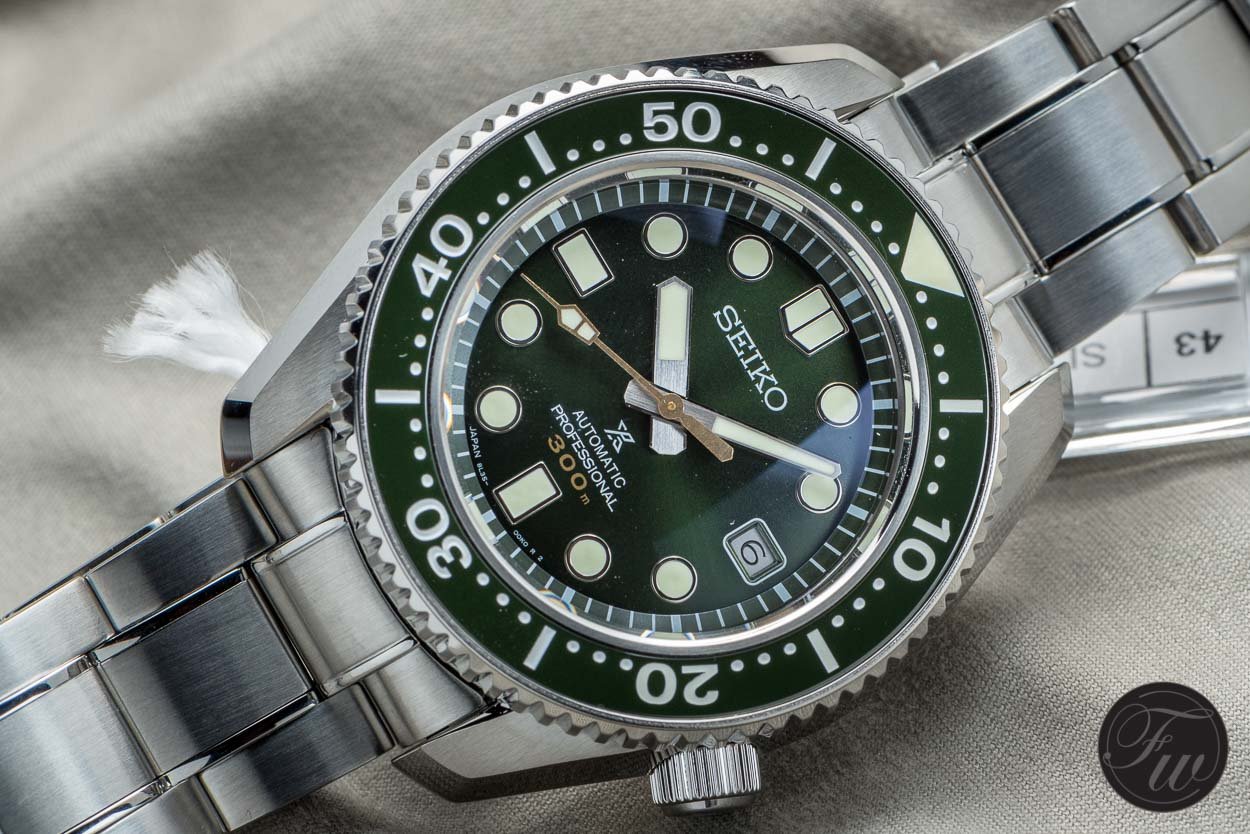 Seiko 1968 Automatic Diver's Commemorative Limited Edition 
In a bit of a surprise and perhaps as an unintended sendoff to the supposedly discontinued MM300 SBDX017, Seiko Prospex at Baselworld 2018 introduced us to a green limited edition variant of the model. The watch is truly identical to the MM300 but it's done with a gorgeous green dial and bezel. Apparently, this symbolizes the forests of the Japanese island, Yakushima, which happens to be a popular dive spot as well.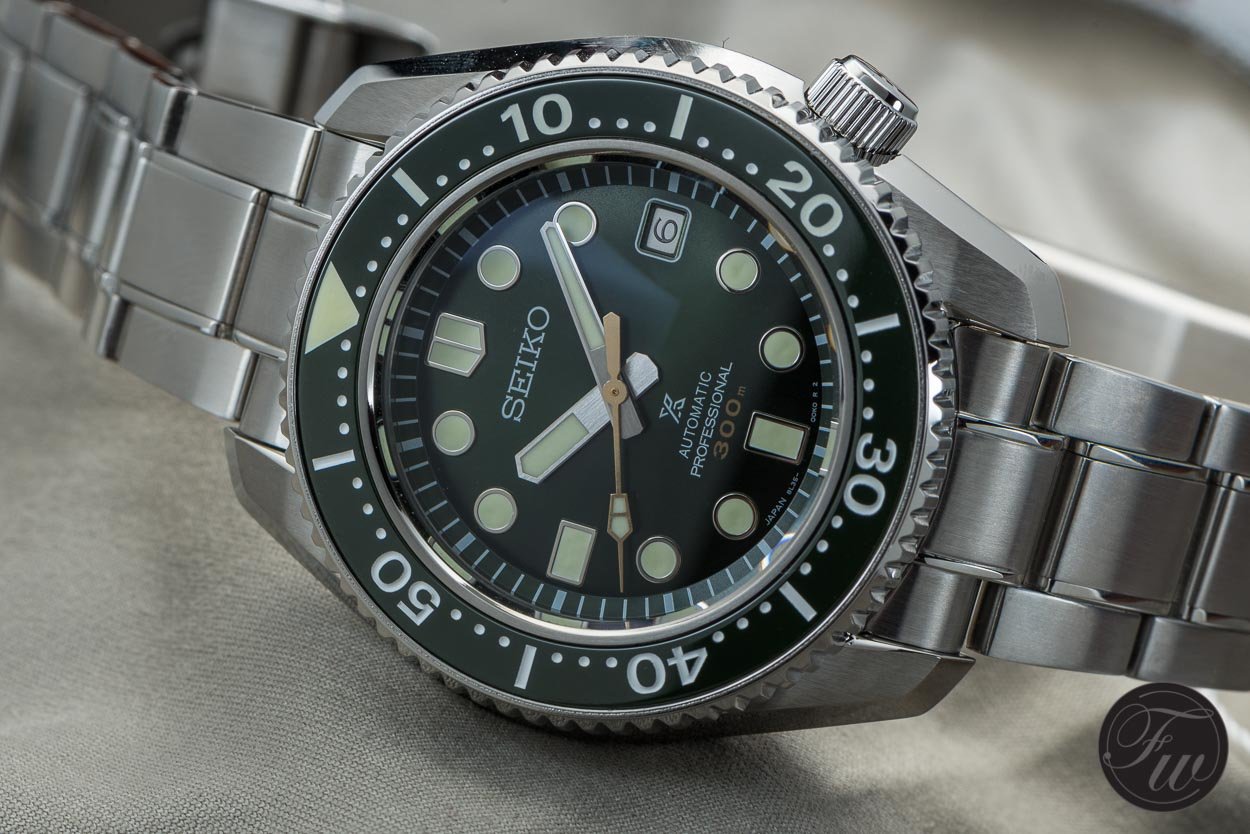 Of note, the sweep seconds hand is gold as well as the 300M writing on the dial. This was a slow burn for me, but it ended up being one of my favorites – the rest of the team agreed. Seiko will produce 1,968 of ref. SLA019J1 and it will retail for 3200 Euros.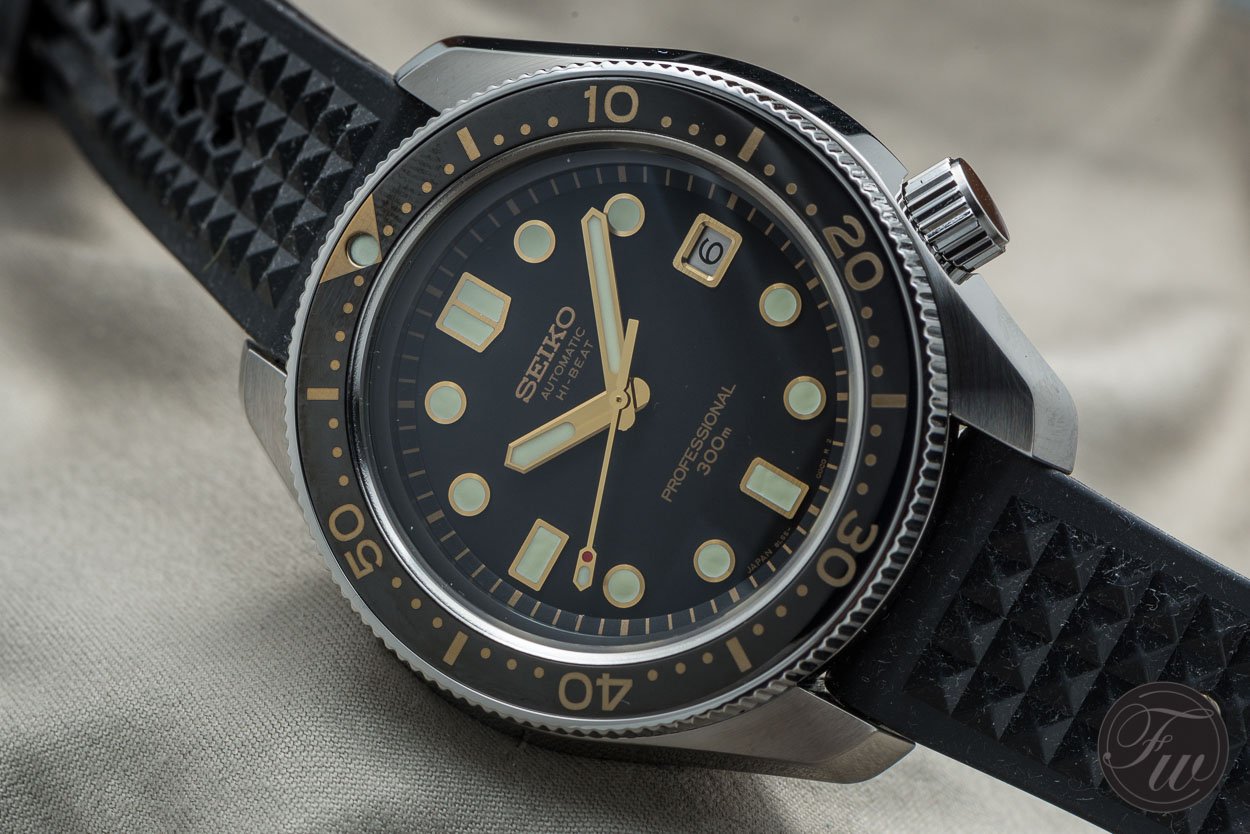 Seiko 1968 Automatic Diver's Re-creation Limited Edition
If last year was the year of the 62MAS with the announcement of the SLA017 limited edition, then this is year of the 1968 Hi-Beat 6159 diver for Seiko Prospex at Baselworld 2018. This is one of Seiko's most iconic watches and along with its briefly produced (and nearly identical looking) predecessor, the 6215, the 6159 were amongst Seiko's first professional dive watches. The 6159 is a darling on the secondary market with nice examples now crossing the five figure mark. The 6159 was a front-loading case diver and featured a hi-beat 36,000 bph automatic movement.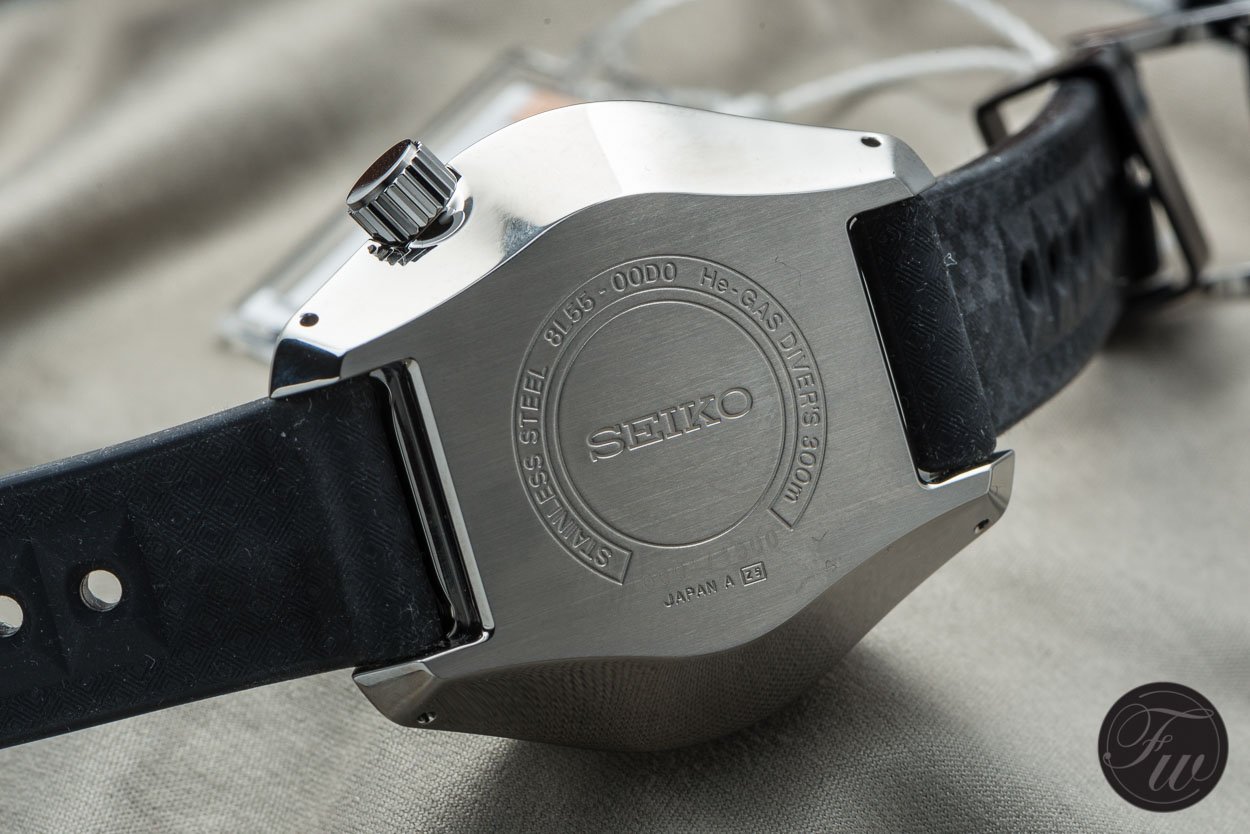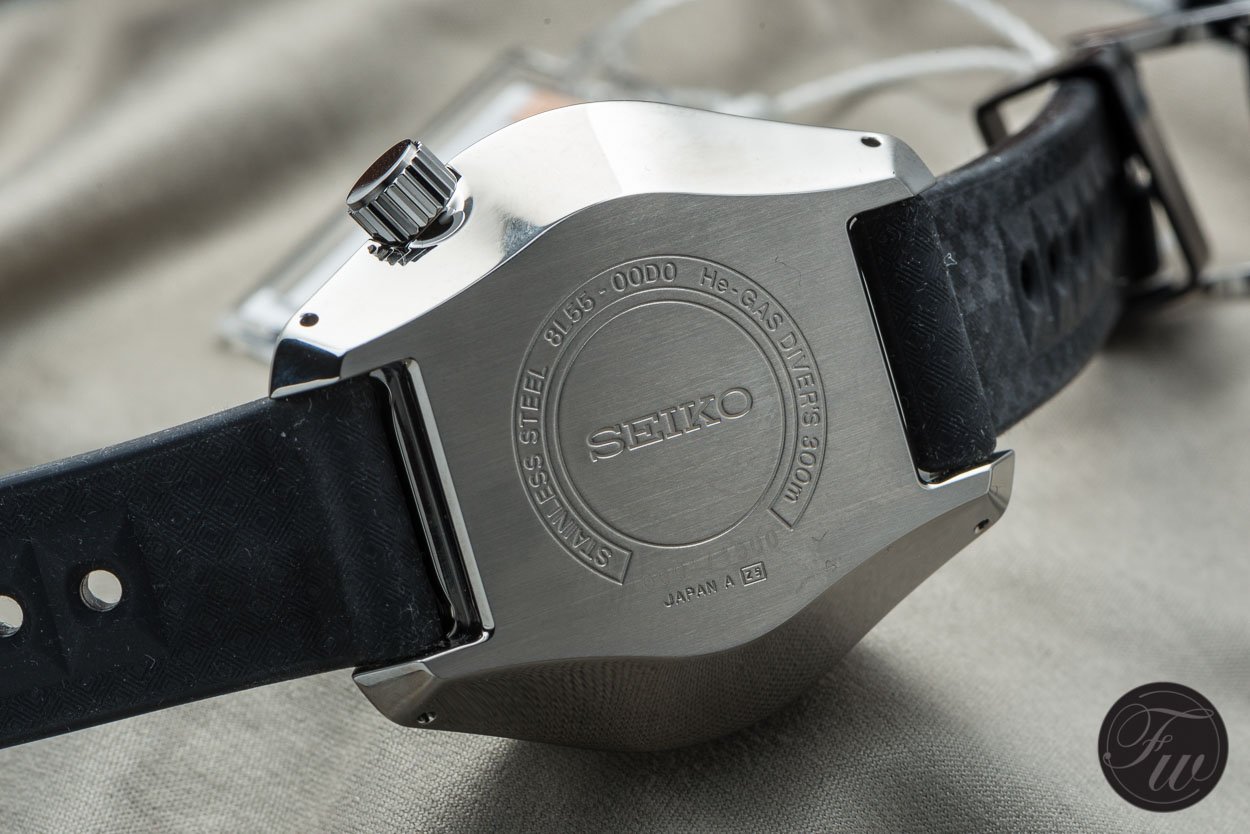 The reissue, the SLA025, features those same traits and includes the sublime 8L55. The 8L55 is a 37 jewel masterpiece that's essentially a Grand Seiko 9S85 with less finishing. The new watch is seriously well done in person, and at 5500 Euros, it should be. Some have complained about the cost for this limited edition of 1500 pieces, but I find it to be quite compelling versus even the Rolex Submariner. You have all the good things such as a sapphire crystal, screw-down crown, and a super hard coating on the case. It comes in at 44.8mm and features a 19mm silicone waffle strap. This is a stunner of a watch and despite its higher price of entry, Seiko shouldn't have any issue in selling these.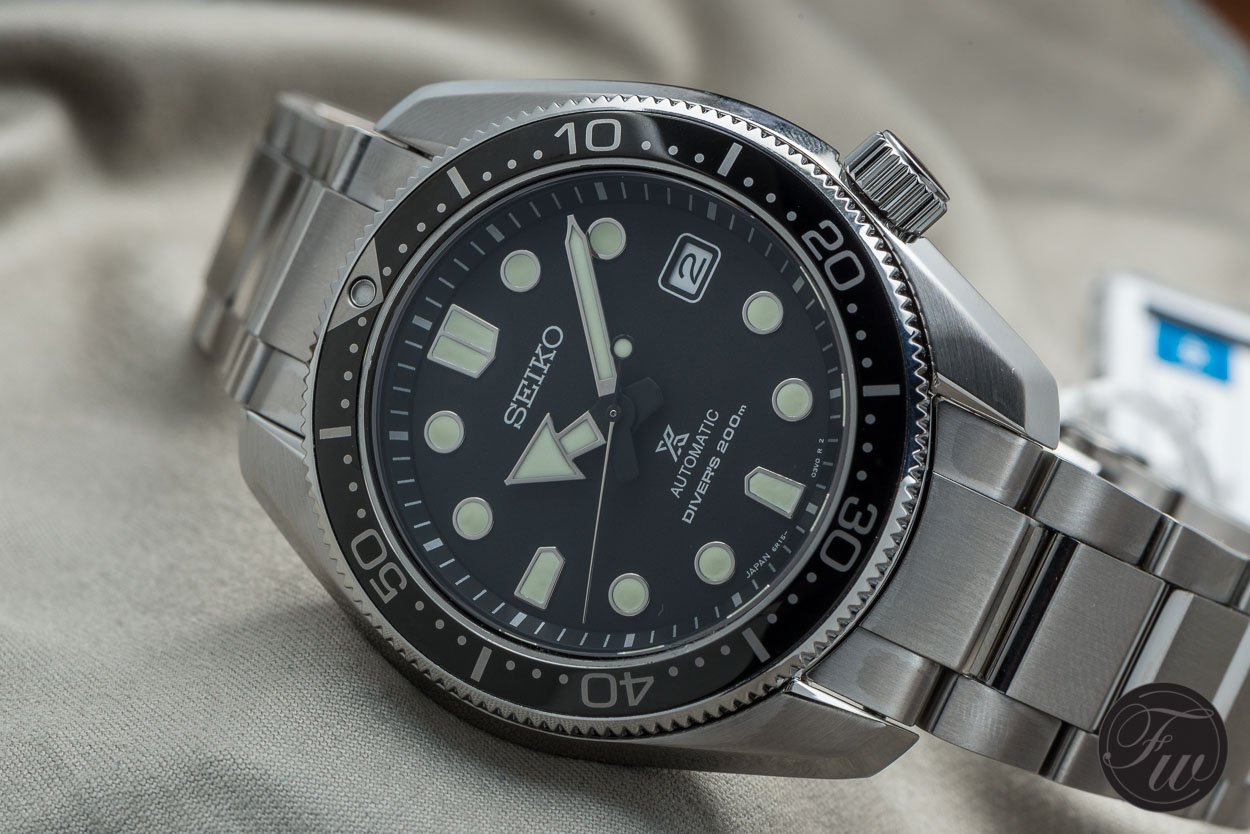 Seiko 1968 Automatic Diver's Modern Re-interpretation                
Last year, Seiko brought us two modern re-interpretation of the 62MAS alongside the limited edition (ref. SPB051 and SPB053). This year, Seiko Prospex at Baselworld 2018 follows suit with a couple modern re-interpretations of the 6159 Hi-Beat. Essentially, you have a similar case to the 6159, albeit a touch smaller at 44mm and with screw-down case back, with the newer Prospex hand set. Additionally, the movement employed is the sturdy 6R15 and water resistance is 200M.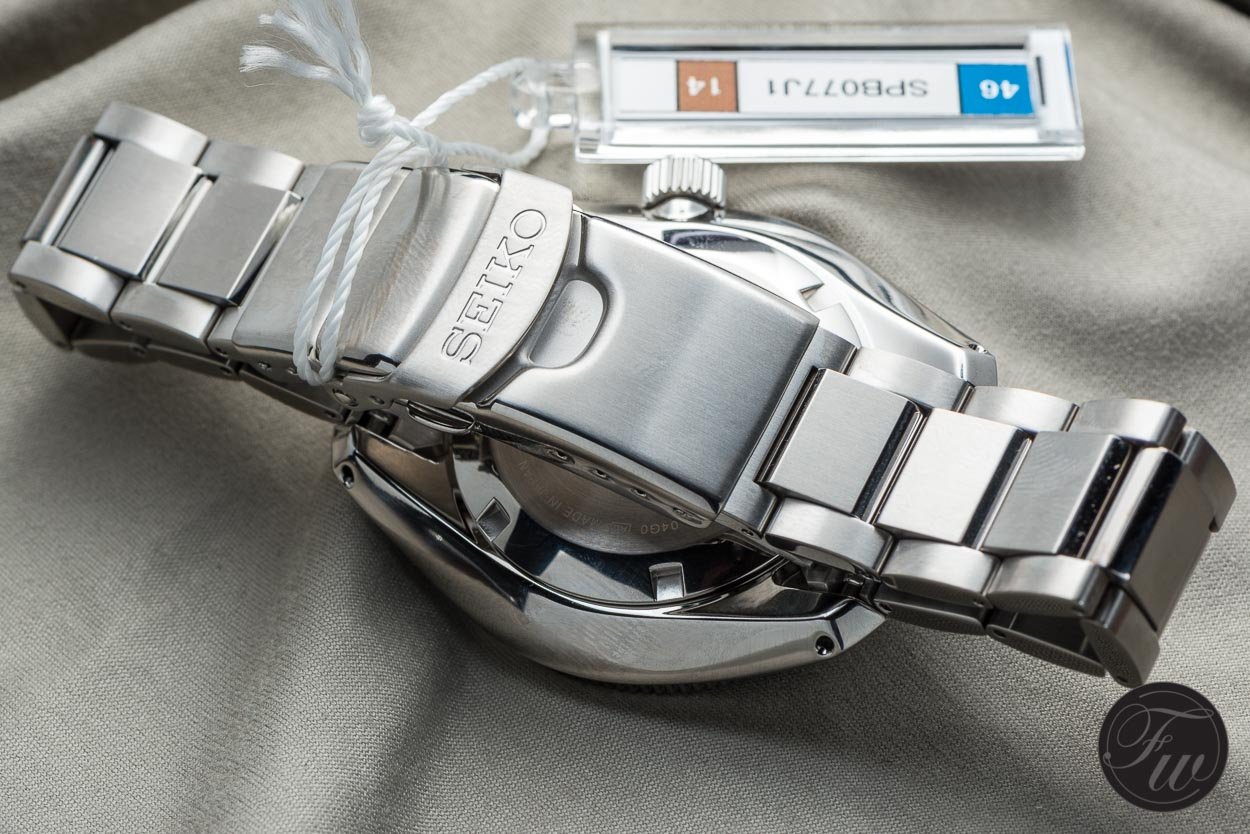 For some reason, I find these pieces far more suited to a modern re-interpretation versus the 62MAS and I really liked them. Seiko will offer a black dial and bezel version (ref. SPB077J1) on bracelet for 1100 Euros and a version with a very dark blue bezel on black silicone strap for 900 Euros. These ought to be very successful, as they look far more expensive than their prices would suggest.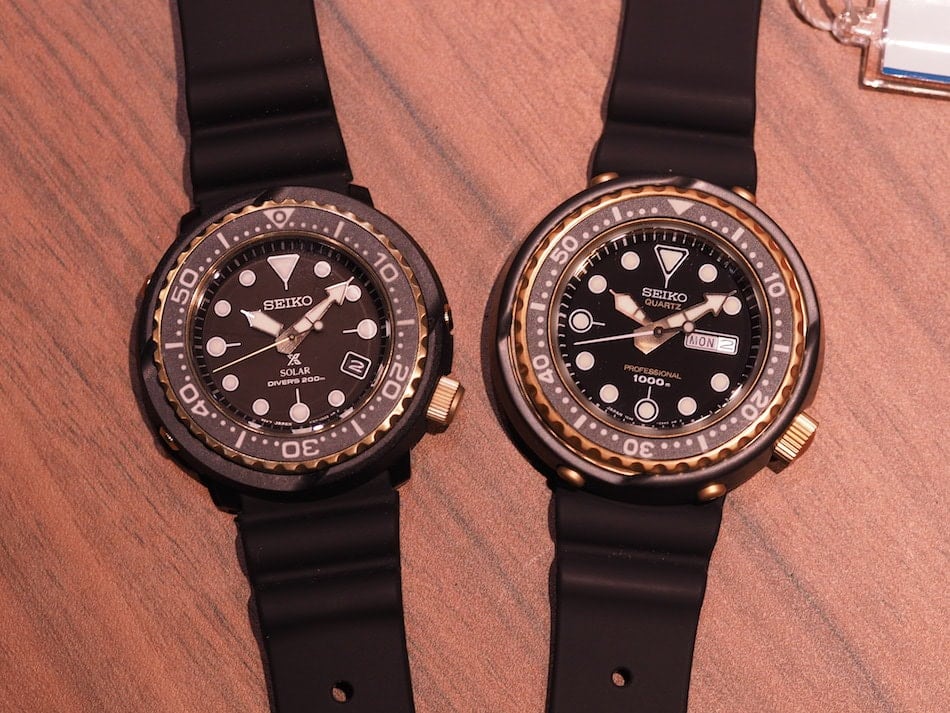 As mentioned, this was a great year for Seiko at Baselworld 2018. With releases based on the Tuna and the original Hi-beat diver, the brand hit on a couple of my favorite themes from their back catalog. Let us know below what you enjoyed and stay tuned for more Seiko news from Baselworld.