Value Play: The Vintage Seiko Sportsman Dolphin J13035
Entry level at a high level
In this article, we review the vintage Seiko Sportsman Dolphin J13035 and come away more than pleased. This may have been an entry-level watch, but it still impresses.
Whenever I write an article about some obscure or unheralded Japanese watch, I get some kidding/not kidding comments about creating a pricing surge on the market. If this is truly the case then apologies are in order, but I can assure you that today's Seiko Sportsman Dolphin J13035 won't suffer an inflationary fate. It's not a sports watch and it's quite simple. As we'll see, though, that doesn't stop it from being an incredibly satisfying watch.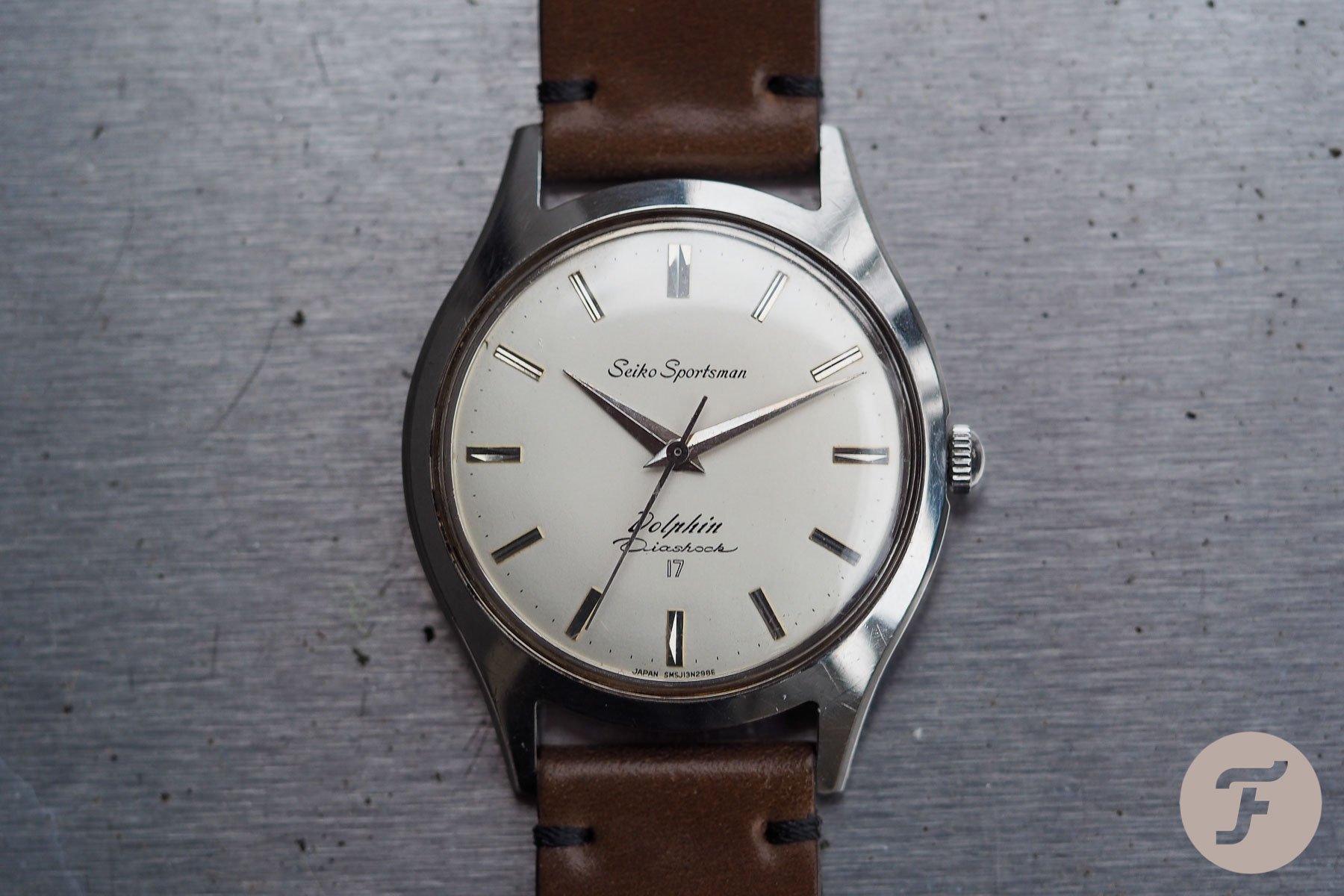 Vintage Japanese manual wind watches
Most of the vintage Japanese watches you read about here feature automatic movements. After all, both you and I prefer sports watches from the later '60s and this style of movement was commonplace. Every once in a while, though, a lovely hand-wound piece crosses my path and I can't resist. For comparison's sake, I feel the same way about today's Seiko Sportsman Dolphin J13035 as I do the Citizen Homer Second Setting. If you recall that railroad-issued watch, it was affordable (and still is, boo birds) and full of value. So, if you're more of a Seiko fan, this piece could be your equivalent.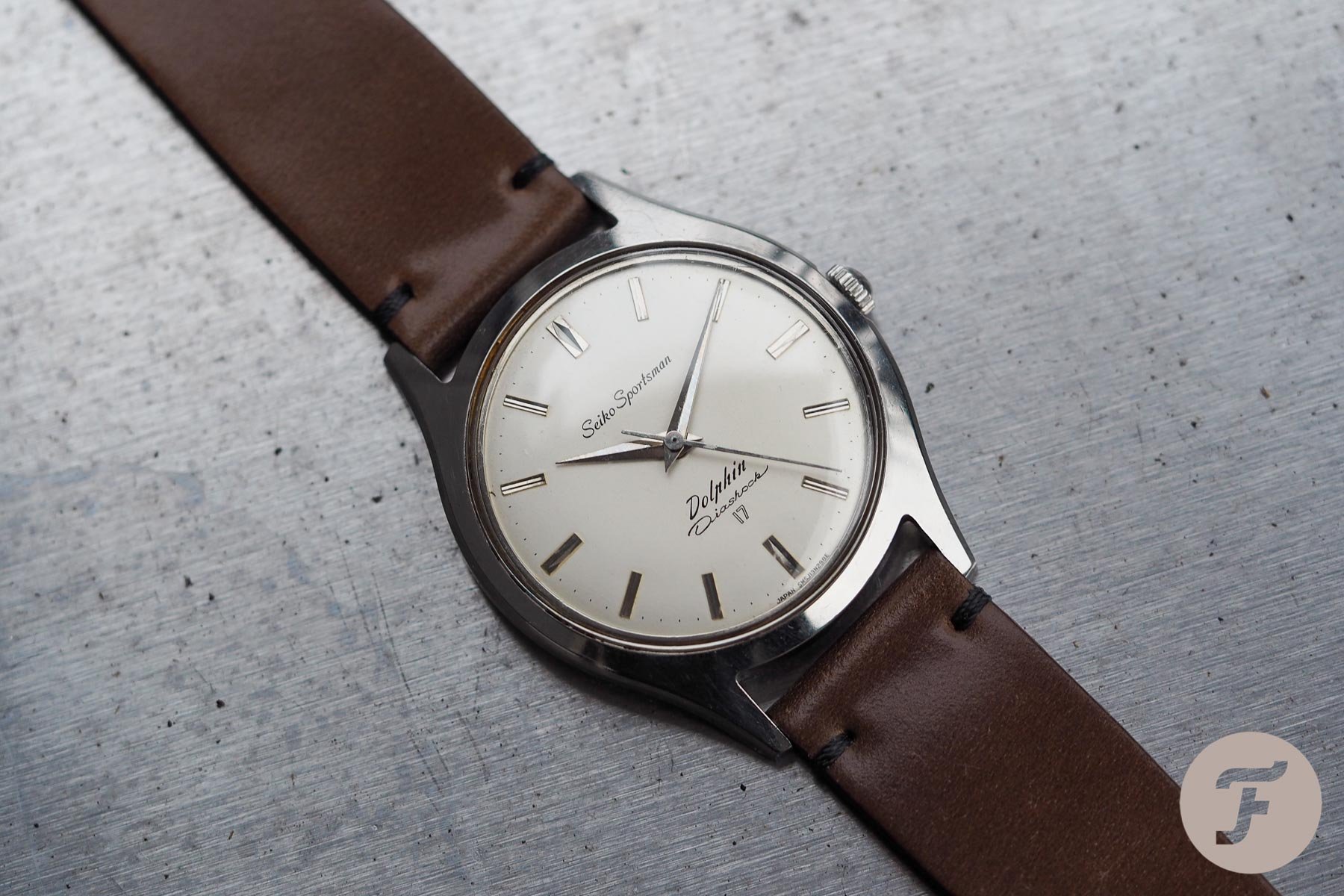 The Seiko Sportsman Dolphin J131035
Internet lore tells us that the Sportsman line was introduced by Seiko in 1960 as a budget offering with robust, but utilitarian manual-wind movements. Seiko, along with the other Japanese brands, truly enjoyed its endless branding schemes and created names such as "Dolphin" or "Seahorse" underneath these lines. What I gather is that these watches were basic in nature, but contained some level of water resistance presumably by way of a rubber gasket fitted to the snap-on case back. I own Dolphin and Seahorse models and they came in a variety of case shapes and materials such as steel, chrome, and plated. Many are anonymous looking and have been relegated to the great watch junk pile in the sky. The Seiko Sportsman Dolphin J13035, thankfully, is neither boring nor extinct on the secondary market.
With the Seiko Sportsman Dolphin J13035, we have a historic example of the brand operating at a very high level to serve the very lowest. Prices supposedly started around the 3,000 JPY level at this time, but buyers received a lot of value. This Dolphin comes with a 35.5mm diameter all stainless case that crests just beyond 43mm lug-to-lug. It's powered by a lovely 17-jewel caliber 436 movement that happily beats along at 18,000vph. It has a pleasing 45 hours of power reserve.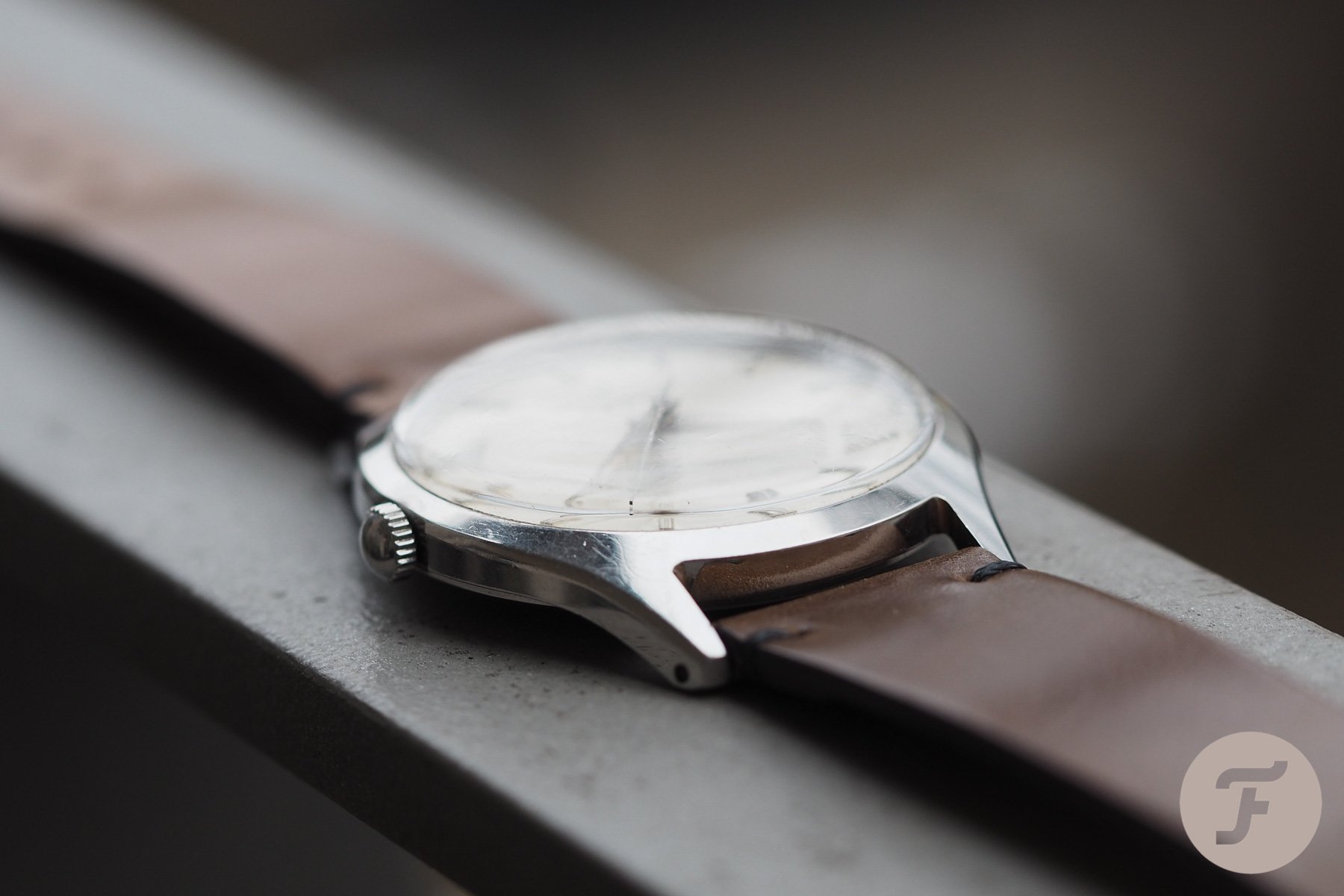 A case that sold me
Sure, those specs sound shrug-worthy but take a look at this watch. The case lines are just gorgeous and are really what sold me. The Seiko Sportsman Dolphin J13035 is at once lithe and yet substantial. The lugs flow directly from the case, which is in opposition to many of the spindly-lugged models of the era. That design may suggest a cheaper design, but Seiko countered this. A look along the flanks shows a couple of thoughtful additions.
First, the lugs are cross-drilled. Second, and more importantly, there's a chamfer running the length of the case. This extra edge breaks up what would otherwise make for a boring case. The end result is a pleasing design that wouldn't be out of place on a high-end Swiss dress watch.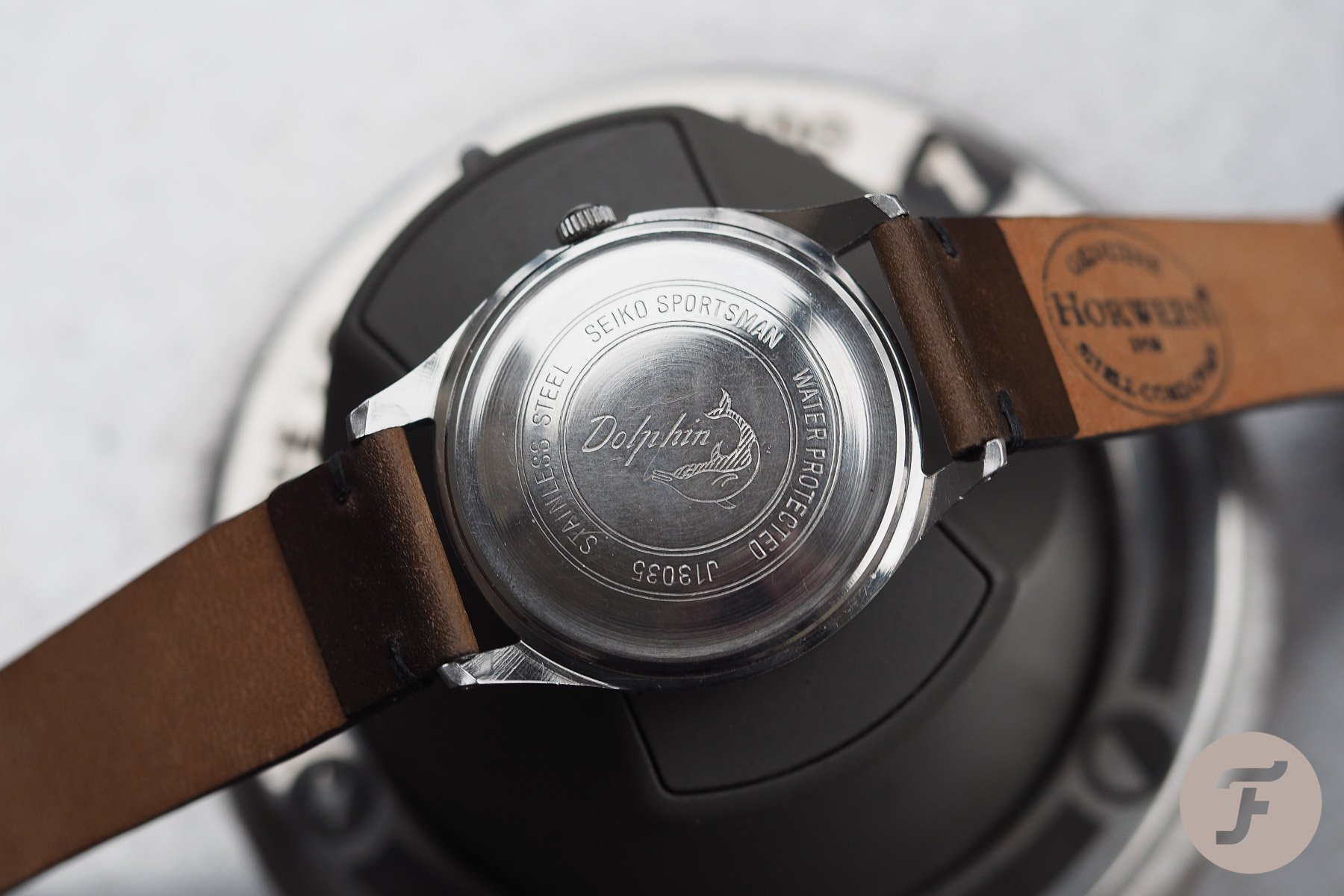 A lovely case back
Longines was and continues to be an incredibly popular watch brand in Japan. It seems to me that the Japanese companies were watching and doing their best to offer some similar characteristics at a lower price. One thing I think about on pieces like the old Conquest was its case back. Perhaps because of watches like this, Seiko and the others went to work on making their case backs distinctive as well. The Seiko Sportsman Dolphin J13035 is an excellent example of this artistry. Just look at that lovely engraving!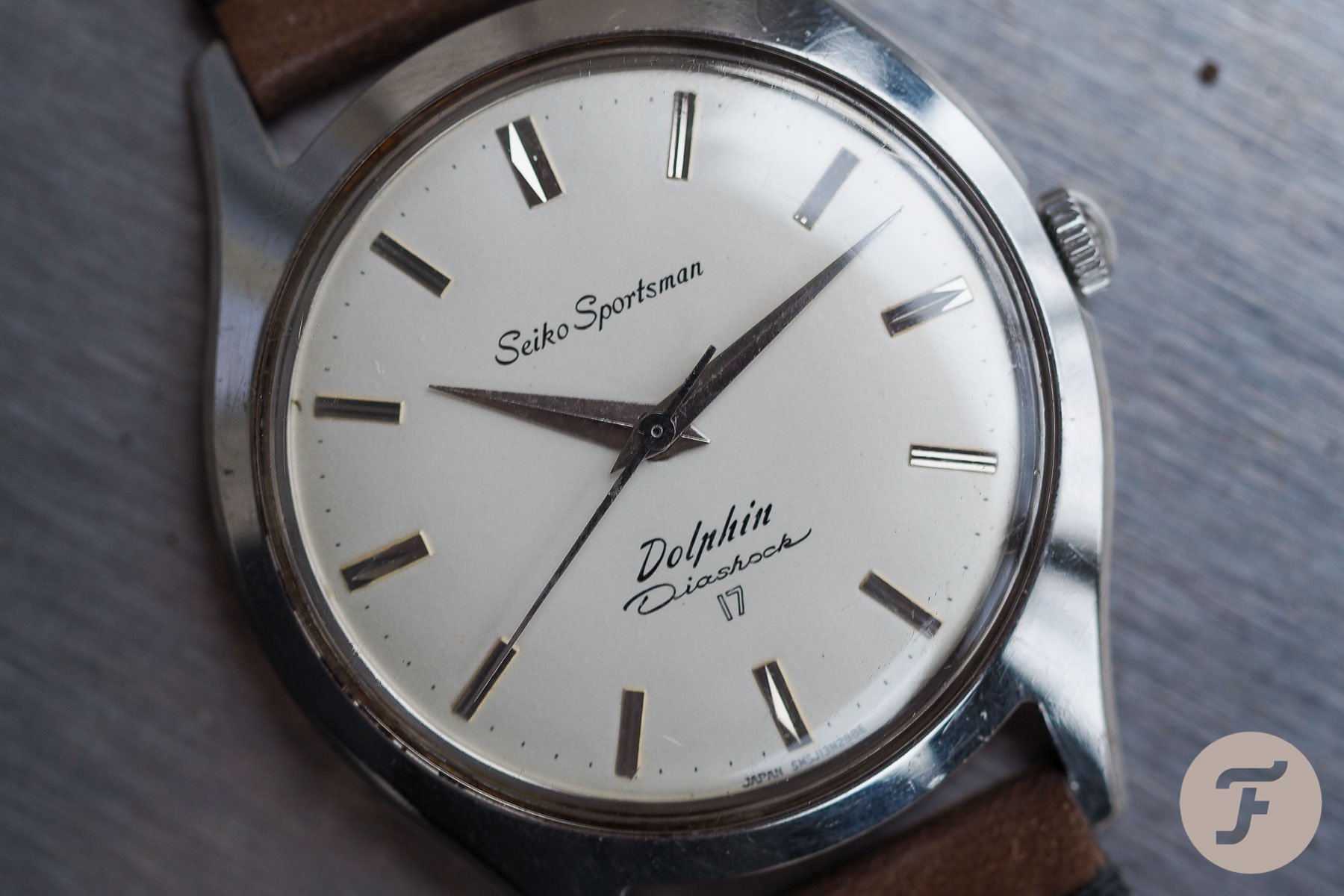 The dial is an exercise in restraint
While the case had me at hello, the dial doesn't disappoint. These days, it seems that brands just can't stuff enough nonsense on a watch face. The Seiko Sportsman Dolphin J13035 isn't what I'd call empty, but it's marvelously weighted. Somehow, Seiko got away with employing four different fonts on this dial and it just plain works. The stylized three lines of branding ooze charm and then the centered "17" brings you back to reality. Similarly, the applied indices are simple but step it up with diamond-shaped facets at the corners. They catch the light in such a way to let you know quietly they're there. The beveled dagger hands match perfectly and make for a highly legible affair. I've seen a lumed version of all this once before, but it's a rare instance where I prefer the dressier variant.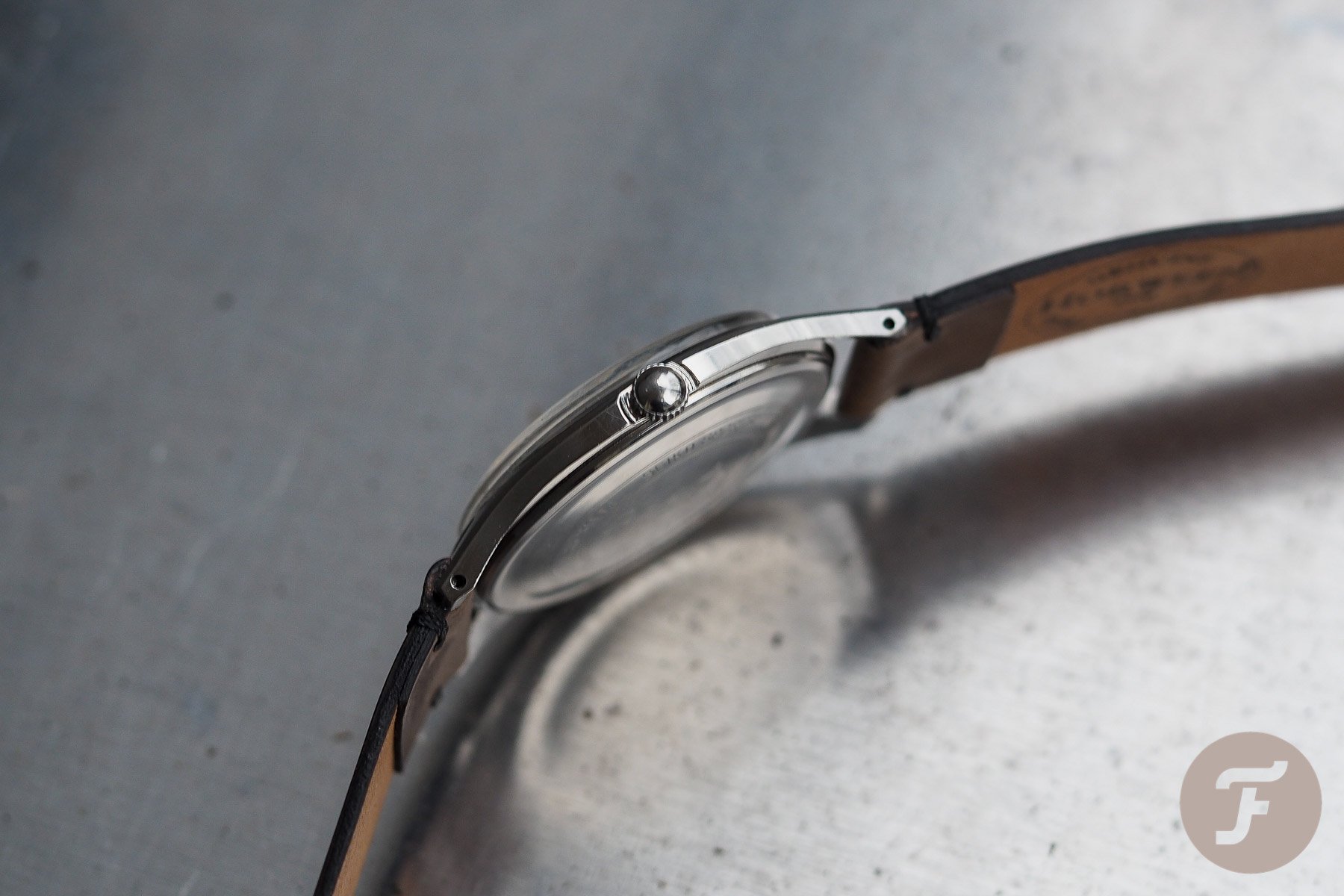 A capped and domed crown nestles within a case indentation on the side. The size and the knurling make for a pleasant winding experience. You can see the casework around the crown above. Stop to take in the slender profile of those lugs — just delightful!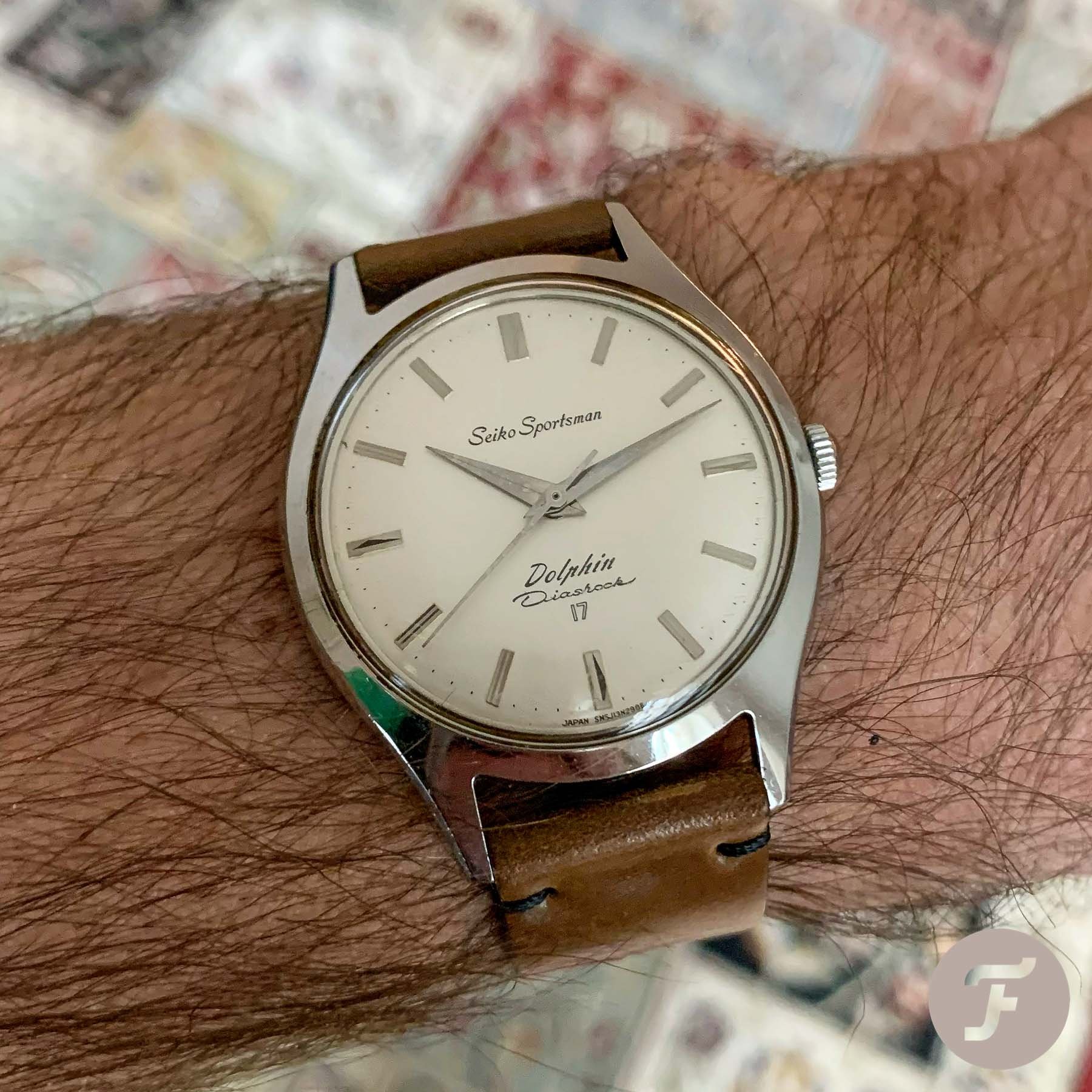 On the wrist
The Seiko Sportsman Dolphin J13035 has a relatively tall domed acrylic crystal, but the whole watch comes to just below 10mm in thickness. This, along with the overall size makes for a lovely wearing experience. The watch feels vintage, but the size is no different than many high-end Swiss dress watches from the '80s and '90s. Due to its slim nature, I think it works best on an unpadded 18mm strap. I've paired it with a lovely Horween Shell Cordovan, but reptile would look good as well.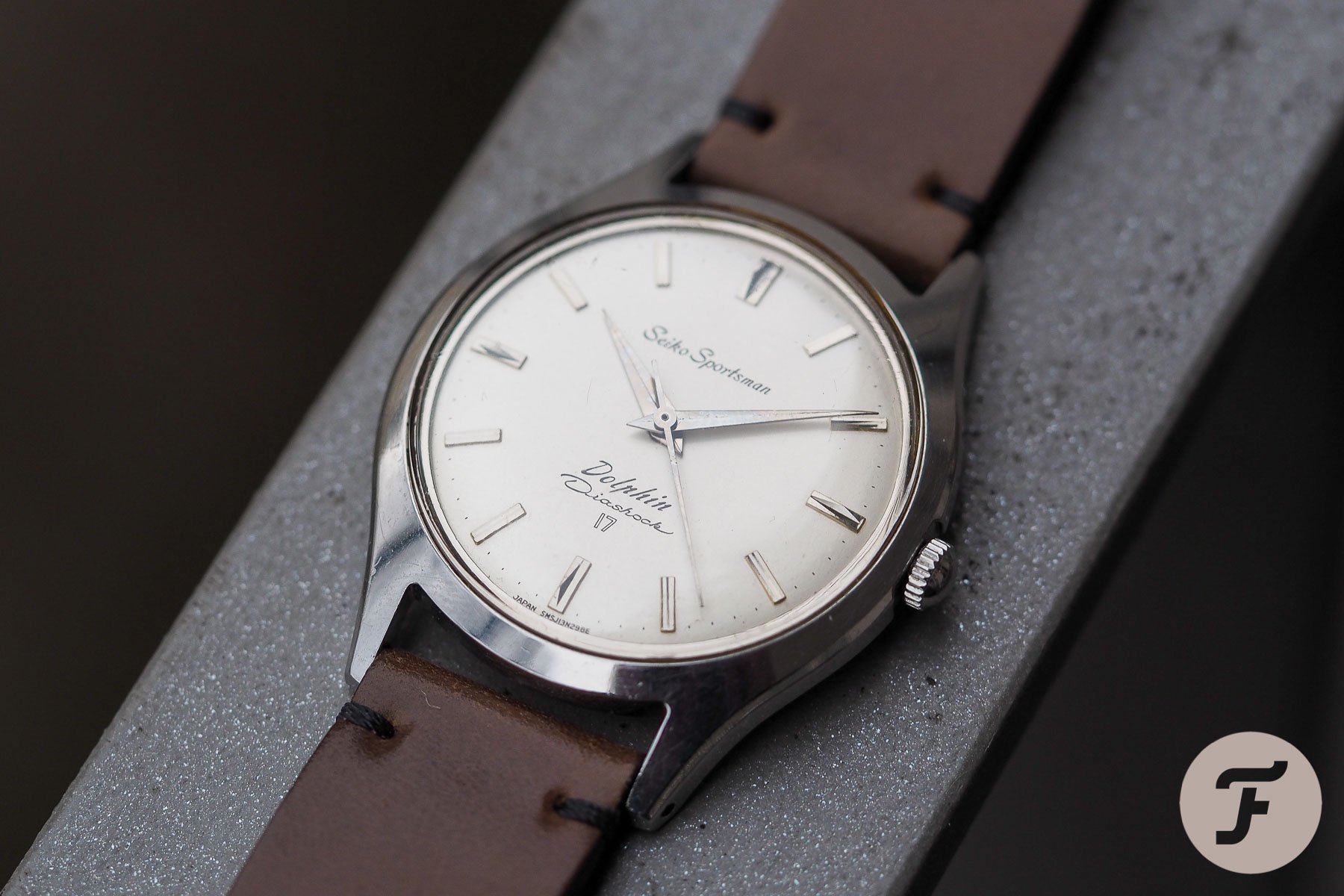 Finding your Seiko Sportsman Dolphin J13035
With the Seiko Sportsman Dolphin J13035, I'm not dangling the impossible in front of your nose. They're for sale all the time on Japanese auction sites and even on eBay and they're not expensive. I paid a whopping $67 for this pristine example and it needed nothing more than a service and some elbow grease with the crystal. I'm now left with a timeless 60-year old classic for less than $200 and you can do this too. Regarding tips, with watches like this, you sometimes have to be patient to find the right one. Moisture stains are common as are incorrect crowns. The latter wouldn't bother me so much, but the former would. Also, you may end up needing to find a cheap donor for mechanicals, but the 436 caliber was ubiquitous, and trashed models are inexpensive.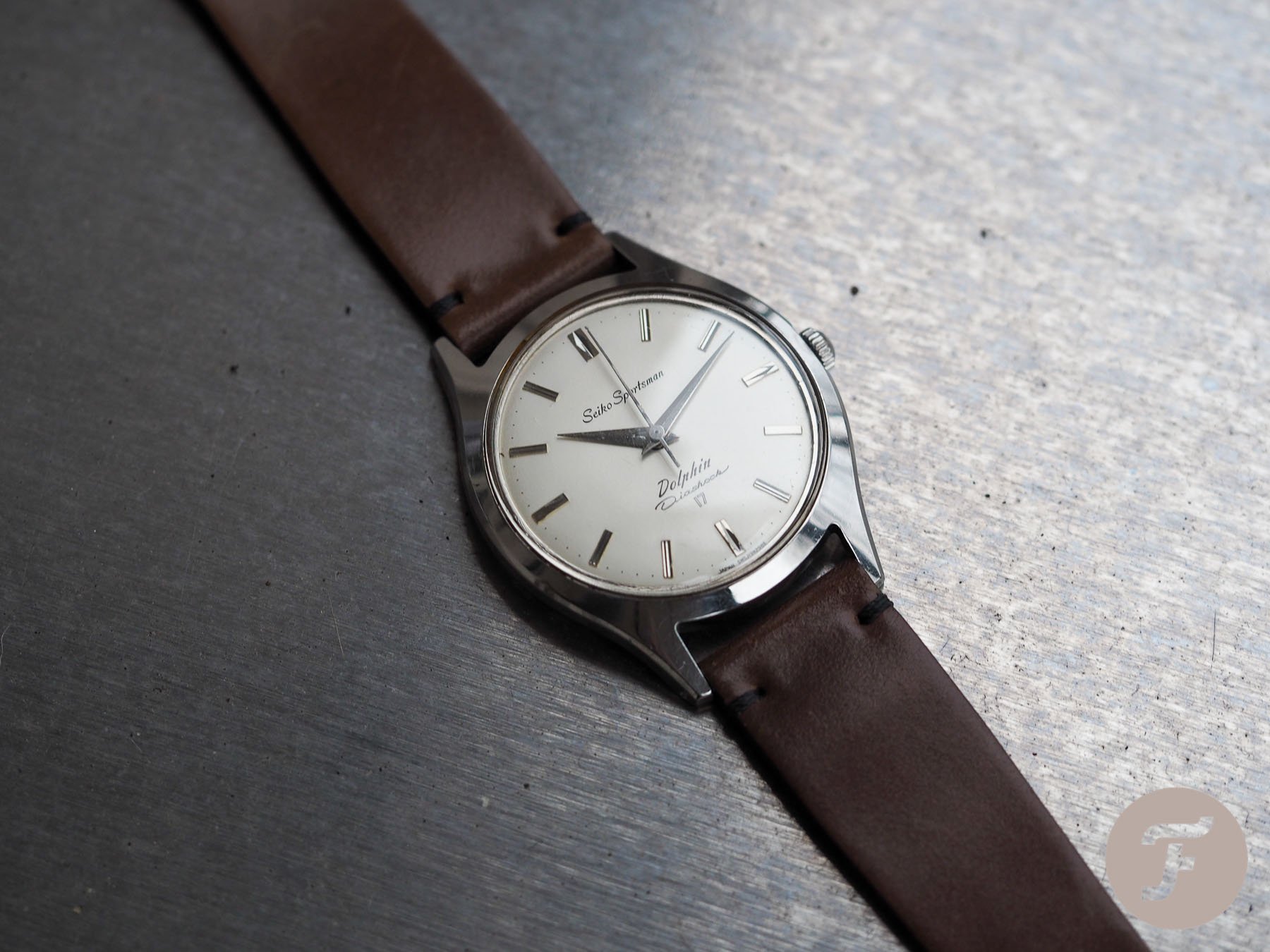 Final thoughts
If you're looking for your first vintage Japanese watch or perhaps even a dressier model, this is an incredible option. Even if you're relatively seasoned, I still think it's a beautiful addition. It proves that you really don't need to wrangle with spending hundreds of dollars on a sportier vintage piece when something like the Seiko Sportsman Dolphin J13035 is relatively easy to source. Let us know your thoughts on this pleasing Seiko and if you happen to own a similar model in the comments section below.
Watch specifications
Dial
White with applied indices and black printing
Case Material
Stainless Steel
Case Dimensions
35.5mm Diameter, 43mm Lug to Lug, 9.9mm Thickness, 18mm Lug Width
Case Back
Stainless Steel Snap Back
Movement
Seiko caliber 436, hand winding, 17 jewels, 18,000 vph, 45 hours power reserve
Functions
Time (HH:MM:SS)
Special Note(s)
Produced circa 1961