The Citizen Homer Second Setting – The Best $200 Vintage Watch Around?
Taking a Look at a Vintage Citizen Packed with Goodness
We take a look at the Citizen Homer Second Setting – an official Japanese railway watch from the 60's and 70's.
If I were to tell you that there exists a prevalent vintage 36mm stainless steel watch with an in-house manual winding movement, a hacking feature, a wonderfully simple dial sans date, you'd probably point me towards any number of Swiss brands ranging from Patek Philippe, Longines, and even Omega.  But if I told you it was an officially issued watch, I'd bet that number would drop considerably.  And, finally, if I told you that something in the neighborhood of $200 could land this watch, you'd probably tell me to lay off the hard stuff.  I'll keep drinking my beer and bourbon – thank you very much, but I do have the suggestion for you: the Citizen Homer Second Setting.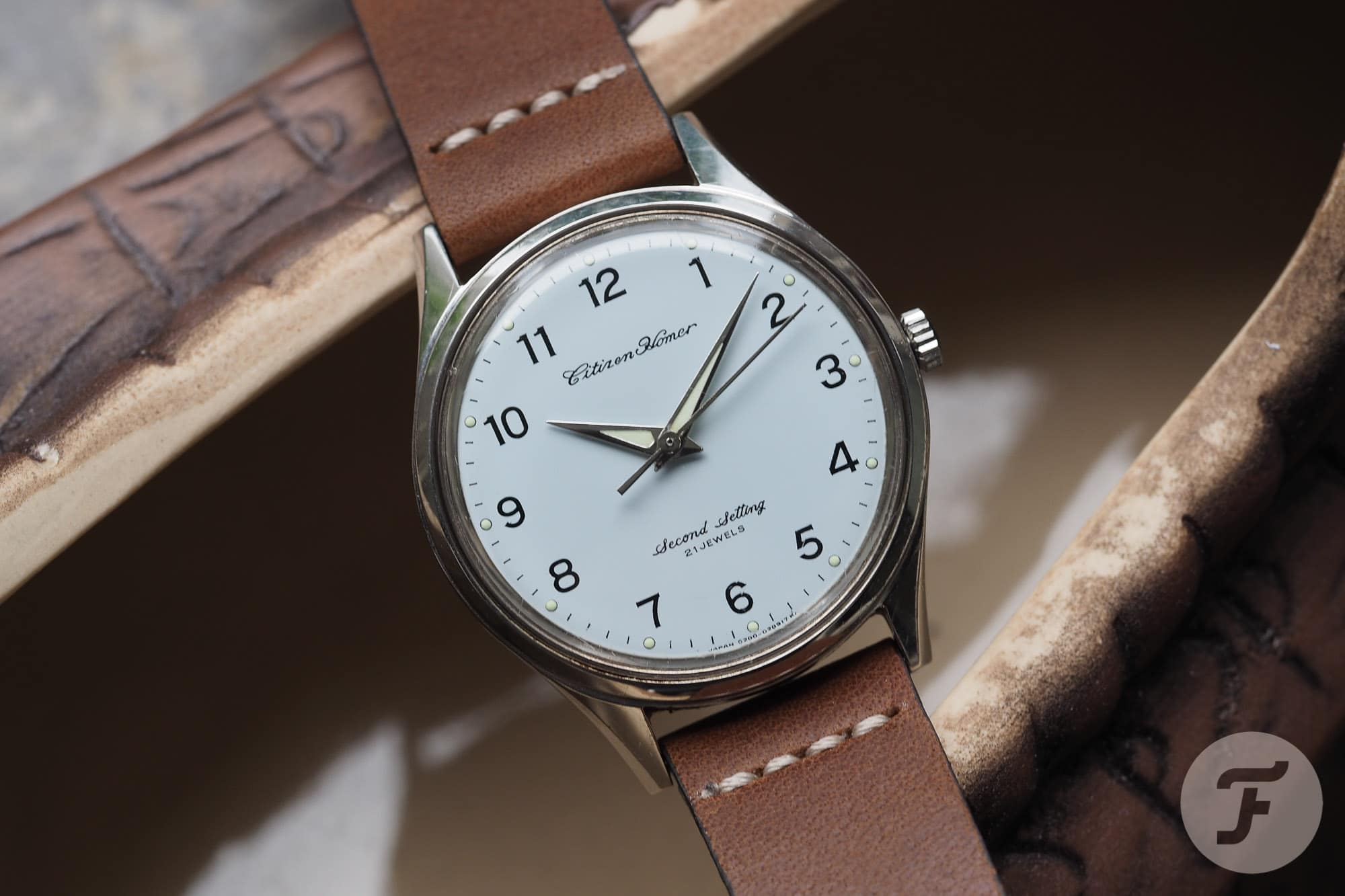 Citizen Homer Second Setting – a Railway Watch
It seems that while Seiko owns the railway market with its pocket watches that are mounted on the dashboard of about every train I've ever been on in Japan, it was Citizen that formerly dominated the wrists of railway workers.  From the 1960's through at least the first half of the 1970's, the Citizen Homer Second Setting (along with an earlier, but similar "Ace" model) was the watch issued to workers.  Whether on the bullet train or a normal train, a Second Setting was the official timepiece.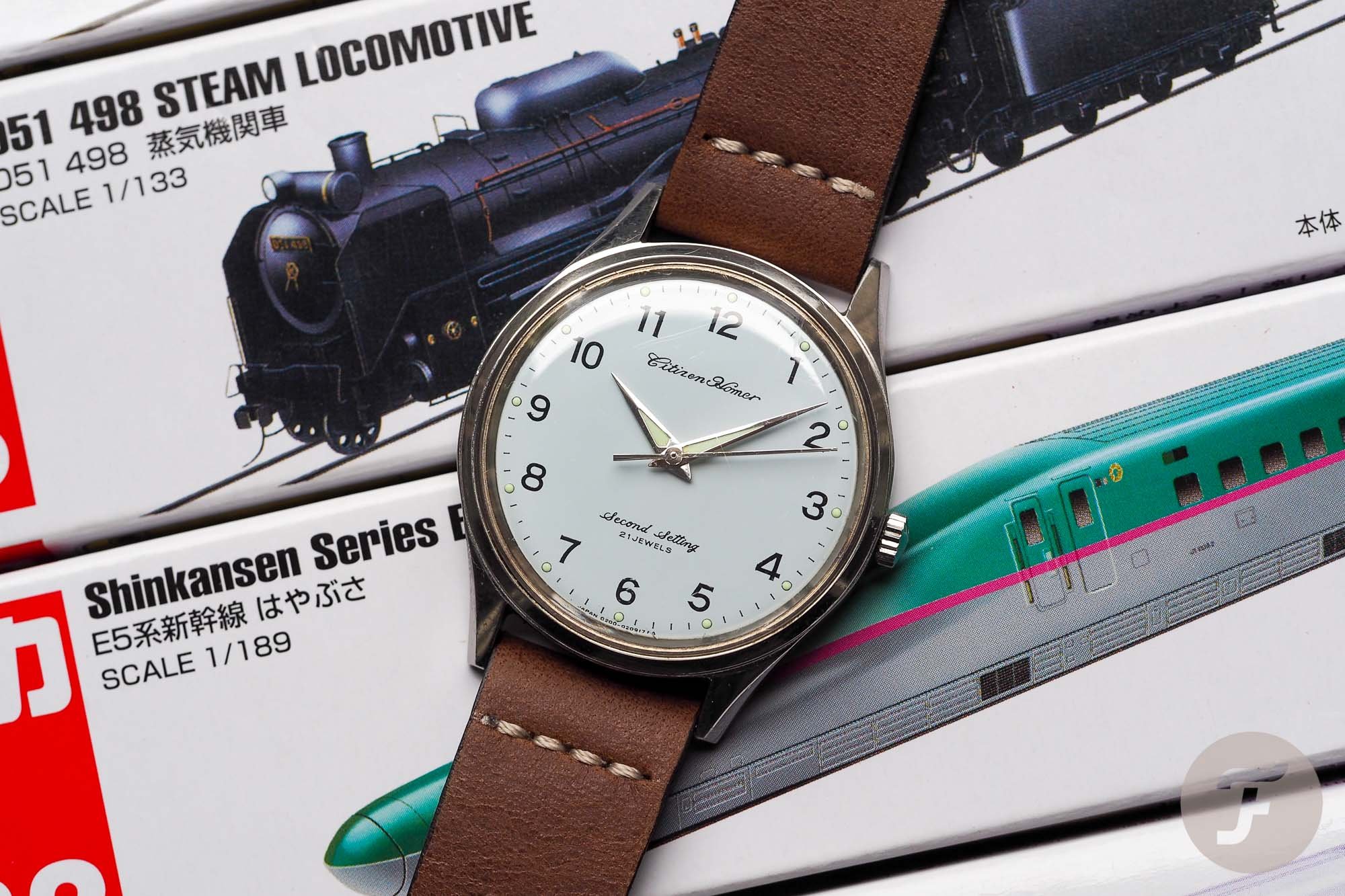 They're Prevalent on Auction Sites
I had no idea of the Citizen Homer Second Setting prior to seeing them pop up on places like eBay and Yahoo! Japan Auctions, but pop up they did – and with serious regularity!  In my endless quest for typically black-dialed vintage Japanese divers or early attempts at waterproof watches, I kept running into these albino-dialed curiosities.  It probably took more than a month, but I finally clicked on one and examined it more closely.  What the heck had I been missing?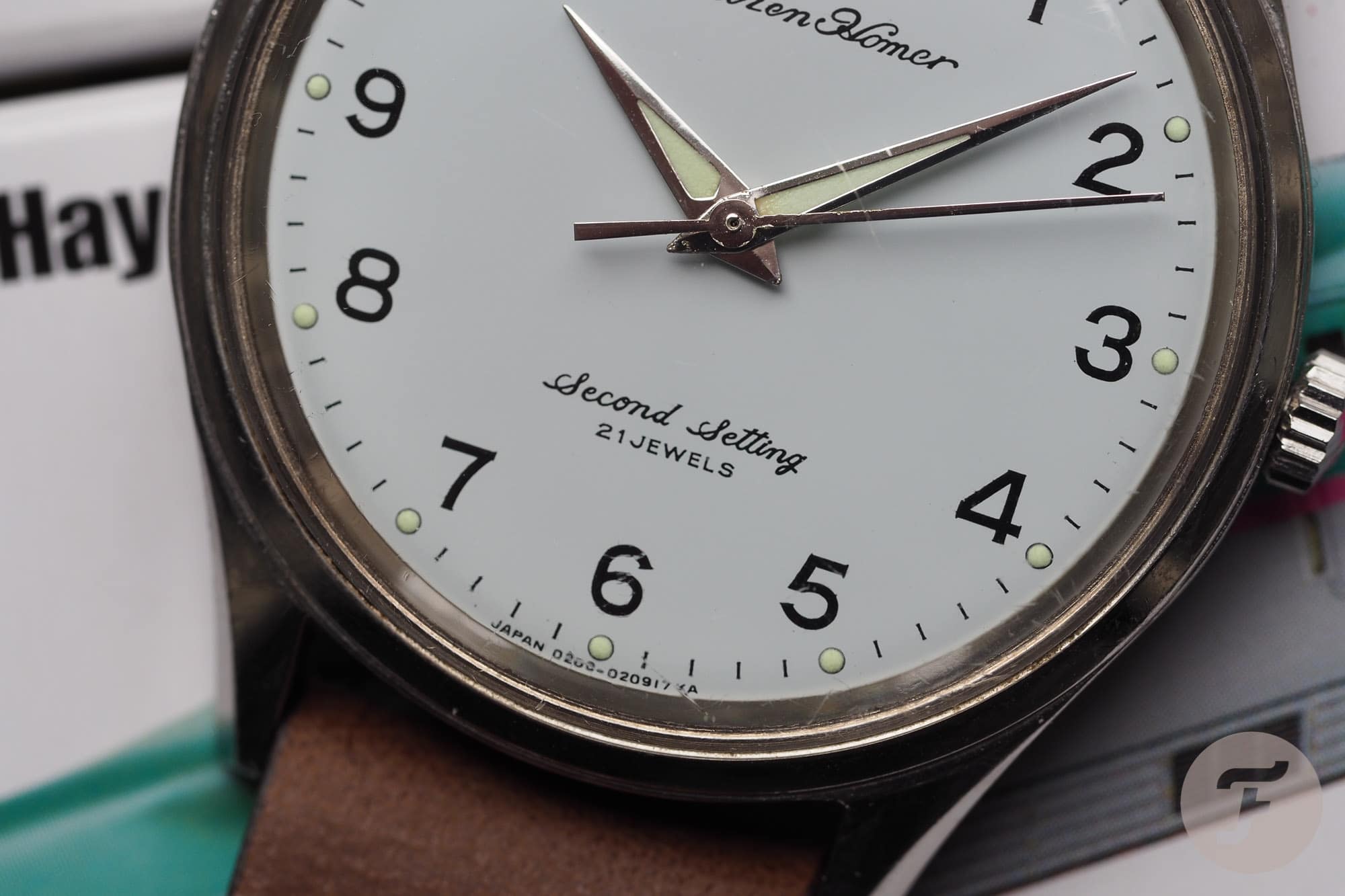 A Perfectly Simple Design
What I stumbled upon in the Citizen Homer Second Setting was a watch with an undeniably clean design.  But there was and is more to it than a white dial with black numerals all the way around.  The watch contains beautifully lumed dagger hands and a small lume pip outside of each numeral.  With this functionality, I'd say it even borders on the military side of things.  Regardless, I knew I had to have one at some point.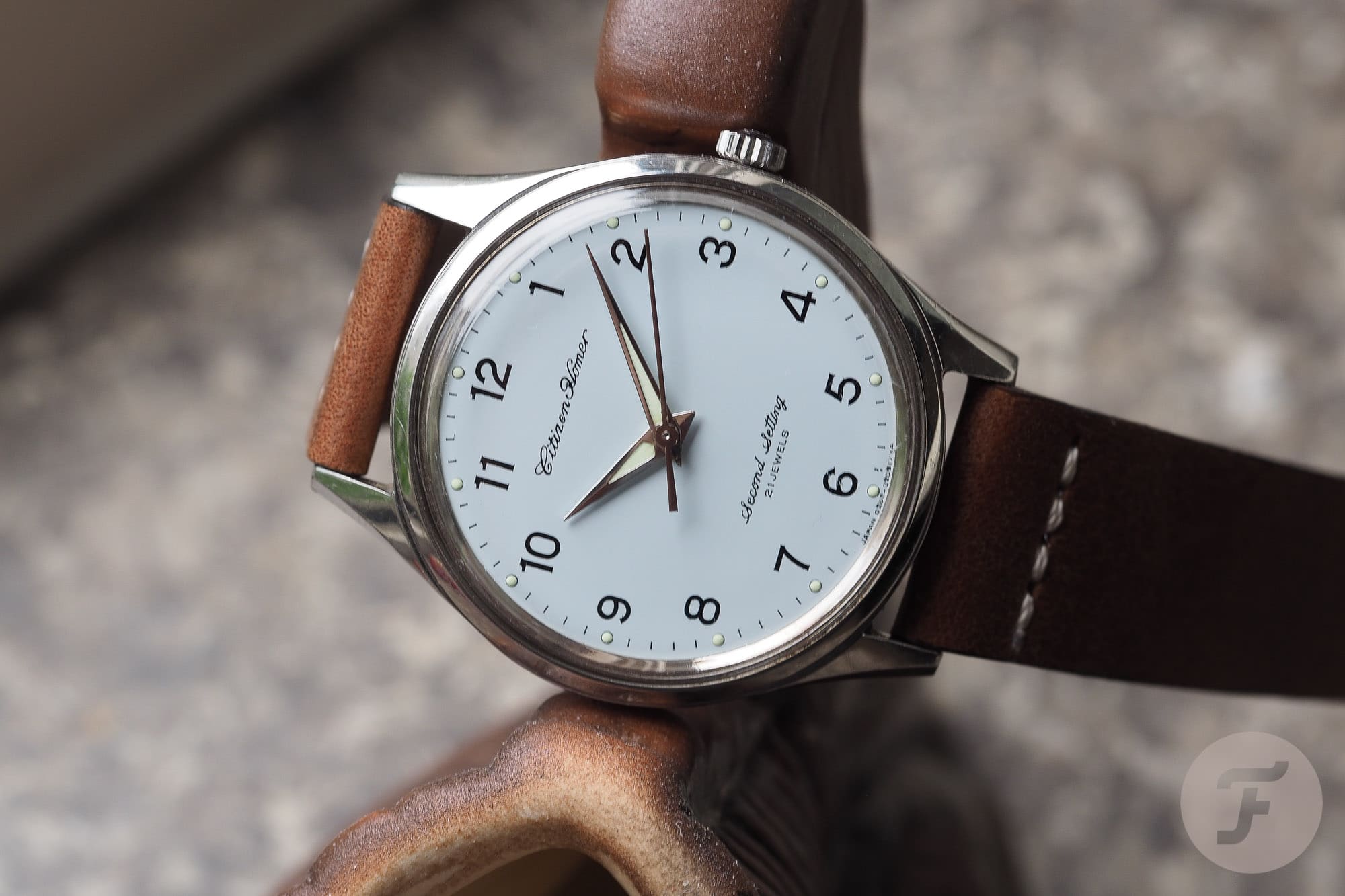 Months and months went by with my eye always turning to a more immediately desirable vintage Japanese sports watch as the subject of my bidding.  But still, these Citizen Homer Second Setting pieces kept showing up with roughly 3-5 for sale at any given time.  And at anywhere from $150–300, they seemed like a heck of a deal.  And so, finally, knowing that I'd regret not buying one of these watches sooner versus later, I pulled the trigger.  I aimed high with a bid somewhere around $200 and woke up to the good news that my ship had come in at an astonishing $100.  It was time to take delivery.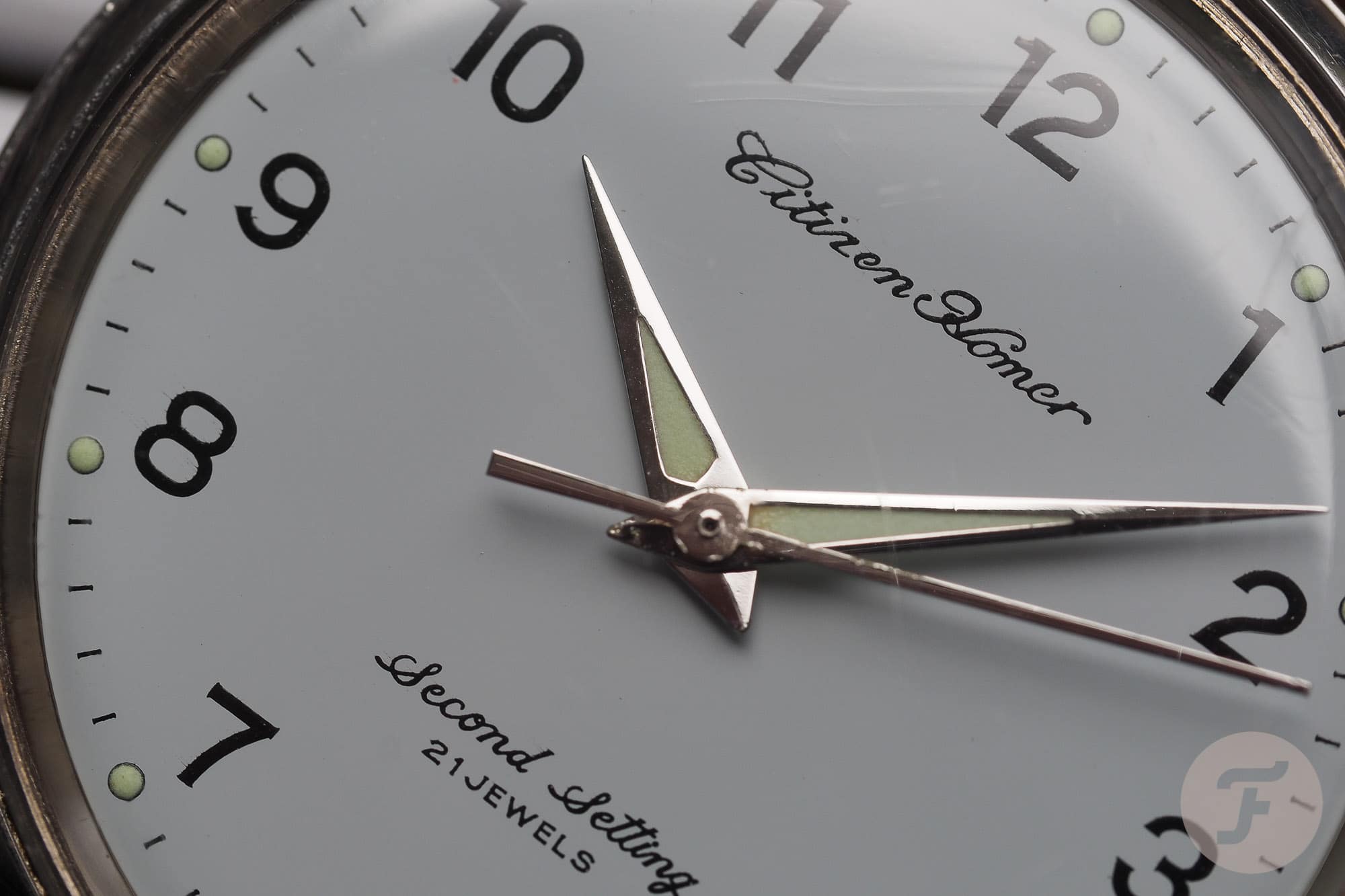 Manual wind and an in-house movement
I was damn impressed as soon as I held the Citizen Homer Second Setting.  All of its good looks translated perfectly from screen to hand and, for $100 – even $200 if that's what it had taken -, it felt like some of the best money I've ever spent on a vintage watch.  A domed acrylic crystal keeps ticks the vintage box and was easy to clean up with a little Polywatch and some elbow grease.  And that dial – wow, in person it actually takes on a light blue hue in some lighting.  It's hard to explain, but it comes off a bit like porcelain.  And the cursive writing?  I think it contrasts well with the stark typography of the numbers.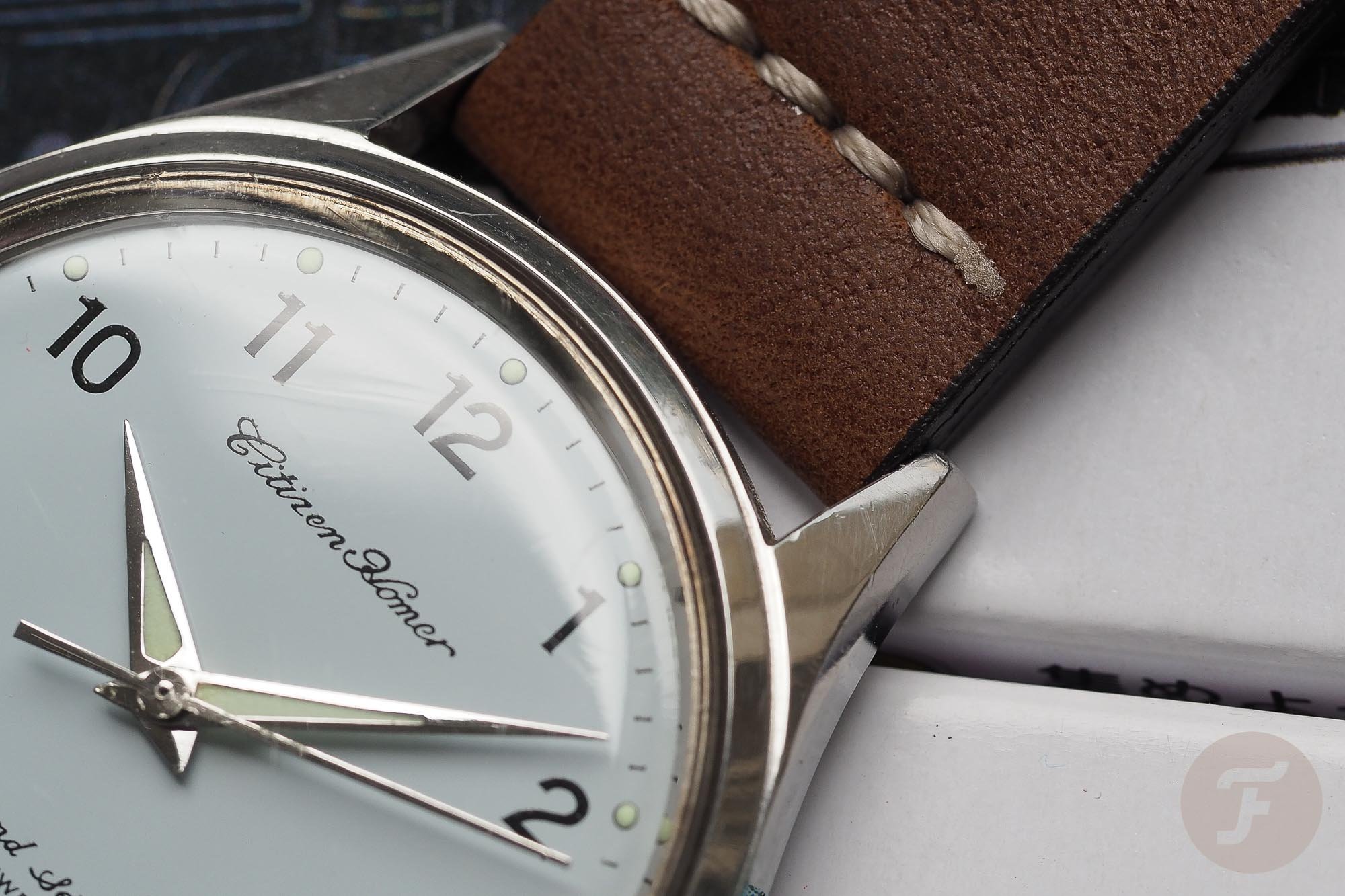 Japanese railway workers who received a Citizen Homer Second Setting must have considered themselves as rather lucky.  As mentioned, the watch does have a utilitarian design, but with the previously mentioned script, it's apparent that Citizen added a touch of style as well.  I'd also draw your attention to the triangular chamfers on the lugs.  It's a nice decorative add that hopefully made this watch wearable for workers once they'd finished their daily shifts.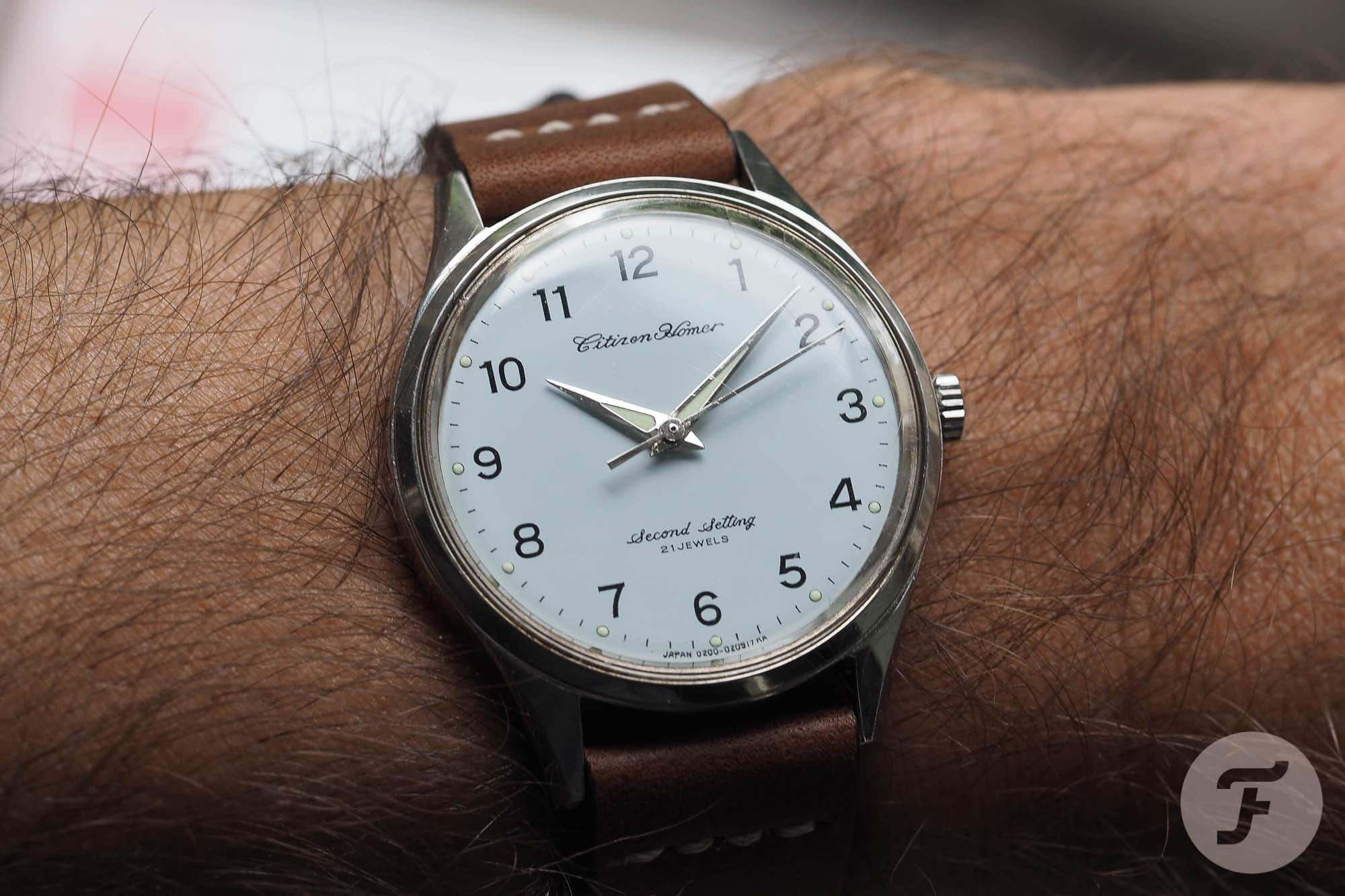 36mm with a Full Stainless Case
At 36mm in diameter and 43mm lug to lug, the Citizen Homer Second Setting won't be taking on Godzilla any time soon, but it's in such a sweet spot size wise.  Do you like the smaller Nomos models?  Exactly.  Credit the 21-jewel movement for keeping things svelte on the thickness scale as this piece comes in at roughly 9.75mm!  On a rustic brown 18mm leather strap, this watch works well with about anything on.  In fact, if you're just the least bit adventurous, this would make a great daily driver (perhaps after a service) that has a history and is definitely more interesting than almost anything new in its class.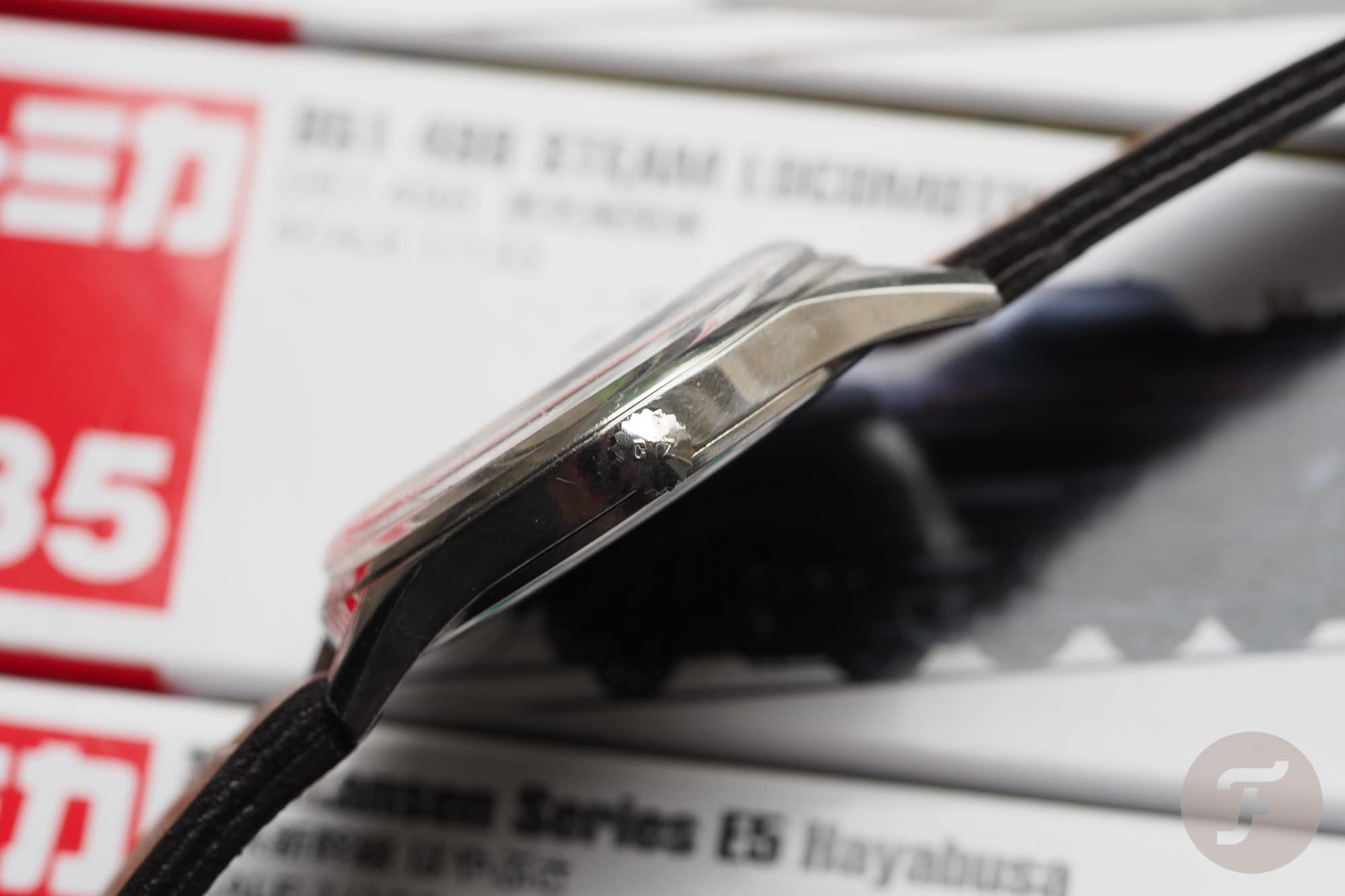 A Robust Movement with Hacking
The 21-jewel movement inside the Citizen Homer Second Setting is the caliber 911.  I appreciate the articles here and here that give us some insight on the movement.  Yes, it hacks, which is a cool feature that was undoubtedly useful for railway employees.  Aside from that, the movement is a relative of the high-end Citizen Chrono Master that we reviewed.  As a refresher, that's the watch meant to take on the likes of the Grand Seiko, so the Homer at least received good bones.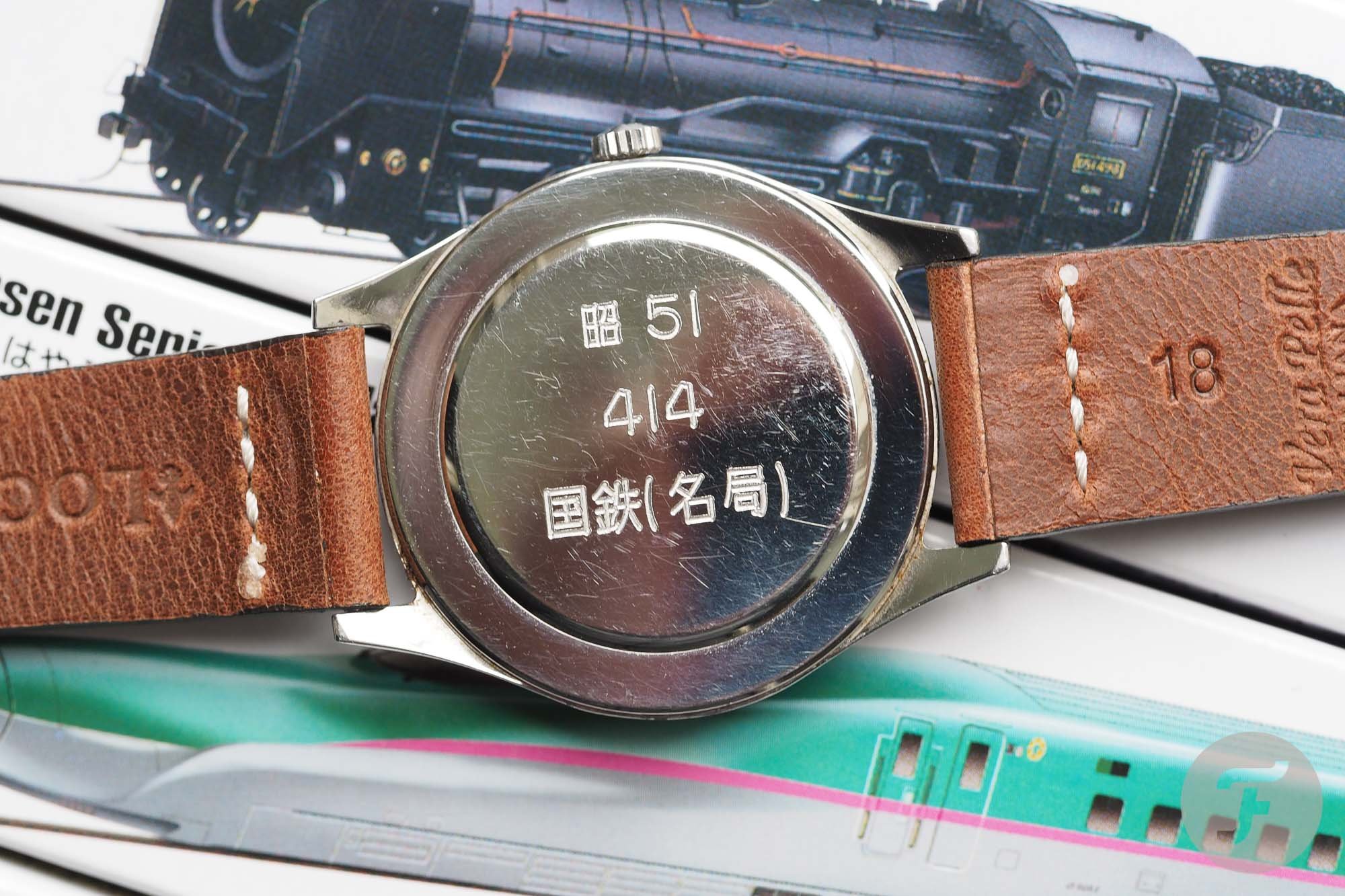 All Feature a Case Back with a Story
Last but not least, the snap case back of the Citizen Homer Second Setting has some interesting Kanji engravings.  My friend, the Enabler, speaks perfect Japanese and informed me that the case back tells us that the watch was issued in 1976 (Showa 51), is likely the 414th watch issued that year, and was for an employee of the Japanese Railway.  It's cool stuff and, hey, 1976 also happens to be my birth-year.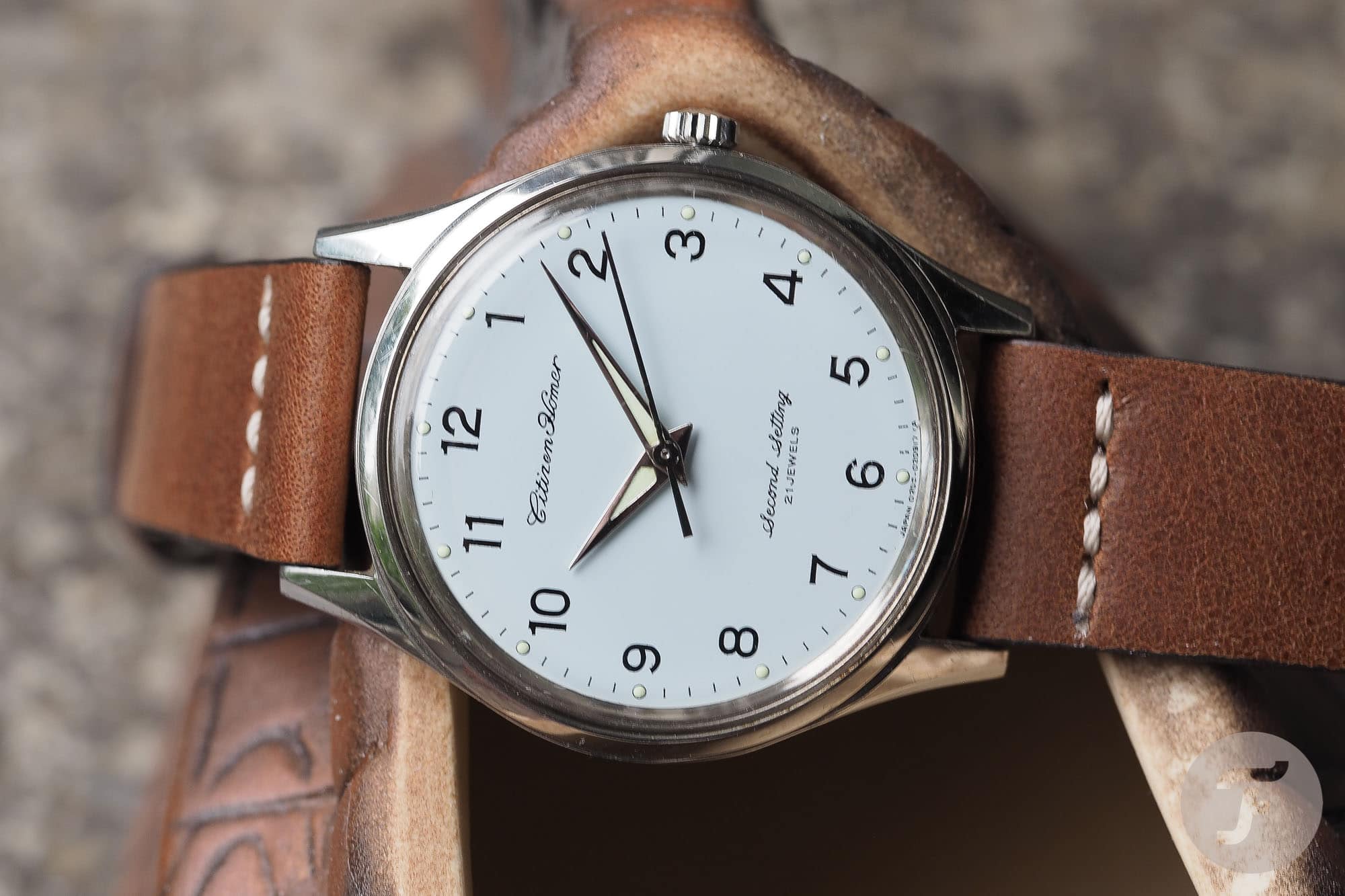 The Best Deal in Vintage Today – Fight Me!
I'll be blunt; the Citizen Homer Second Setting has to be one of the best deals in vintage watches right now.  Yes, there are other great Citizens such as the Jet we reviewed late last year, but even this pales in comparison in my eyes.  For $200 or less, I don't know of anything that ticks this many boxes while looking so damn good.  I honestly doubt that Citizen could produce such a watch today at this price and even if they did it for $400, you'd see every watch site gushing and placing them within all sorts of "best buy" articles.  Go buy one of these, have it serviced, and throw it on your favorite strap.  You don't even have to send us a thank you note.  🙂
Watch specifications
Model
Homer Second Setting
Dial
White with Printed Black Numerals
Case Material
Stainless Steel
Case Dimensions
36mm diameter, 43mm lug to lug, 9.75mm thickness, 18mm lug width
Case Back
Stainless Steel Snap Back with Engravings
Movement
Citizen caliber 911, manual winding, hacking, 21 jewels
Functions
Time (HH:MM:SS)
Special Note(s)
Made from the mid-1960's to the mid 1970's. Officially issued to Japanese railway employees, not offered for public sale.