#TBT Citizen Jet Auto Dater – A Dress Watch with a Unique 1960's Movement
Today on #TBT, we'll take a brief look at what I think is an unheralded classic in the Citizen Jet Auto Dater. Most would probably take one look at this watch and dismiss it as yet another anonymous Japanese dress watch in the same way that most ignore ubiquitous "three hands and a date watches" from Swiss brands. But a look inside and a closer examination of the details reveal that there's a bit more to this Citizen than meets the eye. This story isn't completely about a movement, but it's certainly the star of the show.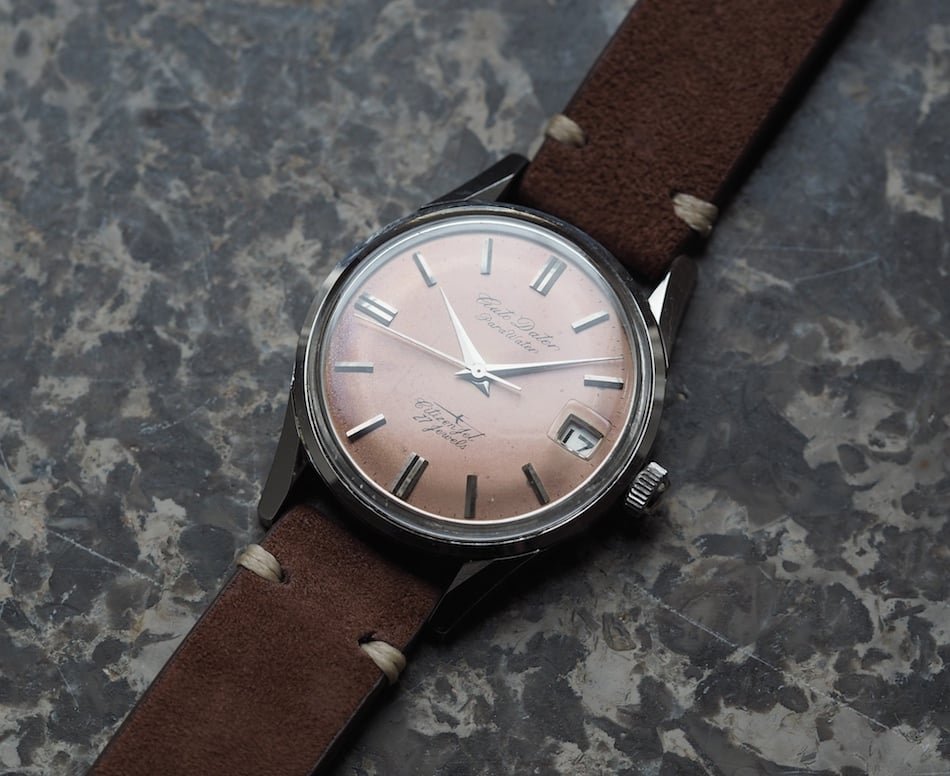 I've admitted in past articles that I'm a sucker for falling into rabbit holes when searching for watches. Whether it's on eBay or a certain Japanese auction site, these companies have a way of suggesting "other items you may like" at the bottom of listings. And so it was, roughly a year ago, that I was trawling through ads for vintage Citizen divers when various, larger Citizen dress watches began popping up on the page as a come-on. I decided to click on several of these ads and that led to even more ads – forget a rabbit hole…this was more like a wormhole and I was deep within it! But finally, I stumbled upon the Citizen Jet Auto Dater you see here.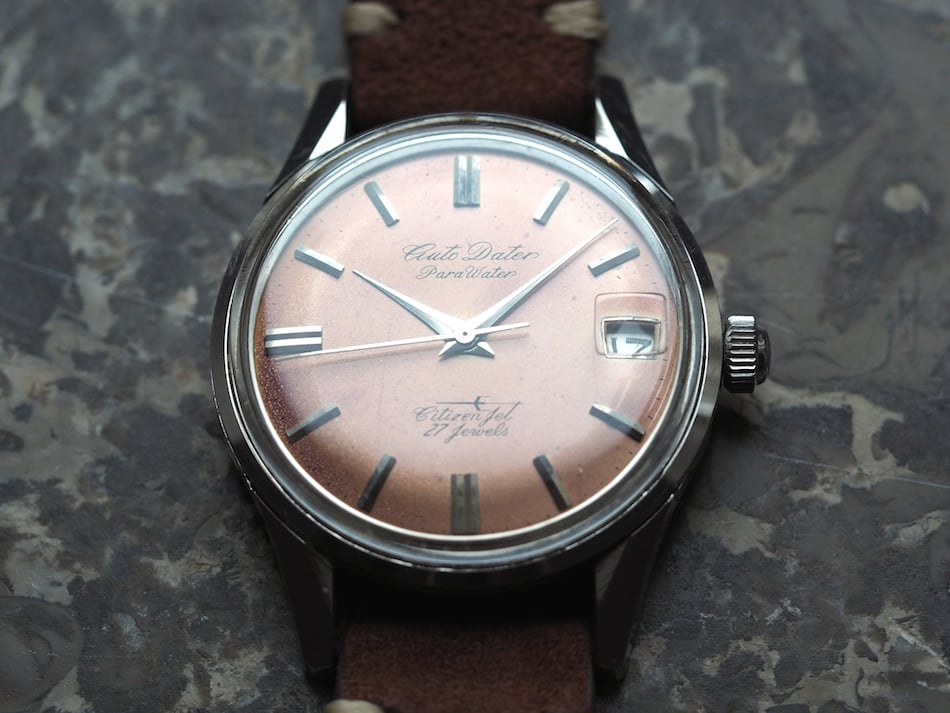 You might ask, and you'd be perfectly right to do so, how I picked this Citizen Jet Auto Dater amongst what must literally be thousands of different Citizen (and Seiko for that matter) vintage dress watches. Well, I had been doing some side research on Citizen and I stumbled across what is commonly seen as the brand's first dive watch, the Jet Autodater 120m. Now, this is an extremely valuable watch today and I'd love to own one, but what looked interesting to me was the movement.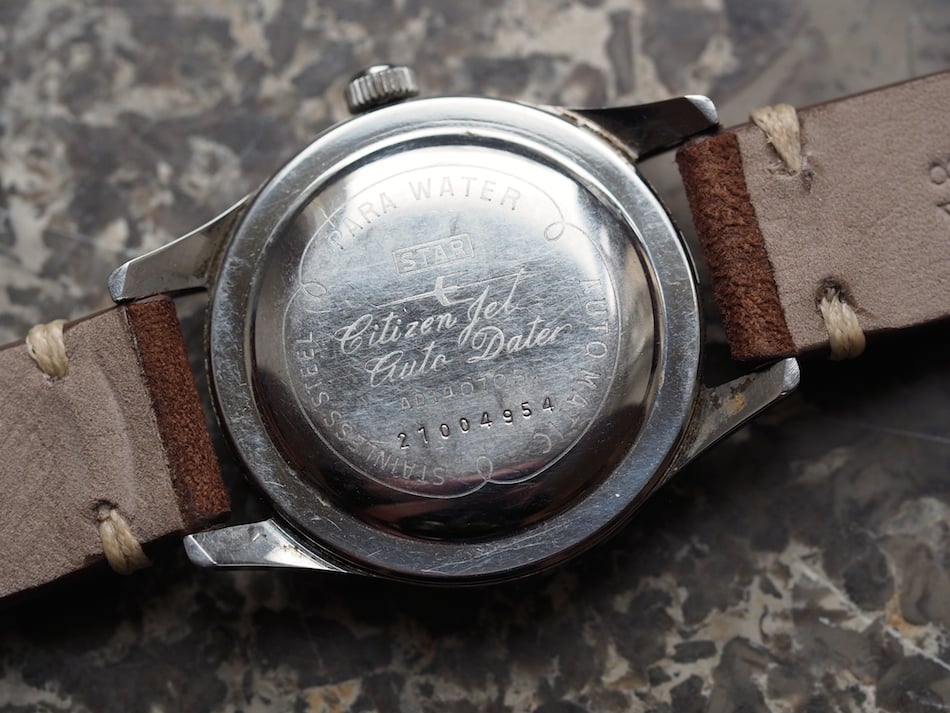 In doing more reading, it turns out that the "Jet" lineup of movements was only Citizen's second foray into making automatic movements. A prior movement was around for a few years until the Jet line came in during 1962 and it lasted until the mid 1960's. As a completely in-house designed movement, the Jet was and is unique due to its geared 360-degree rotor with an oscillating weight on the outside of half of its diameter. Just looking inside reveals something very different from your average automatic.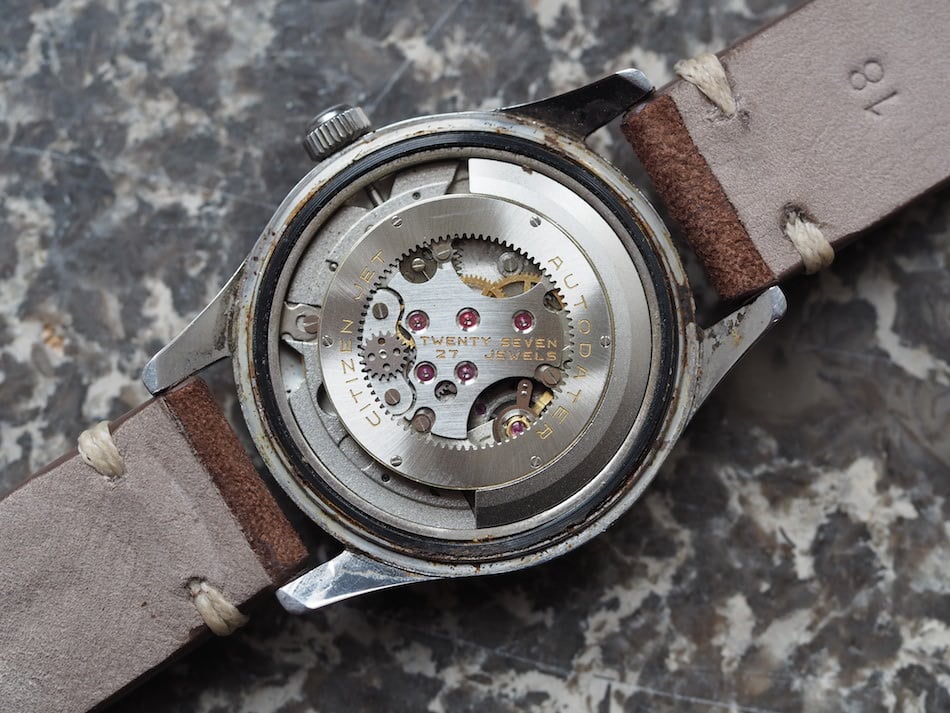 With 27 jewels, the caliber 1120/1121 within the Citizen Jet Auto Dater cracks along at a leisurely 18,000 bph and has a power reserve of roughly 45 hours. While the date isn't quickset, it can be adjusted more quickly by moving the hands back to 9pm and then forward to midnight. The movement can be handwound and this is where things are a bit different. That massive internal rotor glides over 9 jewels and has a really neat mechanical feel when turning the ample unsigned crown. As one of the articles states, the Jet was replaced after only a few years of production, as style trends of the time demanded a slimmer movement.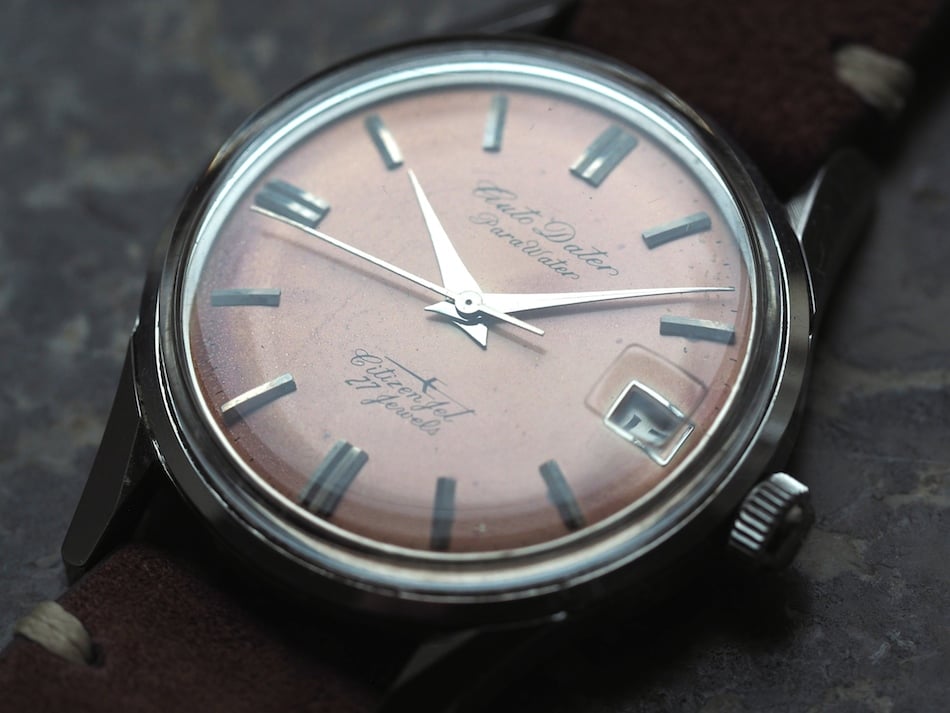 Thankfully, the Citizen Jet Auto Dater isn't only about the movement. There were a number of Jets to choose from and this one stood out to me. The salmon dial jumped out at me. Regarding that, I've yet to find another, so I think this one has aged severely from its original white/silver, but it's lovely. It's simple with applied indices, a minute track, dagger hands and black print, but it works well. The other thing I liked from the ad pictures was the massive acrylic crystal with built-in magnifier. And the all-stainless case? It comes in at a more than respectable "just shy of" 37mm in diameter and it tallies a length of over 45mm. The watch was shipped with its original stainless bracelet, but it looked so mismatched design-wise to me (too fussy, and not in a detailed fine way – think Speidel gone wild and you're there) that I swapped it out for an 18mm strap.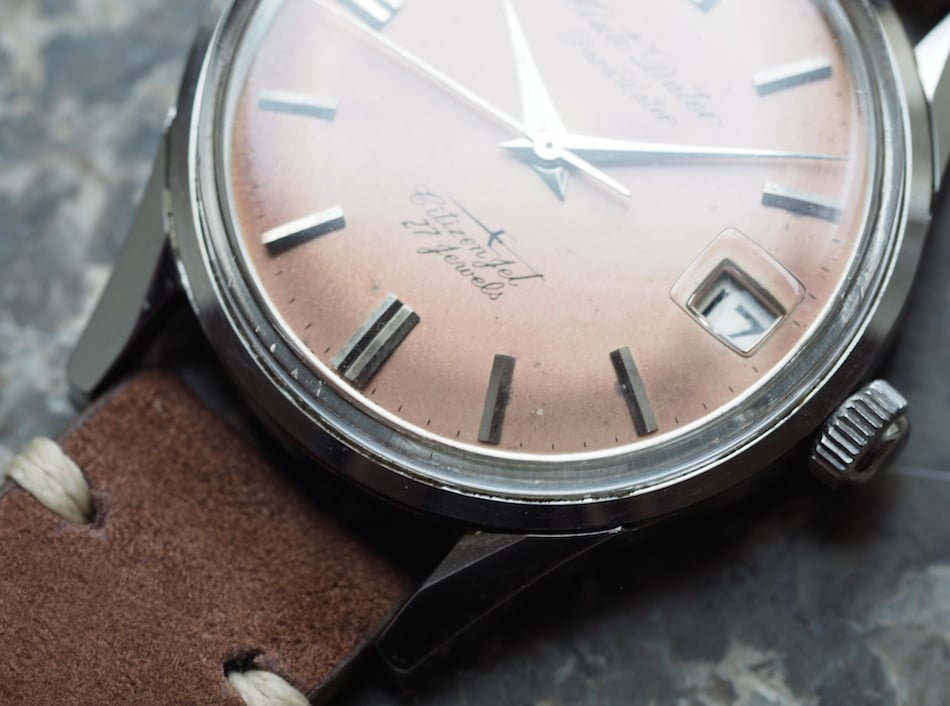 When I reviewed the Citizen Chrono Master, Citizen's answer to Grand Seiko, I remarked that the watch was a worthy rival in most aspects, but that the case detailing was a bit lacking. That watch dated to 1965 and, oddly, I find this Citizen Jet Auto Dater from 1962 to contain a higher level of finishing.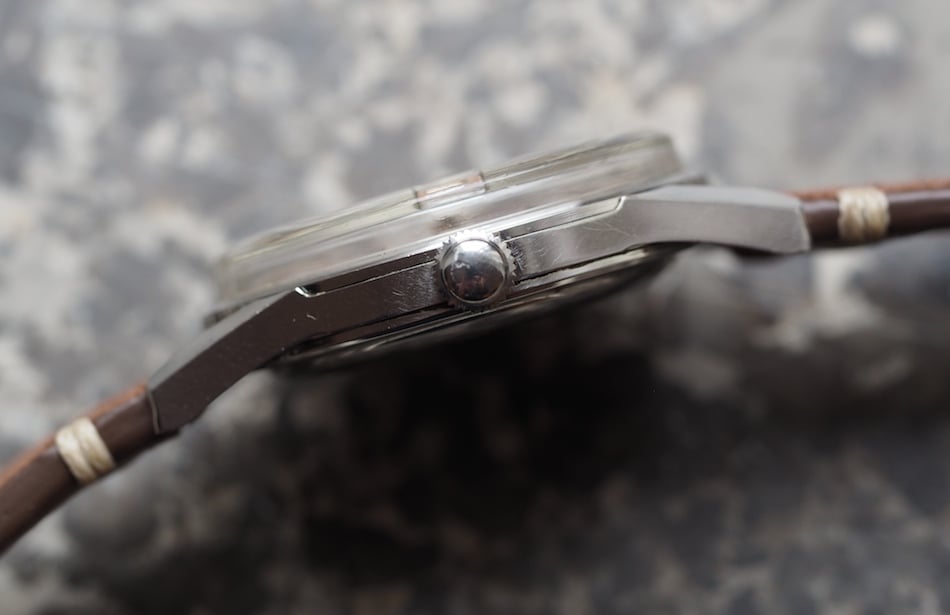 Take a look at those twisted lugs and how the bezel meets the case and I think you'll agree that Citizen put some real effort into this watch. In fact, I'd argue that this watch would look rather dressy and debonair if paired with a black crocodile strap.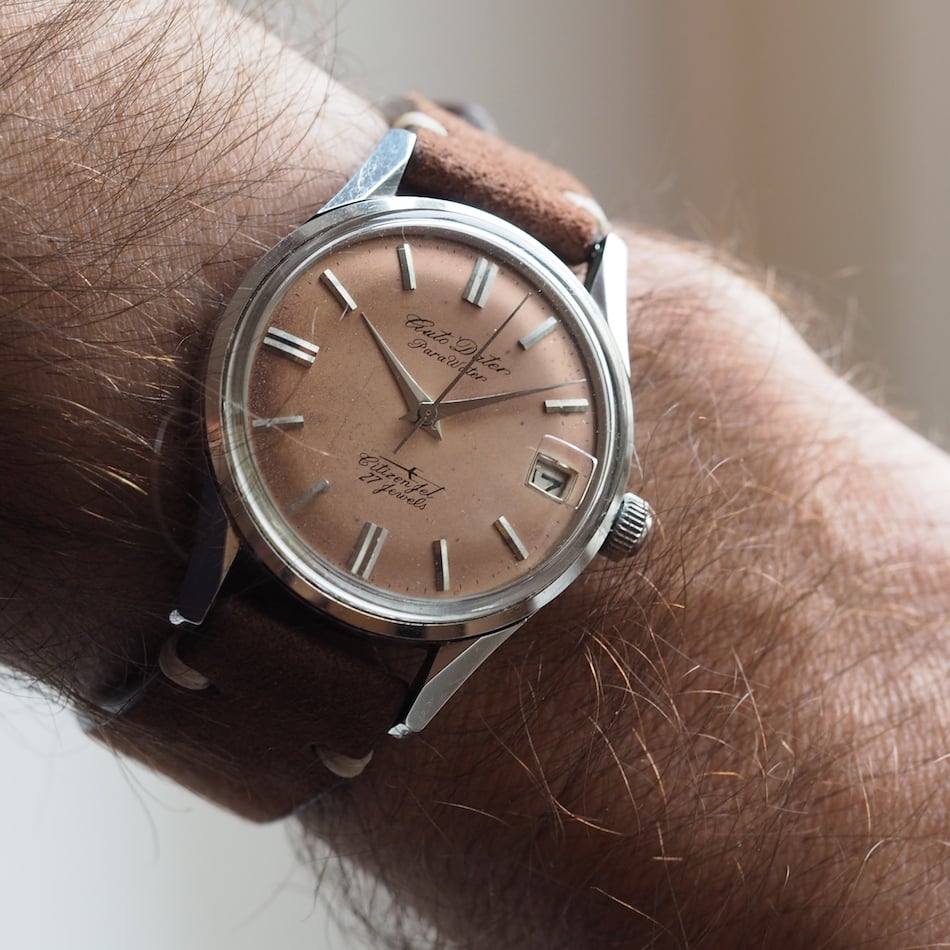 The Citizen Jet Auto Dater is one of a multitude of great vintage watches from the "other" Japanese brand. Aside from its interesting movement, it probably doesn't stand out as anything particularly unique, but its large size, impressive build quality and lovely dial make it stylish and significant to me. Oh, and did I mention that I picked it up for a whopping $75? Not too bad if I do say so myself. Until next time…