Reuniting A Friend With His Father's Vintage Seiko 7006-8030 Sports Dive Watch
A special timepiece undergoes a full restoration
Normally, writing an article about a vintage watch is a pleasurable experience for me. Today's epistle on the Seiko 7006-8030 is bittersweet, though, because it coincides with a goodbye story. Still, reuniting a friend with a special watch seems like a fitting way to depart. This is the story of a friend's father's vintage Seiko wristwatch, its troublesome restoration process, and everything that went into it.
After more than 12 years, we're leaving Frankfurt, Germany. We're heading to London, which is extremely exciting. However, leaving means saying goodbye to some really good friends. In particular, one of my best friends here in Germany is a gentleman by the name of Antony. He also happens to be the proprietor of "Antony's Bar," where my wife and I would faithfully have a couple of cocktails each and every week. He's the best drink maker I know and he runs the type of establishment that feels like home. More than that, though, he's a genuinely nice person and I will miss the hell out of my weekly end-of-week visits there. Therefore, over a year ago, when he unearthed a relatively uncommon Seiko 7006-8030 that needed a lot of work, I was more than happy to help.
The back story
We've probably been frequenting Antony's for about six years now. During that time, watches have been a part of our dialog but certainly not a main focus. So, it was a surprise when sometime last year, he returned from a trip home to Greece and brought something interesting. Apparently, his mother was cleaning out the house, and she stumbled upon Antony's father's old watch, a Seiko 7006-8030 sports diver from 1973. She gifted it to him, but it had a catch — it wasn't working.
Antony brought it to the bar and showed me the watch. It was clear that this was a nice piece, but the movement showed no signs of life, and the bezel was stuck. Finally, the crystal was heavily scratched and cracked. After all those episodes where he had acted as my psychologist or provided drams of rare spirits on the house, I finally had the opportunity to pay it back.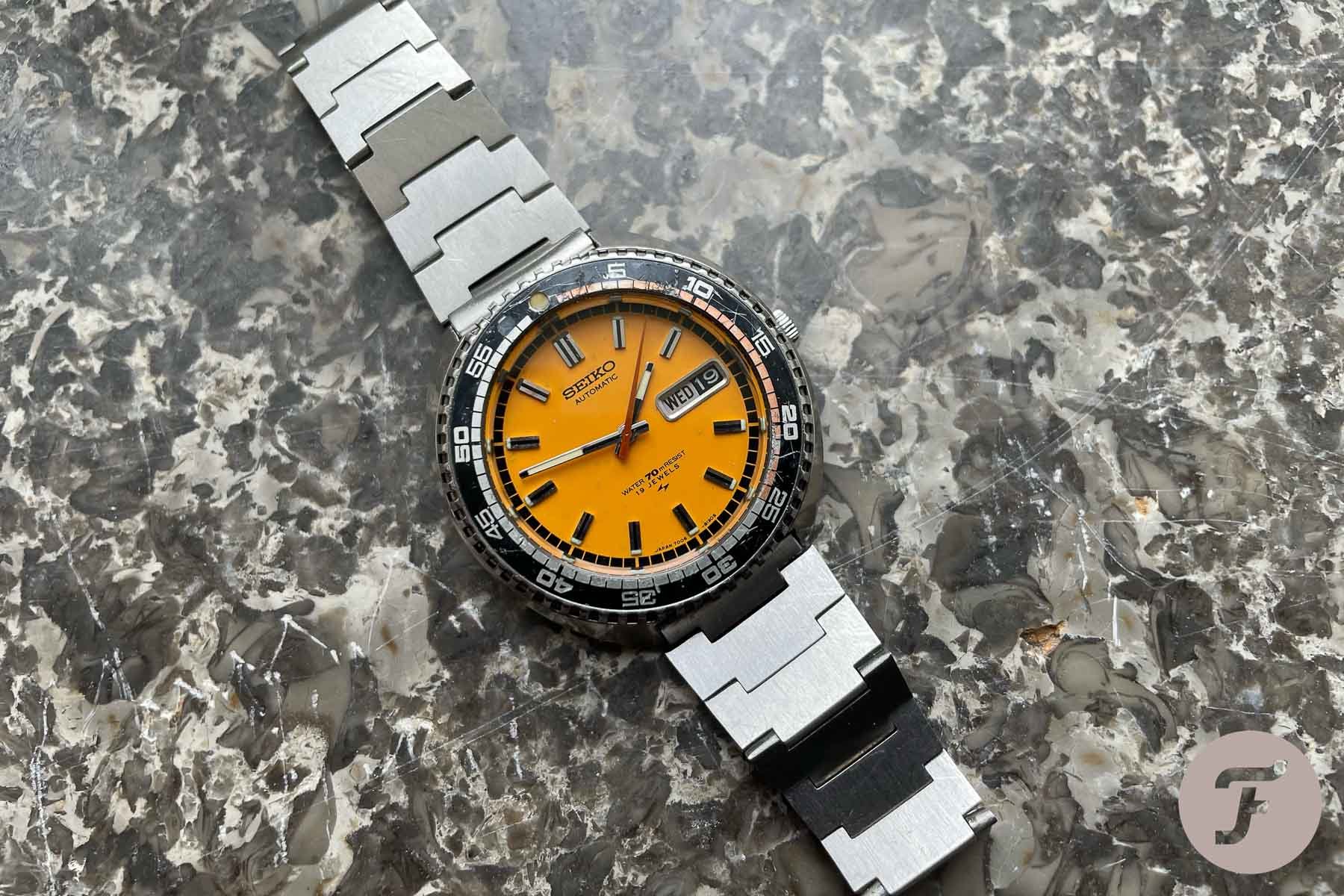 The Seiko 7006-8030 sport diver
I'm an unabashed fan of the late-60s and early-70s Seiko sport divers. These cool 70-meter light divers were made in so many different variations and colors that they offer something for everyone. Plus, they generally wear nicely and use robust, simple automatic movements. The Seiko 7006-8030 that Antony's dad wore is a fairly distinctive watch. Firstly, they were the last of the vintage sport divers and were seemingly made from roughly 1972 through 1973. These 41mm steel watches came in black, yellow (orange), blue, and silver. They had cases quite similar to Certina watches from the same period, making them somewhat traditional-looking.
A quick look at this watch shows the Daini factory "lightning bolt" above 6:00. If you're a Seiko collector from the west, this is relatively interesting because this factory did not export as heavily. I mentioned this to Antony, and he has no idea where his father purchased it. At one point, the family lived in Australia, so that's a possibility. A duty-free shop during travel is another likely scenario. Regardless, he wore the watch daily. He wasn't a diver, but he certainly went in the ocean with the watch. Somewhere along the way, the flimsy original bracelet gave out and his Dad replaced it with an aftermarket solution.
The restoration stopped as soon as it started
After I took Antony's Seiko 7006-8030 home, I contacted James Marien in Belgium and asked about his availability to service the watch. He got back to me and mentioned that he was heading out on holiday for several weeks. On top of that, he was also backed up with work. It would be a while before he would look at the Seiko. At some point, though, James did get around to the Seiko, but the first reports were less than favorable. Recently, Balazs and I have spoken about the potential challenges of servicing a mysterious vintage watch. This Seiko was about to become the poster child for much of the advice that we typically offer.
The first issue was the crystal. The right one (part number 310T19AN) was simply unavailable. I directed Antony to an aftermarket crystal from Sternkreuz for roughly €20. They're not perfect, but they get the job done. The more significant issue, though, was the movement. Somewhere along the way, the watch encountered moisture, and the result was a lot of corrosion. I suppose it could have been salvaged, but it would have taken hours and hours of work. So, the only alternative was time to find a donor.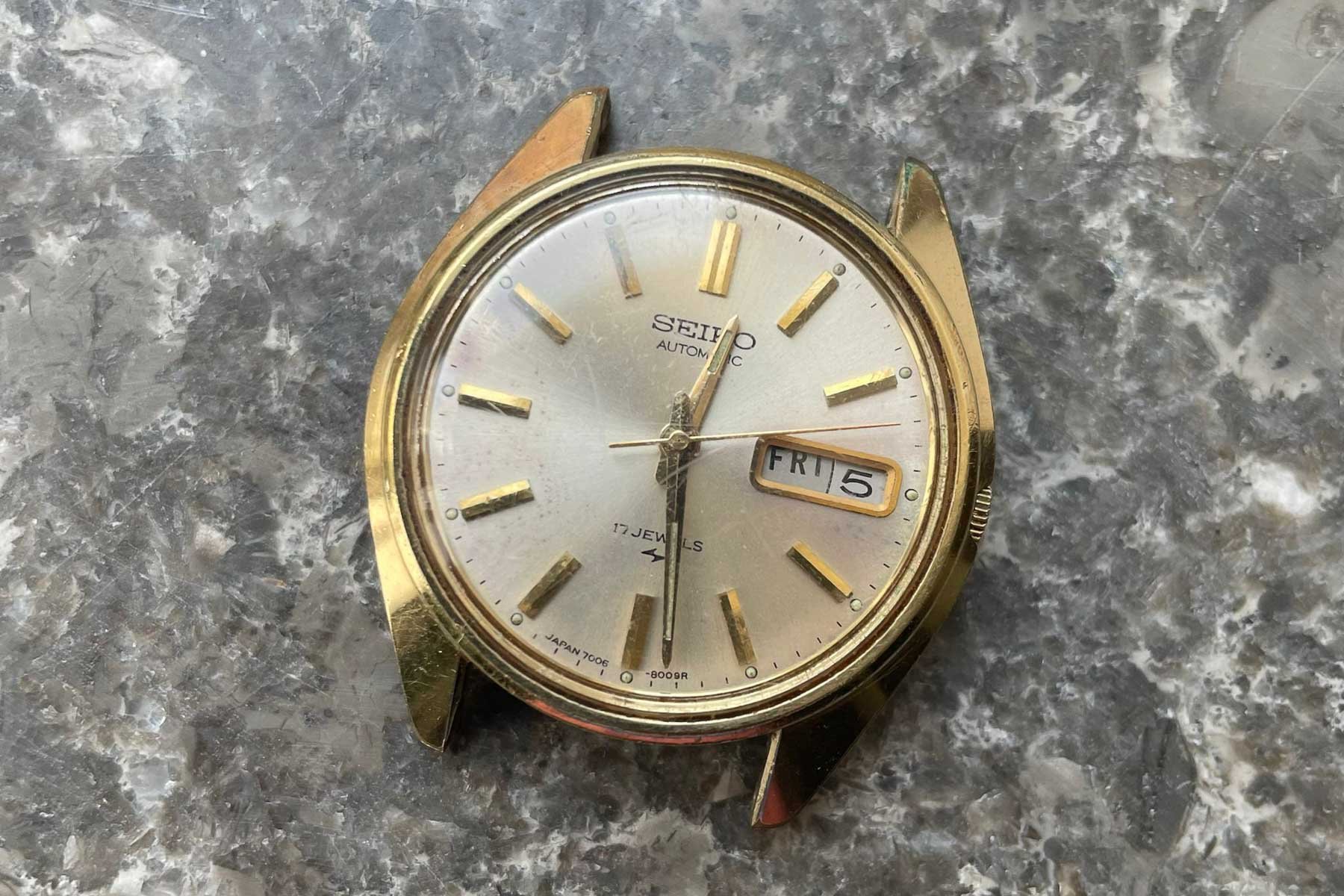 A donor from Japan
Ordinarily, finding a donor movement for a run-of-the-mill vintage Seiko is an easy task. With the 7006, though, it was somewhat of a struggle. I tend to look for certain traits. I like gold-plated models that are heavily worn. These are incredibly undesirable and are priced accordingly. That being said, finding a really bad one can send one back to square one. The trick is finding the right combination of cheap, undesirable, and working! As I mentioned, though, the 7006's aren't as common as some other references, and it took nearly €100 to find something that seemed ok on paper (yes, we had to choose a slightly lower jewel count variant). Then, it was a matter of waiting for the auction to end, getting it over to me in Germany (thanks Eric and Patrick), and sending it to Belgium along with the crystal. Whew!
Ready to run
Of course, I had missed my window with James, so the waiting game continued. Ultimately, with less than a month to go before moving to the UK, I shot James a note and explained to him that I really wanted to present my friend with his watch before leaving. He quickly set other projects aside and got to work. I've mentioned this before, but James sends some really great pictures during a service. It was nice to be able to share these with Antony to help assure him that his family heirloom would be back in full health. Speaking of which, the donor movement was running strongly and passed a battery of tests with flying colors. With less than a week to go before leaving Germany, the freshly restored Seiko 7006-8030 arrived.
The handover
Uncharacteristically, I sauntered into Antony's on a Wednesday night, but aside from having a drink, my mission this time was different. It was time to hand over the Seiko 7006-8030. This time, instead of feeling Antony's gaze as I tried his newest cocktail, it would be my turn to watch him upon receiving something special. Unsurprisingly, the watch was a huge hit, and even his Dad's old bracelet fit his wrist. I returned to Antony's a couple more times before finally saying goodbye, and he was wearing it each time. The watch has been enjoying plenty of movement during cocktail shaking, and it stayed within a minute over the first five days. Not bad!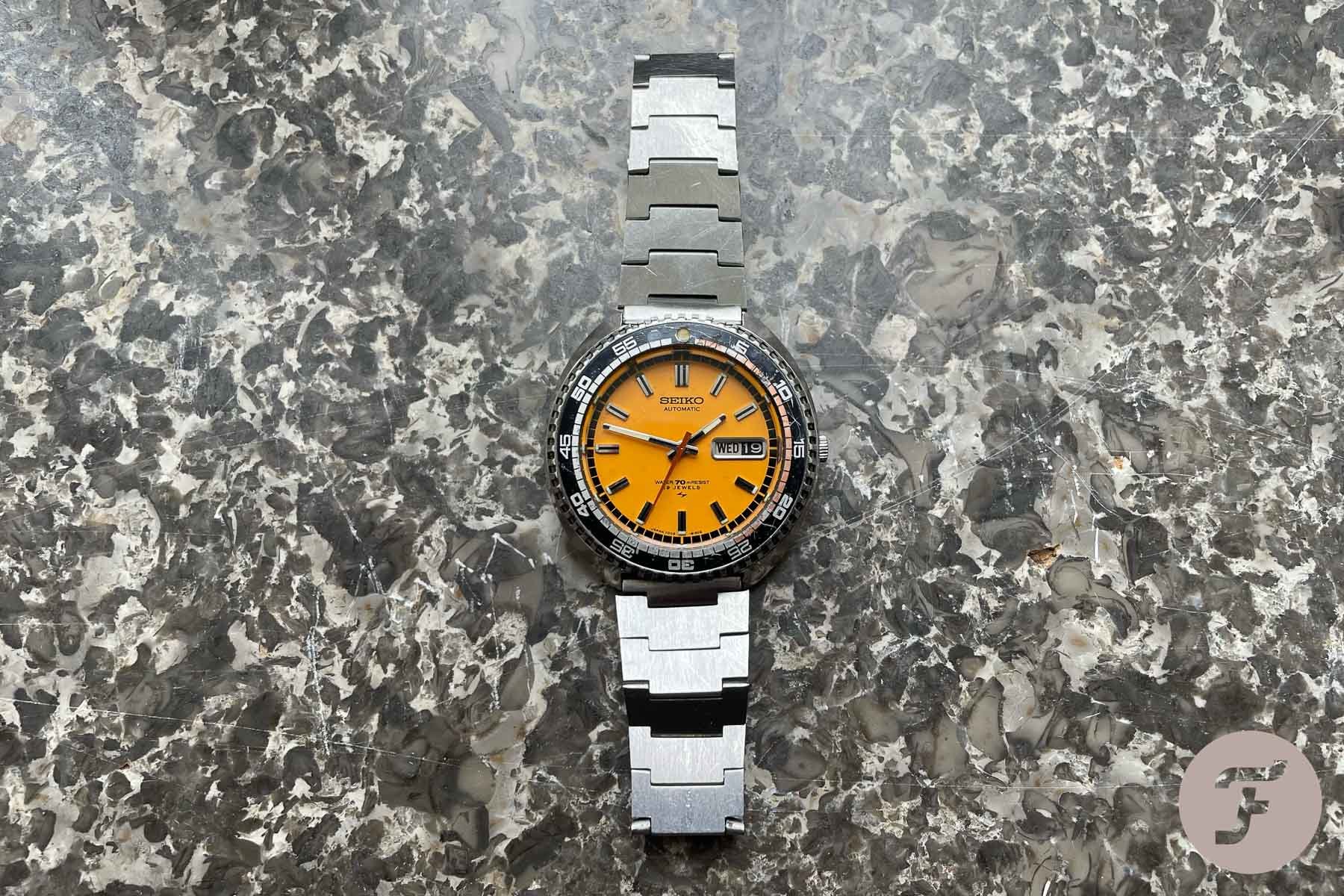 As a long-time collector, it was nice to experience the simple joy of seeing someone reconnect with a significant watch. It was a reminder that these little objects can hold much more than monetary value. It was also yet another lesson in patience, searching, and even more patience. On top of that, it was nice to use my vintage Seiko knowledge to help someone in need. I'll miss heading to Antony's every week, but we will continue to keep in touch. Plus, when he looks down at this wrist, I hope the watch reminds him of both his family and our friendship.
Antony's Bar (cash only) is located on Berger Straße 14 in Frankfurt am Main. If you're in town I can't recommend it enough!