SevenFriday introduces their new collection of timepieces, the V-Series. Clearly inspired by engines and industrial design, the SevenFriday V-Series will shake up the entry market of mechanical timepieces once again. We had our worries, that the new collection would become 'too expensive' and therefore competing in a totally different league of watch manufacturers, but the price of the V-Series is more than comforting.
Both V-Series watches, the V1/01 and V2/01, are priced at just below €1000 Euro (~ CHF1055 Swiss Francs). For this, you will get a unique designed watch by SevenFriday, powered by a mechanical movement made in Japan (Miyota 82S7). There is more than price and movement of course, so here we go!
SevenFriday V1/01 Specifications: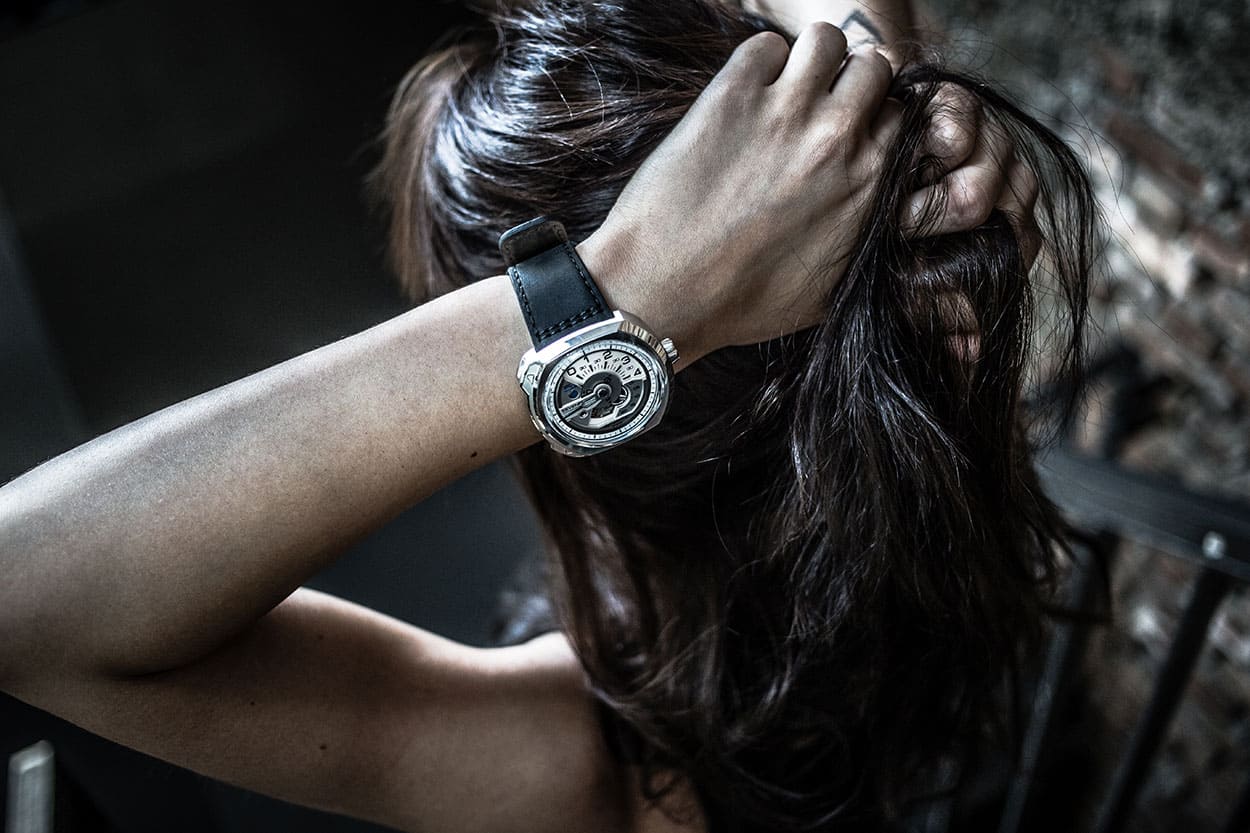 Stainless steel case with sunray brushed top bezel.
Fast Strap Changer (FSC) equipped. (pushers at 9H side).
4 levels dial construction Galvanic hollowed out plates with alternate finishing: Deep stamped Silver «azurage»/ Vertical brushed rhodium / Vertical brushed Silver white / Opalin silver white Circular brushed Gun metal dial ring.
12 applied galvanic parts
120° angle hour reading with «additioner» principle, turning central disc «0, 4, 8» to be added to fix «0, 1, 2, 3, 4» scale.
Customized with special Day & Night display (white & dark blue) and white small second indication («additioner» principle)
Specially hardened and anti-reflective treated domed mineral glass
3 ATM water resistant
Black soft mat calf skin leather strap (123/85mm) – tone to tone stitching
Chip that allows authenticity verification (with NFC technology).
SevenFriday V2/01 Specifications: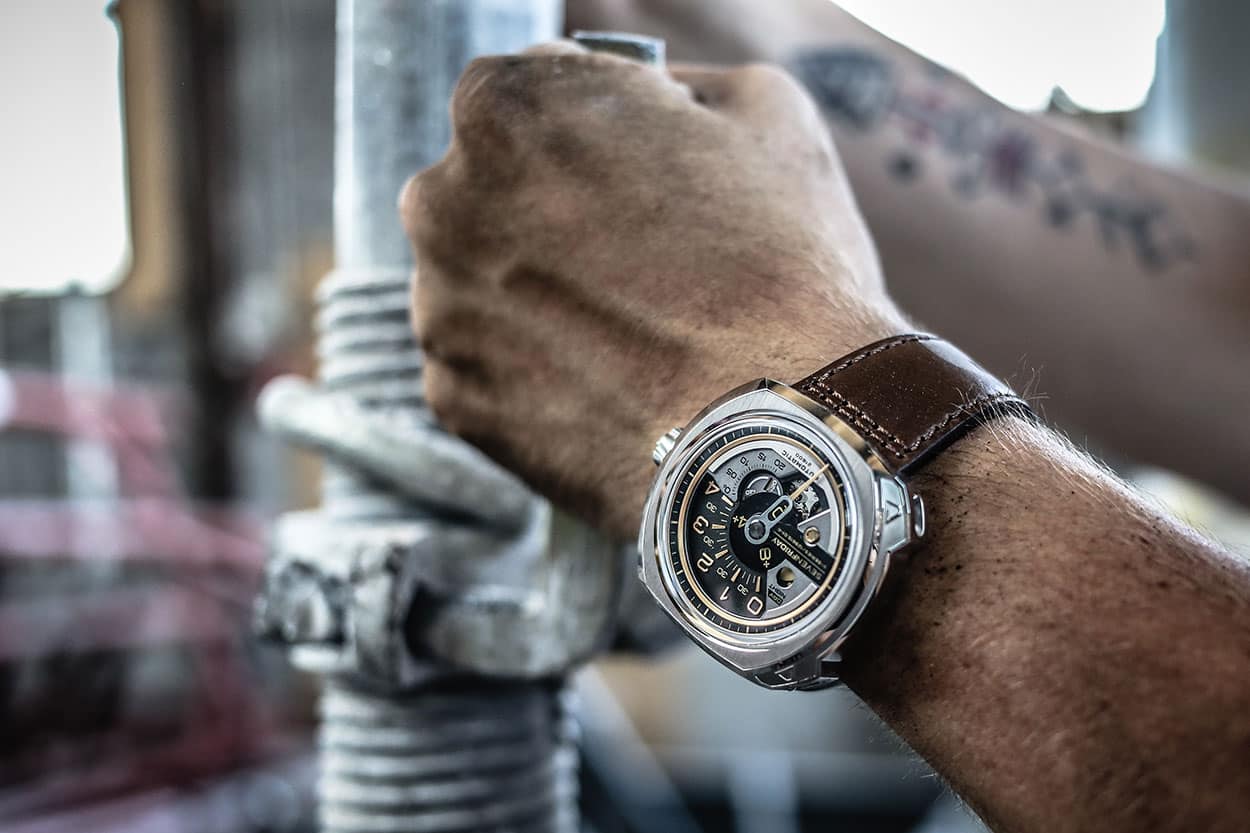 The specifications for the V2/01 are similar to the V1/01 but with the following differences:
Stainless steel case with vertical sunray brushed top bezel.
4 levels dial construction. Galvanic hollowed out plates with alternate finishing: Deep grey cast-iron pattern / Vertical brushed «concrete color» / Vertical brushed Rhodium / Opalin black Circular brushed 4N dial ring.
Customized with special Day and Night display (4N & black) and 4N small second indication («additioner» principle).
Brown semi-mat Calf skin leather strap (123/85mm) – tone to tone stitching
Both SevenFriday V-series watches have the following dimensions and movement specifications:
Case Dimensions: H 44.3mm X W 49.7mm, Thickness: Case: 11,3mm, Incl. case back: 12,85mm
Leather Strap: Taper 28 to 24 mm
Dial opening: Dial ring: 38.7mm, Dial: 31.5mm
Movement: Open balance wheel movement Miyota 82S7, 40H power reserve
Reassuring Authenticity
The V-Series (and all other new watch models from SevenFriday from now on) will have a NFC chip on board. This new way of authenticating a timepiece (to tell fakes from authentic ones) is a nice step forward in watchmaking. Where digital technology meets mechanical engineering! Each watch with NFC chip can be scanned with a NFC enabled phone using the SevenFriday app. The app will immediately indicate whether the watch is authentic, or not.
Additioner Principle
The V-Series offer a new way of displaying (and thus reading) time, with an hours and seconds additioner principle. There is one large scale for the minutes, like a normal watch. As you can see the scale of the hours and seconds is limited, so an extra disc with +X numerals will help to indicate the correct time. I can't wait to get my hands on this watch to give it a try and see how long it takes before you get used to this way of reading time. Furthermore, the V-Series comes with a day/night indicator.
So how does it work exactly? Look at the watch below, the hour scale is the big 0 till 4. So we have to use some increments when it is later than 4 o'clock. On the image below you'll see that on the hour scale, there is a disc saying +4. The +4 is somewhere between the big 3 and big 4 on the hour scale, so that means 7 hours. The minute hand is just before 30 minutes, about 28 (can't see it exactly on this image, but let's assume it says 28). So this means it is 7:28. The day/night aperture indicates whether it is 7:28 or 19:28. The seconds counter works in the same way as the hour 'additioner'. 8 o'clock is interesting, as this can be indicated with 4+4 but also with 8+0.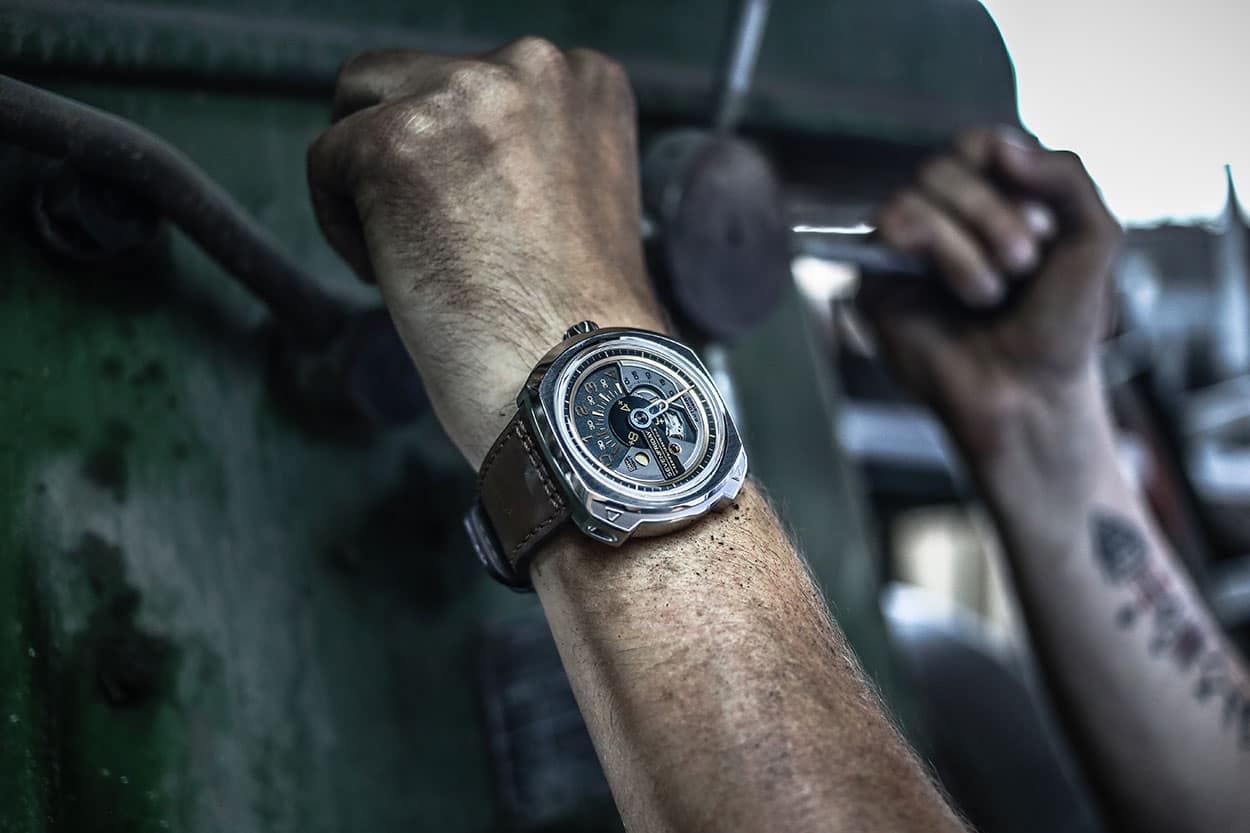 However, don't be afraid, the SevenFriday V-Series watches come once again in a very impressive package, with a manual in 10 different languages.
More information can be found on SevenFriday on-line.

More images of the SevenFriday V-Series

Robert-Jan Broer, born in 1977, watch collector and author on watches for over a decade. Founder of Fratello Watches in 2004.

Latest posts by Robert-Jan Broer (see all)