Sinn 358 Sa PILOT B E And DS Chronographs
How do you like my "Zifferblatt"?
There's no getting around the radiant dark blue "Zifferblatt" of the pilot's chronograph. It really is as blue as blue can be. The manually engraved gray-dialed version may be a lot more understated, but once it grabs your attention it keeps a firm hold of that. The one-of-a-kind "Dekorschliff" gives this pilot's watch an artistic touch. Let's take a closer look at (and behind the dials of) the Sinn 358 Sa PILOT B E And DS Chronographs that recently landed at our HQ.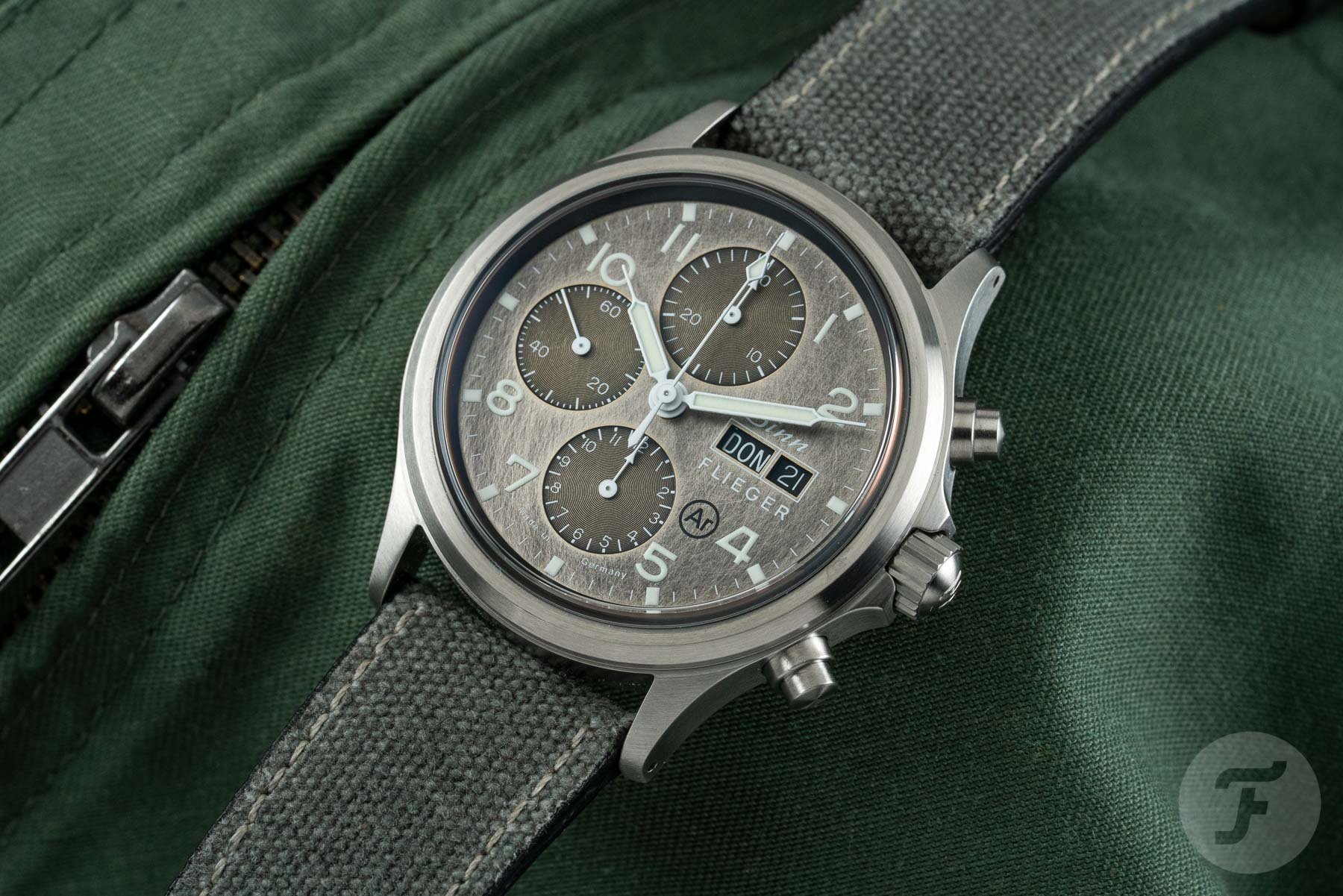 Both Sinn 358 Sa PILOT B E And DS chronographs are timing instruments built with clarity and functionality in mind. For instance, both B E and DS models are waterproof to 10 bar  ̶  both watches meet the technical requirements as set out in standard DIN 8310. An interesting feature is found on the lower left side of the case; a drying capsule that indicates different colors. This capsule is part of the Air-Dehumidifying Technology (ADT) that solves an essential problem a mechanical watch has to deal with: humidity that ages the oil in a movement. Water in gaseous form penetrates through the seal systems of a watch case. And when the temperature changes it then causes micro-condensation, permitting water to damage exposed movement parts. As a consequence, the lubrication deteriorates and because of electrochemical corrosion, wear and friction increase, it also reduces the amplitude of the balance.
Sinn 358 Sa PILOT B E and DS chronographs
Water can do even more damage to your precious watch: it can make your watch fog up when you step from your warm house into the freezing cold outside. The ADT Sinn uses is based on three technical elements: a drying capsule made from titanium, EDR seals — seals that are of a much higher quality than a standard rubber seal — plus a protective gas inside the case. The capsule tells the saturation. From a very pale blue to mark 0% saturation, all the way up to a dark blue to mark 100% saturation. A nice technical touch and I'm sure the different shades of saturation are something you can bring up during watch conversations.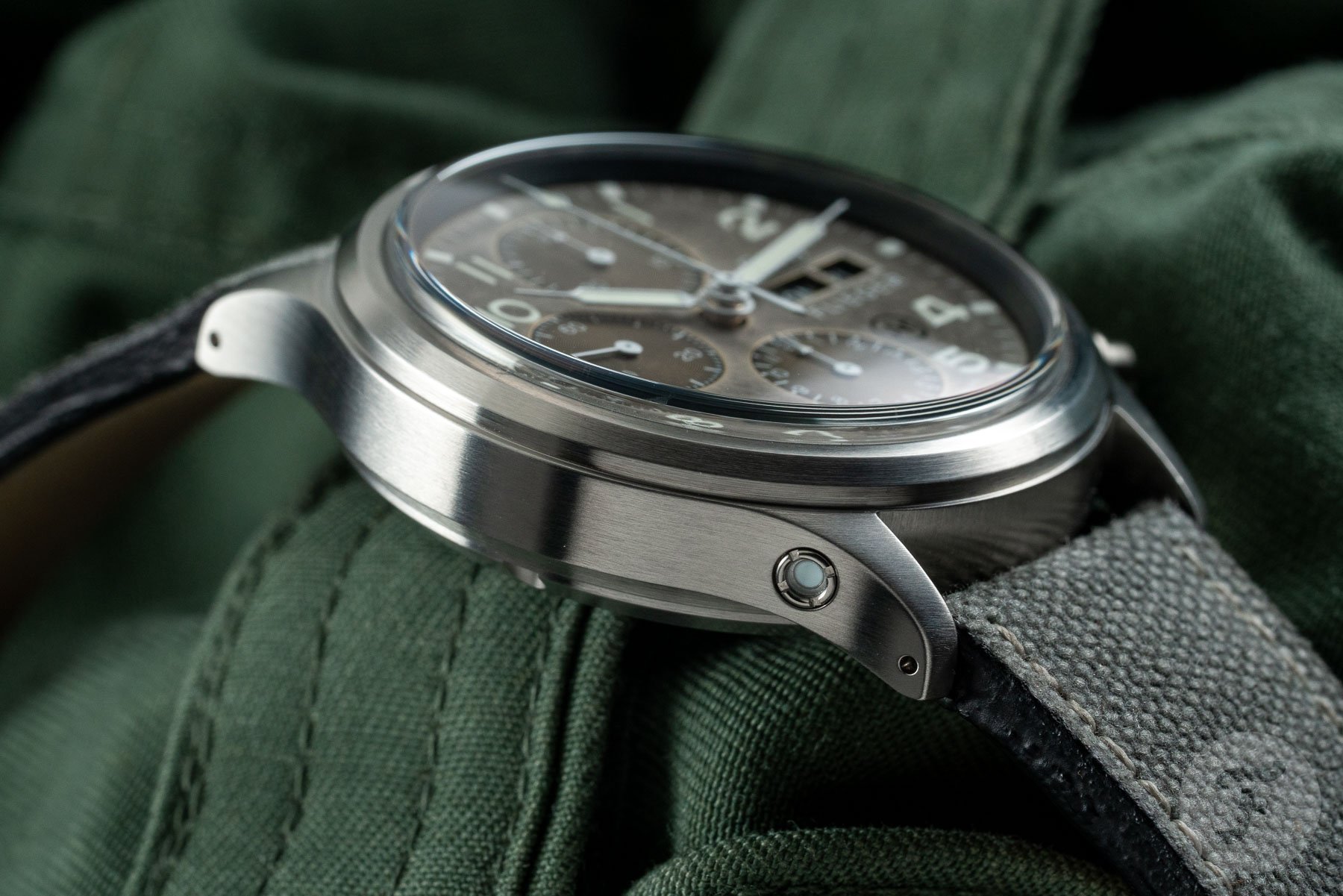 Picking up a '90s vibe
Both Sinn 358 Sa FLIEGER B E and DS chronographs come in a robust 42×15mm case made of brushed stainless steel topped with a highly curved sapphire crystal that is anti-reflective on both sides. The sapphire crystal in the screw-fastened case back is only anti-reflective on the interior.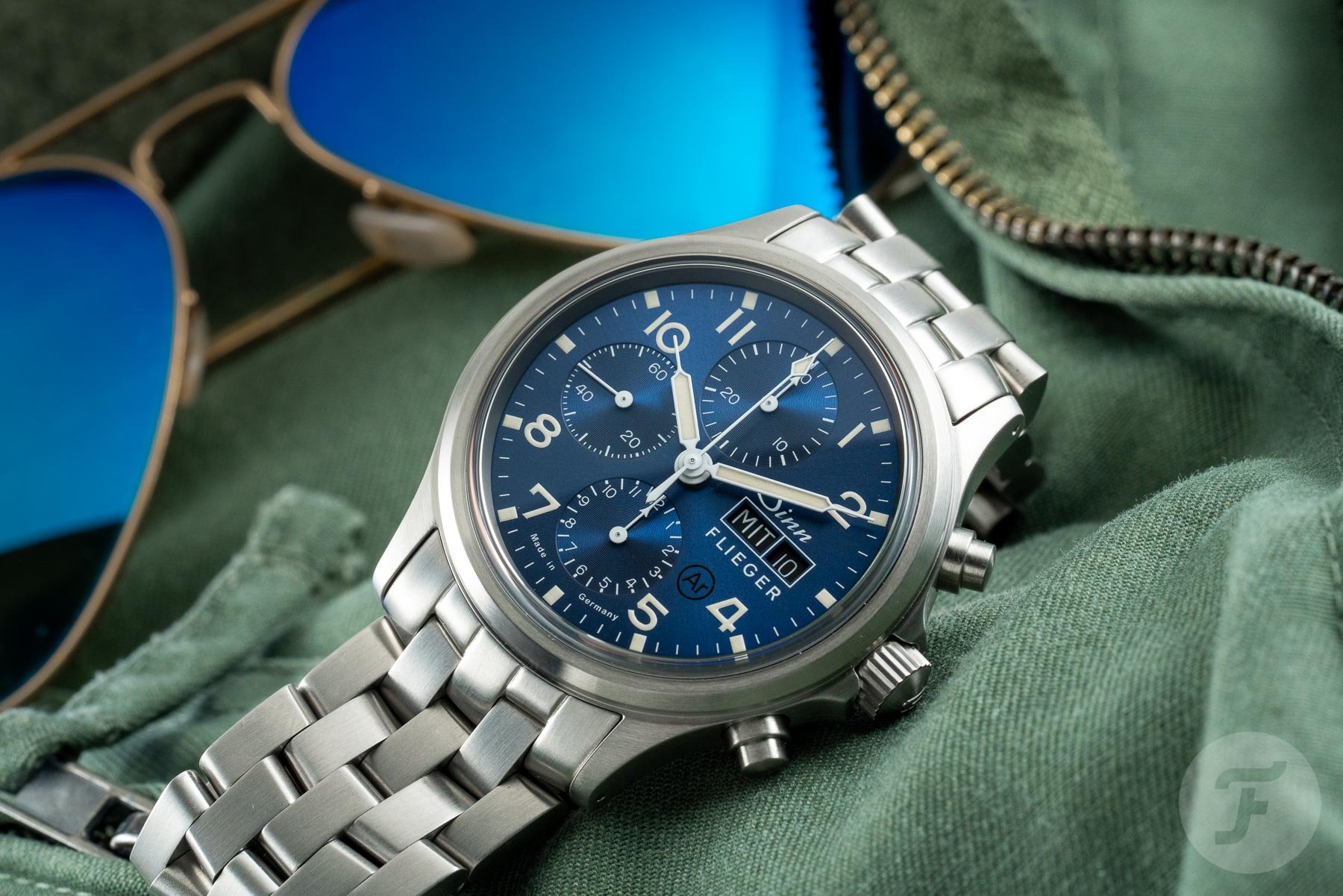 The shape of the relatively small crown guards around the robust screw-down crown is elegant. A little too elegant, perhaps, on a watch that flaunts its functional technology so proudly. The flowing shape has a bit of a '90s vibe while the shoulders, flank, and bezel of the 358 Sa PILOT are way more instrumental, straight-forward, and not period-specific.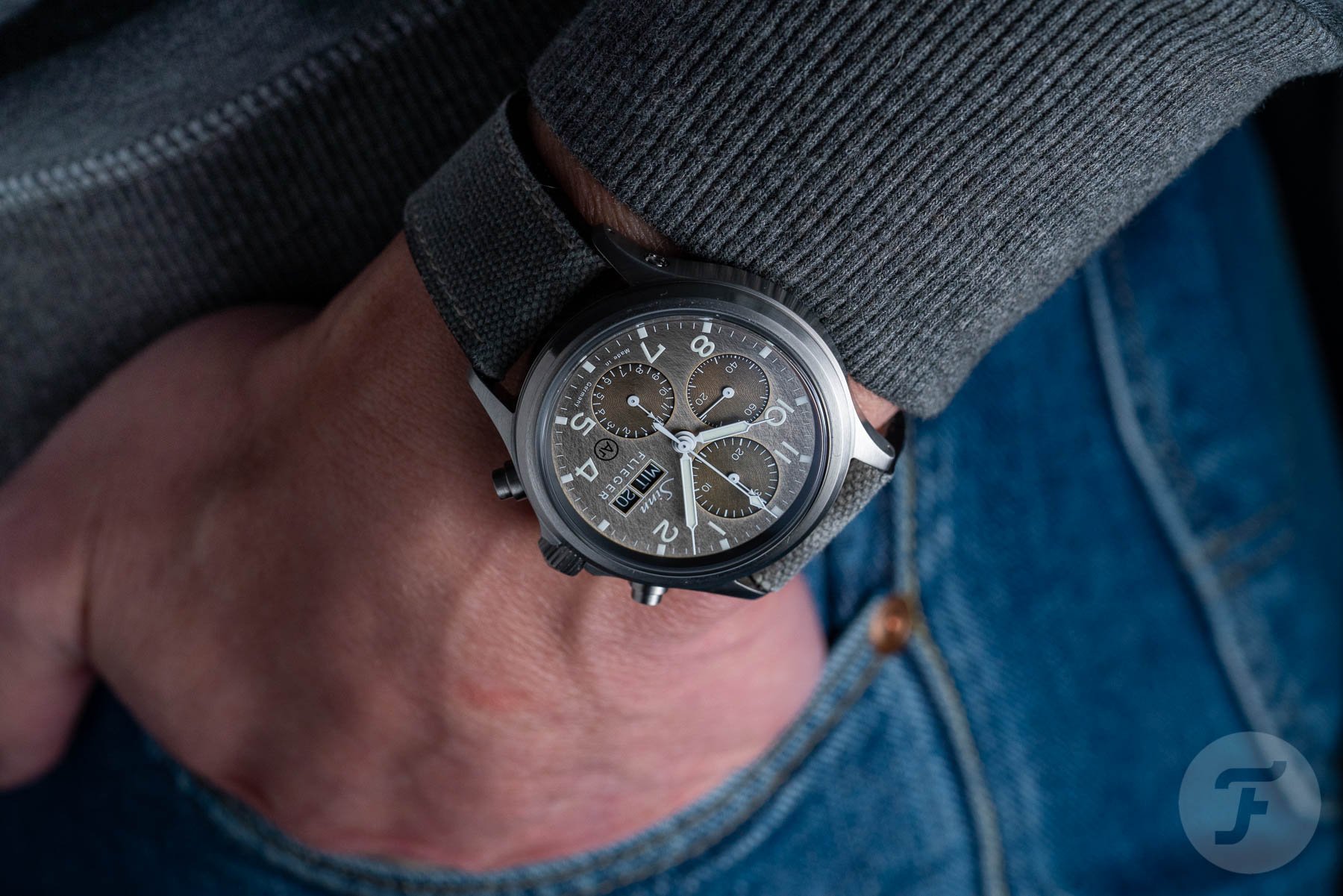 Pick between a blue, or a gray "Zifferblatt"
My personal favorite is the 358 Sa PILOT DS with the gray dial that has been finished with a manually engraved decoration. The decorative grinding done on the dial surface has resulted in an exciting play of colors as some parts of the dial reflect different nuances of light.
There's more than sufficient contrast between the white indications and the gray of the dial.
The grinding makes each 358 Sa PILOT DS unique because the machining process can never be repeated. Interestingly the decoration doesn't stand in the way of clear readability. There's more than sufficient contrast between the white indications and the gray of the dial. And in the dark Super-LumiNova lends an extra hand to assure perfect functionality.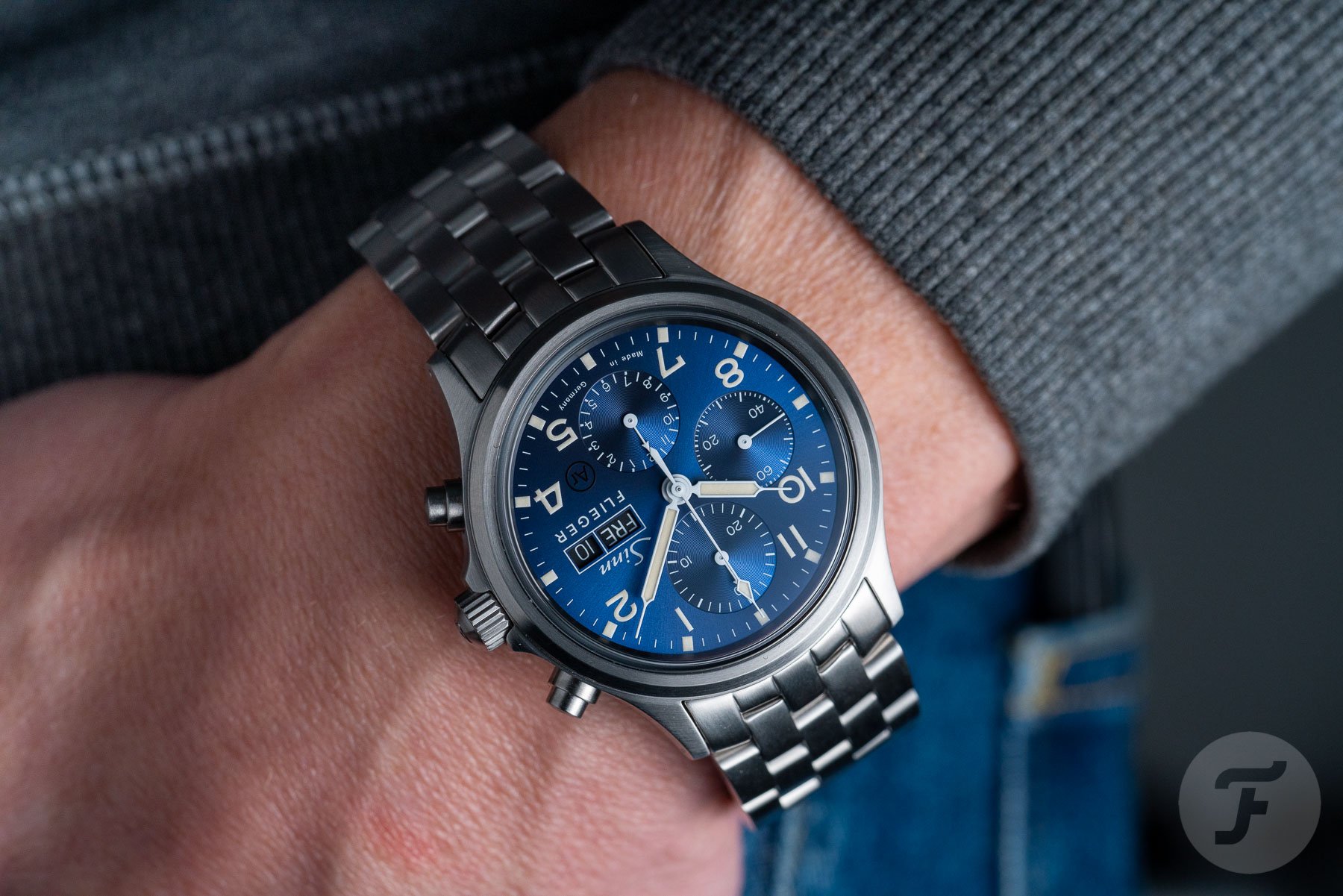 But it's not just the dial that I like, It's also the gray fabric strap with a leather lining. The color fits the overall look of the watch, and it wears very comfortably. The structure of the fabric and the white stitching are nice details that help create a very distinct look.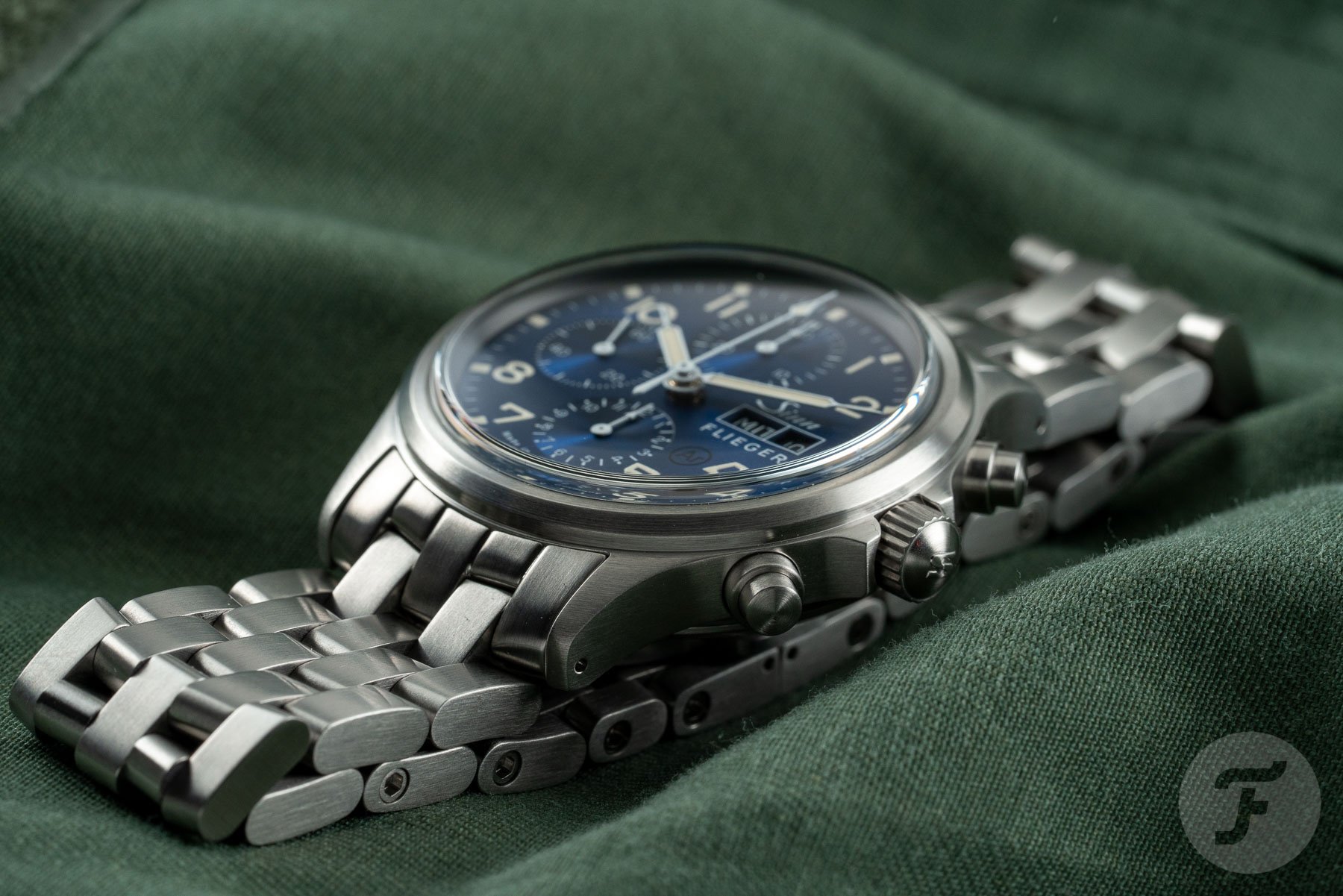 Too blue or not too blue?
The blue-dialed 358 Sa PILOT B E we had at Fratello HQ is a radiant creation. Blue is my favorite color. But when it comes to your favorite things everything has to be just right. I like my blue not too shiny, not too light, and not too dark; matt navy blue I guess is my ideal shade. Sinn decked out the 358 Sa PILOT B E with a dark-blue electroplated dial with sunburst decoration.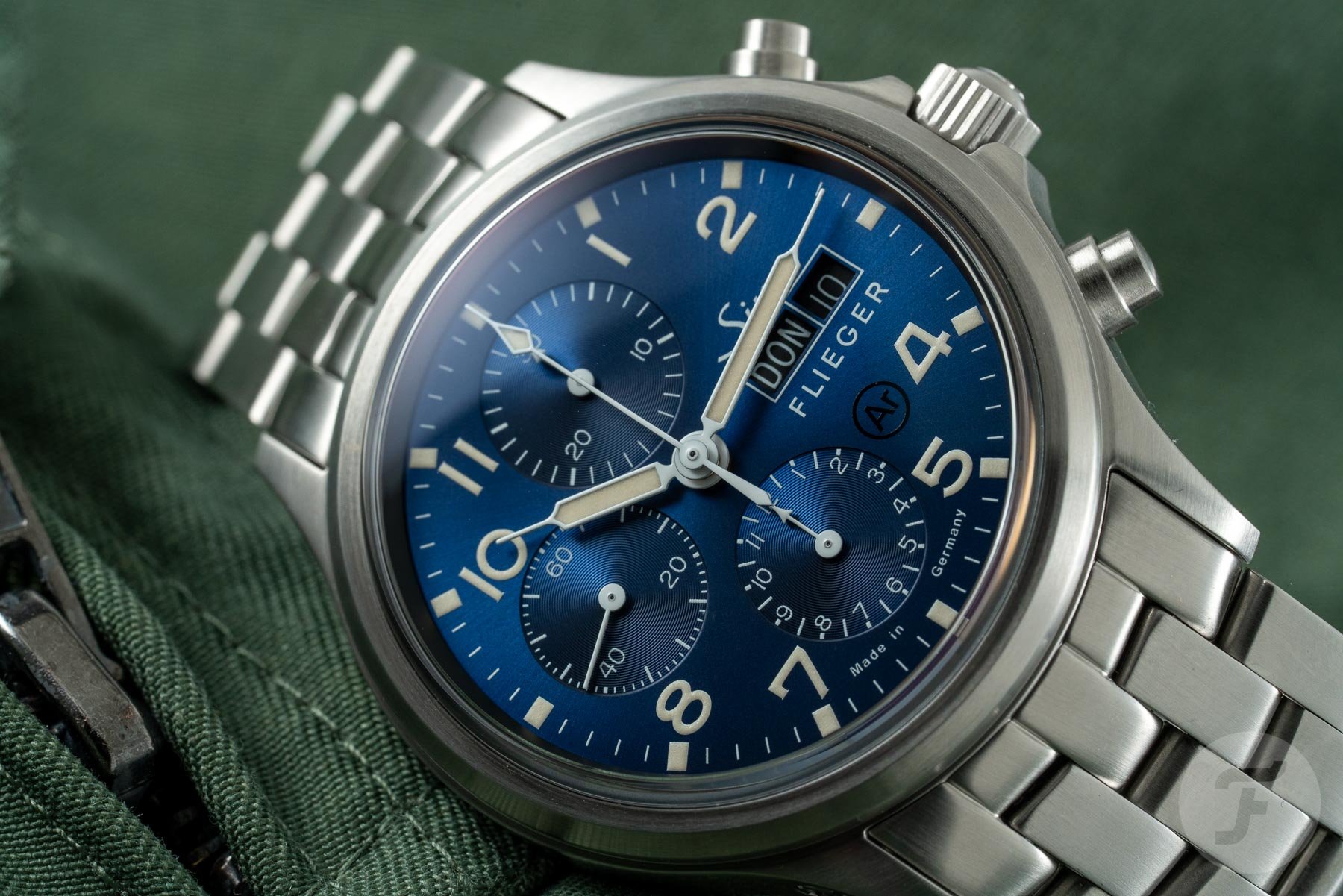 As you can easily guess, that's not the kind of blue I fall for. To make matters worse for my taste, the metallic blue dial is combined with an ivory-colored coating on the indices, hands, and numerals. Bright modern blue with "faux patina"? I just don't get the combination.
Did I hear someone say "Schaffhausen"?
Prices of the Sinn 358 Sa PILOT B E and DS chronographs start at €2,750. That money buys you an automatic Sellita SW500 movement with seconds stop function that is anti-magnetic as required by DIN 8309, a leather strap, and a sapphire case back. A solid case back, a silicone strap, and the steel bracelet you see in the pictures push the price up. For a version with a closed case back and bracelet — a very solid, brushed bracelet I must say — the price is €2,975.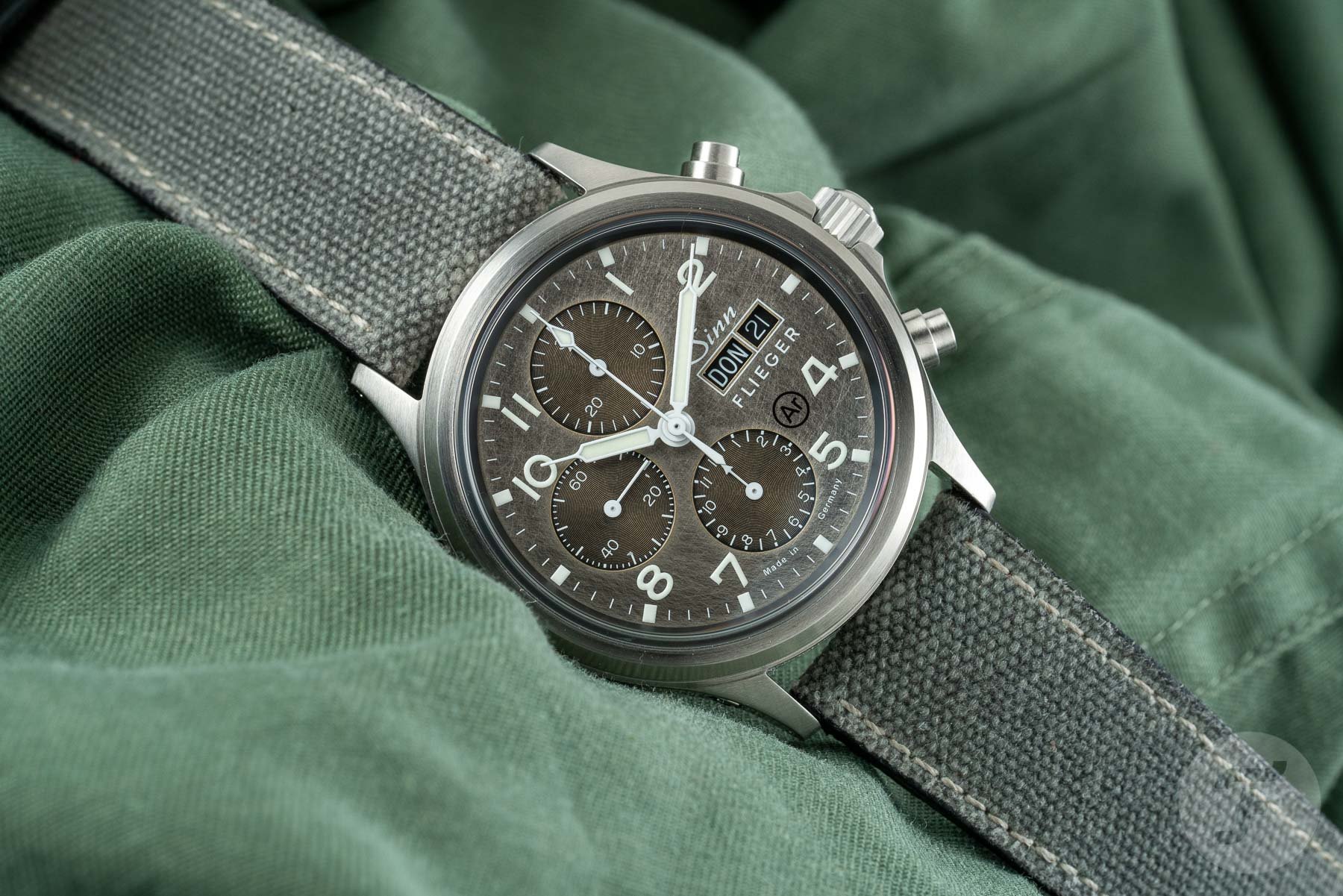 Does it have a certain look that so many people came to learn and love from a certain watchmaker from Schaffhausen? Sure, but basically pilot's watches are common tool watches made to certain specifications so they all kind of look alike. Conventional pilot's watches are not design experiments. Sinn Spezialuhren from Frankfurt am Main knows that all too well — the brand has proven that before with the 158 aviator's watch, for example. To prove to the world the brand is not too fixated on functionality alone, Sinn added the version with gray "Dekorschliff". A creative experiment with an original and striking outcome.
To find out more about these pilot's chronographs please visit Sinn's website here.
Please find and follow me at Lex Stolk • Instagram