Sinn U1000
As the name predicts, this watch is waterresistant till 1000 meters below the surface. It is the chronograph version of the U-series by Sinn. Made out of u-boat (submariner) steel. The S version, has a black coating added to the u-boat steel.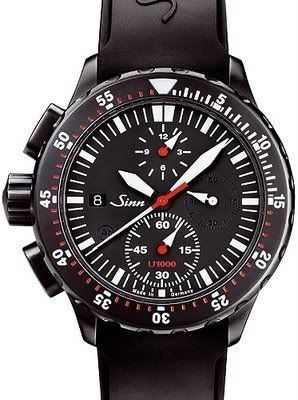 This watch has a mechanical automatic chronograph movement, Sinn caliber SZ 02 (basis caliber 7750 by ETA/Valjoux). The watch has a diameter of 44mm and has a 18mm thick case. It weighs 135 grams. A large and heavy watch for the professionl diver! The watch comes with either a rubber strap or a stainless steel bracelet. The full list with specifications is available at the Sinn website, click here.
At WatchUseek a 'wrist test' has been posted by 'Dimitris', click here.
The Sinn U1000 prices are:
U1000 with rubber strap: 2950 Euro
U1000 with steel bracelet: 3155 Euro
U1000S with rubber strap: 3050 Euro
U1000S with steel bracelet: 3315 Euro