SIWP New Co-Event Next To SIHH
With the Geneva based 2015 SIHH watch exhibition around the corner, our mail-box is filling up with many interesting invitations. The SIHH itself this year hosts 'only' 16 – mainly Richemont group – brands, however at the same time there is, like always, a lot of activity from independent watchmakers and brands around it.
On an individual basis almost every major hotel in the Geneva area hosts one or more of them in one of their conference rooms, where the visitors can take notice of their watches. We have seen larger initiatives in the past as well, think of the Geneva Time Exhibition (GTE), which unfortunately stopped existing a few years ago.
This year however, besides the initiatives of independent watchmakers and brands individually, we see a new initiative with its roots in China. The SIWP, the Swiss Independent Watchmaking Pavilion.
The SIWP is a sequel of a gathering that was initiated and repeated for a few successive years in China by Amarildo Pilo (known from Pilo & Co Genève) and David Van Heim.
This year in Geneva the initiative will host approximately 20 exhibitors, amongst who AHCI & other independent watchmakers. The exhibiting AHCI members & candidates include Vincent Calabrese, Jean Kazès, Vianney Halter, Antoine Preziuso, Kari Voutilainen & Ludovic Ballouard.
The SIWP will be held from the 18th to 23rd of January 2015 in the prestigious 5-star Mövenpick Hotel 'Casino du Lac' which is situated conveniently near the Geneva airport and Palexpo (where the SIHH is being held). The exposition this year has a total surface of 300 square meters divided in two halls and is open from 11:00 to 23:00 hours. It will be accessible free of charge, both for professionals and the general public.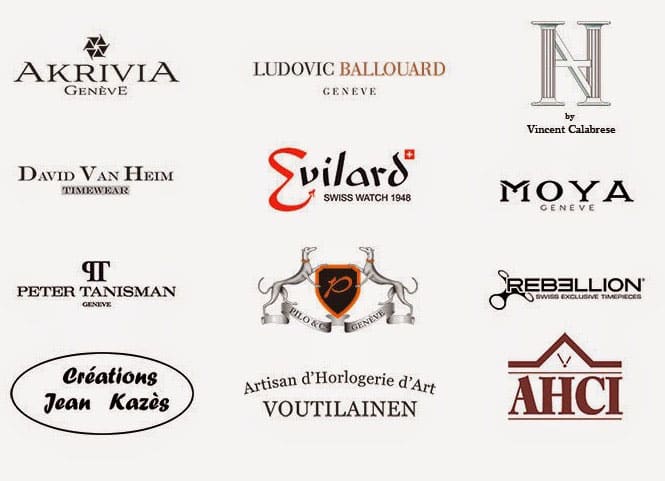 For more information SIWP has a Facebook page at: www.facebook.com/pages/Swiss-Independent-Watchmaking-Pavilion-SIWP
Tip: Sign up for the Invitation Cocktail 😉