Hands-On Sjöö Sandström Royal Capital Review
It is no secret that sports watches get a lot of love from us and most of you. However, there is little wrong with a good dress watch. The problem is that it is rather difficult to find one of those, without being it 'your grandfathers' watch. Once in a while, I come across a dress watch that appeals to me. In fact, I notice that my 'hunger' for a nice dress watch is getting bigger as I am getting older. 
I got in touch with independent Swedish watch manufacturer Sjöö Sandström (founded in 1986 by Christer Sjöö and Mikael Sandström). Sjöö Sandström creates sports watches, but they also have dress watches in their Royal Capital collection. Their Sjöö Sandström Royal Capital watches are available in gold and in stainless steel, with a micro-rotor movement by Vaucher (Switzerland). I was able to wear and try one of their stainless steel Royal Capital watches for an extensive period.
Sjöö Sandström Royal Capital
The Royal Capital watch comes in a huge wooden box. Not only that, but it has a feature that I've never seen before (then again, I haven't seen all watch boxes in the world). The box has two lids, when you open the first, you will find the watch in the box, covered by another lid with glass. When you lift this (second) lid, you are able to take out the Royal Capital. The wooden box comes in a cardboard box (dark blue). Below the wooden box, you'll find the instruction booklet as well as the warranty (credit) card. Normally I don't write much about boxes that come with a watch (as they end up on a shelf most of the time anyway), but this one is particularly nice. And super-heavy, I might add.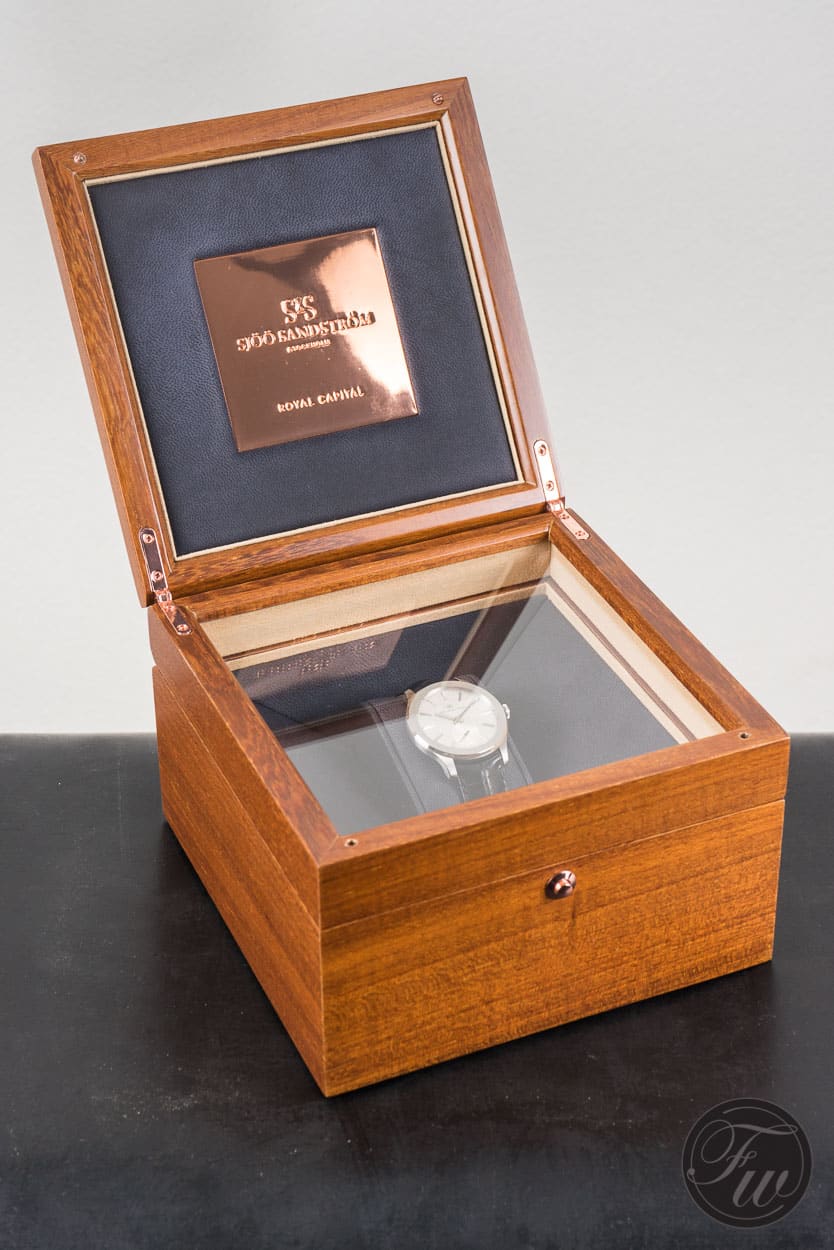 The Sjöö Sandström Royal Capital is a modest size watch with its 40mm diameter. The first thing to notice when put on the wrist, is that it is very thin (7.8mm). Due to the somewhat beefy (satin finished) lugs, the watch doesn't come across as small or too classic. Next, when you look at the watch, the brushed finished bezel and dial give the watch a very peculiar look, in a positive way. The brushed finish on the silver dial and bezel make the watch really stand out and the polished hands and hour markers give enough contrast to read the time without having to put a lot of effort into it.
On the Wrist
The thin case wears comfortably on the wrist and it easily hides under my cuff. That said, wearing the Sjöö Sandström with a more casual attire (polo or t-shirt) is also fine. The brushed finish prevents it from looking too classic for casual wear. Although it comes with an alligator strap, for more casual wear you can also opt for a calf strap for example. However, this is a dress watch and an alligator strap will underline this.
The crown on the Sjöö Sandström Royal Capital has very modest proportions and match perfectly with the 40mm x 7.8mm case. You will only use it to set the time, not to wind the watch. It is very flat, but easy to grasp with your fingers.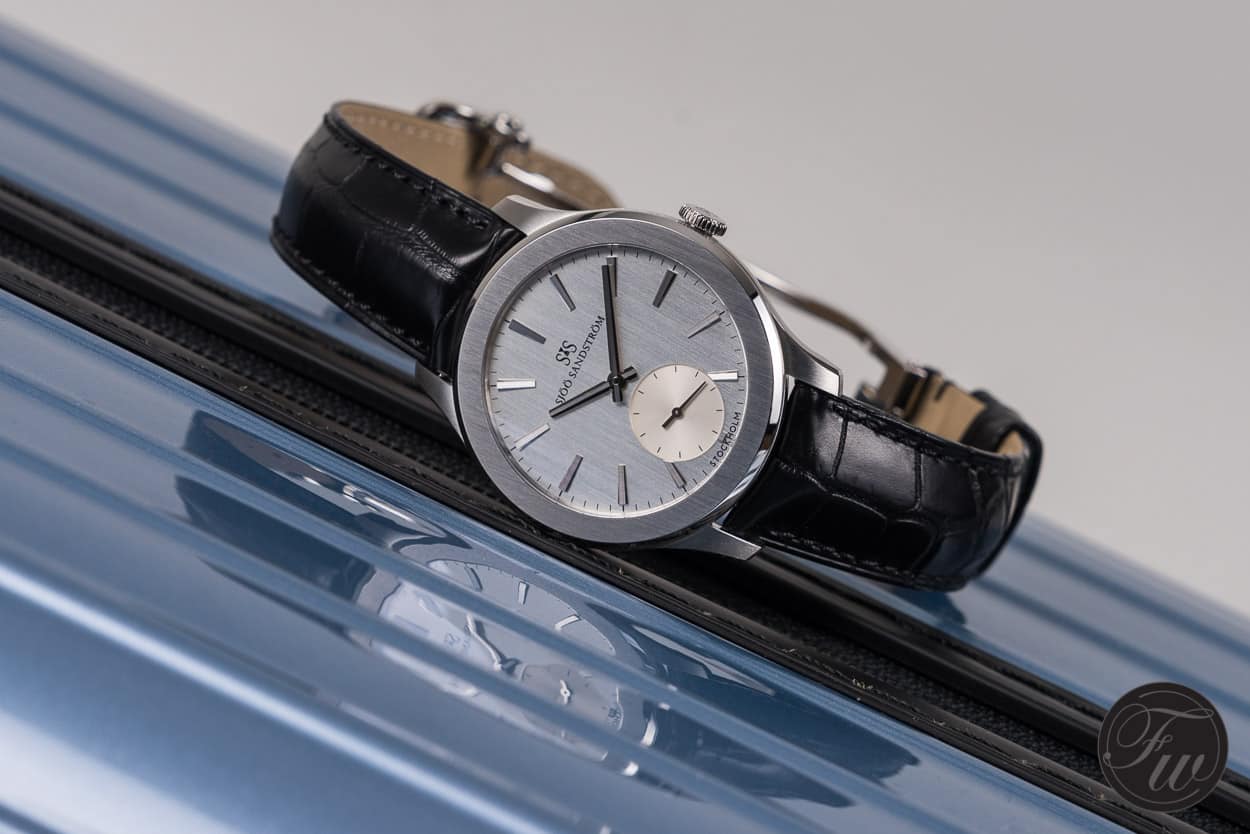 Reading the time is a pleasure, as there are no distractions and as I've wrote earlier, there is enough contrast between the brushed and polished parts. On the dial, you'll find the Sjöö Sandström logo (that looks like two S's with an hour glass in between) as well as the name fully spelled out. The typography is very nice, but I wouldn't have mind it to be a tad bit smaller. On the other hand, it is done in a subtle way so it is not that bold.  The small seconds are located at 6 o'clock, in its own sub dial. This sub dial has a grain motif, which looks very nice and playful. The sub dial has been cut out of the main dial, so it basically creates another layer. Together with the applied hour markers on the dial, it ensures that there is quite some depth on the dial of this Royal Capital. It is very nicely done, with a limited amount of space as the watch is so thin. At 6 o'clock on the dial, below the small seconds sub dial, you will find 'Stockholm' to be written on there. The city where Sjöö Sandström operates from.
Folding Clasp and Alligator Strap
The watch comes on a black leather alligator strap, of high quality. In my opinion a strap can really make or break a watch. The slightly padded is beautiful, has large and smaller scales and is very supple. The folding clasp is not your average – or standard – one, but has a nice design that fits the watch. You need to use the pushers to release the clasp or close it with a firm click. You can resize the strap using any tools.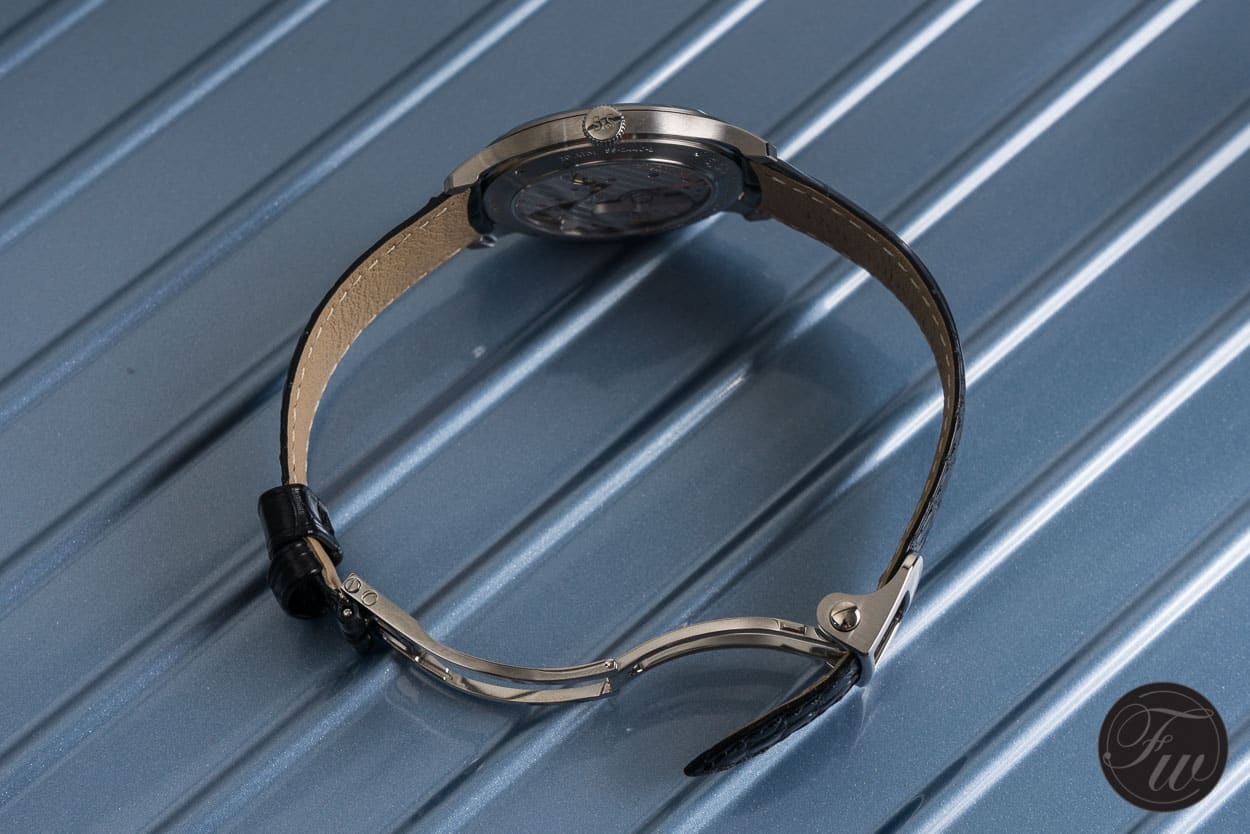 Caliber SSG9
This Royal Capital watch is something special for the Swedish company, as it uses a movement made by Vaucher. In fact, it is the Vaucher Manufacture Cal. 5401 that ticks inside. A beautiful micro-rotor movement designed and produced by the Fleurier company. It is only 2.6mm thick, so an excellent choice for a dress watch. The movement has this small tungsten micro-rotor, and consists of 176 parts in total. The movement has beautiful finishing and engraved (in gold) with Sjöö Sandström logo and lettering. The plate below the micro-rotor has a nice circular-grained finish, and the bridges have the Côtes de Genève finish. All bridges have been nicely bevelled as well. The movement has a power reserve of 48 hours. It lacks a date, but this is what keeps the movement thin as well. A date feature would add 0.4mm, result in a total thickness of 3.0mm for the movement. A dress watch shouldn't necessarily have a date function in my opinion, but I know some of you can't live without one.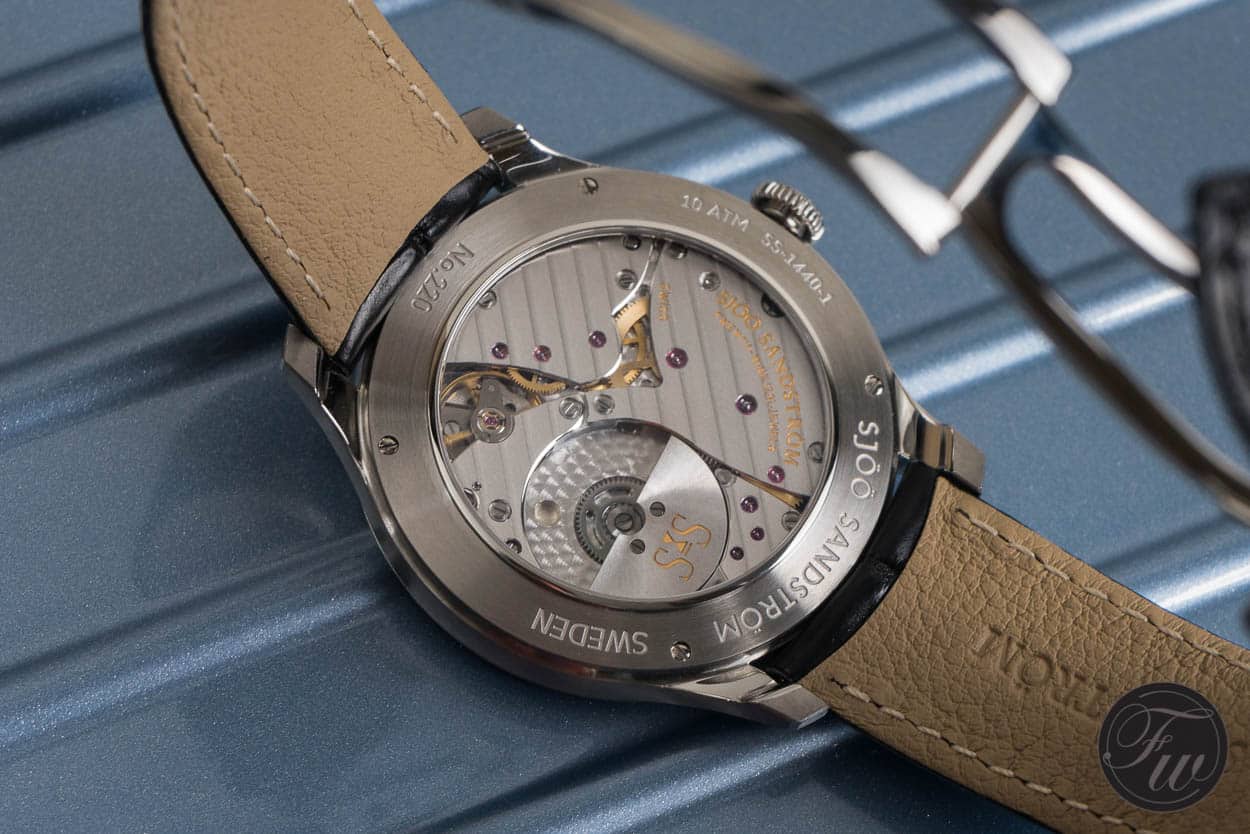 Some Thoughts
The sympathetic watch brand from Sweden really surprised me with their Royal Capital. I was also lucky to see and try the pink gold version of the Royal Capital when I met some of their team in Basel. However, I reviewed the stainless steel reference SS1440-1 which already made a huge impression on me. The watch, with a very clean design, modest case diameter and micro-rotor movement ticks a lot of boxes for me when it comes to a dress watch. The lack of a date is something I see as positive, the brushed finish of the bezel and silver dial is an awesome combination and the case finish in general is very attractive as well. The watch wears very comfortable on my fairly big wrists and although I am not a fan of folding clasps, this one is well made and nicely finished.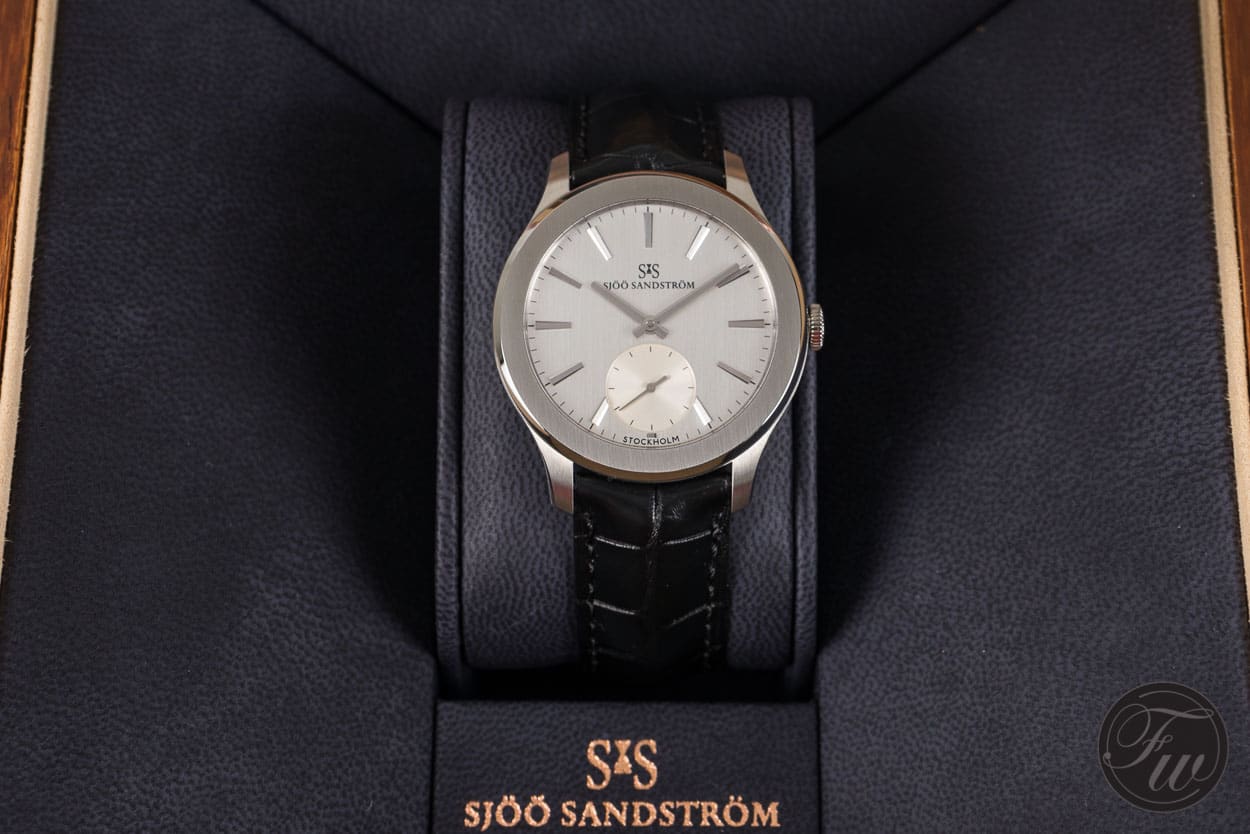 The movement made by Vaucher Manufacture Fleurier is very attractive and enabled Sjöö Sandström to construct a very thin watch. I don't like the fact that the movement only has one winding direction (like the famous Valjoux 7750) as it sometimes result in this little swooshing sound and wobbling on your wrist. But I know that others do like that as a matter of fact.
Retail price of the Sjöö Sandström Royal Capital SS1440-1 is $6966 USD. You will find a lot of offering for this price, also from the big brands, but with Sjöö Sandström you will also buy yourself something that you won't likely get to see often. If exclusivity and supporting independent watchmaking is what your are after, the beautifully finished thin dress watch from Sjöö Sandström is worth your attention.
The Royal Capital is also available with a black dial, grey dial and with a pink gold case.
More information via their website.
More images below