Speedy Tuesday – Omega Speedmaster Racing 145.022-68
One of the fun things about Speedy Tuesday is that there are so many models and references, we will probably never run out of material to cover. We started on May 29th 2012, almost four years ago, and it doesn't take much time to think of a new subject to cover each single week. If there isn't a new Speedmaster to talk about, we try to answer a Speedmaster related question from one of our readers or focus on something vintage or special. I also believe that the Speedmaster is one of the few watches around that makes it possible to give it weekly coverage, for almost four years now.
A few weeks ago, Bert and I visited the Davidoff Brothers in Geneva to have a look at their extensive Speedmaster collection. Not only do these guys buy & sell vintage Speedmaster watches to earn a living, they live and love them dearly. Even on 10past10, the website of vintage Rolex specialist Eric Ku the brothers admitted in an interview that they love vintage Speedmasters over Rolex.
Vintage Speedmaster Racing 145.022-68
One of the Speedmasters that they showed us was this vintage Omega Speedmaster Racing 145.022-68.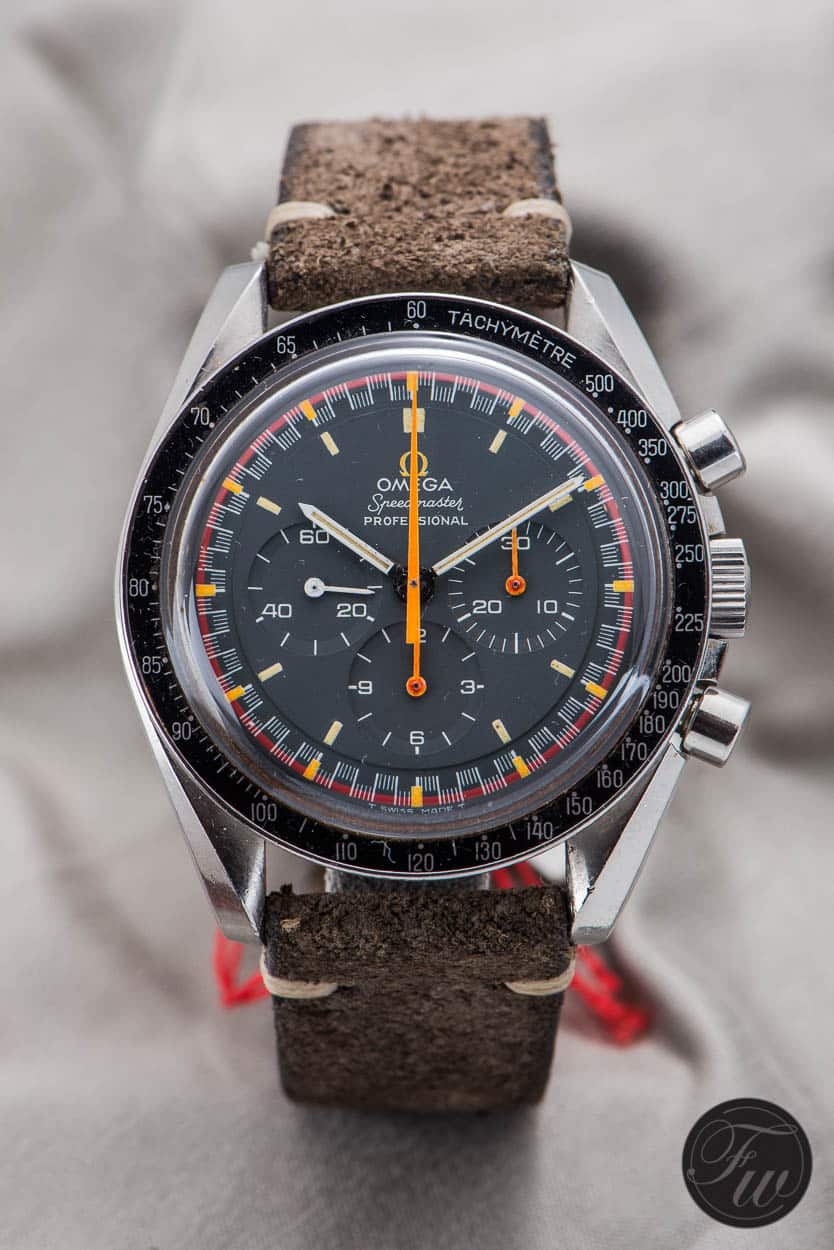 According to the archives, this particular Speedmaster Racing 145.022-68 was delivered to the USA in 1969. Although there is no paper trace of this, it was later on bought on a US military base in Korea. A very similar Speedmaster Racing was auctioned at the Christie's Speedmaster 50 Auction and fetched $32.500 USD.
About the vintage Speedmaster Racing
When Omega introduced the Speedmaster in 1957, with their CK2915 reference, it was meant to be a watch for sports people. In a couple of advertisements, Omega pictured the Speedmaster CK2915 on the wrist of a car driver for example. Little did they know then about the Speedmaster becoming the official watch for NASA astronauts almost a decade later.
In the late 1960's, Omega introduced the Speedmaster Mark II Racing. That's the one we all know and it was in the regular collection of Omega in the late 1960's and early 1970's.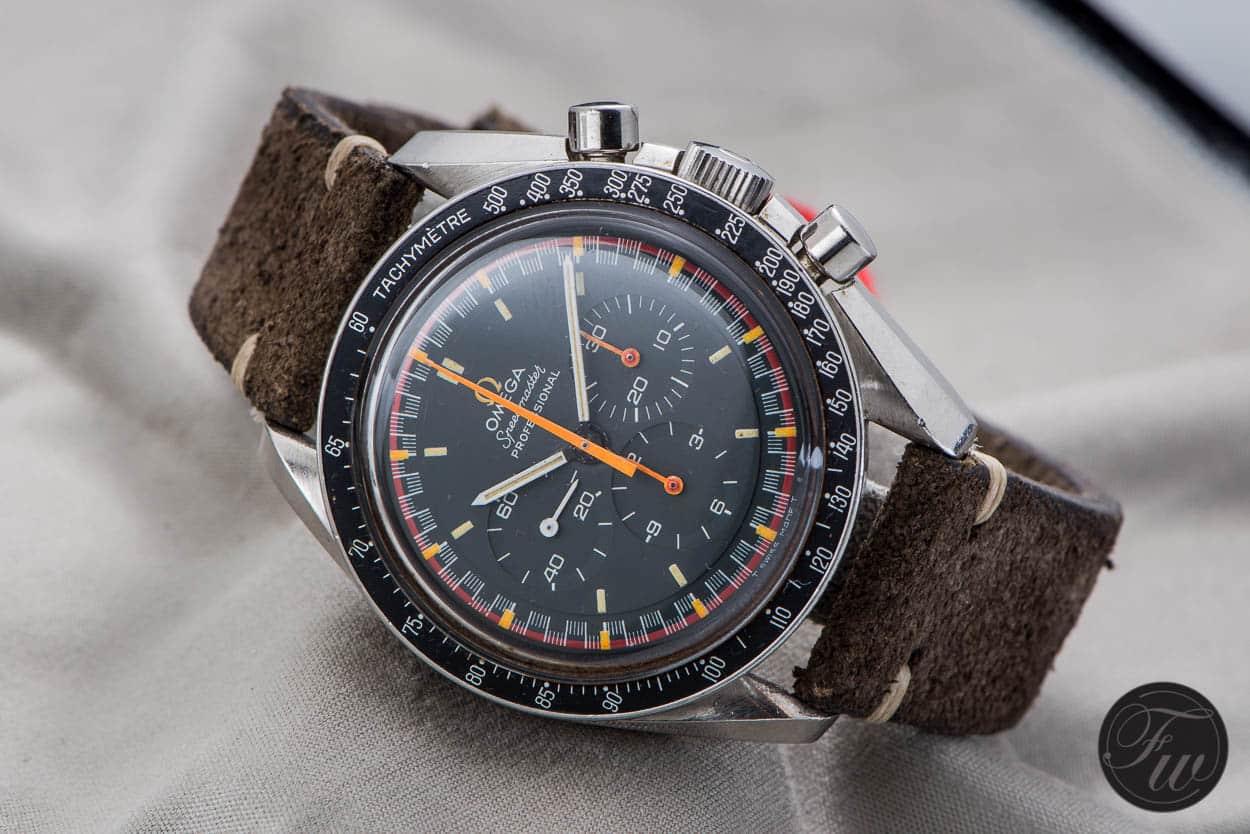 A bit more vague is the production of these Omega Speedmaster Racing 145.022-68 and similar models from those days. We know that there are roughly three different versions of the vintage Speedmaster with a racing dial:
Black dial, red/white hour markers, metal applied Ω logo (105.003, 145.012)
Black dial, orange/white hour markers, white Ω logo (145.012-67, 145.012-68)
Grey dial, orange/white (separated) hour markers, orange Ω logo (145.022)
In this article I am talking about the latter one of course, with the grey dial and orange hands and orange / white separated hour markers. The older version also has orange/white hour markers but these are 'connected' to each other.
The case, movement etc are all similar to the regular production 145.022 models with black and white dial.
According to the Davidoff's, there are approximately 50 watches with the grey dials on the market and only 10 of each black dial versions. A number that is difficult to get confirmed, but at least it is a guide line.
Omega Speedmaster Racing 2004 'Japan'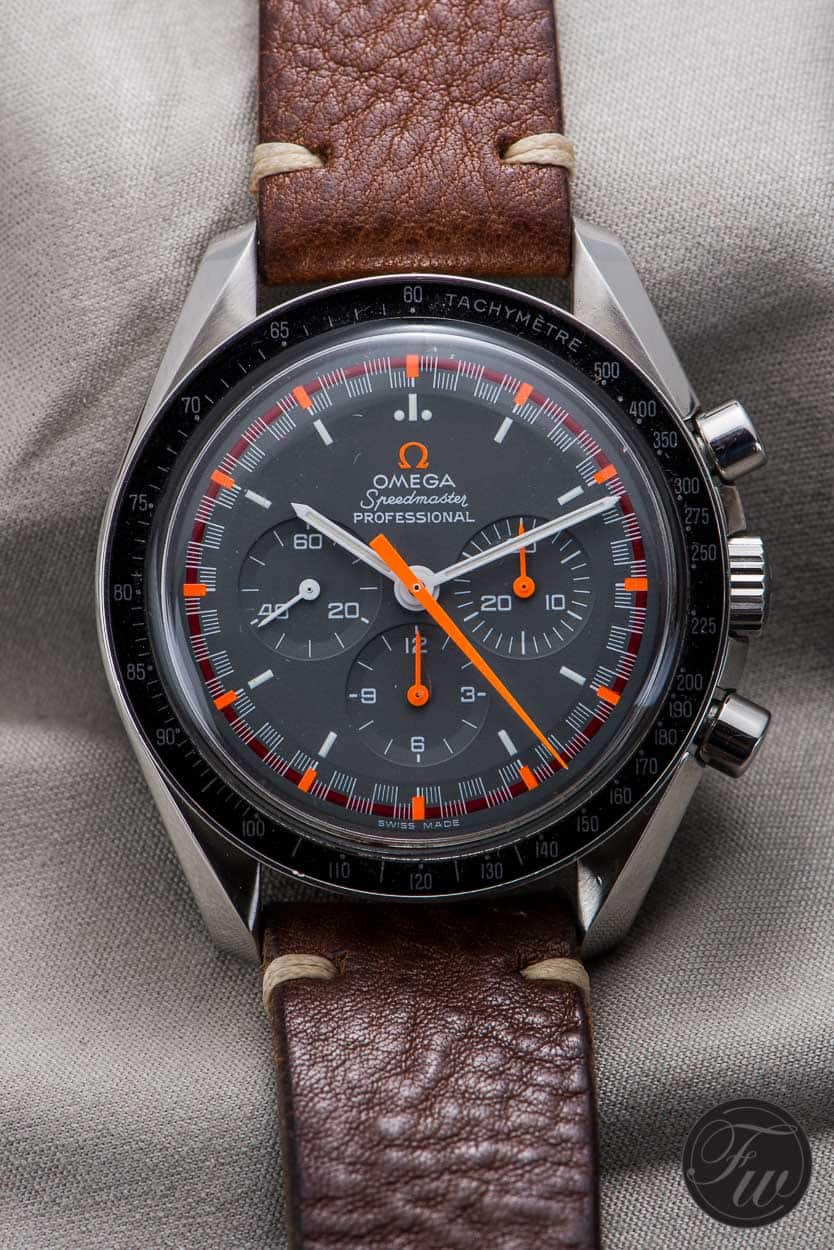 We already covered the Omega Speedmaster Professional Racing 3570.40 a couple of times here on Fratello Watches (here for example) so I guess you are familiar with this version. It is the special edition (limited, not numbered) that Omega did for the Japanese market in 2004. Inspired by the vintage racing dials, Omega produced only 2004 of these watches. These watches regularly pop-up on Chrono24 or eBay for example, priced between €4000 and €5000 Euro, depending on condition.
This 2004 version of the Omega Speedmaster Racing comes close to the Speedmaster Racing 145.022-68 with its grey dial and orange Ω logo. Of course, in 2004 Omega equipped their hand-wound Speedmaster watches with the caliber 1861 for quite some years (since 1997) already. The original 145.022-68 of course has the caliber 861 movement, the ancestor of the caliber 1861.
To show you the differences, or similarities, here is a side-by-side image.
In recent years, Omega re-introduced the Speedmaster Mark II in several variations, one with a racing dial. In 2013, Omega introduced another Speedmaster Pro Racing which later – after we unveiled the true story – was nick named Tintin. Even Omega refers to this model today as the Tintin and is out of production (we still know a couple for sale though, send us an e-mail if interested).
More information via www.omegawatches.com and www.db1983.com (Davidoff Brothers). If you are a real Speedy Tuesday fan, make sure to get the book by the Davidoff Brothers, which can be ordered here.
Gallery with more images of the Speedmaster Racing 145.022-68 and 3570.40 below.