Speedy Tuesday – Magnus Walker 911 And His Omega Speedmaster
Exactly 6 years ago today, at the beginning of Speedy Tuesday in 2012, we featured Porsche 911 collector and fashion designer Magnus Walker and his Speedmaster Automatic 176.0012 from 1974. I thought it would be nice to highlight this feature once more, as it is not only a very cool reference but also to watch the documentary on Magnus Walker again (below).
Magnus Walker Speedmaster
Years ago, I noticed Magnus Walker wearing his Speedmaster Automatic 176.0012 (Mark 4.5) in a copy of TopGear magazine. I contacted him and asked him about his Mark 4.5 for a feature on Speedy Tuesday. He was happy to cooperate and sent me some images of his Speedmaster Automatic 176.0012. I got the impression there wasn't really a story to it, otherwise than that he just liked the watch.
Inside the Speedmaster Automatic 176.0012 is Omega caliber 1045, based on the Lémania 5100 movement. This chronograph was in production for a number of decades until it was discontinued in 2003. Omega already stopped using it in the 1980s, after using it in the Mark 4.5, Mark V and Speedmaster 376.0822 (Holy Grail) for example. Although the late legendary Speedmaster collector Chuck Maddox was a big fan of this Lémania movement, it wasn't the best or most reliable movement. Although I personally preferred this 5100 caliber to the Valjoux 7750, the 5100 did have some issues. Especially during service, the parts can be difficult to source and are relatively expensive. The date mechanism, for example, is connected to a perspex date support plate that is prone to crack at some point. This alone will set you back a few bones. Then, there is a wheel with plastic pinion teeth that will wear out and needs replacement (expensive). That said, I do love the fact this movement is so quirky with its nylon/plastic parts and of course because of the nice dial layout (with central second and minute chronograph counter).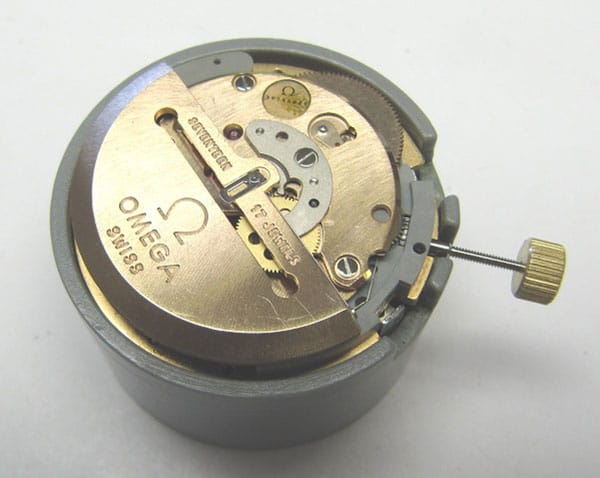 Urban Outlaw
Urban Outlaw Magnus Walker is most famous for his work on Porsche, his collection and stunning images on 911s. On his wrist, you will often find this Speedmaster Automatic 176.012 or a Porsche Design chronograph (by Orfina) in black. Make sure to follow him on @magnuswalker on Instagram.
Really interesting is to see how passionate Magnus is about Porsche 911s in the short movie Urban Outlaw. This documentary, based on his life and passions, is definitely worth watching and it will include some cool shots of the Omega Speedmaster as well. As Magnus at some point notes in this documentary '..Porsche is a brand built on loyalty..", I think the same goes for the Speedmaster watch.
For your convenience, I embedded the ca. 30 minute movie Urban Outlaw here on Fratellowatches. I found it to be an inspiring movie about a guy who is passionate about Porsches, his work and basically life.
Want to know more about Magnus Walker and his work? Click www.magnuswalker911.com.