Speedy Tuesday – OMEGA Speedmaster 1957 50th Anniversary 2007
OMEGA Speedmaster 311.33.42.50.01.001
It's Speedy Tuesday! We received – with pride – a number of photos of the 2007 OMEGA Speedmaster 1957 50th Anniversary model reference 311.33.42.50.01.001 from Darren Townend. Friend of the show and serious Speedy collector! Let's zoom in a bit on this awkward – but very cool – Speedmaster model, limited to 1957 pieces only.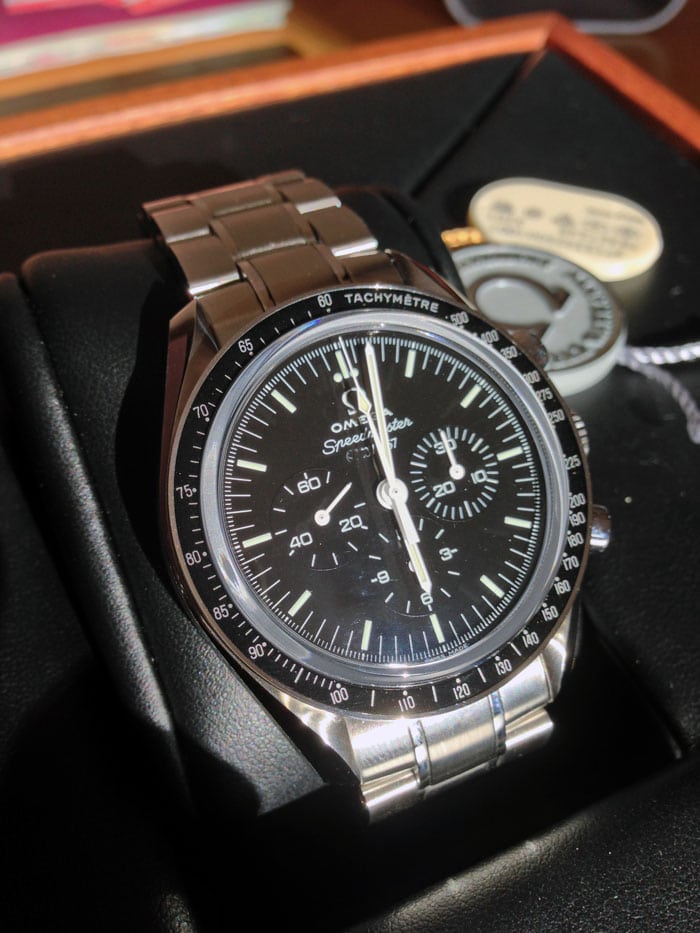 Different from the Moonwatch
This Speedmaster 1957 was actually introduced in the very same year as the OMEGA Speedmaster Professional 50th Anniversary model with the Seamonster logo printed on the dial (in gold color). In our Speedy Tuesday article of 21st of August 2012, we actually discuss this model in-depth with a lot of background information, so if you're interested, go ahead and read it (click here).
Unlike the Speedmaster Professional 50th Anniversary, this Speedmaster 1957 has no Lemania hand-wound movement. The Co-Axial column wheel chronograph movement caliber 3201 in this Speedmaster 1957 is actually based on a Piguet 1285 movement. It is not only a Co-Axial column wheel chronograph, but also chronometer certified (COSC) as can be seen below.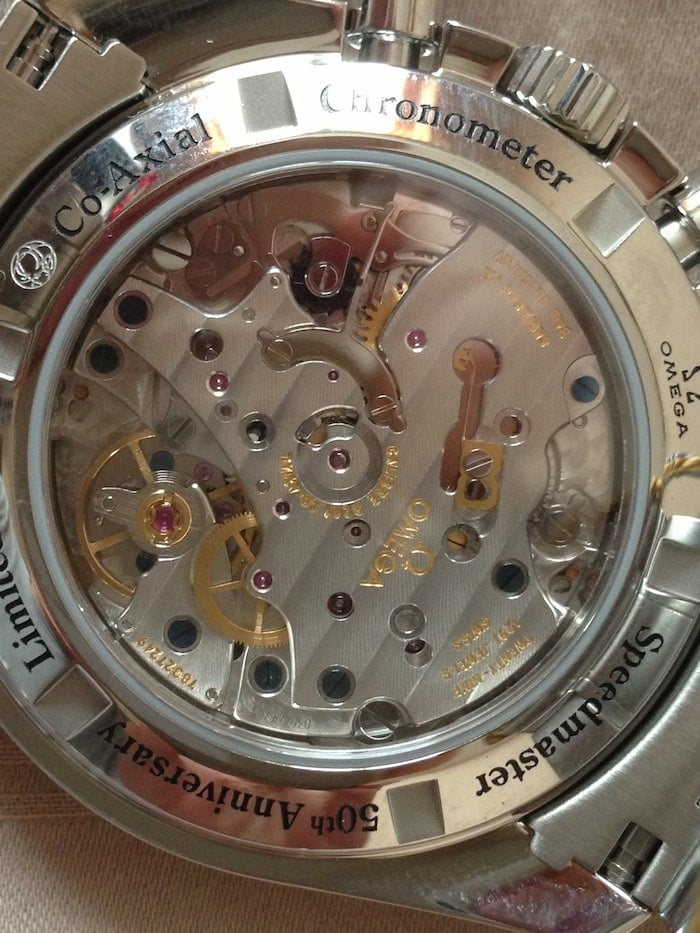 As you can see on the left of the 'Co-Axial' wording, there is a small engraving of a globe (at least that's what I think it is) with an OMEGA symbol inside. I get a lot of emails from people asking me what this is. It is just a(nother) signature to prevent counterfeiters to produce a similar watch or watch case.
The OMEGA caliber 3201 has a wonderful finish as you can see. It is white rhodium plated and has Geneva waves for decoration. The engravings on the movement are gold-plated. This movement has a power reserve slightly bigger than its Lemania counterpart, 55 hours versus 48 hours.
Besides the movement, there are some more differences of course. The dial is made out of enamel and the wording on the dial have a different typography than we're used to. Also, the watch is water resistant up to 100 meters instead of the usual 50 meters.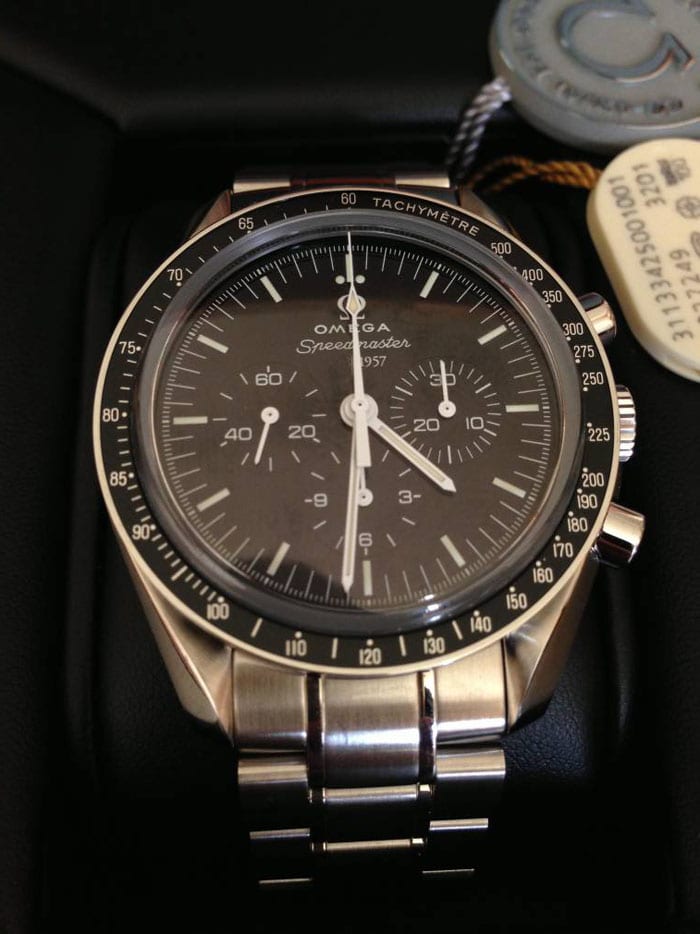 We removed the exact number of the watch from the dial as you can see, on request of the owner. However, it normally says the number of the watch and the fact that there are only 1957 pieces of this model. As you can see, no 'Professional' wording on the dial. Something that OMEGA did do on models that clearly were not 'Moonwatch' models in the past. In any case, they did it right on this Speedmaster ref: 311.33.42.50.01.001.
Speedmaster 1957 50th Anniversary Box
Normally, OMEGA watches come in red leather boxes. Some times in a black leather box and once in a while they used a wooden box. All for different reasons, but the 'normal' or 'standard' Speedmaster Professional comes in a red leather box. Some limiteds in other boxes. The box of this OMEGA Speedmaster 1957 50th Anniversary model is worth a special mention, as it is one of the coolest watch boxes we've ever seen (of the big brands).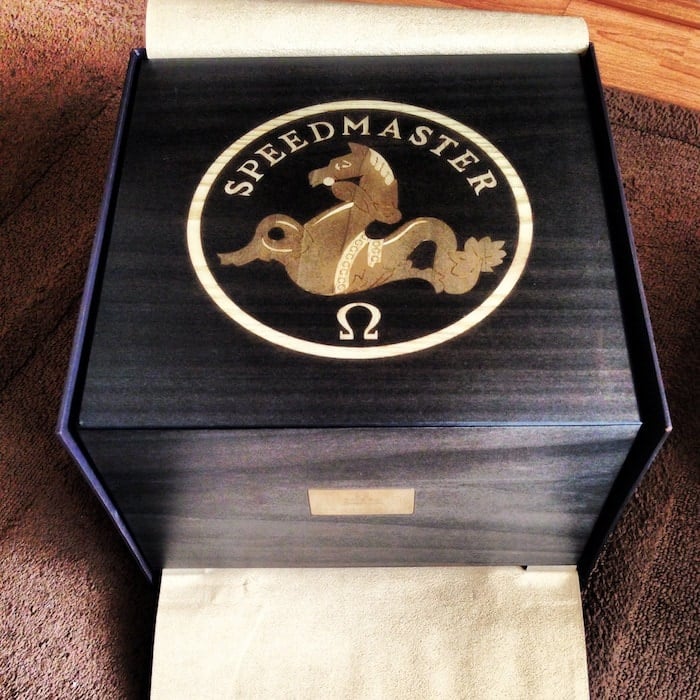 The wooden box measures approx 30cm x 20cm x 20cm and weighs about 6KG. It has a beautiful wooden inlay of the Seamonster and OMEGA logo and has the number of the watch on a silver colored plate on the front side.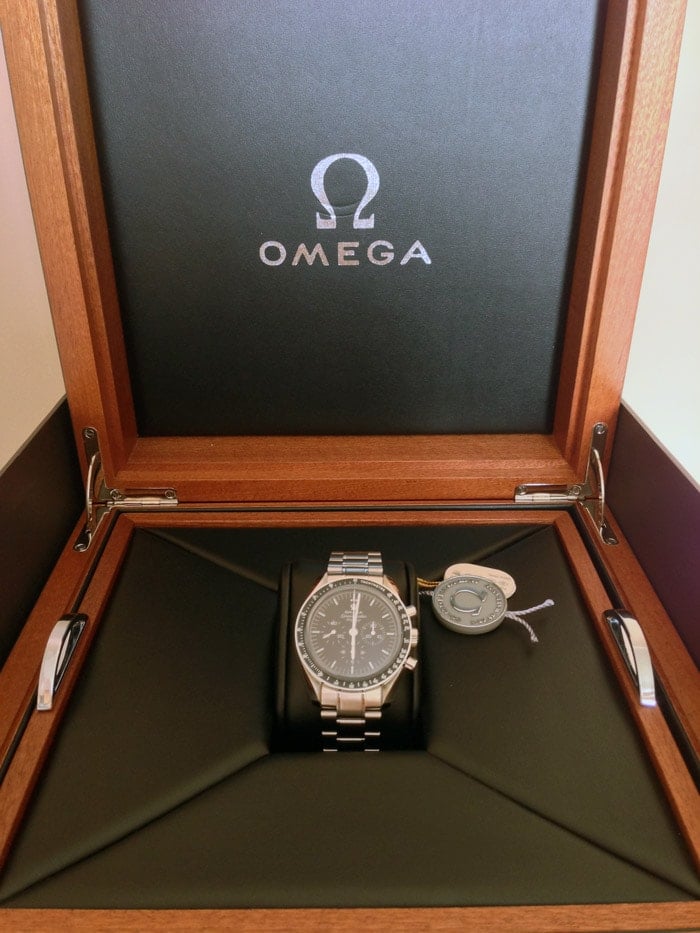 Inside, there is a black leather lining and pillow for the Speedy watch. However, if you lift it (using the metal bars on the sides) you'll see that there is another compartment in this wooden box. It holds special watchmaking tools, an extra leather strap (alligator) and a folding clasp. The tools consist of a pair of pliers, screw drivers, a loupe (in the shape of an Apollo shuttle) and a few tools to remove spring bars. All tools are perfectly documented in a special manual, shown below: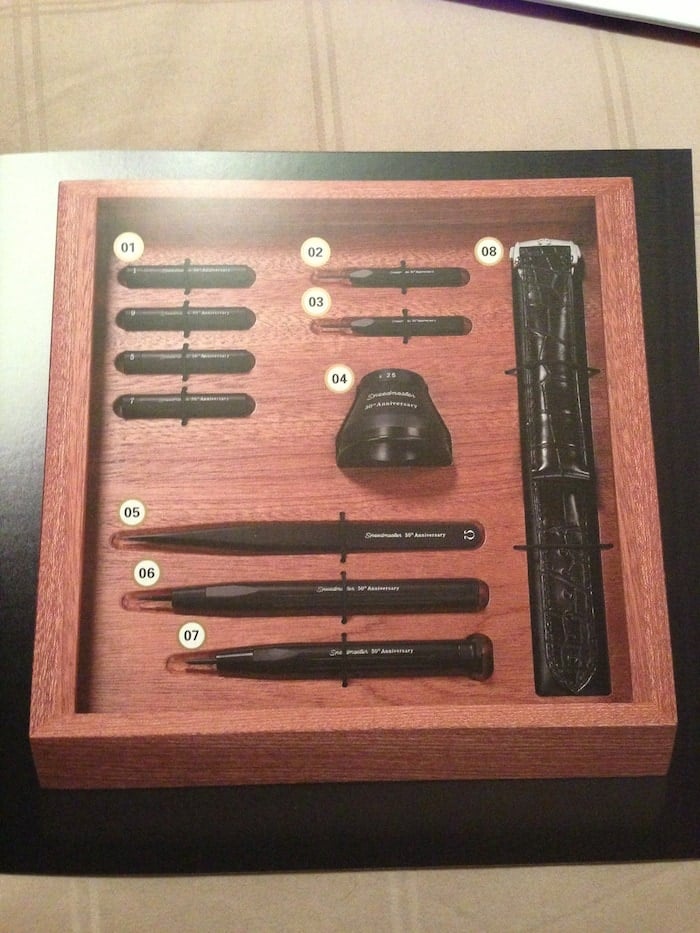 Besides the official manual and manual for the tools, there is an additional small book about the Speedmaster history. I've seen them being for sale on eBay a few times, but they also came with this particular watch. In another Speedy Tuesday topic I will zoom in on Speedmaster literature and will make sure to include this book as well.
You don't see these watches being offered for sale much. Our friends at Chrono24 offer 8 of them for sale currently, ranging from 5200 euro to 8500 euro depending on the condition and country (where they are being offered for sale). If you are able to pick one up for < 6000 Euro it is a very interesting purchase, even pre-owned. Only few are made and the box is just amazing. This will definitely become a sought-after collector's model in the future.
Thanks to Darren Townend for the pictures and sharing his never ending passion for Speedies! If you have a Speedmaster that is special (or limited), has a nice story to it (how you got it or what you experienced with this watch) or you want to put into the spot light for whatever reason, contact us at sp[email protected]. We love to cover your Speedy!
For the record: We are still looking to cover the Speedmaster Mark III, Speedmaster Mark II Racing and the 1970s Soyuz-Apollo model. Drop us a line if you have one or know someone with one of these watches.