Speedy Tuesday – Omega Speedmaster Buyer's Guide Part 3
Every week we receive tons of e-mail from people who are looking for an Omega Speedmaster, new or pre-owned. That's our own fault, as we have our Speedy Tuesday topic that has turned into a crazy but popular phenomenon. So, we are happy to answer these e-mails but also thought about putting some generic articles on-line that makes both your and our lives a bit easier. You can ready part 1 about the different Speedmaster models and part 2 about sourcing them.
This third part of the Speedmaster Buyer's Guide is about paying attention to details. What is important and what's isn't. As some of the e-mails we receive also include questions about new or young pre-owned models, we will also try to include them as well. However, the main concern is of course when buying a vintage Speedmaster.
Luckily, and we hope it stays this way, collecting vintage Speedmaster watches is not as big as a snake pit as collecting vintage Rolex. Where bs stories and fake watch parts are spoiling quite a bit of the fun, to be honest. Of course, you will see the occasional put-together Speedmaster, but we've also noticed that official dealers or watchmakers have exchanged some parts during the years as a part of a repair or service. Although this does influence the value a bit of a vintage Speedmaster, we also have to say that it isn't always clear what has been replaced and what's original. Simply because it isn't that black or white. The Omega Speedmaster Pro 'Transitional' is a good example of that, where old and new parts were mixed during a period where two models co-existed. Anyway, luckily things haven't become entirely crazy and it is still possible to obtain an original and 'fair' vintage Omega Speedmaster at a reasonable price.
Modern Speedmasters
Let's start with the modern Omega Speedmaster Professional though. A lot of questions we receive are about serial numbers, what details to pay attention to and how credible certain sellers are. With regards to the serial numbers, there are a couple of lists floating around on the internet, but we always use Roman Hartmann's list of serial numbers. This includes the serial numbers of the very early Speedmaster watches, but also covers more recent models.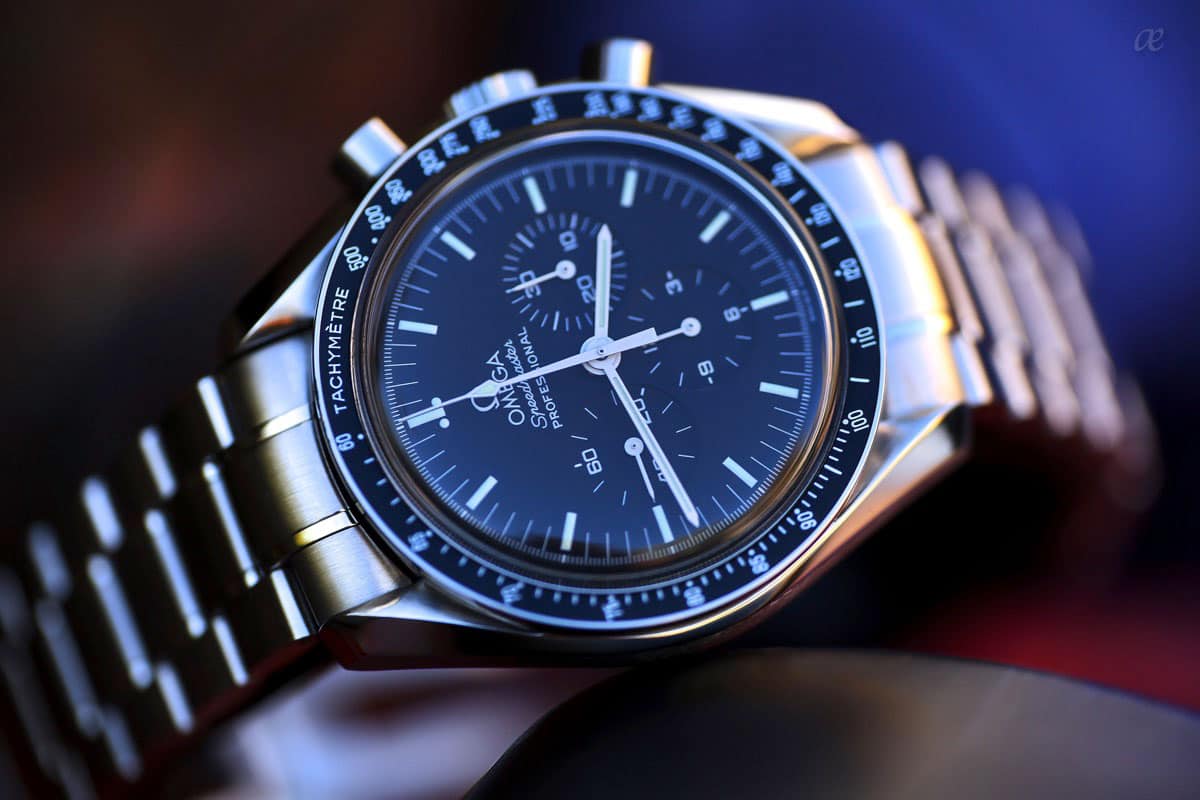 Although everyone has access to these overviews, strangely enough some sellers still get it wrong and mix the Speedmaster serial numbers with other Omega watches' serial numbers (there is a difference!) and get you wrong production years.
Omega does not provide details on watches after 2000, so it becomes a bit difficult to find specific information or extract of the archives on those. However, in our opinion, a watch produced after 2000 should always come with box and papers. Check the serial number (Omega calls it movement number) in one of the lugs on the backside of the watch to the number on the warranty card. It should match at all times.
Another thing to pay attention to when it comes to modern Speedmasters is of course visible damage (if the watch has had some hard knocks, resulting in deep scratches or dings, imagine what type of blows the movement had to deal with). If so, always make sure to ask about its servicing / repair history. If possible, have the watch tested for its accuracy (it will also show you in how much degrees the balance wheel rotates). If there is no service history or no way to check the performance of the Speedmaster, make sure that you will include the cost of a service in the final price you want to pay.
In case of a limited edition or special edition Speedmaster, get yourself familiar with the original packaging, booklets, certificates and possible accessories. Some limited editions came with a specific box or had a special book that was delivered together with the watch. However, besides a full set it is important to be convinced that it is the real deal and not a put-together watch. The supply of spare limited edition dial (such as the 2004 Japan Racing model or the 2003 Snoopy Award model) and case backs is staggering, so make sure to checkout the corresponding numbers on the certificates.
However, what surprised us most with the relatively modern Speedmasters is the fact that they some times come with wrong bracelets. Surely, they are delivered on original Omega bracelets but ones that either too new or too old. Early 1990s models with post-2000 bracelets are often on offer or modern Speedmasters with the famous reference 1171 bracelet. It doesn't make sense and it is easy to identify by you as a buyer.
In case you remain to have doubts about a watch, it is better to look for another deal.
Vintage Speedmasters
Perhaps the most important rule is very generic, but also very true: always buy the seller. Has he proven to be reliable in the past, does he has a lot of positive feedback?
Second, make sure you get yourself educated. With our backlog of 3 years of Speedy Tuesday articles we surely have some comparison and learning material on Fratello Watches, but also have a look at the classic articles written by the late Chuck Maddox (it is exactly today that he passed away 7 years ago but it still seems like yesterday). We also informed you about the Moonwatch Only book a while ago, which is up till date the best reference on the subject in print. It will give you a lot of detailed information on most reference numbers, from the very first CK2915-1 till modern / current Speedmaster watches.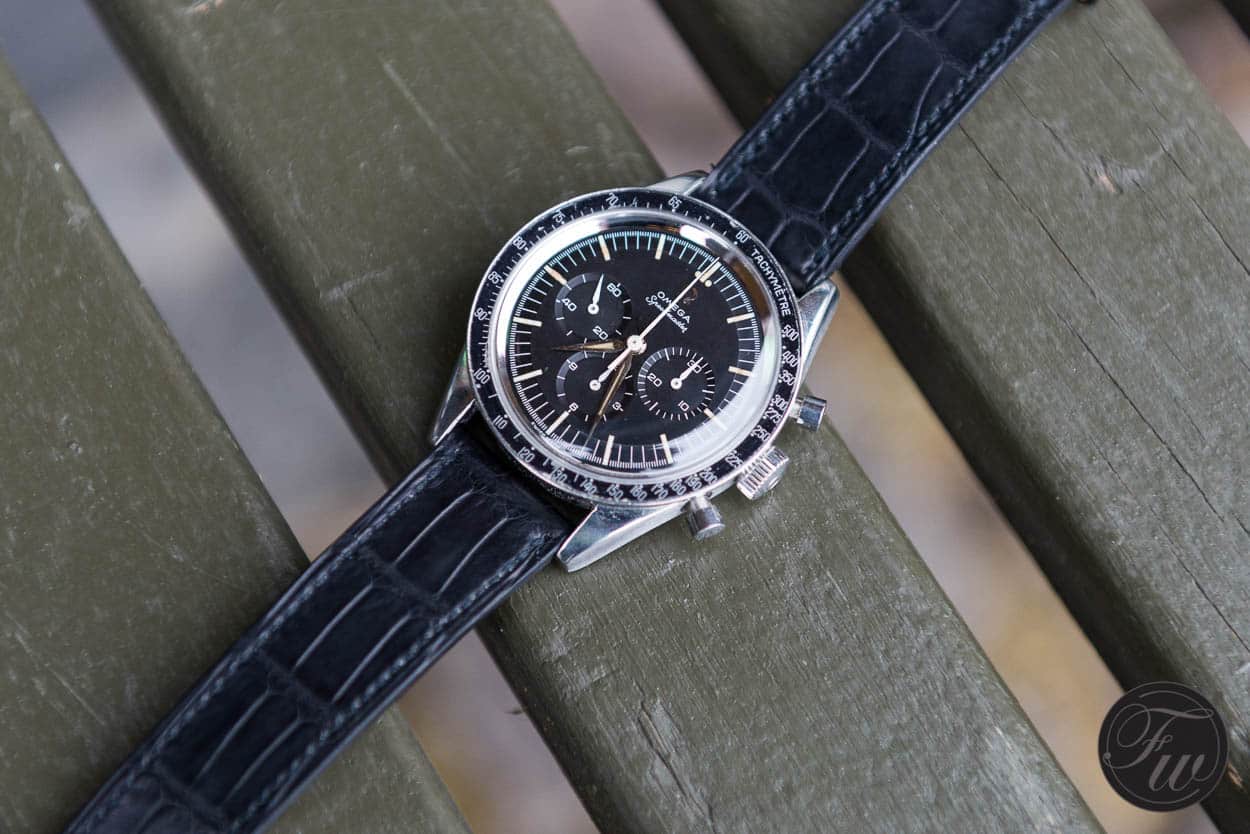 Once you've found a nice vintage Speedmaster, always ask for the serial/movement-number (not to be confused with the caliber number). Omega has an extract of the archives service that is able to indicate whether the movement was indeed delivered in a certain case reference, in what year and to which country. We've often come across movements that were initially delivered in different watches than the watch being offered. Especially the first Speedmaster movement, caliber 321, can have a dodgy history.
One common misunderstanding we often see has to do with the reference/case number. Omega used references like 105.003, 145.012 and 145.022. However, they also put a two-digit year indicated after this reference number, like 145.022-76. Now, a lot of people (still) think it indicates the exact production year. This is not the case! You won't find a 145.022-75 or 145.022-77 for example. So it merely says something about the production year of the case back part. The serial/movement number is KEY to indicate and determine the exact production date. On older models, this number is only engraved in one of the bridges of the movement, not on the case back or in one of the lugs. So you will have to remove the case back or ask the seller to do this for you. Any dates mentioned on papers or warranty booklets do not indicate the actual production year, merely the date of the sale.
To make it a bit more complicated, some times the extract of the archives will show you a production date and delivery date that leaves quite some room in between. How come? The serial number has been engraved in one of the bridges of the movement at the time of assembly of that movement, not when the watch was completely assembled and made ready for shipment. This way, it could happen that a movement wasn't used immediately but was stocked for a certain period. In general, we still use the serial number as production year indicator despite the gap it may show in the extract of the archives.
When you are certain about the production year and have the correct reference number, it is time to identify and authenticate the Omega Speedmaster (Professional). Are all parts time-correct? Are they all genuine? What type of bracelet should be on there?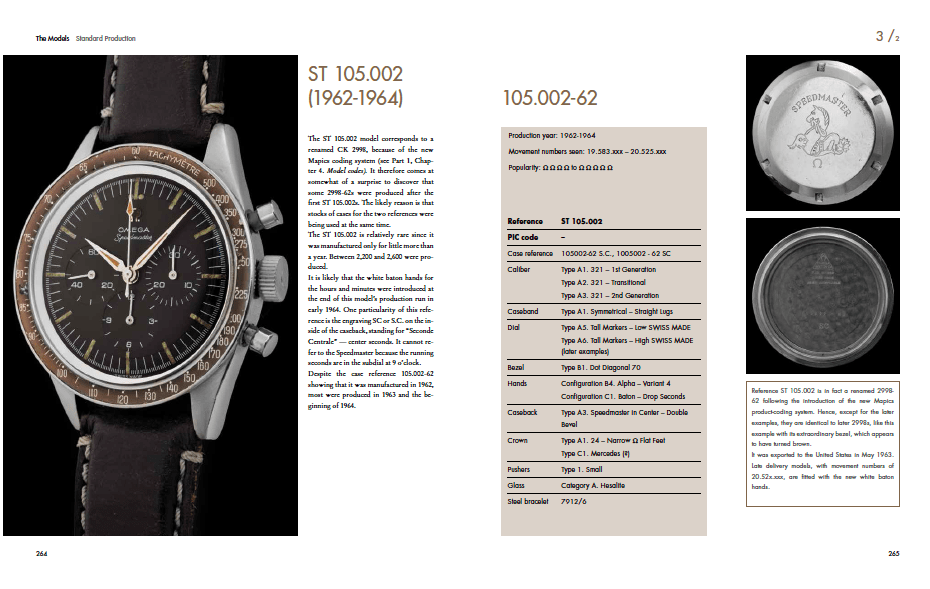 Make sure you familiarize yourself with the differences between the CK2998 references (-1 up to -62) for example, or the different types of bezels and which one should go where. All the aesthetics can be validated using a reference book like Moonwatch Only for example, or use our search function to look up a similar Speedmaster reference. Always keep in mind though, that there is no absolute truth on a number of models and that even the nice people of the Omega musem & archives are finding out new things every week.
Using Omega's Vintage Information website can at least help you out identifying some of the details on a Speedy reference. Also be aware that Omega's Exctract of the Archive is now also available in the USA (click here).