Speedy Tuesday – Moonwatch Only Book Review
Moonwatch Only Book Review
I think that after Rolex, Omega is the most documented brand out there. Especially in print. Especially with regards to the Speedmaster model, there are already some titles out there that cover this watch in great depth. Not only did Omega publish a specific book on this model by themselves ("The Moon Watch") over a decade ago, there were also some interesting titles published by others. One of the most in-depth titles so far were the "A Time Capsule" book by Kesaharu Imai and the "Master of Omega" by Alberto Isnardi.
Recently, authors Grégoire Rossier and Anthony Marquié published a new book on the topic. It is called Moonwatch Only and does just that. Covering the Moonwatch in all of its variations. It is being published by WatchPrint and is available in English, French and Italian.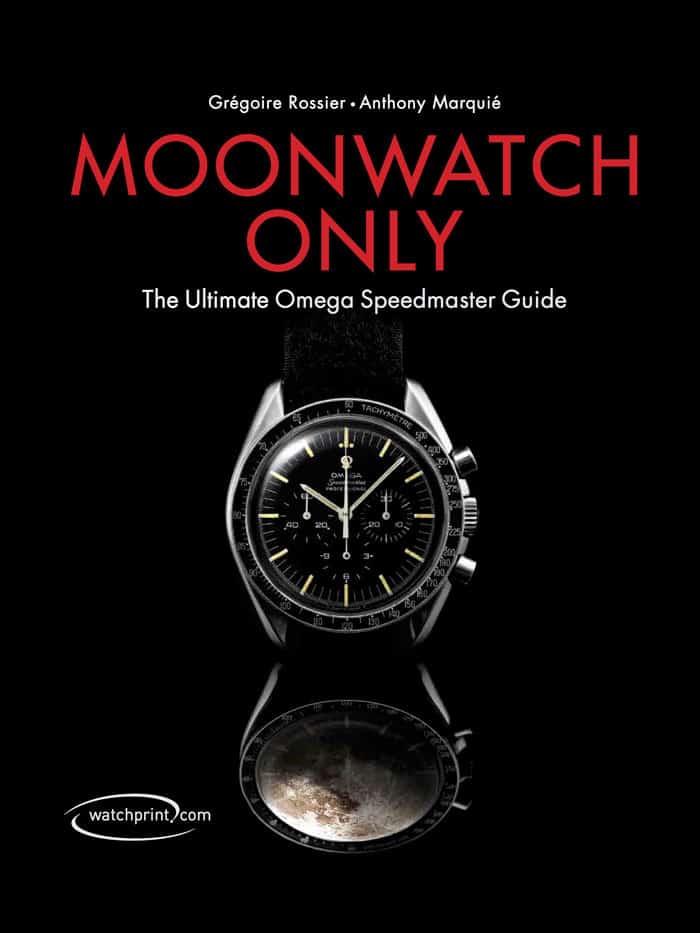 Knowledge Comes At A Price
Books on watches often come at a steep price. This Moonwatch Only book has a 250 Euro / 290 Swiss Francs price tag which seems a lot, but I will explain to you why it actually isn't.
First, publishing a book does not come cheap these days. Besides all the work and effort put into a book, you need to pay quite a bit on the printing of the book, the logistics, two foreign language translations and a bit of marketing. It would probably be much cheaper to create a digital version of the book for iPad owners for example. But if you are like me, you want to have a book on the shelf (or coffee table), feel the paper between your fingers and be more at ease and concentrated when reading something from paper then from a bright screen. Right?
Second, 250 Euro might seem a lot for a book but look at it this way: If 250 Euro can save you from making mistakes that will cost you much more than that, I'd say it is a very good investment. The great thing about this book is that all information on the Omega Speedmaster Moonwatch models are combined in one book. Instead of going through a lot of (Speedy Tuesday) posts here on FW or visit other helpful on-line resources, you can just take this book off the shelf and use the index to exactly find & read the information you need.
If this book can prevent you from buying a Speedmaster with the wrong dial, wrong hands or even a complete Frankenwatch, you already earned yourself a couple of hundred in whatever currency. The authors did a thorough research about their favorite timepiece and were allowed access to the archives of Omega and spent a lot of time creating a very helpful methodology in recognizing and identifying (correct) Speedmaster models.
Contents of Moonwatch Only
Which brings me to the contents of this book. After the one page index that covers the main five topics of the book (Introduction, Main Components and Accessories, The Models, Choosing and Buying, Appendices) you'll read two impressive forewords written by two impressive people, by Omega CEO Stephen Urquhart and NASA astronaut Captain Eugene Cernan.
Chapter 1
The first chapter of the book gives a brief explanation why this book only covers the Moonwatch (so also no Mark II or any other models marked as 'Speedmaster Professional' that differs from the original Speedmaster design) and gives an interesting overview of mile stones of the Speedmaster watch. A final section in this chapter covers the reference number system that Omega uses and has used in the past.
Chapter 2
Omega – and especially – Speedmaster fans will probably already have a good understanding of the things written in chapter 1 and will immediately skip to the second chapter of the book. This is the chapter that matters most when you want to identify a Speedmaster. It gives the most in-depth and complete information I've ever seen on the topic. The various calibers that were used are known as the caliber 321, caliber 861, caliber 863, caliber 864, caliber 866, caliber 1861, caliber 1863 and caliber 1866. However, the research of Grégoire Rossier and Anthony Marquié will show you that it isn't as simple as that. For example, there are three versions of the caliber 321 movement, each with small adjustments or updates. Almost all of the mentioned movements have different variations (while using the same caliber number). For me this was quite an eye opener as I knew there were a bit of variations in – for example – caliber 861, but I did not know there were so many of them.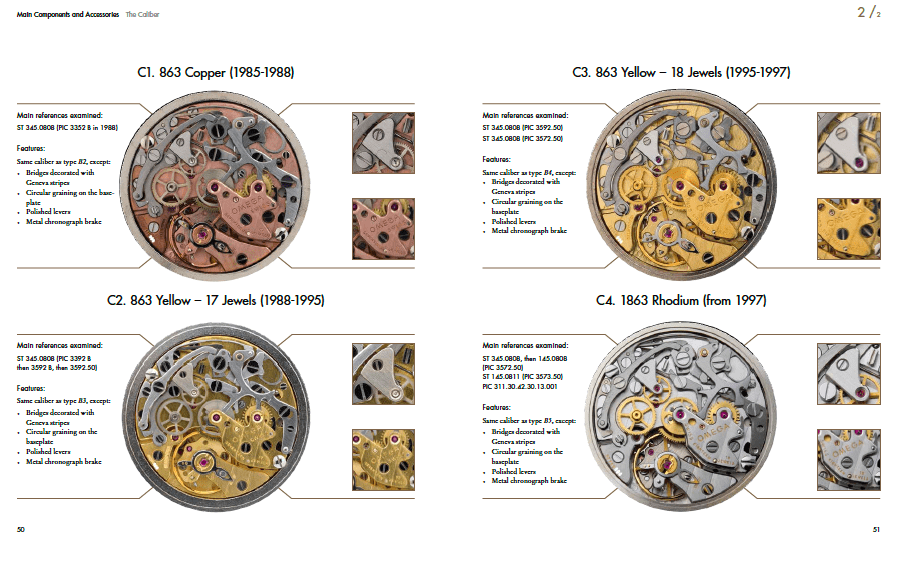 In this chapter, all parts of the different Speedmaster variations are meticulously documented. Watch cases, the bezels, crystals, pushers, dials, hands, case backs but also the bracelets, boxes and so on. All documented with the utmost care for detail and precision. I have never seen anything like it in any other book, including the famous Mondani Rolex books don't go this far. Chapter 2 alone is worth buying this book or spending this kind of money on it.
Chapter 3
This section covers all the Moonwatch models there are and have been. A section that consists of 239 pages filled with top quality photos of all the model variations that were identified by the authors. From the standard Speedmaster models to very limited produced models. All described and photographed with great care. It will help you seek for specific details per model or reference number. Every identified model in this chapter is pictured with a small introduction or explanation, a table with specific information about the model and a few photos. A special section is dedicated on the much beloved – and mysterious – Racing dial models, prototypes and Alaska Project Speedmaster watches.
Like our recently started Speedmaster Buyer's Guide, this chapter gives a number of hints and tips when you are in the process of searching and buying a Speedmaster watch. Very interesting read and packed with useful tips. It also briefly zooms in on the various sales channels where you will be able to find Speedmaster watches.
Chapter 5
You could say that this section is the summary of the second chapter, where all specifics were described in detail, the authors have been capable of transforming this text into very useful tables and pictograms. Besides that, it contains tables with all model information as listed in Chapter 3. It is certainly no duplication of these chapters, but interesting and quick look-up tables with information that will enable you to quickly find the most important aspects of (a) Speedmaster watch(es).
Conclusion
There are two important conclusions to draw after reading this book. First, it is a must-have for all serious Speedmaster collectors, dealers (and yes, this includes authorized dealers to give them some great background information on the current Moonwatch models) and perhaps even for the collector that is in the market for that one special Speedmaster watch. Be it a vintage CK2998 for example or even an easier to find 105.003 or 105.012. This book will definitely prevent you from some pitfalls. Also when you don't have the time and patience to dig into the various Speedy Tuesday topics, forums posts or other sources, it gives you all the information you will need in a glance.
My second conclusion is that this book sets a new standard. Not only for books on the Omega Speedmaster, but for watch books in general. I've never seen anything like it, and believe me when I tell you that I could fill an impressive sized wall with books on watches. Authors of other books or publishers should take a look at Moonwatch Only as well to see how it should be done.
Win a copy!
Authors Grégoire Rossier and Anthony Marquié sent us a copy of Moonwatch Only to give-away in our 10 Years of Fratello Watches Anniversary raffle. Click here to get lucky and win a copy of Moonwatch Only or win one of the other great items.
Click here to order the Moonwatch Only book right away (or here). More information about the authors and the book can also be found on moonwatchonly.com