Fratello Watches 10 Year Anniversary – Great Giveaways For You!
This year and month, Fratello Watches celebrates its 10th anniversary! It started out as a funny little project in 2004 driven by the passion for watches. 10 years later, it has become a watch blog that we work on with a team of passionate people on almost a daily basis. To celebrate this milestone, we have a number of great giveaways that were donated by OMEGA, TAG Heuer, MoonwatchOnly, WatchPrint.com and ourselves.
We appreciate your visits every day and we still see the number of unique visitors growing every time. Even with all the new blogs, internet magazines, Facebook groups, Instagrams and tumblrs out there who cover watches, we are very happy to have you and keep you interested in the things we have to say about watches. In those 10 years, we grew from being a one-man show to a small team of enthusiasts with each their own expertise. The things that did not change is our love for watches and the fact that we only write about the things we like.
So THANK YOU,  dear reader, that you are still here enjoying our articles and photography. In order to thank you properly, we arranged some very nice gifts for you and decided to give them away to the lucky ones. In order to win one of these giveaways, the only thing you have to do is to take a very small survey at the end of this post. It will give us information about your location (we have to know where to send the gifts to) and the things you are interested in when it comes to watches, so we get to know you a bit better. We demand no extra Facebook likes, Instagram followers and whatever, just a few simple questions.
Before we get to the gifts and survey, we were very happy to receive some nice quotes from our friends and colleagues which we mention here with pride.
"Fratello Watches is one of our favorite watch blogs. Truly a unique platform for collectors and aficionados alike. The WatchTime team enjoys readings Fratello's posts and we are very happy to be a partner of Fratello Watches." – Dominic Grau, Managing Director WatchTime
"Before I started aBlogtoWatch.com in 2007 Fratello Watches was a regular place for me to visit to read about watches. RJ was clearly one of the first watch bloggers to "get it," taking traditionally closed and sometimes overly nerdy conversations about watches into a more mainstream medium. Fratello was one of the first internet watch magazines with any sense of individualism and opinion. It was RJ as a watch lover, talking about watches he loved, to other watch lovers. Fratello's 10 year anniversary, if anything, is a testament to the enduring power of passion. " – Ariel Adams, aBlogtoWatch
"Happy tenth anniversary to Fratello Watches! I can't believe it's already been a decade of Speedmaster reviews, Speedy Tuesday and a place to hang out with friends and real "guy's watches." Big congrats and continued success from all of us at Quill & Pad!!" – Elizabeth Doerr, Quill & Pad.
"Fratello Watches is for sure one of the coolest watch blogs on the planet, headed by one of the coolest Dutch guys I know – RJ. Before I started writing about timepieces FW was, and still is, one of my frequent watch site visits for my daily dose of watch nerdery. Packed with original informative content and pictures, not to mention their love of Omega Speedmasters and the ever growing #SpeedyTuesday following. Fratello Watches 10 Anniversary is testament to their following and love of horology. Congratulations!" – Christopher Beccan, Bexsonn.com
"Robert-Jan and his team at Fratello have played an immeasurable role in developing online wristwatch enthusiast media, inspiring many of us, and their passion for watches and never failing quality of work has been downright remarkable. I can't wait to see what they'll do in the next ten years!" – Benjamin Clymer, Hodinkee
"Congratulation on your 10th anniversary! And thanks for your dedication to share your passion for cool and beautiful watches with many watch enthusiasts around the world. Thinking about our first visit to Baselworld brings back sweet memories. This pelgrimage became an annual ritual and in the mean time we worked harder on our websites, improving them, reaching more readers, and more importantly meeting more watch enthusiasts and watchmakers. Congrats and thanks for sharing the passion!" – Frank Geelen, Monochrome-Watches
Our 47 Fratello Watches Giveaways
In total, we have 47 gifts to giveaway, which we will show you below. We will ship WORLD WIDE, so don't be afraid and join the party! We will randomly draw winners before the end of August! You can join this raffle until August 15th.
– 15x OMEGA Chronicle books donated by OMEGA
From Omega, we have 15 of these great red Chronicle books. This book tells the story of Omega in a nutshell, has some great photos of (historical) watches inside and all in chronological order. A must-have for every (Omega) fan.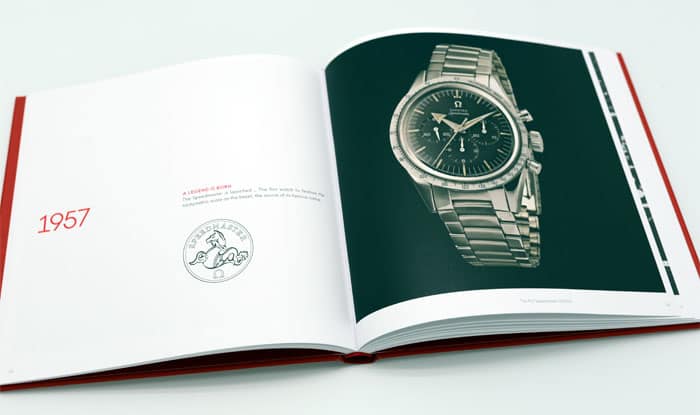 – 15x bright red OMEGA "From Russia with Love" pens donated by OMEGA
Great looking bright (Russian) red pens with the "From Russia with Love" slogan written on it. These pens also have the 2014 Sochi.ru Olympic logo on there as well as the Omega logo, of course. Excellent writing!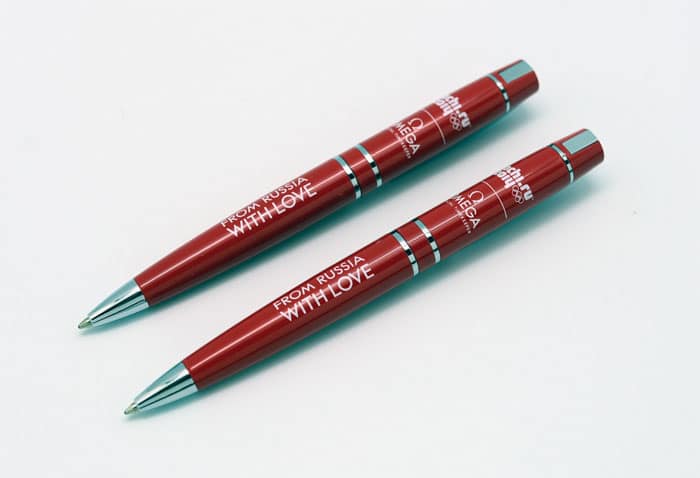 – 5x OMEGA watch maintenance kits donated by OMEGA
Maintaining your watch is not only a periodical service once every 7-10 years, you also need to keep your watch clean. This maintenance kit comes with a soft polishing cloth, cleaning brush and a loupe (visual inspection). All boxed in this nice aluminium case.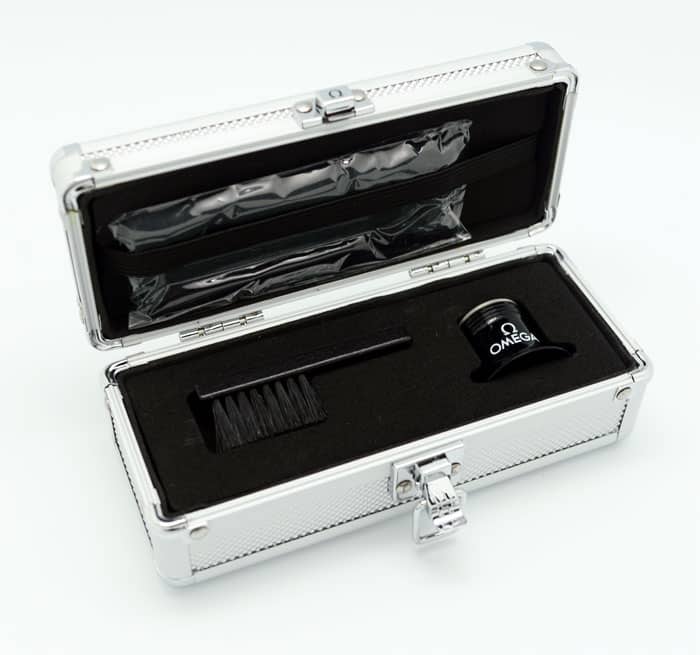 – 3x TAG Heuer 150 Years book donated by TAG Heuer
TAG Heuer donated three of these wonderful TAG Heuer 150 years book. A 5KG(!) book with over 150 high quality illustrations in 216 pages. A coffee table book for everyone who is into (TAG) Heuer watches. More information on this book can be found here.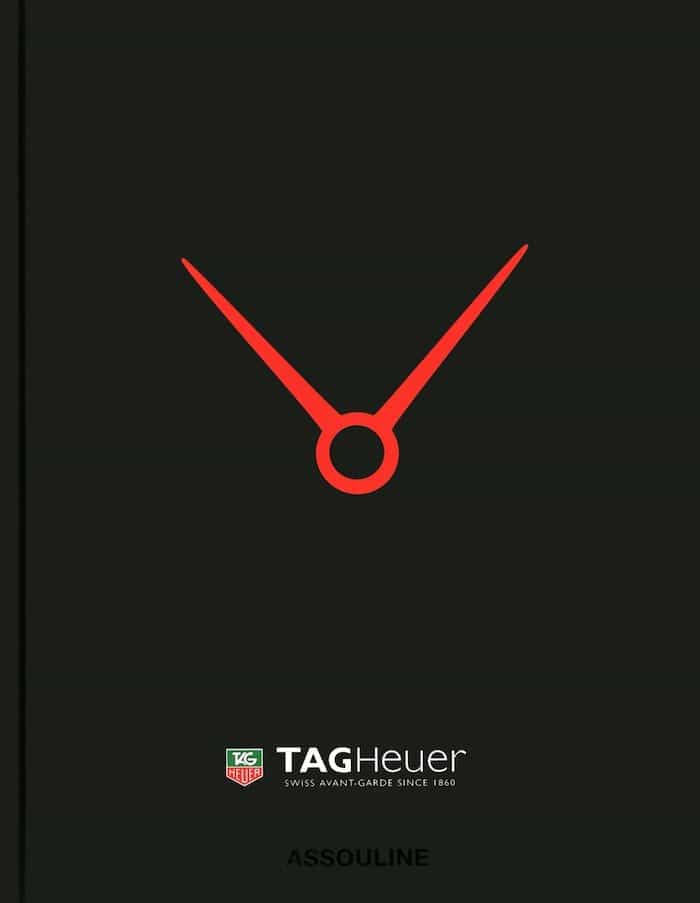 1x Moonwatch Only Book – donated by the authors
Regular readers know about our Speedy Tuesday. Perhaps Speedy Tuesday even has become a part of Fratello Watches that we can't do without anymore. Recently, the Moonwatch Only book was introduced by Rossier and Marquié. We have seen a prototype in 2013, the concept book in Basel and now the final product is there. It is beyond all expectations and we will do a review soon for Speedy Tuesday. We have 1 copy to giveaway! If you can't wait, you can order your copy here.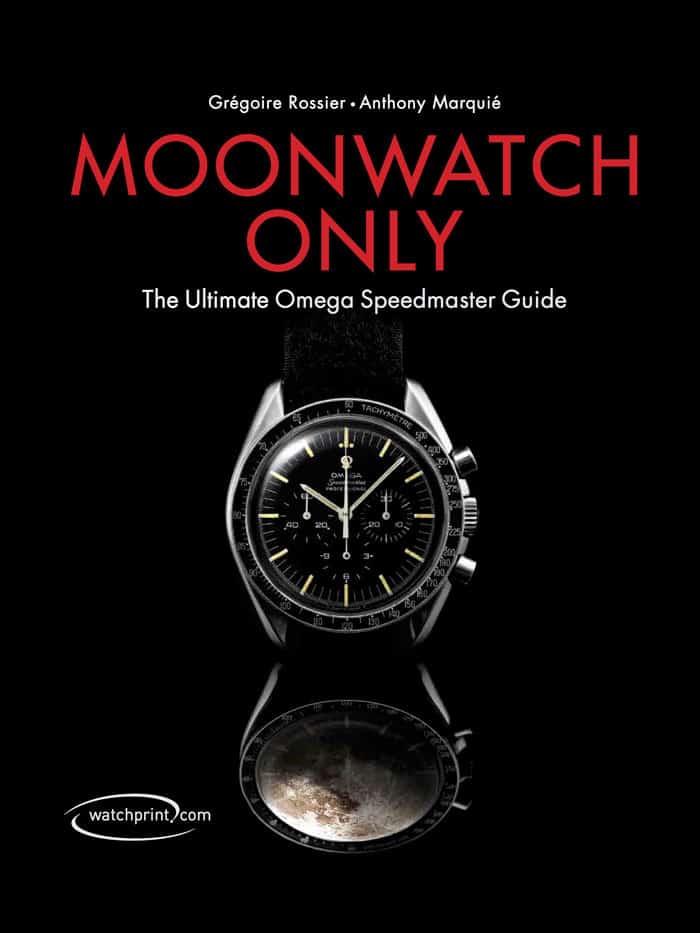 – 3x book about "Real & Fake Watches" donated by WatchPrint.com
We can't stress enough the importance of knowledge when buying (vintage) watches. Especially with Rolex, you have to know what you are doing. How can you tell a fake watch from a real one? Where are fakes made? What grades of quality can one find among so-called "replicas"? How can one buy a watch on the internet? How can one avoid fraudulent copies? This book will give you some answers and guidance. Written by Fabrice Gueroux.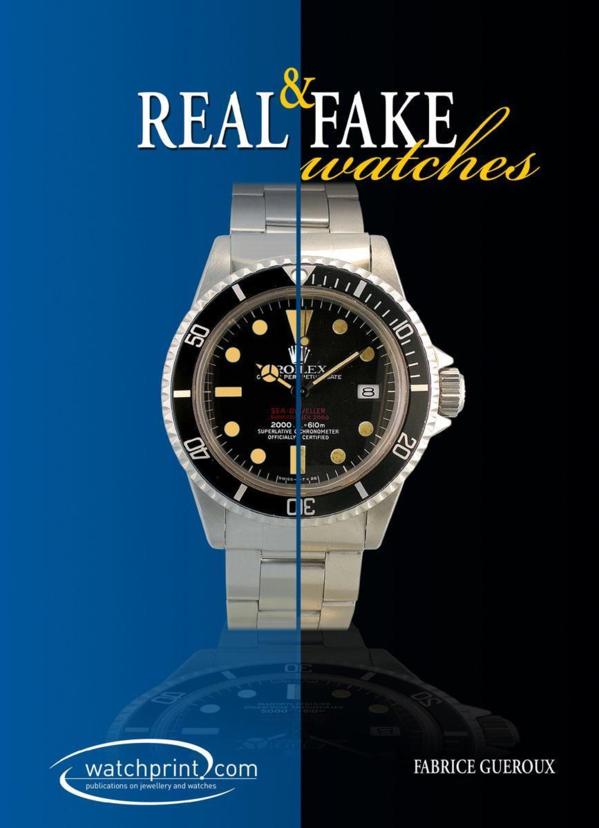 – 2x book "George Daniels, A Master Watchmaker & His Art" donated by WatchPrint.com
The watch must be original in design and conception and, when completed, beautiful in appearance. George Daniels, WatchmakingMaster watch designer and inventor George Daniels (1926–2011) was regarded as the finest exponent of his craft in the world. Over the course of his career he laboriously constructed just 25 unique mechanical watches using antiquated tools, creating almost every component by hand. This books covers these 25 unique pieces, written by our friend Michael Clerizo. Photo below by our friends of Hodinkee.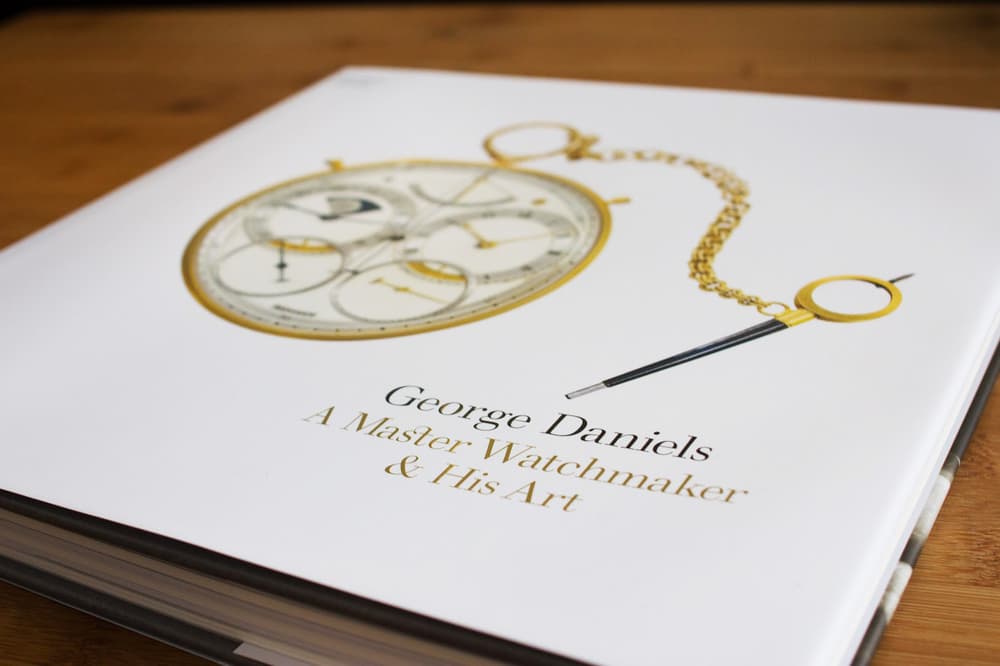 Thanks go out to WatchPrint for these books, the reference for watchmaking books, worldwide shipping, bookstore of Baselworld, SIHH, QP London, Belles Montres Paris, Timecrafters New York and Watches & Wonders Hong Kong.
– 3x Velcro "Early Apollo" Straps, hand-made by Philip Kisloff
These straps are the best quality velcro straps we've come across. Period. This is the Apollo bronze version, used during the early Apollo missions. Completely hand-made, even the steel rings (alloy 302), are made to the exact dimensions of the original straps. The bronze is not as accessible as the black versions perhaps, but this is what was used in the early days. For the Speedmaster die-hards only, perhaps. Later on, we will introduce you to the other color scheme possibilities as well as we are working on those together with a great partner from the United Kingdom. We have photos of astronauts Lovell and Schirra wearing them, send us an e-mail if interested. For fun's sake, we added a little label with #SpeedyTuesday on it, just on the inside of the strap.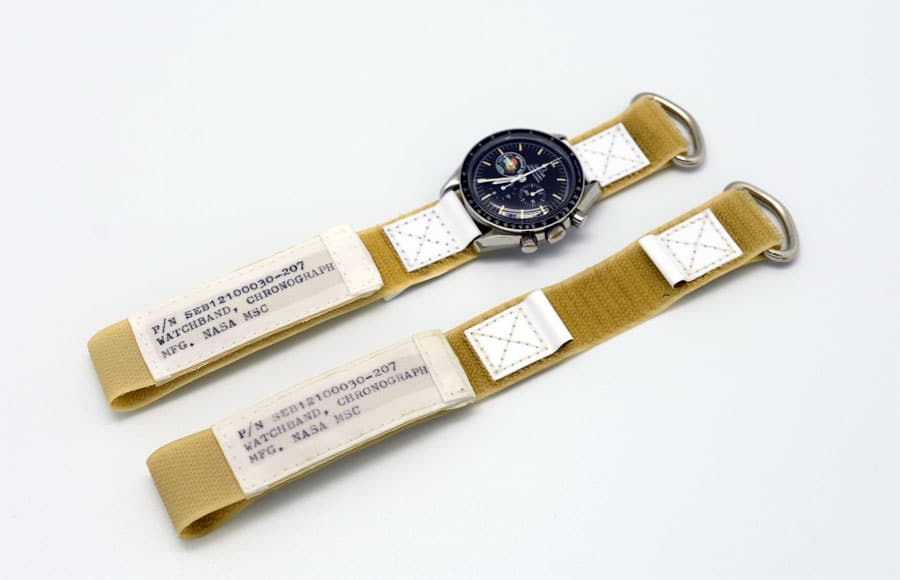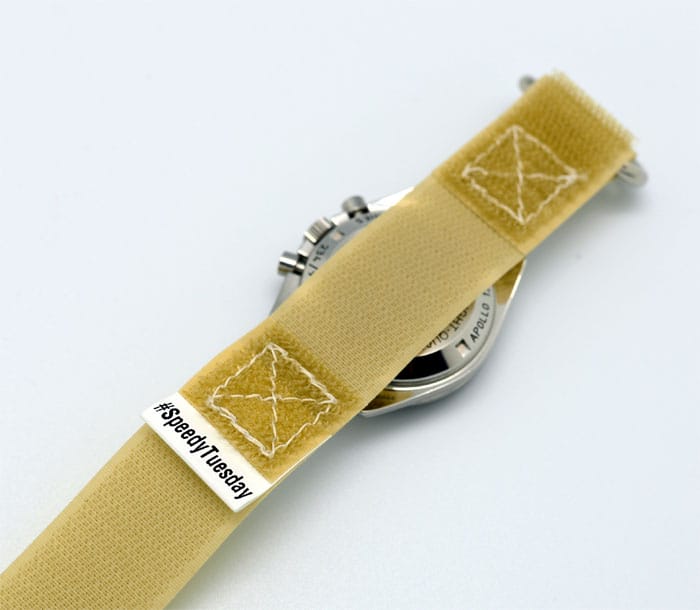 Of course, the watch is not included.
Take The Survey And Win One Of These Giveaways
Winners will be drawn before the end of August and you can participate till the 15th of August. Please fill out the survey to be on the list of our random selection of winners. Your personal information will never be be shared outside Fratello Watches.
Survey is closed. We will correspond on the outcome and send out the give-aways before the end of August.