Speedy Tuesday – Omega Speedmaster Pro Tintin
It's Speedy Tuesday! One of our dear readers and Speedmaster enthusiasts has contributed a number of photos of his recently acquired Omega Speedmaster Pro Tintin watch. We discussed this watch already even before it was released in BaselWorld and then were the first to tell you about the association with Tintin. Jean-Claude Monachon – Vice President and Head of Product Development – told us about the initial plans for this watch when Omega designed it, making it an official Omega Speedmaster Tintin timepiece.
Instead, it became the Omega Speedmaster Pro Racing as the owners of the Tintin copyrights (probably) did not like the idea of having this watch as a tribute. As our first publication on the Speedmaster Tintin resulted in receiving letters from the legal department of the Tintin copyright owners, we will refrain from showing you the Tintin album and photos that will immediately clarify why this watch has such an interesting red and white checkered outer ring on the dial. It has little to do with racing.
Omega Speedmaster Pro Tintin 311.30.42.30.01.004
Our avid reader Mike (@mikeinfrankfurt on Instagram, check him out) asked me about this specific Speedmaster Tintin and I was just been told by a source at Omega that this watch is out of production. So I told this to Mike and it might have get him to pull the trigger on this Speedmaster Tintin or Speedmaster Professional Racing, as it was officially called.
The association – or actually rejected association – with Tintin makes this actually a very nice-to-have piece and it might become a sought-after model, especially when you think of the low production number it must have. It is based on the regular Speedmaster Pro 3570.50 but with the red and white checkered dial and a caseback with a red filled engraving.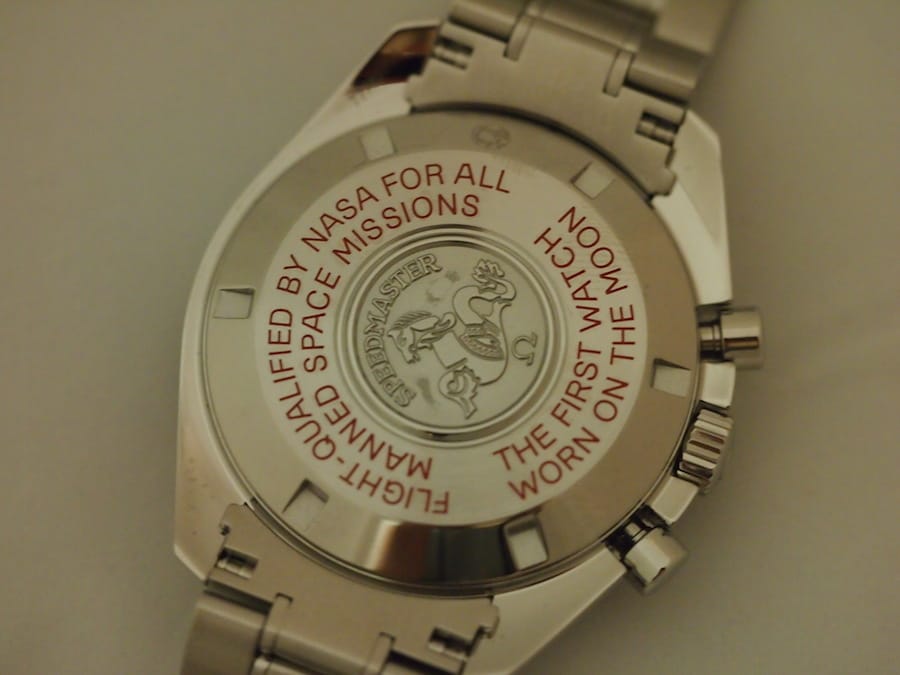 As you can see, it is all identical to the regular Speedy Pro with stainless steel case back. Perhaps a nice detail to show, the anti-counterfeit engraving on the case back of the Speedmaster. You will find this on (I assume) all modern Omega watches but some people still wonder what it is, according to our Fratellowatches mailbox. Although it is very difficult to fight counterfeiting, these type of measurements at least will make it easier to identify the real deal.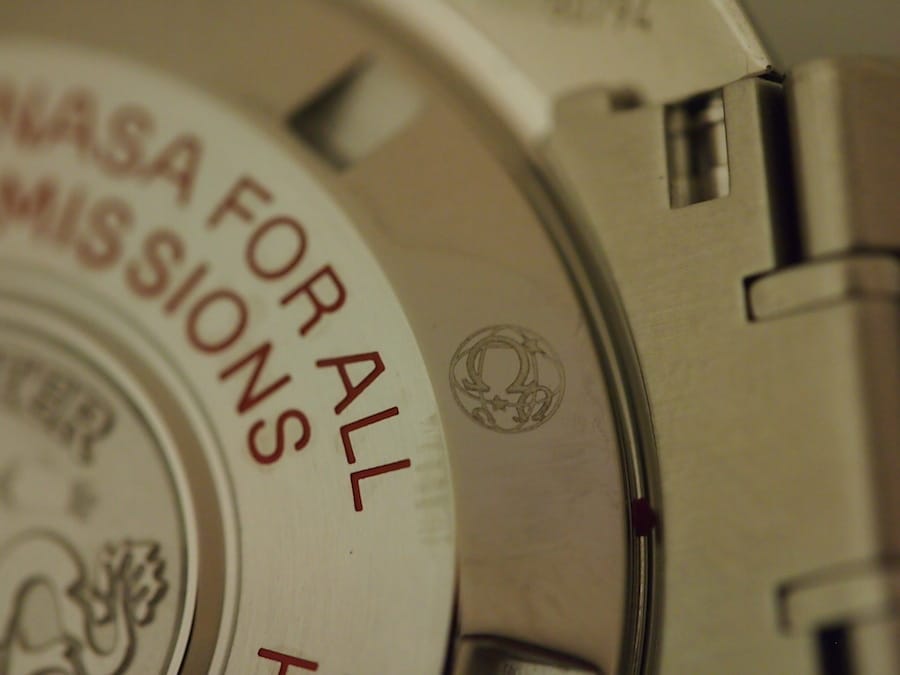 Since production has stopped for the Speedmaster Professional reference 311.30.42.30.01.004 it might be wise to ask your Omega dealer if he can still order from stock (or perhaps has one in stock). The list price of these Speedy Pro Tintin watches was just above list price (approx. 3500 Euro) but looking at some of the other recent 'stopped' limited editions or specific editions, it should be quite a solid buy. Especially on the long term.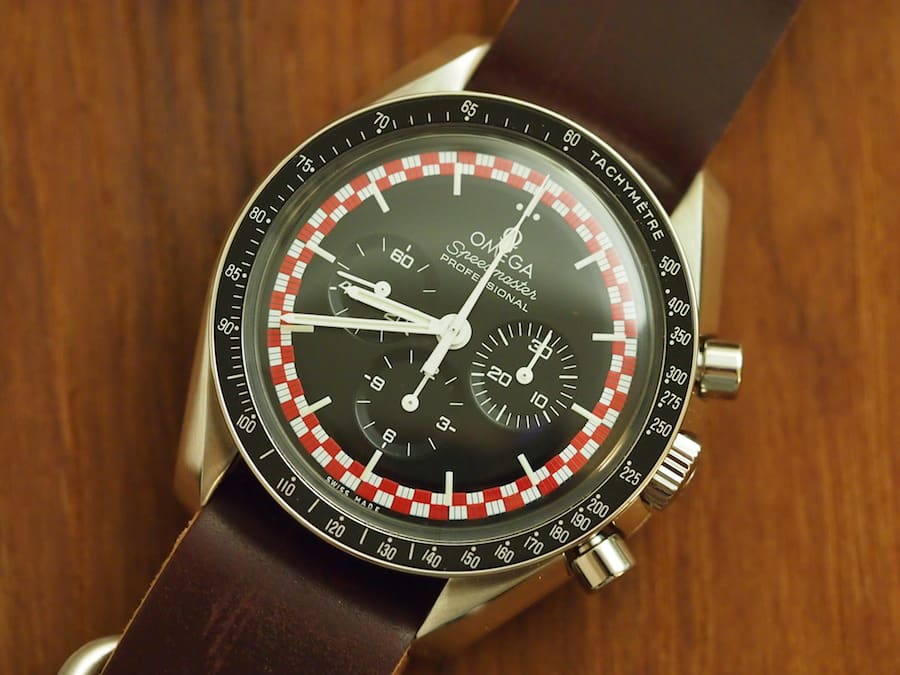 Besides that, it is a very handsome watch to look at. Although it is quite different from the Omega Speedmaster Pro Apollo 15 model, the red and white outer ring at least made me think of that one right away. Even more so then a comparison with the Omega Speedmaster Pro Racing reference 3570.40 that was done especially for the Japanese market in 2004, with the red and orange checkered dial.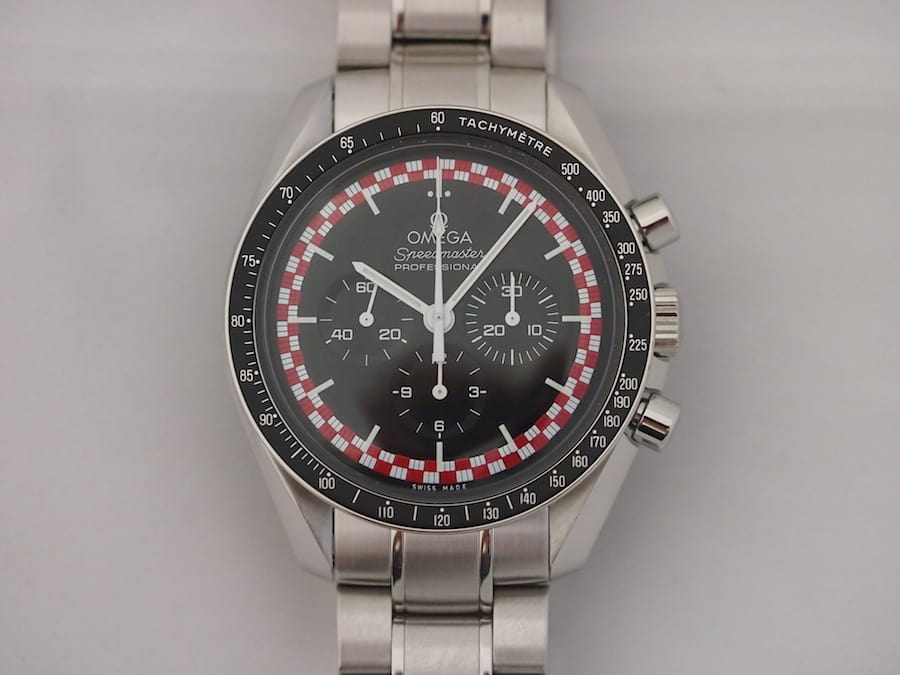 Inside this Speedy Pro is of course the hand-wound caliber 1861 (Lemania based) that has been used since 1997. Before that, it was the caliber 861 movement that was introduced in 1968. Only a few minor changes were done in 1997 to this movement and is actually considered to be 'just' an updated version. It is definitely one of the most tried and tested chronograph movements, not in the last place because of the re-certification of the Speedmaster Pro caliber 861 in 1978 by NASA.
If you want more information on this piece, check out the official Omega website for an overview of Omega boutiques and stores world wide.
Thanks to Mike for playing! If you have a specific Omega Speedmaster you want to see covered here on Speedy Tuesday, do not hesitate to contact us. Next week we have an interesting write-up from a long time Omega Speedmaster Pro owner (since 1977) sharing his thoughts on the new Speedmaster X-33 'Skywalker' that we covered here.