Speedy Tuesday – Omega Speedmaster Professional Starmus
Until a few years ago, there used to be a gold Speedmaster Professional in Omega's collection. Not anymore though, as it was discontinued at some point. This year, Omega surprised us with an 18 carat gold limited edition for the Apollo XVII but they also decided to create a very special (not for sale) gold Speedmaster Professional for the Starmus Festival.
I can imagine that you've never heard about this festival to be honest, so let's explain. The Starmus Festival is a combination of science, art and music, and its goal is to help the general public understand and appreciate science. Since 2011, it has included performances and presentations from astronauts, cosmonauts, Nobel Prize winners and prominent figures from science, culture, the arts and music.
Omega announced its partnership with the Starmus Festival by supporting the Stephan Hawking Medal for Science Communication. This medal is given to three winners who promote science through either science writing, films and music and art.
Raynald Aeschlimann, President and CEO of OMEGA, spoke about the new partnership by saying, "As we know in watchmaking, it's not always easy to communicate new innovation or complex technology. In science, I'm sure it's the same. That's why we recognise the importance of the Starmus Festival. It embraces creativity to help the general public understand and appreciate everything about science. OMEGA has a strong history within science and we wanted to maintain our commitment to this important area."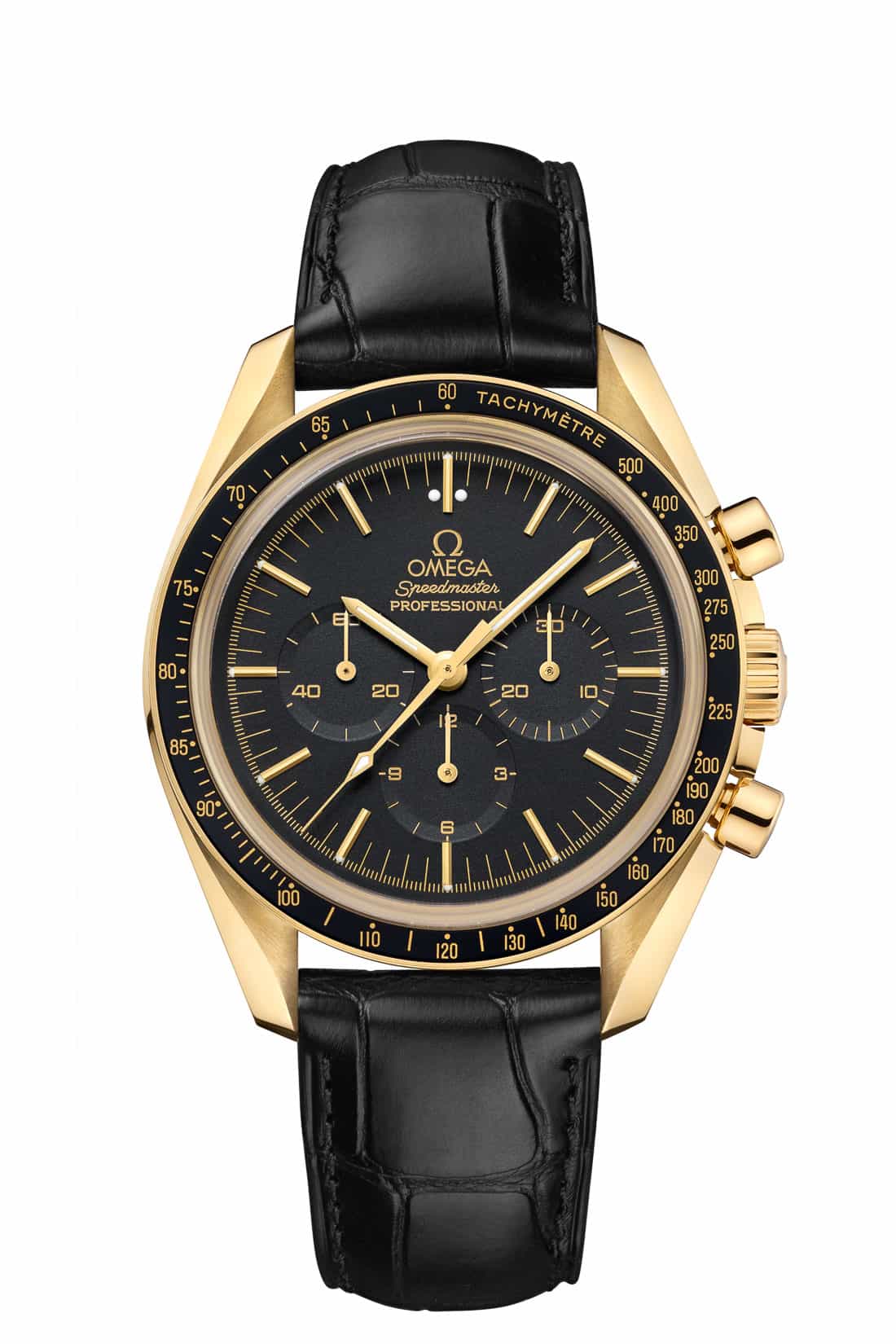 Later this month, next (Speedy) Tuesday to be exact, three winners will be presented with this very special 18 carat yellow gold Speedmaster Professional. This will happen during the Starmus Festival in Trondheim, Norway.
This watch, which is a special execution of the gold Speedmaster Professional 'Moonwatch' has a unique engraving on the back to commemorate the Stephan Hawking Medal for Science Communication.  The engraved caseback follows the exact design of the medal itself. his includes the Starmus logo and images of Alexei Leonov during the first human spacewalk and the "Red Special" guitar of Queen's Brian May. The watch comes on a black leather alligator strap.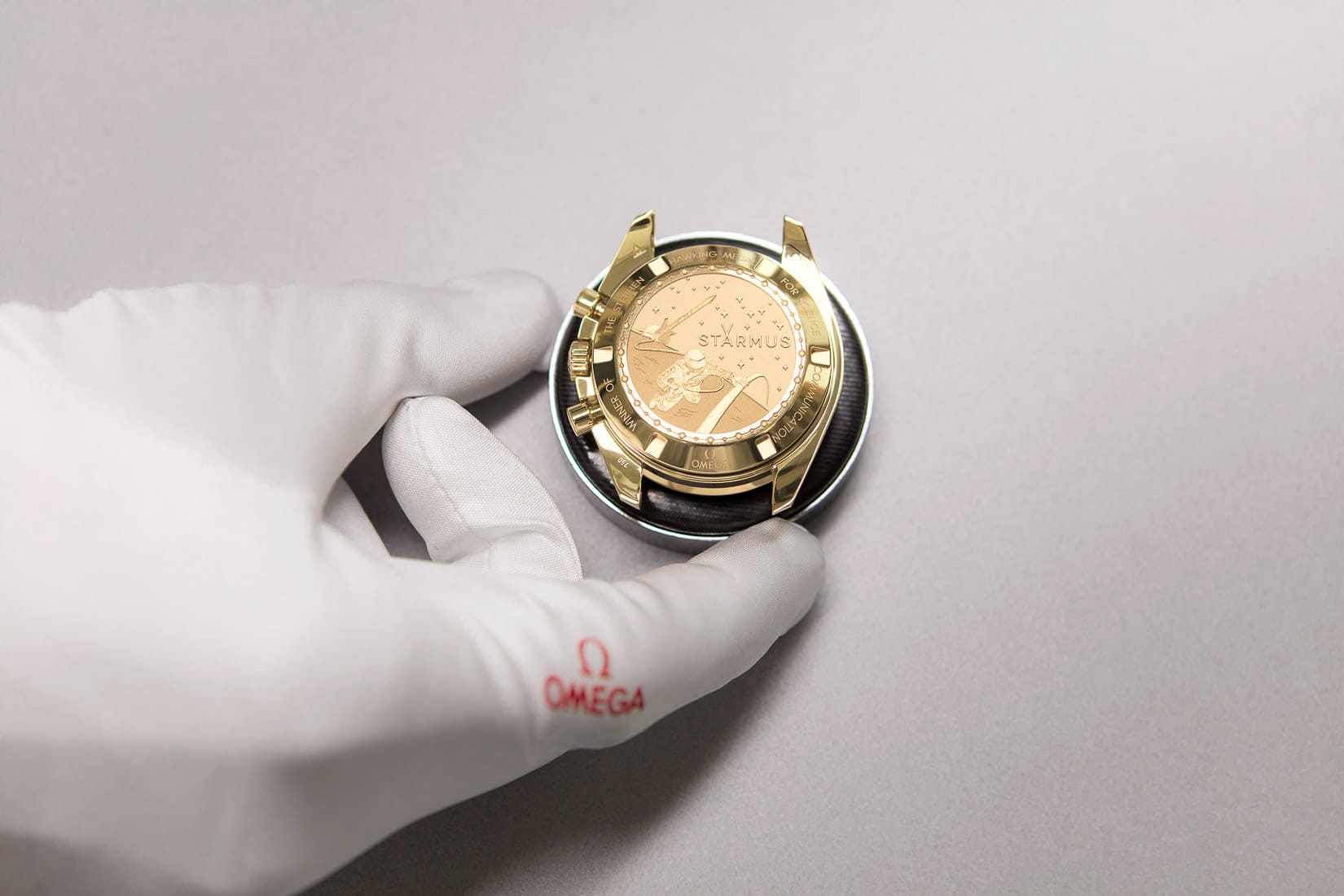 This Speedmaster Professional Starmus is powered by the hand-wound Lemania based caliber 1861. The technical specifications are like the regular Speedmaster Professional 'Moonwatch', be it with a gold case and special caseback.
A beautiful Speedmaster Professional and once more I am convinced that Omega should bring back the gold Speedmaster Professional in their collection. The market is probably small for an all gold Moonwatch, but it just looks so stunning that it is a pity when there isn't one for the lucky few. There is a reason that Omega increased the production number for the limited edition Speedmaster Apollo XVII in gold from 72 to 272. There's demand for them. Let's hope for the best.
This Speedmaster Professional Starmus is yet a wonderful example of how good the Moonwatch looks in gold. We will keep you posted on the winners of these three Speedmaster watches.
More information via Starmus Festival.