Speedmaster Quartz LCD
It is Speedy Tuesday! Yesterday, we received an email from our reader Niels about this Omega Speedmaster QUARTZ LCD 1620. We've seen these quartz LCD models going up in value like crazy over the last 10 years, so we reckon they are quite collectible!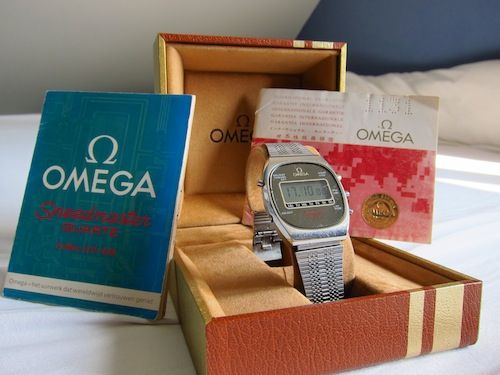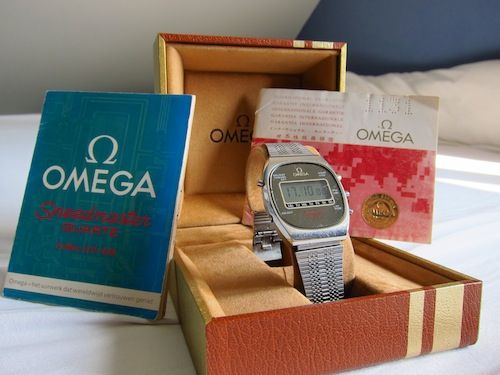 Niels explains:
The Speedmaster Quartz LCD I'd like to introduce was bought by my father in January of 1979. When I got interested in watches a few years ago he told me about an old digital Omega he had in his desk, at the time I was looking at Omega Speedmasters online all the time so you could imagine that I was quite surprised when I saw his watch in the drawer.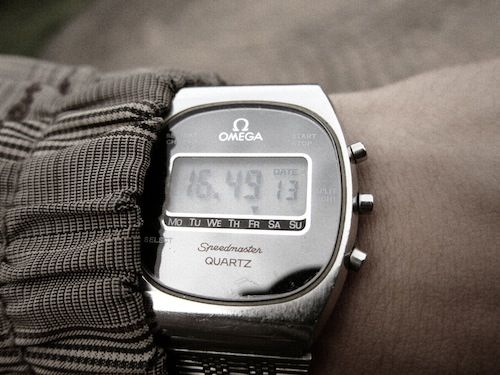 It was a model I had never seen before on the internet. That's because it's not your usual Omega Speedmaster Professional, with its digital display and quartz mechanism it doesn't even resemble one actually. It's safe to say that this Speedmaster Quartz LCD is a direct testimony to the quartz crisis of the 70's and early 80's (in which the prominent Swiss brands had a rough time keeping up with the quartz revolution).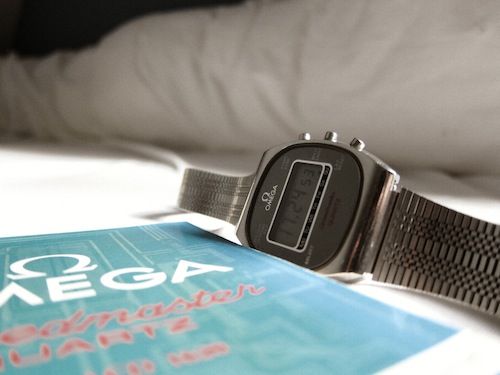 Last year we went to my dad's old bedroom at his parents house and found the original box, manual and international guarantee booklet. According to its manual, the full name is Omega Speedmaster QUARTZ LCD caliber 1620 (funny how they would still brag about the name 'quartz' putting it in capitals) and on the booklet it says  ref. 39053000.
After replacing the two batteries it runs like new! The only thing that's not original about this watch is the metal band which was replaced at a jeweller probably somewhere in the 80s. It looks a lot like the original one but isn't signed by Omega.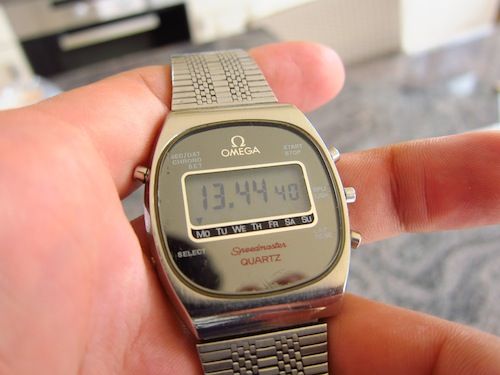 When my father bought this watch at age 18, he could've chosen a traditional Speedy for some extra bucks. But then again, these watches were marketed as revolutionary and more accurate than its traditional 'brothers' and so he went for this particular one.
Looking back now, I might regret him not getting a mechanical Speedy but I actually started to like this watch more and more over time. Some people might not like the design and say it's from 'darker' times in the history of Omega. I find it quite interesting, as this was and will always be a part of Omega's history. They cannot erase it, whether they would like to or not.
The fact is, this watch dates back to a time where Omega's designs were for more experimental because they had to find new ways to keep their company afloat. In April of this year I bought an Omega Speedmaster just like my dad did back in the day. Personally I immediately preferred the Speedmaster Professional and when I saw the Apollo 15 40th Anniversary, I was sold! In the last picture you can see the two brothers 'reunited' 😉 .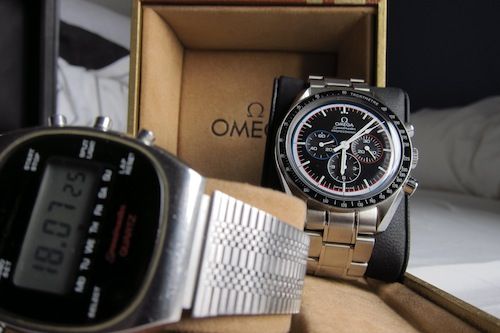 Keep them coming people! Please send your Speedy (whatever model, year and type unimportant) and story to speedmaster(at)www.fratellowatches.com.