Speedy Tuesday – Our Reader's Speedmaster 145.022-78 Story
The story starts, not with my 1978 Speedmaster 145.022 but on a July day in 1961 in West London. Three months earlier Yuri Gagarin's Vostok One took the first man into space. Now aged 7, I stood with my Dad in the crowds lining the streets near our house in Hounslow. As Gagarin's car drove past towards London Airport he waved and even today I get butterflies just thinking about that moment. On Yuri's wrist during that first manned earth orbit – a Sturmanskie watch made by the First Moscow Watch Factory. The first watch in space.
Fast forward 8 years to July 1969. I was watching grainy black and white TV pictures with my family of Neil Armstrong and Buzz Aldrin stepping onto the Moon's surface. On Buzz's wrist an Omega Speedmaster 105.012 – the first watch worn on the Moon. Neil had left his Speedmaster (also a 105.012) in the cabin due to a malfunction in the landing craft. Then five more moon landings, all the moonwalkers wearing the NASA prescribed Omega Speedmaster (105.012 and 145.012 references). The second most famous Apollo mission, that of Apollo 13, relied on the Speedmaster to time the rocket burns that helped propel the stricken craft back towards Earth. The Speedmaster was re-certified in 1978 for the emerging space shuttle programme. That's when the case reference of my watch says that it was made.
Omega Speedmaster Pro 145.022-78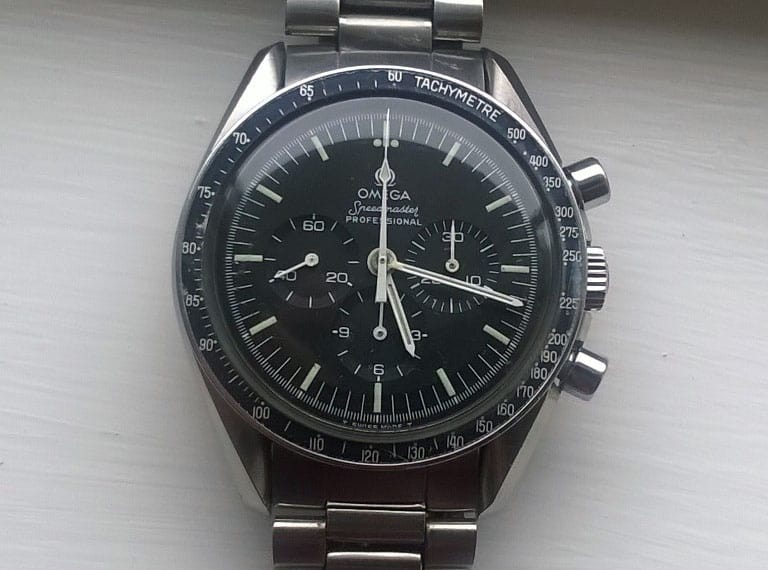 Fast forward now another 40 years. In July 2009 my Dad now aged 85 gifted me his 'Moonwatch' to speed my recovery after a serious illness had left me in hospital and in need of rehabilitation. In those intervening years I had lived my life, raised a family, had a career without much thought as to Moon landings or Omega watches. I never knew that he had spent hours browsing watch shop windows after his retirement in 1984 and had fallen in love with the Omega Speedmaster he called his Moonwatch. Then it arrived in the post with a note to me and I thought it was one of the best things that anyone had ever given me.
I Ioved the understated yet technical late 50s look and the simplicity of the dial. I began to research first its role in the space programme and then the watch itself. I became fascinated with the whole Mercury, Gemini and Apollo programmes, even writing to Senator John Glenn (who wore a TAG Heuer stopwatch on his first US earth orbit in 1962) receiving a signed photo in reply!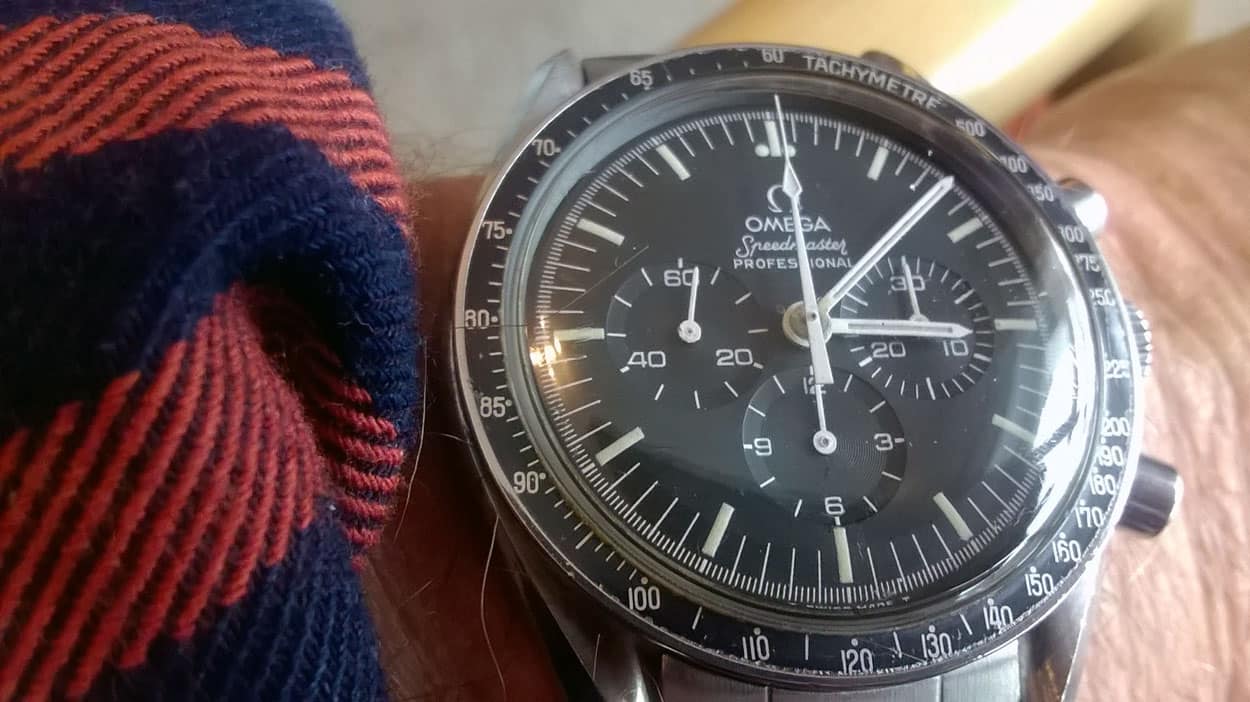 The role of the Speedmaster in space is well documented but what about this watch? It has a case reference of 145.022-78 and the serial no. 45 million which points to 1982-84. It came on a nicely tapered 1171 bracelet with 633 end pieces. The bezel, hands and dial looked original as far as I could tell and it had the Hesalite crystal with the Omega symbol. The bezel and case had some slight wear which gave it a history in my mind. The watch kept good time, gaining perhaps 10 seconds per day and my local watch repair shop guy (an ex- Omega service supervisor) serviced and regulated it and identified the case reference and serial numbers for me. The bracelet was too large for my wrist and for a while I tried a Hirsch black leather strap before eventually getting my watch repair guy to remove some bracelet links. Something which the main high street dealers were unable or unprepared to do. The 1171 bracelet just seemed right for the authenticity of the watch and it was what my Dad had worn on his wrist for 25 years. I like the fact that 1978 is the year that this watch was re-certified by NASA for the space shuttle which gives it a certain place in history to my mind.
My research led me one Autumn day in 2012 to a Birmingham hotel where special guests of Autographica were Buzz Aldrin, Edgar Mitchell, Dick Gordon and Charlie Duke (Apollo 11, 12, 14 and 16). At this time my Dad now aged 88 was nearing the end of his life in hospital. I – with my friend Michael – went to meet these guys, hear their stories, have my picture taken with them but mainly to hear from them one to one if I could what the Speedmaster watch had meant to their missions. It was my last chance to report back to my Dad and maybe the last chance to meet these veterans. When I arrived it was early. Buzz Aldrin already had a queue and was charging a lot of money for his autograph. Dick Gordon and Ed Mitchell were sitting at their stations and no-one much else was around. I approached each in turn and showed each of them the Speedmaster on my wrist and a photo of them wearing the watch proudly outside of their space suits.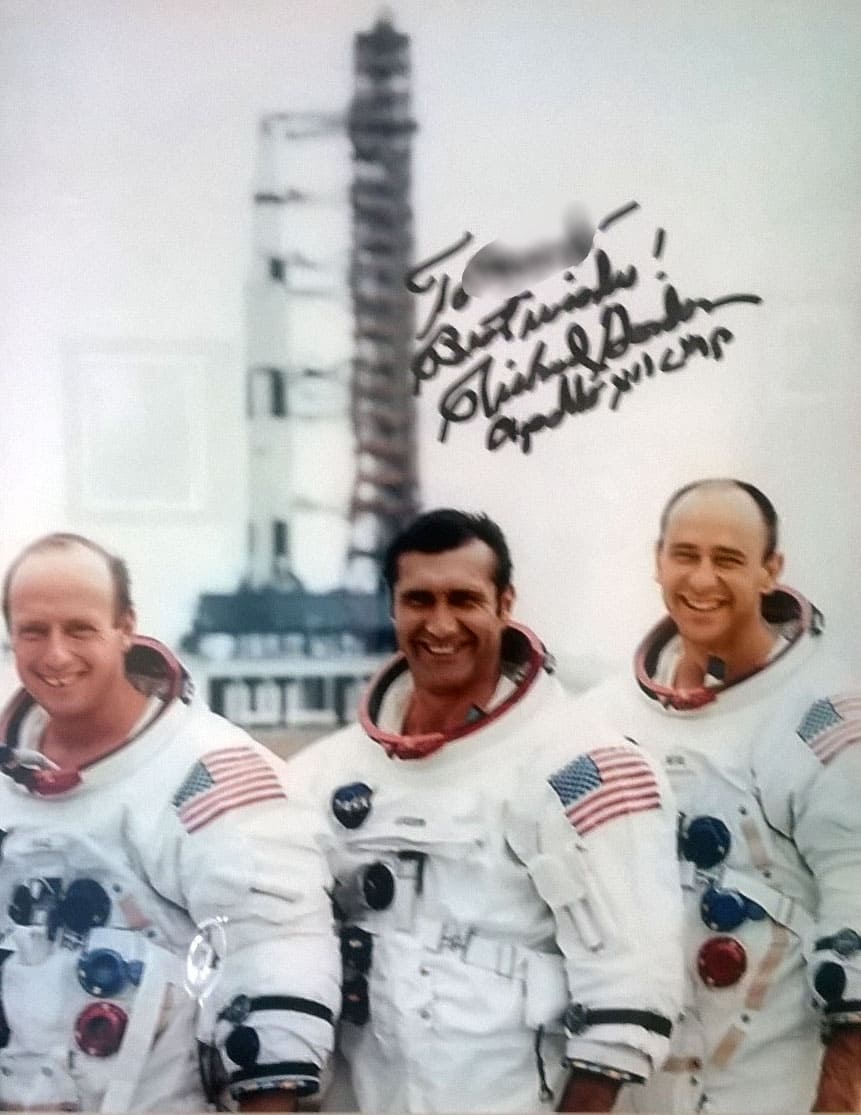 Each seemed happy to talk about the watch. What role had it played in their missions I wondered? I remember Dick Gordon telling me that the Apollo 12 crew were given several watches and that they were set to Houston time ( i.e Central Time). Apparently the Mercury and early Gemini astronauts used Cape Canaveral time ( i.e Eastern Time) but when the Manned Space Centre was built in Houston and Mission Control moved there, their watches were set to Houston time. Houston time is an hour different to Cape time and it's an interesting thing for Dick to have raised unprompted when you think about it. What time actually is it on the Moon? How does it differ from earth time? What time do astronauts work to? That is a whole subject in its own right! The watches were also used to time various mission tasks in and outside the craft and as back up for the on board timer.
Below: My friend Michael, Buzz and me.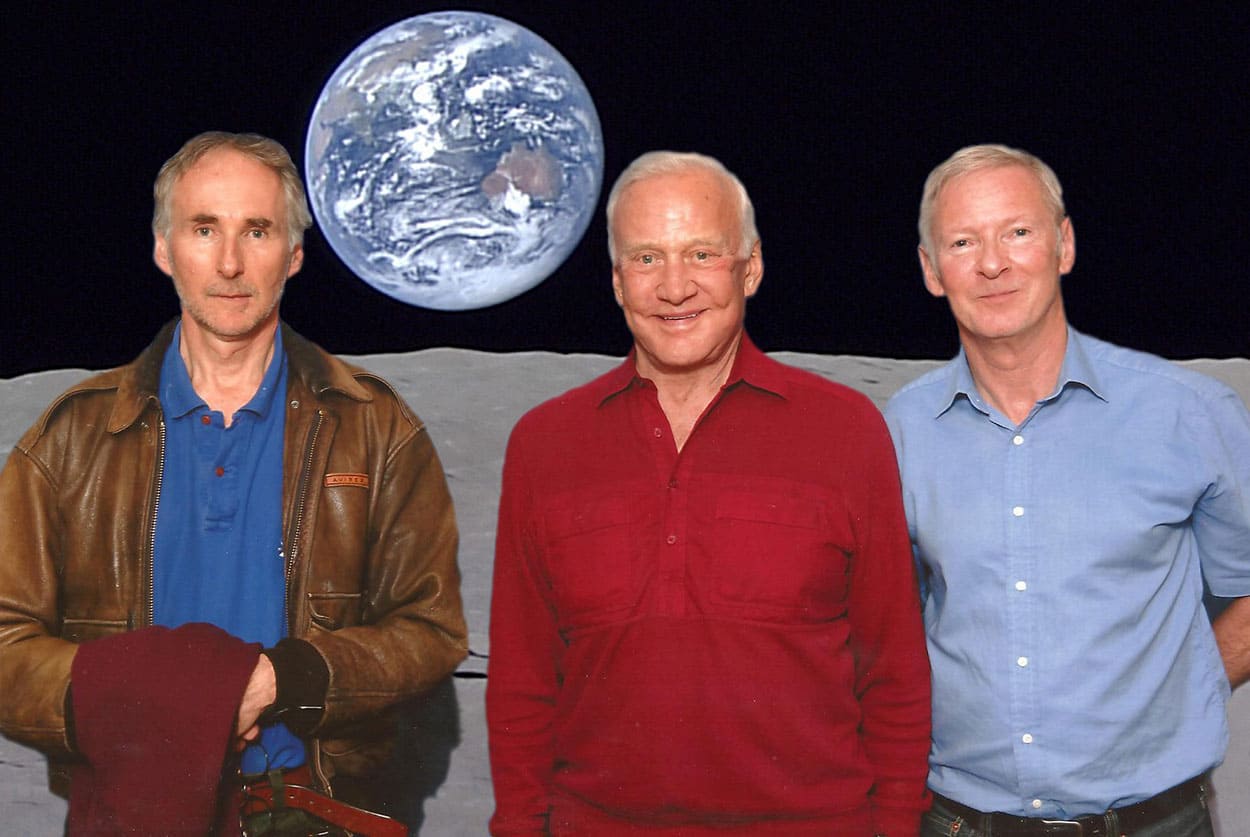 An extract from the Apollo 11 lunar surface Extra Vehicular Activity (EVA) log makes interesting reading when at 108 hours, 54 minutes and 54 seconds (Ground Elapsed Time), Bruce McCandless at Mission Control asks Neil Armstrong to let Houston know when their chronograph is started.
At 108:55:40. Aldrin tells Houston that he'll set his watch at 56. (Ground elapsed time of 108:56). He then does a countdown to the setting of the chronograph 3,2.1 at the prescribed time. These are the moments just before the first moon walk in history and it seems that the Speedmaster was right there.
In a famous photo of Ed Mitchell of Apollo 14 looking for Cone Crater, he can be seen holding a map and with his Speedmaster around his space suit sleeve. Records show that Ed and Alan Shepard tried to find the top of Cone Crater but ran out of time (even having been given a 30 minutes extension by Mission Control). It's possible that the Speedmaster had a role in timing the extension although I didn't manage to ask that question. In their lecture presentations later on each of the two astronauts gave a wonderful potted history of the US space programme but several things stick in my mind: Dick Gordon walked into the room full of people to applause and still felt the need to introduce himself. He ended his answer to a question as to what it was like working with the great Pete Conrad with a quiet aside 'and I still miss him'. Ed put paid to the myth that Al Shepard's golf ball had sailed for miles and miles! When asked what was it like to walk on the moon, he described how difficult it was to navigate in such an unfamiliar environment.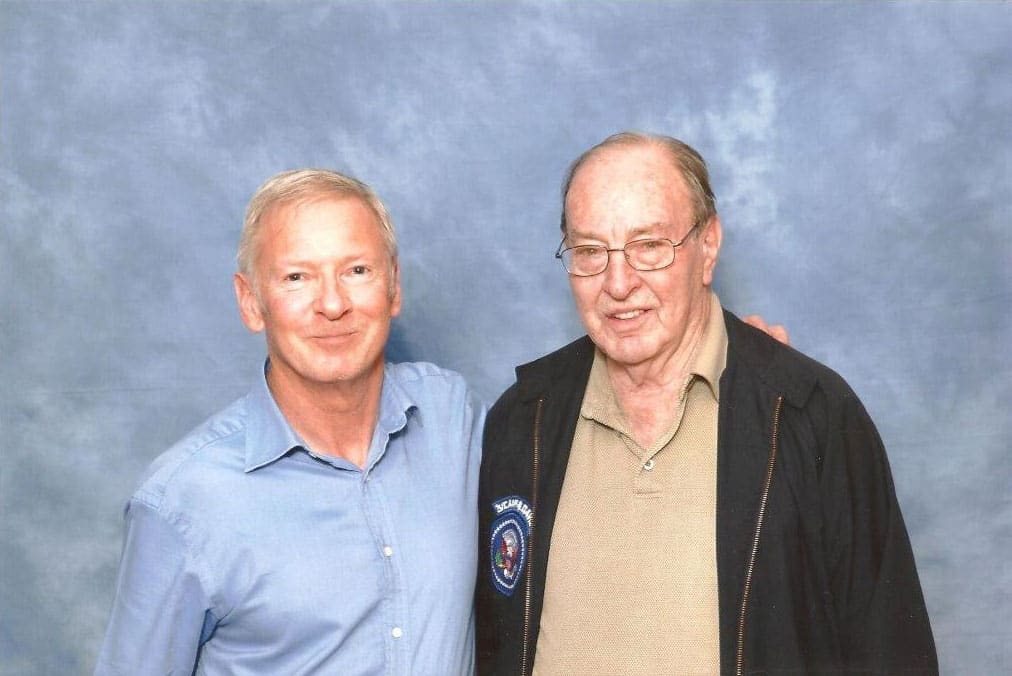 I was able to relate this experience to my Dad in hospital and show him the photos of me with Buzz and Ed. After he passed away shortly after I did two things: I went and bought a limited edition Sturmanskie celebrating the 50th anniversary of Gagarin's first manned space flight. I also got my Grandad's 1916 American Waltham USA Traveler pocket watch given to me in the early 70s going again. And that's another story because it so happens that a Waltham was the watch worn by David Scott of Apollo 15 on his third moonwalk when his standard Omega Speedmaster became damaged in the earlier EVA. This was a Waltham branded Swiss made watch.
I've been asked what other Speedmaster I'd like to buy and why. Budget permitting (and it never is !) I think I'd like to buy another Speedy if only to take the strain off my Dad's Moonwatch, possibly a 50th anniversary edition of the First Omega in Space (based on a CK2998 worn by Wally Schirra on his Mercury Atlas 8 mission). I like the whole look of the watch, the Omega applied logo and the slimmer hands than earlier versions (but so different from the Speedmaster 145.022-78). The brown leather strap too gives it a nice vintage feel. There's something about the pioneering spirit of the early Mercury programme and the fact that Schirra was wearing his own personal Speedmaster that appeals to me. Other than that a 1969 First Watch Worn on the Moon Omega Speedmaster commemorating the recent Moon landing would be quite something. But for now I'll live with my Speedmaster 145.022-78 , Gagarin Sturmanskie and Waltham pocket watch. Three generations of watches with a thread running through them.
---
A big Thank You! to our reader and Speedmaster fan Mark B for this great story.