Speedy Tuesday – Shane's Custom Speedmaster Paramedic
It's Speedy Tuesday! As promised, something special for today! Or should I say something customized? Where there are products with fans, it is only a matter of time before the first 'modded' products will show up. Shane is one of our readers that took the liberty of creating his own version of the Speedmaster, using all original Speedmaster parts of course. Anyway, I asked Shane to do the talking.
Vanilla Speedmaster 3570.50
I wanted to write about a single watch, my first Speedmaster. It started out as a vanilla 3570.50 but it wouldn't stay that way, or any particular way, for long. It's a nice case study of what drives me to customize watches, of the differences that a few small parts make, and of the freedom allowed by custom watches to feed that itinerant desire to change things up from time to time.
Like many other Speedmaster fans, I got roped into the brand through an interest in space exploration. Even with my somewhat cynical view of Omega's crass exploitation of the Apollo program's fame and, in fact, of the space race's context of Cold War gamesmanship, I couldn't help but be enthralled by them. The watch in question was my first really nice watch and I picked it up for a song. A few weeks later, I wore it as I watched, freezing in the predawn Atlantic breeze, Space Shuttle Endeavour launch on its second-to-last mission. What could be better?
The Idea of Modding
But my contentment was short-lived. A few months later, I found a really excellent condition pre-moon Speedmaster 145.012 and couldn't resist buying it. So now I had two nearly-identical watches, neither of which I wanted to get rid of, and I thought: what could be better than to sample all the varied permutations of the Speedmaster brand? Obtaining a pre-moon Speedmaster model freed me to be creative with its modern descendant.
I'd been tinkering with watches for a little while by that point. Like many, the Seiko modding community was my gateway into customized watches. The incredible diversity of models (including dozens, if not hundreds of <$100 US Seiko 5s) and the ubiquity of the 7S platform laid a unique foundation for amateurs to try their hands at swapping around parts to design their own perfect watch. The community that arose out of that foundation has since produced an equally impressive variety of original parts so that the total distinctive permutations of movement, case, dial, hands, bezel, and assorted other parts are virtually innumerable.
First Versions
For Omega, the costs were certainly higher and there wasn't an established culture or community of modders (I did find a helpful group of enthusiasts on the Watchuseek Omega forum to help me get started), but there was a deep catalog of parts to draw on thanks to decades of special, limited, commemorative, and local editions–many that have been featured on prior Speedy Tuesdays (obtaining these parts proved to be a different problem).
For this first mod, the BC145.0039 dial caught my eye for a number of reasons. The high-contrast,  straightforward lines of the mainline Speedmaster Professional certainly gives it a workmanlike handsomeness, but I strained to think of it as beautiful; beauty necessitated a certain elegance of design that was at odds with the Speedmaster's practical core. The Alaska Project re-issue also excited me to the possibility of color schemes beyond the Speedmaster's staid white-on-black. Moving in these directions would help to widen the contrast between my watches and the BC145.0039 dial fit both criteria. The matte rhodium-plated dial was refined without being too flashy and the vintage-style faceted indices were a nice touch of class as well. Most importantly, I was able to find one and a set of hands to go with it. I was very pleased with the result (those with sharp eyes may even note two small factory errors my copy of this dial).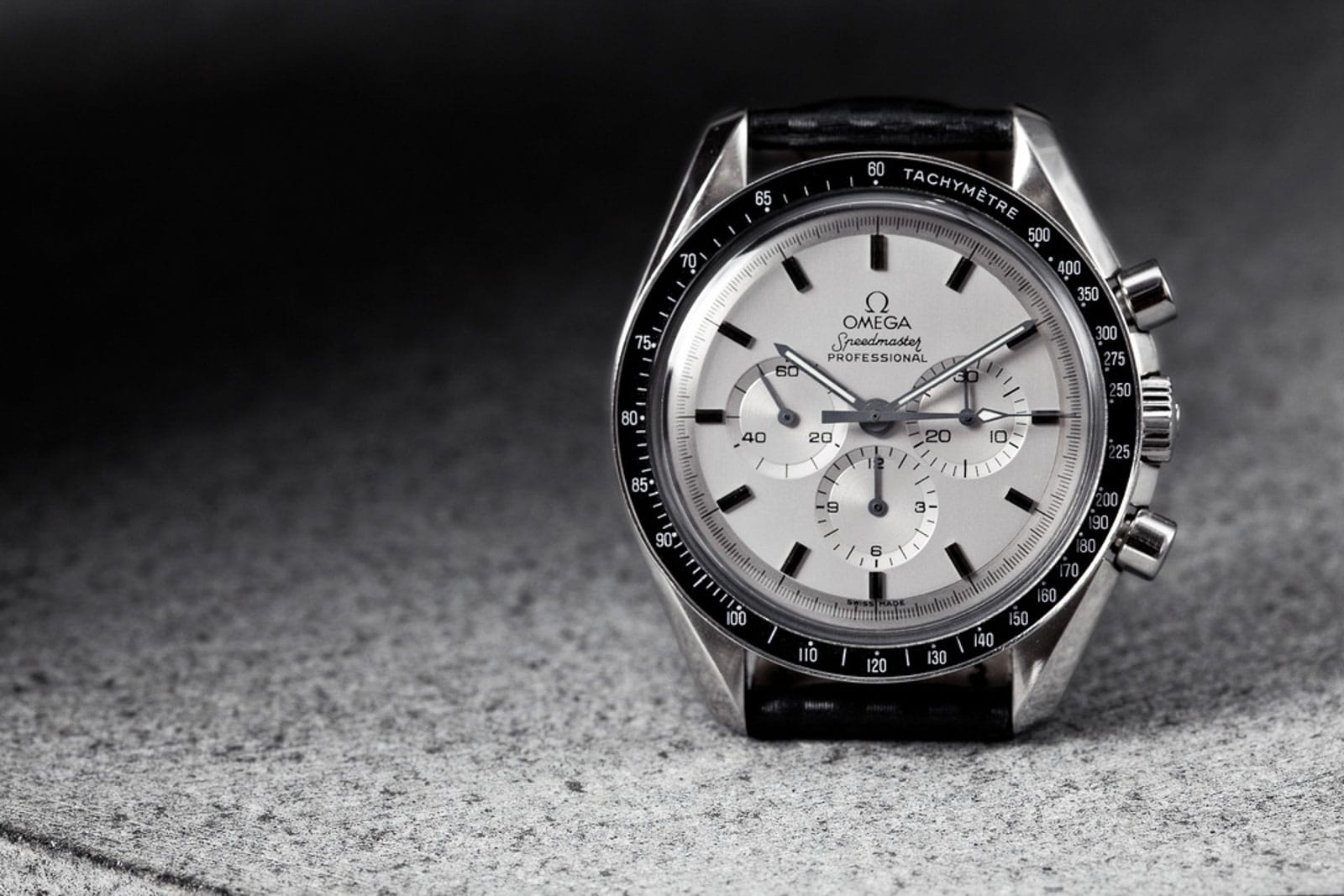 It's An Iterative Process
But "modding" tends to be an iterative process. This watch stayed in this form for a more than a year. But just as others swap out straps or flip watches on the various internet sales forums,  it was eventually time for a change. I experimented first with a variety of different hand combinations and, to shake things up a bit more, with the pleasingly asymmetrical pulsations bezel.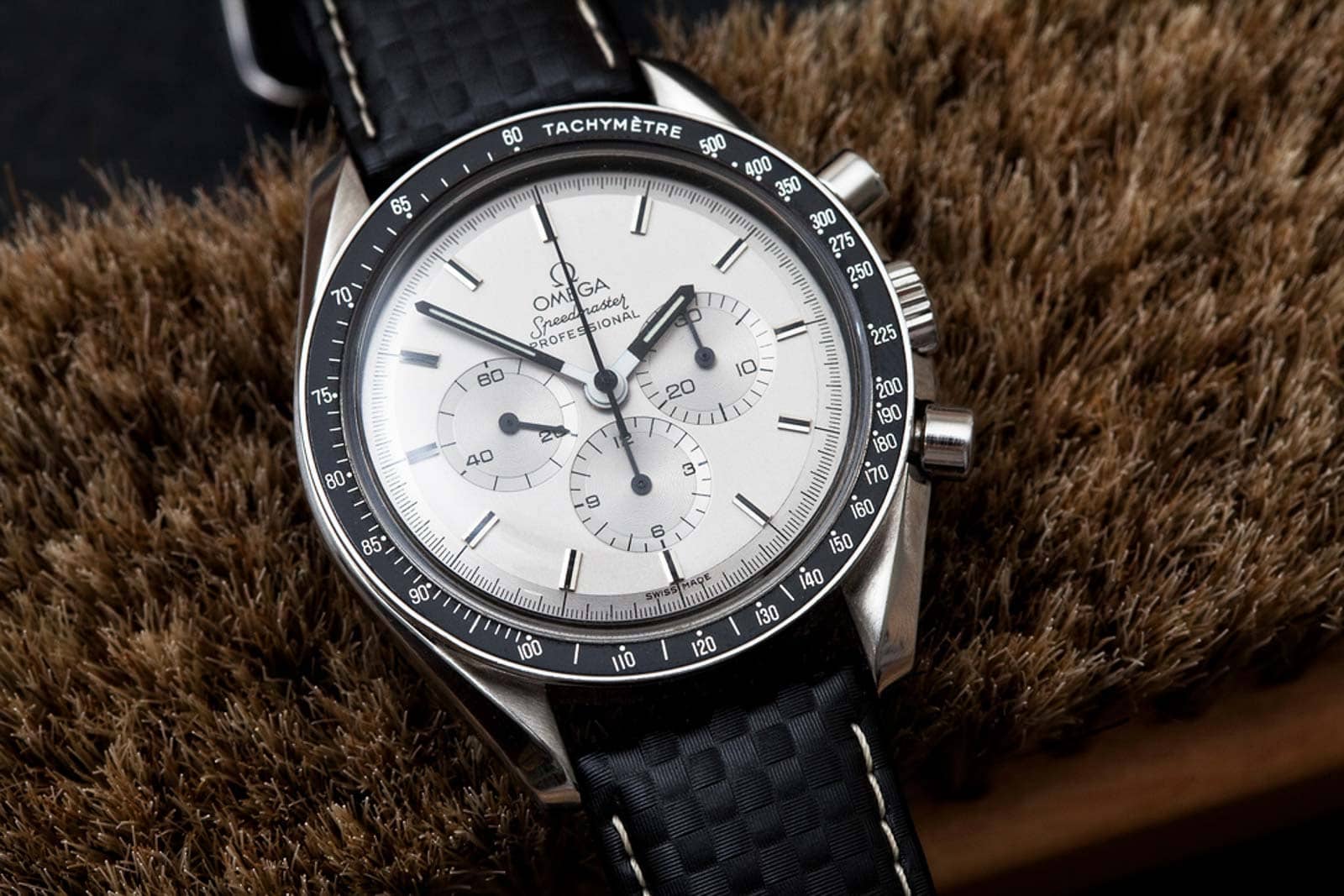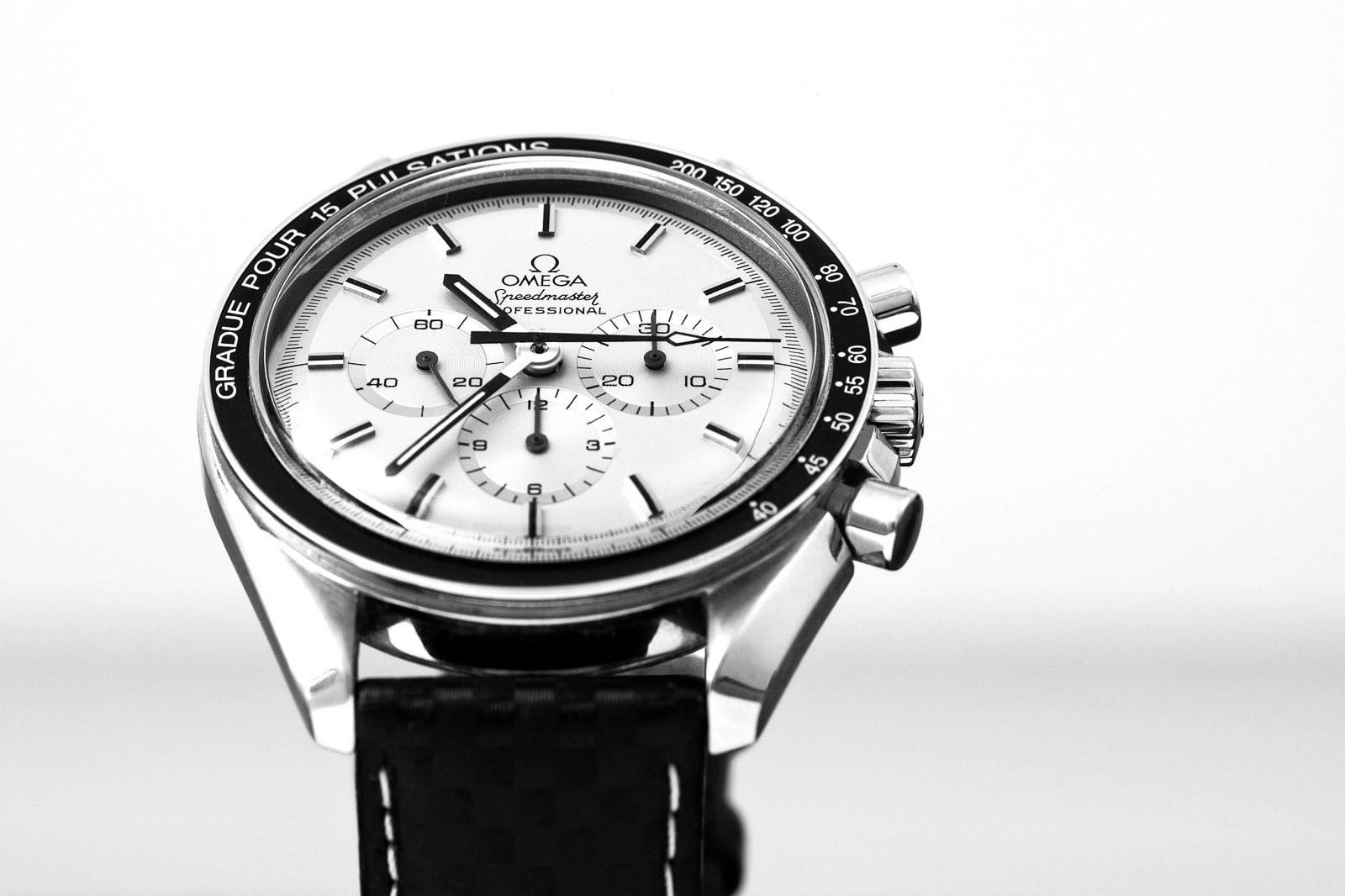 The Speedmaster Paramedic
Ultimately, I decided that I should just go ahead and change up the dial as well. I liked the Alaska Project style hands but, with their matte white bases, they didn't match the color or the styling of silver rhodium dial. In the interim, my collection had grown and I had completed another Speedmaster project that occupied the dressy end of the spectrum; I was free to move this one in a new direction.
I was very happy to find the off-white ST 145.0818 dial. It had been one of the possible directions I'd considered the year before, but I couldn't locate a seller at the time. As a replacement part for a limited run of Italian market watches, I can't imagine that there are so many of these floating around, so I bought it immediately when I found it. I originally used the dial on a different, failed project that I was immediately dissatisfied with; when I decided to replace the rhodium '0039 dial, it was the natural choice. I'd always been attracted to the Alaska Project watch. The matte white color of the dial was a fantastic contrast to the black bezel and the red chronograph second hand was a perfect flourish. But I was always a bit dissatisfied with some of its design choices, chiefly the difficulty of distinguishing the white index markers from the white paint of the dial.
With the 145.0818 dial, I could (at least in my eyes) improve on the basic Alaska design.As with all my project watches, I assembled this myself. But I couldn't find a red second hand (parts for the Alaska Project re-issue seem to be impossible to source and
last month's Speedy Tuesday
showed how rare authentic red hands are to find in other Speedmaster models), so I had Bob Thayer (
https://www.bobthayerjr.com/
) repaint one of my white painted hands. I thought the pulsations bezel was very fitting for the red and white color scheme, so I retained it and dubbed the final product the Speedmaster "Paramedic".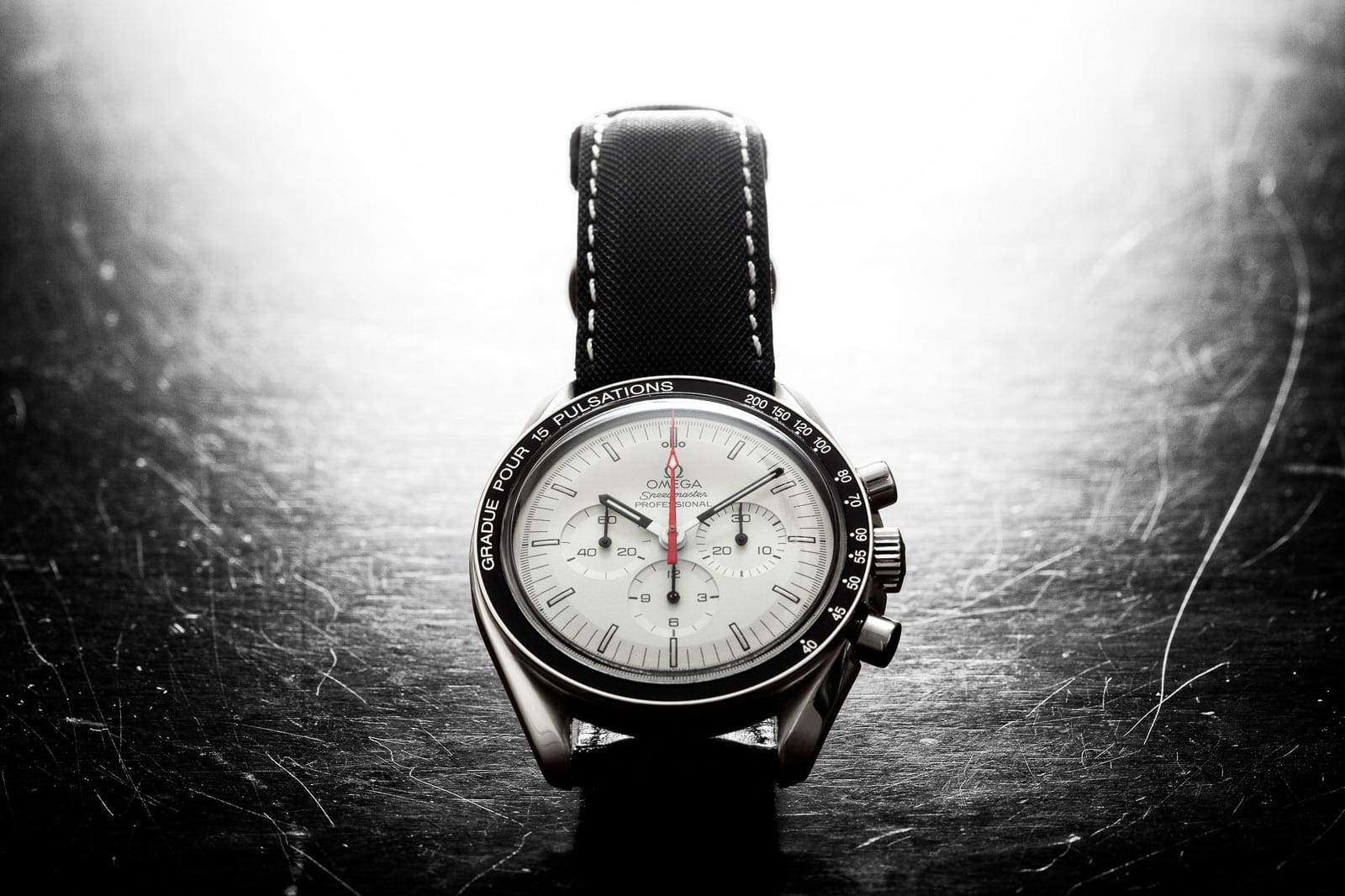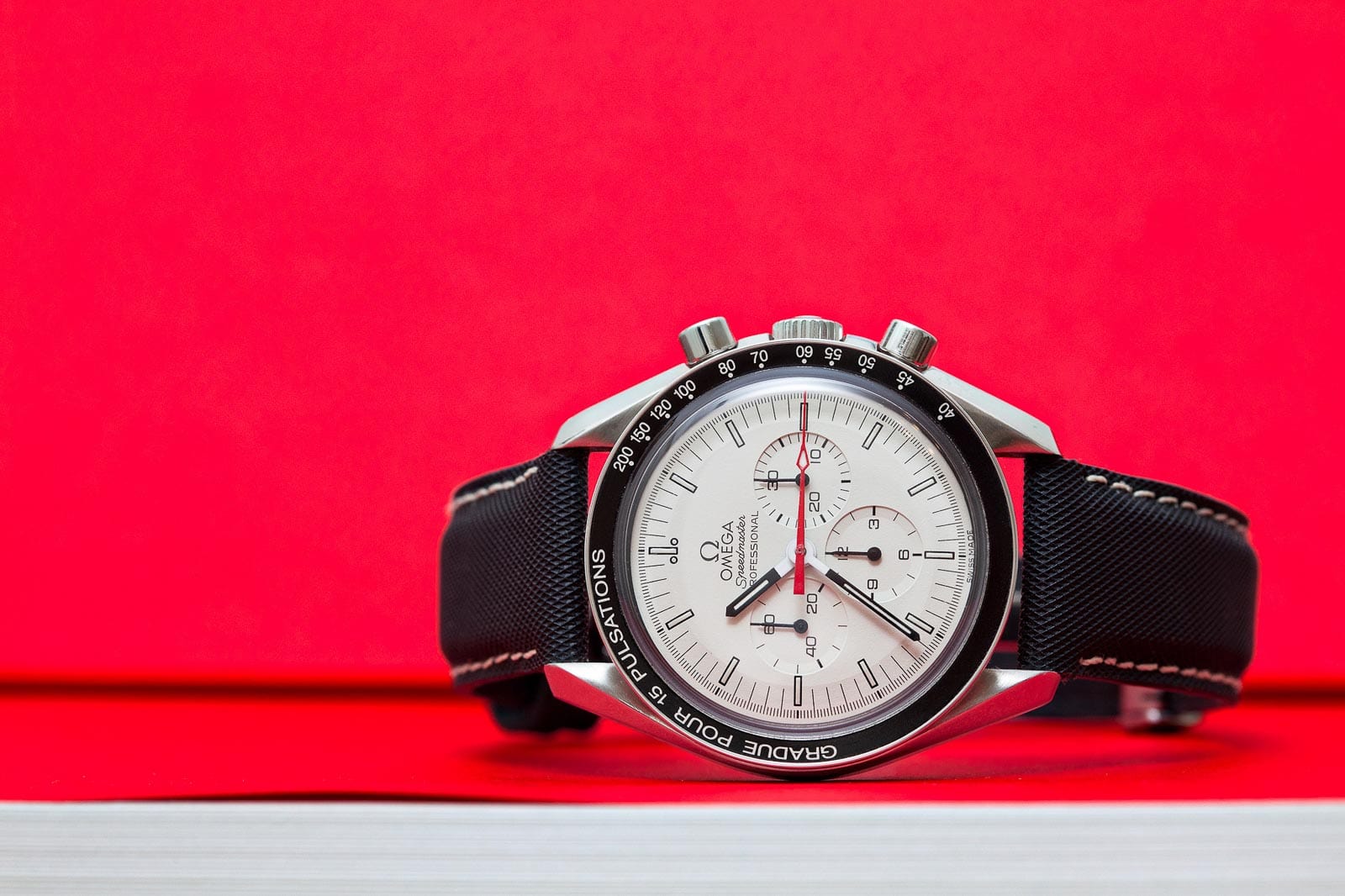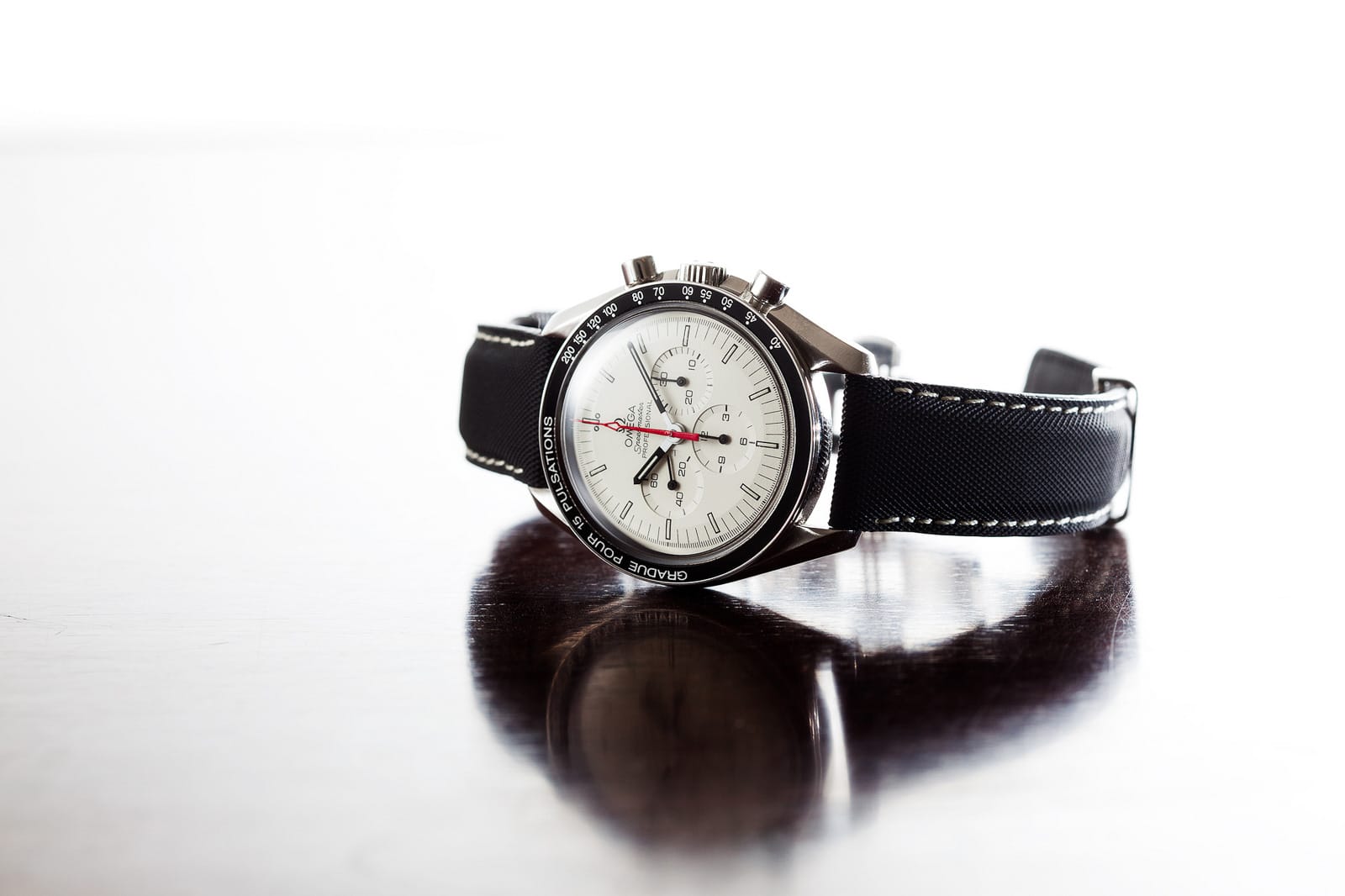 Personal Style
I don't know how long the watch will last in this form, but I have a feeling that my present satisfaction with it will survive for some time. But, given the history of this one watch, I'm not sure that it will be forever.
Customizing a watch means a number of different things to me. Most obviously, you end up with something that best suits your own personal style and taste. But the actual process of getting there, from imagining a general theme to choosing and sourcing the parts to putting it all together, might be even more satisfying. I'm strictly an amateur at this and in the past I've rejected requests to customize watches for others or even to sell the ones I've built for myself because I am far, far from a professional watchmaker. But even as a hobbyist, the mechanical process of assembly is an extremely enjoyable one.
I used to be a software engineer. Nowadays, I'm an academic. Professionally, I work with abstractions, whether a piece of code or the analysis of a document. It's pleasant for me to get to work with my hands. Finally, "modding" has allowed me to increase my enjoyment watches in general, even those that I had no hand in crafting. The process gives a higher appreciation for the big differences that even small changes can make – a slightly larger crown, a different finish on a crystal tension ring – and therefore for the application of all those details in the creation of a completed watch's harmonious whole.