Speedy Tuesday – A Very Rare Skeleton Speedmaster Jubilee 27 Chro C12
Although the use of 'rare' is often being exaggerated, it certainly applies for this skeleton Speedmaster Jubilee 27 Chro C12 reference 3696.50. For the happy few, as we are talking solid gold here with skeletonized caliber 867 chronometer chronograph movement. Let's have a look.
Skeleton Speedmaster in Gold
Gold Speedmasters are rare on its own, but when there's skeleton work performed by one of the renown artisans in this field, Armin Strom, it becomes a hot piece. Back in the 1990s, Armin Strom did several projects for Omega, like the skeleton Seamaster 300M for example. Caliber 864 (chronometer certified) has been used as a base caliber for this special caliber 867 movement. Where caliber 864 was rhodium-plated, this caliber 867 is yellow gold plated to match the 18 carat gold case (and bracelet).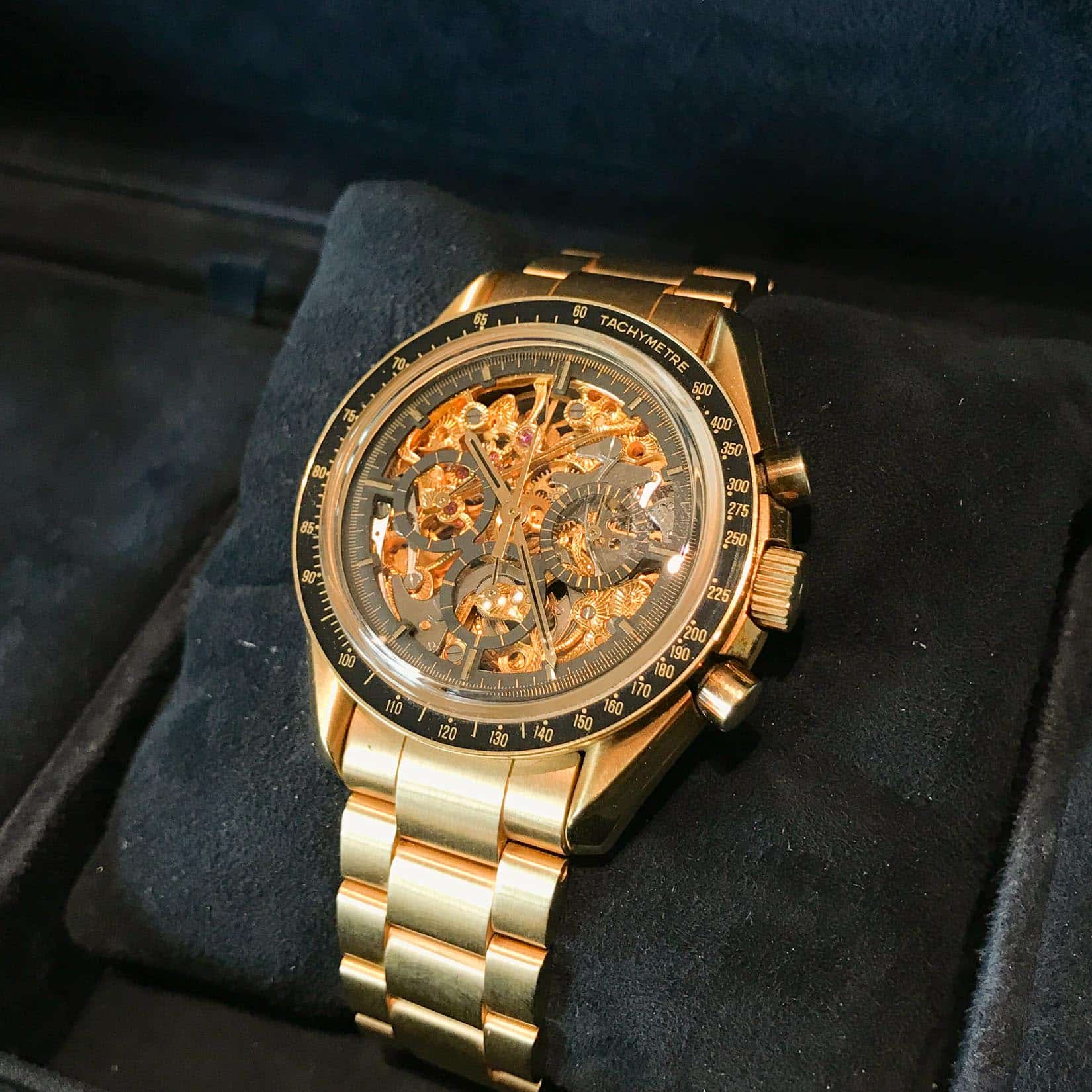 Sacha did not mention this piece in his Antiquorum auction overview for May 14th, but it is lot 527 of this upcoming auction. An incredible cool and rare piece, and complete with box and papers. So rare, that we did not even mention this gold skeleton Speedmaster in our overview of gold Moonwatch models a while ago.
What is 27 Chro C12?
This watch celebrated the 50th anniversary of a certain movement, the caliber 27 Chro C12 from 1942. That particular 27mm diameter movement, with extra 12-hour register, was the basis for what later would become the caliber 321. It was a joint development project between Omega and Lemania. More on this topic can be found in this article by Chuck Maddox. The 27 Chro C12 was never used in the Speedmaster, but the successor (caliber 321) was used between 1957 and 1968 for this collection. Nevertheless, Omega decided to use the skeleton Speedmaster to celebrate this anniversary. Not only this skeleton Speedmaster, also two other limited runs of gold watches were used to celebrate this. The reference 3194.50 (limited to 250 pieces, caliber 864, not skeletonized) and the reference 3191.50 (999 pieces, caliber 863 not skeletonized). The gold skeleton Speedmaster is limited to just 50 pieces, and Antiquorum has no 10/50 on offer.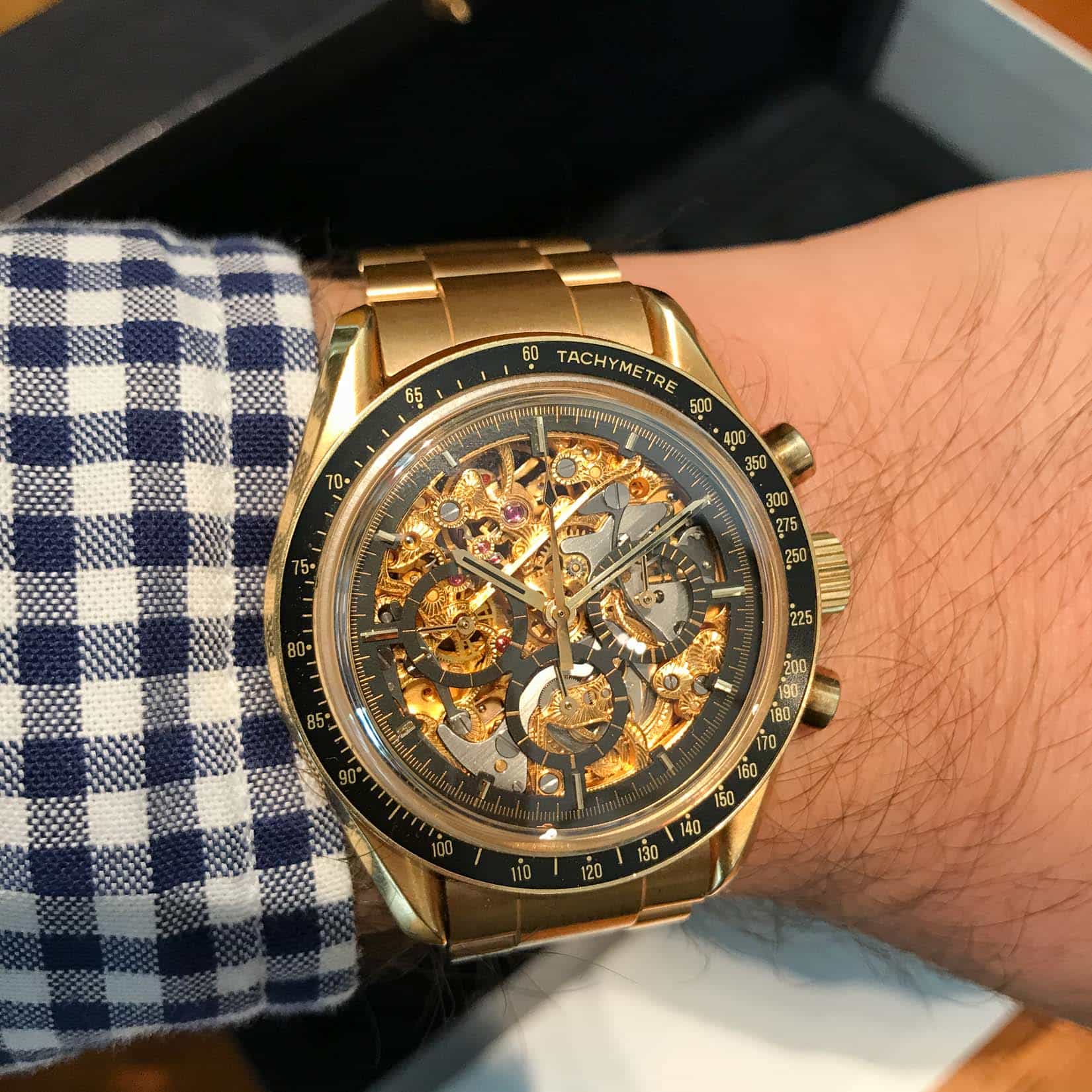 It surely was a different era, as I don't see Omega introducing a Speedmaster commemorating a movement they never used in the Speedmaster. It doesn't make much sense to me, but what gives. It is a cool trio of watches, the skeleton version being the coolest.
With box and papers
The watch has the same dimensions as the regular Moonwatch of that time (359x.50). A 42mm asymmetrical case, using double sapphire. Although Moonwatch Only talks about this watch with a leather strap only, this skeleton Speedmaster comes with a gold bracelet. As far as we know, this specific watch came originally with this gold bracelet.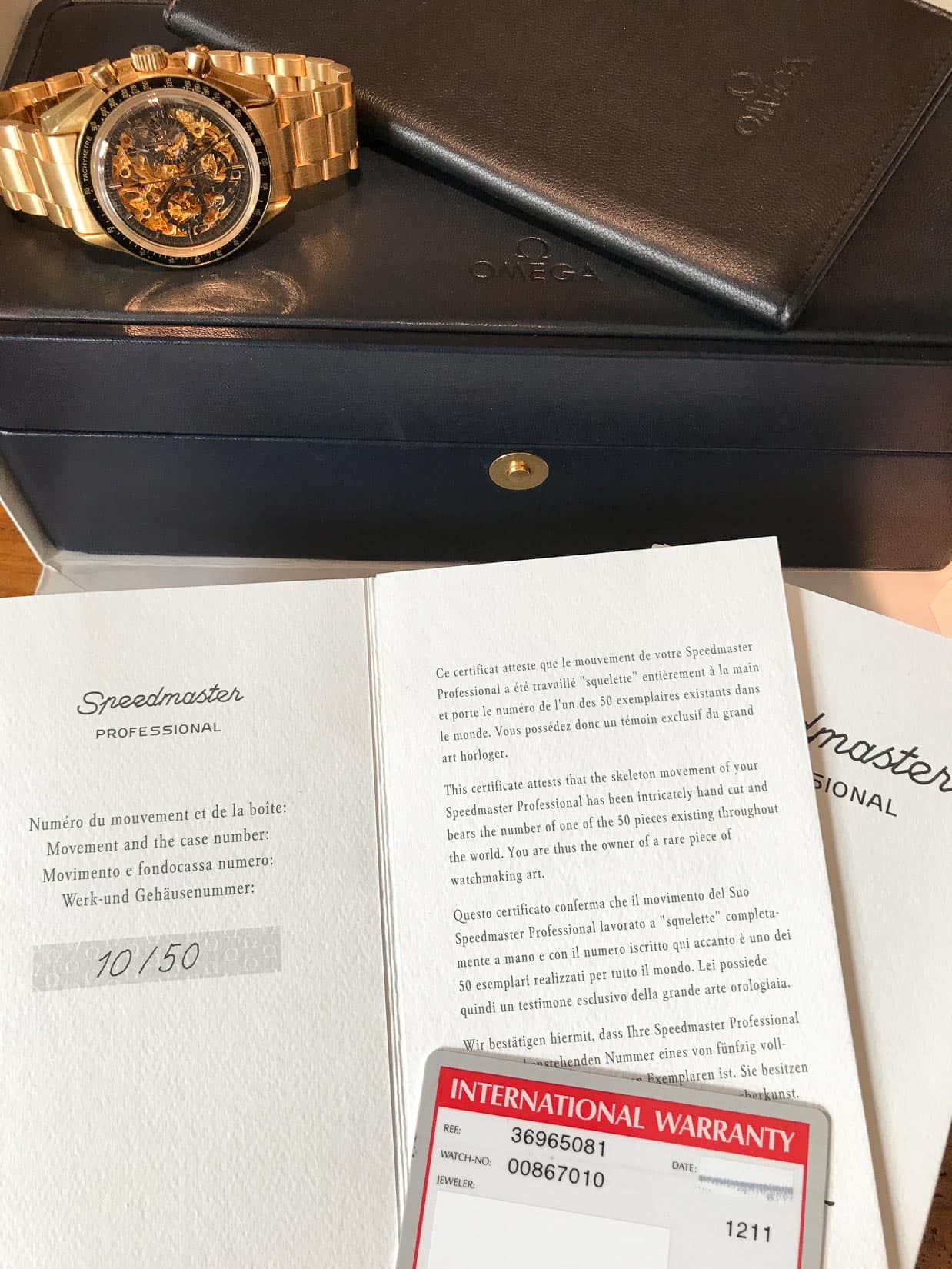 This gold skeleton Speedmaster Jubilee 27 Chro C12 comes on a gold bracelet and with all the necessary paperwork (and box). A big black box with black lining and the old style (1990s) grey warranty card as well as a certificate from one of the former presidents of Omega.
Antiquorum estimates this watch between 20.000 and 30.000 Swiss Francs.
Thanks to Sacha Davidoff for the live images.