Speedy Tuesday – Speedmaster Schumacher Yellow
Omega Speedmaster Schumacher
It's Speedy Tuesday! This week's topic is the yellow Speedmaster 'Schumacher'. Omega introduced the Speedmaster 'Schumacher'  in 1996 and was in production till 1999.
As you might know, the Speedmaster was originally introduced as a watch for race car drivers. Or wannabe race car drivers. The very first Speedmaster advertisements were also referring to this, as can be seen below: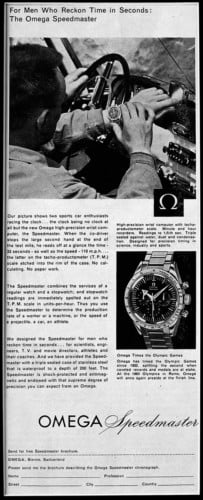 The Speedmaster Schumacher (case number ST175.0032 or ref.3810.12.40) was – of course – being introduced by their (then) ambassador, Michael Schumacher. His brother – and also F1 car racer – Ralf Schumacher was also an Omega ambassador at that time. Later on, Omega introduced another Speedmaster that was a true 'Schumacher'-edition, with his signature engraved on the back.
As you can see, this Speedmaster has the case and movement of the Speedmaster Reduced, but with a different dial and set of hands. Also, the strap is matching with the color of the dial. Omega released this Speedmaster Schumacher in red, yellow and blue. The watch was also available on a stainless steel bracelet (ref. 1469/811).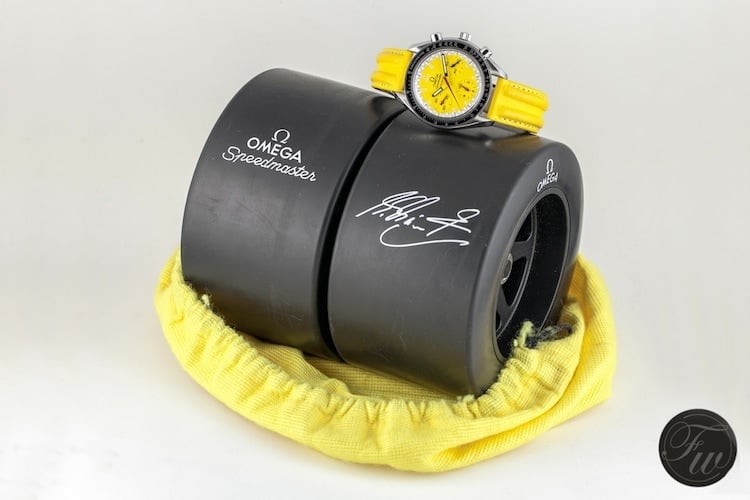 The blue version was re-released in 1997 as a special edition for the Championship Auto Racing Teams (CART) with a small CART logo on 6 o'clock and a CART logo on the box.
The box of the Speedmaster Schumacher was something really special. It resembled the wheels of a racing car which you had to move to the sides in order to get the watch out (see animation below). I remember that this box was highly appreciated amongst enthusiasts and collectors of Speedmasters. Nowadays, most of the boxes are pretty much the same except for some limited edition Speedmaster watches.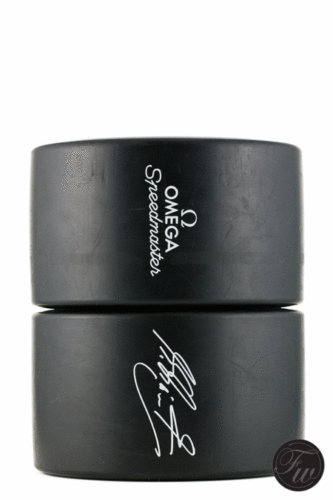 These coloured Speedmasters were no limited or special editions (except for the aforementioned CART edition) and didn't come with any numbers engraved. The only number engraved on the case back is the serial number.
Inside, Omega used a modified ETA 2890-02 movement with a Dubois-Dépraz caliber 2020 chronograph module added to it. This also explains why the winding crown and chronograph pushers are not aligned. Omega renamed this movement to caliber 1141.
You can find these watches in the pre-owned market these days, for attractive prices. Although we don't think this will be a much sought-after collectors item, you need at least one of the coloured editions if you are a Speedmaster collector!
The watch featured here was lend to us by Frank – friend of the show – and he decided to put this watch for sale. Please contact us if you are interested.
More interesting information on the Speedmaster Schumacher series!
For Speedy Tuesday, we are always on the look-out for interesting Speedies. Rare models, Speedmasters with a story, your personal story or vintage models. Please keep sending them to us!