Spin-R watch winder
Recently we found a new winder, the Spin-R, on our desk to give our watch a spin. We've covered a hand full of watch winders over the past years. Just search for 'winder' on our site and you should be able to find our previous reviews on watch winders for those interested.
After unboxing the new Spin-R winder we are looking at a white box shaped winder measuring (LxWxH) 16 x 12,5 x 15 centimetres.  Most single watch winder have a similar look in this price range. Either round or box shaped, with or without a door or cover to protect your watch against dust. So in that perspective it looks like just another winder until you take closer look.
Clearly visible is the large R on top and at the bottom, apparently used for stacking as we also see small contacts for electric guidance. We only had one in our office for a review but according to Spin-R you can stack up to 5 winders and use them with one single power adapter.
The Spin-R winder is nicely finished all around and has a smooth grey micro-fiber lining on the inside. The watch holder itself fits well and comes out without any problems. Like you will see in most winders the watch holder is spring loaded to adjust to different sized watch straps. This one also comes with a detachable part on the back to accommodate watches with extra large straps. So at first glance it's a very nice and well finished package.
Time for testing! When plugging in the winder we notice that the power plug rotates on the attached adapter. Probably not a feature that you will use a lot but I wish more appliances came with this feature. Often have I ran into problems plugging in adapters side by side because they are too simply too bulky and blocking that empty spot in the socket bar.
Setting the winder is done by downloading the Spin-R winder app to your phone or tablet. After doing this you can easily connect to the winder using bluetooth. We managed to do so without any trouble we and got connected within seconds. From there you can select your watch from over 9.000 pre-programmed watches or set the winder to your own settings. You can manually start and stop the winder and control the internal led light. You can also save your watch collection and select the watch from there. Easy when you want to use the winder with multiple watches from your collection.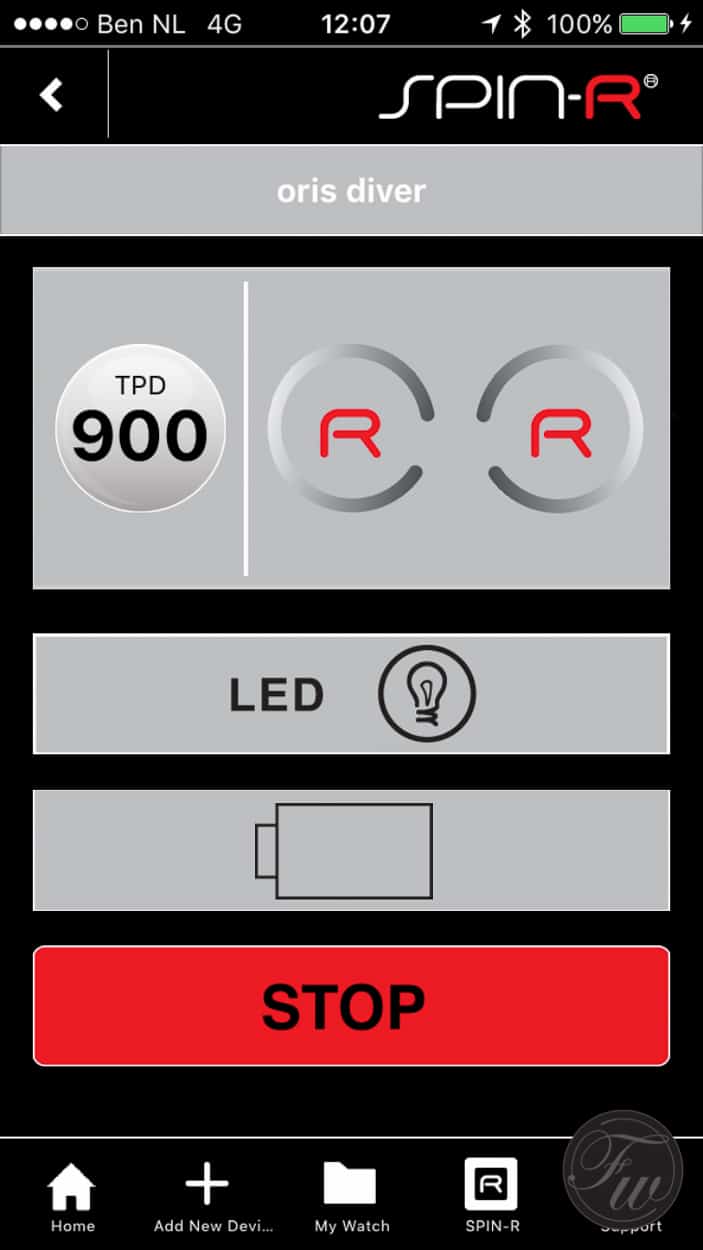 After charging the winder we put a watch in and left it to do it's job. From there on you'd easily forget it's there as the winder runs smooth trough it's program and is very silent. Again we notice a well thought out detail. While going through the winding program the winder stops at certain moments and when it does,  ik leaves the watch always in the same upward position. Previous winders I've had in my hands would all stop at a random position. So it's nice when you have this winder on your desk or table that you can also read the time while you look at your watch.
We didn't test the battery life but according to Spin-R the winder runs for over 20 days on a full charge.
Overal we were quite impressed by this nifty winder with all those well thought out details. They are available through the official website in the Netherlands and retail for 159 euro.