Star Wars Day Special: Omega Seamaster "Anakin Skywalker" Watch Is A Multipurpose Piece Of Kit
This chronograph will bring peace, freedom, justice, and security to the new Empire
Quite rare and hard to find: stumbling upon an Omega Seamaster Ref. 145.023 in such a good condition as the one we found on Zeitauktion is like discovering a NOS lightsaber on the planet Mustafar in the Outer Rim. The Omega Seamaster "Anakin Skywalker" watch is a multipurpose piece of kit because it's both a style statement AND a very interesting chronograph from a historical perspective. The extravagant design catches the eye and immediately takes you back to the '70s. And if you let your mind wander freely, this Seamaster will even take you to a galaxy far, far away.
It was the late Chuck Maddox — a legendary chronograph collector with a vast collection and the knowledge to back it up, who published extensively on discussion forums — who came up with the nickname "Anakin Skywalker" for the Ref. 145.023 Seamaster you have in front of you. This particular example we found on the German watch site Zeitauktion and it has a price of €7,150. Let's take off and find out what this watch is all about and why just over 7k is a good deal on such a spacey watch.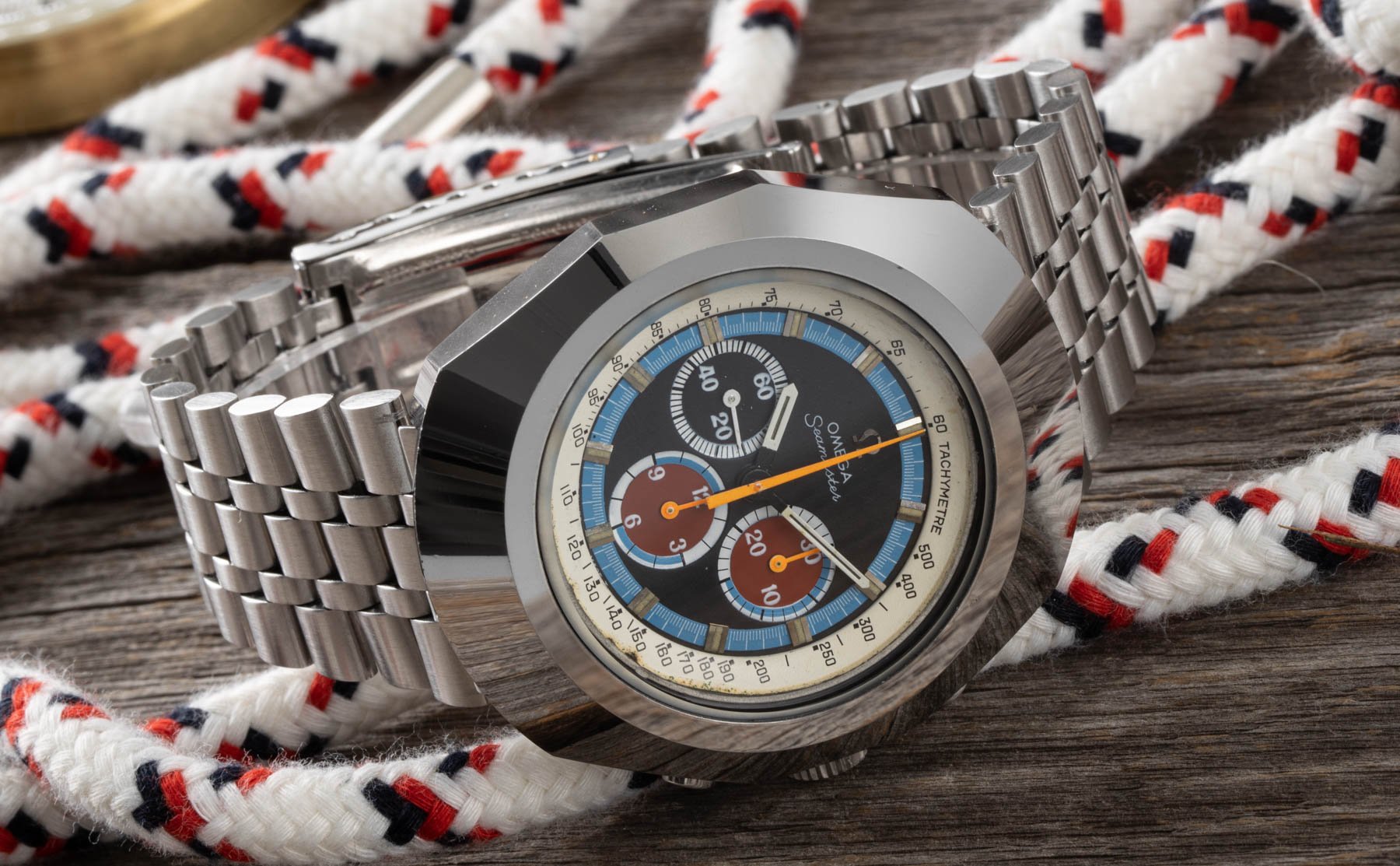 The Omega Seamaster "Anakin Skywalker" watch is a multipurpose piece of kit
The Ref. 145.023 is a massive watch. Not just because of its dimensions that measure 44.5mm in diameter, 14.5mm in height, and 51mm in length. It's also massive because of its octagonal, helmet-like case shape and the large 22mm lug width. Everything is big. Big and bold. The dial features five different colors that present you with a wild kaleidoscopic effect. If you let your imagination run freely it could resemble an outer-worldly sunset.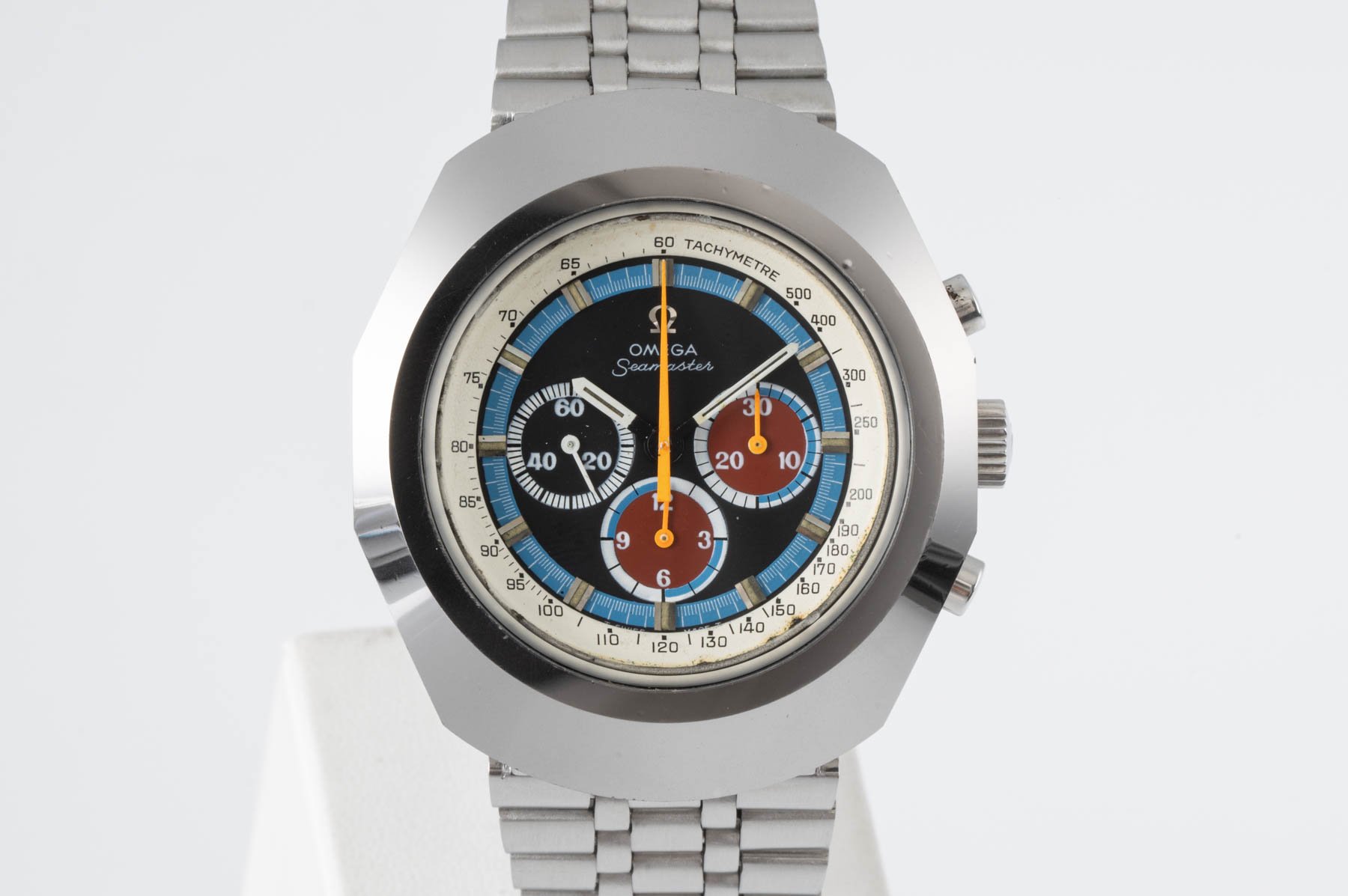 This bold Seamaster model was on the market in the '70s when the science-fiction movie "Star Wars" (1977) became an instant cultural phenomenon. There were two versions of the Ref. 145.023 with Caliber 861: one in a polished tungsten-chrome case with a dial in the colors you see here, and another one in a case with black ceramic finish, and a dial in black, gray, and red.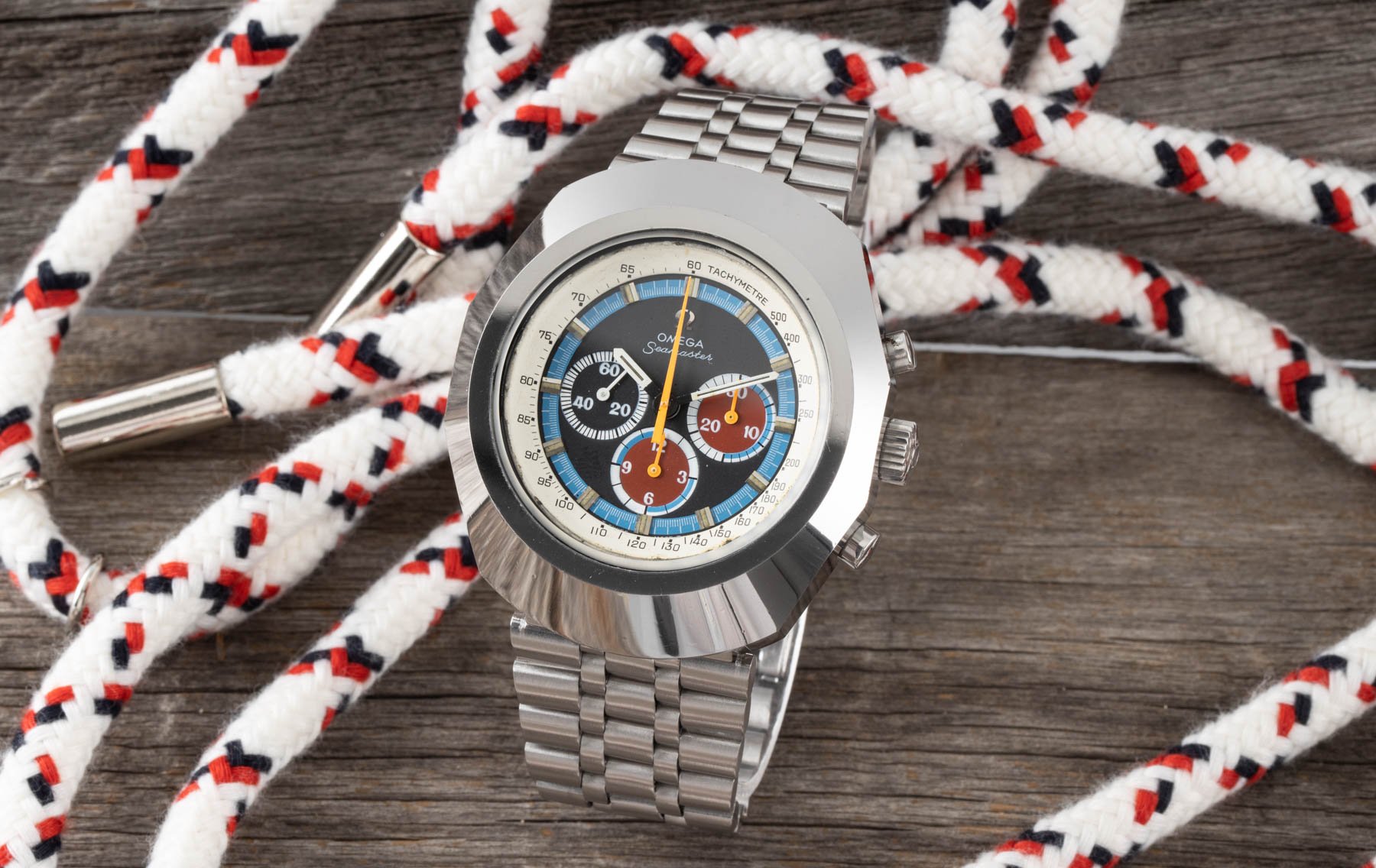 Anakin Skywalker before he became Darth Vader
Chuck Maddox was not only an Omega aficionado he was also a Star Wars fan (happy Star Wars Day, by the way — May the fourth be with you). And so he came up with the nickname "Anakin Skywalker" for the brightly colored Seamaster and "Darth Vader" for the black version because according to Maddox, it's a watch that would look right at home on Darth Vader's wrist, the Jedi knight who was seduced by the dark side of the Force, and thus became the Sith Lord that led the Empire's eradication of the Jedi Order. The colorful "Anakin Skywalker" is a Seamaster that hasn't turned to the dark side, yet…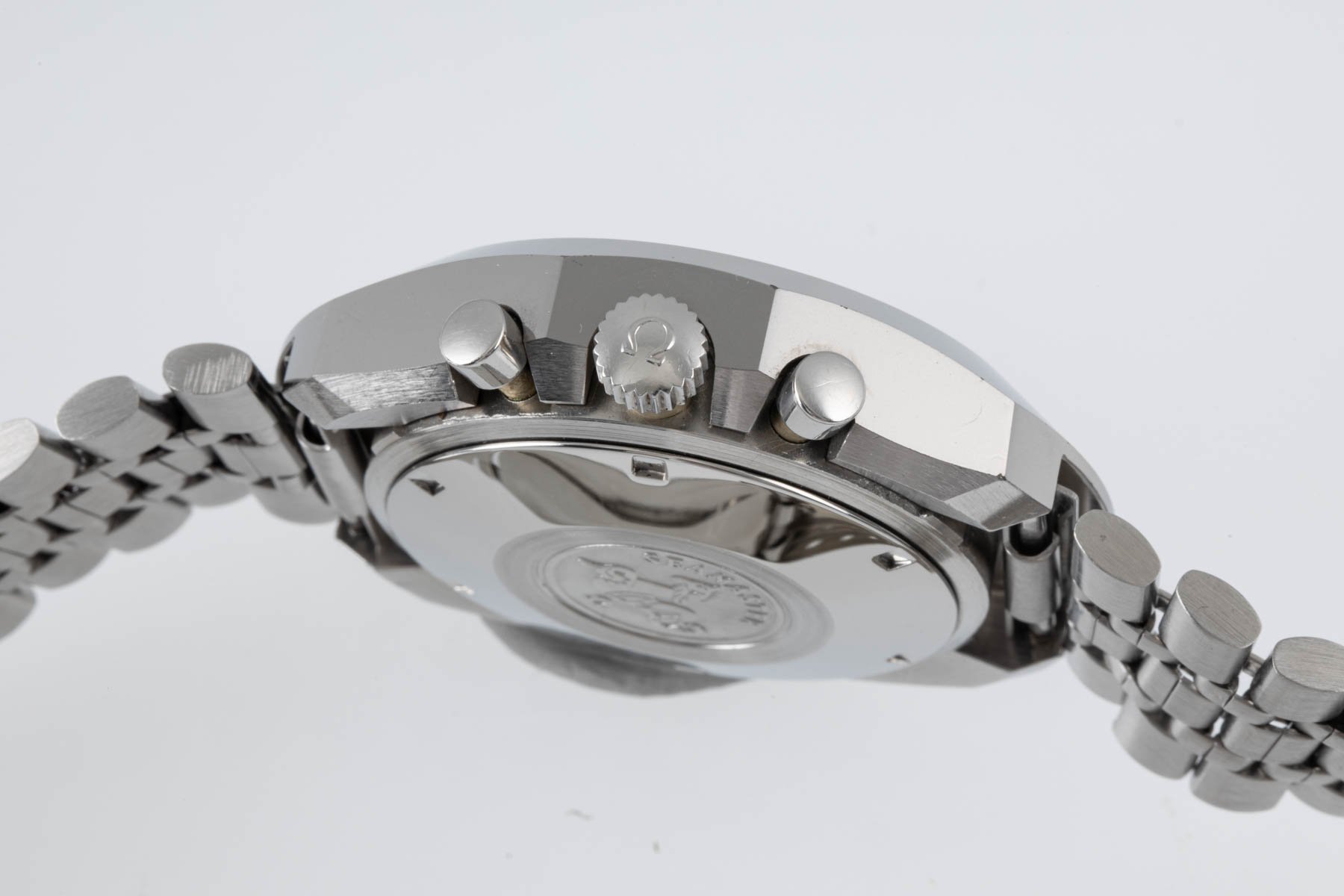 Tungsten steel to fight off time
Apart from its exuberant dial the Seamaster "Anakin Skywalker" also is quite the visual spectacle because of its polished tungsten steel case. Tungsten steel is a hard alloy with excellent properties such as high hardness, wear resistance, strength and toughness, heat resistance, and corrosion resistance. It is ideal for use in interstellar conditions I bet, but also useful here on earth. Tungsten steel, an alloy of 99% tungsten carbide and cobalt, is regarded as the teeth of modern industry because it's widely used for turning tools, milling cutters, and drill bits. As you can see in the pics is also "cuts" through time with great ease and almost no signs of wear.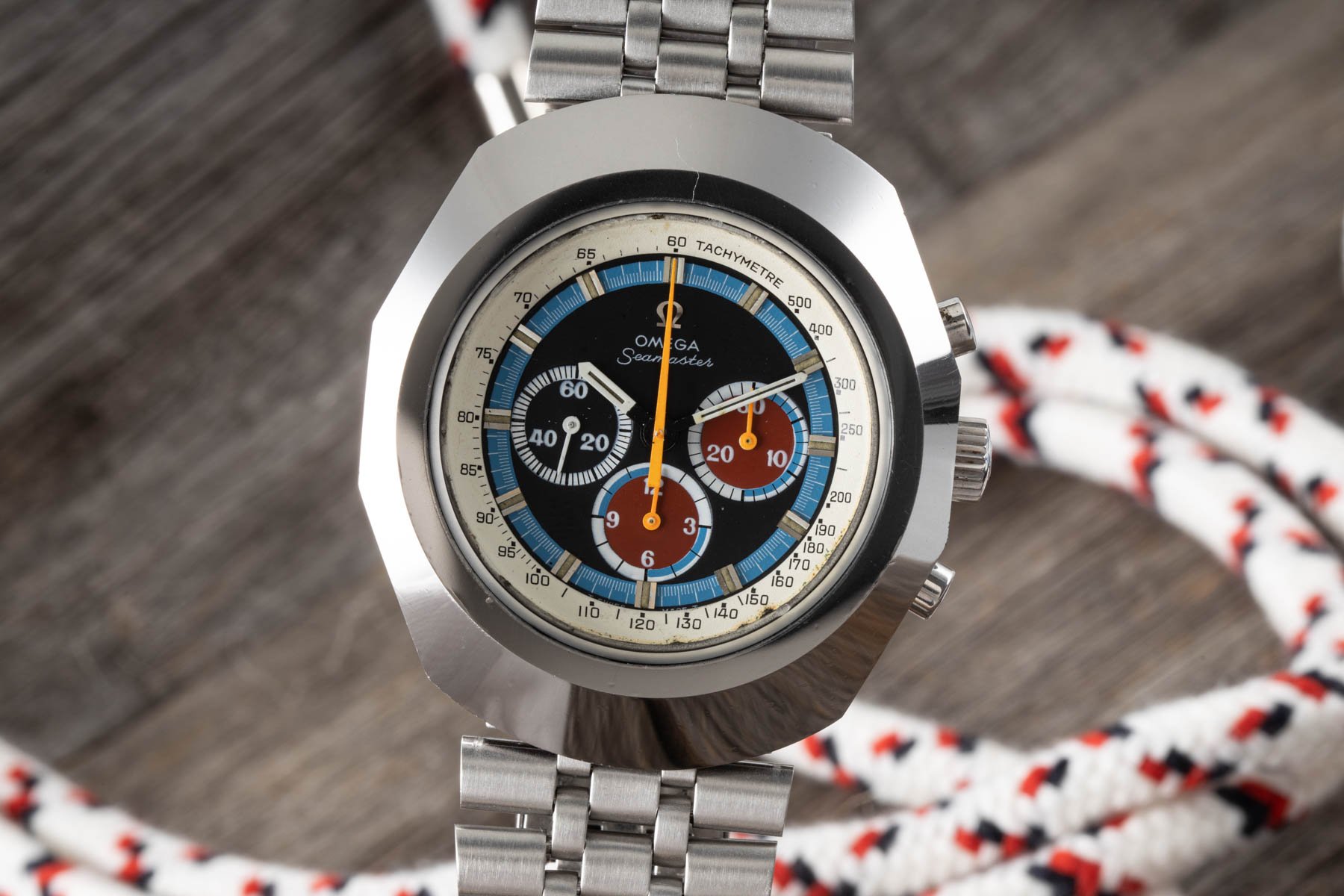 A Seamaster with the heart of a Speedmaster
Inside the large case beats the caliber 861 that Omega introduced in 1968. This 17 jewels, hand-wound movement based on the Lemania caliber 1873, has a power reserve of 48 hours. What's unusual about the movement that hides behind the screwed closed case back is that it uses a cam/shuttle system for operating the chronograph and not a column wheel. Omega put the movement to good use in many, many Speedmasters, but also in some other non-Speedys such as the Seamaster "Anakin Skywalker" as you see here.
Are you Jedi material?
If you're not scared of big and bold watches, and you're big and bold yourself, the Seamaster "Anakin Skywalker" might well be the right watch for you. This watch is not for everyone and that's also part of its charisma. That and the fact that it's quite rare but doesn't come with a stellar price.
…wearing this watch is like bringing a lightsaber to a fistfight…
In "Revenge of the Sith" Anakin says to Obi-Wan Kenobi, "If you're not with me, then you're my enemy." And that quote fits this extravagant Seamaster like a glove. This watch is something you either love or hate, it's that simple. And when you love it you really love it. It's a watch you have to wear with the confidence of a Jedi master.
And in return, it will let you feel the force. This chronograph will bring peace, freedom, justice, and security to the new Empire. And wearing this watch is like bringing a lightsaber to a fistfight; it will help you to become "the greatest Jedi EVER!"* Just be careful you don't fall for the seductive powers of the dark force. You'll be on the lookout for a Seamaster "Darth Vader" before you know it.
For more information on the Omega Seamaster "Anakin Skywalker" please visit Zeitauktion's website.
*Anakin Skywalker in "Star Wars: Episode II — Attack of the Clones"
Please find and follow me at Lex Stolk • Instagram