Stockinger Bespoke Safes – The New Imperial Black
Some time ago, we reported to you about our factory visit in Neuried, Germany. Neuried is a suburb of Munich and that's where the Stockinger manufacture is located. Our visit report to Stockinger can be found here. We are very impressed by the craftsmanship and technology that goes into building a good and secure safe. Besides that, Dominik von Ribbentrop (CEO) understands the demand to be surrounded by beautiful things and made a wise decision to add some sense of design and art to the world of grey and metal coloured safes. German engineering and an almost Italian-like flavour of design can be found in their broad range of safes.
New to their collection is the Imperial Black. The new Imperial Black I have to add. It was introduced last month in London at the Masterpiece London exhibition. For those who missed this, you can admire the work of Stockinger Bespoke Safes in Paris at the Maison & Objet exhibition in September. You will be able to see the new Imperial Black as well as their "Brabus SV12" safe, a joint venture with Mercedes-Benz tuner Brabus.
Besides safes, Stockinger also specializes in watch winders. They will demonstrate their cabinet of watch winders as well in Paris. If you are interested in going there in September, you will find them in Hall 7, stand F7.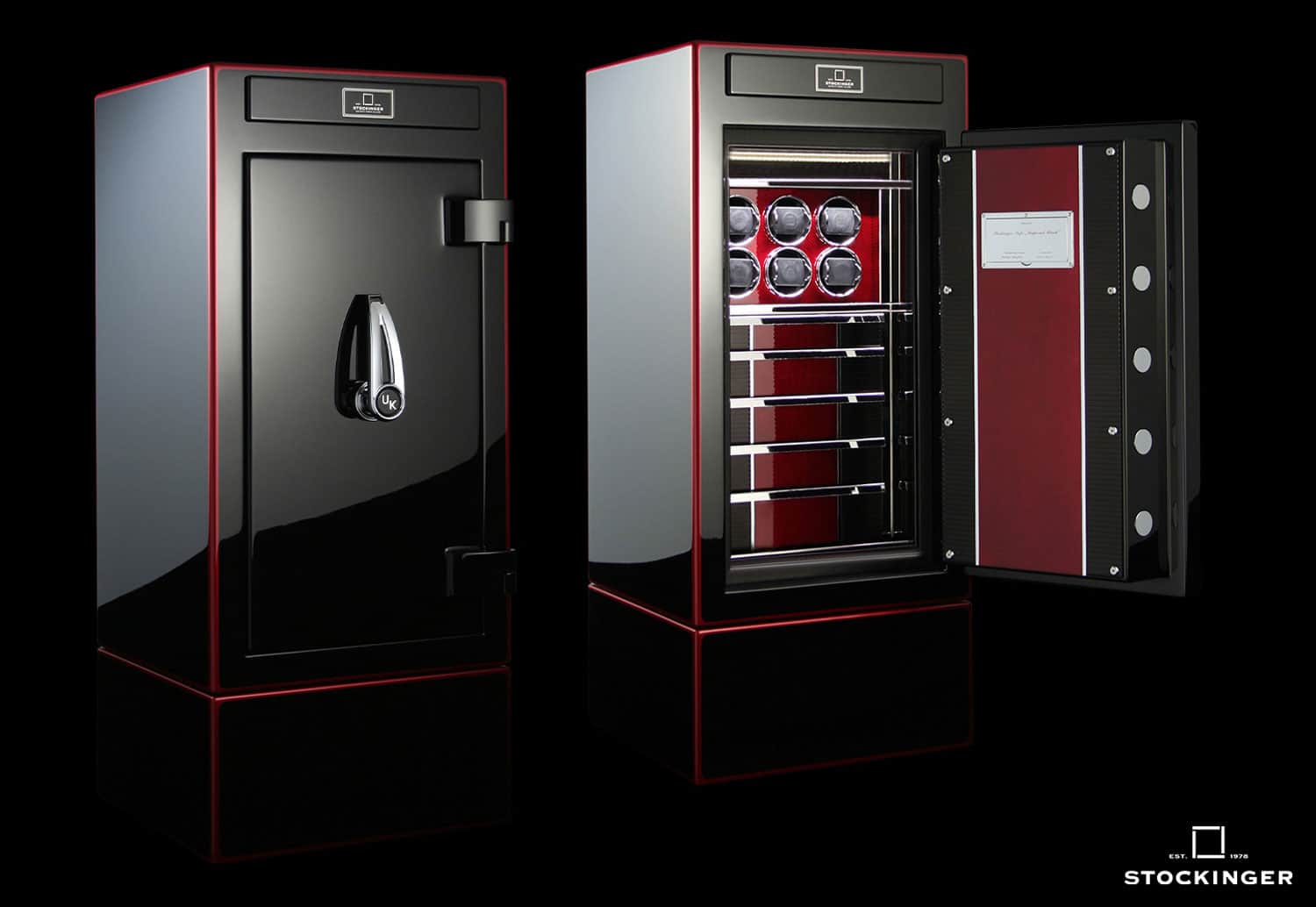 The new Imperial Black is a 119 x 52 x 51cm safe, with a volume of 80 liters. It's especially developed for private use. Like their other safes, the new Imperial Black is easy to operate using the electronic key system on top of the safe. The lacquer of the safe has been applied 18 times to ensure a beautiful finish of the safe. The black and red lacquered safe has a chrome handle that has been crafted of a single block of brass. Inside, you will find five drawers for jewelry and watches. These drawers and trays are lined in black perforated Alcantara.
As you can see on the images, the new Imperial Black has six watch winders inside. Each winder can be programmed separately as each watch might have its own winding specifications. Using your tablet or PC, you can activate each winder separately and select one of the 8600 watches from their database for the correct winding programme.
This 530KG safe is compliant to VDS security grade III and meets thee EN 1143-1 standards.
The nett price of the new Imperial Black by Stockinger is 90.000 Euro. More information can be found on www.stockinger.com