Strap Check: My Breitling Superocean On A Zuludiver Rubber Sailcloth Strap
Awesome and affordable. What more could you want?
It's funny how when we first start our journey into watch collecting, many of us have no intention of collecting straps too. I'm sure most people who eventually amass an alarming number of watch straps probably never set out with that goal in mind. But, one day, we all wake up, look at the sheer number of straps before us, and wonder how things got to be this way. I don't know about you, but I have loads of straps I bought to try out that never even saw a watch because they were just a bit rubbish when they turned up on my doorstep. But some straps that I certainly can't say that about are the Zuludiver Sailcoth straps I have in my collection.
I bought my first one with my Breitling Superocean in mind. The wonderful yellow stitching matched the yellow accents of the watch perfectly. I'd been looking for something in this vein for quite some time before I stumbled across the Zuludiver. After that, one strap turned into two, then into three… And now have about six or seven of these straps in different sizes and stitching colors.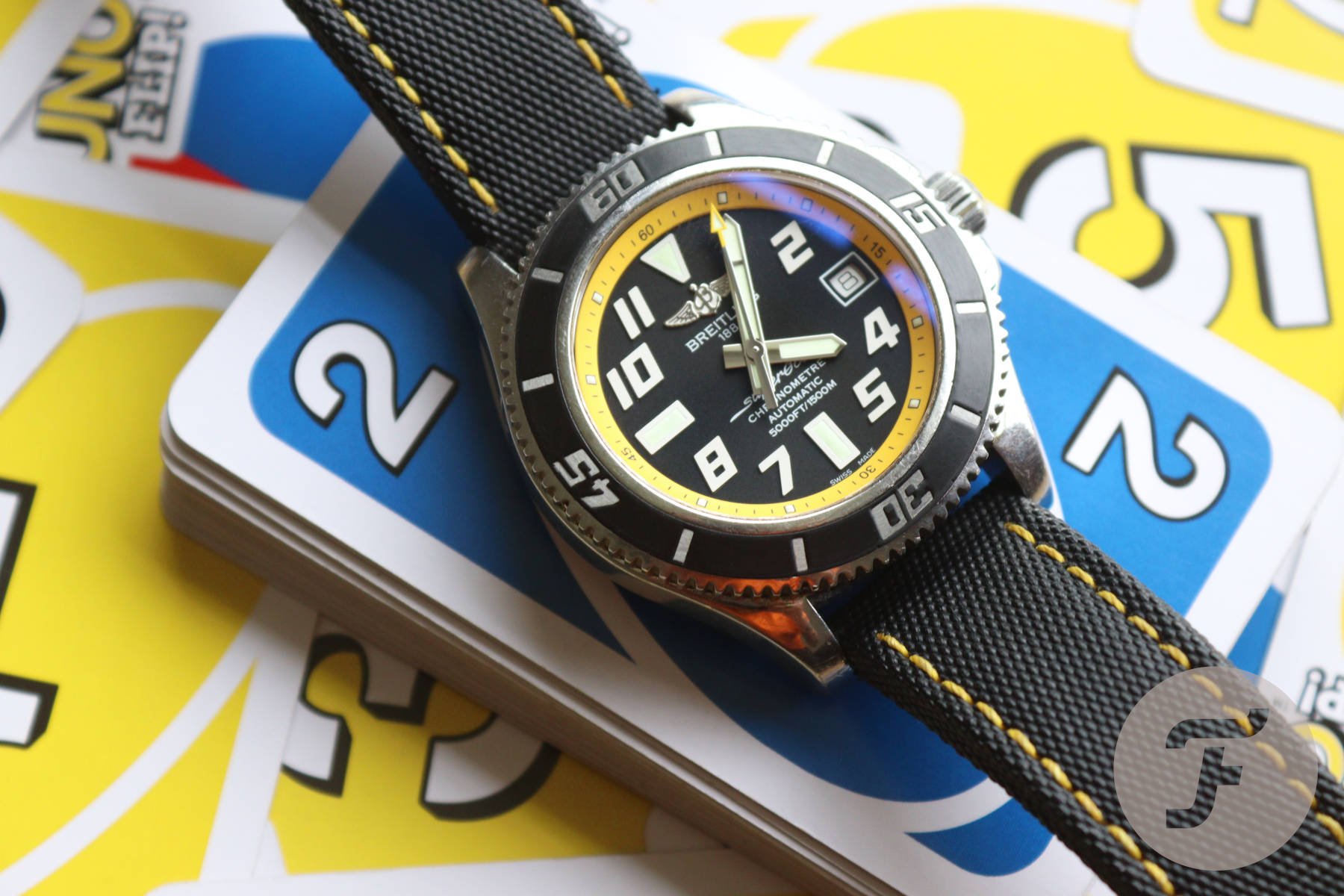 New shoes for my Breitling Superocean
When I bought my Breitling Superocean, it came with a black rubberized leather-look strap with black stitching. It had a bright yellow lining that poked out from the side of the wrist. I'm all for yellow watches, but it was too much yellow even for me. I sold that strap and purchased a simple black Breitling rubber strap. For many years, this did the job, and it was a great companion for my one and only watch. But once I started adding a few other pieces to my collection (namely microbrands), I found myself bitten by the strap bug, and it all went downhill from there.
At first, I had no intention of switching out the black rubber strap on my Superocean, but curiosity eventually got the better of me. I decided I fancied something that complemented the yellow chapter ring without being too garish. I didn't know what I was looking for, but when I found the Zuludiver Sailcloth strap, I knew that was the one. I found it on WatchGecko, but you can also buy them from the Zuludiver website.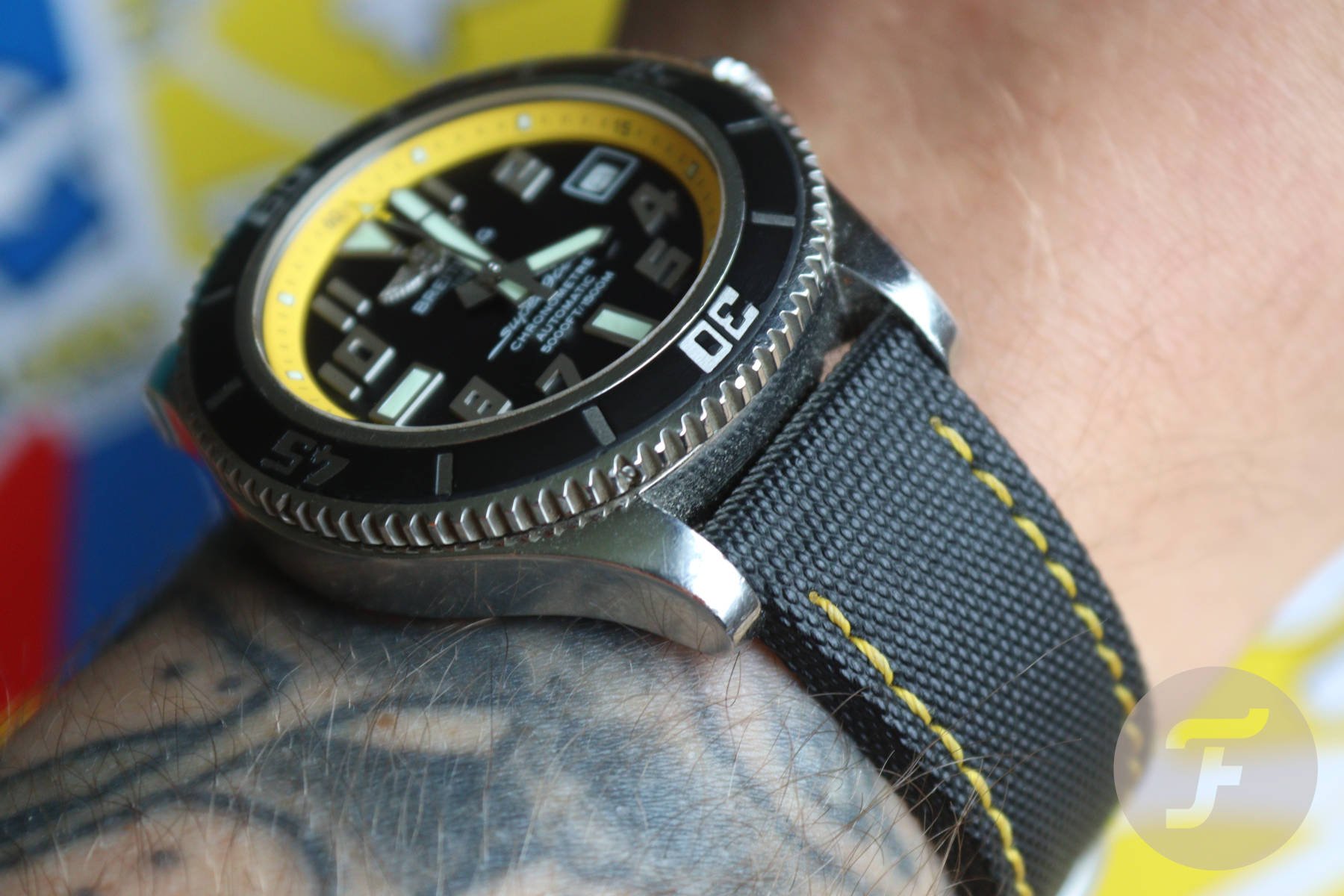 It did not fail to impress
At that point in my strap career, I wasn't familiar with sailcloth straps, but from the images, I liked the looked and decided to take a punt on it. When it arrived, I was over the moon. It was exactly what I wanted, and once I mounted it to the watch, it needed zero break-in time. It was exceptionally comfortable from the get-go. I particularly liked the strap's "boxy" shape, with no indents where the stitching was. I also liked the subtly tapered thickness from the lug ends down to the buckle/tail end. My digital vernier calipers are currently without a battery, so using the old-fashioned scale on the side, it looks like it tapers from around 4.5mm down to around 2mm.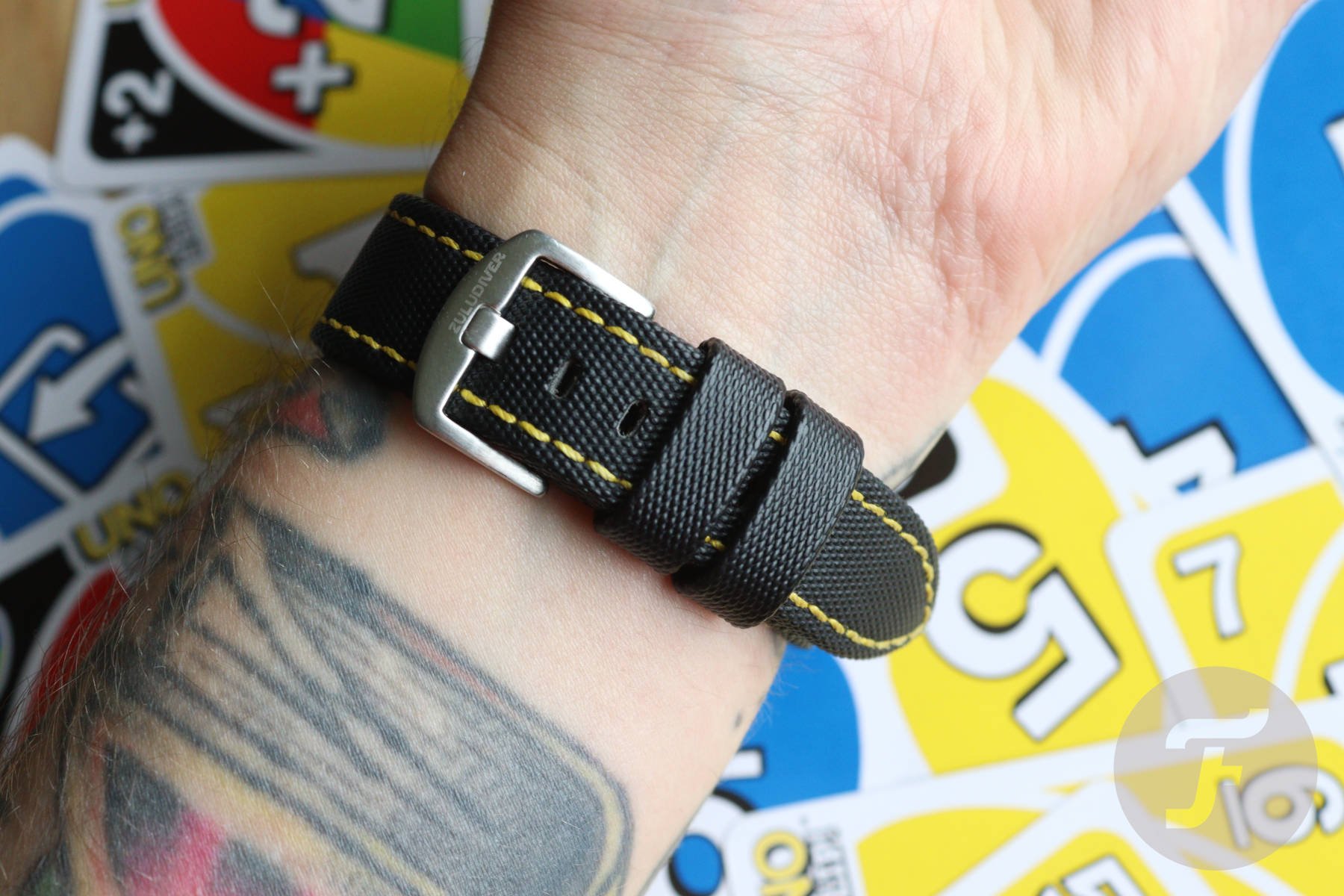 Sailcloth? Maybe not…
For a long time, I had just assumed this sailcloth strap was made from sailcloth. It wasn't until I looked closely at it and adequately read the WatchGecko product listing that I discovered all was not quite what it seemed. Genuine sailcloth is a woven material; however, the Zuludiver "Sailcloth" strap used a printed/textured PVC rubber material to give the appearance of sailcloth. For the padding, Zuludiver uses neoprene foam, making this strap completely water-resistant. In addition, the rubber on the top and the bottom receives a woven cotton backing for additional strength. The result is a strap that needs no break-in time and is incredibly wearable, especially in water.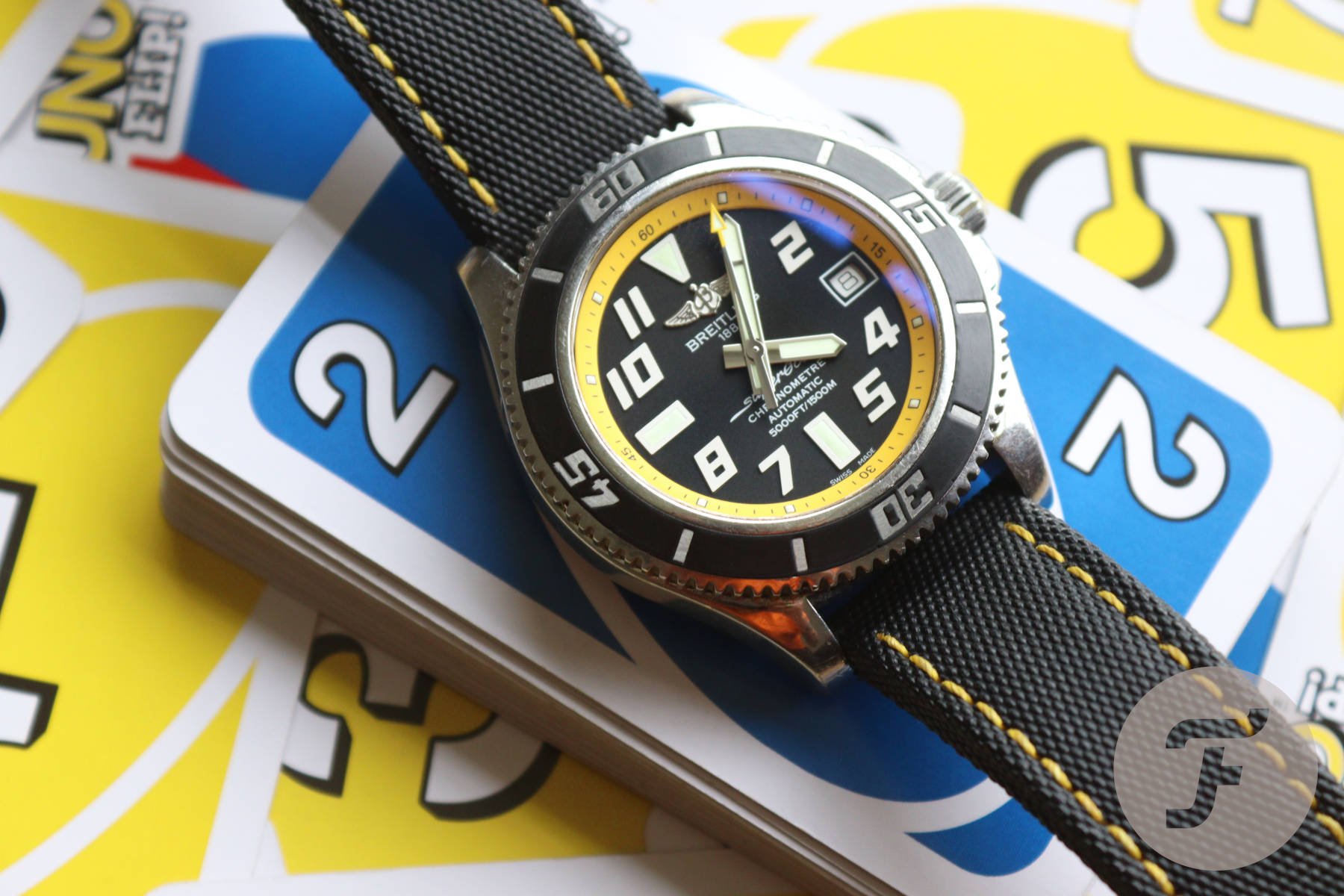 You should give Zuludiver's rubber sailcloth strap a go
I've taken this watch on this strap snorkeling in the Mediterranean pre-COVID (remember those times?), and it held up extremely well. Salt water did no damage to it, and the strap is still top-notch despite very regular wear. It's incredibly comfortable and has led me to buy several more. Unfortunately, this rather fetching yellow-stitched version is no longer in production, but you can choose from black, blue, gray, orange, or red stitching. There's pretty much something for everyone. And the best bit? It only costs £28. I don't know about you, but I rate that as a bargain.
Have you tried these straps before? What did you think? Let me know your thoughts in the comments below! I'm keen to hear from you.
Follow me on Instagram: @davesergeant | @fratellowatches