Strap Check: Wolbrook Tropic-Style Straps For My Blancpain Bathyscaphe
Military Green and Desert were clearly meant for this dial
We all know how difficult it can be to find the right strap combo. I buy straps quite regularly in my quest for the best, but I sell them on quite regularly too. Of course, I try to get some inspiration from Instagram and on the forums up front. Nevertheless, it doesn't always turn out as I'd hoped. Thankfully, this was not the case with the Tropic-style straps from Wolbrook. As soon as I put them on my Blancpain Fifty Fathoms Bathyscaphe, I knew that I had made the right choice! But it's actually not that easy to find the "right" Tropic-style strap.
When I got my Blancpain Fifty Fathoms Bathyscaphe — I'll just say "Bathyscaphe" from now on — it came on its original black sailcloth strap. However, because I bought the watch second-hand, the strap was already quite worn out. So I went through my strap collection and found that a Bonklip bracelet I already had was a really nice replacement for the sailcloth. The straight ends kind of gave the modern Bathyscaphe a more vintage feel. But I think it was someone on Instagram who advised me to also look into a "tropic" strap. And it was a good suggestion, but my "search of tropics" ended up taking a bit longer than expected.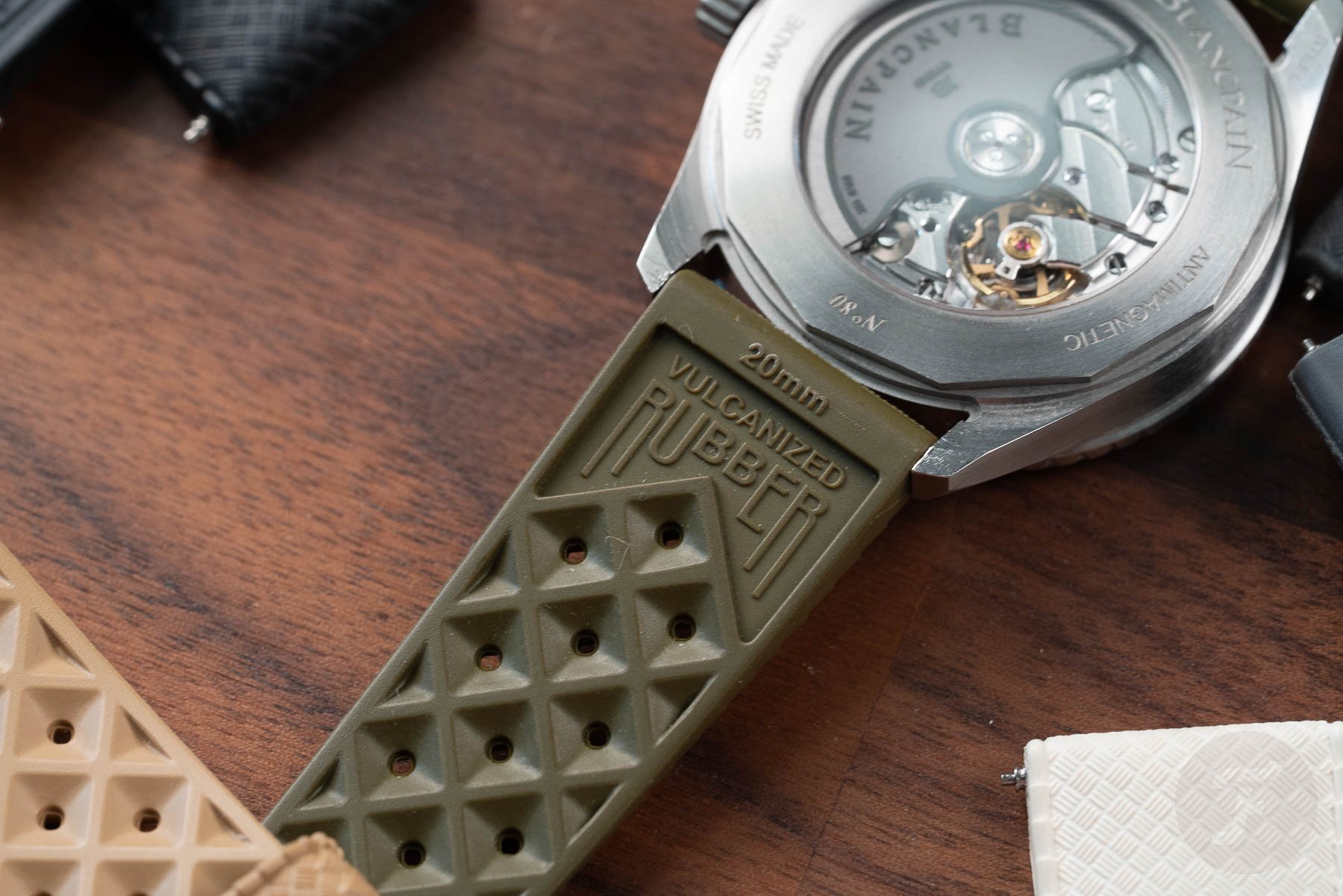 Finding the right Tropic-style strap
Before we go any further, I want to clarify our terminology. Technically, genuine Tropic straps are vulcanized rubber straps made by the Tropic brand. Tropic introduced these Swiss-made straps in the early 1960s, and they became extremely popular among professional divers. These days, many companies produce straps in a similar style. Just to be concise, from here on out, I will refer to these Tropic-style straps as "tropic" with a lowercase "t".
When you start reading about modern-day tropic straps, you quickly notice there are quite a few varieties out there. First of all, they come in different materials. What you should keep in mind is that there is both standard and vulcanized rubber. You want to go with the latter type. Vulcanized rubber is very durable and flexible, it doesn't attract dust, and, as a nice bonus, these straps come with a vanilla-like scent. I read somewhere that this scent is used to mask the original smell of the rubber. From there, we get to all the different shapes and forms that tropic straps come in.
Of course, tropic straps are available in different sizes and lengths. The most common length is around 120mm for the long portion and 75mm for the short one. Apparently, Méraud is one of the few brands out there that makes a shorter option. Then, of course, you need to make sure that you get the right width for your watch — 20mm in the case of my 38mm Bathyscaphe. You also need to think about whether you'd like a strong taper or not. I know B2 (by Rubber B) makes one that only tapers from 20 to 18mm. I went with a stronger taper from 20 to 16mm. But what I found most important when choosing between all the different options was what the lug end of the strap looked like.
Cut-off or rounded ends
Some people might think this is going too far, but those lug ends can really make or break a tropic strap for me. During my search, I noticed that some tropic straps, such as the ones from the Tropic brand itself, look like the ends have been chopped off with an ax or something. In that case, the lug-end is just a straight, plain side with a smooth finish. I think this ruins the whole look because that's exactly what you see when you glance down at your wrist. It looks a lot better when those ends are rounded and the basket-weave texture continues over the top. In my eyes, that completes the whole tropic look on the wrist. The straps made by Wolbrook do exactly that.
Apparently, the Wolbrook tropic straps come from the same mold as the ones offered by Joseph Bonnie. When I ordered the straps from Wolbrook, however, they were a bit cheaper (€56 each) than the ones Joseph Bonnie offers for €69. And why pay too much, right!? At the time, Wolbrook also offered more proprietary colors. Right now, both brands offer more or less the same colors, but they still have some exclusive offerings too. One point of difference between the Joseph Bonnie and Wolbrook straps is in the buckles. The buckles on the Wolbrook straps are quite straightforward, while the ones on the Joseph Bonnie straps are leaner and more elegant. This might actually be the reason why the Joseph Bonnie straps command a higher price. Anyway, let's look at the Wolbrook tropics in more detail.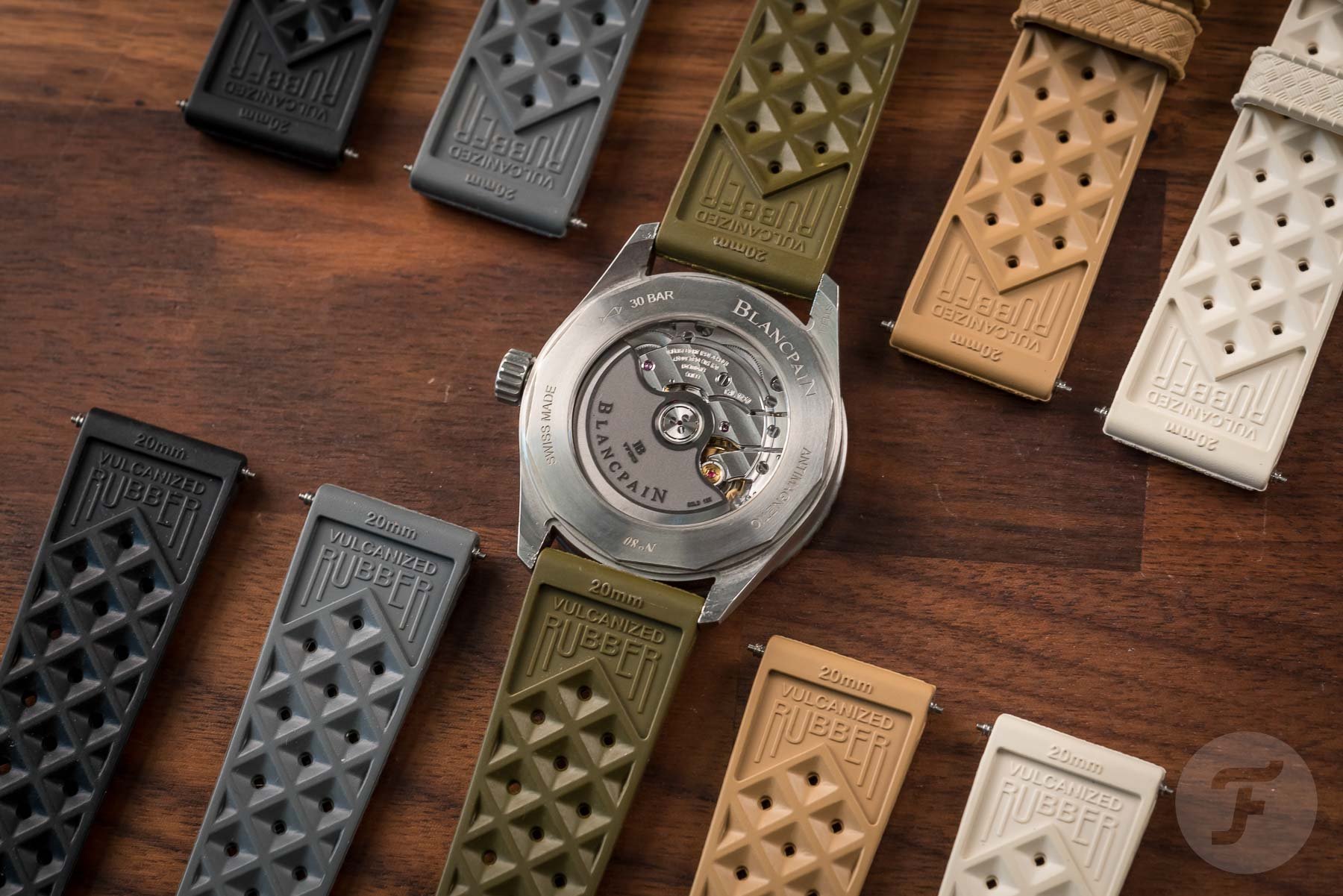 It's all in the details
Over €50 for a rubber strap might seem like a lot of money, but when I look at the quality of the straps, I think they're more than worth it. The vulcanized rubber is nice and flexible, but it still feels like it can take a beating. In the past, I've also ordered some of the cheaper tropic straps out there. However, with those, the rubber felt more like plastic and was hard to bend around my wrist. They even had sharp bits on the edges as well. These Wolbrook straps are nothing like that. They take on any shape or form and never feel sharp in any way, which is exactly what you want on your wrist! The design of the strap is also very well done.
As I mentioned before, the straps taper elegantly from 20 to 16mm in width. The long end even tapers a bit more. Each strap is a bit thicker at the lug-ends and where the buckle is attached. It also almost looks like there's padding inside the strap because the center is a bit higher than the raised edges. I think this is a very nice touch as it integrates the look of the strap very well with the lugs on the watch (more on that later). Then there's the basket-weave/vector pattern, which is so characteristic of tropic straps. In this case, it is perforated with square holes. This is another great touch as the holes go very well with the basket-weave pattern that's already there. There are many other tropic straps out there that have round holes, but in my eyes, they really need to be square. On the back of the strap, there's a nice waffle structure so that sweat and water can easily find their way out.
A match made in Fifty Fathoms
Now, back to the combo with my Blancpain Fifty Fathoms Bathyscaphe. It's a dive watch, so a tropic strap is surely going to look good on it. But all the little details on the Wolbrook tropic strap make it an even more perfect match! The lug tips on the Bathyscaphe are slightly angled, which makes it look like the padded effect on the strap is there to purposely match their shape. In addition, it's great that the basket-weave texture continues on the top of the lug ends of the strap. It makes it the whole thing much more attractive to look at than if they had been left untextured.
I got the straps in five colors — Desert, Military Green, black, gray, and white (which is, in fact, slightly off-white). Indeed, I might've gone a bit mad. And I must be honest, the Military Green and Desert colors are the ones that I wear the most, by far. The Bathyscaphe's sunburst dial can take on so many different hues, but there's always a green or slightly brown undertone. That makes those two straps a great match with the dial. The black strap also looks nice, I must say, but for some reason, I've never been a huge fan of black straps in general. The off-white tropic is the ultimate summer strap, but it's a bit more in your face. In the end, it's nice to be able to mix and match according to your mood or outfit for that day.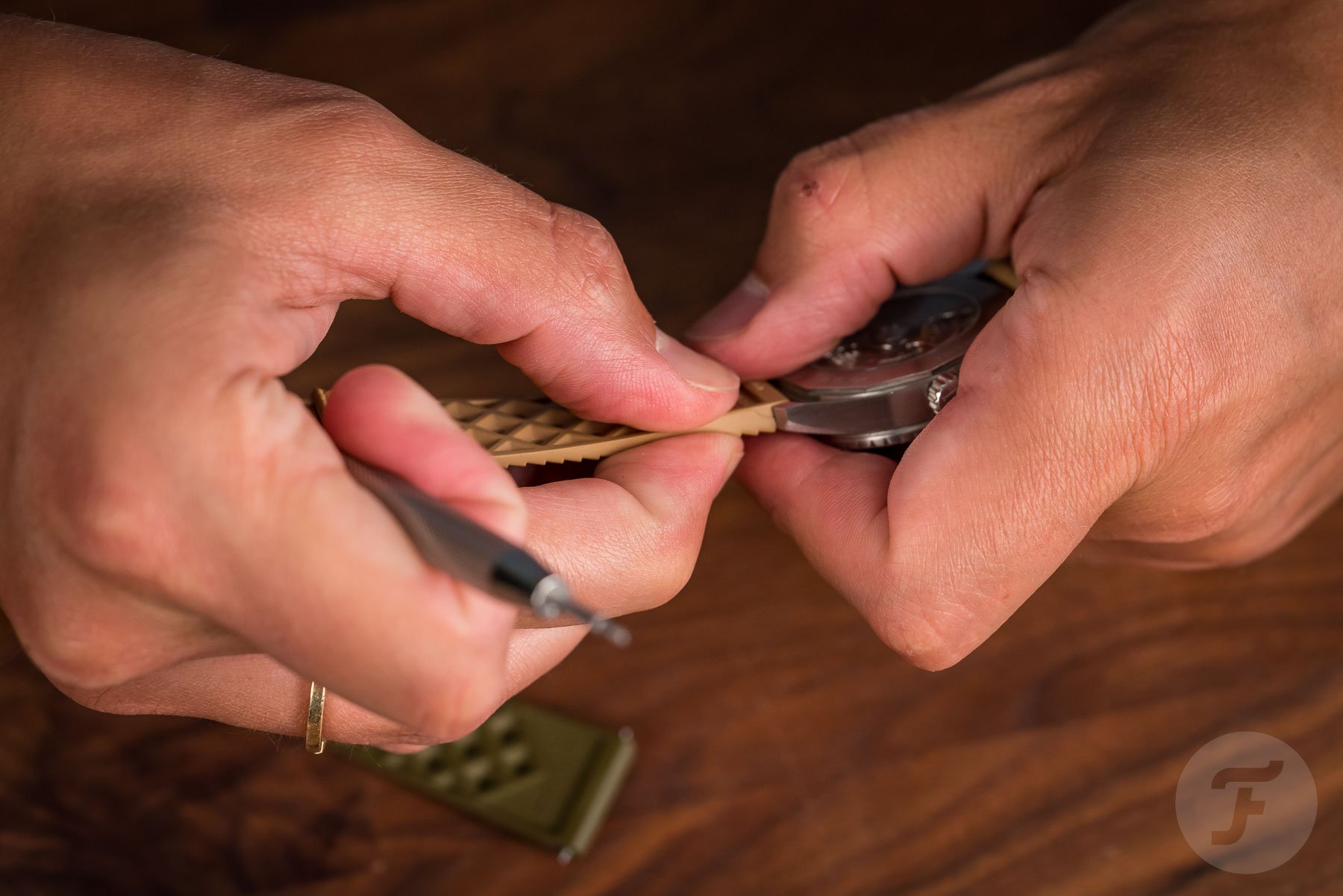 Anything to improve?
So, are these the most perfect tropic straps on the market? In my eyes, they come very close! You might have noticed in the pictures that I changed out the buckles on the Military Green and Desert straps. I just think that the standard buckle is very plain, and it also doesn't fit that well on my wrist. I fitted these straps with more curved and elegant buckles, but other than that, I'm very happy with these tropics. Of course, quick-release spring bars would be nice. But then again, you might also notice the little pin peeking out between the watch case and the strap. Different lengths could also be nice, as the straps are a bit long for my 17cm wrists.
When you buy the straps, however, you get one wide keeper and two slim ones. I just use the two slim keepers, and the surplus material never bothers me. So yes, excluding the buckle, these are my perfect tropic straps. If you'd like to know more, please take a look at the Wolbrook website.
What has your experience with all the different tropic strap options out there been like? Have you found the right one for you? Let me know about your experience in the comments below!
You can also find and follow me on Instagram @fliptheparrot