Style Icons And Their Watches — Gianni Agnelli, Miles Davis, And Steve McQueen
A look at some of the original style icons and the watches on their wrists
The world of watches is very much part of the wider universe of style. Wearing a watch the right way is not a stand-alone thing. Clothing can elevate the presence of a watch greatly. It's no coincidence that the legendary men are often also considered style icons because of their choice of watches. Paul Newman, Steve McQueen, and Sean Connery are just three examples of icons whose names are forever connected to watches they wore.
When it comes to style, originality is often key in being labeled a style icon. For this first article, I have selected three style icons and their watches. While not all their stylistic choices when it comes to watches have stood the test of time, it doesn't take away one bit from the iconic watches that these men wore. Obviously, there are more than just three style icons that we could pick for a list like this. But I wanted to include icons that mean something to me personally. So, without further ado, let's find out more about these icons, what I love about them, and the quirky style choices that defined them.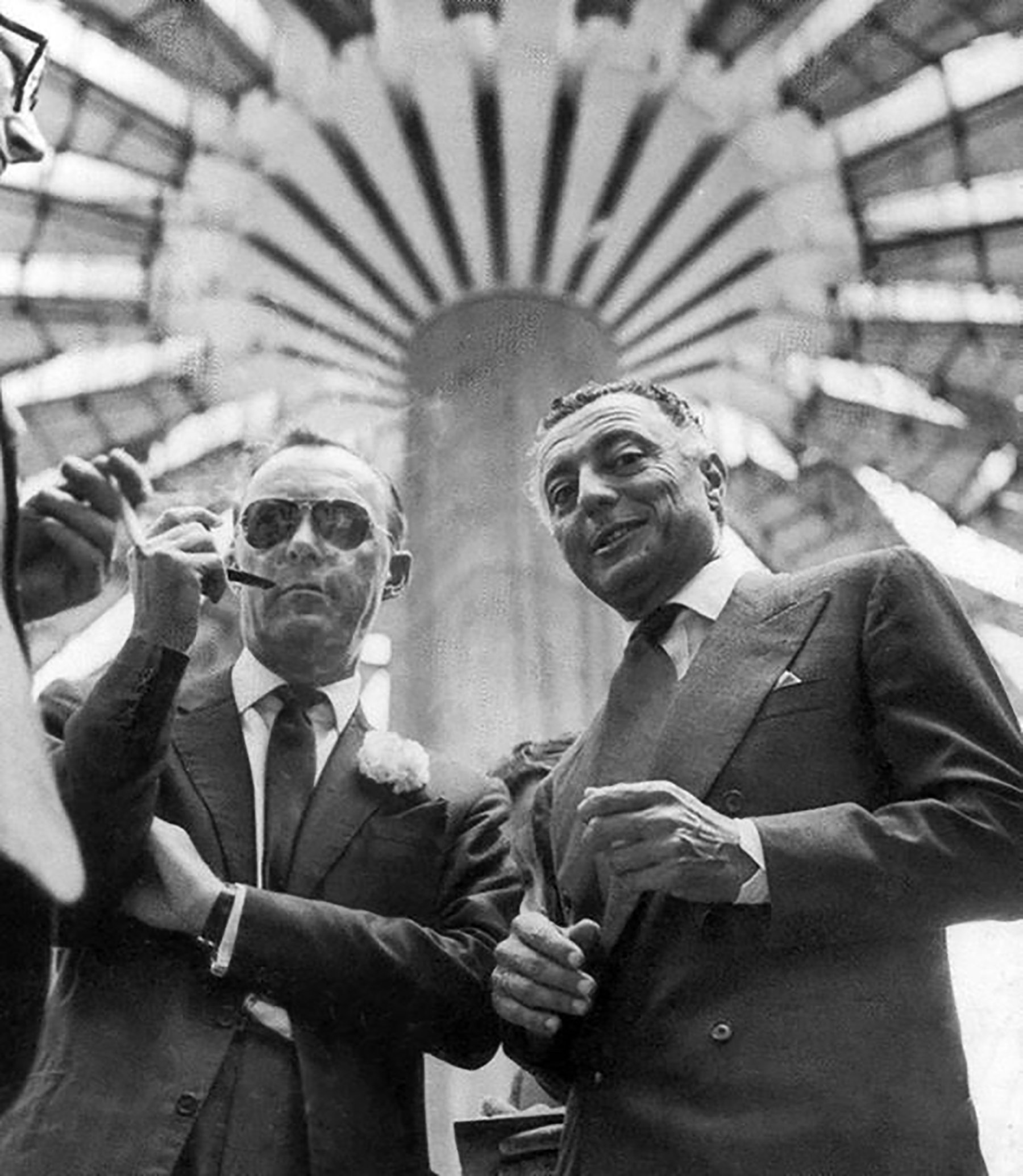 1. Gianni Agnelli
The legendary Gianni Agnelli was often considered Italian royalty and referred to as the "uncrowned king" of Italy. Most Italians know the former Fiat boss as l'avvocato or "the lawyer" in English because he studied Law at the University of Turin. While he was not actual royalty, I like the fact that Agnelli was friends with Prince Bernhard of the Netherlands. In the image above, you can see their strong personalities. Both have their own distinct style that was characterized by breaking with traditions. This originality is what I greatly admire in both men.
The Rake Of The Riviera's fashion style has been described as the pinnacle of Sprezzatura, which can be best translated as casual elegance that looks effortless and nonchalant. I find it funny that tons of articles and videos on Sprezzatura will give you advice on how to master the style. But mastering a style that's all about making it look as if you don't care is often portrayed best by a person who actually doesn't give a hoot rather than tons of fashionista's who try too hard.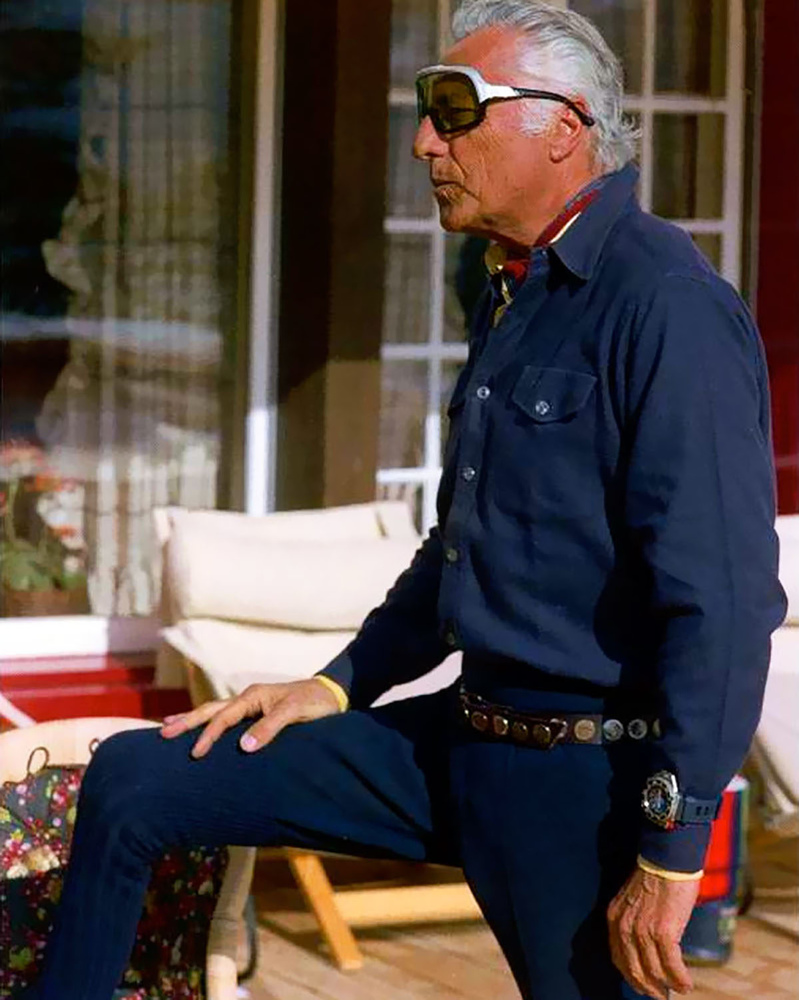 An oversized statement
Apparently, Agnelli was very style-conscious, so he definitely made an effort. But he had the personality and the stature to pull it off. He broke with many of the classic style rules and gave it his own spin. This against-the-grain mentality is something that I greatly enjoy. Wearing worker boots under a suit, the unbuttoned button-down collars of his shirts, off-center ties worn longer at the tail than at the blade, and of course wearing his watch on top of the cuff. Weird choices that work because of his personality, not necessarily because I personally appreciate the style and would do it myself.
Agnelli greatly appreciated watches and had a large collection. He was known to wear a great variety of brands and models. The most famous is, without a doubt, his Omega Seamaster Professional 600M PloProf. Agnelli usually wore Omega's professional diver that was introduced in 1971 during ski trips to St. Moritz. But it wasn't limited to his visits to the Swiss jet-set ski resort. He can be seen wearing the watch in a variety of different casual situations. The watch was obnoxiously big for the time, but it sure made a statement, especially in the way Agnelli wore it.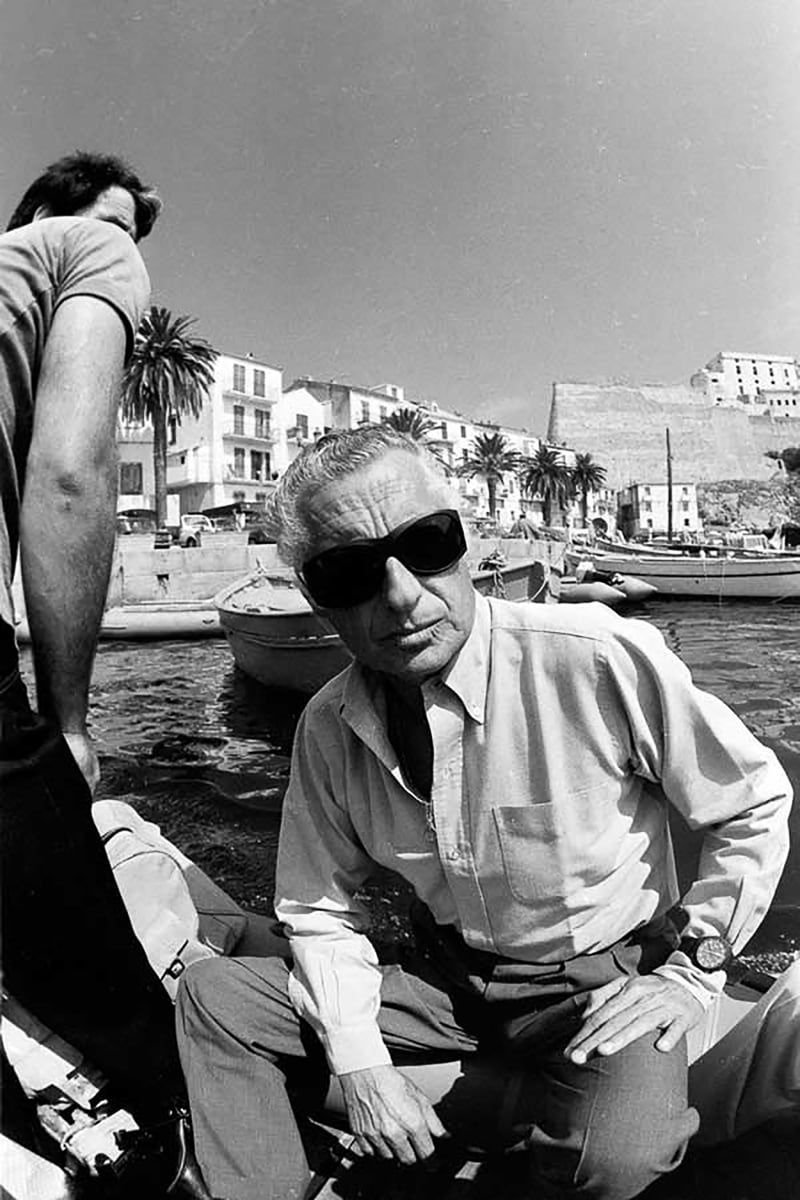 Choosing the latest technology
Additionally, Agnelli also loved wearing a black DLC Porsche Design 01 chronograph that was introduced in 1971. Another statement piece for several reasons. First off, the watch was designed by Ferdinand Porsche, who also designed the Porsche 911. It showed Agnelli was not shutting his eyes to competitors' work in the automotive industry and actually made a statement wearing a watch from the designer that created an iconic sports car that was and is a great competitor to the famous Italian sports cars. Additionally, the PD01 Chronograph was the first black PVD-coated watch. Agnelli could also be seen wearing this watch in more informal situations.
A watch that Agnelli would wear in both casual and business situations was the Hamilton Pulsar P2 in Stainless Steel. This legendary digital watch was first announced in 1970 and available in yellow gold in 1972. The stainless steel P3 followed in 1973, and that's the one that many celebrities would wear, including Keith Richards, Joe Frazier, and Roger Moore as James Bond in Live and Let Die. As a true statement of cool, thanks to the mentioned celebrities and thanks for Agnelli, who could be seen wearing it quite often.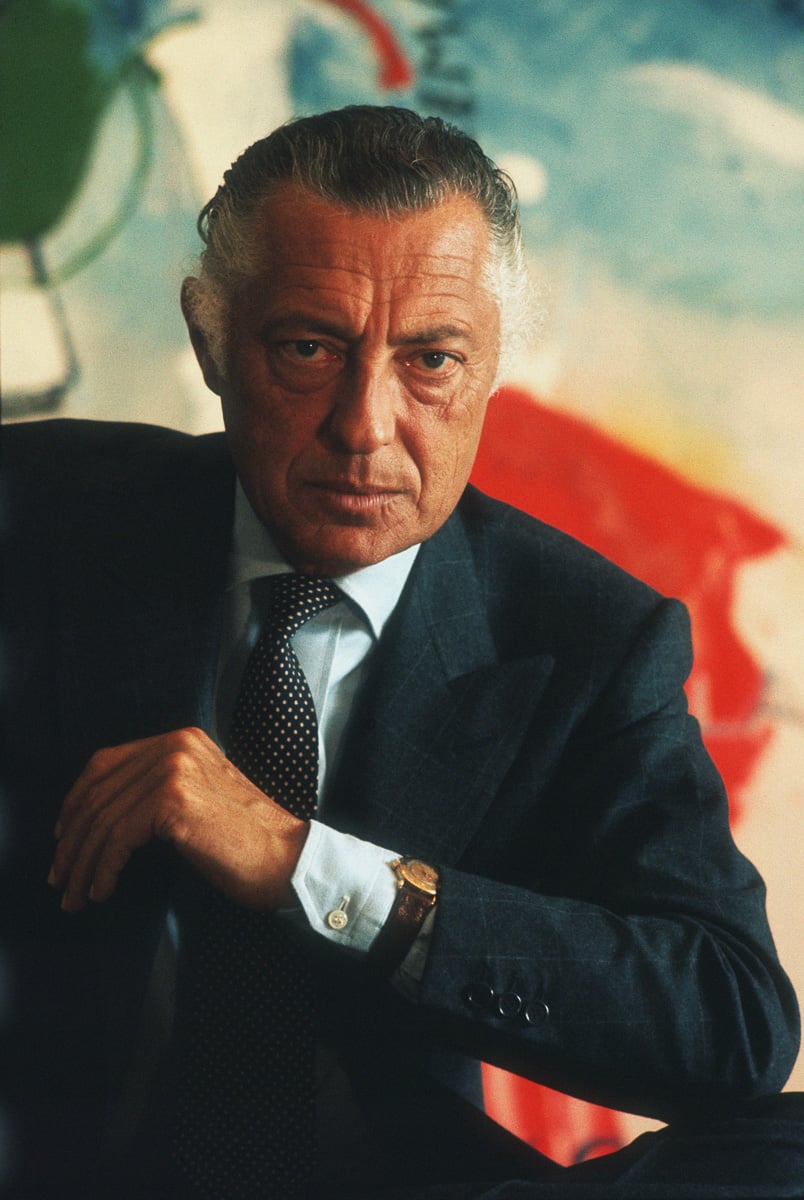 A true watch collector
One of the most famous watches Agnelli was seen wearing is the rose gold Patek Philippe World Time ref. 1415 HU. It's the watch that Agnelli could be seen wearing the most when he was in business attire. This spectacular classic showed that Agnelli was not just interested in the latest style statements. The ref. 1415 was introduced in 1939 and remained in production until circa 1954. The watch was powered by Patek's in-house manual winding caliber 12-120. A great little detail is that the first iterations of the watch showed 28 cities, whereas the later generation of the watch featured 41 cities displayed on the dial.
Another thing that stands out is that at 31mm, it's by quite a margin, not as big as some of the other pieces that Agnelli wore. If a ref. 1415 HU watch shows up for an auction; you can bet that prices are sky-high. Some exclusive versions with enamel dials displaying different parts of the world going for millions. One final interesting piece on Agnelli's wrist was a pocket watch that he had converted into a wristwatch. It is believed that the 45mm watch was actually his dad's pocket watch. People have often speculated whether it could be a 1920s Vacheron Constantin. Either way, Agnelli made watches a stand-out part of his outfit. Not just because he chose some pretty iconic pieces to wear, but just as much because he used to wear them over his shirt. A style that Agnelli made famous.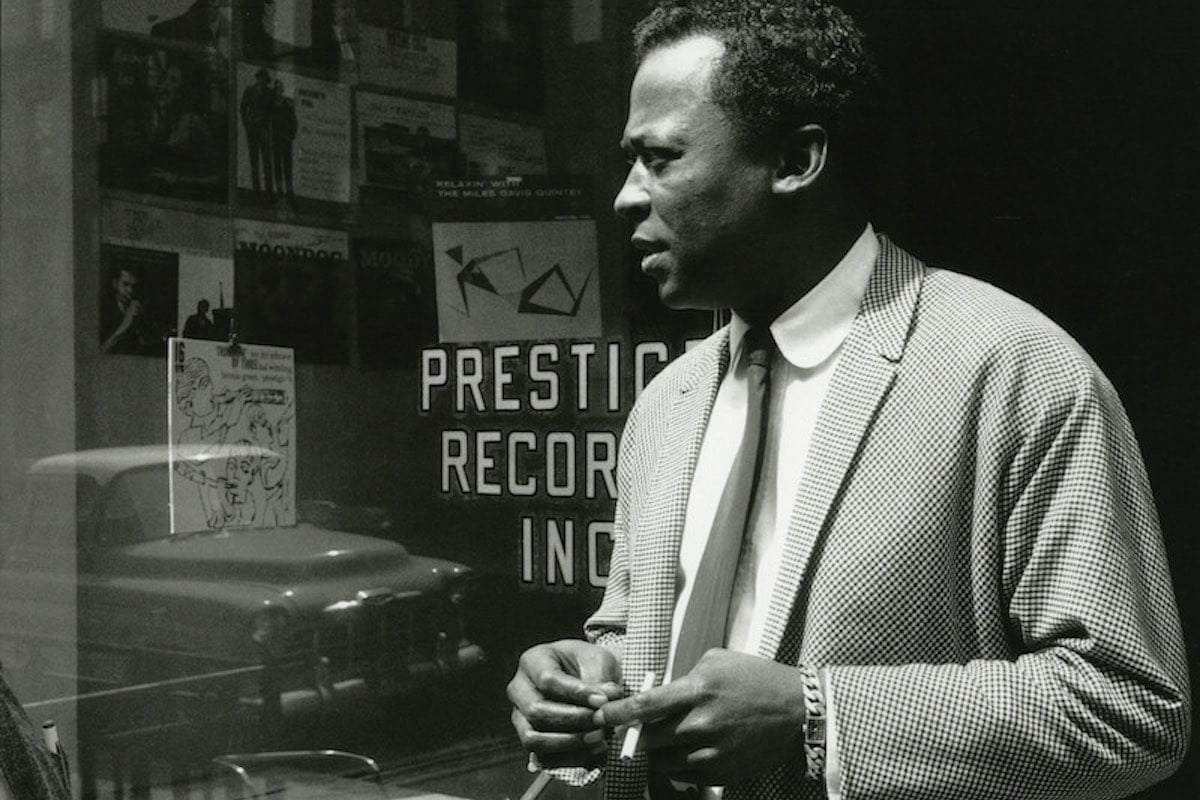 2. Miles Davis
Another style icon I absolutely love is Miles Davis. Davis is known for a famous quote that shows how he perceived style: "For me, music and life are all about style..." It sums up perfectly how Davis experienced the world around him. One of the best examples of this amalgamation of different style elements is the 1958 French neo-film noir Ascenseur Pour L'échafaud (Elevator to the Gallows in English) that Davis recorded the soundtrack for.
In two days in December 1957, Davis recorded the soundtrack that he improvised based on watching the moving images and capturing the style and atmosphere of the movie. Creating music to the images was a groundbreaking approach, but the result added a different dimension in terms of emotion. It showed Davis' extreme understanding of how style is so much more than just an image or just a musical theme.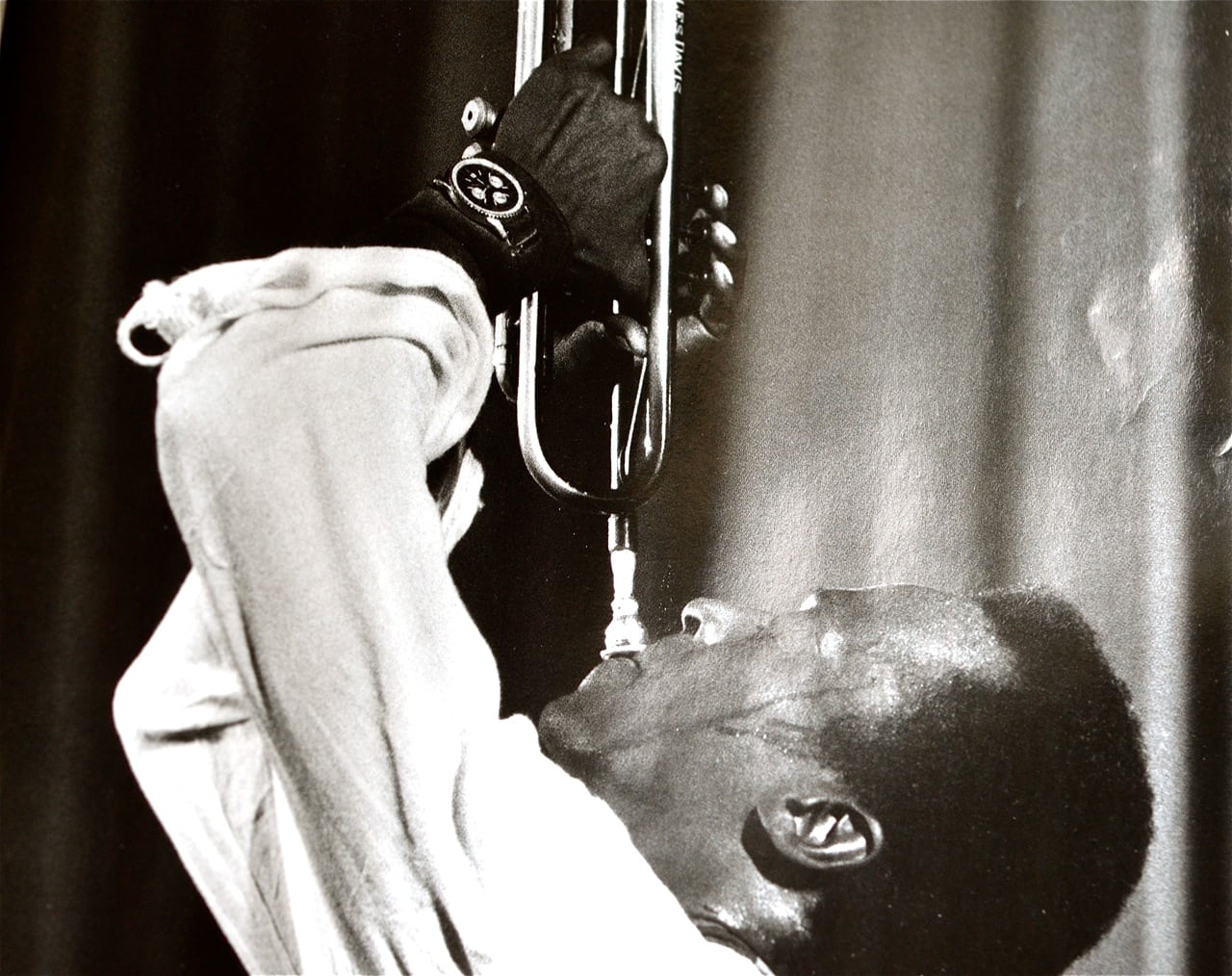 Capturing the essence of style
What I personally love about Miles Davis is that he always reinvented his style. Nothing was off-limits in the creation of his music, as well as in his style of clothing. Davis perfectly captured the spirit of the time he lived in time and time again. But his style of clothing was never more important than the style of music that he played. The two were actually one. His style was essential to the story that Davis tried to tell. Personally, I am most fascinated by his impeccable sense of style in the late fifties and early sixties.
Not coincidentally, it's also the era that he recorded his best music, in my opinion. His collaborations with Gil Evas led to some amazing results with albums like Miles Ahead, Porgy & Bess, the legendary Kind of Blue, and my personal favorite Sketches of Spain. If you look at the pictures from all the Columbia Studio sessions, that's where you can see the impeccable style that Davis had. It was not just one style either, but a number of carefully curated styles that were sometimes preppy, sometimes more influenced by the mods, and sometimes very dressy.
Becoming a style icon
He wore nicely cut Brooks Brothers suits, slim-fit shirts, knitted jumpers, and stylish shoes. In an interview with the New York Times, Wayne Shorter — who played alongside Davis — explained Davis's mindset when it comes to who style was for: "He always dressed well, always in tune with fine things, and he didn't see any reason why fine things should be denied to anyone." I love that observation because, at the time, class and descent were still very much part of the social perception. The fact that anyone should be able to enjoy the finer things in life is one I agree with wholeheartedly.
As a result of his fame and style, Miles Davis became a widely recognized style icon in the early 1960s featured in big fashion magazines. He had switched from his Brooks Brothers suits to stylish shirts and suits from the exclusive European brands by that time. Along with his impeccable style in clothing also came a couple of nice watches. The first watch he could be seen wearing in the late 1950s was a small rectangular gold dress watch fitted to a gold link bracelet. A quirky and fun watch that was completely different from what was to follow.
The Breitling Navitimer ref. 806
In the late 1960s, Miles Davis started wearing the Breitling Navitimer ref. 806 "Reverse Panda" (released in 1965). The watch was also famously worn by racing drivers Jim Clark and Graham Hill. It quickly became his favorite watch, as Davis was seen wearing the watch for decades to come. Although the Navitimer was ultimately his most worn watch, Davis mixed things up with a Jaeger LeCoultre Memovox GT Ref. E861 on a bund-style strap too.
It's this bund-style strap that Miles Davis has become known for. It most likely stemmed from a functional need to not have the watch move around on the wrist while playing. That theory is supported by the fact he also started wearing his Navitimer on bigger straps. Straps that looked like slabs of leather, held the watch in place. This extravagant style of wearing a watch also matched his changing style in the 1960s. Over time, Davis started experimenting with electrical instruments, eventually leading to the famous 1970 album Bitches Brew. By that time, Davis had changed his style completely. The music, his clothing, it all had evolved. But what remained, was his trusty Breitling, albeit on even more extravagant straps.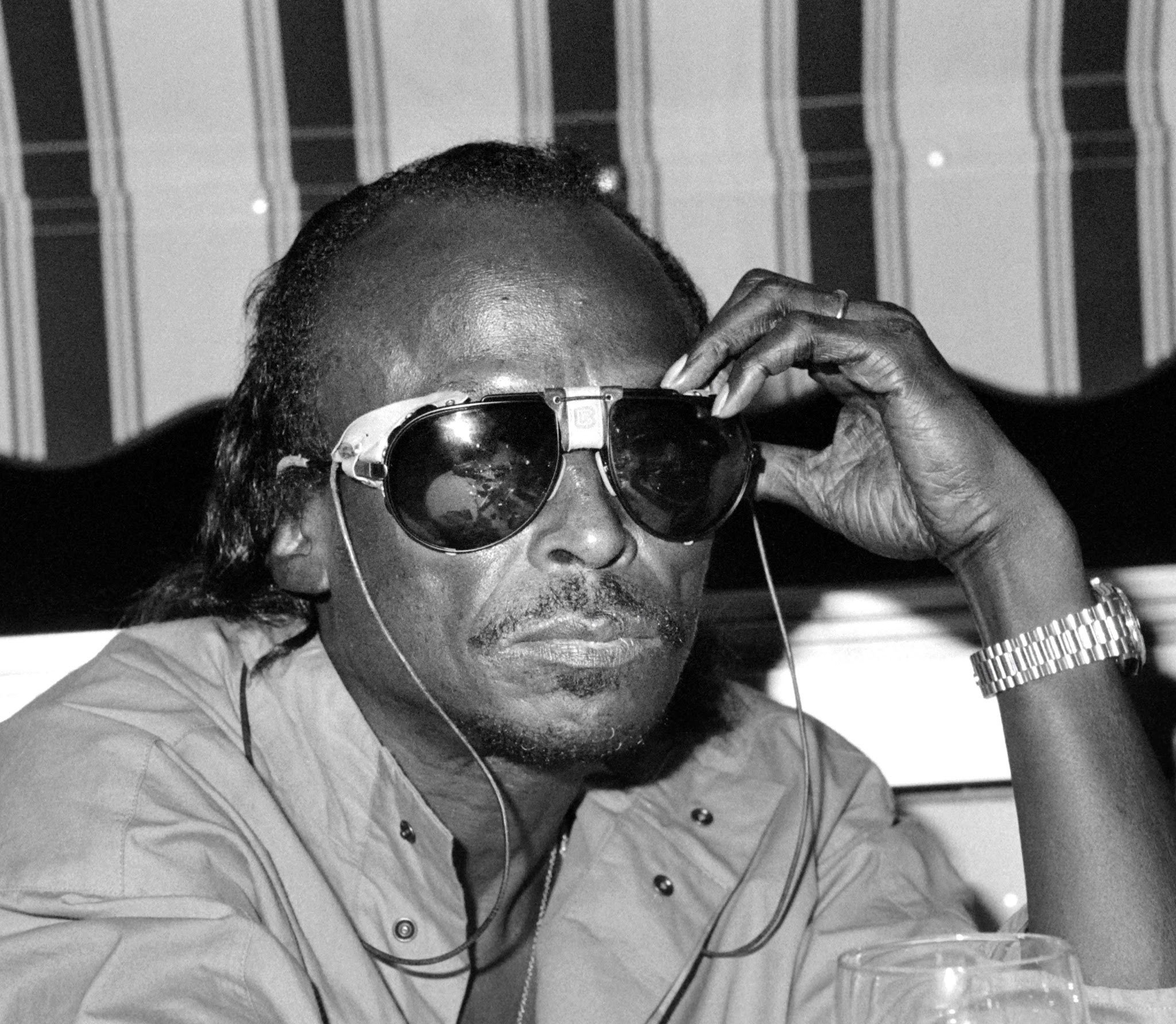 Switching to Rolex
Fast forward to the 1980s, and Davis switched watches completely. He traded in the Breitling for a yellow gold Rolex Day-Date on a President bracelet set with diamonds on the dial and the bezel. Although it makes a completely different statement than his previous watches, it once again perfectly fit his overall style during the over-the-top 1980s. Davis, by that time, was a jazz icon that enjoyed great fame and fortune.  A diamond-encrusted Day-Date backed up his legendary status as well as fitting the time.
During his final years performing, Davis wore his Rolex almost religiously. But the peculiar style choice that Miles Davis will always be known for is wearing his Breitling and Jaeger Le-Coultre on these oversized Bund-style straps. While definitely a style statement fitting of the time, it's not something we often see today, just like Agnelli's choice to wear the watch over the cuff.
3. Steve McQueen
Steve McQueen needs to be on any style-related list, period. I am just one of the many people out there, that admires the style of McQueen. Or maybe it's better to say, all the looks that he managed to pull off so effortlessly. McQueen is one of those people that could wear anything and make it look cool. The first time I truly felt the impact of his style was ten years ago when I saw the special 2011 Barbour Steve McQueen capsule collection to celebrate the 75th anniversary of the "International" motorcycle clothing range from up close.
It wasn't so much about wanting to buy quite a few of the items — I can't believe I didn't buy that purple knit cardigan— as it was the perfect way to feel how influential McQueen was in popularizing styles that we still love to this day. But that motorcycle look was only one of the styles that he was able to pull off brilliantly. McQueen's ability to pull off any style was most prevalent in his acting roles. Whether you put him in a suit as a millionaire like in The Thomas Crown Affair or chinos and a sweater like in The Great Escape, McQueen made it all look great. The most important thing is that the clothes did not define him. McQueen made the clothes look cool rather than the other way around.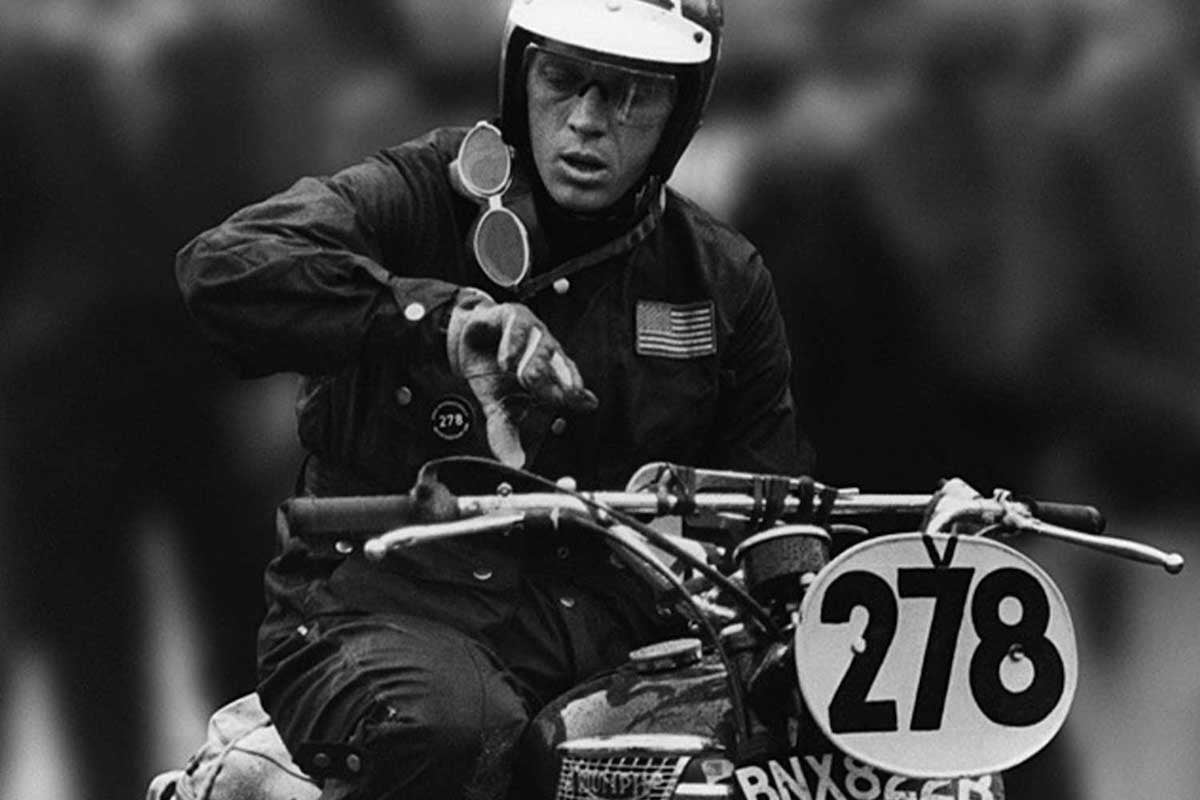 McQueen and his watches
When it comes to watches, there is McQueen's miraculous connection to the Rolex Explorer II ref. 1655 that never actually existed. It's commonly known that McQueen did not own or wear that particular watch. Still, somehow it keeps popping up with his name attached to it. In reality, he actually wore a different Rolex, but we'll get to that later.
There is another watch that I would like to start with. McQueen's style when it comes to watches was first defined by his Hanhart 417 ES chronograph. He was first photographed wearing this chronograph on his wrist in a photoshoot for Life magazine in 1963, sitting on a couch with his gun (see above). But the watch stood out to a larger crowd when McQueen participated in the 1964 ISDT, the ultimate race in enduro motorcycle racing. The 417 ES was introduced as a pilot's chronograph and is known to have been the first pilot's chronograph for the German armed forces.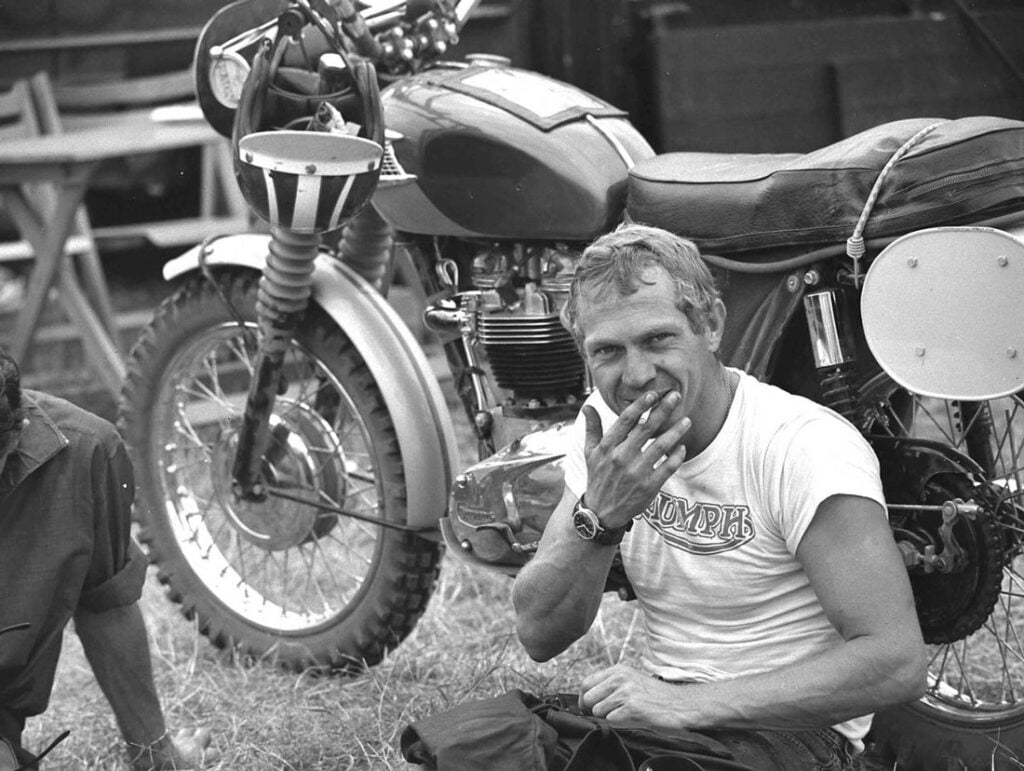 Making the Bund strap famous
Up until its re-introduction only last year, it is believed that only 500 pieces were made of the 417 and 417 ES. The 417 is the chromed brass version, and the 417 ES is the stainless steel version. It is believed that he actually owned the stainless steel version of the watch. McQueen wore the black dial watch on a brown pigskin Bund strap that he made famous. Seeing the re-issue of the original 417 ES made me realize how nice that watch actually looks. It is
While I am definitely not a fan of Bund straps at all, on the Hanhart, it totally fits the style of a historical pilot's watch. Hanhart re-introduced the classic 417 ES last year, and the iconic watch with that strap is the only way to go. It makes it the only watch I would ever consider buying on a Bund strap. McQueen also wore the watch in the movie The War Lover that takes place during World War II. As they watch was not introduced until long after WWII, it's one of those funny historical mistakes that plenty of movies suffer from.
From private collection to the big screen
Another watch that McQueen wore in the sixties is the Le Coultre Memovox. There is not a whole lot known about the story behind McQueen's watch or what specific model he wore. The first images of McQueen wearing the watch date back to 1966. The Memovox also made its way to the big screen when he wore it in The Thomas Crown Affair in 1968. It makes a brief appearance in the movie alongside a couple of other watches.
In the first scene of the movie, Thomas Crown checks his gold Patek Philippe pocket watch. Another watch that can be spotted around the wrist of Thomas Crown is a Cartier Tank Cintrée. Both the Cartier and the Patek Philippe fit the character McQueen played perfectly. But both of these watches were not his own. The movie was also a break from the usual rebellious characters he would play in movies. Instead, in his portrayal of a gentleman millionaire these timepieces fit perfectly. The character, his clothing style, and the watches all showed that McQueen could pull off any acting role and any style and made it look cool.
An iconic military-style watch
In the 1968 classic, Bullit, Steve McQueen was wearing a completely different watch compared to the rather chic watches in The Thomas Crown Affair. In one of his most iconic roles, McQueen plays San Francisco cop Frank Bullitt. Bullitt's style is quite simply the coolest. The clothes, the Mustang GT 390 Fastback, and the Benrus "Bullitt" on his wrist contribute to this iconic role.
Not too long ago, I wrote an article about the best vintage pieces under €1,000. In it, I wanted to feature the military-style Benrus ref. 3061 that McQueen wore during the movie. For a long time, they were great finds for a very affordable price. But not anymore. Not only are they increasingly harder to find, but the civilian version of the original military watch goes for €1.5K–€2K nowadays. It's a lot of money for a simple watch. But it goes without saying that the king of cool's role in making that watch famous and therefore highly sought-after is crucial.
The iconic Heuer Monaco
The watch that will forever be tied to Steve McQueen is the Heuer Monaco he wore in Le Mans. As most of you will know, that watch was a prop for the movie, rather than a watch McQueen owned himself. There is a famous interview on Quill & Pad with the property master for the movie Don Nunley where he explains that McQueen chose the watch himself. A fun fact is that he wore the watch on his right wrist during the movie.
What I find amazing is that McQueen picked the watch himself out of a line-up of watches from Tissot, Omega, Bulova, Rolex, and Heuer. Initially, McQueen was interested in watches from Omega, but his character Michael Delaney had a Heuer patch on his racing suit. That eliminated all the other brands immediately and only left Heuer. The brand supplied four different chronographs, of which three looked pretty alike. McQueen decided to go for the most unusual of the four, and the rest is history.
A different Rolex
Later in life, McQueen switches to Rolex as his preferred brand of watches. As previously mentioned, McQueen was falsely tied to the Rolex Explorer II ref. 1655. In reality, McQueen owned both a Rolex Submariner ref. 5512 and a ref. 5513. He wore both in his acting roles as well as outside of acting. McQueen could be seen wearing the ref. 5512 for the first time in 1970 during one of the many races he participated in. He also wore the watch while filming the legendary movie Le Mans when the cameras weren't rolling and the Heuer was off the wrist. But that wasn't necessarily a choice, as prop master, Don Nunley explained. McQueen had a reputation for having sticky fingers, so after each scene, a prop assistant would take the watch from McQueen to make sure that it wouldn't disappear.
During the final ten years of his life, McQueen would wear his beloved Submariners a lot. He wore the ref. 5513 on set during the filming of the classic movie Papillon in 1973 (see above). Additionally, the Submariner can be seen in the classic movie The Towering Inferno that also features another style icon, Paul Newman. The last time we saw the Submariner ref. 5513 on-screen was during the movie The Hunter in 1980. McQueen, by that time, already had cancer that was caused by exposure to asbestos. McQueen passed away from a heart attack on November 7, 1980. The world lost a great actor and one of the biggest style icons the world has ever seen. His legacy, however, lives on forever.
Three style icons, three mentalities
There are plenty of style icons that we could discuss, of course. What makes these three icons stand out for me personally is their mentality. Gianni Agnelli didn't care about the stylistic rules and broke them pretty much every chance he got. While not many of his quirky choices have become standard practice, the fact that he did it makes it a lot more impactful for me. It's not about being right or wrong it's about being memorable. Miles Davis was able to perfectly show that style is so much more than just an image. It's an understanding and appreciation for the finer things in life and contributing to that with his own sense of style reflected in his music, clothing, and personality.
Steve McQueen, for me, shows that there is not just one style that defines a person. It's all about versatility and trying new things rather than sticking to what you already know. It's these different mentalities that make them the style icons they are for me. Their watches obviously play a vital part in that as well to myself and other watch fans. Although wearing a watch over the cuff of a shirt or wearing a watch on a Bund strap is not something that you will see me do anytime soon.
Which style icons and watches would you like me to cover next? Let me know in the comments down below. You never know, your pick might be featured in the next article!