Hands-on Suissemecanica SM8 Chrono Review
A couple of months ago I ran into Juliana Renoult, the co-founder and art director of Suissemecanica. I heard about these watches, I saw them on pictures, but I never saw one in the flesh. I was impressed and asked if I could have one for review. Not much later, a large box arrived with their Suissemecanica SM8 Chrono inside. Let's have a look.
Suissemecanica SM8 Chrono
There are niche brands that people tend to buy when they have their share of Rolex, IWC, Jaeger-LeCoultre, Panerai etc. watches. There are also people that want to be different and only buy brands that are out of the ordinary. Brands that fall in these categories are (for example) Linde Werdelin, Clerc, Benzinger and then there are of course a couple of independent watchmakers in an entirely different price bracket. Think Grönefeld, MB&F, Urwerk, MCT and so on. Anyway, I feel that Suissemecanica also falls into this category of alternatives to the ordinary. A watch for someone who has his Audemars Piguet and Rolex watches, or for someone who just wants to have one good watch and wants something out of the ordinary. A Suissemecanica suits the thoughts of both of these type of customers.
We chose to review the Suissemecanica SM8 Chrono. I love chronographs and the design appeals to me. It has an industrial (or technical) look, which I like, but without getting a boring technical watch that is purely offered on 'tech specs'. Born in 2010, in La Chaux-de-Fonds where many watch manufactures are located, Suissemecanica always strived for 100% Swiss Made production. A topic that has become 'hot' only till recently. Suissemecanica already had it covered.
Sliding Crowns Protector System
One of the first things your eyes will be drawn to is the crown protector. We've seen some awkward looking (patented) constructions from Panerai, U-Boat and Graham for example, but this sliding system (or Sliding Crowns Protector System as Suissemecanica refers to it) is something else. It feels incredibly solid and well-made, and it definitely protects the crowns and pusher from being damaged. You actually have to slide the crown protector system up or down in order to use the crown to set the inner bezels (diving and dual time) or to use the pusher for the chronograph. That's right, the Suissemecanica SM8 Chrono is on top of everything else, a mono-pusher chronograph.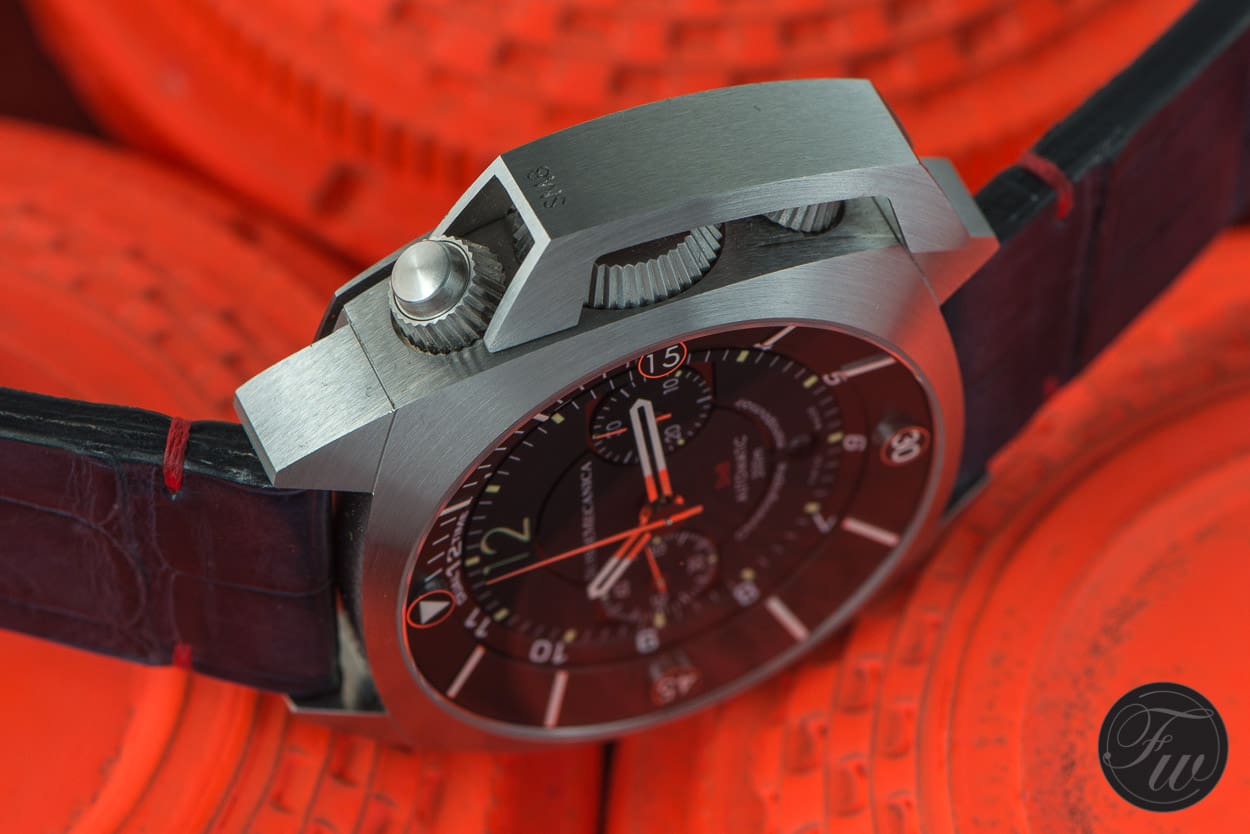 As you can see on the image above, the slider should be moved down to use the chronograph pusher to either start, stop or reset it. In this position, the crown (below the pusher) can be used to rotate the dual time bezel. It has to be moved up to use the crown for the inner diving bezel. The winding and setting crown can be used in any position.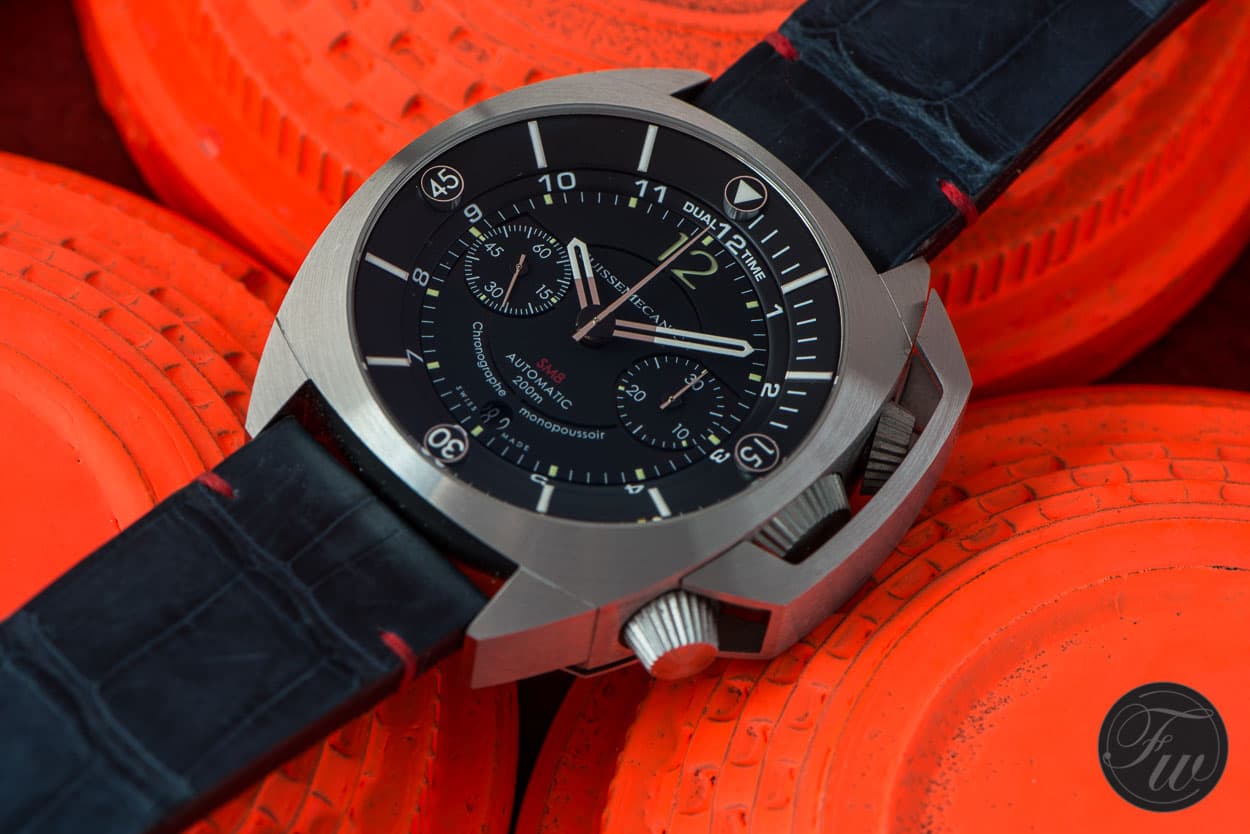 Caliber SM1-2022M Movement
Through the sapphire caseback, you can see the chronograph movement at work. This movement was signed by Valérien Jacquet, from the Concepto workshop in La Chaux-de-Fonds. As a Fratello Watches regular this might sound familiar and it does, as Linde Werdelin also uses movements from Concepto.
The black ruthenium rotor, polished angles and plate and bridges in Black Gold with a sandblast finish are very attractive to look at.
On the caseback, you'll also find other relevant (and less relevant) information about the material of the case, brand name, water resistance (200 meters!) and its unique number. Only 50 of these watches are made. There are another 50 for the non-chronograph Suissemecanica SM8.
On The Wrist
In the end, it is about how it wears on the wrist and how the watch is being perceived. About the last thing I can be really clear. This is a high-end watch, no doubt. The finish on the case, dial, sliding system, pusher, crowns etc. It is all done in a very impressive way. The movement might be not be in-house manufactured, but Concepto did a terrific job and the finish looks good. I am by no means a watchmaker, but the watch performed well and I like how they finished the movement (aesthetics). You just feel that this is an expensive watch and that it comes with a price tag that might does more damage to your bank account than planned for. And that is not a bad thing actually, as long as the quality is there. The watch feels like a solid piece, like you are used from a Audemars Piguet Royal Oak Offshore for example.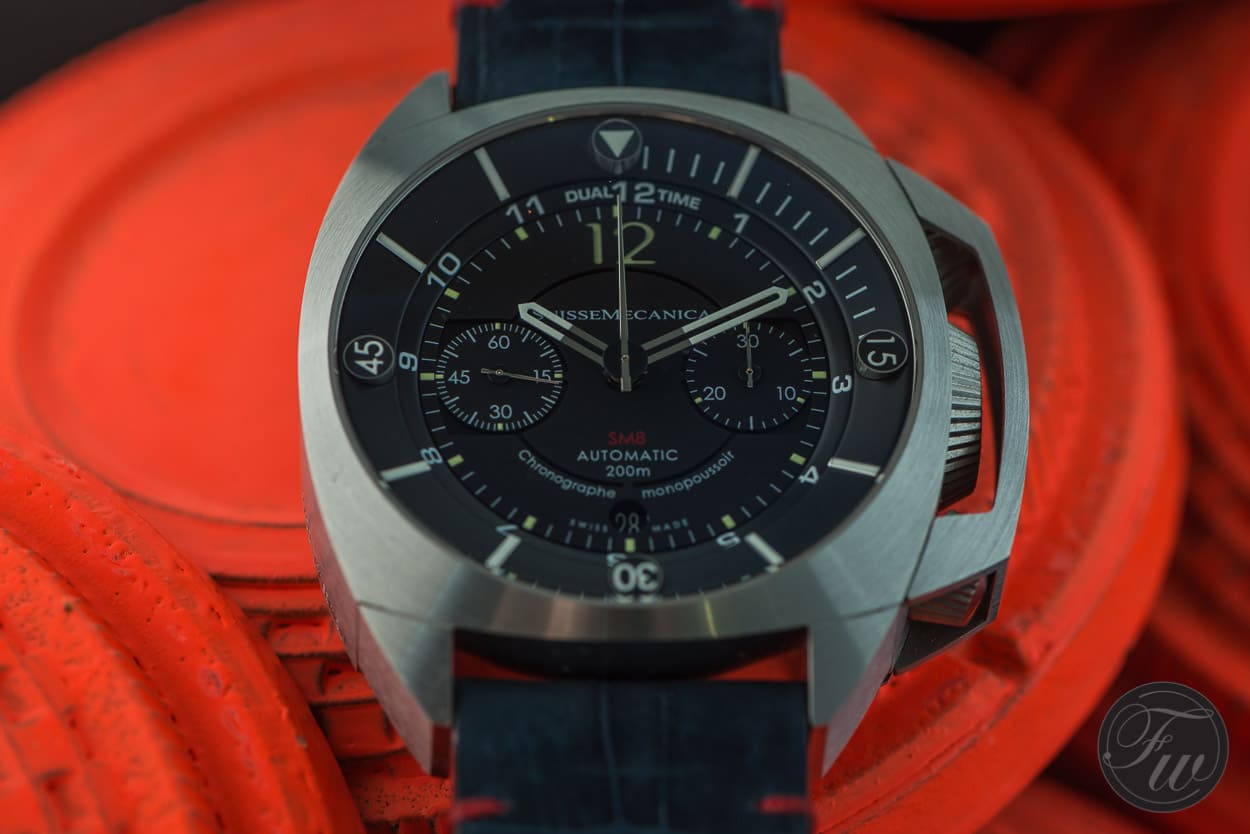 How it wears on the wrist? To be honest I am not that used to wearing large and heavy pieces. I have to get used to them. But I had this watch for quite a while so I could really give it a spin. The Suissemecanica SM8 Chrono is a 43mm diameter watch, but with the Sliding Crowns Protector System it increases up to 48.5mm. And the crown protector is quite large (long). So yeah, it is a big watch, don't make any mistakes about that.
It feels good though, especially when you get used to the weight and dimensions of the watch. It is a 'pro' that it comes on a high quality leather strap, and not on a bracelet. That would have definitely negatively influenced the comfort of the SM8 Chrono on my wrist. The calf strap is comfortable and rather soft and it comes on a signed buckle.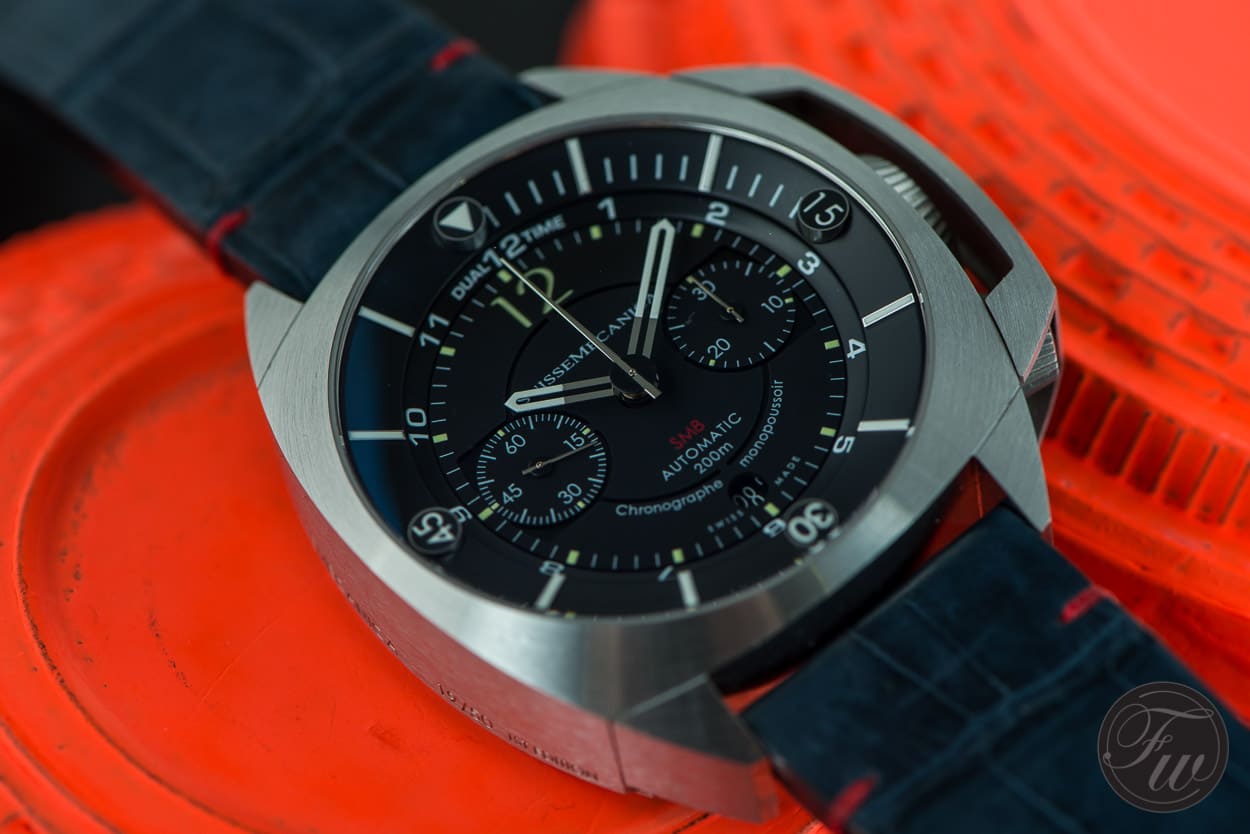 The dial is perfectly readable, also due to the use of Super-LumiNova. The hands are quite large – but fit the overall design – and I just love the two register chronograph lay-out. The dial consists of multiple layers, which gives it a nice 3D effect, or depth, as you wish.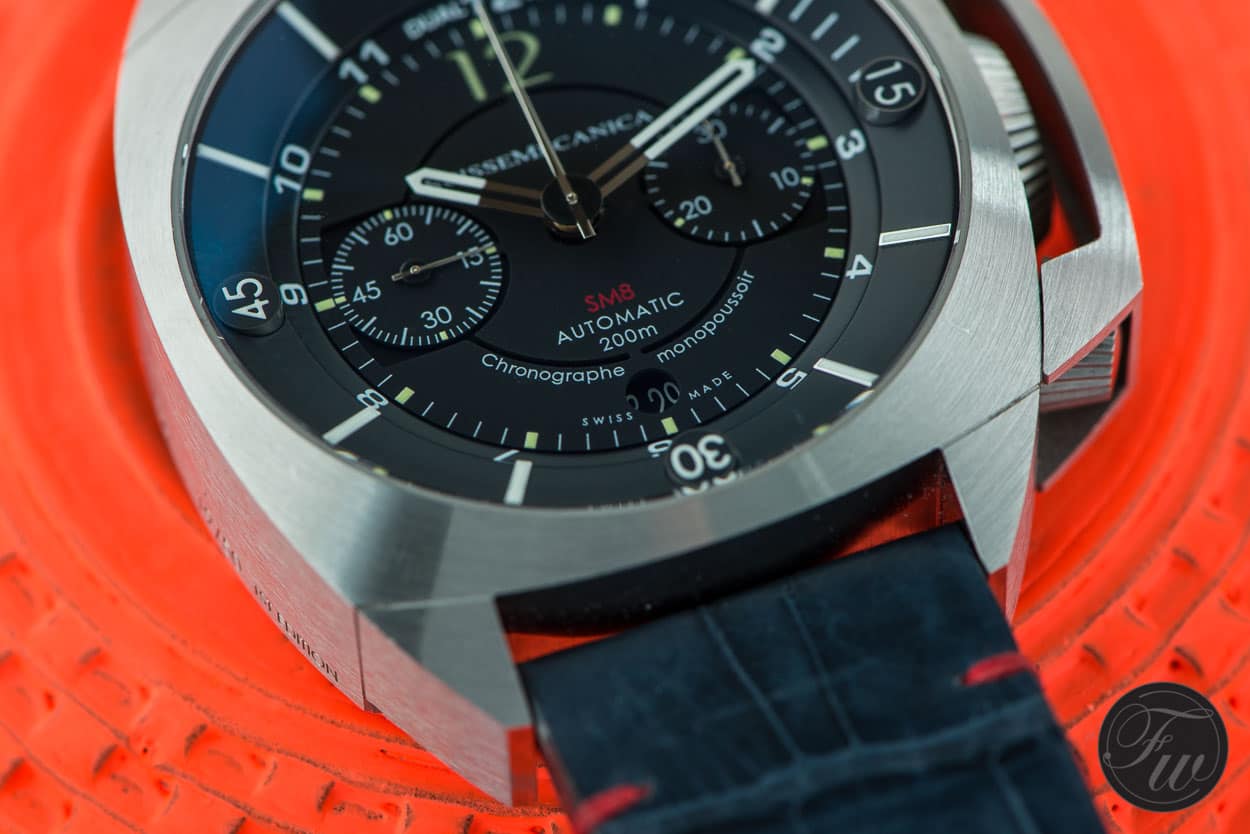 This Suissemecanica SM8 Chrono comes in a couple of variations, in total summing up to 50 pieces only. It is not a cheap watch as I wrote above, but nor should it be. It breathes quality and besides that, you can be sure you won't bump into someone else who owns this watch. Unless you go out there and looking for a fellow owner on Instagram or forums for example. If that exclusivity is important to you, and you like well-build sports watches, Suissemecanica could be something for you.
Retail price of the Suissemecanica SM8 Chrono is 16.600 CHF. The non-chrono version retails for 14.500 CHF.
More information via Suissemecanica on-line.