Summer Showdown: Seiko 5 SNK805 Vs. Timex MK1 Mechanical
Embracing the upcoming heat on a budget
Are you ready? I can't hear you! I said, are you ready?!? The temperatures are climbing, doors are opening, and planes are starting to fly. Summer is on the way and there's nothing better than an inexpensive watch match-up to set the scene! This time, we step away from dive watches and focus on military inspired watches. It's the Timex MK1 Mechanical versus a longstanding favorite in the Seiko 5 SNK805.
I love these throwdown articles! In fact, one of my earliest Summer Special articles sat around as a Fratello favorite for quite some time. That article showed the venerable Seiko SKX007 alongside the equally beloved Citizen NY0040. Today, we switch up the brands a bit, but only a bit. Seiko enters the ring once again with its "cheap as chips" SNK805 field watch that has some military vibes. Timex is a brand that we're still not as used to discussing, but they're here now and a righteous force to be reckoned with in the under €200 category. The MK1 Mechanical has been a runaway hit since it entered the market in 2020, so it deserves a bit of a challenge. Can the old guard still match up with the newer kid on the block?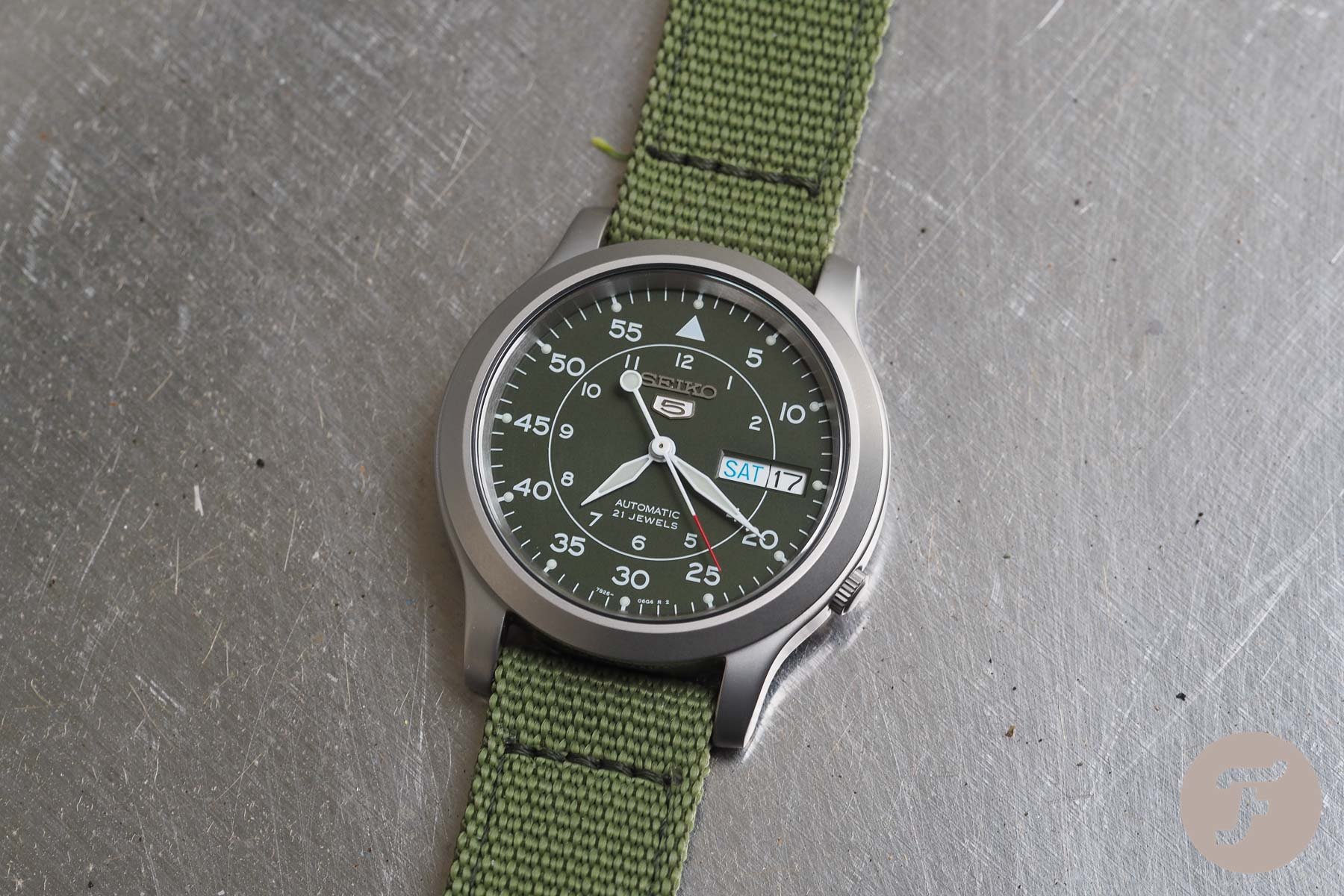 The Seiko 5 SNK805
I have to admit that even though the Seiko 5 SNK805 has been around for over a decade, I only just acquired one. The acquisition was a bit of an unexpected dose of good fortune, and I was happy to add one to my collection. More on that later, though… The SNK805 is a 37mm steel field watch with an automatic 7S26 movement. Those familiar with Seiko will note that this is the same movement used in the departed SKX dive watches. This translates to a pretty simple movement that lacks hand winding and hacking. It does, however, have a quickset day and date. Accuracy is nothing to write home about with -35 to +45 seconds per day, but the upshot is a reliably inaccurate experience if that makes any sense!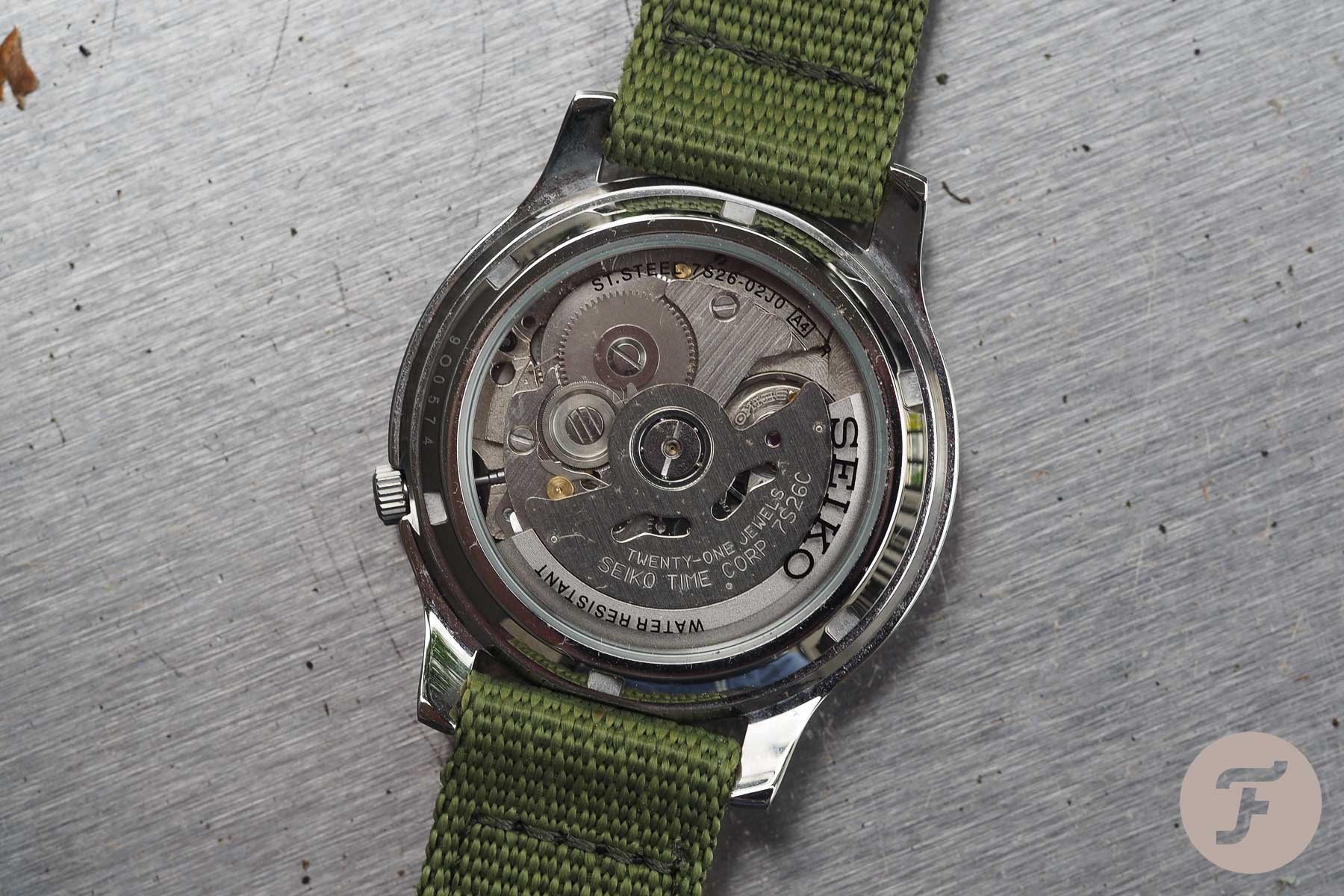 A display case back to bring in the newbies
The 12mm thick Seiko 5 SNK805 has 30 meters of water resistance and, oddly enough, a see-through case back. I'd normally question something like this on a watch with such a utilitarian-looking movement, but I think it actually helps indoctrinate a lot of folks who are new to mechanical pieces. In order to keep things looking rugged, Seiko pairs a bead-blasted case to a two-piece green nylon strap with metal hardware. The strap has a strip of synthetic leather around the pinholes to aid longevity.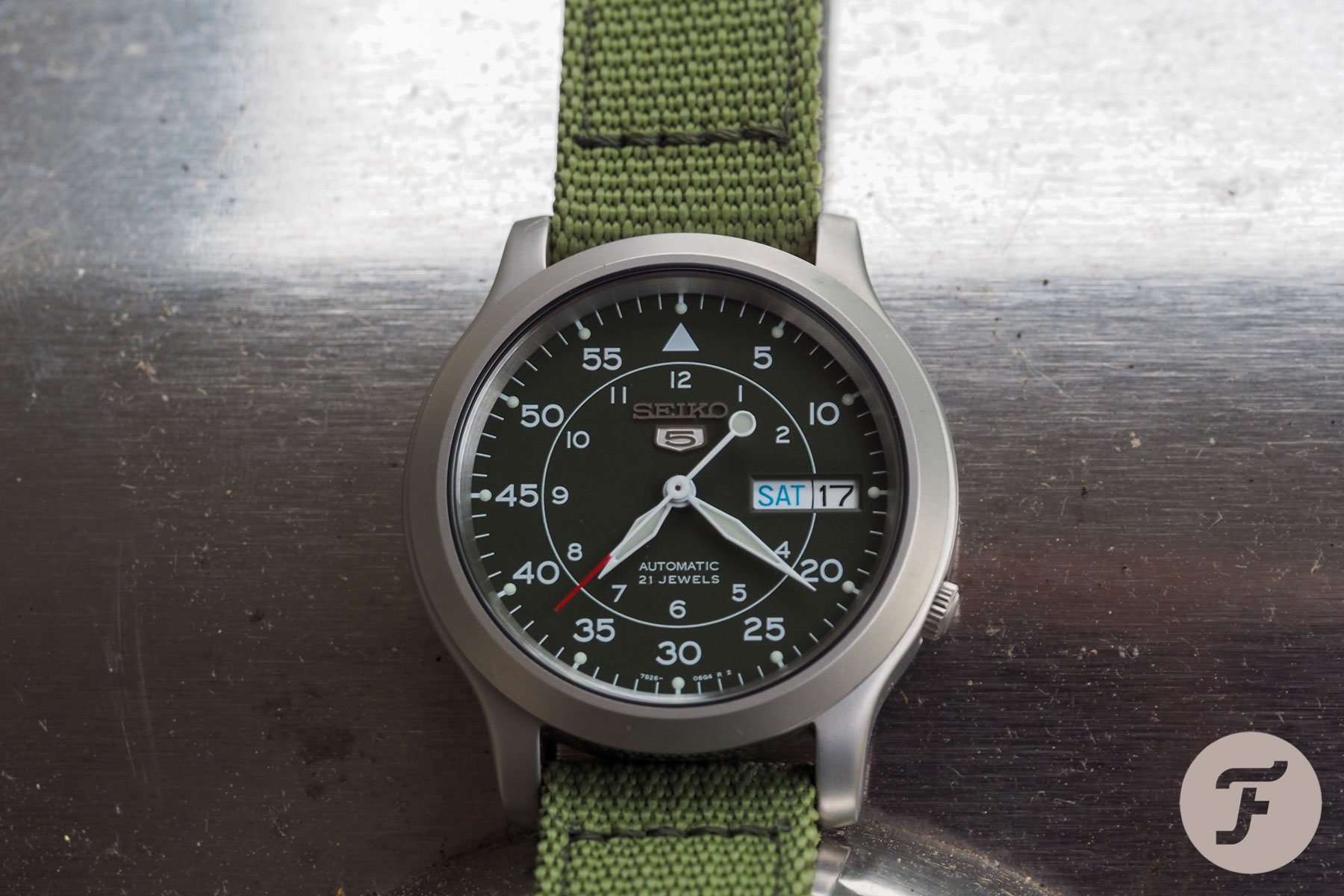 A touch of B-Uhr in the design
Looks-wise, the Seiko 5 SNK805 has a very military look. Underneath a flat Hardlex mineral crystal, the dial takes on a bit of a mini German B-Uhr guise with the minutes taking on greater importance than the hours. The hands are bold lumed affairs and the second's hand is arrow-tipped with lume as well. Everything here is printed, albeit in a nice way, aside from the old "5" logo that sits below 12:00. Honestly, for such an entry-level watch, the design is super clean and pretty hard to dislike. It shows us that low price mechanical watches do not have to be cheap-looking. It also shows us that seriously expensive watches can often learn a thing or two about design.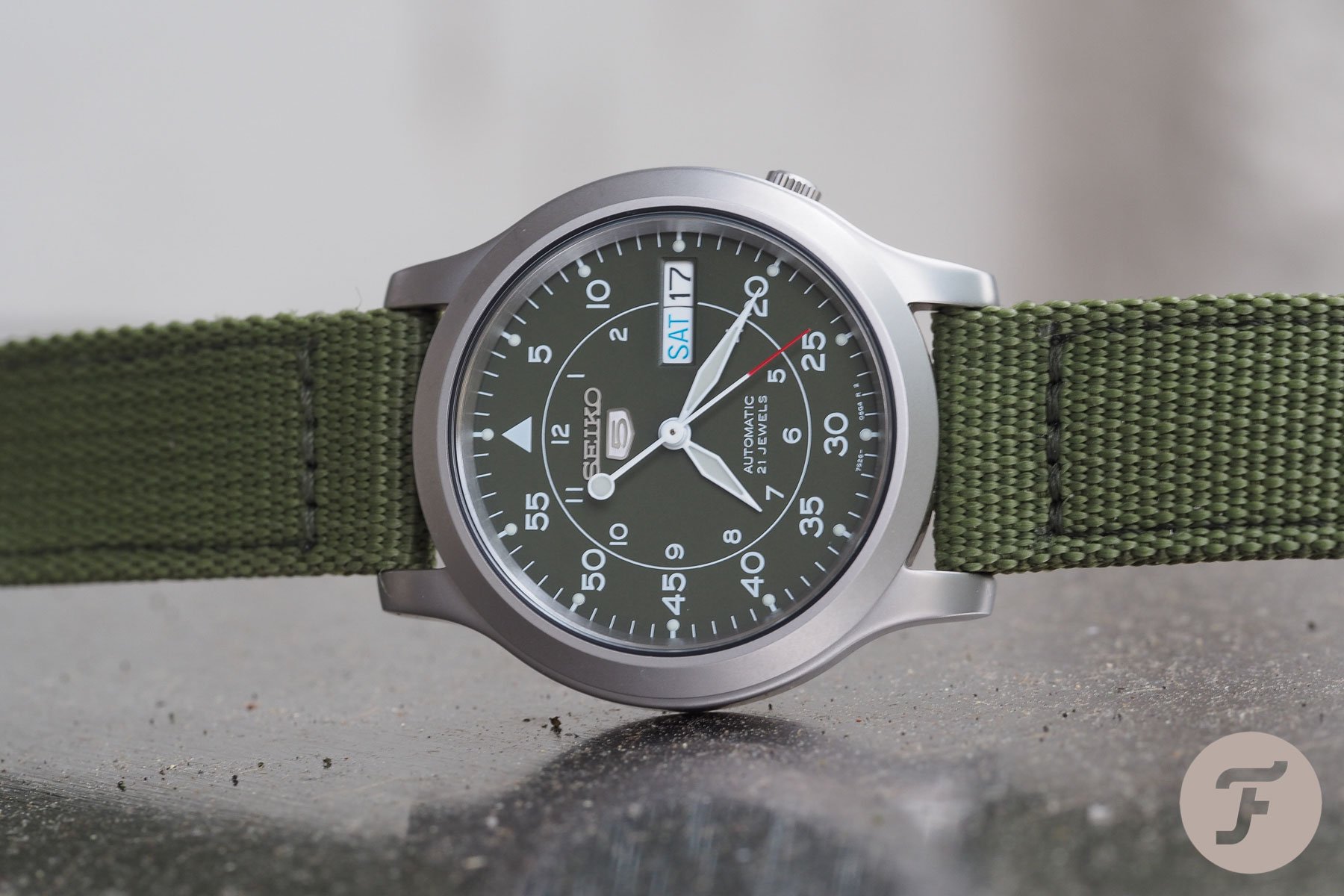 This watch is also on the way out
The Seiko 5 SNK805 is a bit of a funny story these days in the same way as the SKX divers during their final days. On some recent posts on the Seiko 5 Sports Instagram feed, the brand has announced new versions of these watches (SRPG33K1) with the 4R36 movement and, sadly, a crown at 3:00. They look good, to be honest, but they're larger at 40mm and prices are somewhere just shy of €300 or $300. So, just like with the Seiko 5 Sports "dive-inspired" pieces, the old SNK is "moving on up." The nice thing about the SNK805 and its brethren (there are several other colors to choose from) are still available at pretty nice prices. The days of $55 deals on Amazon in the USA or long since over, but I still see them on Amazon for $85 and Jomashop has them for around $100. That's cheap money for a really wearable watch that, along with the SKX, helped introduce many of us to this addictive hobby.
My personal thoughts on the Seiko 5 SNK805 are overwhelmingly positive. This is a lightweight, yet durable watch that is incredibly comfortable, contains effortless style, and somehow transcends a lot of different price levels. It fits within that weird window of prior generation Seiko watches that somehow get a knowing nod from Seiko-philes and high-end watch wearers alike.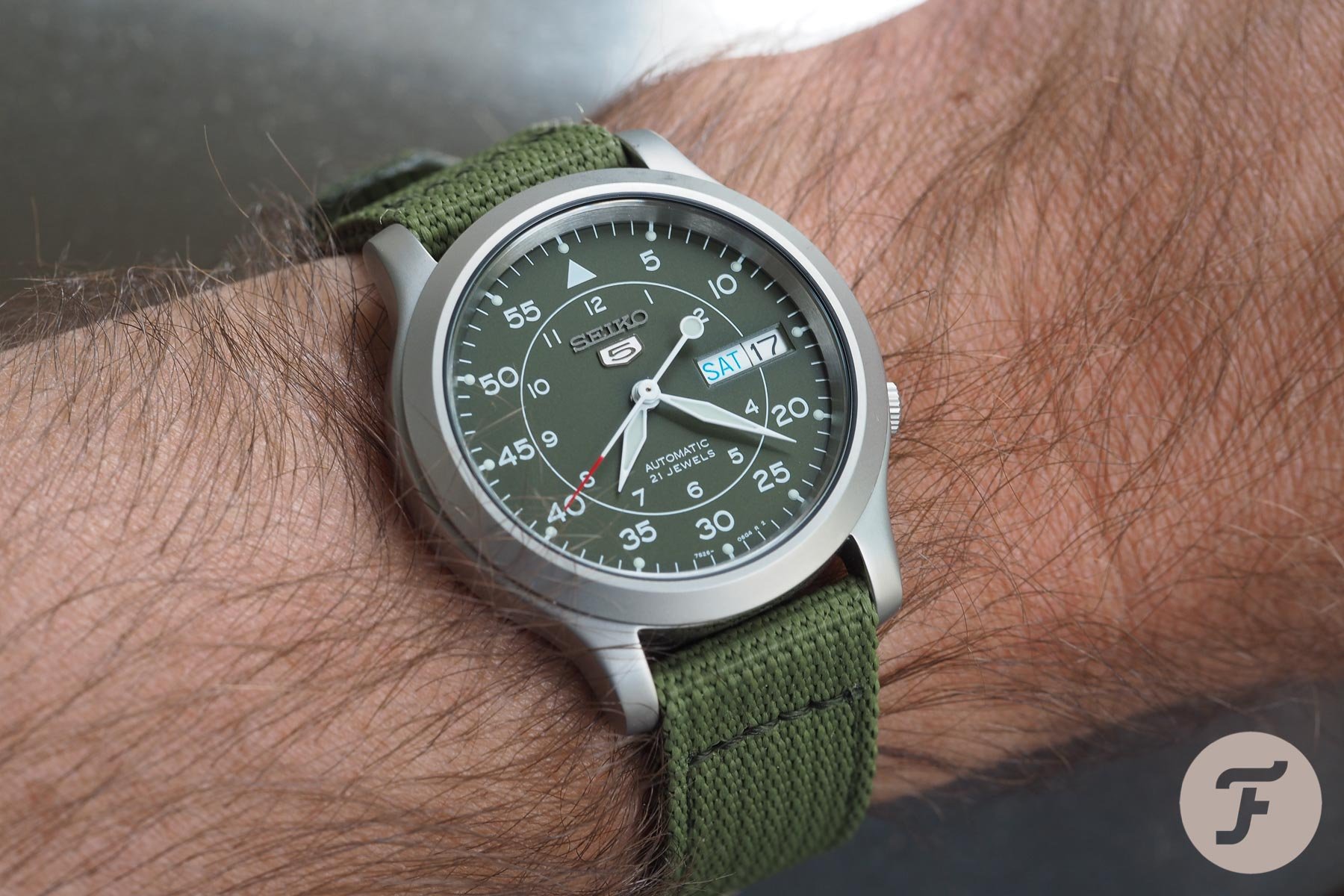 A great, lightweight watch in the heat
As far as practicality, I was in Florida recently and this is the kind of watch one desires in that type of heat because it can deal with everything from an ad-hoc jump in the pool or a halfway decent lunch outing. Also, the 18mm strap is actually really good and it dries quickly. Yes, I liked wearing it and if you're at all inclined, I'd seriously recommend snatching one up while you still can.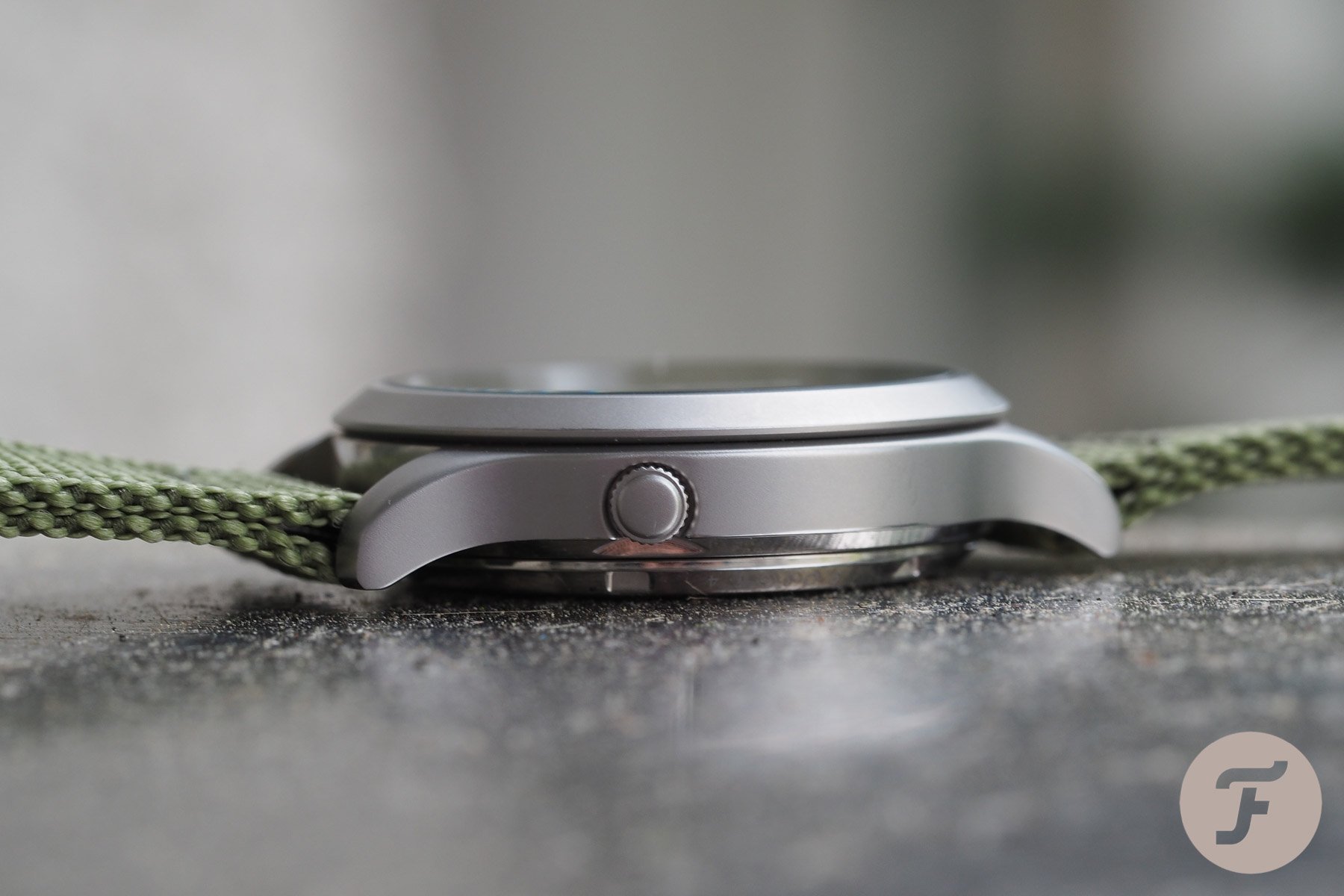 The lack of hand-winding made the watch disposable
I mentioned that I came into the Seiko 5 SNK805 unexpectedly. You see, my Dad was wearing a 20-year-old Benrus manual wind military reissue watch on most days to the gym, etc. I don't know if that watch quit or not, but he decided to buy a more modern corollary. After all my rambling about Seiko, he bought the SNK805. However, he did not like it. He hated the lack of hand winding and I guess his activities weren't always active enough to keep the watch running. So, he put the watch aside and handed it over on my last visit. Putting it aside earlier this year turned out to be a pretty decision in the end because something else entered the fray. That something else was and is the Timex MK1 Mechanical I bought him for Christmas.
The Timex MK1 Mechanical
You don't need to head back too far in the Fratello files to find my review of the Timex MK1 Mechanical. I wrote it just before the end of 2020 (good riddance on a high note, I guess) and within just a few days it entered the top 10 as far as most-read articles of 2020. To say that this watch has been popular and that you were interested would be an understatement.
The Timex MK1 Mechanical came onto the market in 2020 and it has lived in a constant state of sold out, back in stock, and sold-out status ever since. This 36mm steel has an acyclic crystal and brings Vietnam-era military looks. If it looks familiar, it follows in the path of a longtime modern quartz edition. The Mechanical, however, brought something that makes us watch geeks salivate: a manual wind movement. With a move like this, more and more people are now celebrating Timex as the answer to Seiko and its continual move up the food chain.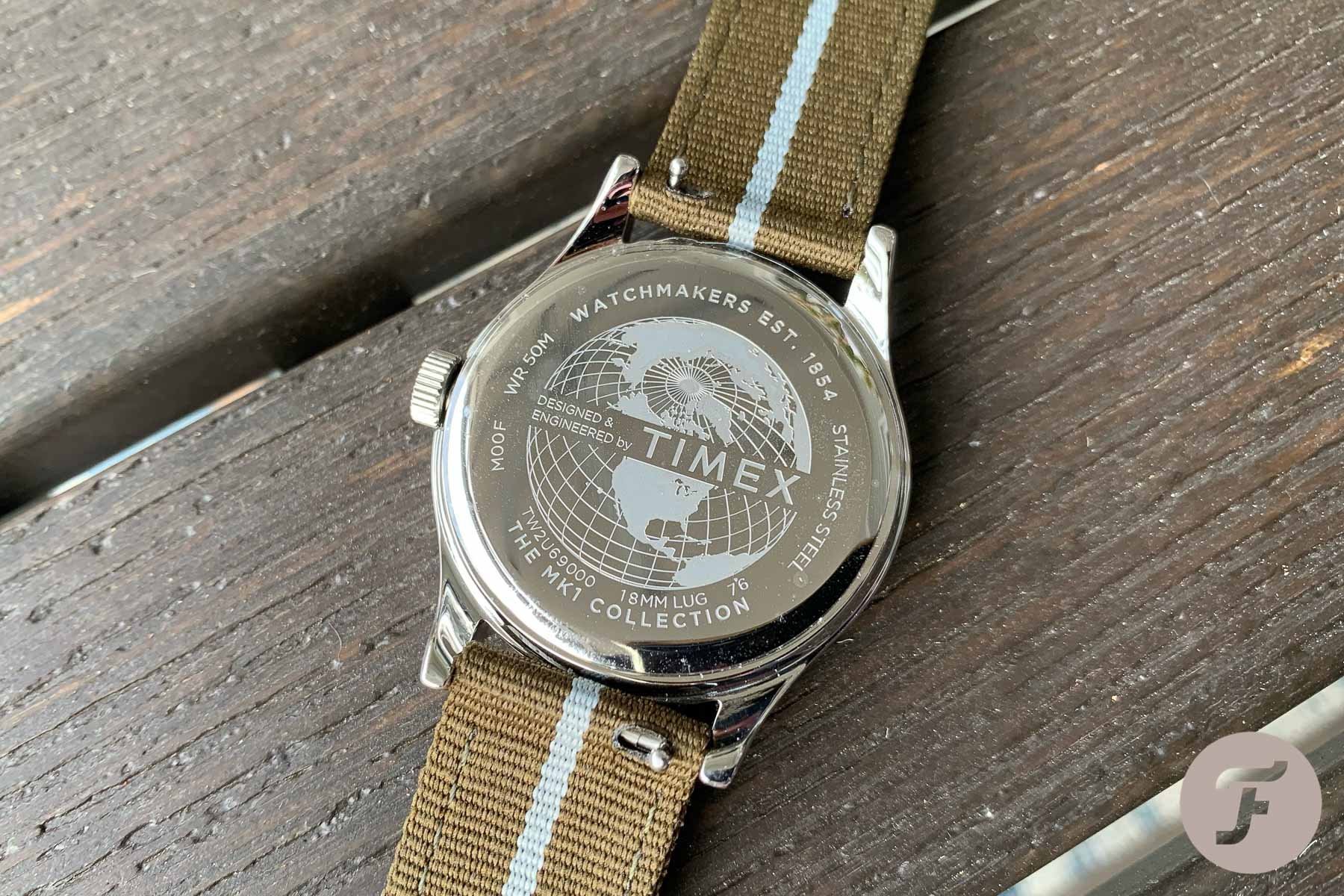 More expensive than the Seiko, but still affordable
I say that because the Timex MK1 Mechanical is pretty darn affordable. Yes, it has a retail price of $185, but Timex runs sales as often as an American furniture or luggage shop. Translation: all day, every day, and twice on Sunday. Case in point: I was able to pick up two of these prior to Christmas for 30% off including free shipping.
Now, some critics call out the nebulous description of the manual wind movement in the MK1 Mechanical. We know that it is a 20 jewel Seagull movement from China and we also know that it's pretty darn reliable. Sure, some comments on t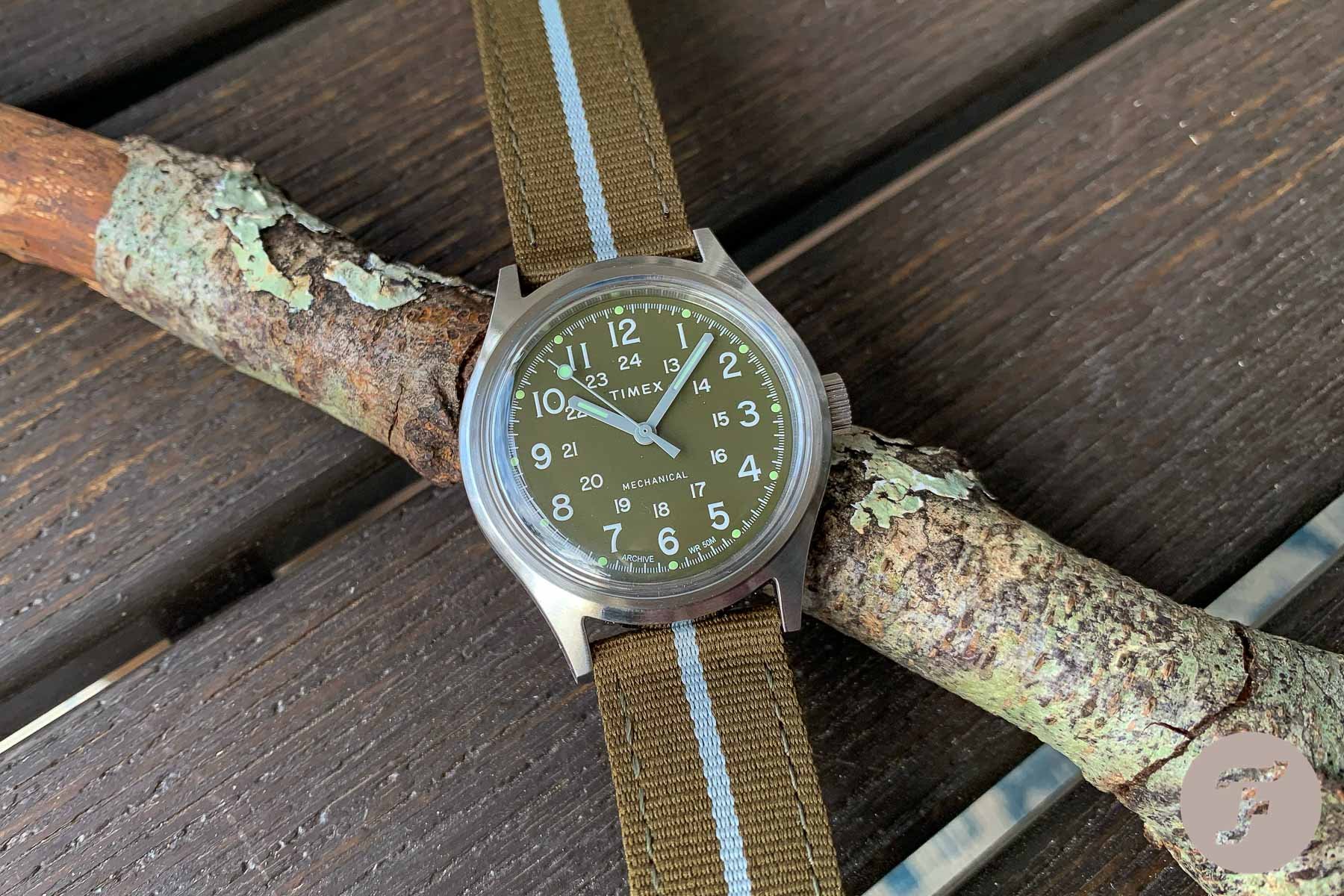 he Timex site are negative, but neither my Dad nor I have had any issues. And trust me, he wears his all the time and puts it to the test.
Strong military vibes
Regarding the looks of the Timex MK1 Mechanical, it has a classic '60s to '80s military vibe. In my view, this more faithful look makes it a little less versatile than the Seiko. It's more casual and tool-looking, but I don't think that would stop me from wearing it wherever during the Summer. Like the SNK805, the Timex also uses a two-piece 18mm nylon strap. With the MK1, though, there's a nice stripe down the center that feels like a classy touch. The strap is also seriously comfortable, and I see no reason to swap it out for something else.
Detail-wise, the black Timex dial is every bit as good as the Seiko 5. There's a lot of printing here too and it all seems to be sharp and crisp. The lume, however, is not quite up to Seiko levels. Then again, just about every watch company would lose a lume battle to Seiko. The casework on the Timex suffers just a touch at the lower edges and this is where the reinvigorated brand still has some work to do if they wish to take on the king of cheap and cheerful. It's a touch of waviness, which points to something in the case stamping process and subsequent finishing work. Is it a reason not to buy the watch? Of course not because this area hugs the wrist and goes undetected.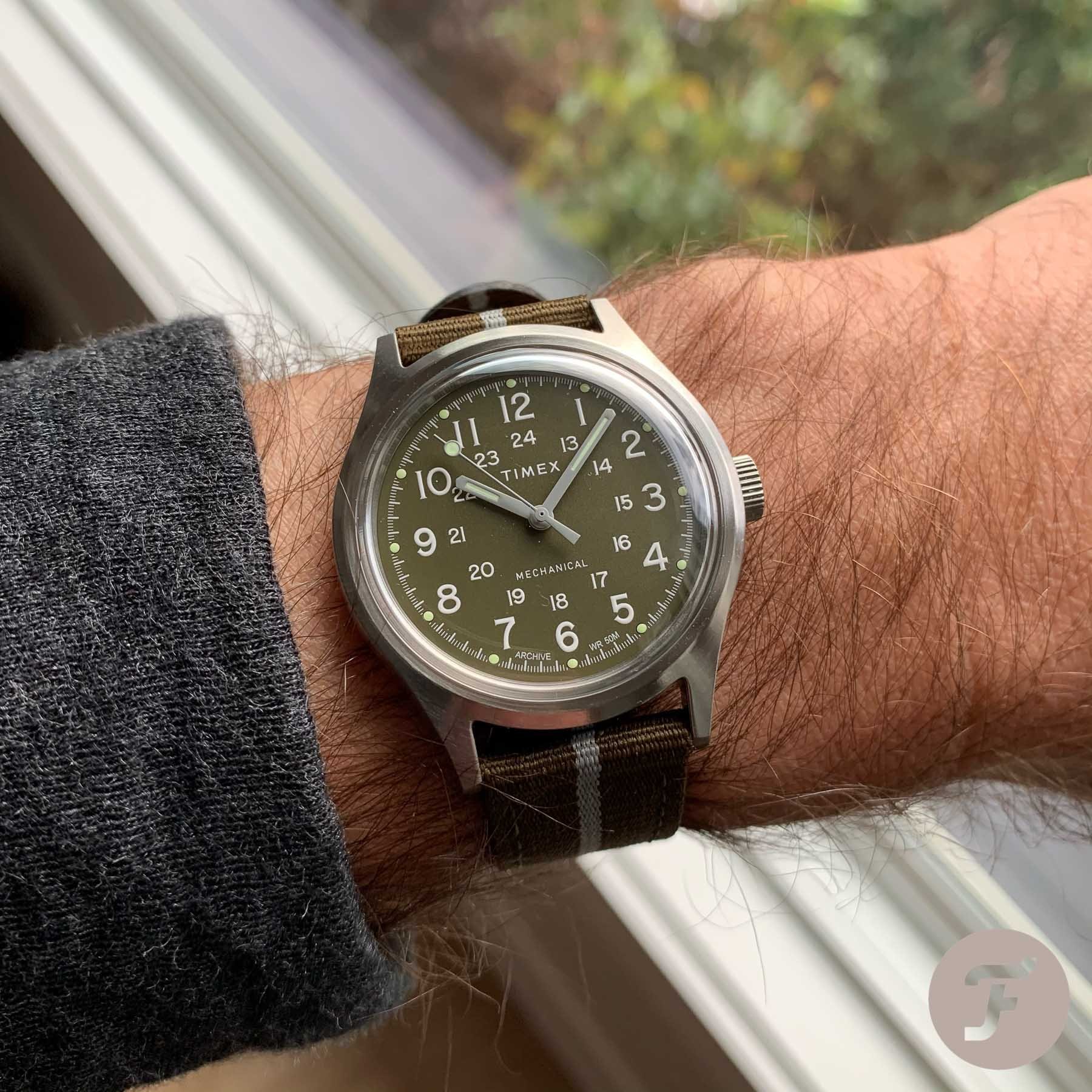 Timex upped its cred level with the MK1
Timex deserves a lot of credit for making the MK1 Mechanical because it answers a real ask from a lot of watch collectors. The fact that we have a cool, military-inspired, and manual wind watch for under €200 makes me realize that the watch world listens every so often. Much like the Seiko, the Timex is lightweight, easy to love, and really nice looking.
What do you think? The Seiko or the Timex?
In the end, though, which would you take? Sure, you can go based on price alone and rock the Seiko 5 SNK805, but I don't think we should let €70-80 be the deciding factor. To me, looks are a factor along with movement choice. What say you?
Seiko 5 SNK805 Vs. Timex MK1 Mechanical