Summer Special: 60's Vintage Diver Shootout Part 2
And…we're back with part 2 of our Summer Special: 60's Vintage Diver Shootout featuring four archetypal watches from brands that are still here today. To recap, in the first episode, we provided a rundown on the specs of our combatants while providing a little flavor on each watch's history. The frontrunners, in most minds would clearly be either the Rolex "Red" Submariner Date or the Omega Seamaster 300 "Big Triangle", two classics that tend to find themselves at the tops of many collector's want lists. The other horses in this race may come off as long shots, but both the Doxa 300 Searambler and the Seiko 6159 Professional bring their own unique merits to the derby. Let's walk through the particulars and see if we conclude with a decisive victor at the end. In no particular order, let's get going…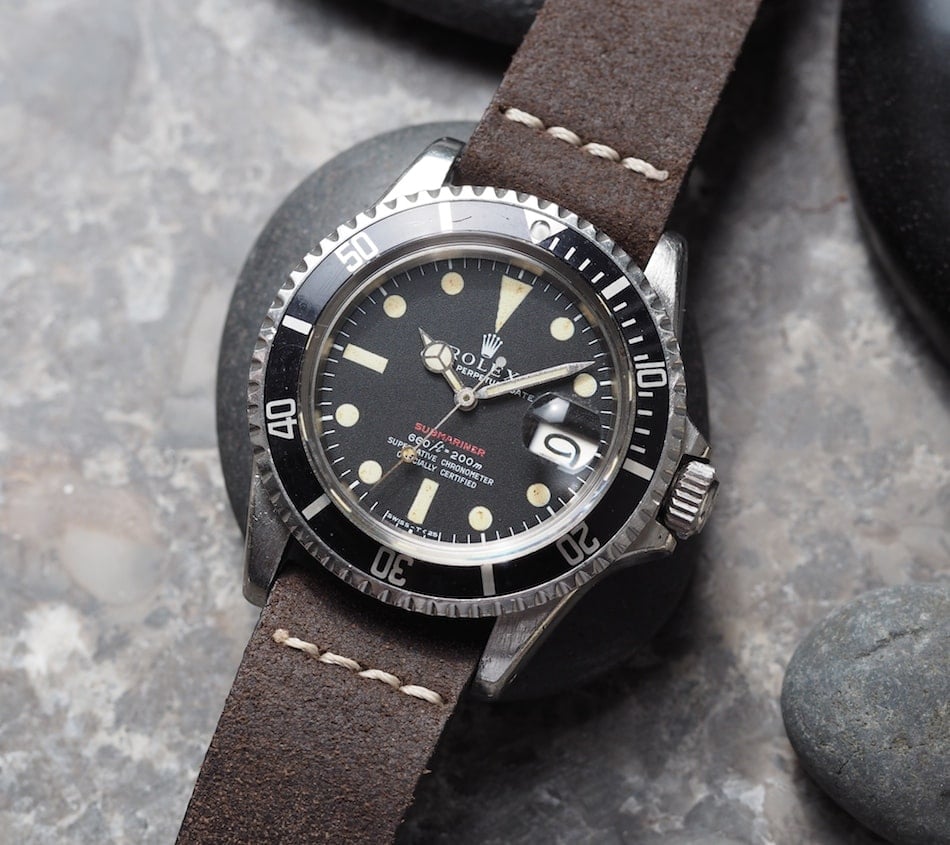 The Rolex Red Submariner
From the "I don't know anything about watches" perspective or even the "I know watches and check them out on pedestrians from across the street" viewpoint, there's no case design more iconic than that of the Rolex Oyster. Adding a turning bezel possibly even makes it more noticeable and that's what we have here with the Rolex Submariner. It's ironic that every other watch featured in this competition contains a far more elaborate design, but somehow it's always the Rolex that comes to mind when thinking of bank vault-like strength. Credit thick, strong looking lugs and crown guards surrounding a massive screw-down crown for a lot of the conceived notions. But Rolex backs it up because that crown locks down with authority and there's little to no slop. Although it's on the lower side of the water resistance ratings in our competition at 200M, this watch feels like it could do the job. From a finishing perspective, it's workmanlike, but not cheap. This carries through to case back that's completely unadorned. Finally, when viewed from its side, this version contains a wildly thick "top hat" acrylic crystal that brings images of submersibles to mind. It's easily the coolest crystal of the bunch.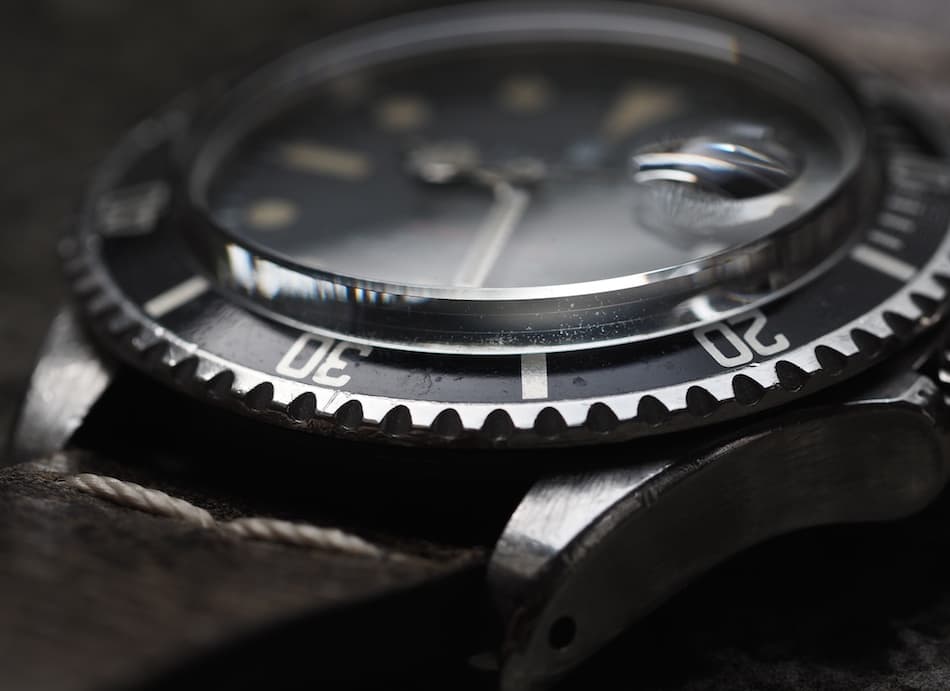 The bezel? It absolutely looks the business and the fact that Rolex hasn't deviated at all in its design throughout time makes one think that it's perfect, but is it? On early Subs like this, the bezel is a bi-directional friction fit without clicks. To be honest, I've never found a Sub bezel to be a particularly easy piece of kit to use. Perhaps it's because they get gunked up underneath, but to me the scalloped knurling is too shallow and not always easy to grip. When one's hands are wet or at all oily, it only exacerbates things. On the other hand, there's little fear of the bezel getting accidentally bumped. The piece uses an aluminum inlaid standard 0-60 minute counter with numbers every 10 minutes, major hash marks for the 5 minutes between and individual minute hashes for the first 15 minutes. A tritium lume-filled pip sits inside an arrow at 12:00. Also, and I am not a diver, some complain about the Sub bezel's lack of single minute markings on the aluminum insert. I get that, but something tells me that if you're truly counting on every last minute in your tank, you've got bigger issues at hand.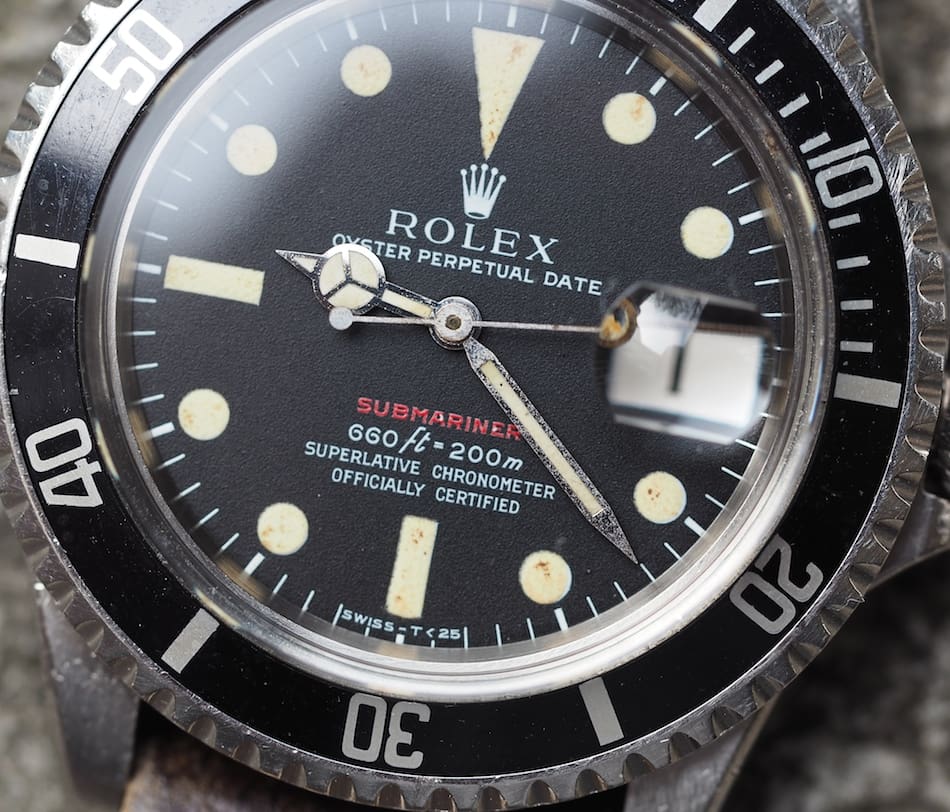 As far as the dial is concerned, the Red Sub, or any Sub for that matter, rates up there with watches like the Speedmaster as amongst the most recognizable in all of watches. As far as legibility, it's textbook with its bold lume indices against a matte black background. The same can be said about the hands with the their simple, but functional design including the well-known "Mercedes" hour hand. Even the inclusion of a date window doesn't bother me on this Sub because it's become near synonymous with the bulk of Subs that are running around today. The Red Sub is all business and it does it well.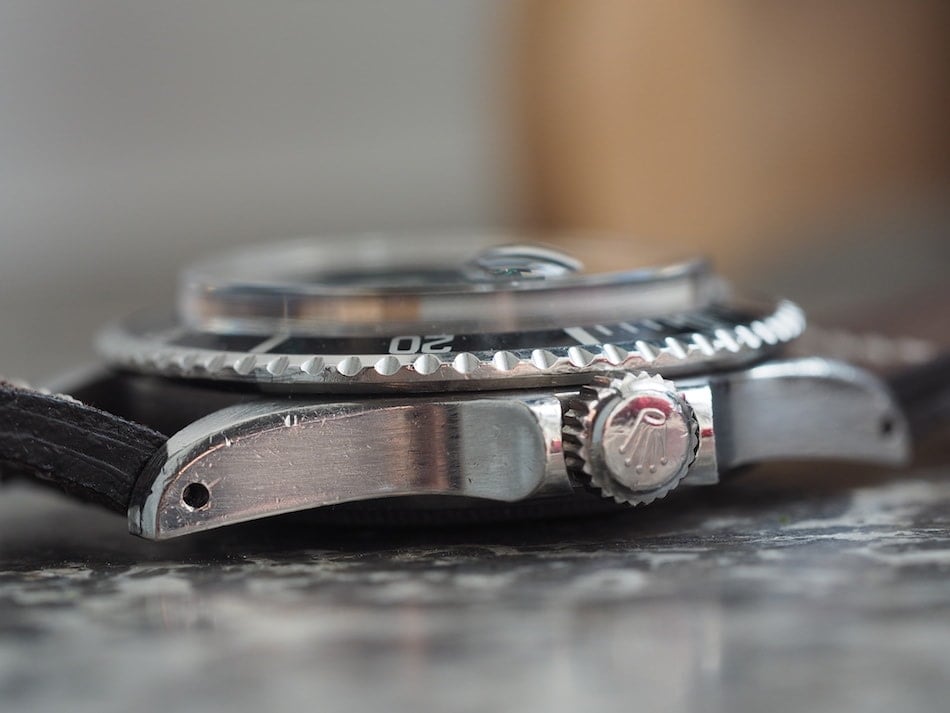 Movement wise, the Red Submariner is the only piece in the quartet to receive a chronometer rating. That's worth some bonus points, but these are needed because the rest of the movement is rather rudimentary. There's no hacking, no quick set date function, and there's nothing fancy about the frequency at 19,800 bph. On the other hand, the caliber 1575 is known as a highly dependable movement that trundles along even when most owners neglect to service them regularly.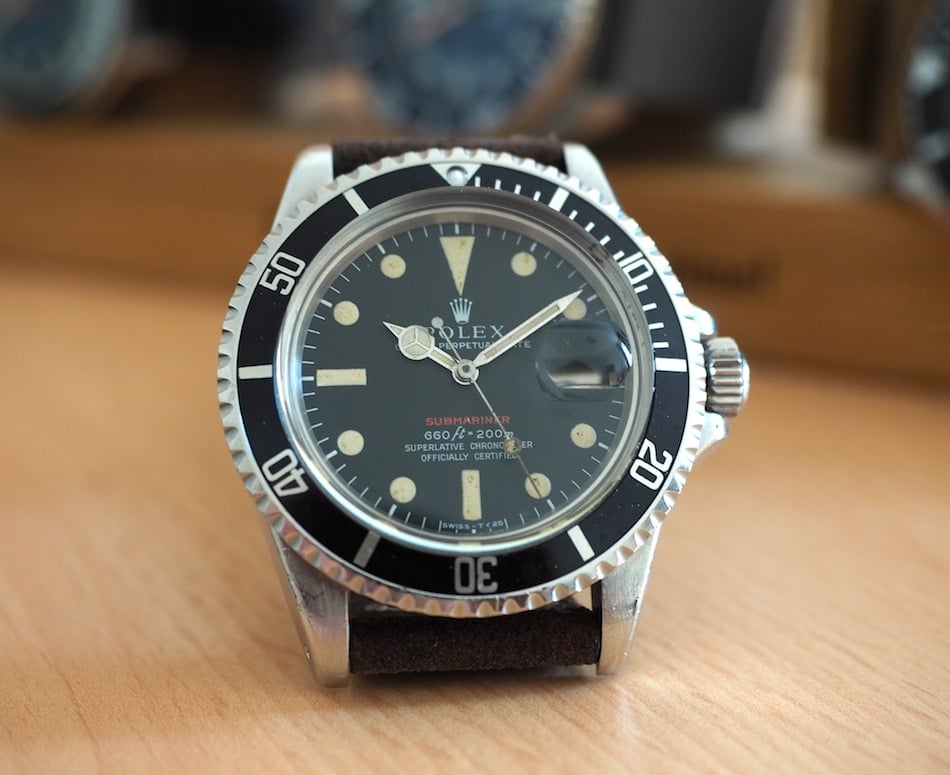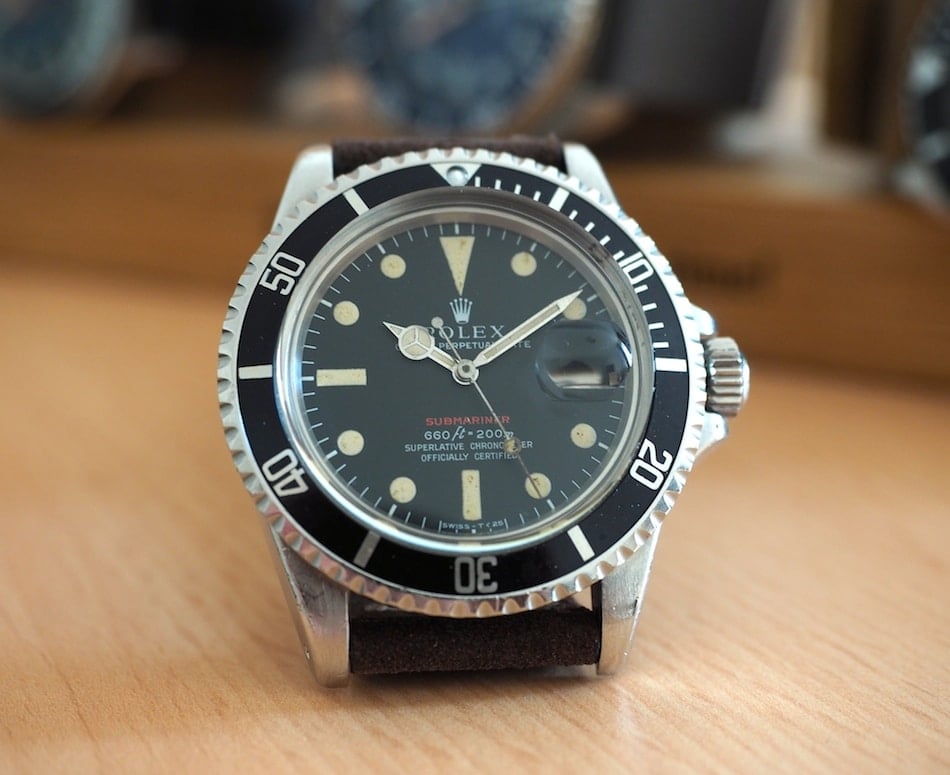 Coming to the intangibles such as fit, legacy, bracelet design, and collector interest, there's very little to argue. A 40mm Rolex is an incredible comfortable wear and looks great on the classic oyster bracelet or almost any type of strap. It's also become acceptable to where in any type of environment. As for its legacy, the Submariner trumps almost anything out there as the same essential design is still with us today. And, finally, there's no denying that this is the most valuable of the four watches on hand today and would be the easiest to sell. Who knows what the future will bring, but the Sub is the "it" watch currently.
Case, Crown, Crystal: 7/10 "An icon only let down by its simplicity, but boosted by its build quality, precise crown, and funky steep crystal."
Bezel: 6/10 "It's hard to ignore the classic looks of the Rolex Submariner dive bezel, but the functionality could be better." 
Dial design: 9/10 "A damn near perfect execution – only a version without date is better." 
Movement: 7/10 "Basic and hard-wearing – chronometer certified."
Intangibles: 8/10 "For now, like buying a blue chip stock worth holding onto with the added bonus that it's truly wearable and versatile."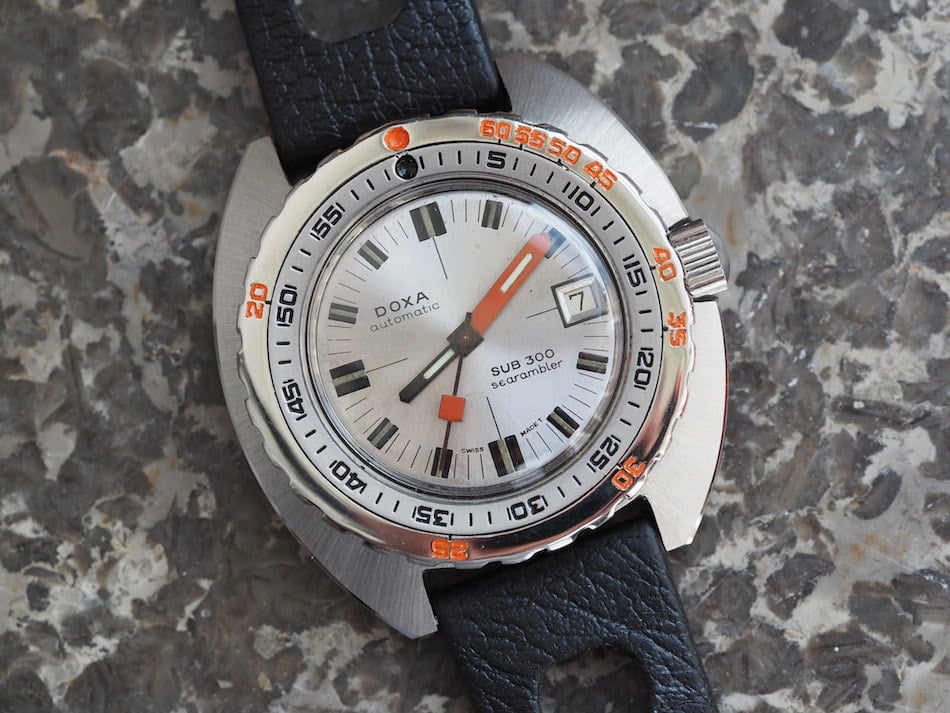 The Doxa 300 Searambler
Next up in our 60's Vintage Diver Shootout is the Doxa 300 Searambler. This is by far the most unorthodox looking watch in our contest as it contains a c-case shape and paired with a silver dial. It dares to add color where the other watches primarily stick with black and white. The Doxa case, despite in this case have undergone a rather liberal refinish, is truly something to behold. From its side, it's very thin and when flipped on its back, it's as if metal was scooped out during forming. For 1966, this whole look must have come across as quite different, but as we now know, it foreshadowed a look that was truly pervasive in the 1970's. As mentioned in our opening article, this Doxa has an aftermarket crystal, which is a shame. Otherwise, we'd be peering through a lens similar in stature to the Top Hat found on the Rolex, but with a bit more dome. It should be mentioned that the screw down crown on the Doxa is a wobbly one with very few threads keeping it in place. It's not the most confidence inspiring implement for a watch intended to go down to 300M.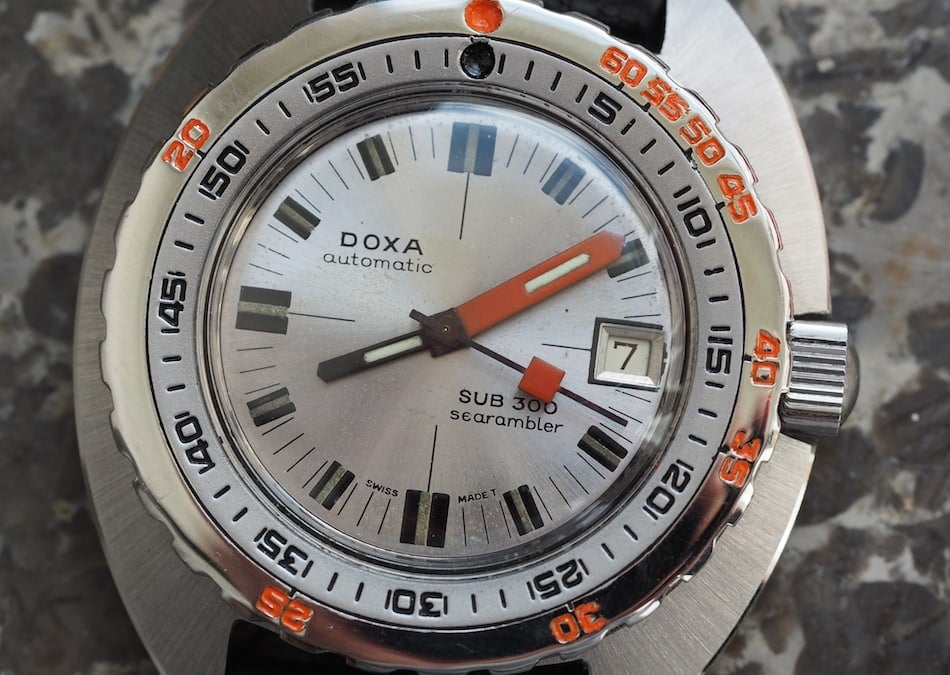 The Doxa 300 Searambler employs one of the more innovative dive bezels in watch history. Specifically pairs the US Navy "no-deco" table with a standard 60-minute timer. The two different scales are separated in what looks like separate plates of metal but they obviously turn together when gripping the saw tooth edge. It's highly tactile and probably the best design of the four when one thinks about using it with gloves. Looks wise, the Doxa boasts the most purpose-built looking dive bezel complete with all sorts of little engraved numbers. I repainted the orange outer numbers using a toothpick and some Revell enamel (I know, not the best job) and it's this look that adds a lot of character, but also limits this watch to more casual settings.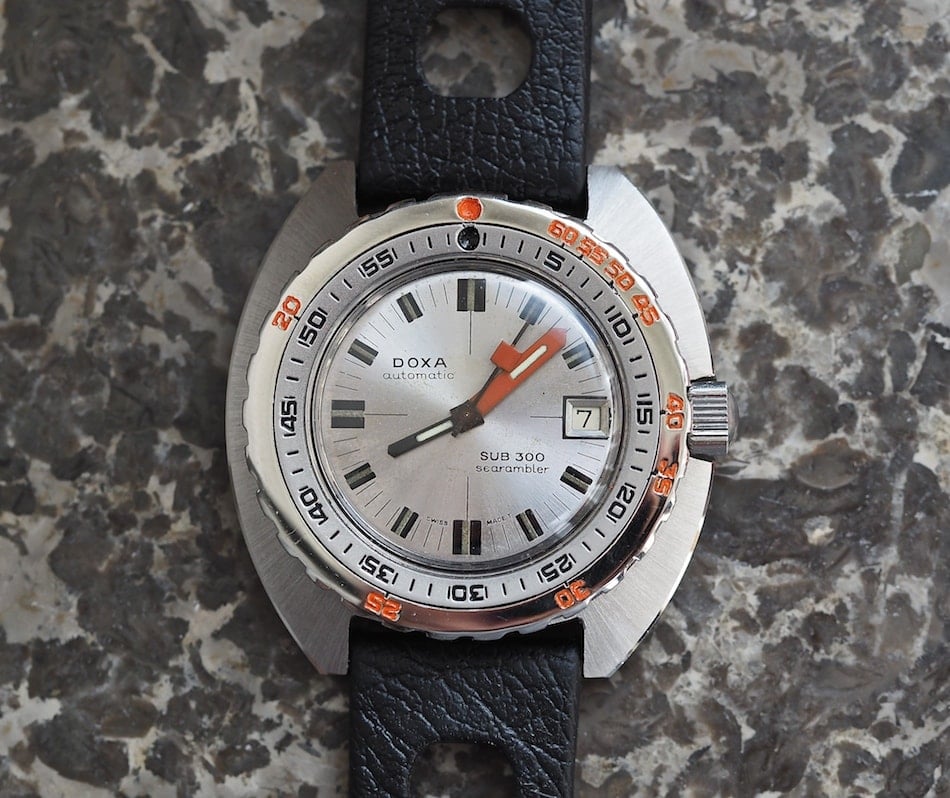 The dial of the Doxa Searambler is the unique one in this 60's Vintage Diver Shootout for sporting a color other than black and coming together with some wicked orange hands. It's a beautiful dial that, despite some aging over the years, has a wonderful metallic sheen that reminds me a bit of the Costin-bodied aluminum Lotus racers from years back. As stated, the orange hands are built for the job as the seconds hand is overstated and the useless-for-diving non-lumed sweep hand blends into the background.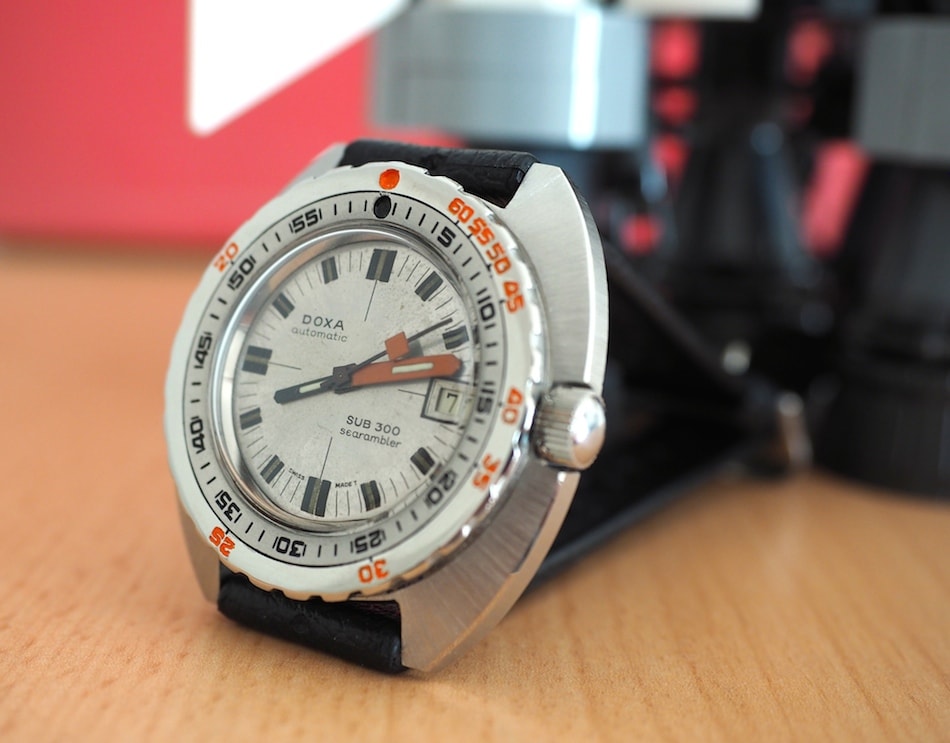 Doxa chose the ETA 2472 as its movement and that makes it a sturdy and serviceable one, but it is the only watch within our 60's Vintage Diver Shootout without bespoke works. I could frankly care less, but when you consider that prices of "one and done" no T 300's are quietly encroaching on the high single digits, it makes one wish for a little more uniqueness in the engine bay. Plus, the only convenience the 2472, aka Doxa caliber 118 brings is a semi quickset date feature by toggling between 10:30pm and midnight.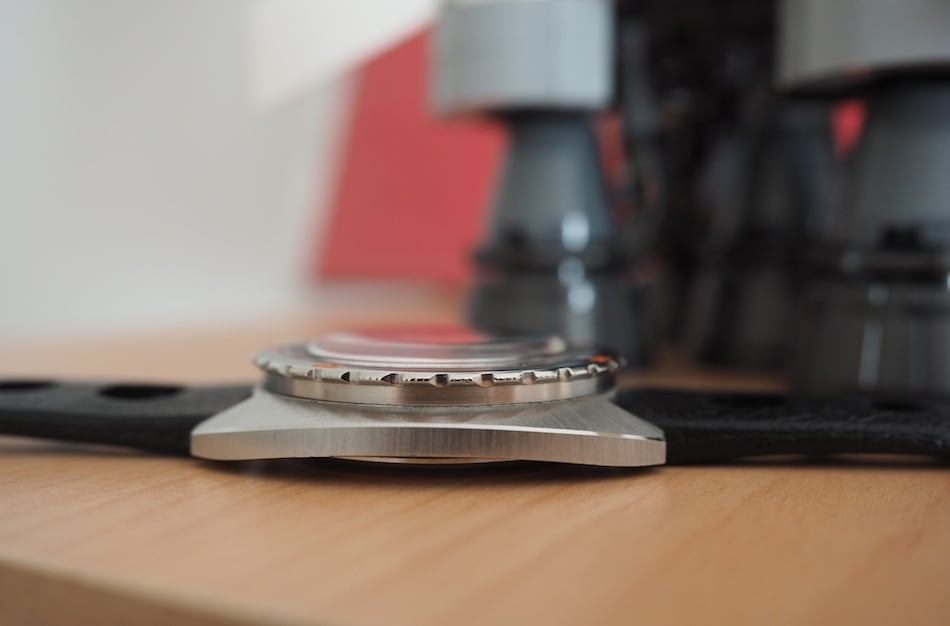 When it all comes down to it, the Doxa does shine when wearing. It's a truly unique look amongst 60's divers and attracts serious attention due to its colors, shape, and combination of matte and polished surfaces. The sublime beads of rice bracelet that is difficult to find is magnificent and effortless to wear, but also a bit fragile due to the springs that allow it to adjust to the wrist. Thankfully, everything from a 20mm NATO to a Tropic like I have here work perfect well. For a small company, the Doxa broke barriers with its innovative bezel and case design. Don't forget that it also kicked the tail out of the big boys with 100 meters more of water resistance. The only real problem is finding one. No T 300's come up so infrequently that one can normally count on one hand the specimens that surface within a calendar year. Still, if one is found and the price isn't atrocious, it's a highly worthwhile piece to add no matter the condition. Doxa's were made to be worn and most were!
Case, Crown, Crystal: 8/10 "Extra points for being daring and introducing a c-case to the fold in 1966! Weak crown, though." 
Bezel: 10/10 "I wouldn't want to read this thing at depth with a flashlight, but the utility, precision workmanship, and tactile feel can't be denied." 
Dial design: 7/10 "The color wins points as do the hands, but the rest of the dial is a touch busy – still, it's iconic."
Movement: 5/10 "Dependable, but the least "special" movement of the bunch." 
Intangibles: 9/10 "The cool kid of the party right now – a seriously rare bird that a lot of collectors want."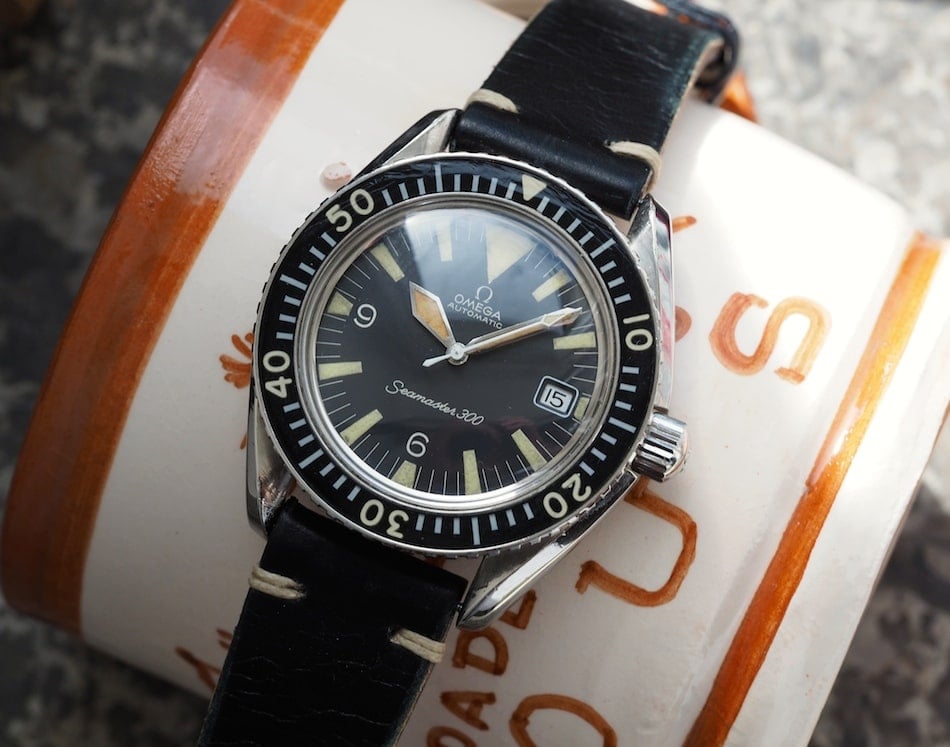 The Omega Seamaster 300
Behind door number 3 in our 60's Vintage Diver Shootout stands the Omega Seamaster 300 "Big Triangle". I'll just come out and say it, but I find this watch to be the most elegant of all the watches in the contest. There's simply something about those lyre lugs and the case from the side that make this watch so unique. Plus, it's the lone diver that makes do without either protruding crown guards or guards as a result of a recessed screw down crown. This gives the Omega a much dressier look in my view. That crown, by the way, is an easy thing to use and contains just enough threading to make it feel secure. It's definitely lighter to use than a Rolex, but better than the Doxa by far.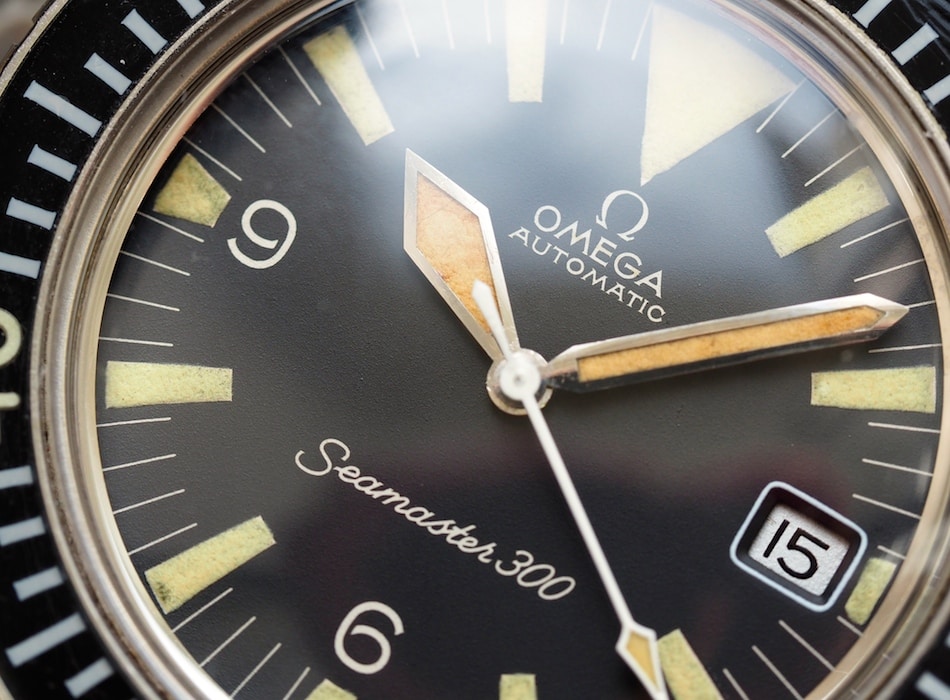 I also find the dial and bezel of the Seamaster 300 stunning and while Omega has given us divers with similar looks since, they've never recaptured the look of this series of watches. Credit big swaths of aging tritium, equally yellowed hands and white Arabic numerals that use a perfect font. Then, there's that inlaid resin bezel with embedded luminous numerals that drives collectors wild. The bezel itself is a clicking affair that contains coin edge ridging on its sides. It looks archaic when compared to the others, but it's actually a pretty useful design. Yes, the resin is incredibly fragile, but it's got the looks!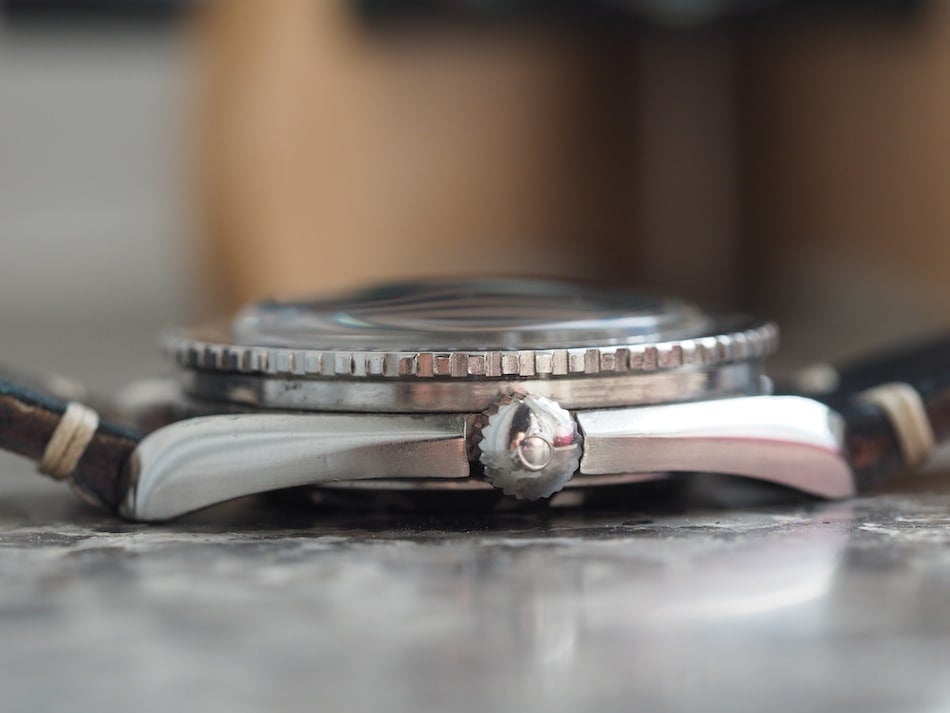 Inside the Big Triangle sits the well-known Omega 565 caliber automatic. It's a movement that sits within a long-running family of pacemakers from the brand and it's known to be a reliable workhorse that's relatively easy to service. It's also one of the two true quickset date movements within our 60's Vintage Diver Shootout grouping. Now, the quickset is admittedly a bit different and the whole thing feels fragile. I had my first experience with it on a Seamaster 200 that I reviewed a couple years back and it took me by surprise. Essentially, one unscrews the crown and pulls it out to the time setting position. Then, in what feels spastic and hard-wearing on the poor little movement, the user pulls the crown out further in a popping motion (the crown springs back) to rapid change the date. Do this to move forward 10-15 days and it's gut wrenching! That being said, I've never had one break and it is damn convenient. It's also funny to look back at the many different ways manufacturers experimented to change the date – something that is so simple today and we certainly now take it for granted.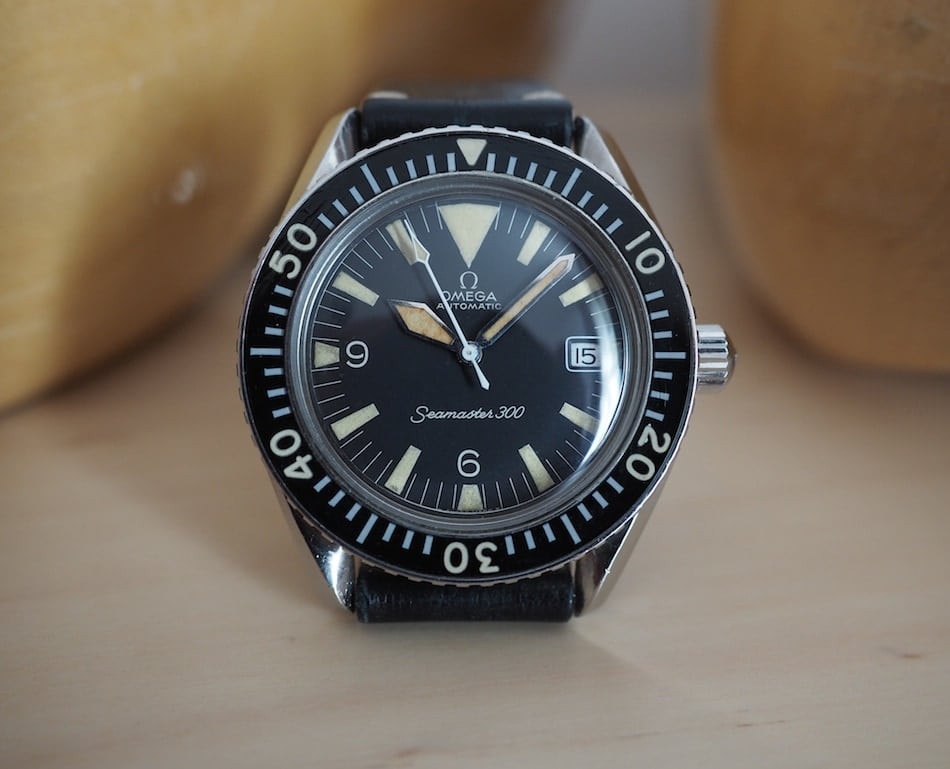 At 42mm, the Seamaster 300 is one of the larger pieces in our 60's Vintage Diver Shootout, but it wears so nicely. With all that yellowing lume, polished case, a nicely domed Hesalite crystal, and that old-looking bezel, it fits like a comfortable old pair of jeans when paired on a rusty old leather strap. Of course, it looks good on an 1171 bracelet as well. For some reason, though, the watch doesn't feel quite as vault like as the Rolex, but it is a solidly built diver. The other big negative on 300's is that so many have been modified and there are loads of newer builds and fakes. It is a truly hard watch to find in original and decent condition. Still, there's no doubt that this is the show pony within the group.
Case, Crown, Crystal: 9/10 "Gorgeous case design only let down by a slightly flimsy feeling crown." 
Bezel: 8/10 "Old school sexy, only let down by its fragility and the number of fakes on the market."
Dial design: 8/10 "The prettiest dial of the bunch with all that lume and those great hands." 
Movement: 7/10 "Workhorse in-house movement that scares me with its explosive quickset date changes!

Intangibles: 8/10 "A great watch only let down by the fact that they even top Rolex Submariners in the number of fakes on the market."
The Seiko 6159 Professional
We finally come to the final watch in our 60's Vintage Diver Shootout and that's the Seiko 6159 Professional. This watch can be credited for creating or making more popular many design tropes we see in current Seiko divers. Take the monobloc case, the recessed screw down crown at 4:00, and so many other little details that are with us today. That beautifully sculpted case is something to be seen in person – especially from the side and the case back. Yes, it is tall, but it's solid. It's also the only diver of the bunch to feature a non-acrylic crystal, opting instead for Seiko's own Hardlex mineral glass. It's one of the features that helps it rate to 300M in the water resistance department. The crown takes some effort to unscrew and line back up properly in order to put back in, but it's reassuring and there's no flimsiness.
The dial of the Seiko 6159 is simple and adds gold-colored detailing around the applied hour markers and hands. It's a strong look that would influence future Seiko divers such as the 6105. The bezel, in this case a countdown timer, uses the same font that we still see today. It's a bi-directional clicking affair that's become fairly loose and sloppy over time, as the spring inside has relaxed a bit. It features close-ridged notches on its side that make gripping fairly easy. It's a classic looking watch that's only obscured by the amazing amount of reflection caused by the nearly flat crystal.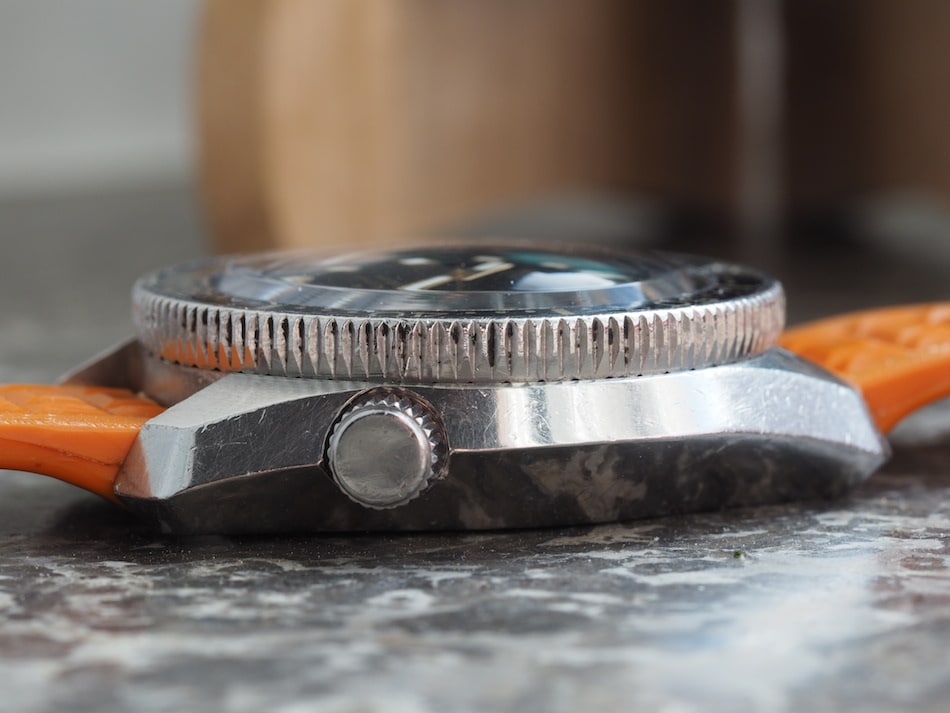 How the hell did a lowly Seiko make it to this showdown anyhow? Aside from its looks, build quality and the growing acceptance of the brand amongst curmudgeonly collectors, one needs to peer inside the watch. Yes, inside the Seiko is where things get interesting as we're treated to the machine gun sounds and epic sweep hand smoothness of a 36,000bph Hi-Beat automatic. It's a gem that only gives me heartburn due to difficulties if it needs servicing – this one thankfully received the care of the Seiko Frankfurt boutique. Parts are damn tough to get. But thankfully, it's a stout runner and I wear it sparingly. We're also, thankfully, afforded a traditional quickset date where the user advances it by turning the crown. If you've never spent time with a Seiko Hi-Beat, and there are definitely far less expensive options, you need to do so. This movement is the rock star within our 60's Vintage Diver Shootout.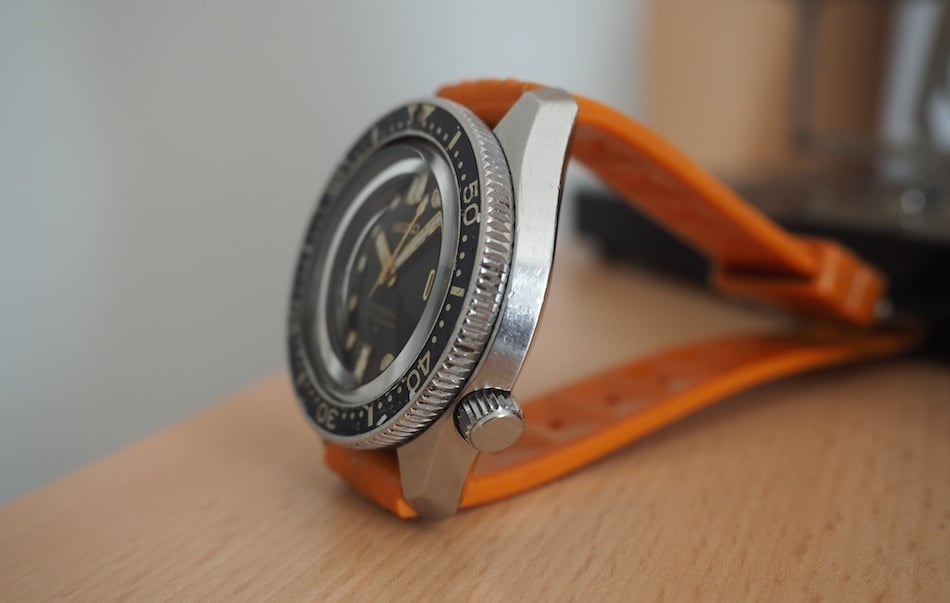 The Seiko 6159 Professional is the largest diameter piece within our 60's Vintage Diver Shootout at nearly 44mm, but it somehow wears better than that due to its 50mm lug to lug. Perhaps its nearly 15.5mm thickness makes it seem smaller laterally, but I have no issue in pulling it off with my skinny wrists. With 19mm lugs, strap fitting can be a pain, but I like it on khaki or olive NATO straps. Here, we have it on a rare vintage Seiko orange "chocolate bar" strap that looks badass, but will now do time in safe keeping as I'd hate to crack it. 6159's are a relatively tough find and they're expensive these days with 5 figures becoming somewhat regular for minty pieces. Often, though, one has to look at Japanese listings because not many made it outside during the 2-year production run. Landing this well-used specimen was a real conquest for me and represents the end of a very long hunt. Since getting it back from service, I've not been at all disappointed. In fact, I met up with a strict collector of Swiss watches and he couldn't take his eyes off of it and the conversation often returned to the watch. Yes, Seiko has arrived.
Case, Crown, Crystal: 8/10 "Beefy with some fantastic sculpting on its sides. Great crown function with a lot of glare caused by the mineral glass crystal." 
Bezel: 7/10 "A bit flimsy, but looks great and a fantastic insert." 
Dial design: 8/10 "Great dial that hits on all kinds of Seiko diver design traits and the use of gold can't be denied."  
Movement: 10/10 "Can you say 36,000 beats per hour? Enough said." 
Intangibles: 7/10 "A legend within Seiko circles that's finally gaining recognition amongst a widespread audience – but you need to shop in Japan." 
So, with that, we've reach the end of our 60's Vintage Diver Shootout, but what do the scores show and what do I think?
Rolex Submariner: 37/50 
Doxa 300: 39/50 
Omega Seamaster 300: 40/50 
Seiko 6159: 40/50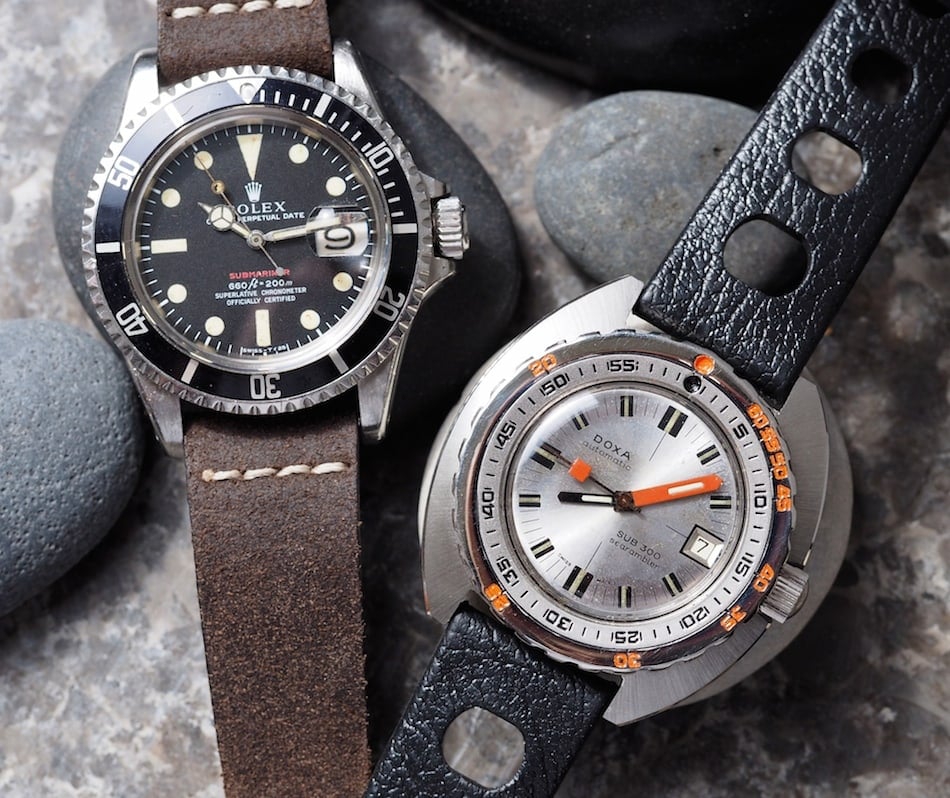 Damn, the scores are close! Amazingly, I didn't keep track of them as I wrote the story and went back to add them up at the end. So what does it all mean? Well, not much really other than the fact that I really enjoy all these watches to a similar extent (I hope so as I bought them!). I think it also shows that none are perfect. Yes, the Omega scored mega points because it's so darn good looking and the Seiko because I love the movement and I'm a softie for underdogs. The wild thing is that due to its robustness, I wear the Rolex most. The Doxa is an eccentric piece and comes out a lot on casual Fridays.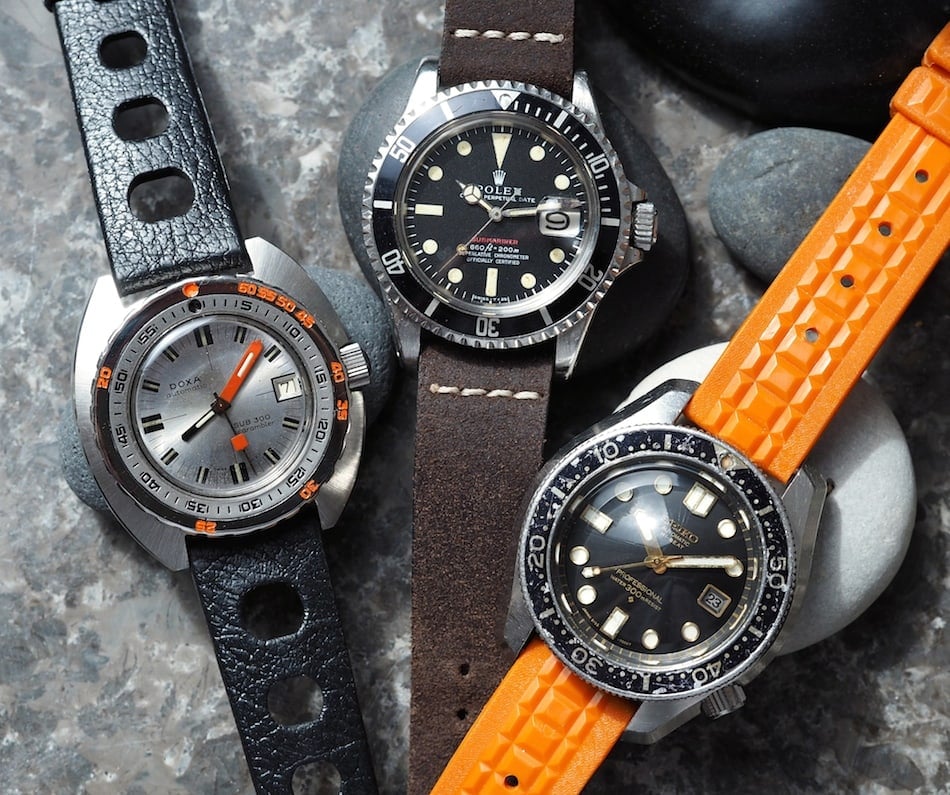 The 60's Vintage Diver Shootout was really an exercise in fun and an attempt to show four cool divers in the same setting so that you can compare and contrast a couple likely opponents (Rolex and Omega) alongside a couple upstarts (Doxa and Seiko). We hope you enjoyed it and perhaps you'll give a thought to picking up something for your upcoming Summer holidays.