Sunday Morning Showdown: Dress Wars — Rolex Vs. Grand Seiko
Rolex Datejust 116234 Vs Grand Seiko Snowflake SBGA211
In this Sunday morning column, two of our writers go head-to-head in an epic showdown for the ages. Strong opinions and hysterical hyperbole are welcome (so feel free to join in with the fun in the comments section below). And don't forget to let us know which watches you'd like to see torn to shreds/effusively exalted next week. We'll try and feature as many of our readers' choices as we can. This week, we've got another head-to-head for you. Could the Rolex Datejust 116234 and the Grand Seiko SBGA211 "Snowflake", please enter the ring…
Hey, hey! I'm on something of a roll. Old Benny Boy might have had my number when it came to our A. Lange & Söhne clash a few weeks back, but in our three most recent tussles I've walked away with the spoils. Interestingly, those contests saw us switch sides. Rolex won in the first week, and Grand Seiko came storming back into the frame with two wins on the bounce.
Will that Japan-friendly trend continue?
That's right, last week's "Trench Warfare" clash saw the Rolex Sea-Dweller take a beating at the hands of the new Grand Seiko SLGA001. Some readers seemed to think that the Rolex was clearly better (with the "icon" label being thrown around quite liberally), but 60% of you disagreed. Will that Japan-friendly trend continue? Can you imagine a Rolex in the role of the underdog? I don't know… This week should be interesting.
…this one should be close.
For this installment of SMS, we have one of the most classic and enduring Rolexes for your consideration. The king of dress watches, the Rolex Datejust, is here in all its steely glory. Its competitor? A watch that (I hope) has just as fervent a following among the Fratelli. If I were a betting man, I'd back myself this week, but this one should be close. Perhaps the closest yet. Perhaps our very first tie… Let's find out.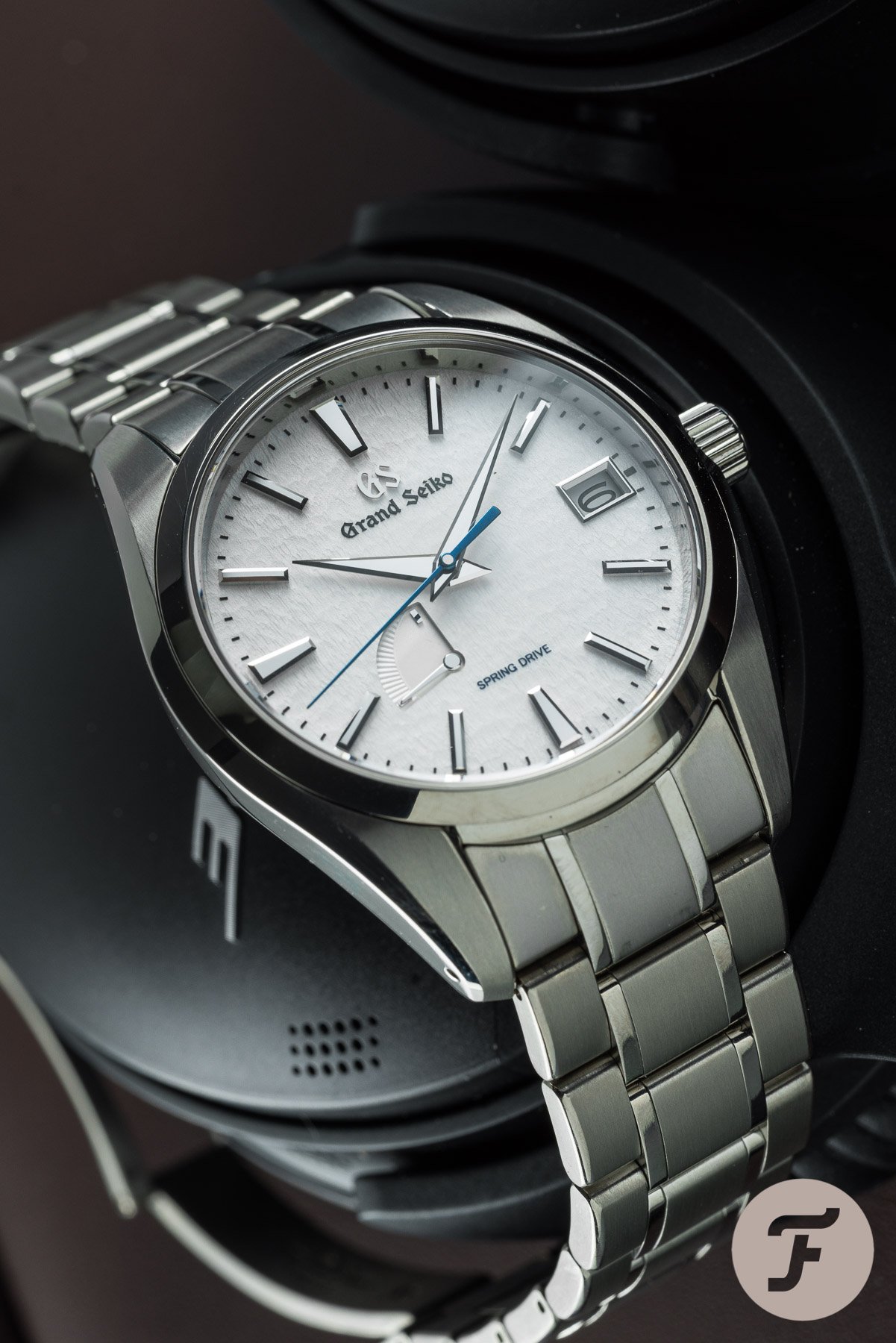 Rob Nudds
I love the holiday season. I always have. My favorite thing? Snow. As an unnaturally old-headed child, I was wont to consider my future often. I would daydream about being an adult and doing the most mundane things, normally very quietly, very efficiently, and while very much alone. Consequently, I think I was a bit of an odd child (and probably just as odd an adult) but this habit did make me keenly aware of what I would miss about being a child while I was one. I was, at a very young age, very appreciative of being able to do the things I saw other children doing without rebuke, while their adult counterparts (parents, I believe they are called) watched on in jealousy.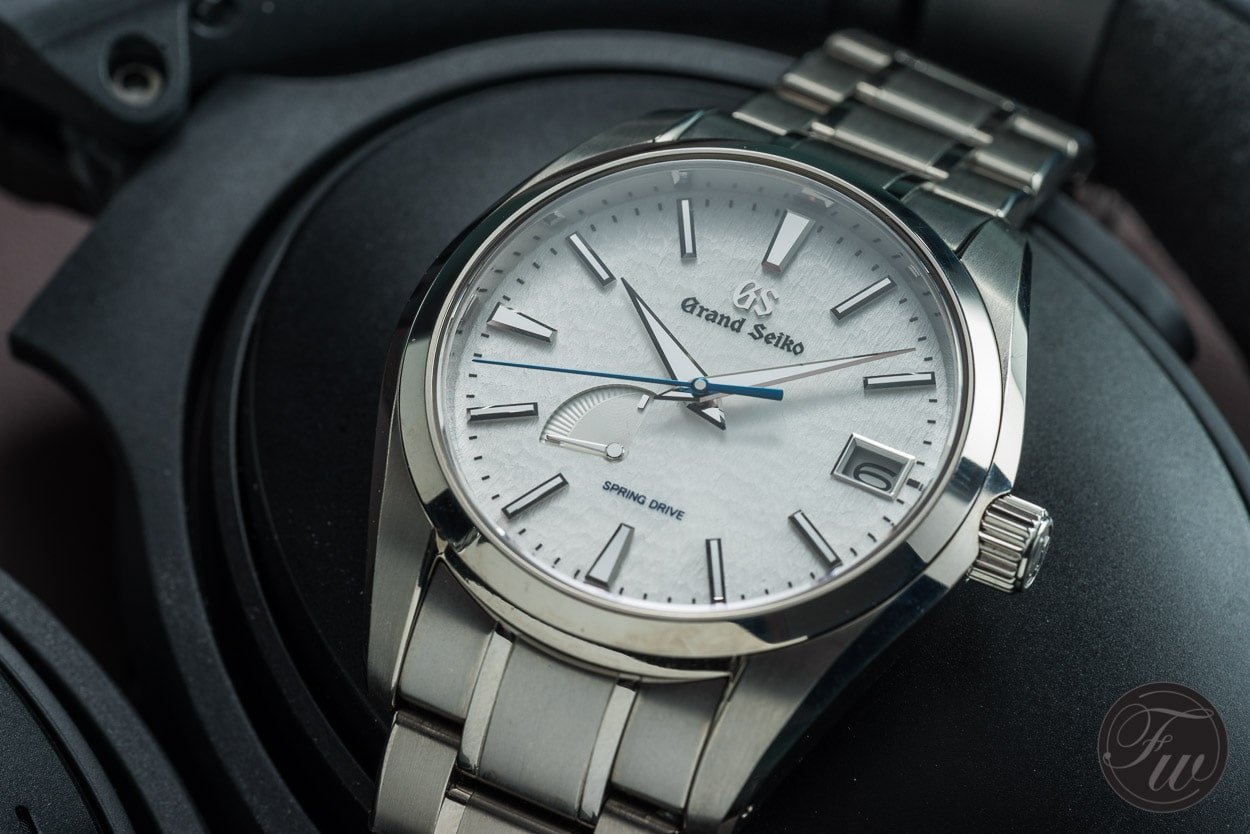 Perhaps the thing I feared missing out on the most was playing in the snow. I have railed against the idea of what is and isn't acceptable adult behavior in the past by diving into drifts fully clothed (often in a wildly inappropriate three-piece) and making snow angels in the middle of the road (after checking there was no traffic — I said I was odd, not mad). But I always felt I was putting on a show. That there was a touch of theater to it all and that it came across as insincere, forced, and a bit sad.
Time is a cruel mistress…
The really sad thing is that when you are an adult, memories of things that once gave you joy remain while those things themselves no longer promise the same thrill. Time is a cruel mistress, after all…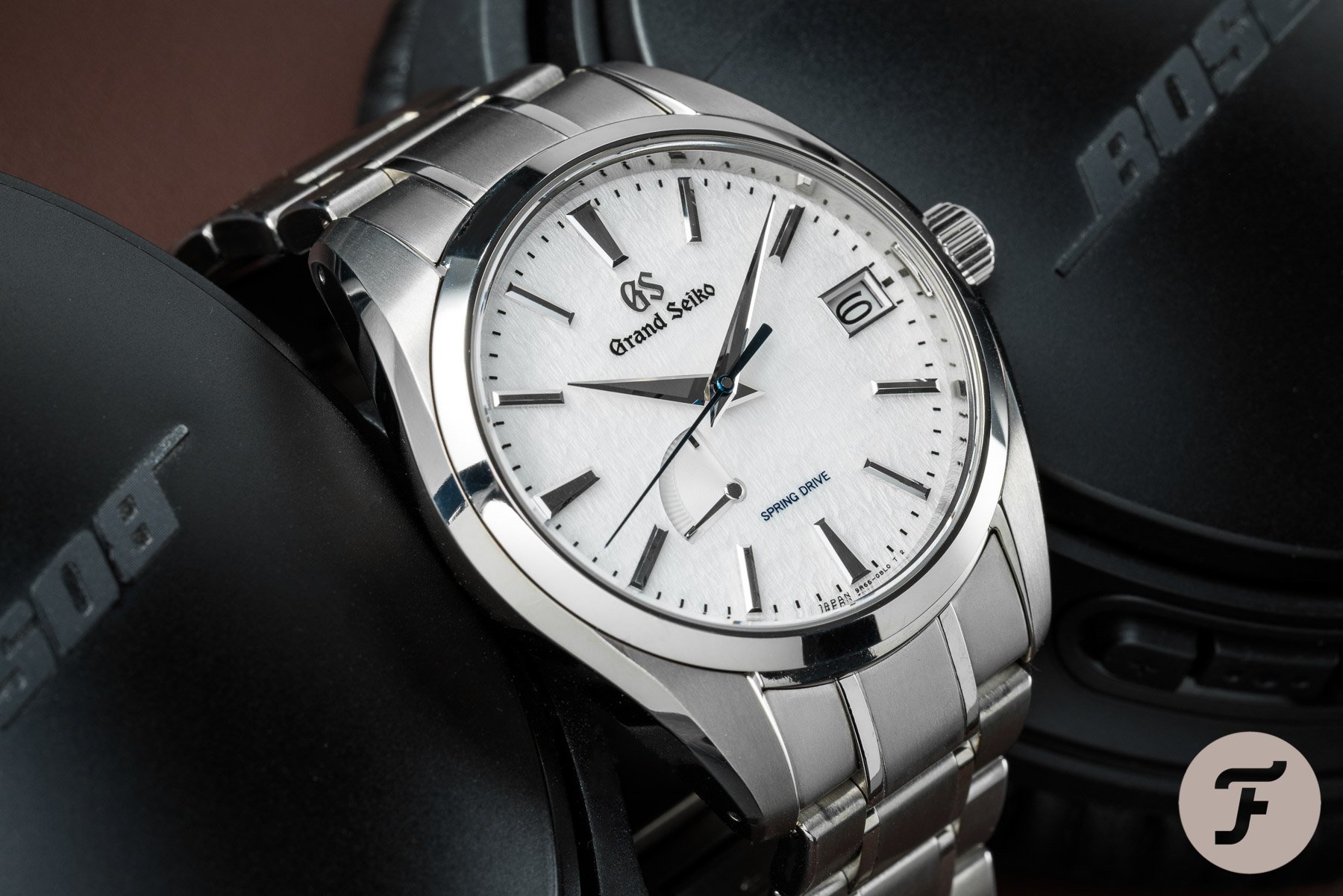 And so, for many years, snow made me sad. It made me feel hollow and longing. I was mournful and reflective when it fell. I had forgotten not my love for it but rather how to love it. It was a very distressing state of affairs.
It was satisfying.
And then I discovered Grand Seiko. And then I encountered the Snowflake dial. All of a sudden it came flooding back. Joy. Freedom. Optimism. But, most importantly, the memory of those things seemed to take on a physical presence. It was like the difference between the thought of food and the sensation of a full belly. It was satisfying. And it was sufficiently adult.
At last, I was not odd.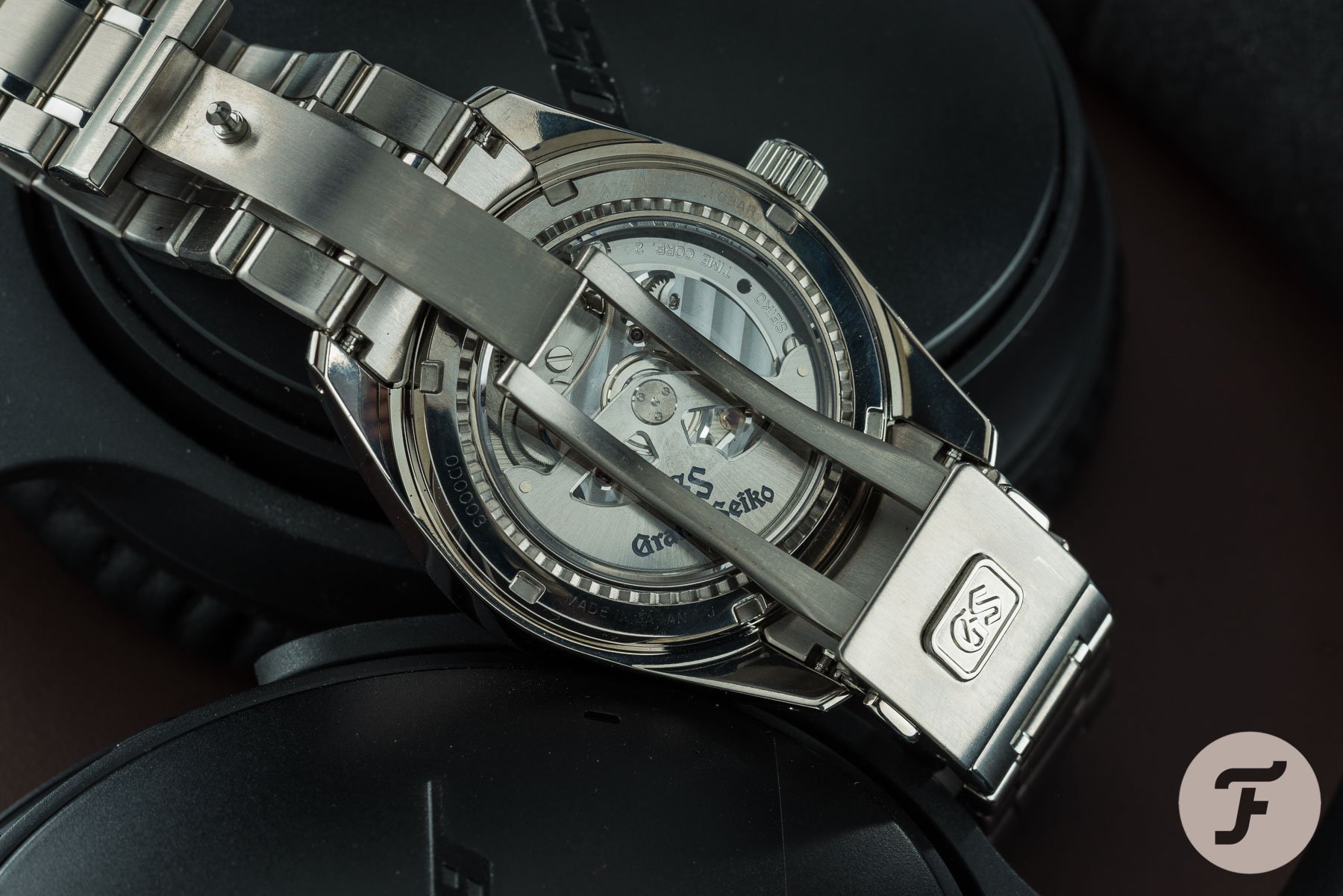 The Grand Seiko Snowflake SBGA211 is, however, an odd beast. It is a thoroughly modern classic, with its high-intensity titanium case, achingly beautiful Zaratsu polished surfaces, striking blue seconds hand, and the mesmerizing sweep of the Spring Drive caliber within. And yet that dial, that weird, enticing, artful dial is like something from centuries passed. It is at once avant-garde and passé. It is both challenging and comforting. Simply put, it is the oddball of the industry. And I couldn't love it more for that reason.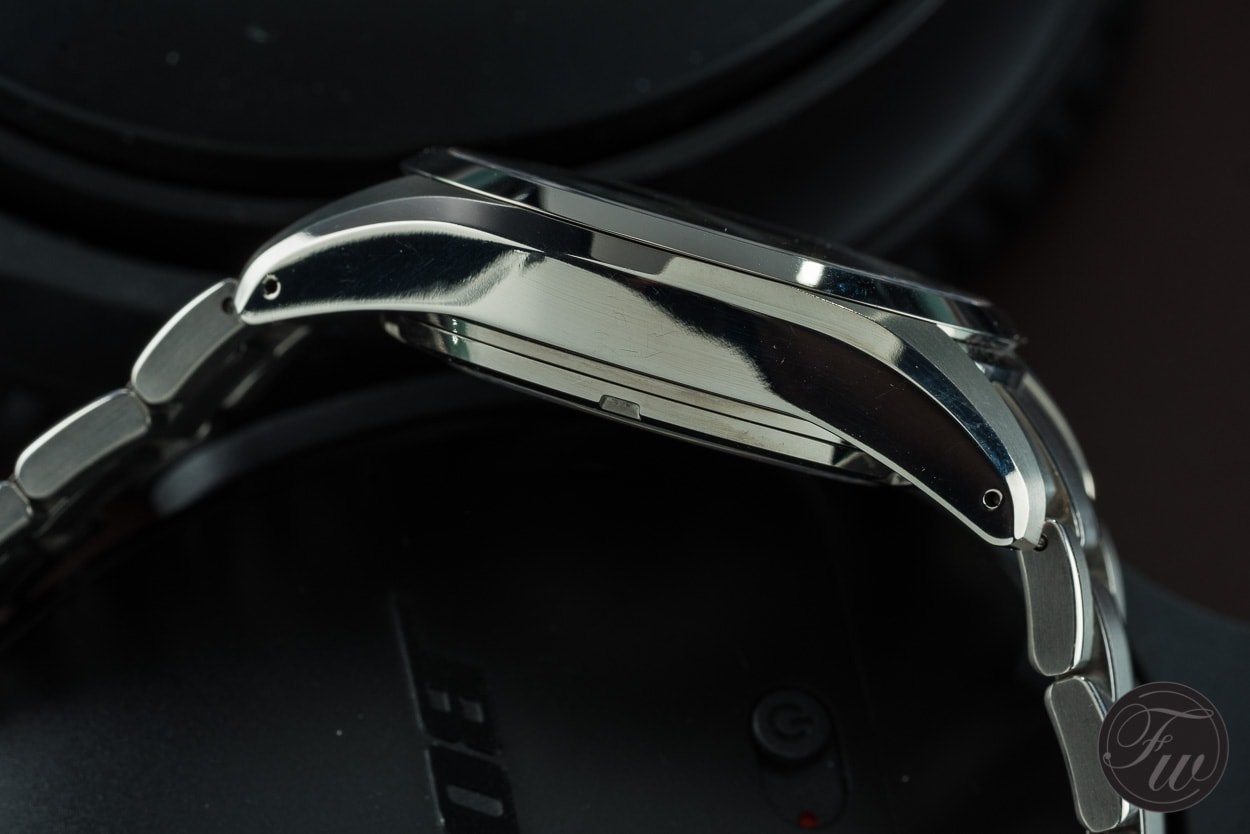 The case diameter is 41mm. Its thickness is 12.5mm. That means that, for a Grand Seiko, it wears pretty close to the wrist. It isn't uncommon to find narrower and taller models using the hi-beat calibers. Those, perhaps more ubiquitous models, do the wearability of the SBGA211 a disservice. It sits quietly and comfortably on most wrists and, thanks to its lightweight case material, never tires you out.
…the best thing you can buy for that many Euros.
In my opinion, the bracelet makes it extremely versatile. It has the overall necessary presence to work as a sports watch (that ever-moving blue hand really helps) and the grace and elegance (thanks to the dial and the case finishing) to work with formal wear. The dial even lends itself to a leather strap if you do so desire. At around €6,000 this is, for me, the best thing you can buy for that many Euros.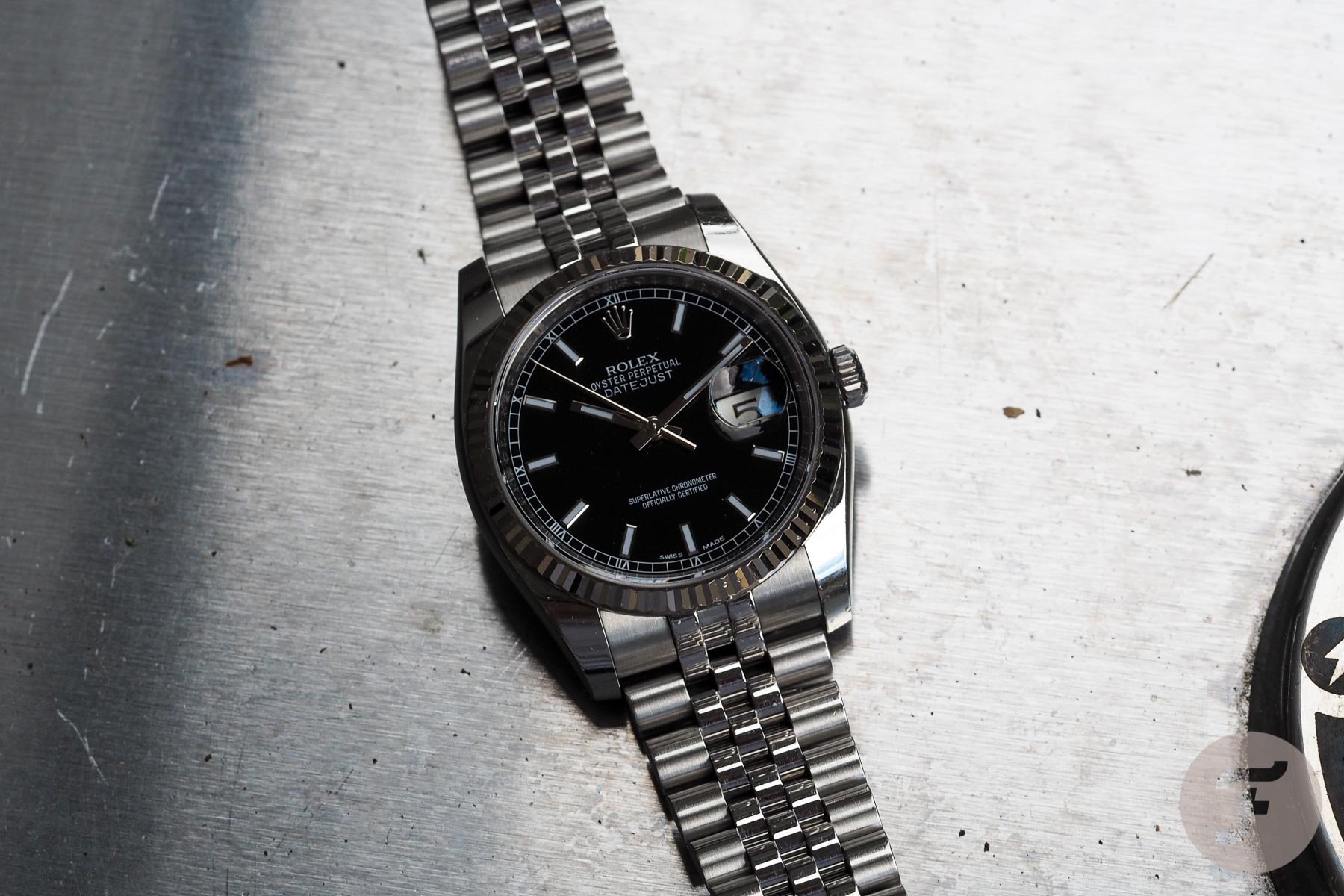 Mike Stockton
Jeez, Bobsled Bobby, I was wondering if you were ever going to talk about watches. You gave us a rather Dickensian rant there and I thought I was going to have to serve you a bowl of porridge to help you make it through the day! Ultimately, though, you came around and regaled us with your love of the Grand Seiko Snowflake. I think you and I went head-to-head before on this model and I was the pessimist in the whole argument. I can appreciate its finishing, fantastic movement, and even its price.  However, I still can't envision looking at that dial day in and day out. No, Oliver Twist, that everyday goodness belongs to the torchbearer called the Rolex Datejust.
Since 1945, the Datejust has been the go-to choice as an everyday upscale watch that can truly do it all. It works with everything from shorts to a tuxedo and can even accompany its wearer on a dive if need be. Case in point, famous marine biologist Sylvia Earle routinely rocks a gold model during her sojourns to the deep. Plus, it's available in a mesmerizing number of case sizes, dial colors, materials, and choice of bracelets. If finding a Datejust that works for you is a problem, it's likely you that is the problem.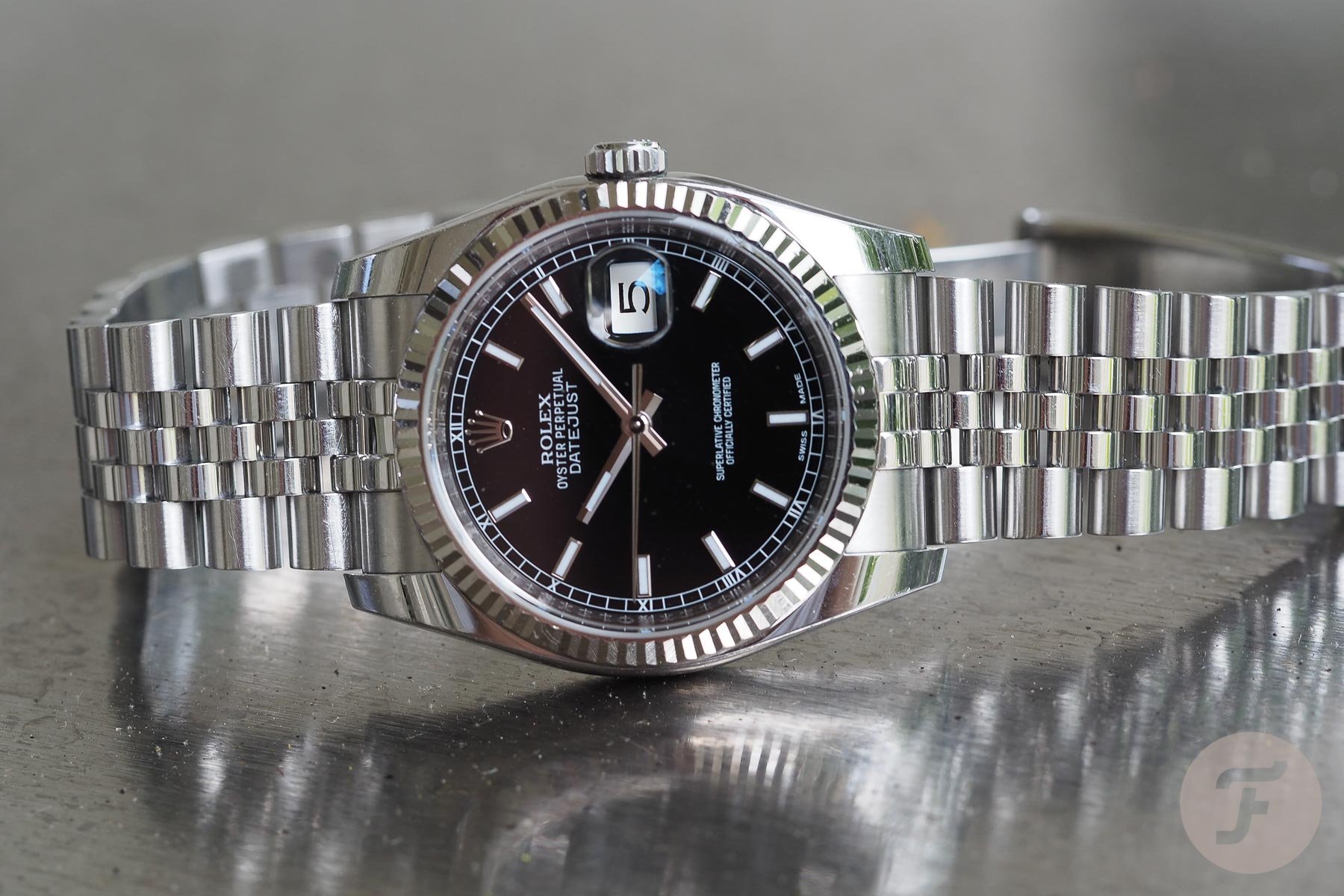 Now, I will admit that my interest in the Datejust has waxed and waned over the years. In high school, I remember pining over an all-steel model with a dark gray dial, but that was way out of reach. I then fell into the Explorer phase and made one my first Rolex. But around that time, my family gifted my dearly departed grandfather a Datejust with a machine-turned steel bezel for his 80th birthday. Man, I loved that watch and was lucky enough to receive it on my 40th birthday. It's on a Jubilee — as a Datejust should be — and has an amazing sapphire blue dial.
Rob: That does sound pretty tasty. But is it as versatile as the textured of white of an SBGA211?
Mike: Rob, I own and wear a Datejust — it's so sublimely comfortable that I often wear it for a week in a row. And, I've even put my money where my mouth is by buying a newer steel model for my wife.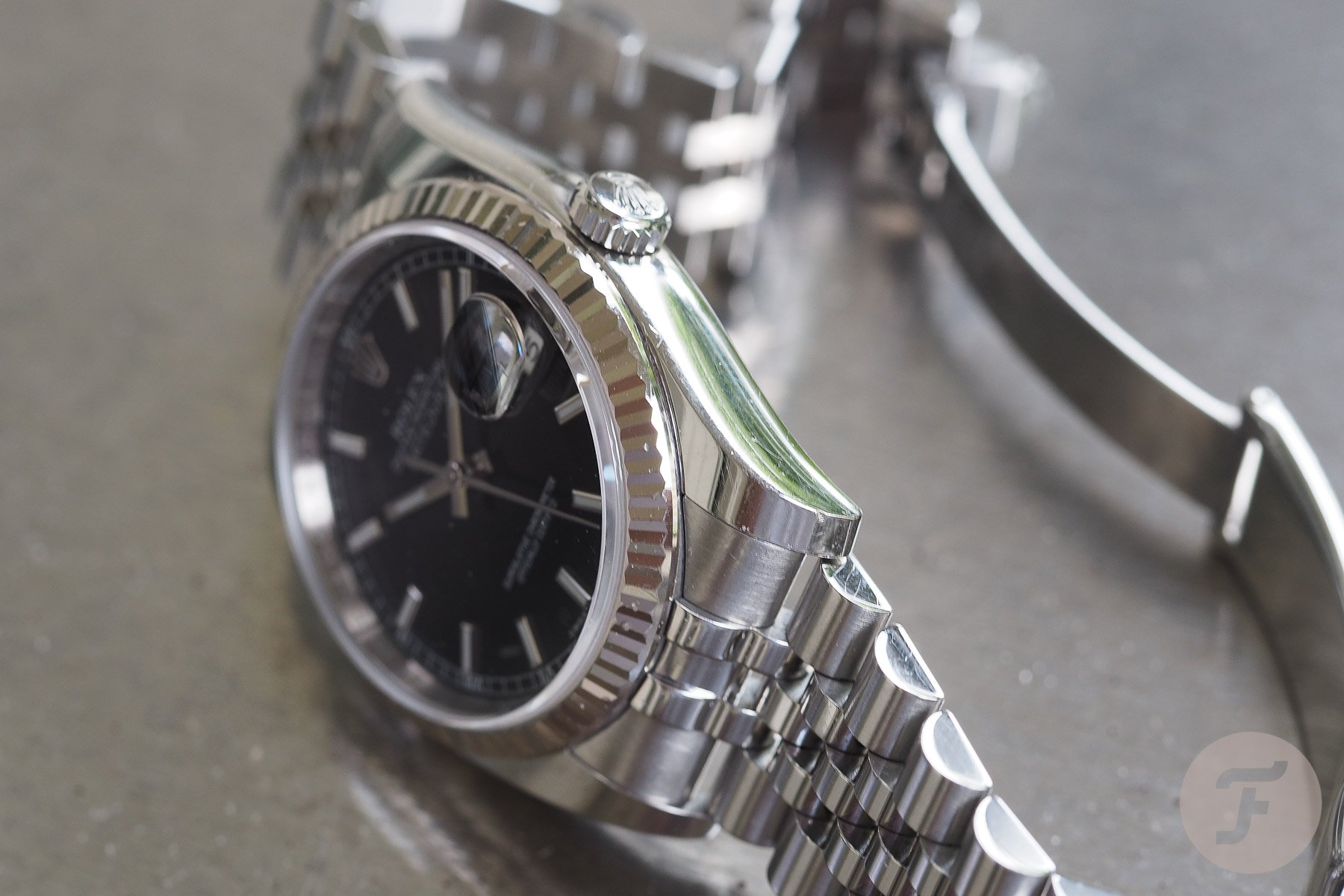 Rob: Fancy putting your money where my hand is so I can buy one too?
Mike: Buy one yourself, you Snowflake-loving lush. I'm sure you'll be able to find something you like. The sheer amount of choice within the Datejust range is one of the family's strong points. But within that, I think it's important to specify some things. When I talk Datejust for a man, here's some guidance. Just like the proper transmission for a Porsche 911 is a manual — don't even start with me about how someone can shift an automatic, it's three pedals or walk — the proper size for a Datejust is 36mm. Period. Full Stop. Punkt! The 36mm has perfect proportions and fits all but 1% of us gentlemen. And because we're gentlemen, we don't need to wear such a massive timepiece. Leave those days for the Submariner or GMT-Master II.
Moving on, there are two acceptable material choices for a Datejust and those are steel and steel with gold. But you say, "Mike, you love gold!" Damn right I do, but I'd go Day-Date for the full meal deal. And I personally prefer a fluted bezel (although those are not available in steel).
RN: I'm in agreement on all points with you here. This is great Datejust advice (probably deserving its own column), but none of this is convincing me it's a better watch than the Snowflake…
Mike: Cool your jets, snowball-head. I haven't forgotten about the SBGA211. I'm just gearing up to tell you why the "DJ" is better.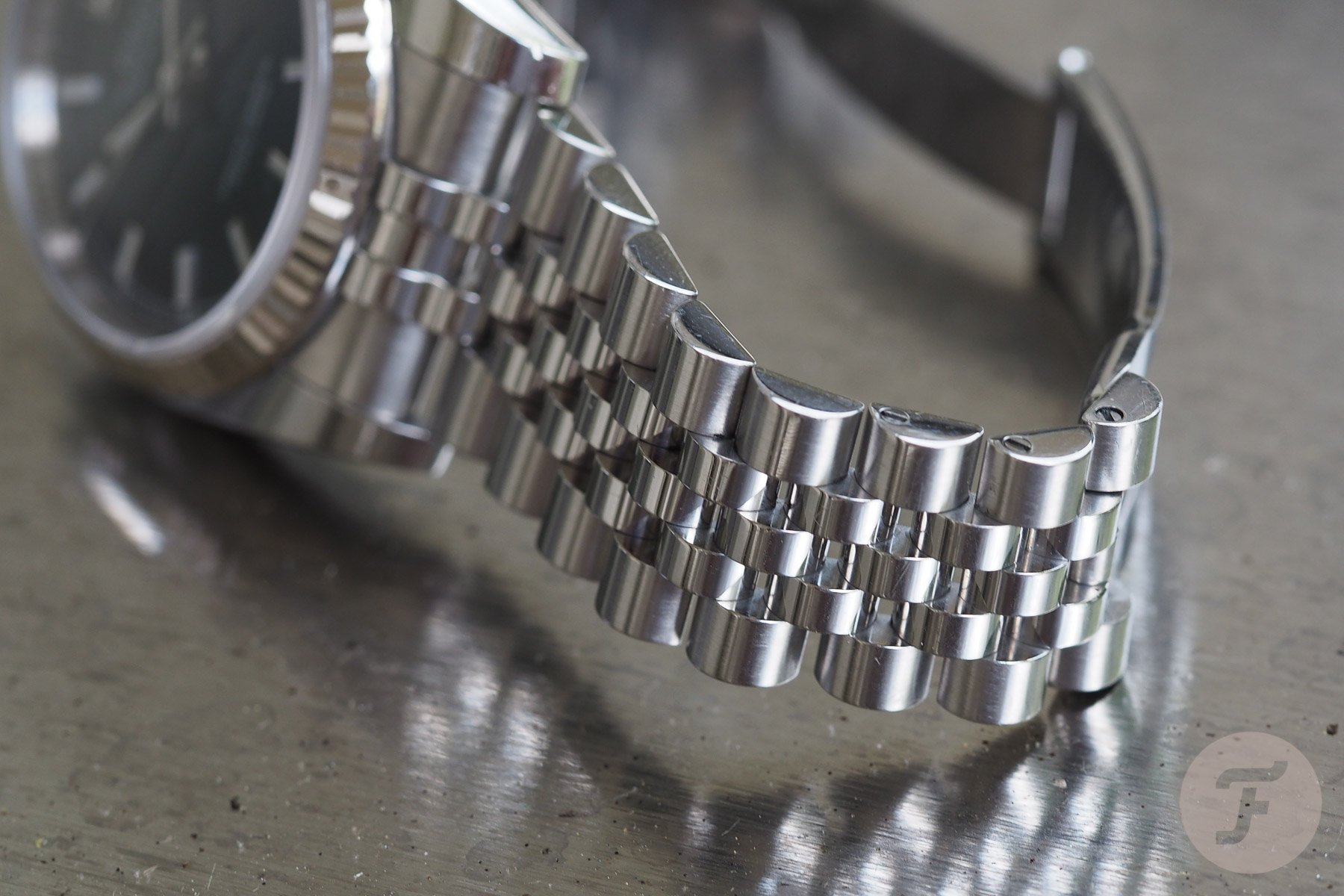 Uh, the bracelet. Here you could go Oyster, but you'd better opt for Jubilee. Why is that? Because while Grand Seiko makes a stunningly beautiful watch head, they routinely fumble the ball on the goal line when it comes to the bracelet. The Jubilee is simply the most comfortable bracelet on the planet. Mic drop…
Yes, the Snowflake contains a far sexier movement when compared to Rolex caliber 3235, but the Swiss motor is nothing to dismiss. With 70 hours of power reserve and legendary durability, it's about as fuss-free as a quartz watch. And let's not forget that if you do have an issue, it's easy to find a Rolex retailer.
Look, I love Grand Seiko and I'm a noted critic of Rolex due to its enigmatic production practices and a shift to case designs resembling cyclopean masonry. In this fight though, I have to give credit where credit is due. The current reference 126234 that debuted in 2019 is a slim-cased looker and a fine successor to the model 116234 pictured here. Yes, at €7,950, the Datejust is about 30% more expensive than the GS, but there's really no other sub €10K dress watch that holds its value quite like this.
Rolex Datejust 116234 Vs Grand Seiko Snowflake SBGA211