SYE MOT1ON Chronograph Silver Edition Meca-Quartz Watch Review
It takes some doing to do something different in the watch industry these days, and yet, there seem to be plenty of brands game for the challenge! However, stepping up to the plate and crushing a 400-yard homer is not the same thing. One brand that seems to be batting above average in its short history is SYE. I first heard of SYE (Start Your Engines) in the run-up to the Baselworld that never was. Having booked a highly anticipated meeting with the brand, I was forced to wait. Almost exactly one year later, I finally wound up with the watch in my hands. And, I have to say, it lived up to my expectations.
If you're a regular reader of Fratello, you'll know I have a bit of a thing for affordable meca-quartz chronographs. SYE is not quite as affordable as my usual fare, but there is a good reason for that. While the Seiko-made VK24 (30-minute counter/24-hour indicator/date) module is the same as you'd expect to find in lower-priced alternatives, the case and strap are like nothing else on the market.
…something very, very unusual.
And I mean that in its entirety. This isn't about price bracket performance. This watch isn't a good imitation of something much more expensive. No, satisfyingly, it is entirely new. The way the strap attaches to the case is not exactly unheard of (the Omega Dynamic springs to mind for a similar if not exact corollary), but the resulting form, with its incredibly sculptural case middle, and its flowing, organic, yet similarly structured band is something very, very unusual.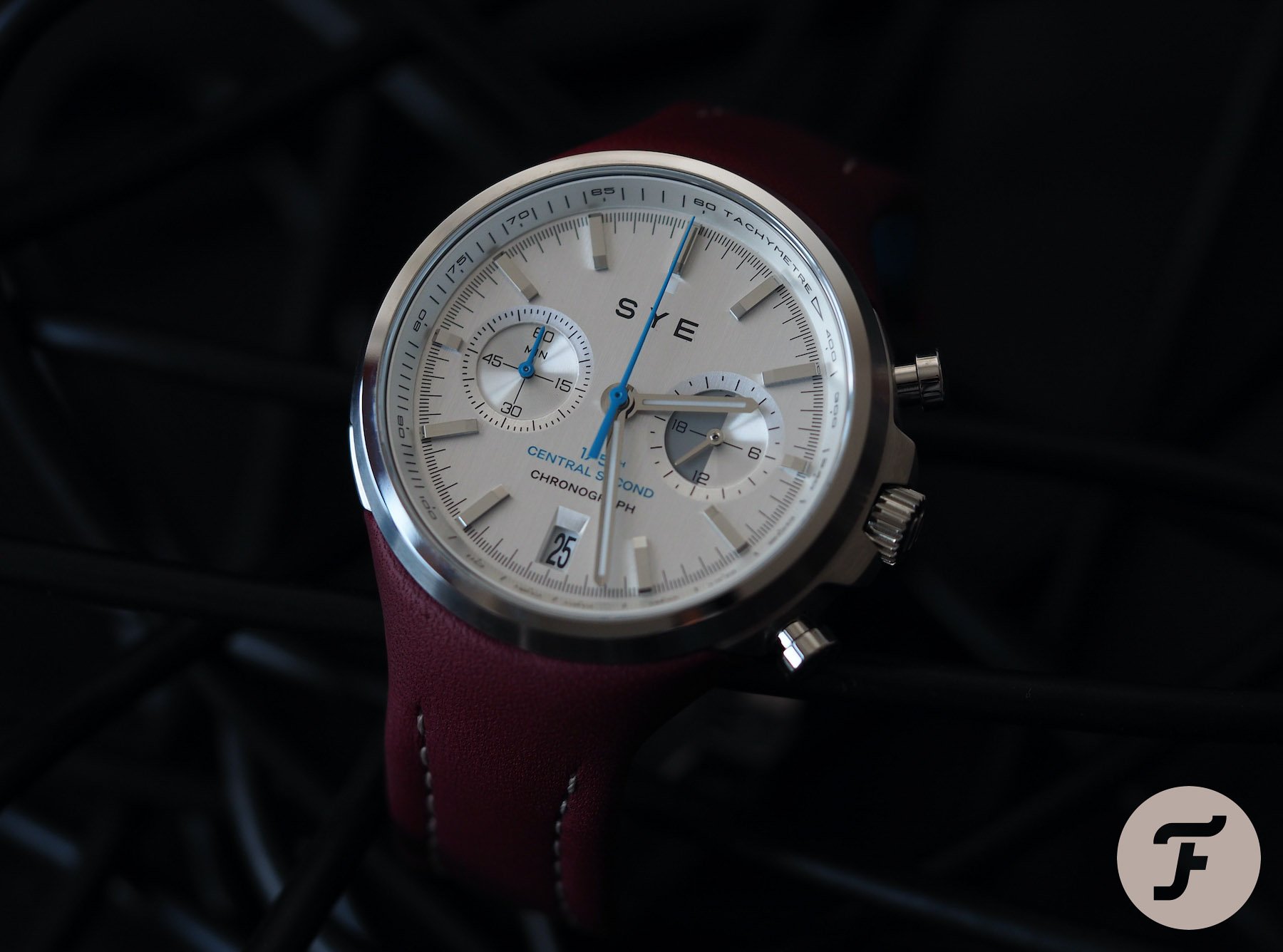 What's going on with the strap, then?
Okay, the strap is almost certainly the first thing you'll notice about this watch when you see it for the first time. It is odd for a strap to steal away so much of the limelight, but this one surely works hard for it. Firstly, the leathers used in the production of these straps are quite special. The brand uses French NovoNappa leather sourced from the tannery Haas, which is part of the Chanel group. They've been made by Jean Rousseau, which means the Fastback™ straps have some pretty impressive provenance.
…one of the more streamlined and aesthetically satisfying results…
These are two-piece straps, fitted with grooved metal "end link" inserts that are sandwiched between the underside of the bezel and the removable case back. That's right, this watch features a "double case back". As I mentioned earlier, this isn't the first time we've seen a double case back used to affix a strap to a watch case, but it does offer one of the more streamlined and aesthetically satisfying results when everything has been properly put together.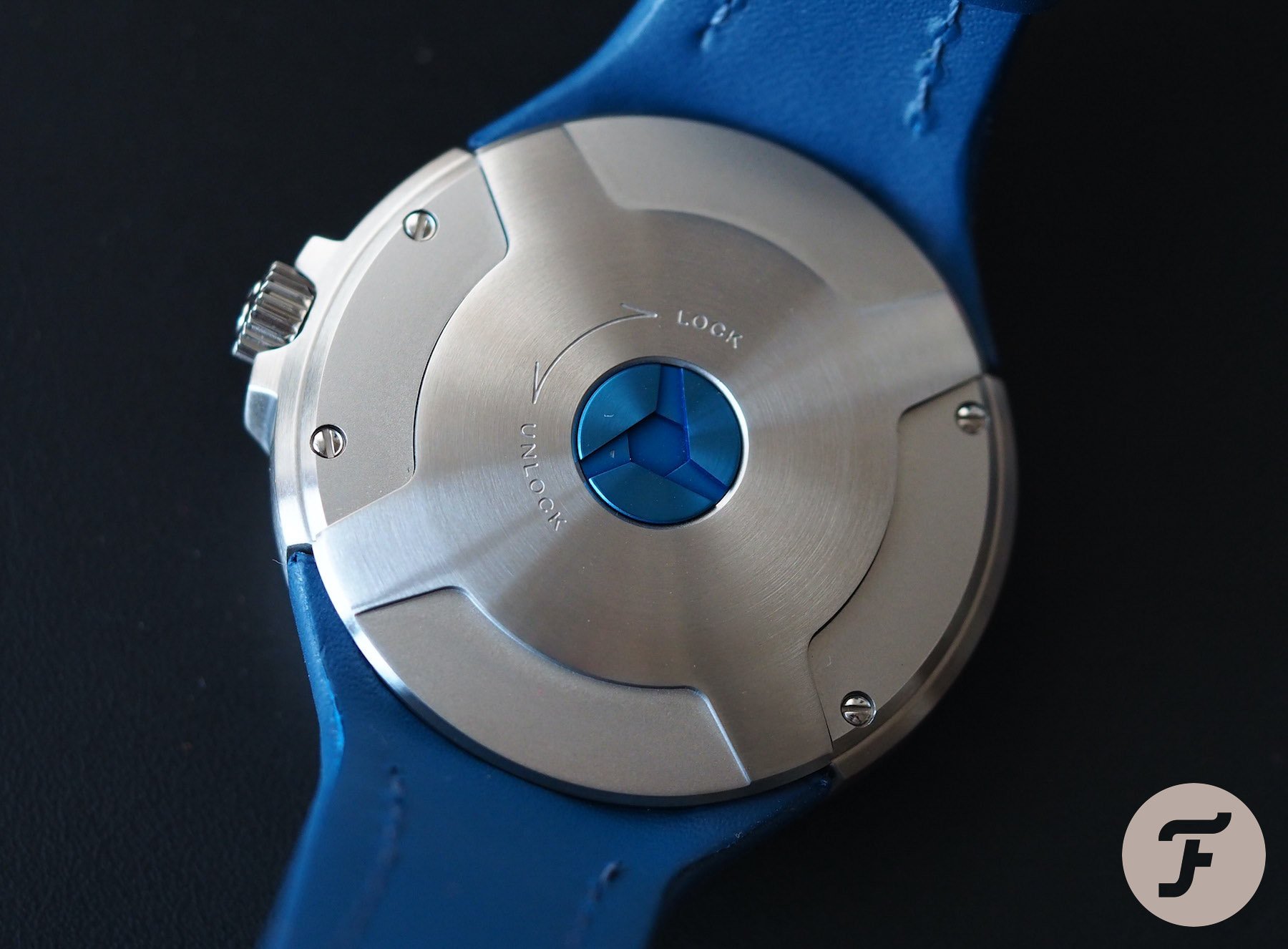 Wiggle wiggle
That would be my only criticism of the strap, whose concept, finish, quality, and wearability are all top drawer. It isn't the easiest thing in the world to fit and I found the best way to do it was to approach the task in stages. Hoping to get both ends of the strap perfectly aligned with the upper (or should that be lower?) case back on the first attempt is optimistic at best. It is better, in the experience I've earned recently by "strapping and destrapping" this watch countless times over the past fortnight, to "locate" the strap ends in place (roughly) and then apply the case back. With firm thumb pressure on the case back, I took to wiggling the straps from side-to-side alternately until the grooves bit.
Once everything seems in place, I laid the watch face down and screwed in the single (blued) screw to tighten the case back. It is obvious when everything is correctly located. You will see the case back sit flush and flat to its surroundings. The finished product looks slick and flawless — exactly as intended, I'm sure.
The single blued screw
That single blued screw that holds the whole thing together is "cool" for sure. However, it gave me fits when I was tightening it with the fancy tool with an anodized aluminum head provided. I just knew I was so close to wearing off that coating with one false move. I took my time and got away without too much damage. That said, I have a couple of the suggestions for the brand, and one for you at home:
SYE could "fix" this by either leaving the screw uncoated (a shame because of its visual impact) or by supplying a tool with a plastic head instead (better, but perhaps not ideal regarding longevity).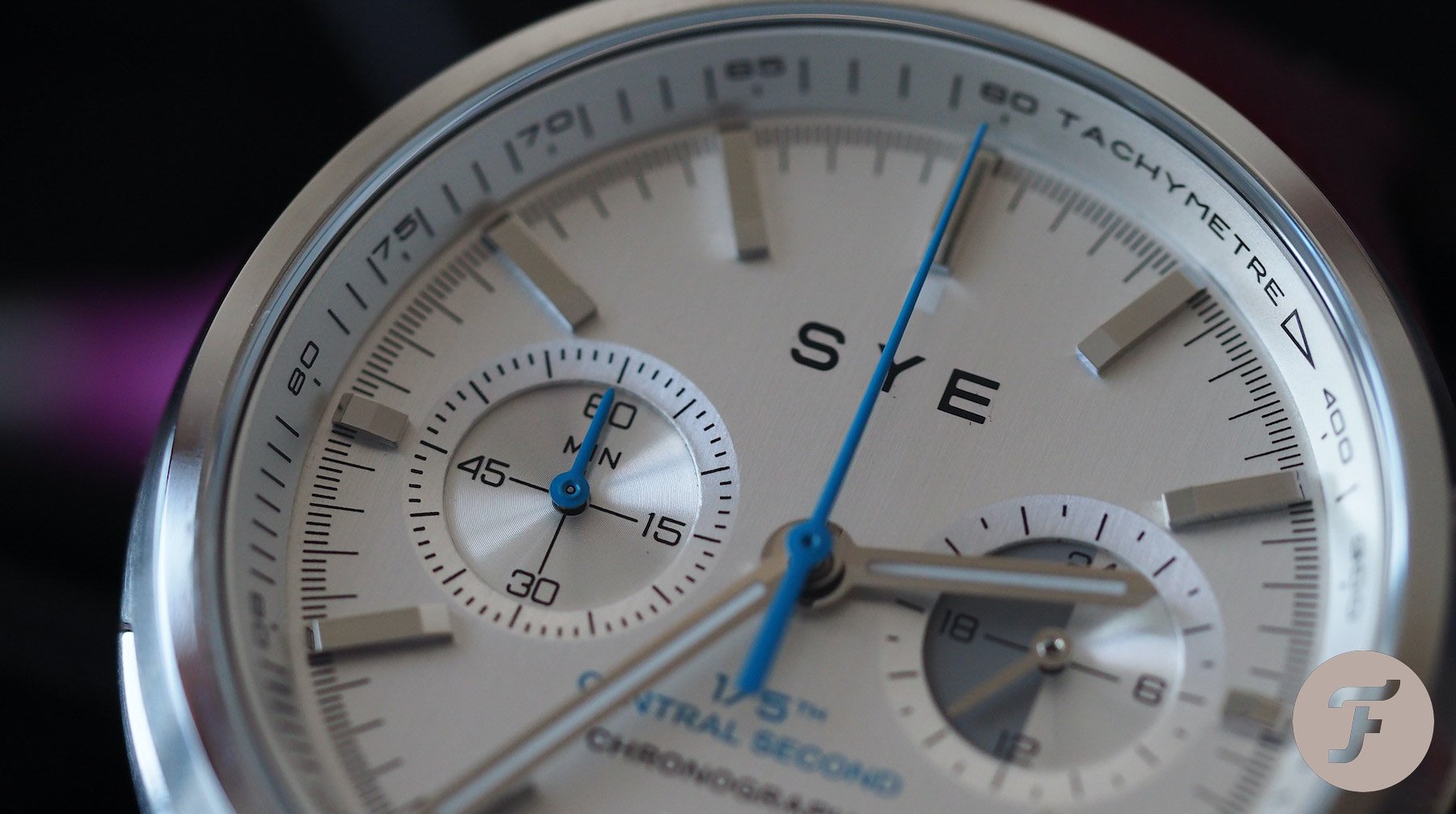 Until either of those things happen, I would suggest SYE wearers stay calm, stay patient, and tape that little sucker up. A bit of protective tape never hurts when you're changing straps, so why not try it here? On the plus side (and I really appreciate this) SYE's system does eliminate the possibility of scratched lugs. In fact, in order to ensure that you don't end up scratching the lugs, SYE decided to do away with them altogether.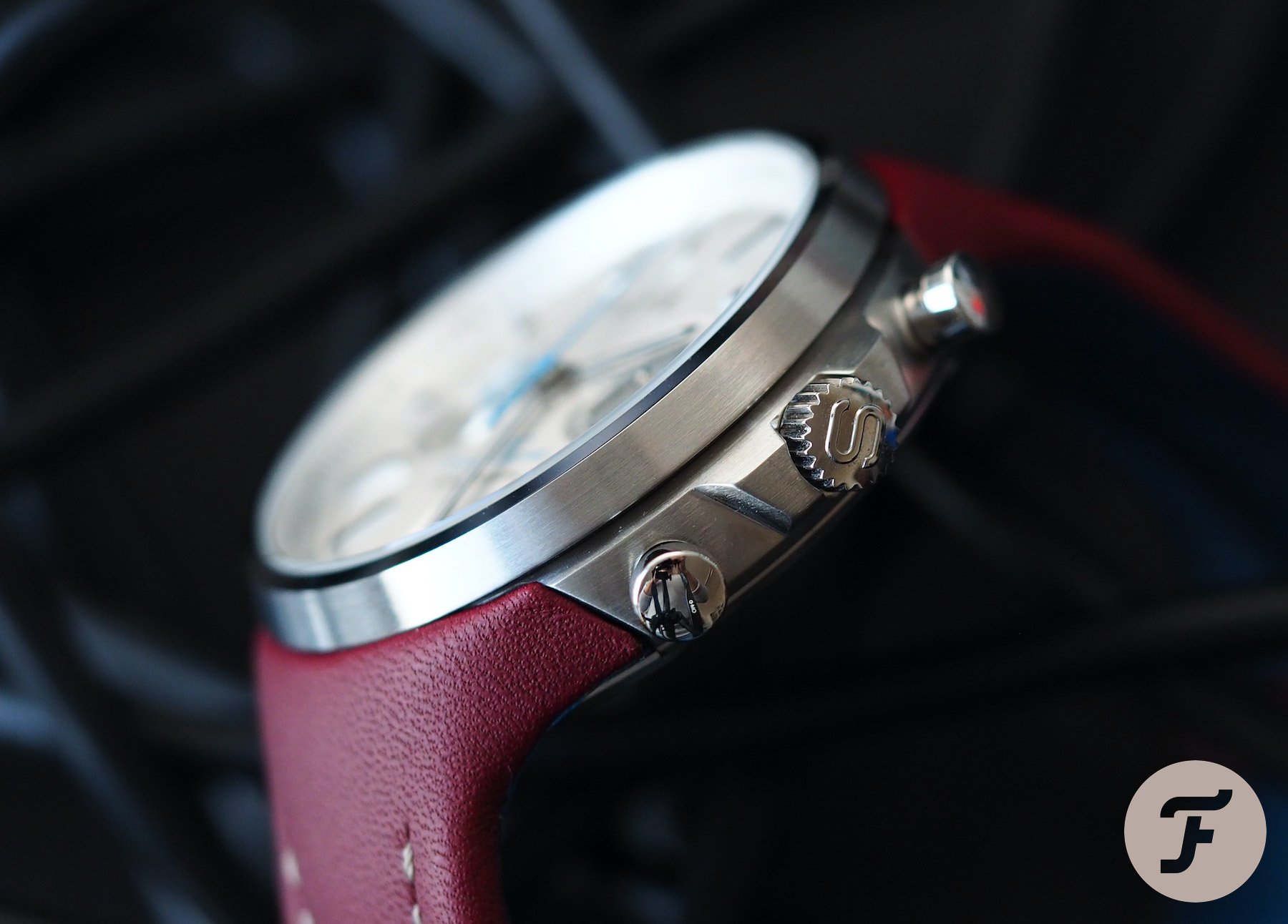 No lugs please, we're Swiss
Let's talk about that case, shall we? While we're at it, let's talk about Tron. Tron is great, right? I like being reminded of Tron. Casio managed it recently with its famous addition to the G-Shock line, but, for me, this watch takes the biscuit. There is something incredibly futuristic about this "flying saucer" style disc. The angles, its multi-component nature, its obvious over-engineering resulting in a stunningly digestible appearance in spite of itself all add up to something thoroughly weird, and truly novel.
…about as far from off the shelf as you can get.
If you think it's a shame that this kind of exciting case engineering is wrapped around a meca-quartz module, fear not. There is an automatic version available, which I will be reviewing and GIVING AWAY in an upcoming post. However, that movement, like this one, is Japanese-made. Why? Because that case (and the totally OEM strap) cost a bomb to develop and produce. I know you hear that kind of thing all the time, but seriously: this is about as far from off the shelf as you can get.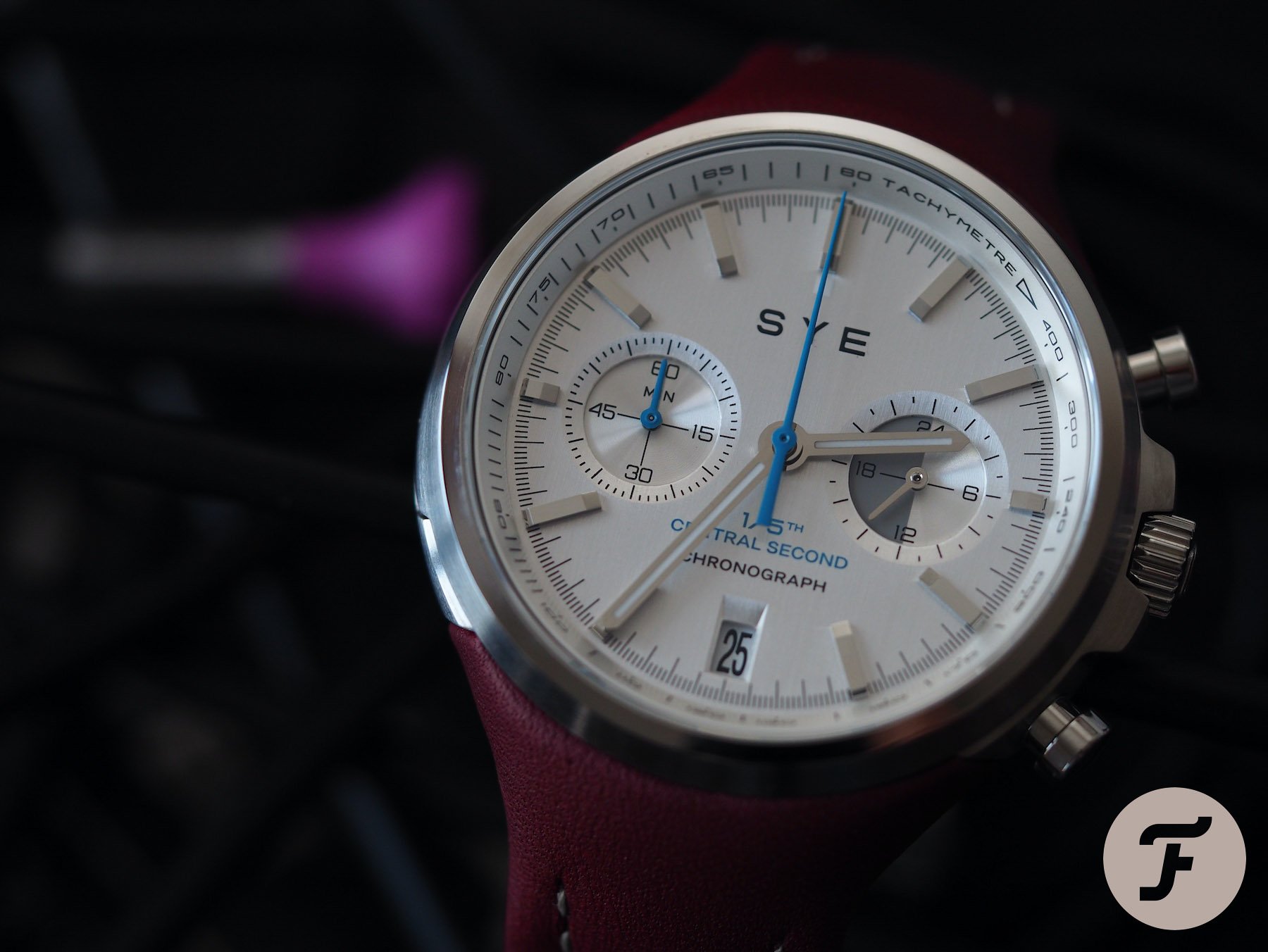 Conclusion
So, basically, I like it a lot. The strap took a bit of getting used to because it is really structured (rather than "stiff") and the watch's presence on the wrist is decidedly odd, at first (it reminds me more of the kind of bangle watch that was super popular in the late '90s and early '00s). Once I'd had it on for about three days, though, I grew to love the feeling. Also, I never ever tired of the look. This one measures 40.5mm across and 13.4mm thick. That extra thickness is partly down to the double case back, but because of the way the strap (which is appropriately bulky at the attachment point) hugs the case and hugs it to your wrist, it doesn't feel unwieldy at all.
…a choice of ten strap colors, ranging from versatile to vivacious…
The SYE Mot1on Meca-Quartz Chronograph is water-resistant to 50 meters, is made from 316L stainless steel, and topped with an anti-reflective sapphire crystal. The dial comes in either the silver pictured her or a blackened version. With a choice of ten strap colors, ranging from versatile to vivacious, there should be something for everybody. I was feeling fruity so I went for a Syrah (kind of like a rugged magenta, if ever such a thing has been said before). Right now, these are retailing for €650, which is an introductory price. The full retail is planned to be €850. I think at the lower price these are really cool watches. If you want to learn more, check out the official SYE website here.