#TBT Breitling Navitimer All Black – Hands On with An Icon
Breitling Navitimer All Black
Today on #TBT, we'll take a look at an all-time classic, the Breitling Navitimer All Black. It's a watch that I never thought I'd have a chance of owning, but thanks to fellow Fratello member Gerard, and especially to my wife, I've been fortunate to add a beauty to my collection. It's funny, it was almost a year ago this time that I wrote about another Navitimer that I had sourced: it was a rare transitional reverse panda model purchased from Rene. So, once again, it seems that Autumn is Navitimer season – and with that, let's take a look at a very special chronograph.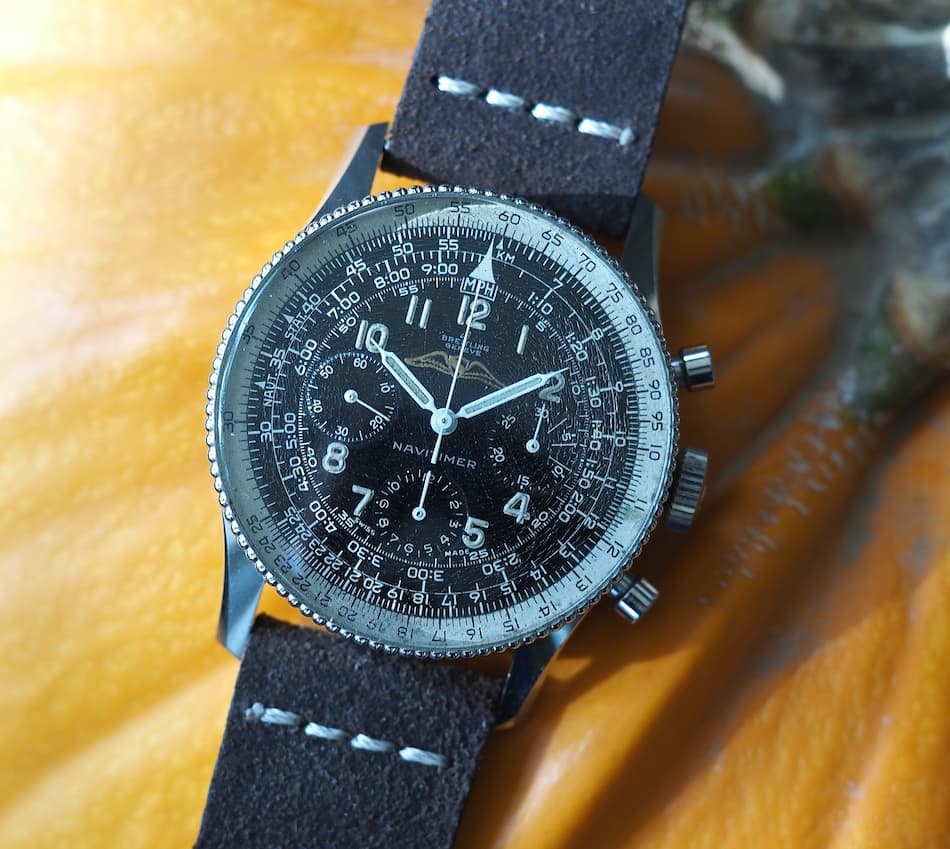 Adding the Breitling Navitimer All Black
When I picked up the aforementioned transitional Navitimer, I was convinced that this was enough to satisfy my craving for the big aviator watch from Breitling. Well, it wasn't. Aside from picking up a really nice example of the 24-hour dialed ref. 809 Cosmonaute (by pure happenstance), I ran into the Breitling Navitimer All Black. Well, to be more specific, I ran into Robert-Jan and then Gerard. Somehow, we were talking about Navitimers and Robert-Jan let on that Gerard owned a really fantastic early version and that he'd likely part with it. This was 7 months ago right before Basel. I asked Gerard about it and he brought the watch back to its birth land for review.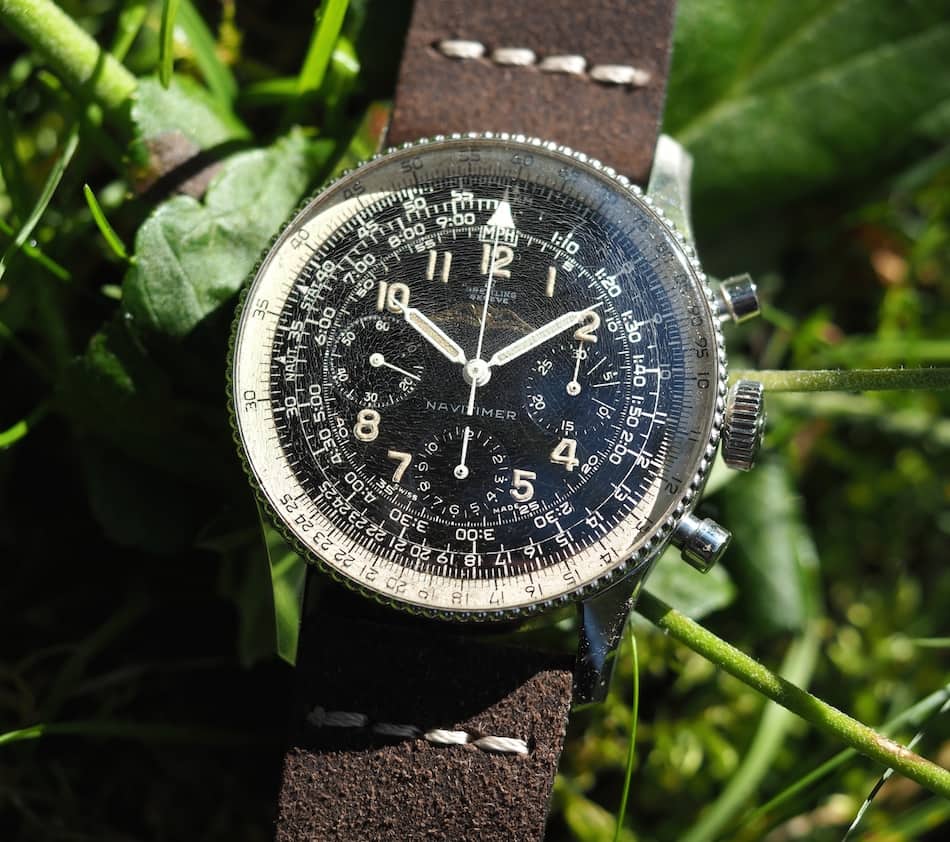 Largely Unworn
Gerard informed me that the Breitling Navitimer All Black you see here was traded to him some years ago when he owned a watch shop in The Hague. The watch was for sale for several years and garnered little interest. When Gerard finally closed the shop, he packed away the Navi and it went largely unworn. When it finally reappeared in Basel in front of my eyes, I knew I had to have it. Despite my 40th birthday being 7 months after Basel, my wife agreed to get it for me as a special gift. However, it had to be put away until the special day – and so it sat unworn again until now.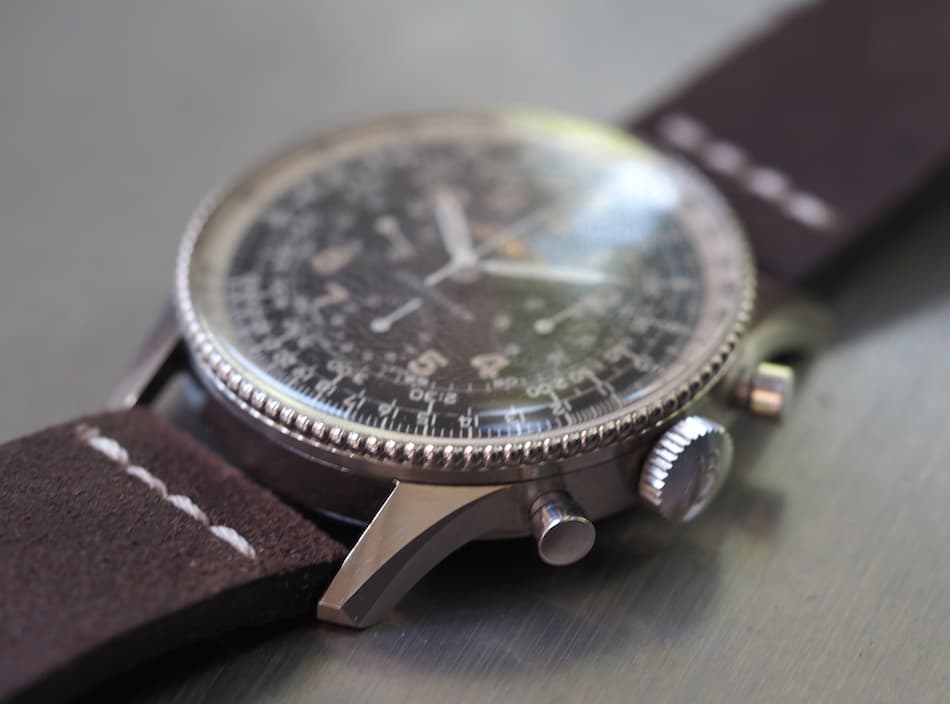 A Beautiful Specimen…
The Breitling Navitimer All Black is the second watch that comes from Gerard. The first was the nearly perfect Enicar Sherpa Graph that I wrote about some time ago and let me say that this piece is no less stunning. Gerard, do you have any more sweet vintage pieces available?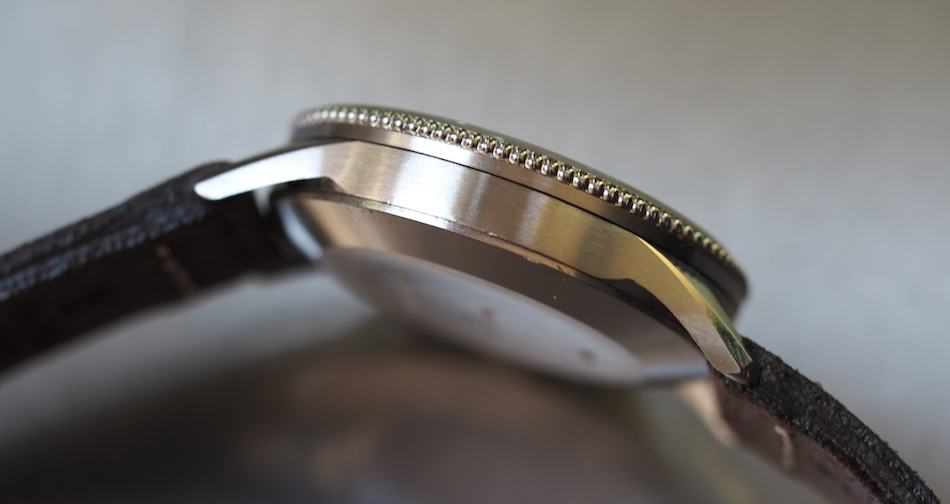 Specifically, the case is in near mint condition and shows knife-like edges on its chamfers. Additionally, the dial and the lume have aged to a beautiful cream color wereas so many have either gone black, lost the lume or have been redone.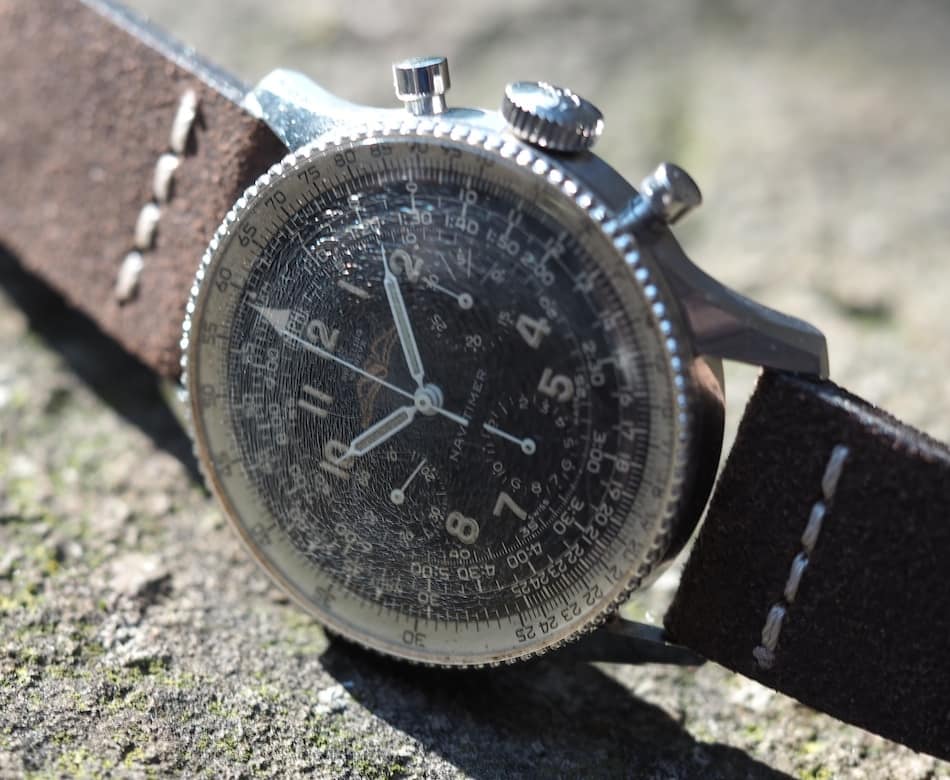 In a nod to originality, the crystal exhibits the kind of crazing that can only come about after what will soon become 60 years – we think that the watch is from 1959. Yes, this example is amazing.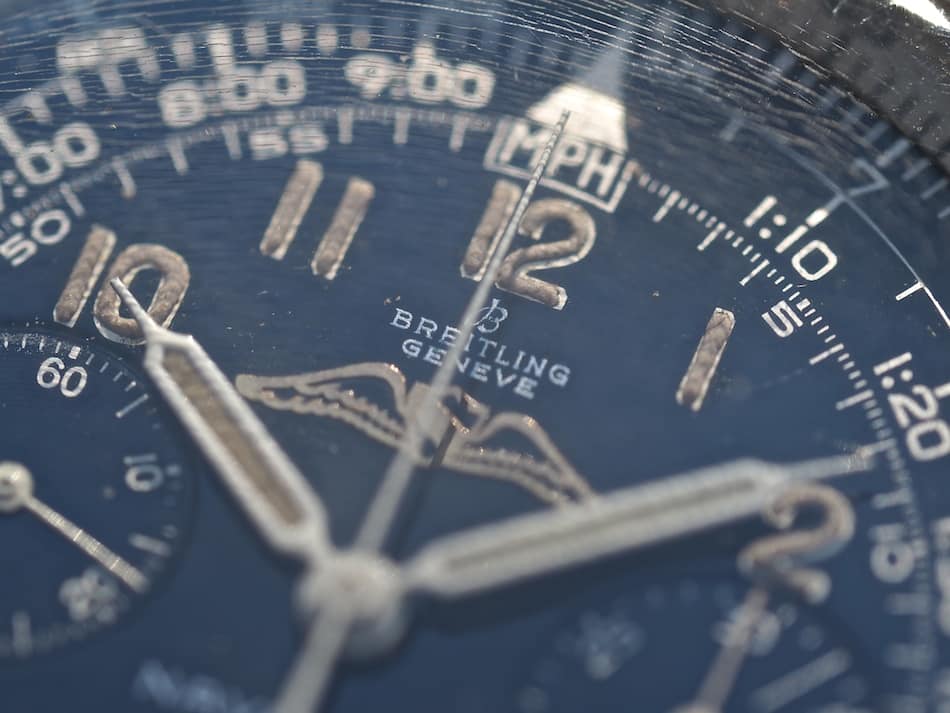 Breitling Navitimer All Black – leading the charge
The fact that this Breitling Navitimer All Black sat with nary a look for so long in Gerard's shop is telling. Despite a real surge in vintage chronograph prices, Navitimers have been a bit slower to take off. Perhaps it's because they've had semi-strong periods of collectability in the past or because they are quite difficult to find in nice, original condition. No matter the reason, the All Blacks have started to pull away from the crowd due to their earlier production (1954-1963) and their very different looks when compared to later editions.  I should note that the rising popularity of these early models has raised interest in later editions as well; the market is pretty dry for almost all manual wind Navis.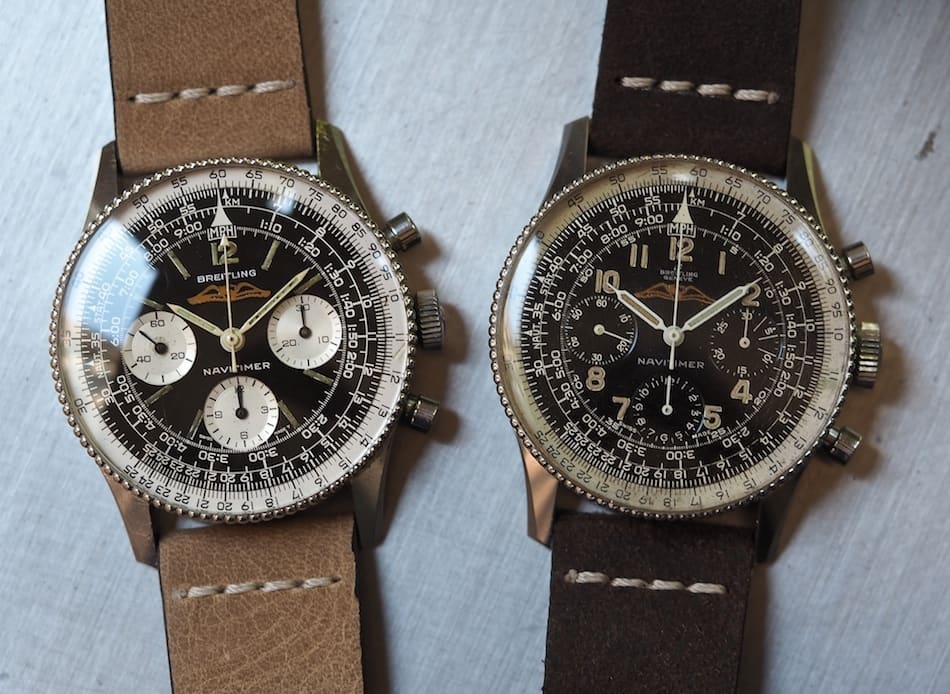 More than just a color change…
But what makes an All Black so different? First off, if it's not understood, these pieces were the original incarnation of a legendary watch line that has come to define Breitling – blending loads of instrument-like functionality with the features of a chronograph.  In Omega terms, is this piece akin to comparing a straight-lugged Speedmaster with a later, lyre-lugged version? I'd say that's a fair comparison. So yes, I was pleasantly surprised when I finally saw a Breitling Navitimer All-Black in the metal. I was expecting something very similar to the 806 I already owned, but simply with a more monochromatic dial. How wrong I was. What I'd overlooked in pictures was the fact that Breitling made a number of changes aside from coloring the subregisters white when they finally decided to refresh the model in 1964.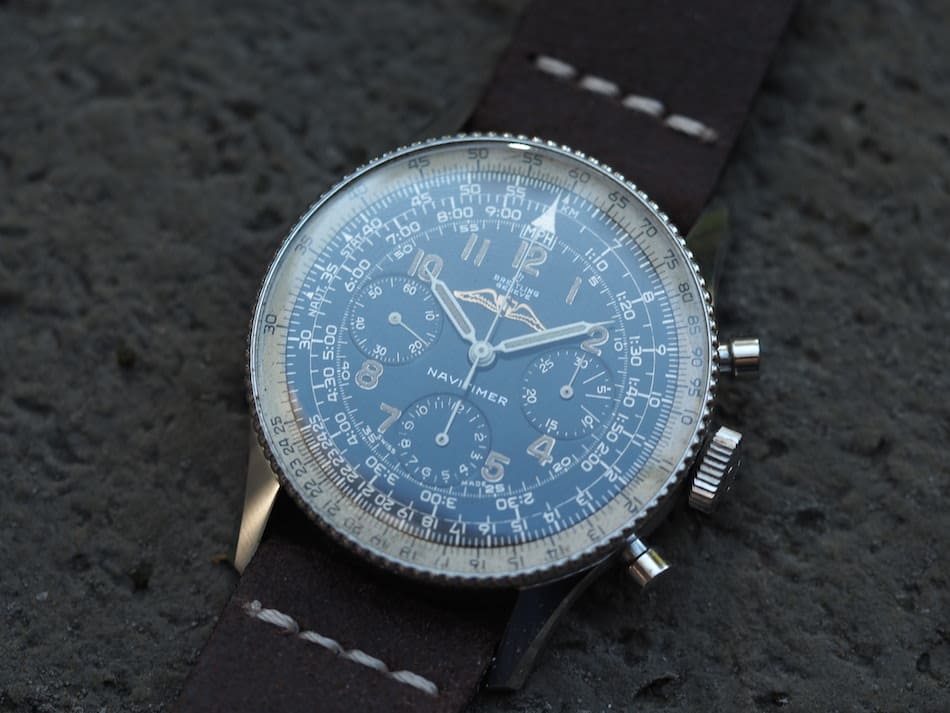 Syringe
Early Navitimers display lovely lumed Arabic numerals versus the post-1963 editions with their hash marks to indicate the hours. Furthermore, the Breitling Navitimer All Black contains classic early period chronograph "syringe" styled hands (similar to those found on Gallet Multichrons) in lieu of later arrow tips. Subregister hands are white needles versus the black "bowed-out" indicators on predecessors and the white central chrono hand lacks an arrowhead. Aside from the white slide rule that would carry on from All Black to reverse panda, the look is truly different. It's simpler, far less 60's and is very, very "looks" competitive with the aforementioned Speedmasters.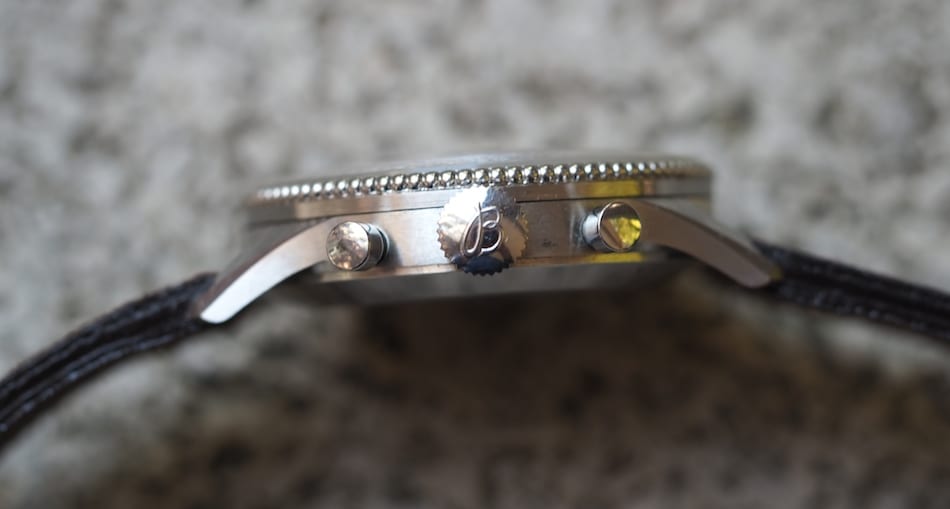 Valjoux and Venus
The Breitling Navitimer All Black came with many dial variants that often included an AOPA logo or, as in this case, a gold wing without the AOPA insignia. I'll leave it to the experts to differentiate the various models, but in my eyes, all are equally attractive. The other differentiator in these early Breitling pieces relates to the movement. The first year or two saw the use of the Valjoux 72 (so called Mark 1 models) before Breitling moved to the Venus 178 (Mark 2 for the All-Blacks) that lived on in the model for the next 15+ years. These Valjoux powered pieces are extremely rare and very expensive (start at $15K and move up with ease), but they've also had a carry-on effect with the Venus-powered versions.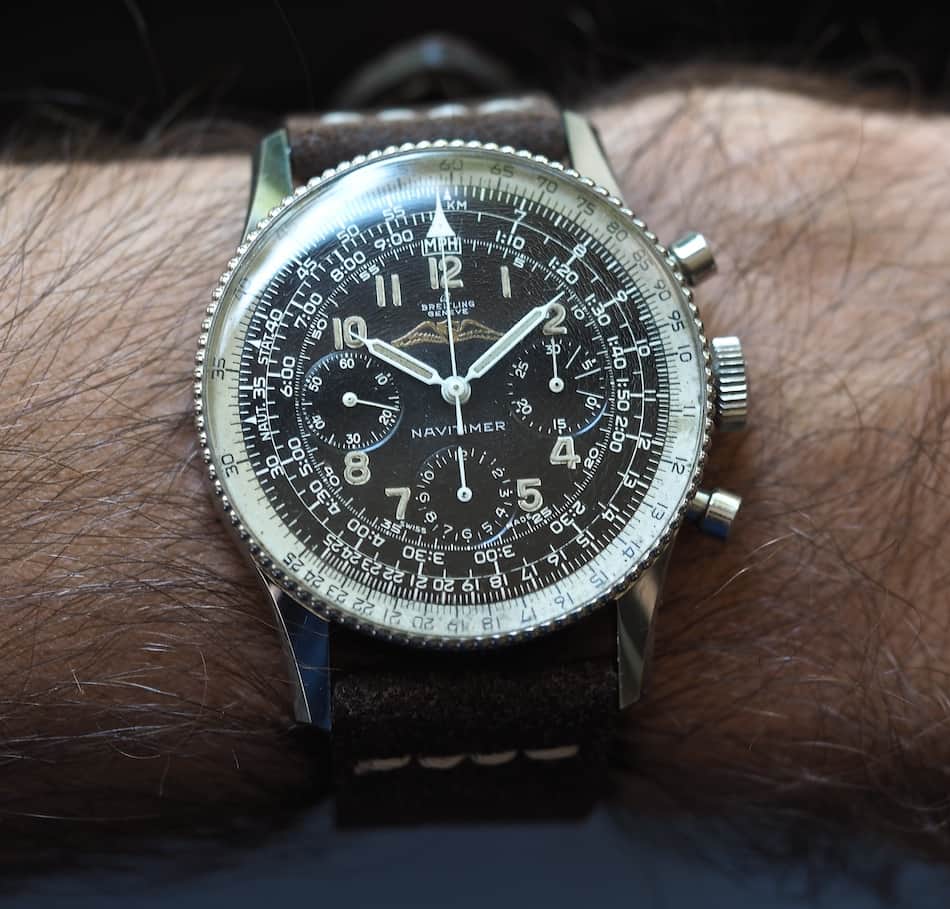 Wearing an Icon
An early Breitling Navitimer All Black looks stunning on the wrist. It has loads of presence but exhibits a certain level of restraint versus later editions. You're really wearing one of the greatest chronographs ever devised and certainly one of the most famous – we put it in our Top 5 vintage chronographs. It was also mentioned many times in our Breitling Expert Interview. It almost has an inky look and comes off as just a little smaller than the reverse pandas.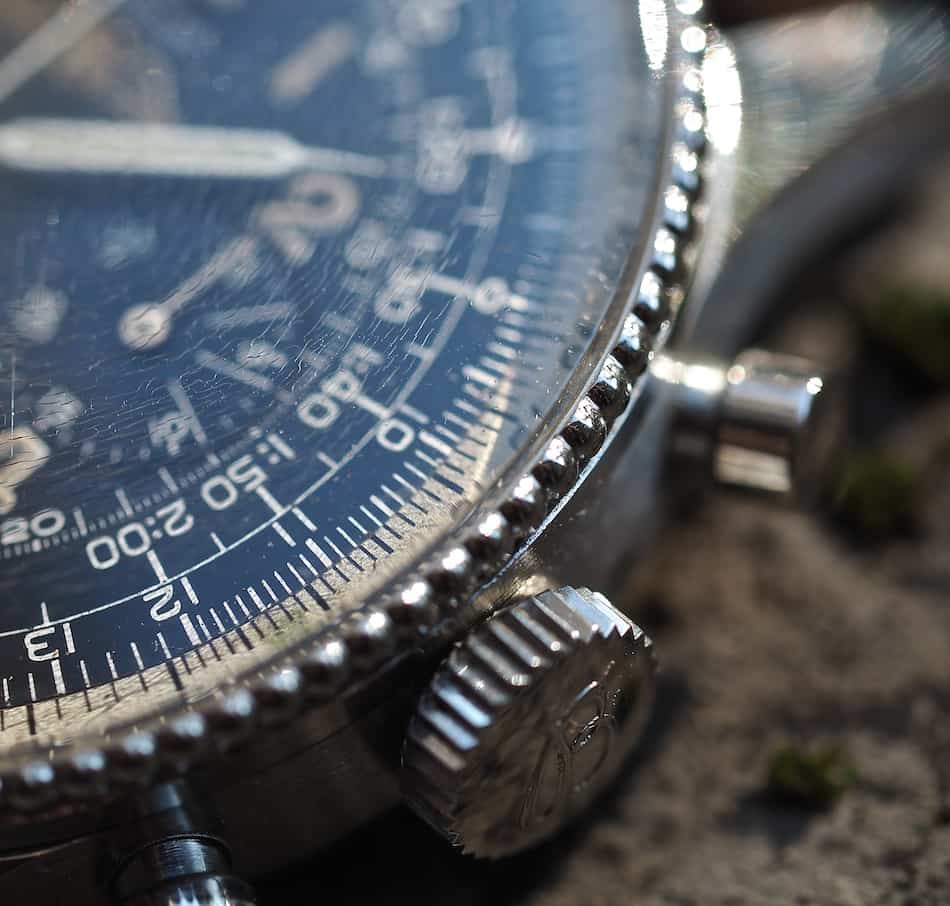 Pure Character
Also, one has to admire the beaded bezel for the way it catches the light. Navitimers are great all around watches that can be worn with about anything, but due to their extreme anti water resistance, they're best left for use inland. Their construction often results in serious dial degradation and/or slide rule staining. Furthermore, that big, barely convex crystal loves to form stress cracks from the outside or, in this example, craze. To me, the crazing is pure character and I love it, but I know that even my buddy @watchfred rolls his eyes at my pigheadedness in avoiding a swap.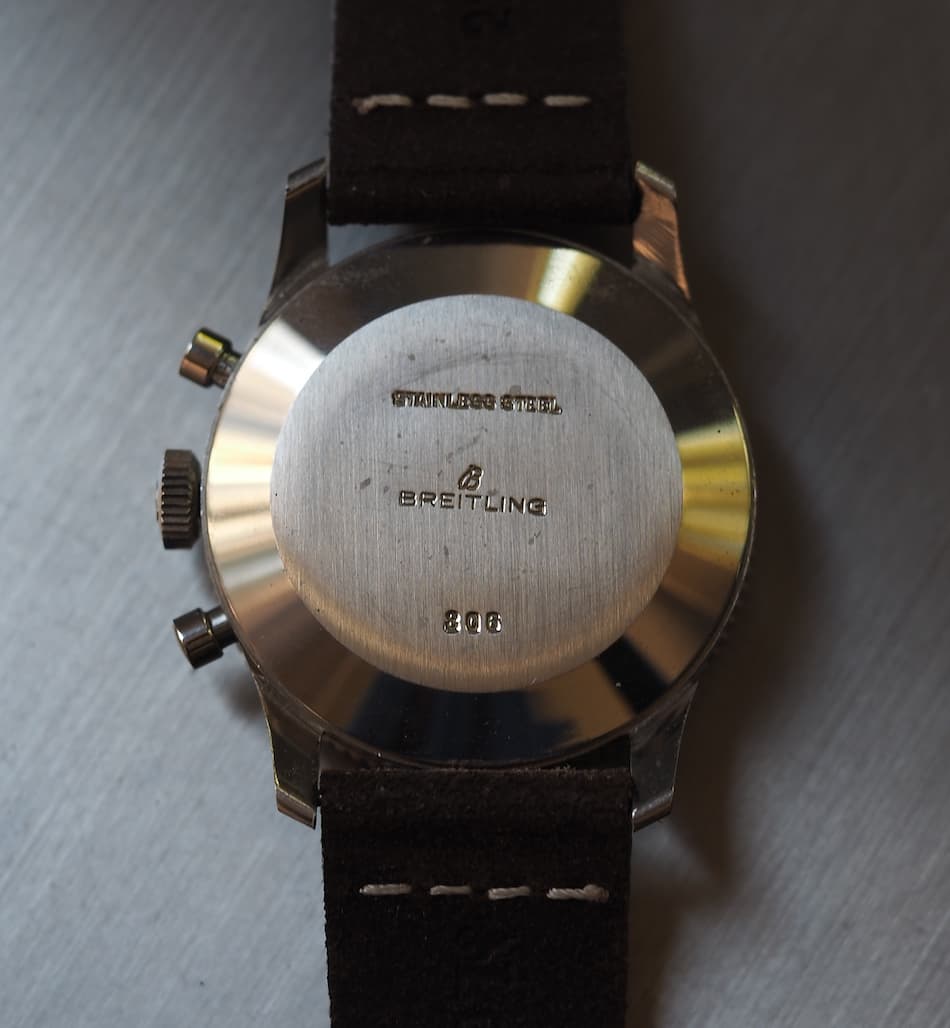 The Breitling Navitimer All Black is still loosely affordable
Warts define a vintage Breitling Navitimer All Black, but they also define values. If you're looking for a Mark 2 (Venus 178), figure on at least $6,000 for an example. Realize though, that you'll likely be looking at a dial that likely has lume issues, repainted hands, or a seriously polished case. This is an increase of roughly 20% over the last 6-8 months. Still, though, bargains show up every so often as there were so many Navis, that sellers may not be able to differentiate.   Normally, though, move up to $8,000 and you're likely talking about a very nice watch. In my opinion, the 5-figure mark isn't too far ahead.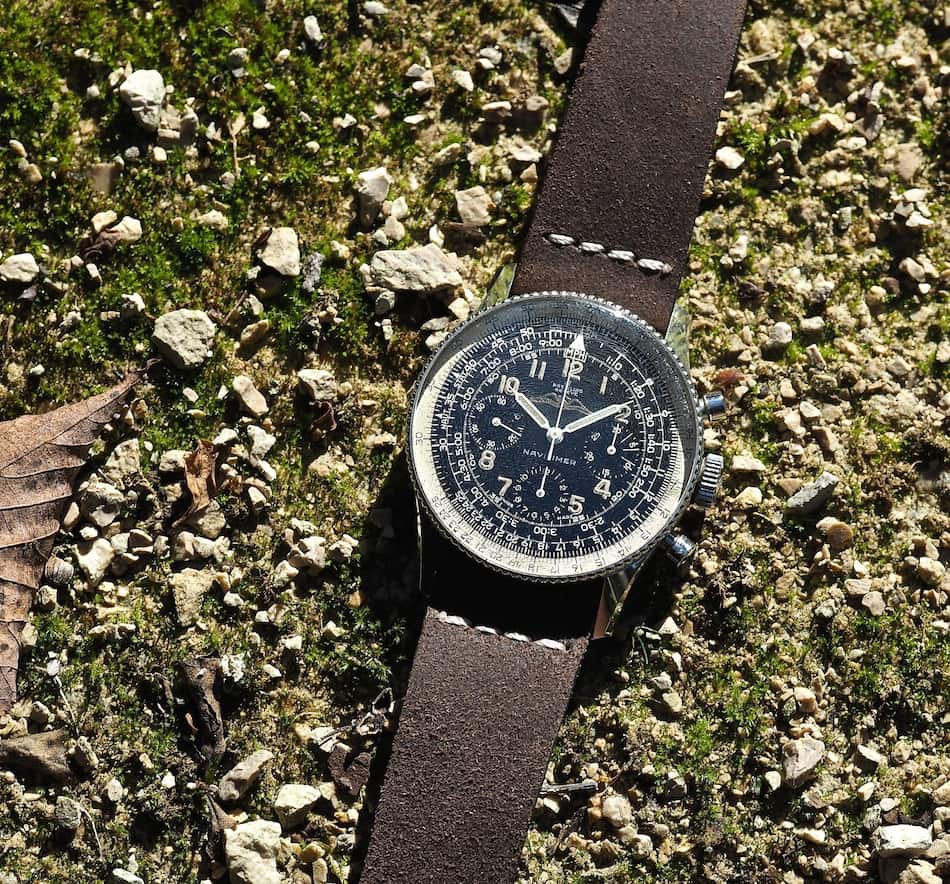 A Breitling Navitimer All Black is truly a special watch. Nice ones are not overly common and, yet, they're still relatively affordable when compared to some of the other seminal chronographs.   Yes, if you wanted a true cornerstone, dare I say "grail", vintage piece, you could do much worse than an All-Black. There's no doubt that this was one of Breitling's best…