#TBT Bulova Oceanographer Snorkel 666 a Rare Vintage Bargain
It's increasingly difficult to find a deal in today's hot vintage watch market, but I think I have a great suggestion for you in the Bulova Oceanographer Snorkel 666. No, we're not talking about a chronograph this week, but, instead, that other species of sports watch that captures loads of interest: the diver. So, with that, it's #TBT time and let's talk some Bulova.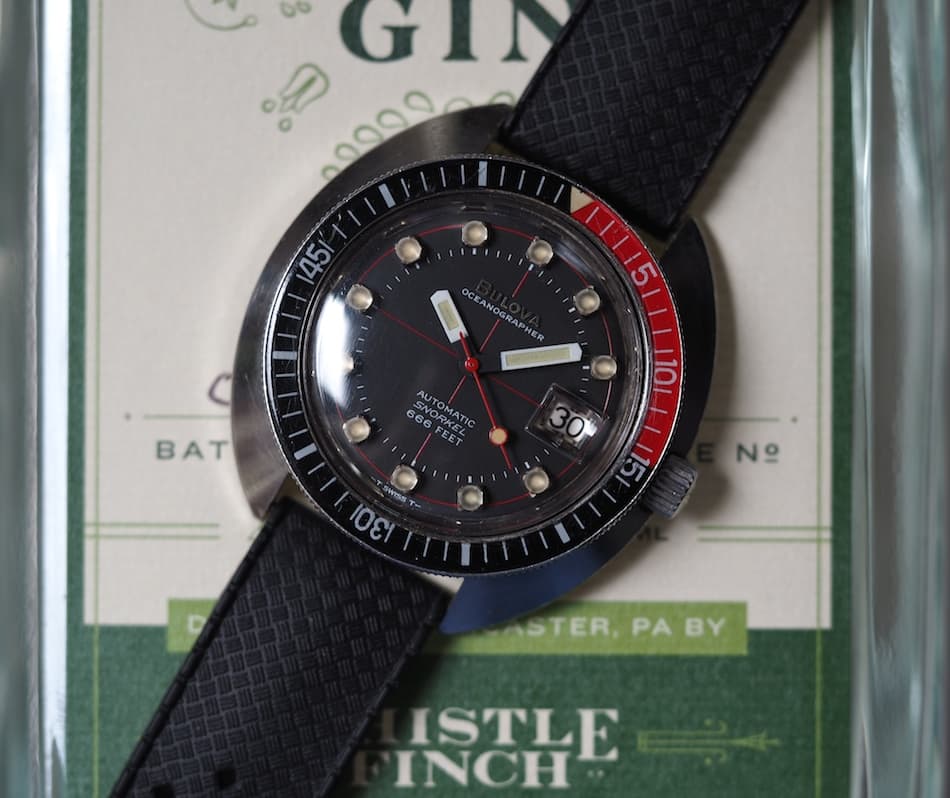 Vintage Divers are Slowly Coming Back
The chronograph may be the current king of the marketplace (and we covered a striking vintage Bulova chronograph here), but it wasn't always so. It feels like dive watches were especially popular prior to the run up in chrono prices over the last 4-5 years and things have been quieter since then. I do think, though, that with the relative scarcity in chrono pieces on the market plus the fact that prices are likely starting to scare off beginner collectors, divers could be due for a comeback. The Bulova Oceanographer strikes me as just the type of piece that collectors might wish to consider while the times are still good.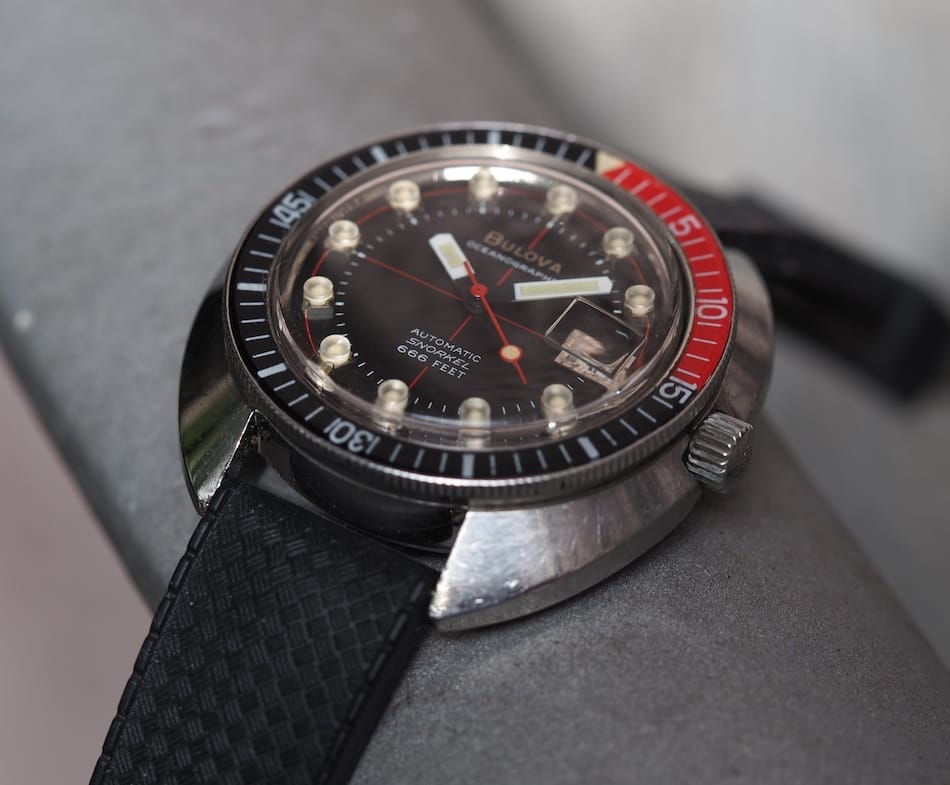 The Bulova Oceanographer is a Feast for the Eyes
The Bulova Oceanographer ushered in a rather progressive look for the company when it was introduced in 1969. It actually replaced an attractive, but extremely traditional diver in the vein of, say, the original Zodiac Seawolf that Bulova had been producing since the early 1960's. A quick glance at this piece immediately screams 1970's with its c-case, but as we get into it, there's a lot more at work.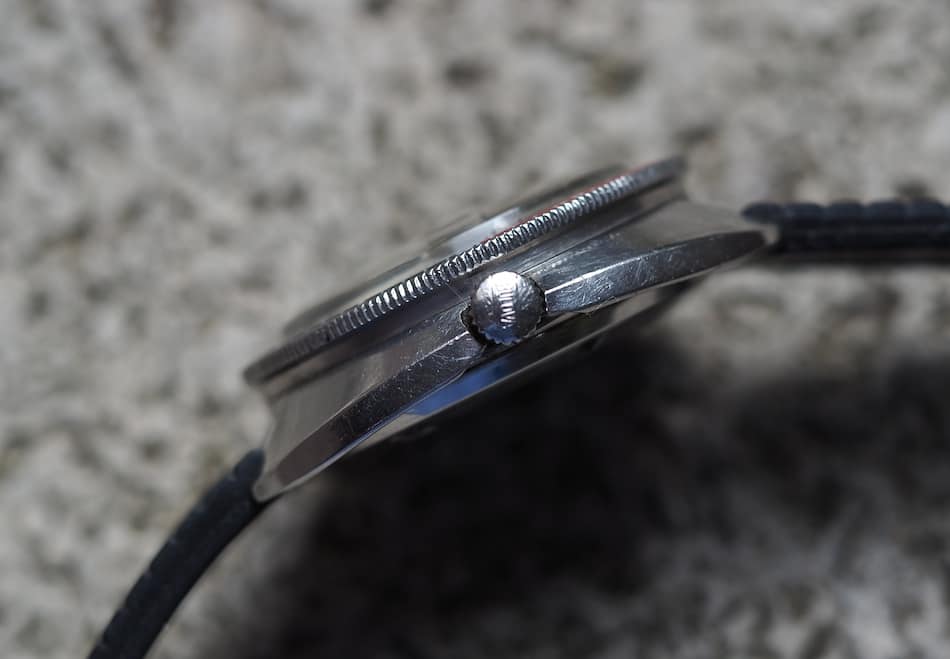 With all of its details, the Bulova Oceanographer is a bit of a carnival for the eyes. The stainless steel case, from a head-on view, looks like your normal 70's standard issue watch not unlike a lot of Seikos or even the original Doxa 300T, but a view from the side reveals more.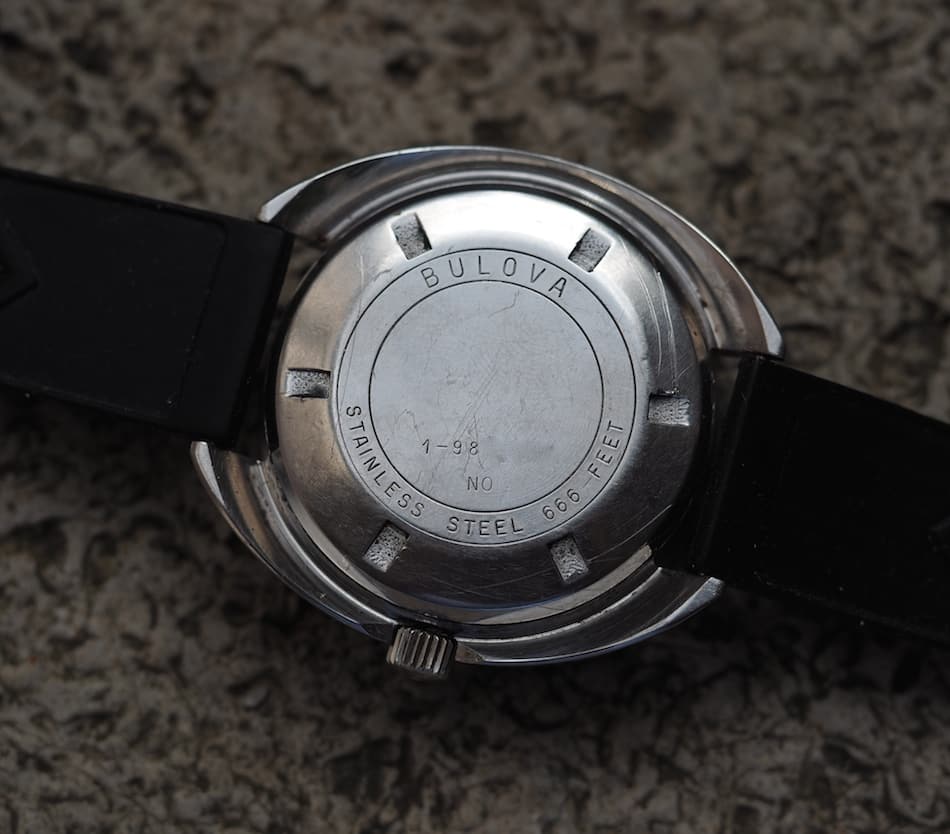 Viewed from the crown side of the Bulova Oceanographer, we actually see some very delicate shaping around the signed crown that evokes memories of some very expensive divers such as the Omega Seamaster 300, early Eberhard Scafografs and even the ultra rare Breitling Superocean. How did Bulova achieve bowl-shaped case with such slim sides? Flipping the watch over reveals the answer. Deeply scalloped ridges show evidence of a stamping where a lot of material has been moved/displaced. Go ahead and call me nerdy – I am an engineer after all – because this is one of my favorite details on this diver. Taken all together, though, the case on the Bulova is certainly one that offers more than meets the eye.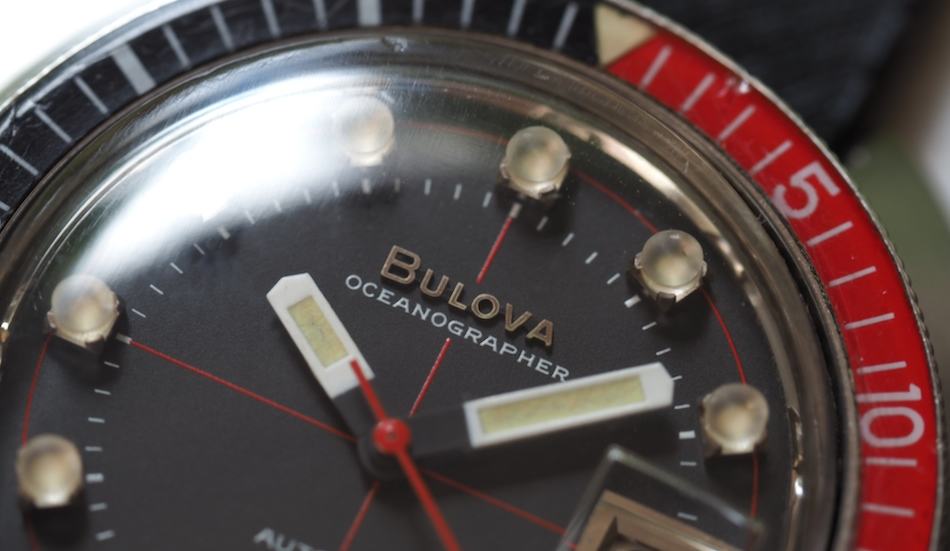 When Hour Indices "Make" the Watch
Coming back to the more typical view of the Bulova Oceanographer, this vintage diver is one that stands out well with its usage of color. Black, red and white are the prominent players and this makes for a watch that actually comes off as less of period piece than some other wildly colored pieces of the day. That's a funny thing to say because the most notable feature of this watch, the hour indices, does look like something straight out of the psychedelic era! Bulova did something very unique with their hour markers by applying, via prongs that remind of jewel settings, opaque luminous plastic tubes to its dial. They actually look a little like light bulbs from a distance and up close, it's amazing to see how tall these features stand on the dial.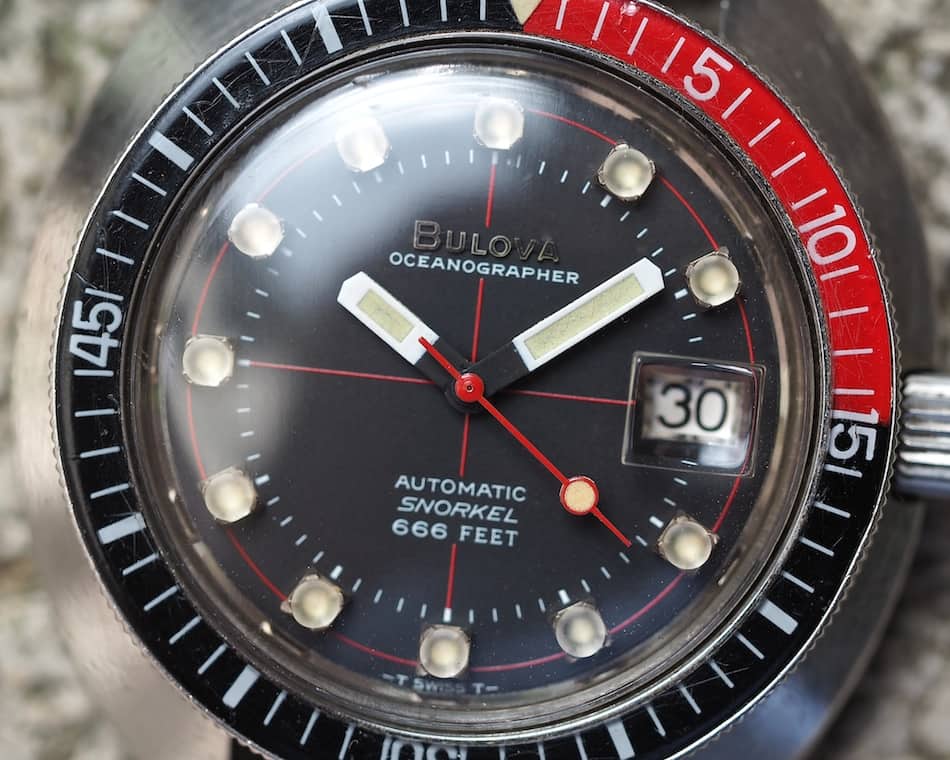 Other bold traits exist on the Bulova Oceanographer Snorkel such as big white tritium filled hands that make for a highly legible watch – a requirement for a diver. This contrasts nicely with a red lollipop sweep hand that I've also seen in other, less eye-catching colors. Bulova rounded out the dial well with a red crosshair through the middle of the dial and a matching line around its circumference. The date wheel, viewed under its reverse Cyclops, is disruptive, but it somehow adds to the toolish look. Add to this the very well done applied "Bulova" name and purposeful white font, and you have a really nicely executed dial.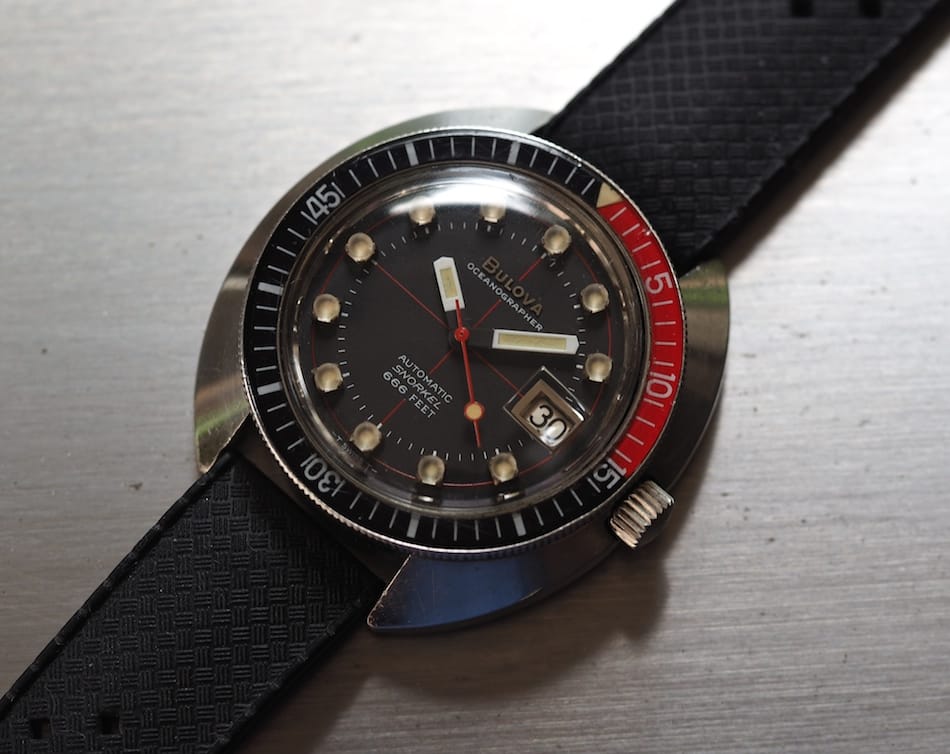 Let's not forget the bezel on the Bulova Oceanographer. It's a relative oddity versus most dive watches I've handled from this era because it clicks and, here's a surprise, it's unidirectional. It also carries the color theme away from the dial with its red and black plastic inlay. Somehow, this one feels far more durable than other resin bezels from the era and when looking on the market, it seems that more than not have surprised in decent shape.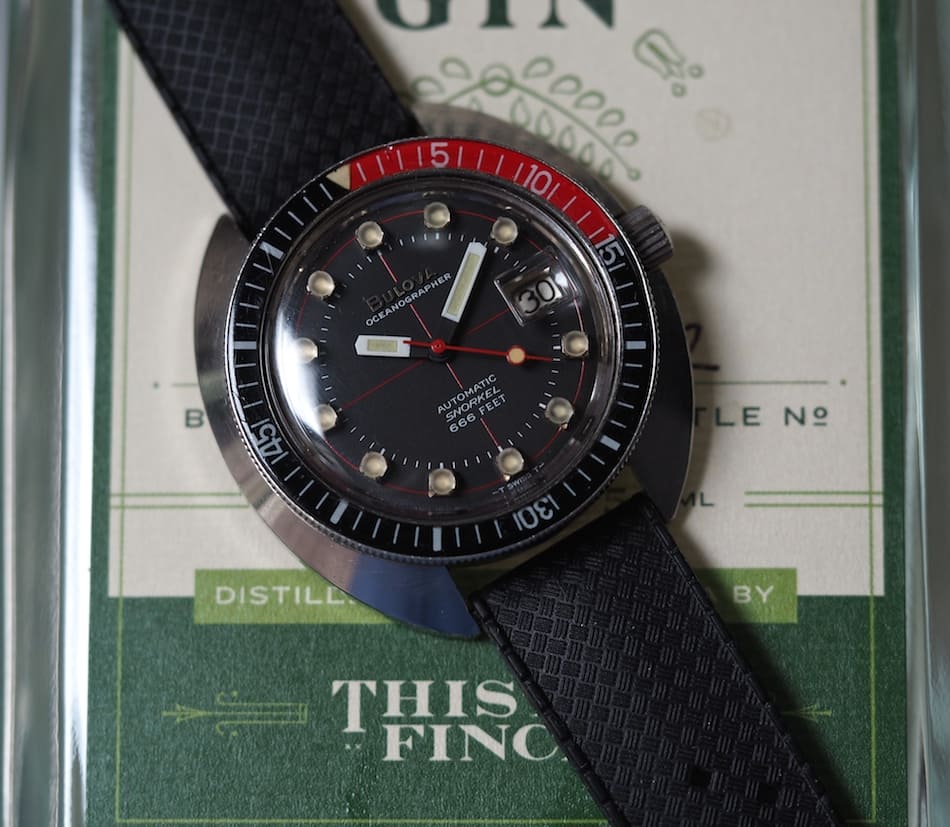 If you've come this far, I hope that I'm leaving you with the impression that Bulova Oceanographer is an amazingly thoughtful piece. In fact, the only high-end feature that the watch lacks is a screw-down crown. For 1970, the year of this watch's production, though, that's not a huge surprise. Yes, the watch has that strange Bulova-esque depth rating of 666 feet, but even watches such as Doxa, at 300M, had switched to a more economical push down crown by this time. With all this detail, I'm ultimately leading up to what I think is a pretty shocking market value, but we should discuss what's inside the case. Could it be an in-house movement?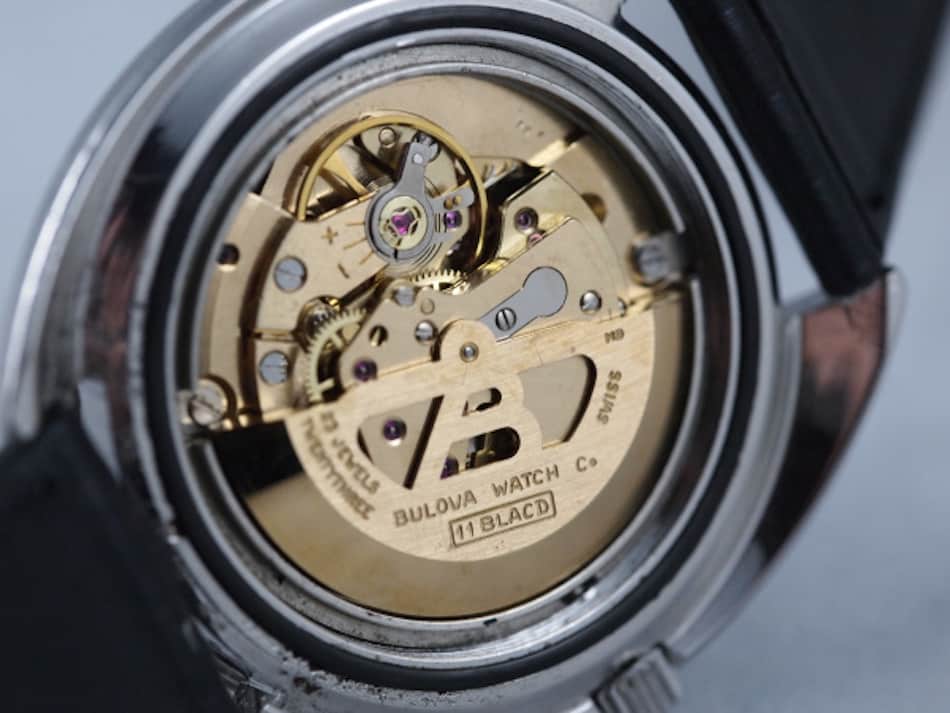 An In-House Movement?
The Bulova Oceanographer did use an in-house movement. Called, the reference 11 BLACD, the 23-jeweled automatic, was an evolution of a series of movements that the company produced in seriously high volume. So, think of it more like a Seiko movement as far as being a steady workhorse versus a highly decorated gem, but I do think it adds to the allure of the watch. Plus, take a look at the picture above (courtesy of this great review on the Snorkel 666) and note that cool "B" rotor. That's' actually something you don't get on a Seiko. The movement does have a bit of a ratcheting feel when the rotor spins, it isn't a quick-set (it can be manipulated by toggling between 11 and 2), but it is a good timekeeper in my experience. Plus, there were so many of these movements made for all types of models that it is quite serviceable now.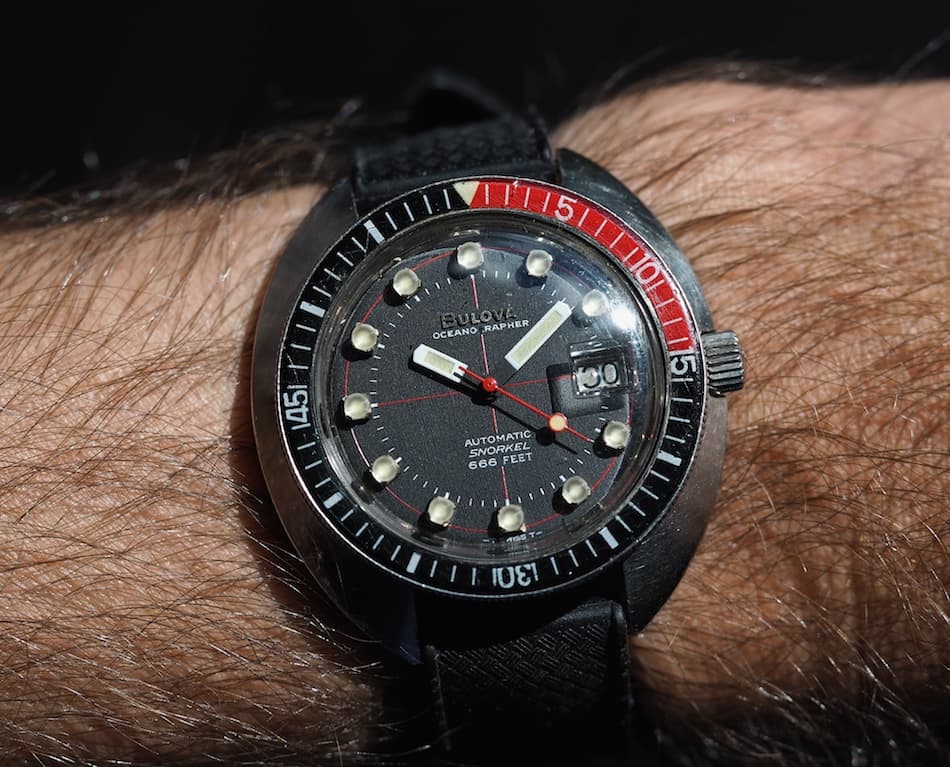 The Bulova Oceanographer wears very well on my small wrist and, numerically, that might be a surprise because the case diameter is 41mm and it has a length of 43mm. Perhaps the "squarish" dimensions create a smaller landscape, but I actually think it has a lot to do with the 18mm lug width and what seems like a relatively small dial size. Still, it's a noticeable watch on the wrist, not terribly tall at 13mm, and looks good on a Tropic-like strap.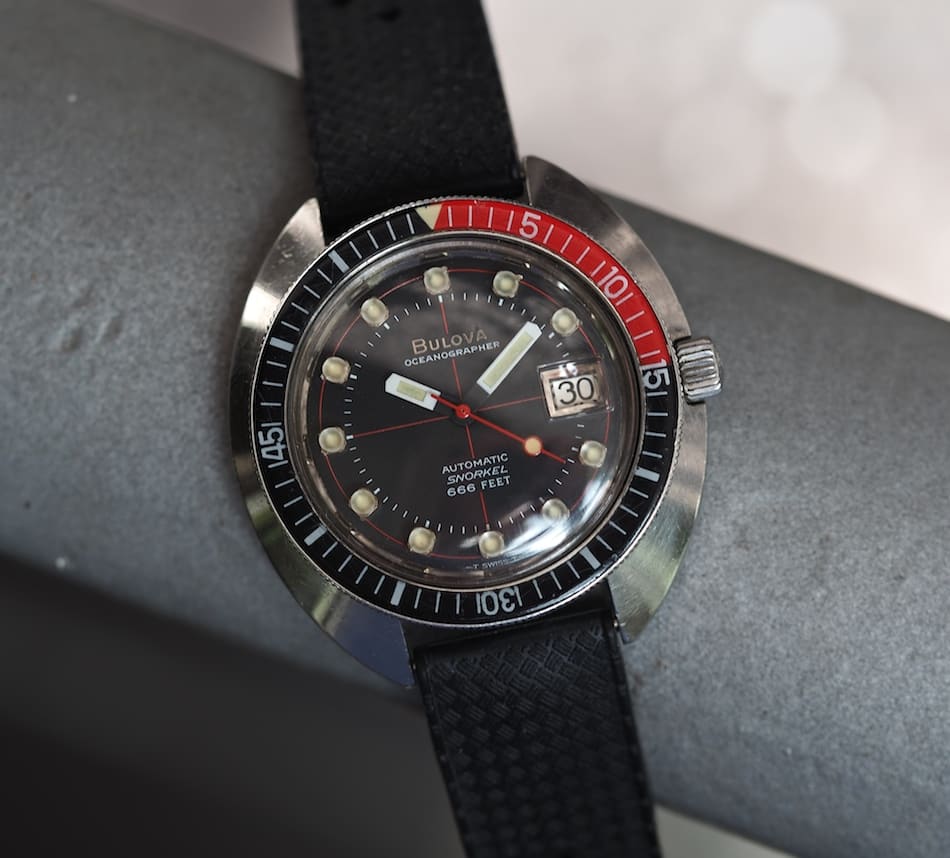 Is the Bulova Oceanographer the Best Vintage Diver Bargain?
So I mentioned that the Bulova Oceanographer Snorkel is affordable, but what does that mean today? How about $500 or less for a decent example? Really, under $500. I was actually on eBay recently and there were several listed. Sure, some had problems but some even had the original bracelet. At the top end, it seemed like $750 was the price. People love this watch on forums and there are plenty of people have sung its praises online, but it has oddly languished. I don't get it, but it does make for one of the better opportunities for a collector to buy a really cool, well made dive watch from what was really a very cool era for the sport/hobby. Things to watch out for are correct hands, water entry, a signed crown, the crystal with Cyclops and a decent bezel. Also, take a good look at the indices as I've seen them either missing or badly glued. Like I said, it's pretty amazing how many good ones do exist, so be patient and find the right one. As for variants, the first year models lacked the "Ocenaographer" script despite being part of that line and there were different sweep seconds used. There's also a neat orange-dialed version out there as well if you want to ape that early Doxa look.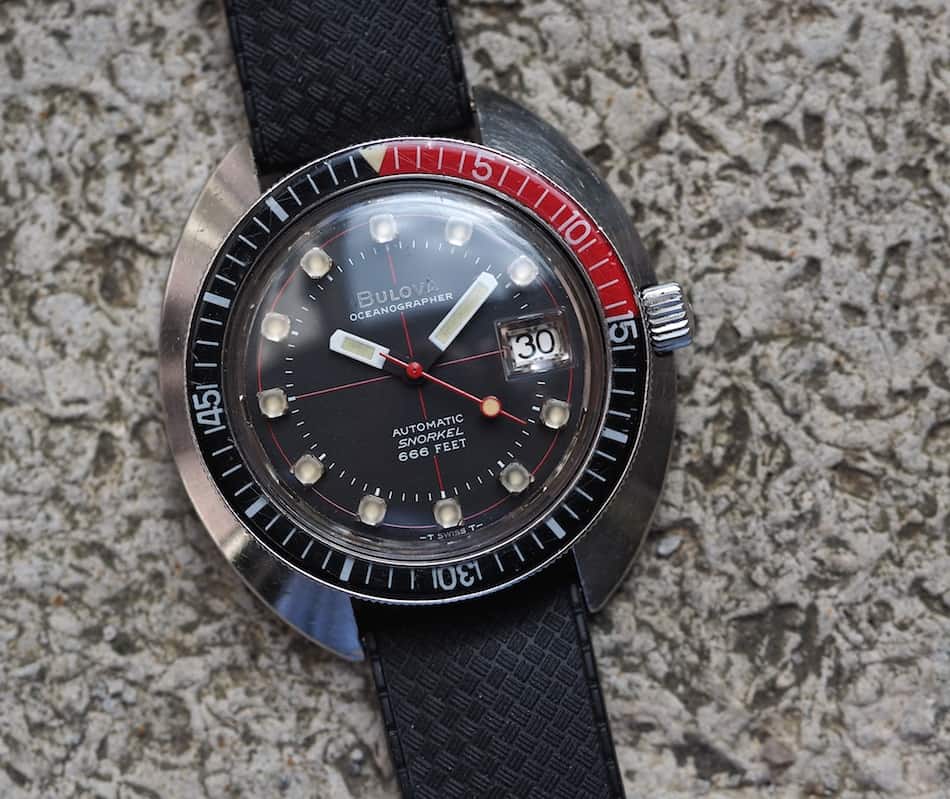 Thanks for reading along and checking out the Bulova Oceanographer. A bona fide vintage diver with great looks and an in-house movement is rare in itself, but the fact that they're cheap and plentiful is something that sounds too good to be true. Well, it isn't so go have a look! Until next week…