#TBT Citizen Auto Dater Uni ParaWater AU140801
Staring Into the Abyss of An Amazing Dial
Today, on #TBT, we'll take a look at a watch that has one of my favorite dials, the Citizen Auto Dater Uni ParaWater.
We've been dipping in and out of vintage Citizen for the last couple years here on Fratello. We've primarily covered dive watches with the odd dressier piece thrown in for good measure. I promise to bring even more variety in 2020 and today's look at the Citizen Auto Dater Uni ParaWater is the first step in keeping that resolution. I truly enjoy vintage Japanese watches and started my collecting by falling head over heels for sportier Seiko pieces. And while I've certainly not "seen it all" when it comes to Seiko, they're certainly more globally familiar. With vintage Citizen, though, I still feel like I'm in the midst of the discovery phase and it's fun.
To try and explain the differences could fill an article on its own, but here are just a few things I've noticed: First, Citizen typically offered a lot of dial variation within a given reference number and possibly even within a given model year during the 1960s. Second, they seemingly made a lot more dress-type watches with black dials versus Seiko and these watches often employed big, lume-filled indexes that have aged to perfection. Hint: today's piece is an example of that with a slight asterisk. Also, my experience is that — and this is a shocker — vintage Citizen dials and lume are often found in better condition when compared to Seiko. Maybe this last point is pure luck on my part or evidence of being a pickier hunter, but I rarely see traces of the well-known "wabi-sabi" on a Citizen that's often found on a Seiko contemporary. And finally, while the Citizen of old doesn't show up with the progressive chops like Seiko in the movement department, I've found most to be quite robust and relatively easy to repair. And so with that, let's get on to the main act.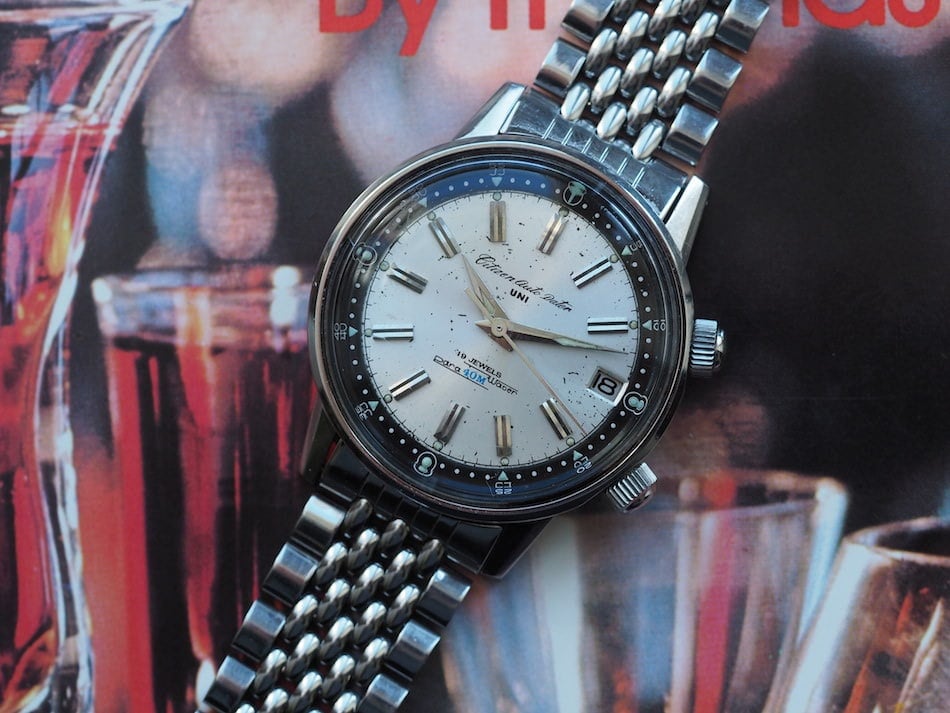 Citizen Auto Dater Uni ParaWater
We've been down the path of a Citizen "Uni" before with a look at a twin-crown light diver (seen above) that was meant for battle with Seiko's Silver Wave. I proclaimed that watch to be one of my absolute favorites and I maintain that two years later. The looks, the form factor, and the fact that I felt as though I stumbled upon something completely unexpected endeared that piece to me. Well, if that watch was a surprise, today's Citizen Auto Dater Uni ParaWater represents an absolute revelation. Honestly, I was poking around on a certain Japanese site when I stumbled upon this black beauty with a set of ridiculous lume plots and my hands froze. What on earth was this thing? Well, it turned out that this watch happens to be the predecessor of the Uni that I had picked up a couple of years prior. Let's say it looks just a little more than different.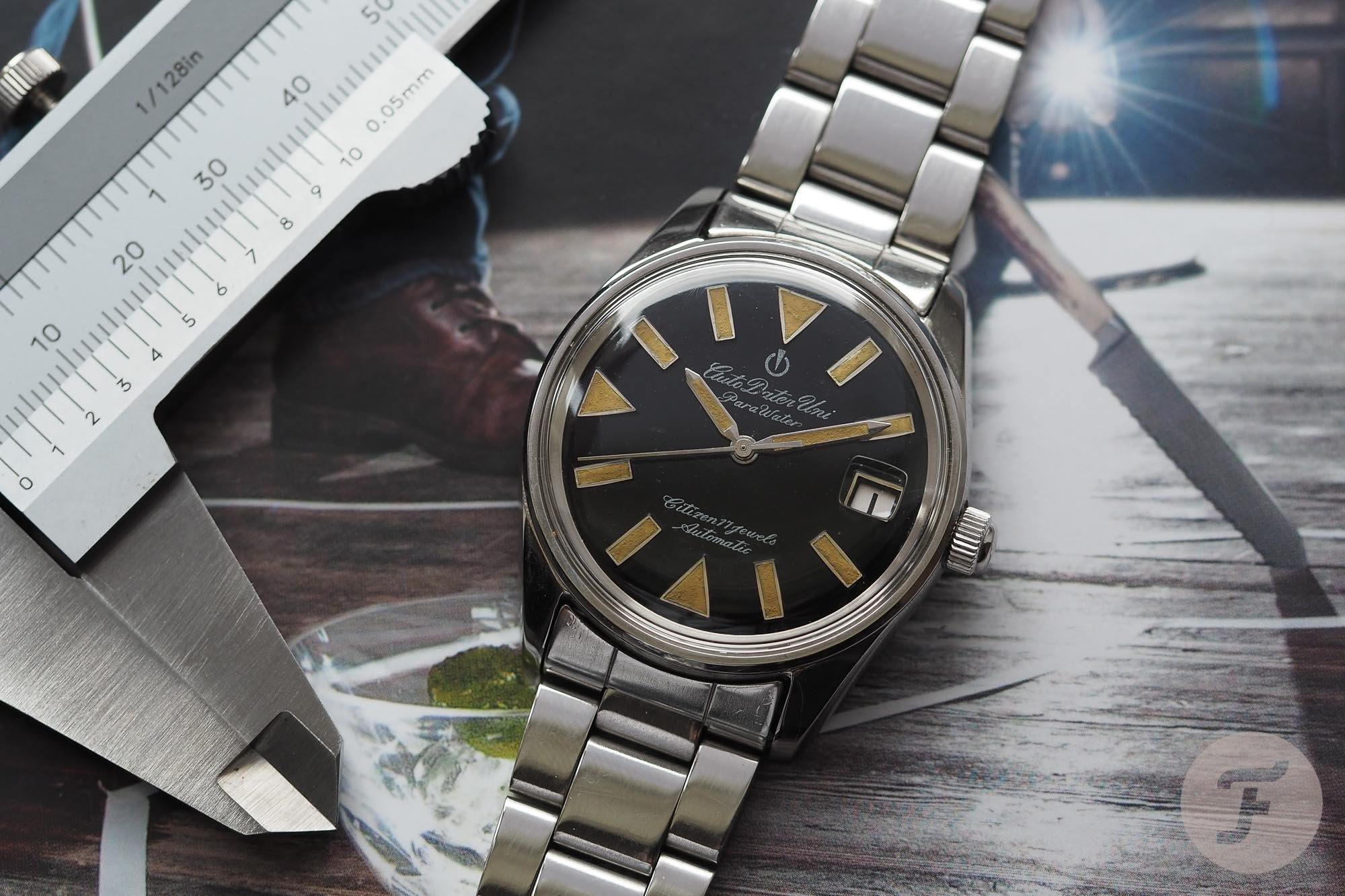 Versus its Successor, the AU140801 is More of a Field Watch
If the dual-crown, rotating bezel Uni from 1965 intended to imitate a serious dive watch, this Citizen Auto Dater Uni ParaWater from one year before looks more like a field watch. Known as reference AU140801, the piece we are looking at here today is just one variant in a sea of same-cased models that often contained nice, but rather pedestrian dial designs. This version, though, looks like something designed for exploring — whether above ground, in a cave or underwater down to its supposedly 40-meter water resistance — and exploring at night. Just take a look at all of that damn lume on the dial! The watch that comes to mind most when I'm staring into its otherwise glossy black dial is the 1958 Eterna KonTiki Mk1 from 1958. But this Citizen dispenses with Arabic numerals within those triangles and sticks with hearty globs of lume.
Now, for the asterisk: This watch does light up under UV within those plots, but I believe it was touched-up at some point. And, in what's a bit of an aberration for me, I don't care (I'll mention why later). But seriously, despite the inclusion of a date window, Citizen was firing on all cylinders with this design. Just fantastic stuff!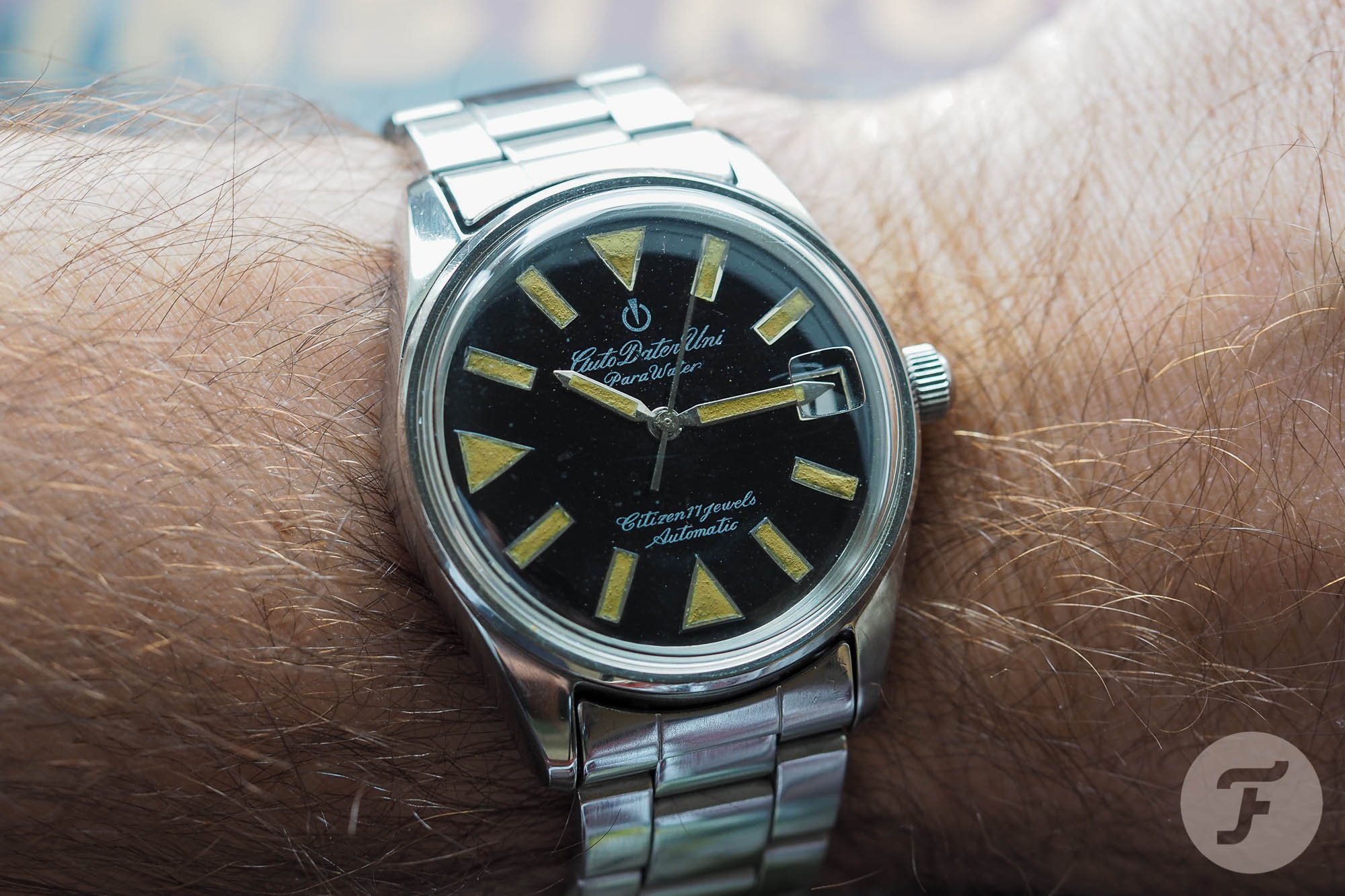 A Big Case Makes for a Sublime Package
On its vintage 20mm Citizen oyster-style steel bracelet (which may or may not be original to the watch), the Citizen Auto Dater Uni ParaWater looks fantastic. Sure, something like a beads-of-rice style bracelet would work as well, but I prefer the simple oyster to go along with the strong and similarly basic dial. And this is something I didn't mention in my Citizen versus Seiko comments: vintage Citizen bracelets are almost always good whereas Seiko bracelets can be tinny uncomfortable affairs. But that bracelet connects to a shapely, but a sturdy case with lugs that flow from the case. This feature marks a bit of a departure from the often-spindly lugs used during that era. It's also not unlike a Rolex case. The watch also comes in at a very attractive 37-38mm diameter with a 45mm lug to lug.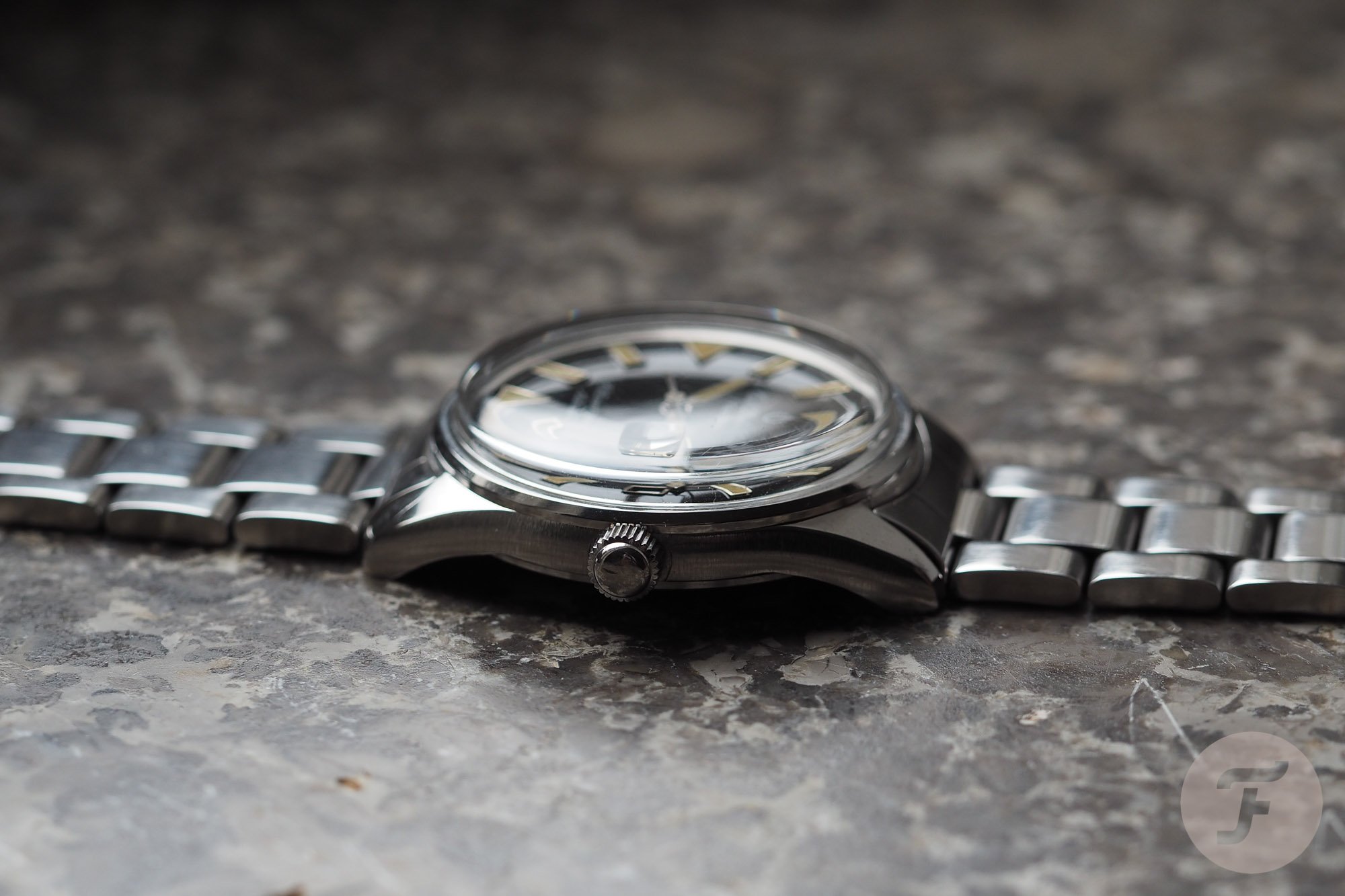 The Citizen Auto Dater Uni ParaWater uses an unsigned crown as was typical in this era for Citizen. Incidentally, that crown hung around on the next generation as well. Crystal-wise, we have a tall domed acrylic lens with built-in magnification over the 3:00 date aperture. This crystal helps bring the overall height of the watch to nearly 13mm. So yes, dimensionally, it wears more like an adventurer's watch versus a slim formal timepiece.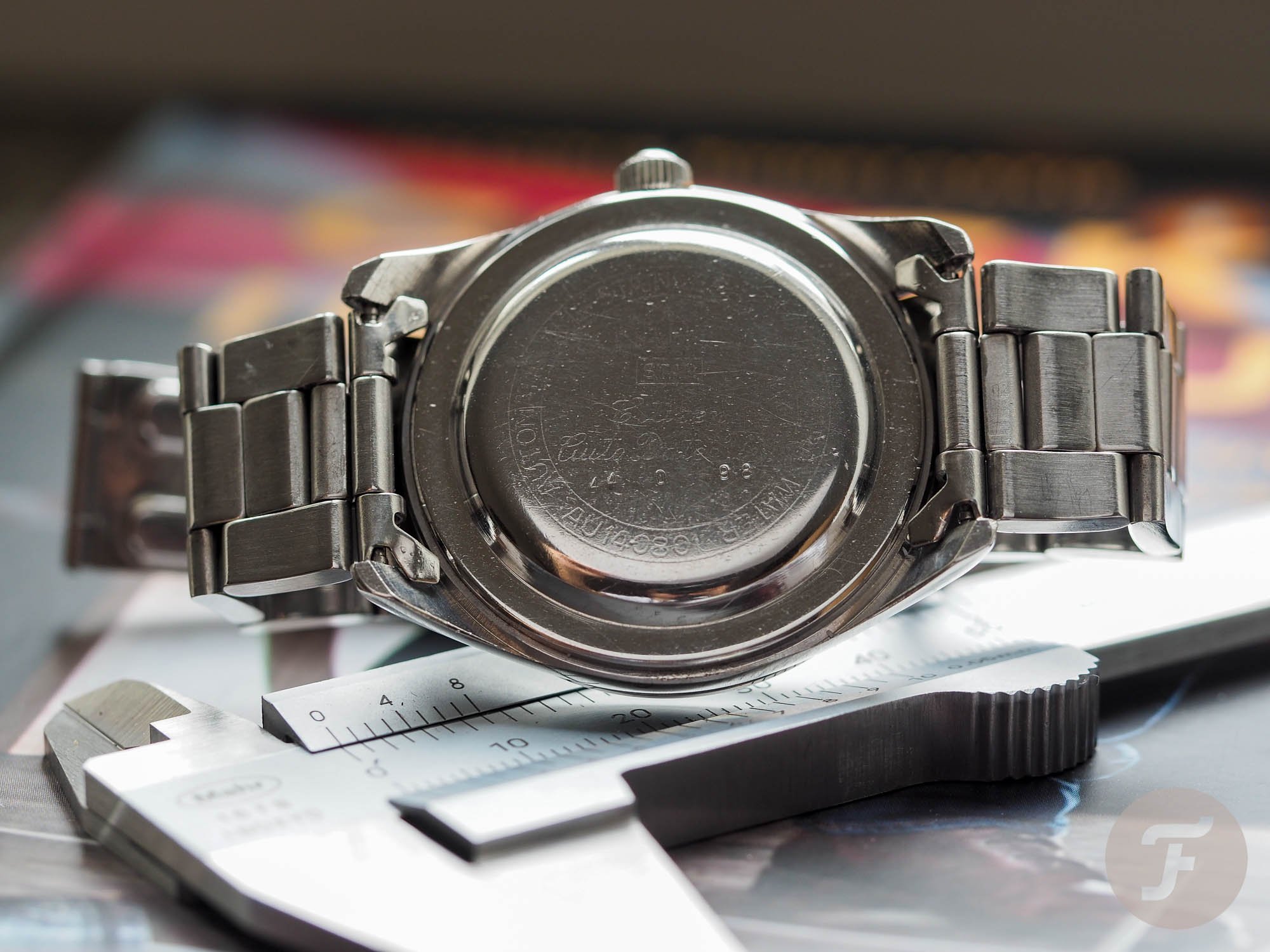 A Fine Movement Sits Inside
Inside the Citizen Auto Dater Uni ParaWater, we find the caliber 2400 automatic. That's a 17 jewel movement that can be hand-wound but unfortunately does not allow for a quick set date change. Still, it's robust and keeps good time. Like the Uni we reviewed in the past, this piece also contains a snap case back adorned with all kinds of information such as the serial number that tells us the watch was made in 1964. This one is rather worn down, but all the info is still there if the lighting is in your favor.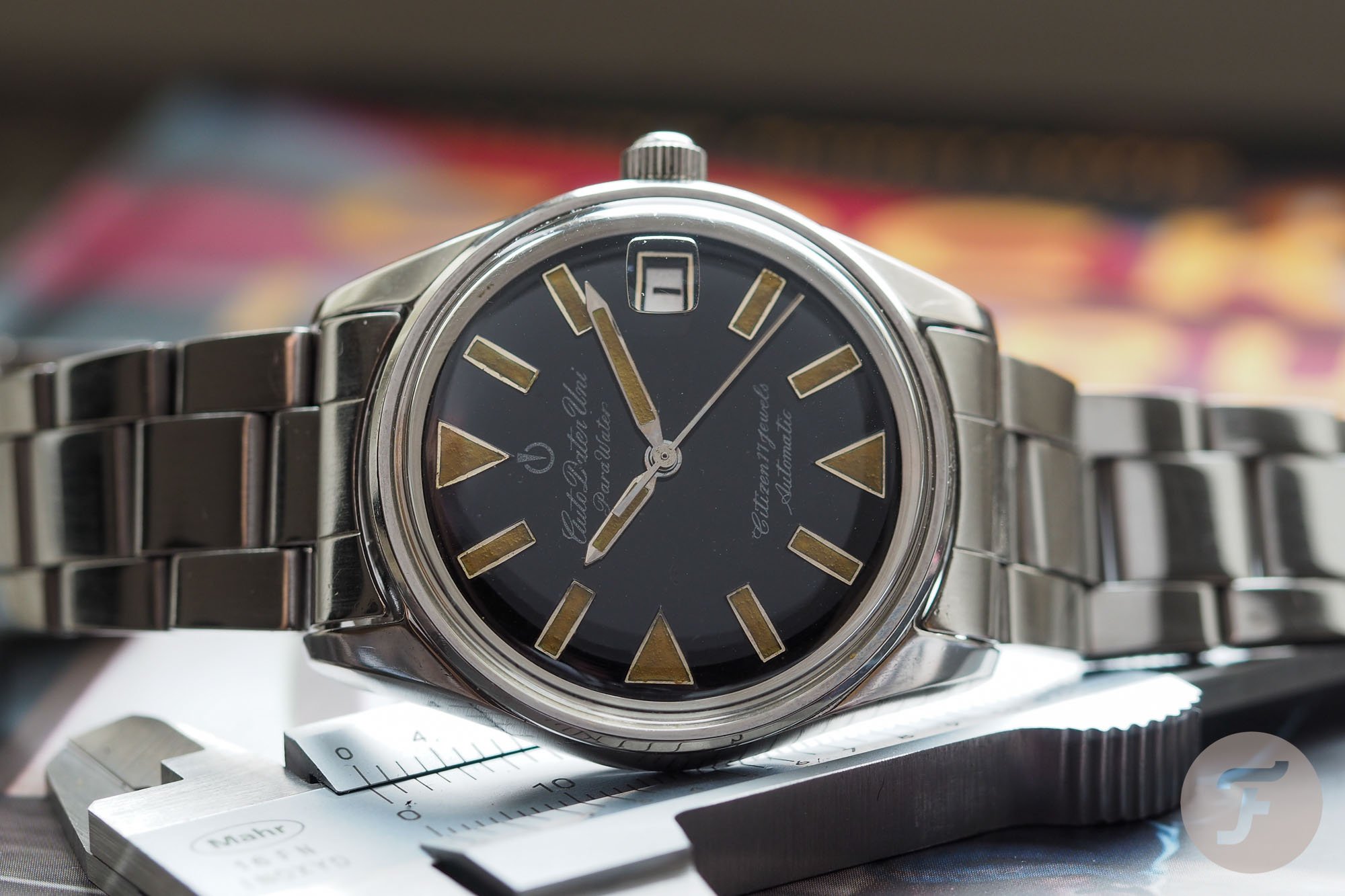 Finding One of These is Difficult…
I mentioned that I don't care about a touch-up on top of the original lume and that's because these Citizen Auto Dater Uni ParaWater models are ridiculously tough to find. Perhaps many of these did succumb to water intrusion or maybe they weren't so popular and Citizen didn't sell many. Either way, I've only seen one more of these come up since I bought this piece within the last year and a friend was lucky enough to land it. His has a slightly different dial as "Citizen" is located north of the center whereas this model has it below. There are also variants with dagger hands instead of what you see here.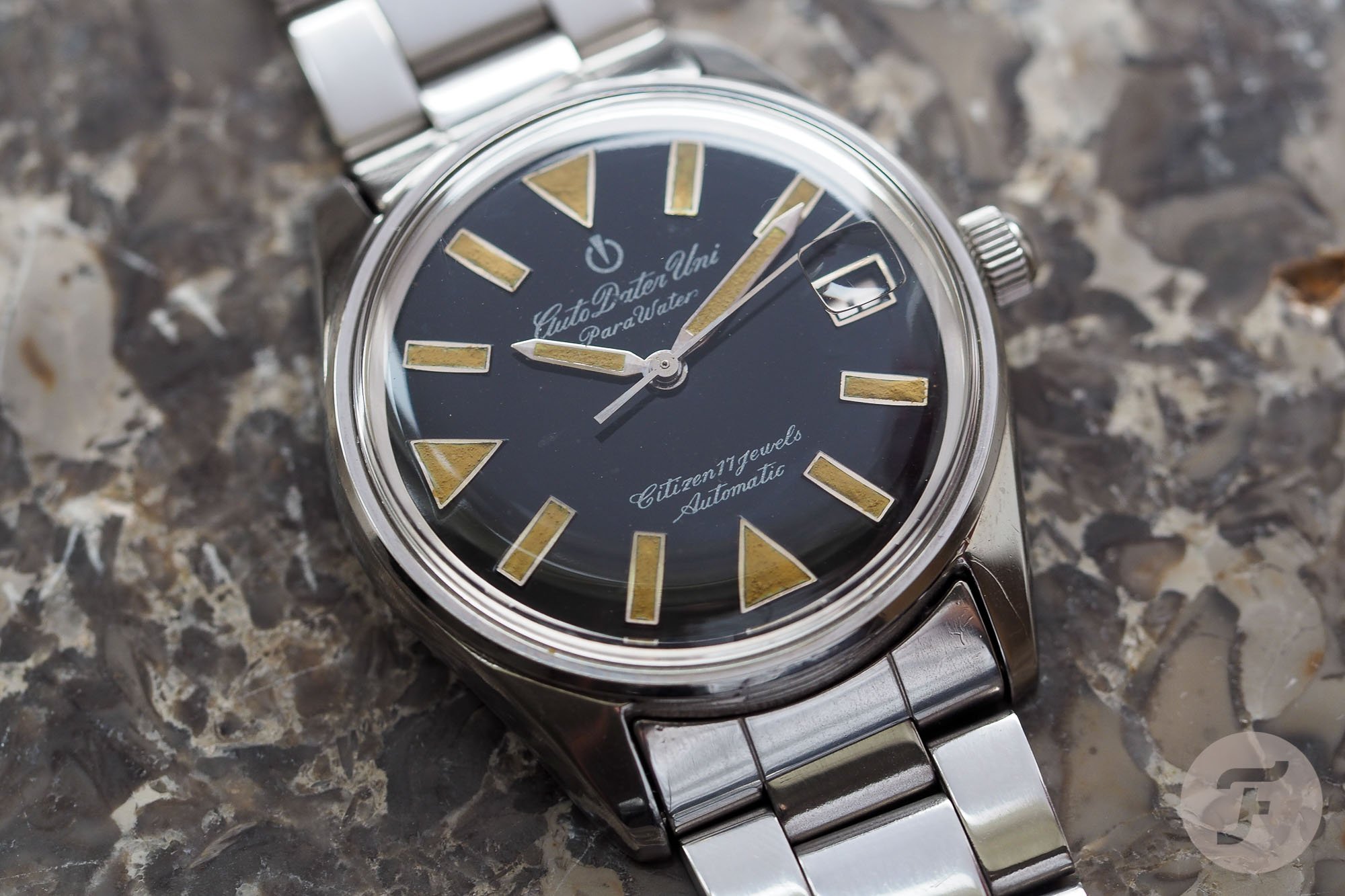 So, I feel pretty ok to have landed one of these regardless of it having been updated. Regarding pricing, it's a really tough call. I'd say that somewhere around or north of $800-$1,000 is probably the right ballpark, but if the watch is in Japan — and it probably is — all bets are off and it could go for much more.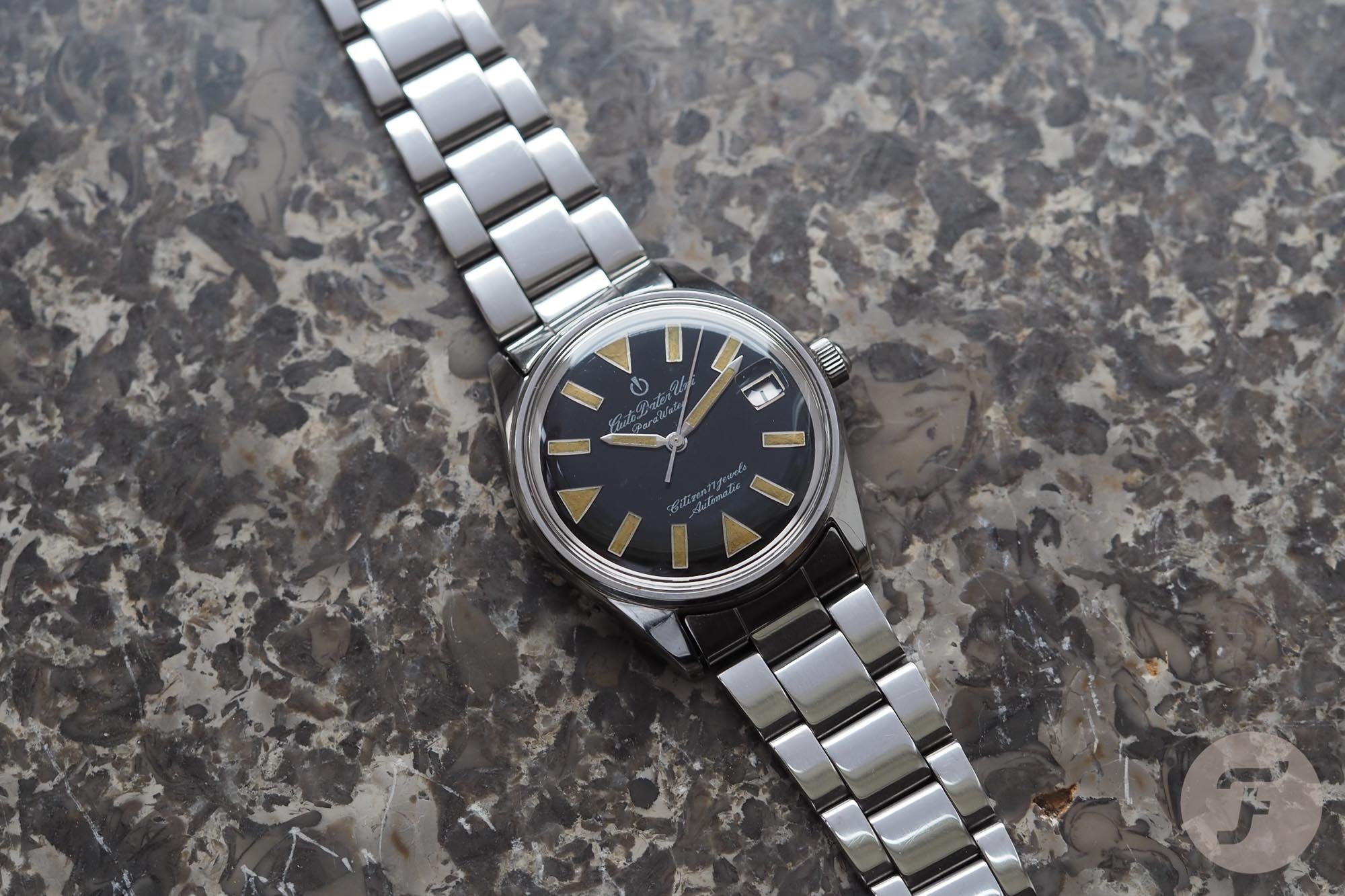 Final Thoughts — Citizen Auto Dater Uni ParaWater
When I traveled to the USA a couple of months back, only three watches made the journey with me and this Citizen Auto Dater Uni ParaWater was one of them. That should give you an idea as to how much I adore its looks and overall feel. It's an absolute jaw-dropper in person and, hopefully, these photos do it at least a fraction of the justice this design deserves.
Watch specifications
Model
Auto Dater Uni ParaWater
Dial
Glossy Black with Lume-filled Indexes
Case Material
Stainless Steel
Case Dimensions
37mm Diameter, 45mm Lug to Lug, 13mm Thickness, 20mm Lug Width
Crystal
Domed Acrylic with Inset Magnification over Date Window
Movement
Citizen Cal. 2400 Automatic, 17 Jewels, Hand Winding, Non Quick Set Date.
Water Resistance
40 Meters
Strap
Stainless Steel Bracelet
Functions
Time (HH:MM:SS), Date
Special Note(s)
From 1964