#TBT The Citizen Auto Dater Uni, A Rare Silver Wave Challenger
Several weeks' back, we featured our first vintage Citizen within the #TBT series and the article sent us a clear message: you want to see more when it comes to Japan's other brand (yes, we know there are more brands aside from Seiko and Citizen – we have more in store on that topic too). Traffic was high for our review of the 51-2273 to the degree that it actually rivaled the number of visits we often see from a Seiko posting. Despite that, I wasn't planning on a repeat engagement so soon, but I thought today's piece was too exciting to ignore. And, the fact that I only stumbled upon this watch and purchased it in and around the time of writing the last article makes it that much more exciting – to me anyhow. Today, let's go hands-on with the Citizen Auto Dater Uni.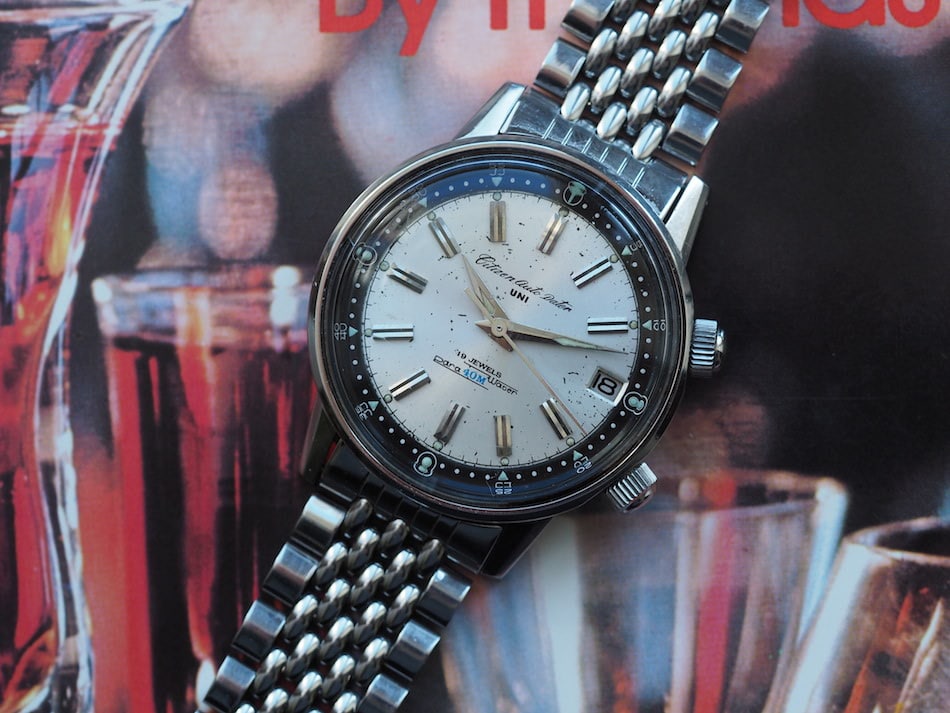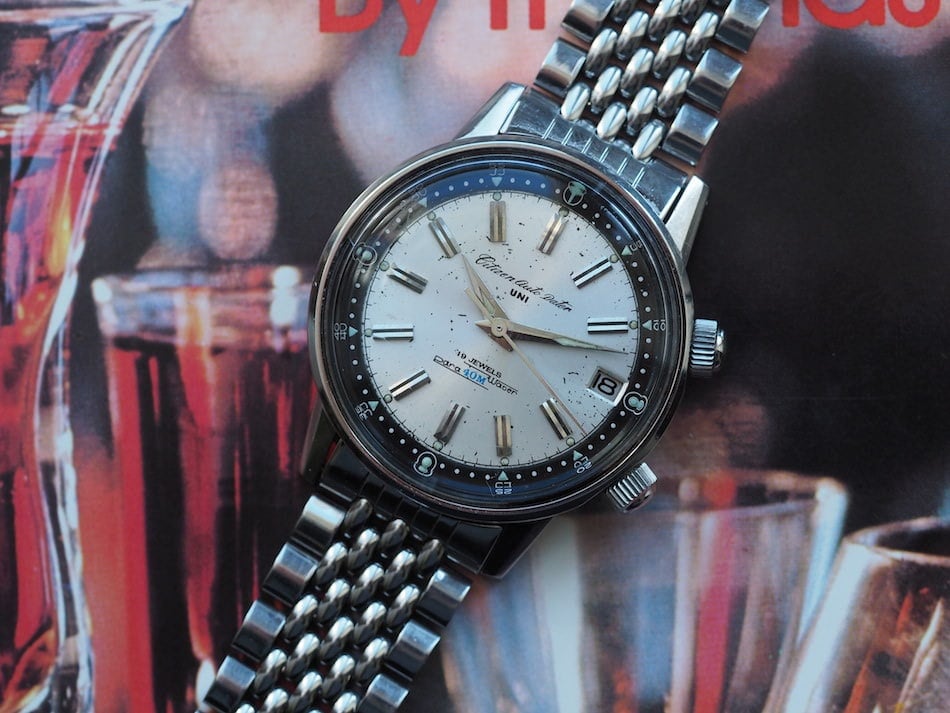 That's right; today's Citizen Auto Dater Uni was a complete unknown to me until a month ago. It was one of those situations where I was doing some late night browsing on auction sites, I stumbled upon a sub-genre of Citizens, the Auto Daters, and then flipped to Google to do some research. Normally, before doing a lot of reading, I toggle to Google Images as pictures often lead to some decent articles or forum postings. It was here that, somewhere way down the page, that something different caught my eye. The Auto Daters, Citizen's 1960's watches that featured automatics and dates, are often staid dress watches that, from time to time, show a bit of life. The sizes can be large, the stainless cases clean, and they look really sharp when dials are black or are in other colors with some rare lume. But, as we've seen with Seiko as well, Citizen often applied a model name, such as Auto Dater, to watches that were thematically different from the normal dress style. The Uni is a good example of this.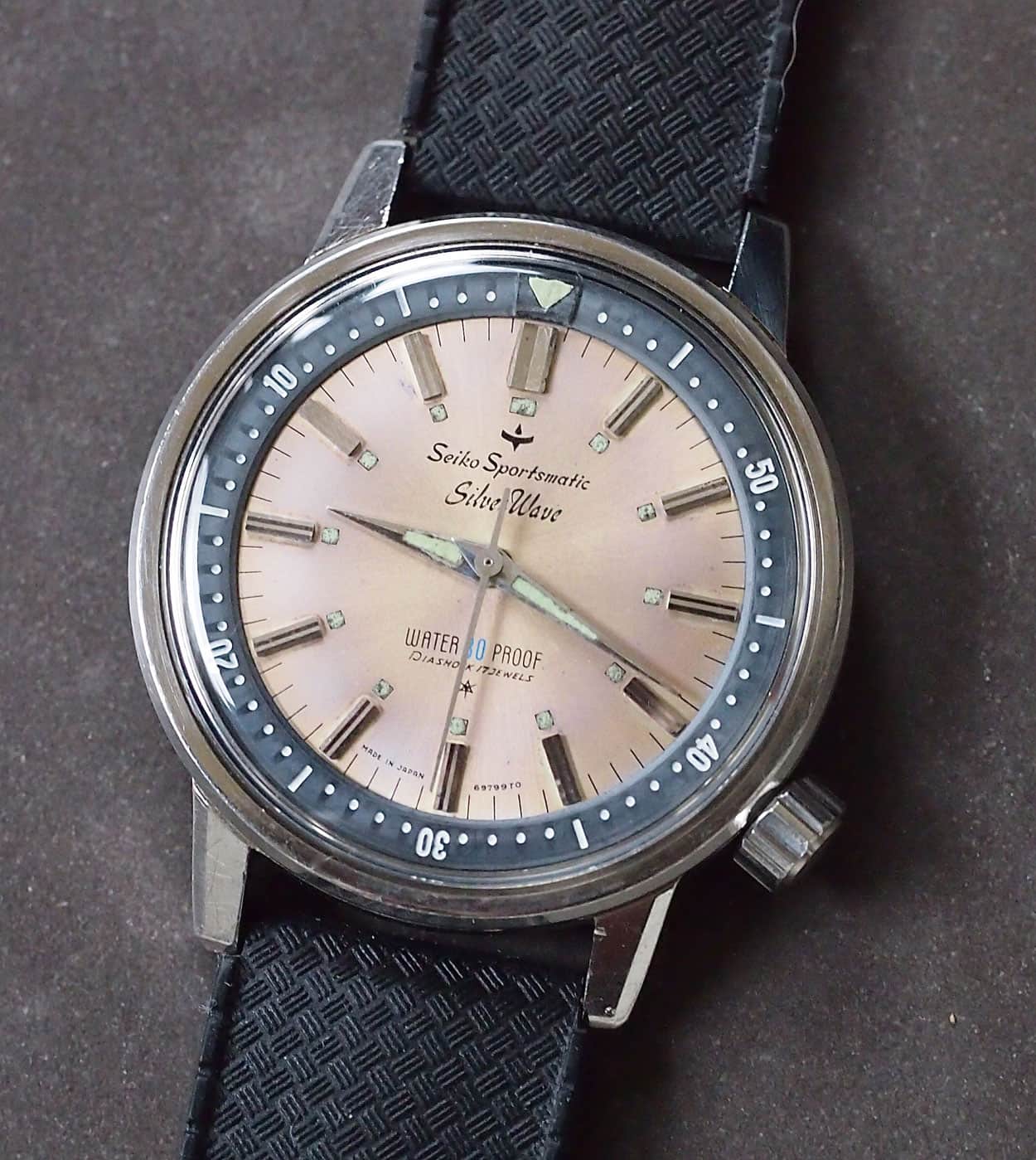 A couple years back, we reviewed the Seiko Silver Wave 30M and discussed the fact that it was really Seiko's first entry into diving watches. In truth, its 50M predecessor was the first, but both models were extensions of a far more mainstream sub-line, the Sportsmatic. Seemingly developed as a hasty response to the globe's newly found fascination with diving, Seiko simply added a crown operated internal rotating bezel to a Sportsmatic and, in the case of the 50M, beefed up the crystal along with adding a screw back. (As an aside, we'll review a 50M Silver Wave at some point soon – or whenever Paul, our resident watchmaker, decides to return from a 3-month skiing holiday in Davos and finish them; the amount of bespoke Roger Moore-era Bogner kit this guy owns is truly astounding.)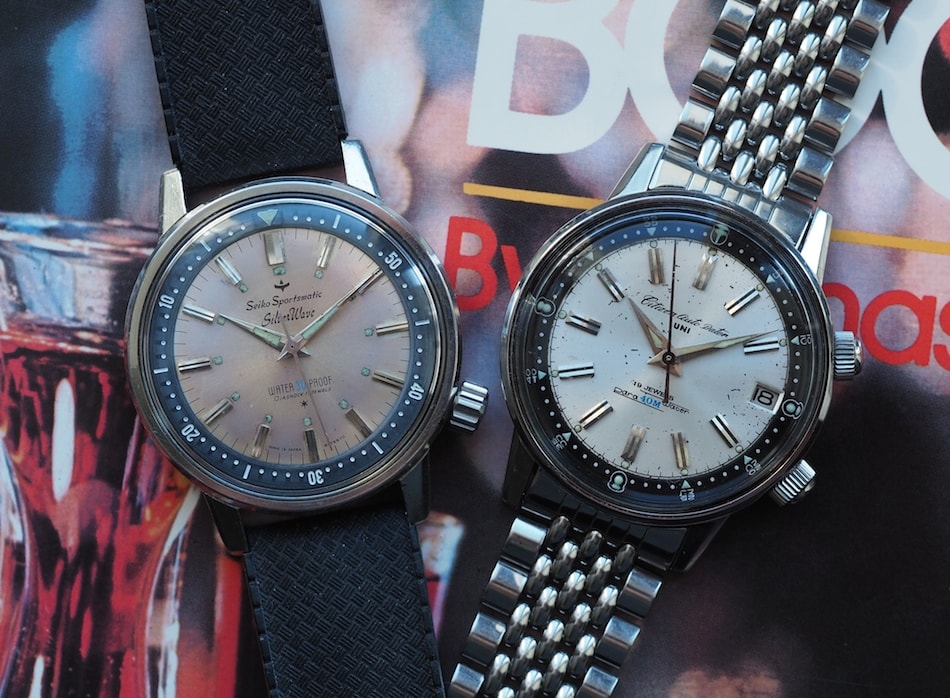 On the 30M version, Seiko didn't even provide a screw back. After all, there were already other Sportsmatics rated to 30M of water resistance with snap backs.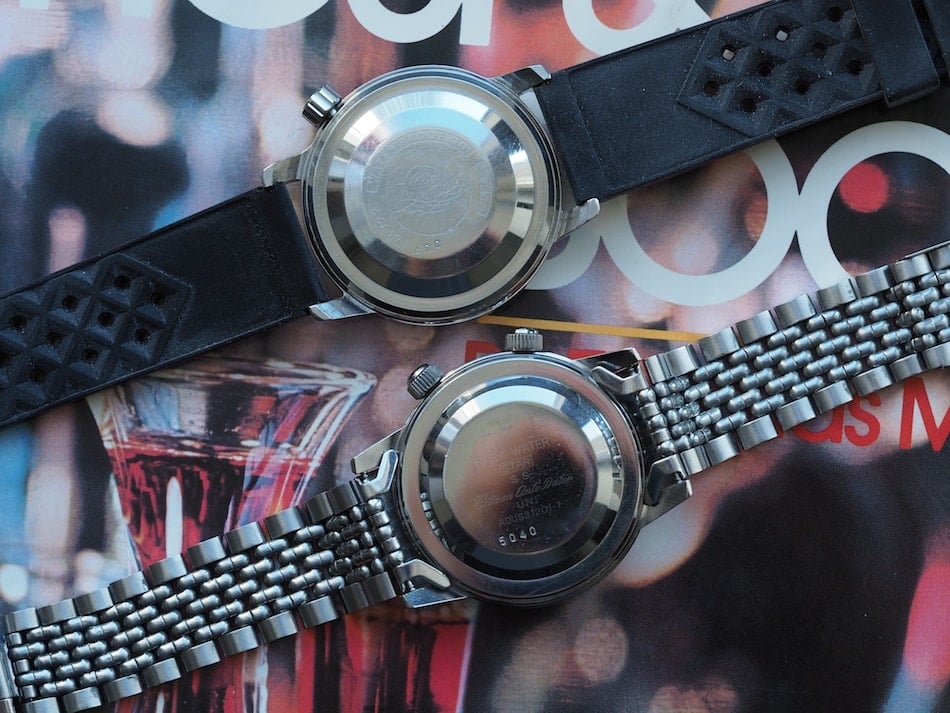 With the Citizen Auto Dater Uni, we've essentially found the competitor to the Silver Wave that also seems to predate the brand's first real entry into diving watch territory.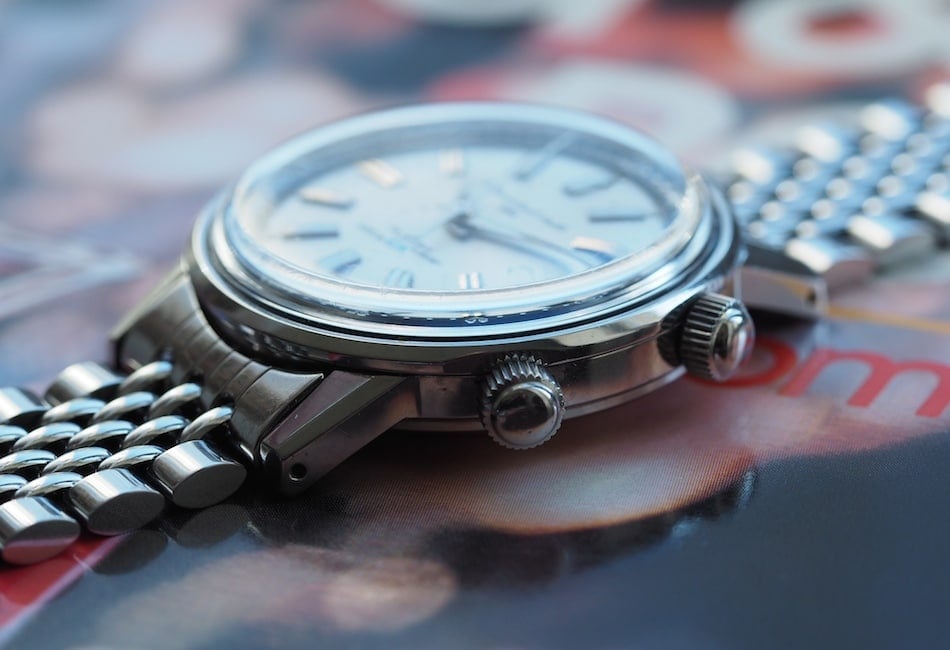 At first glance, the Citizen Auto Dater Uni is a dead ringer for a 60's era compressor style dive watch with its dual crown set up and contrasting inner bezel insert. A closer look, though, quickly allows one to dismiss this notion when spying the boldly noted 40M of water resistance. Functionally, though, the two crowns are similar in function to the EPSA pieces as the top is for inner bezel adjustment and the lower is for winding and time setting. A deeper look to the crown area shows a thoughtful touch as the polished outer bezel contains cutouts to fit these crowns. In my eyes, it's a sign that some real thought, and investment, went into the Uni.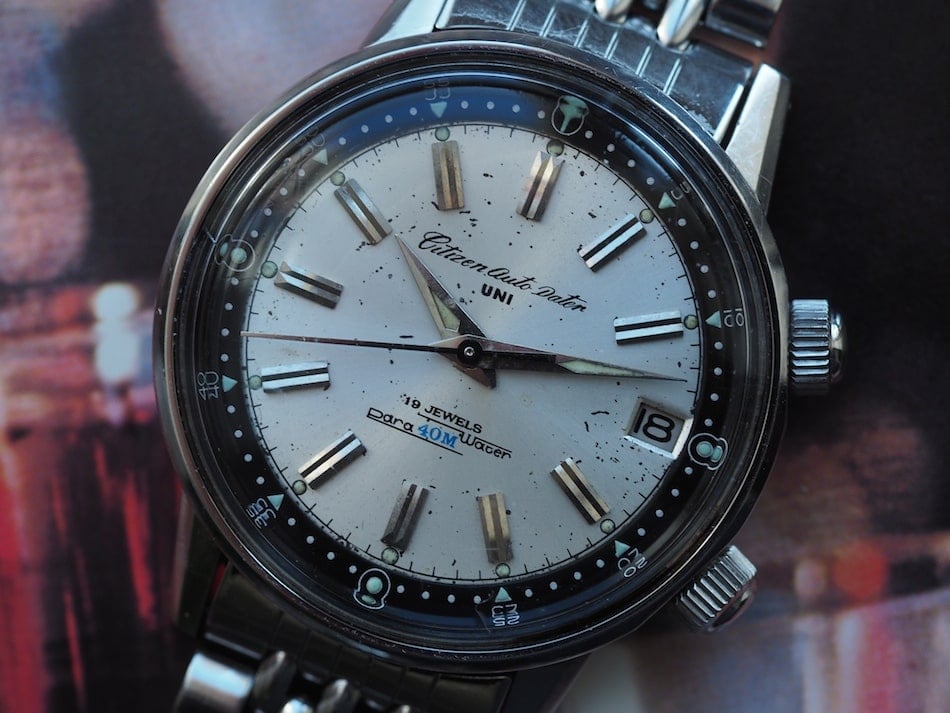 The dial and bezel configuration on the Citizen Auto Dater Uni come together to make it a truly attractive piece. Again, it's amazingly like the Silver Waves, especially when comparing the applied hour markers. They're nearly identical! Of course, the Citizen features a date window at 3:00, but the use of cursive writing and a contrasting black bezel only adds to the similarities.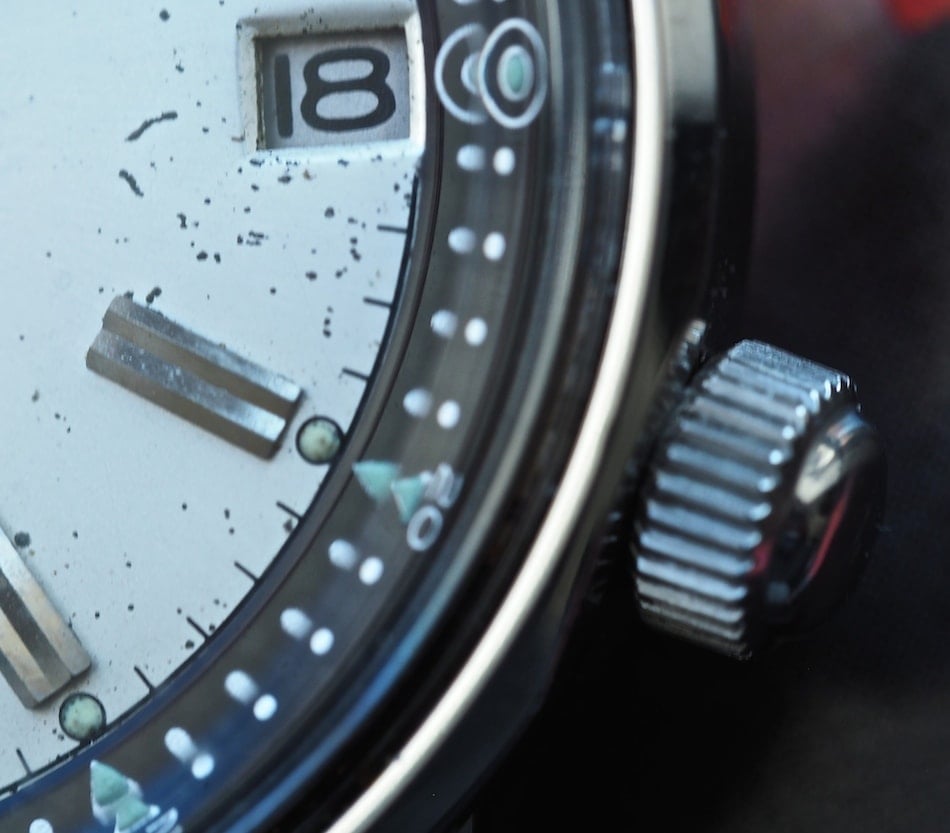 On the Citizen, the bezel contains some interesting details with lumed dots at 3/6/9, lumed arrows in between and a lumed "T" at 12:00. It all adds up to some nice touches that, depending on the angle, are partially obscured by the thick and beveled acrylic crystal. Coming back to the dial, it's clear that there's some paint loss throughout. In my research, the few examples I found all showed some of this, but the overall composition remains.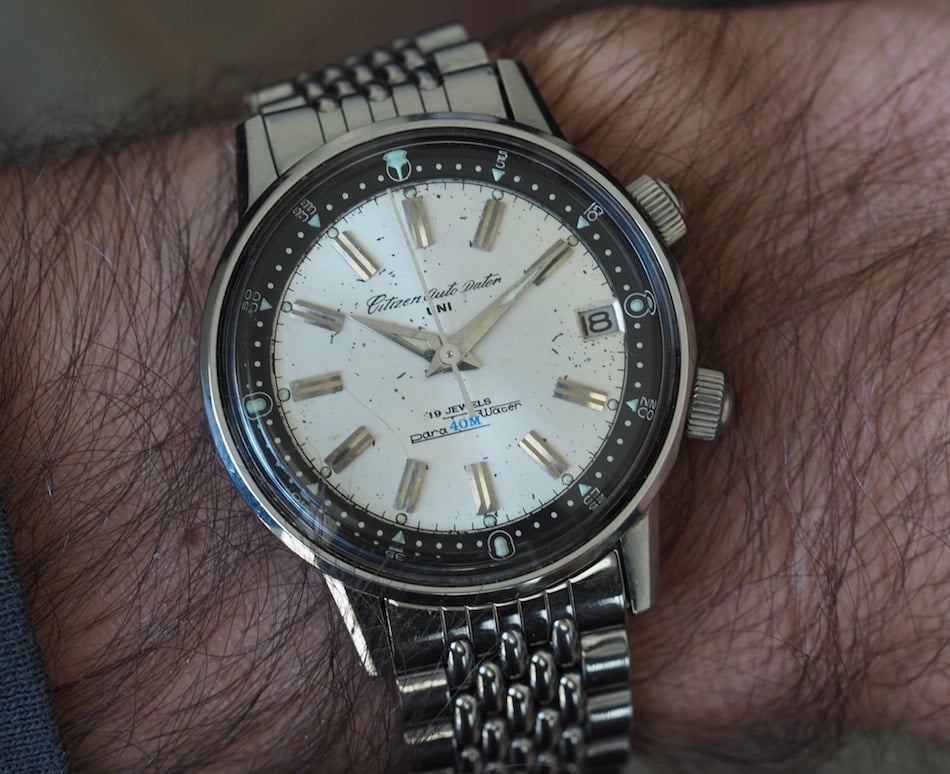 The full stainless steel case comes in at a bit over 37mm and sports 18mm lugs with some convenient drilled lugholes. It's a fairly conventional design that's long on dial and short on external bezel. This definitely makes the watch look larger than its size suggests, but 37mm is about perfect in my eyes anyhow. A snap back sits on the underside and while it lacks the tsunami motif on most Seiko's, it's fairly ornate by Citizen standards. All the model info is there and, again, the cursive writing returns. This piece came with a really nice beads of rice that seems to be of the same period of the watch. It's of remarkably high quality and I think it suits the watch. The catalog pictures I found, though, show a different style of bracelet.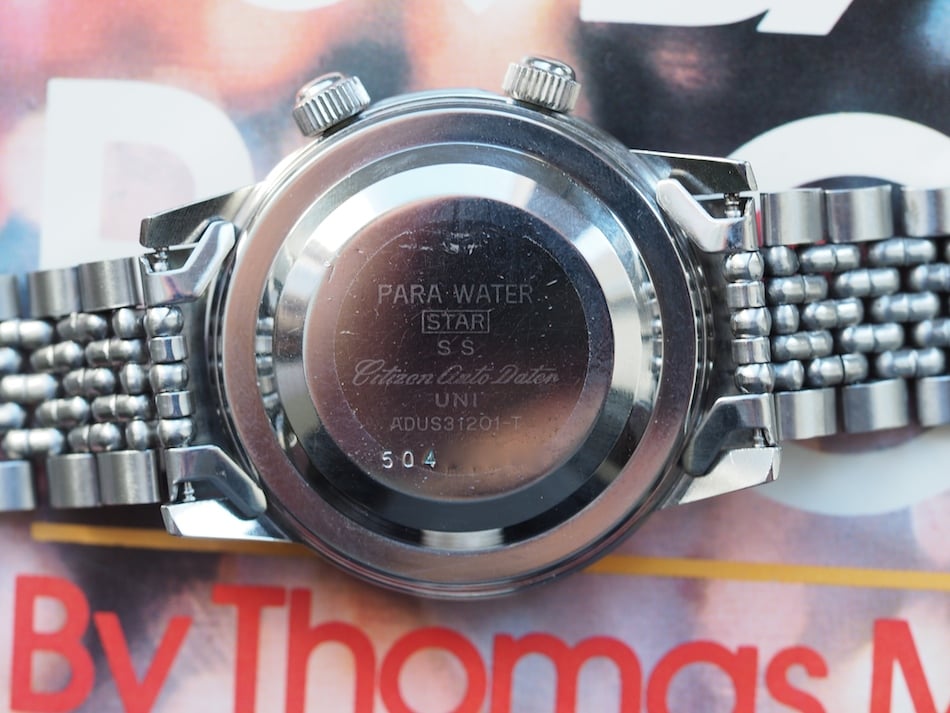 My research on the Citizen Auto Dater Uni showed that this reference, the ADUS31201-T, debuted around 1964 and was made into 1965. Seemingly, no one knows why the model was named "Uni" but there are other, more basic, Citizens with the nomenclature. Maybe, with their aquatic intentions, the watches were named after my favorite sushi? Whatever the case, I found 3-4 other examples of this watch online when looking up the model number and/or the complete name. It's a rare oddity in Citizen's history that few recognized when I first posted it on Instagram. Finding one of these will likely require you to consider buying from Japan and I'd guess that pricing is somewhere in the $400 – 700 range. That makes it relatively affordable for a rare bird and the price seems in check, or even a bit below, the prices of Silver Waves – especially the 50M versions.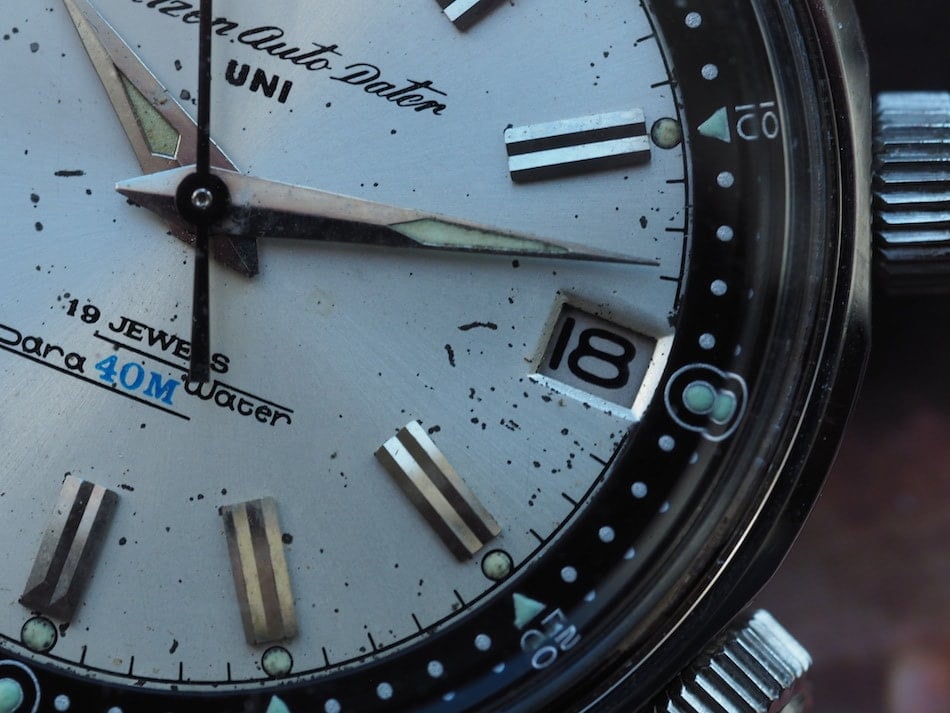 The Citizen Auto Dater Uni is yet another example of a vintage watch surprising me with its existence when I thought I had seen everything. I love the classic looks and the fantastic wearability. For me, it was like discovering a new Seiko Silver Wave and I do love those watches. If you have anything to add on this 50+ year old Citizen model, I'd love to hear it!