#TBT The Legendary Doxa Sub 300T Sharkhunter
I'd bet that it was ten years ago that I found myself looking at pictures of a vintage Doxa Sub 300T and the brand's newest offerings on the company's website. There was something so cool about this watch that hadn't really changed since its mid-1960's introduction.
Perhaps it was the then rudimentary website that hasn't really changed so much that made the watches seem so legitimate – kind of like an anti-establishment, middle finger wave. Or, maybe it was that the brand has always shown real divers wearing their watches. It's hard to put one's finger on what makes the Doxa Sub 300T so irresistible, but I finally picked one up and in this week's #TBT, I'll attempt to explain why folks such as those zany "The Grey NATO" co-hosts wax on and on about this diver.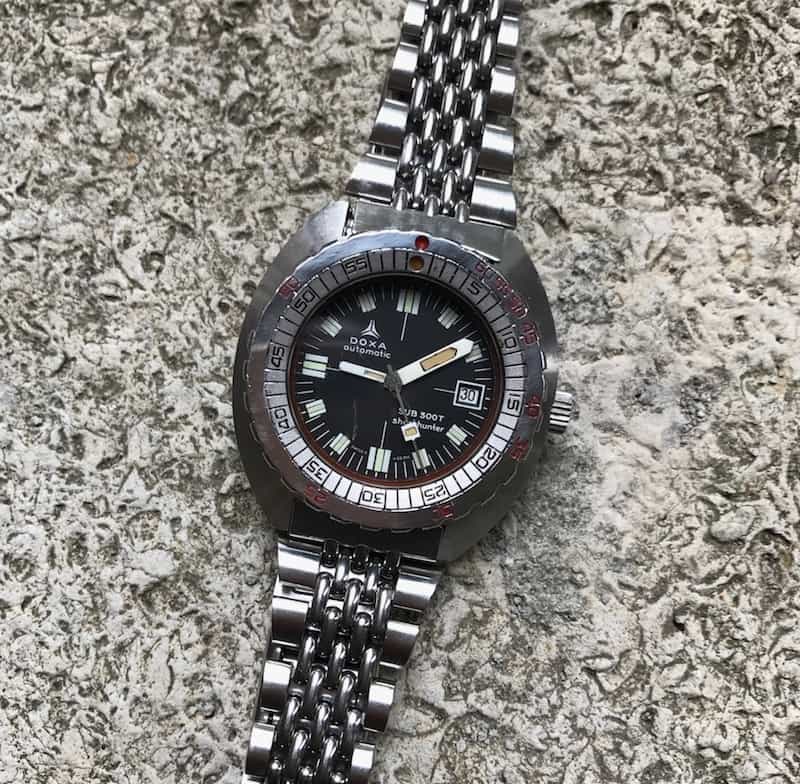 The Birth of the Doxa Sub 300T
I won't bother to get into much history on Doxa, the company, but the marque was founded in Le Locle, Switzerland in 1889. They're one of those brands that made some really attractive dress watches and chronographs in the early and middle part of the century. In fact, they were quite popular with these watches in country's like Hungary (per my main man Blaise). But, as the story goes, the company saw an opportunity to reverse flagging sales by jumping into a new segment – that of the dive watch. However, unlike other brands that sought pure depth resistance and appeal from professionals, the Doxa Sub 300T (300 referring to 300 meters of depth resistance) aimed for the large budding population of recreational divers. Famously, US Divers distributed the watch (and added its logo on the dial) while the Jacques Cousteau was heading the firm.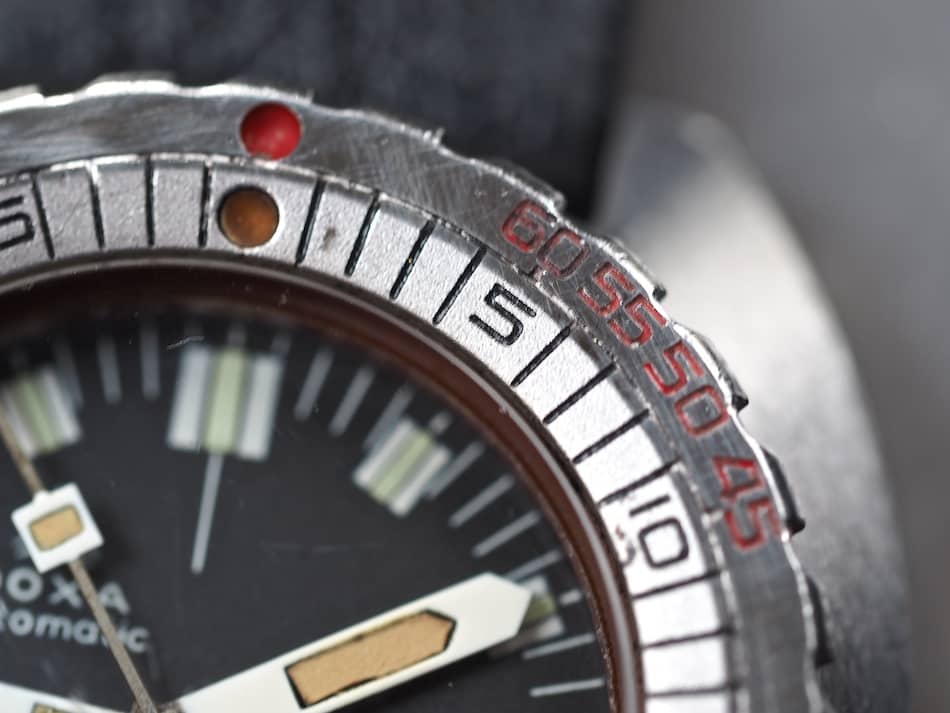 An Ingenious Bezel
Proof of the Sub's desire to appeal to everyday divers was found in its primary feature. Instead of adding a crazy decompression bezel like we reviewed in the Philip Watch, the Doxa Sub 300T used a novel, unidirectional no decompression bezel. Available in both metric and English depths, it's very simple to use in concert with a depth meter. Simply put, once the bezel is adjusted, by gripping those sawtooth ridges, to show the start of a dive (the inner ring shows elapsed minutes like any dive bezel), a diver then reaches his/her maximum depth. Checking the depth meter, the diver then refers to the outer ring of the Doxa bezel to see how many minutes he/she can spend under water without having to decompress. It's brutally simple and speaking to someone like my father – who was a recreational diver – this is pretty darn practical too.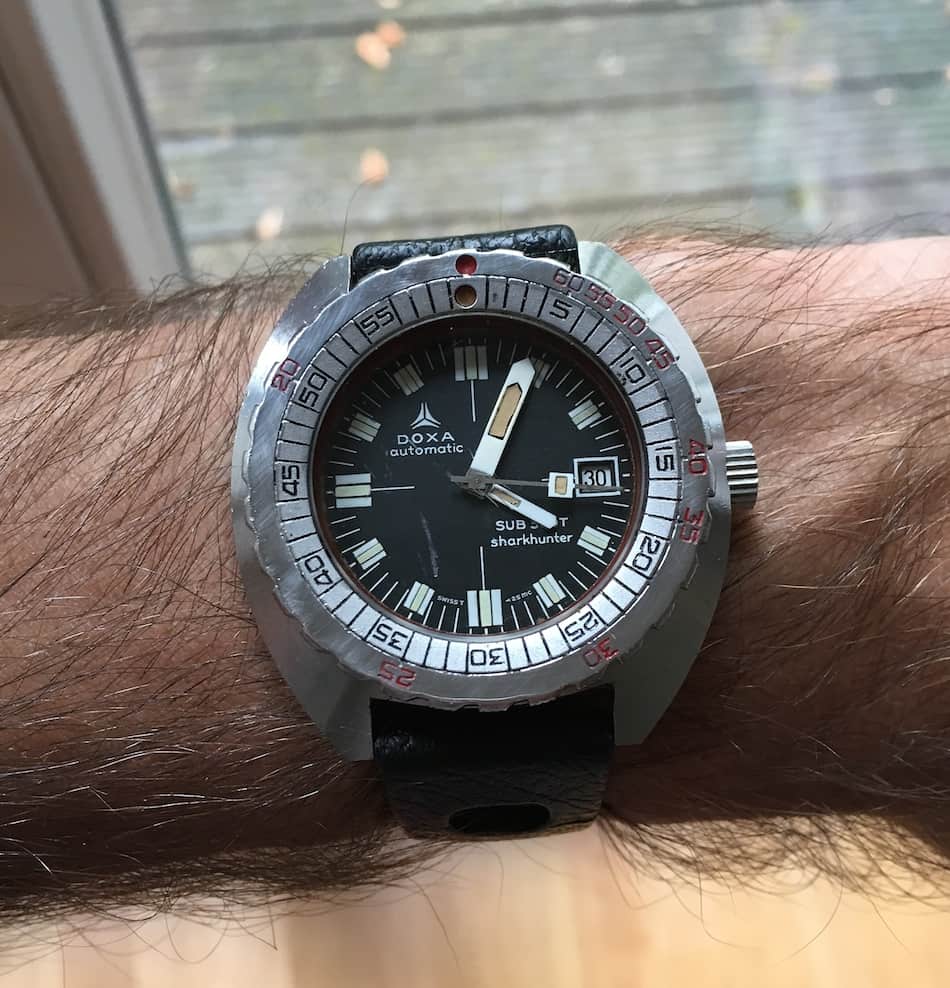 Orange Is the New Black
The Doxa Sub 300T was made in many dial variations and colors. Orange, the most famous, was the Professional, while Silver was the Searambler. A rare yellow version was the Divingstar and the black version you see here is known by the Sharkhunter moniker. Head to this great site for a really nice look at loads of variants. When introduced in 1967, the original Sub had a screwdown crown and an acrylic crystal. Within a couple years, though, things changed and mineral glass was added along with a more economic pull-out crown. This, the so-called second-generation "Synchron" version is what you see on these pages. "Synchron", by the way, bought Doxa in the late 1960's and added the brand to a stable that also included Borel and Cyma.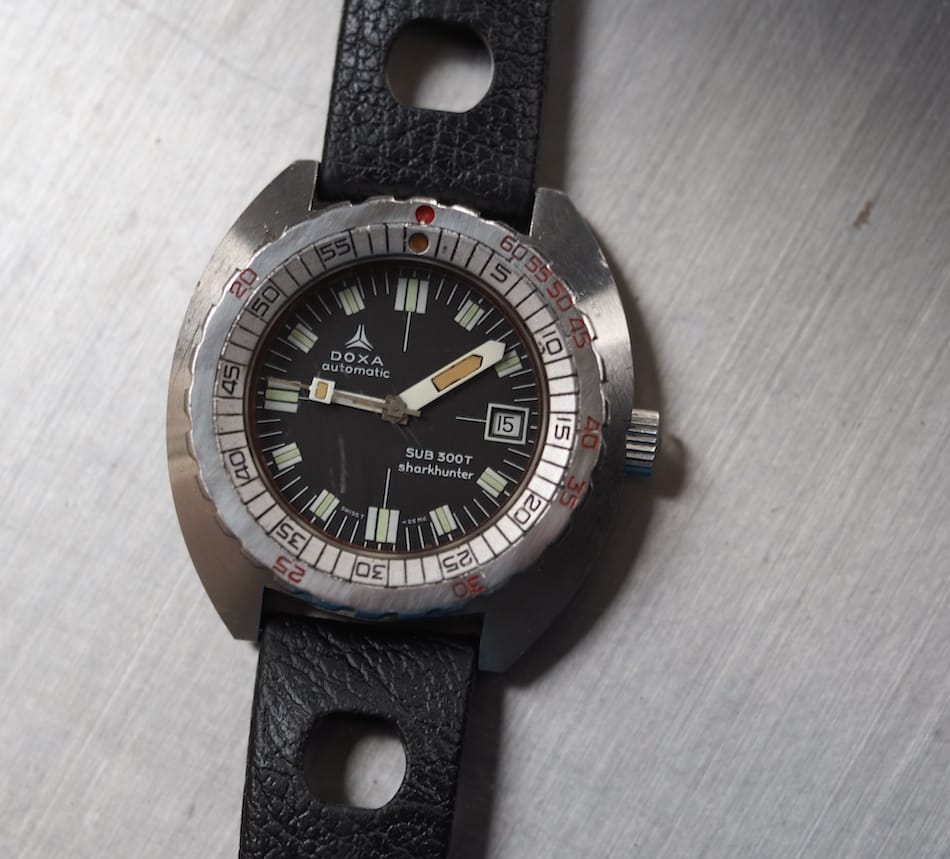 The Doxa Sub 300T is No Beauty Queen
The Doxa Sub 300T is absolutely a purpose-built diver. One look at its legible, basic dial tells you that this watch is all about business. Thick stripes of lume exist within each striped, printed hour marker and clear extending lines into the center of the dial at the quadrants help orient the eyes during a quick glance. The best "tell" that this watch is made for the depths, though, is the exaggerated minutes hand. This hand contains a massive swath of tritium to help a diver to keep track of time underwater.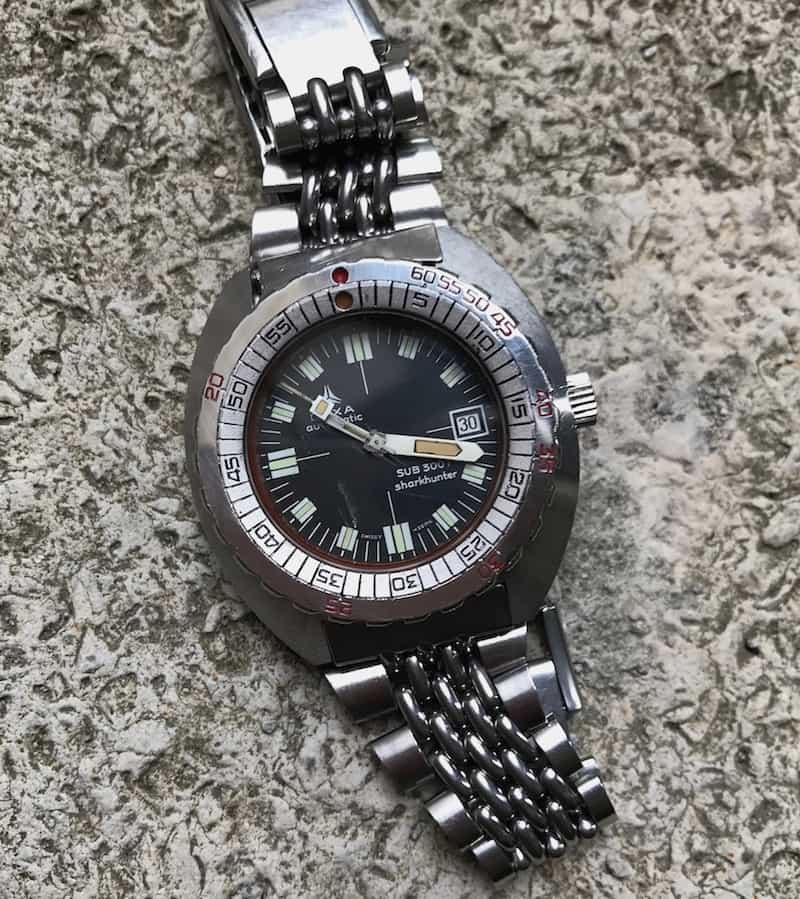 The Best Vintage Diving Bracelet?
Aside from the watch itself, the Doxa Sub 300T contains what watch collectors consider to be one of the greatest bracelets ever created. Sitting on 20mm lugs, this "beads of rice" bracelet is supremely comfortable. It's mesh like in its silkiness and contains a simple clasp that snaps like a 10 year old Rolex. But wait, there's more… On either side of the bracelet, there are links that are spring loaded to allow the bracelet to expand when necessary – for heat or for wearing over a sleeve. It's ingenious aside from the fact that the springs often wear out (like mine) and fail to return to a closed position. It's a beautifully designed piece that I'll likely try and repair. For now, though, a period correct big-hole tropic will have to do…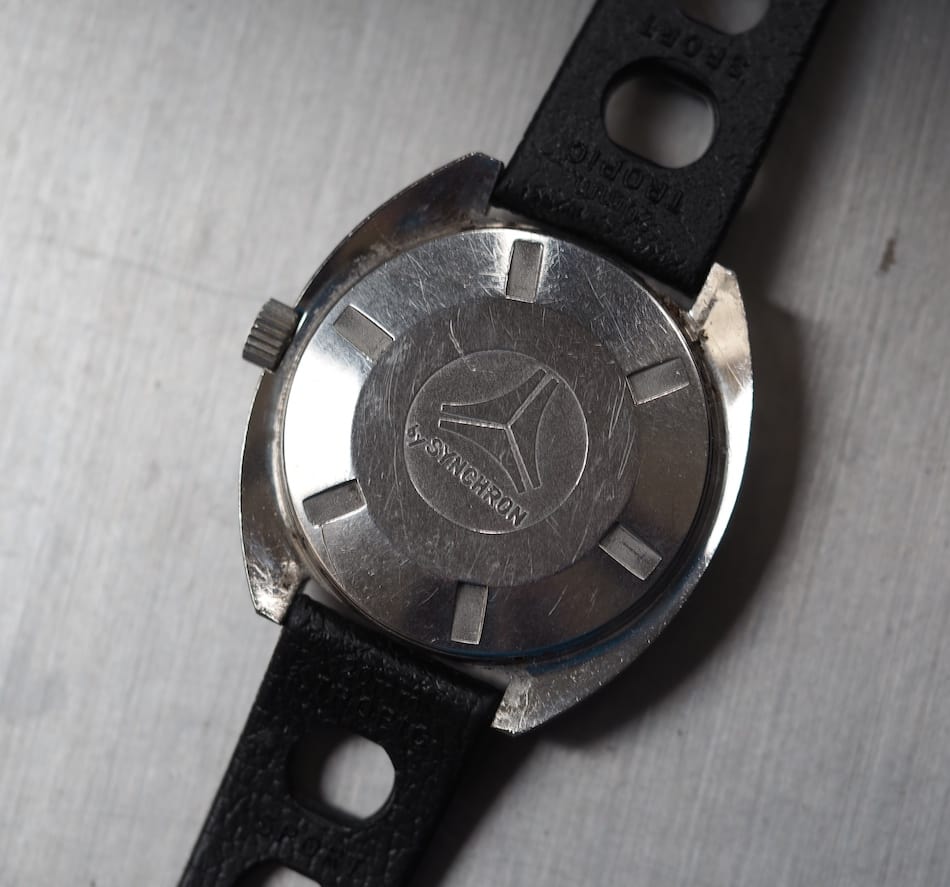 Inside the roughly 43mm case of the Doxa Sub 300T is a 17-jewel ETA 2872 automatic. It's a damn nice movement that runs at 28,800 bph and has a quickset date (beating Rolex to the punch). I've found that it keeps amazing time.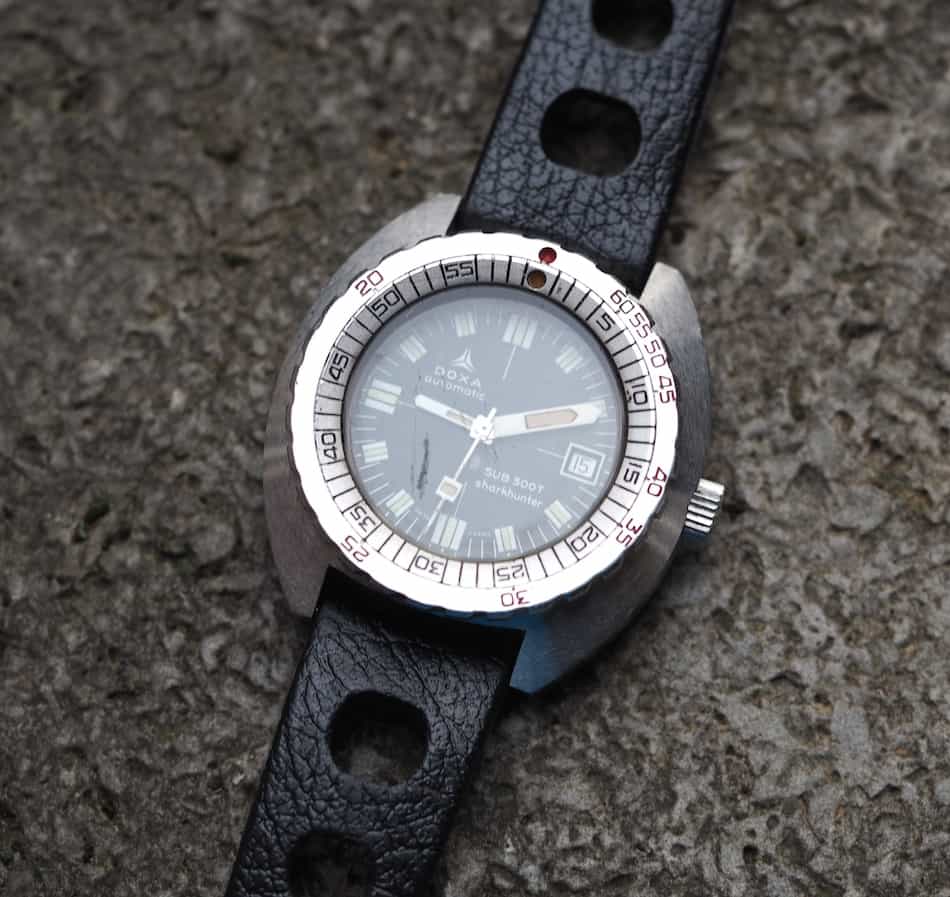 Buying a Doxa Sub 300T
I found this example of a vintage Doxa Sub 300T Sharkhunter on eBay. It was for sale out of Israel and Andreas happened to know the seller – so a deal was struck. Honestly, I was really excited about getting this watch despite it having a c-case design. As mentioned there was just something about the looks and when I finally had it in my hands, I wasn't disappointed. The Sub is a grassroots watch. It's far from pretty, but it doesn't apologize. It's one of those watches that simply looks like it belongs around equipment, salt spray and bait buckets.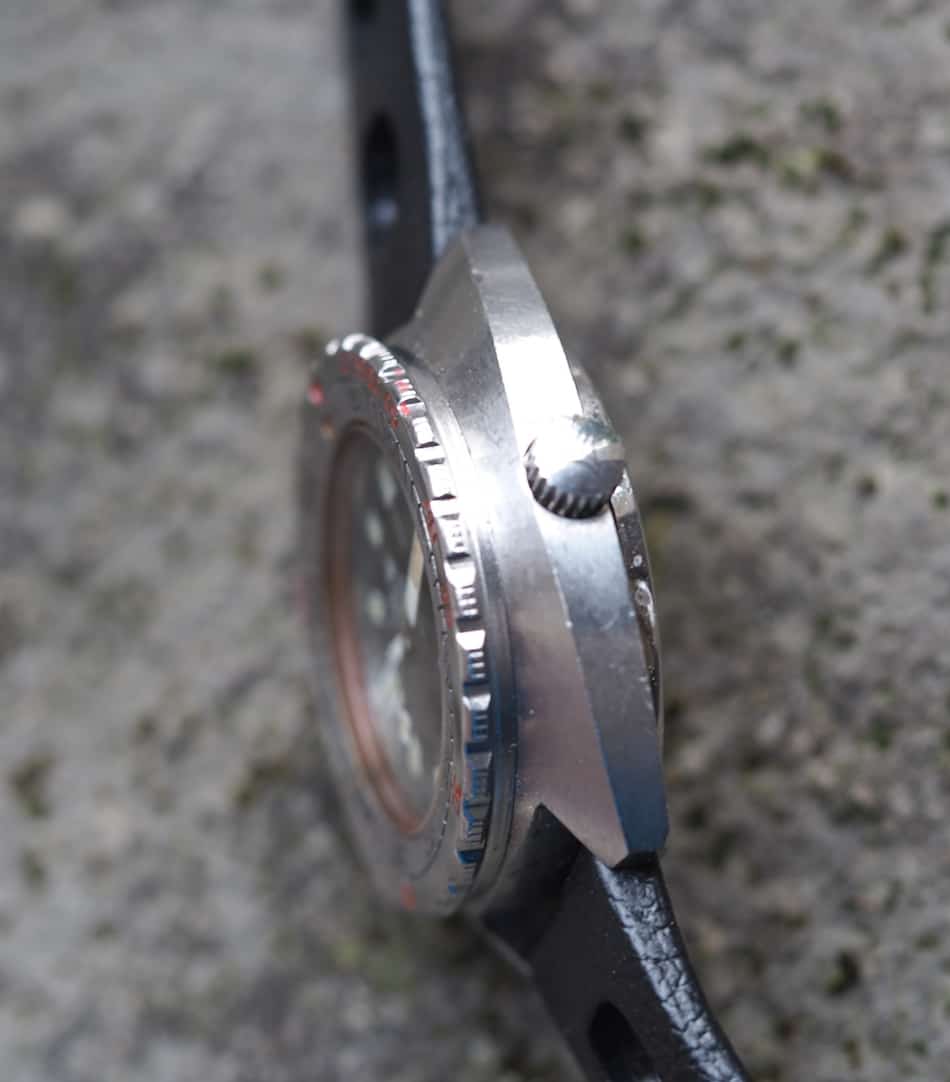 Furthermore, it's built like a tank and it deserves scratches and patina. This one has some nice case dings and you'll notice a big honking scratch on its crystal – no plans to change it any time soon! Oddly, it's also one of those watches that gets the nod from about anyone and it parties happily amongst Seamasters and Submariners at vintage watch get togethers…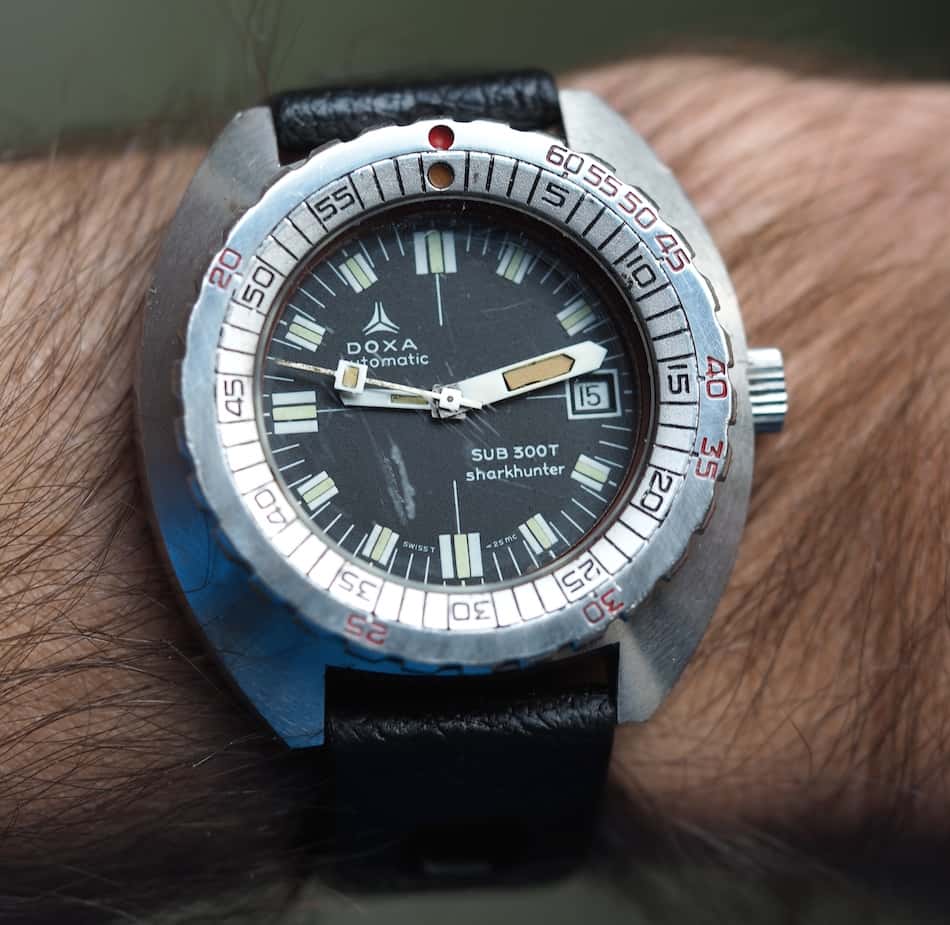 I love wearing the Doxa Sub 300T. It looks great on the strap and the watch has fantastic presence. It fits well due to compact lugs and it's tall, but not overly so. In fact, in this taller 2nd gen case, it's just a touch outlandish, but it still fits nicely under a shirtsleeve. What kills me most about these Doxas is that I waited sooo long to buy one because they were once so very abundant.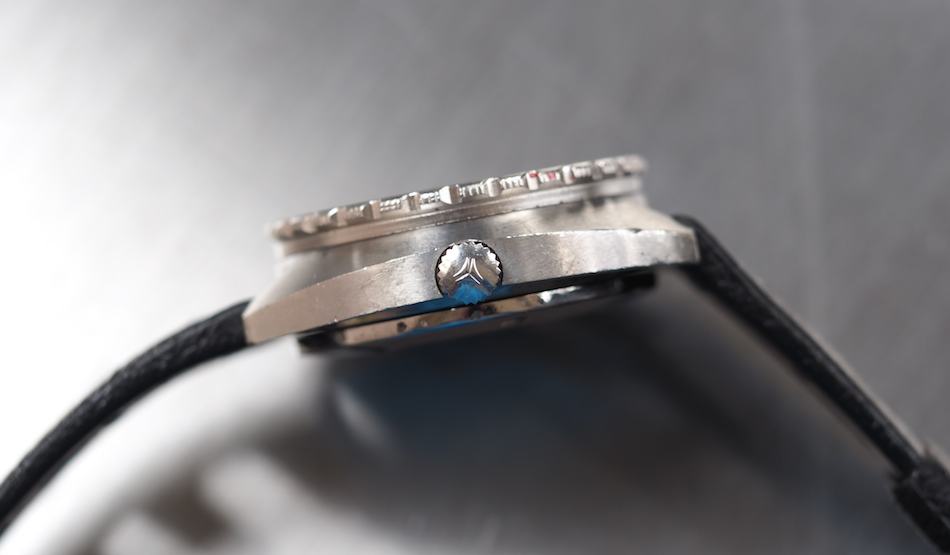 Still Affordable…
Yes, the Doxa Sub 300T was once found in droves on eBay. Those days are about over, though, as most that show up have had a lot of work done on them and they're rarely sold at a price befitting a modified watch. The $1,200 – 1,500 mark used to be the bargain price for a decent Sub but roughly $2,000 seems to be the starting point for something correct (maybe $1,700 – 1,800 if you're lucky and that's normally without bracelet) and prices escalate for the very early pieces. Like most good things vintage, the collector world has figured out that these Doxas were underrated and has squirreled them away. Replaced hands, unsigned replacement crowns, and beaten/missing/wrong bezels are par for the course. Whether or not these things bother you on what has to be in the running most "toolish" of the tool watches is up to you. Personally, I wanted something original, but I wouldn't have passed up a presentable watch with honest service and necessary replacements. Finding bezels is nearly impossible and the same can be said about bracelets. The movements, thankfully, are an easy fix.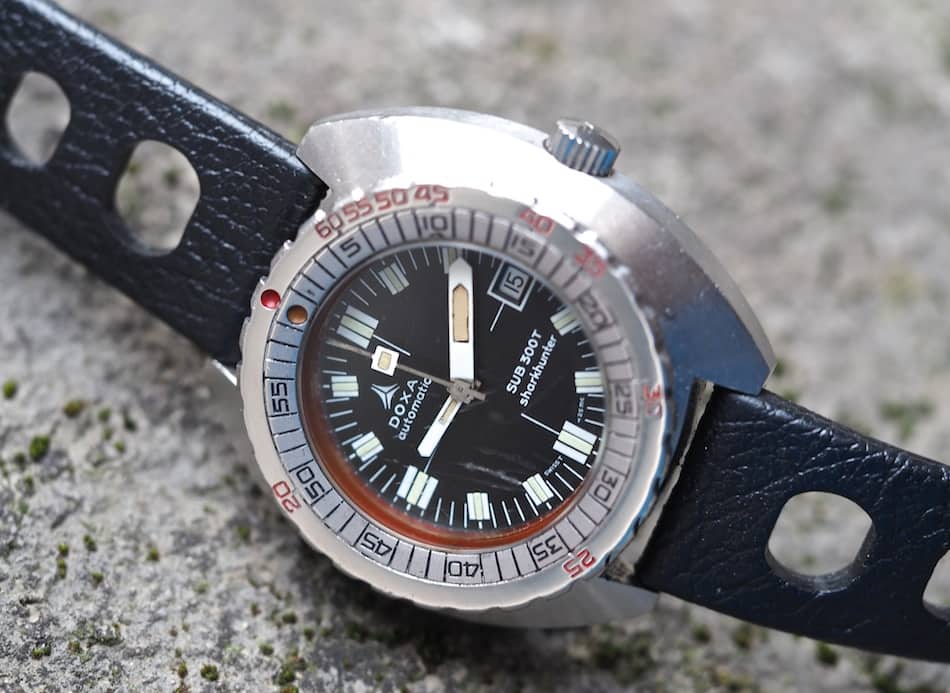 The Doxa Sub 300T is a watch that deservedly has one of the most enthusiastic groups of collectors (check the watchuseek Doxa forum for proof!). It's a legend in the history of dive watches and deserves its place for tis innovative features and no-nonsense looks. Plus, despite increasing demand and pricing, it's still a bargain compared to divers of the era from the big brands. Happy hunting!
Watch specifications
Model
SUB 300T Sharkhunter
Case Material
Stainless Steel
Case Dimensions
42mm diameter, 45mm lug to lug, 14.5mm thickness, 20mm lug width
Movement
ETA 2872 automatic with quickset date, hand winding, 28,800 bph, 44 hours power reserve
Water Resistance
300 meters
Strap
Stainless steel "beads of rice" bracelet with spring expanding clasp
Functions
Time, date, uni-directional "no deco" dive bezel