#TBT The Glorious Omega DeVille 145.018 Chronograph
As it happens with so many things in life, the best items often come along when one isn't looking for them. While I do seek out certain items, watches and otherwise, my bank account seems to take its largest hit when I'm in an ambivalent state. Whether it's the grocery store or a weekend visit to London or NYC before Christmas, I'm at my worst when I go with little to no mission in mind. And then there's the case of a friend who drops an innocent note about whether you have interest in a watch he's looking to sell. These are troublesome, in the best way of course, because they typically represent the ultimate case of "buying the seller" and the piece tends to be trustworthy. This scenario is precisely what led me to today's #TBT subject, a stunning Omega DeVille 145.018 chronograph.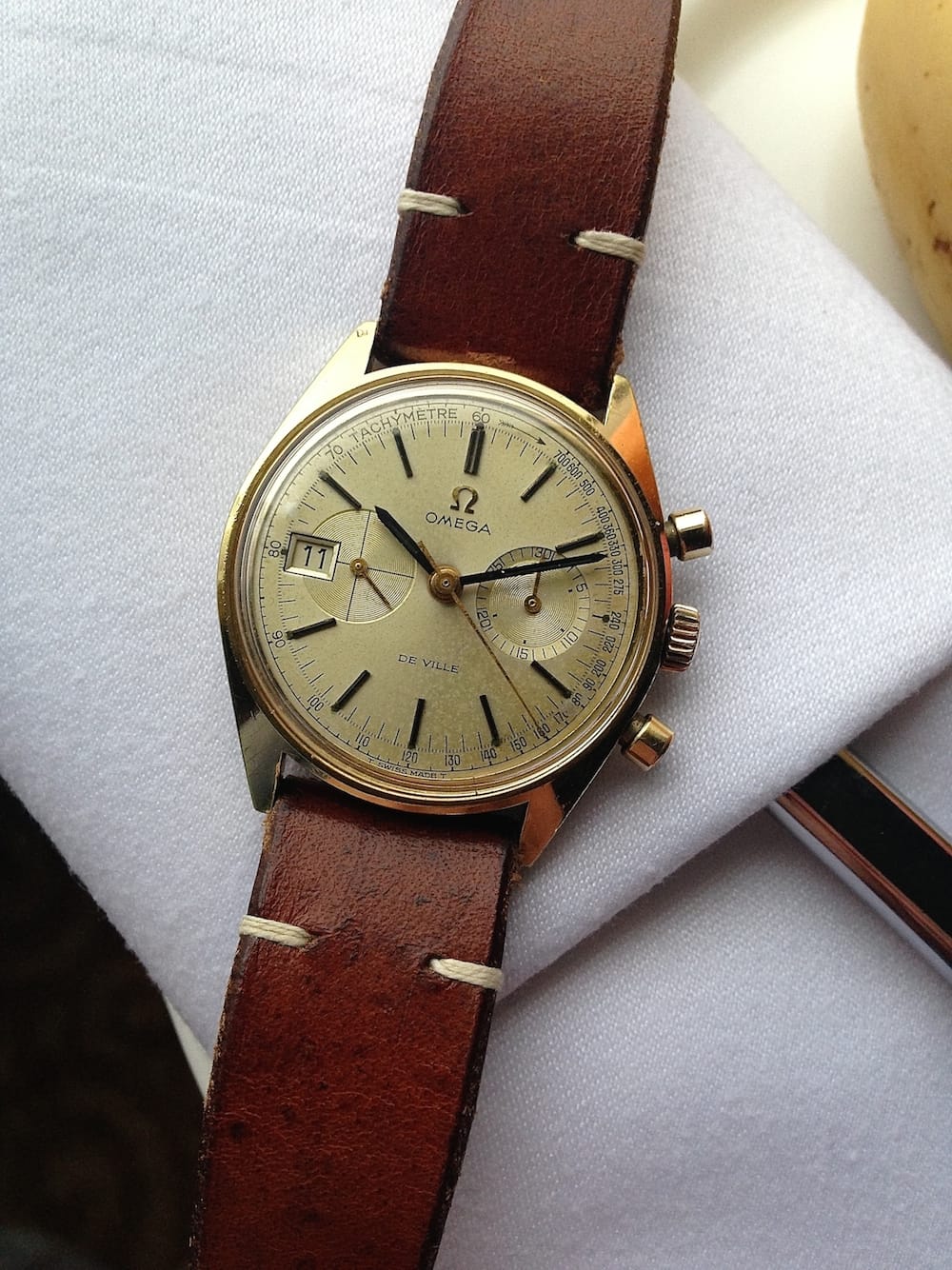 The Omega DeVille 145.018 – History
Roughly two years ago, we featured a gold plated DeVille 146.017 on #TBT, a unique chronograph (made from 1969 to 1970) with a date window at 9:00 and a rarely used 930-caliber movement. We also mentioned that Omega had produced chronographs using this case with manual wind movements sans date in both two and three register variants. Produced for roughly 1968 to 1970, the bi-register 145.017 utilized the 860 caliber whereas today's triple register Omega DeVille 145.018 employed the well-known 861. The 861, if you're not an Omega geek, was an evolution of the column-wheel Lemania 321 movement that famously found itself in pre-Moon Speedmasters and in other watches from the brand. The 861, which became the Moonwatch movement as well, is a shuttle cam actuated chronograph that's essentially still with us today in the guise of the 1861.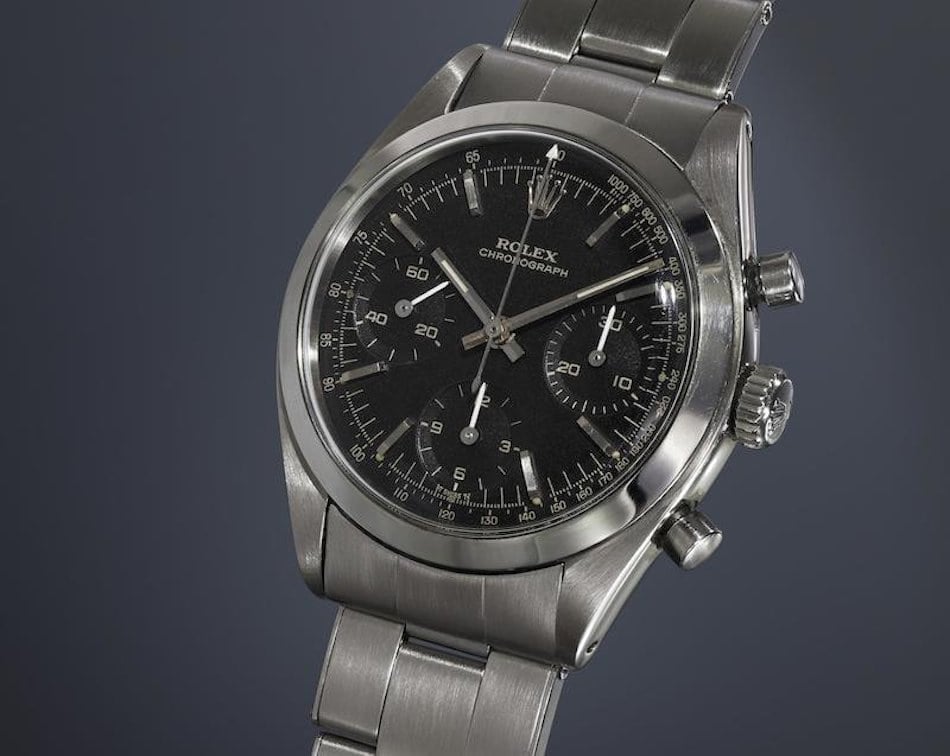 Similar to the Rolex 6238 Pre-Daytona
With a well-proportioned 35 x 40mm design, the Omega Seamaster DeVille's of the late 60's are, in my view, some of the most eye-pleasing chronographs ever made. They wear larger than their size would suggest and this, plus their fantastic looks, have kept these watches rare and relatively expensive. With no-nonsense Singer dials featuring basic applied baton hour markers, lume pips, an applied "old style" Omega logo, and simple lumed hands, there's more than a passing resemblance to some big name chronographs that now cost as much as 10X. Take a long hard look at a manual wind Daytona, a 60's Autavia, or, more appropriately, a Rolex 6238 "pre-Daytona" at 36mm in diameter and I think you'll agree that these Omegas are awfully similar.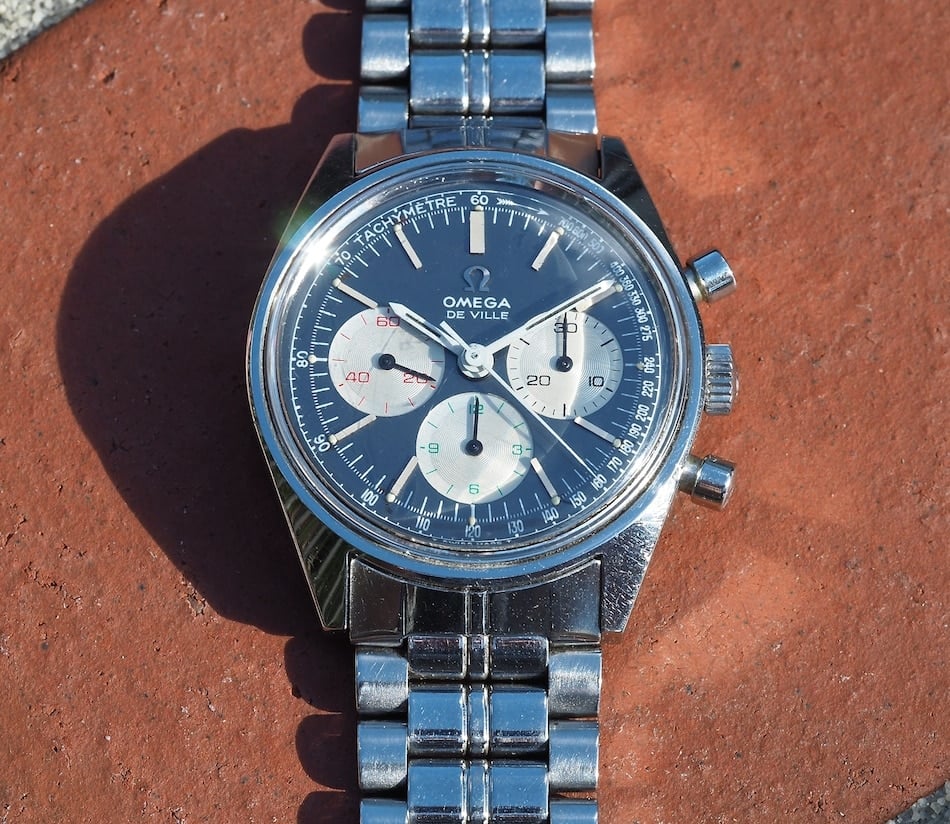 Many Available Combinations
I enjoy the gold-plated 146.017 and it is a GTG crowd pleaser, but I have always kept a lazy eye out for one of the more traditionally styled versions. Made in either stainless steel or with a gold-plated case, the watches were available with quite a few dial variants. White, gold, dark blue, and grey are likely just some of the options. Then, there are models without a tachymeter track, and confusingly, there are models with DeVille, Seamaster, or both names on the dial. We're not quite sure what Omega was doing (or partaking in) during the late 60's, but the collector crowd deems all of these different combinations as correct. The Omega DeVille 145.018 that I found – well, it found me – happens to one of my favorite combinations of all.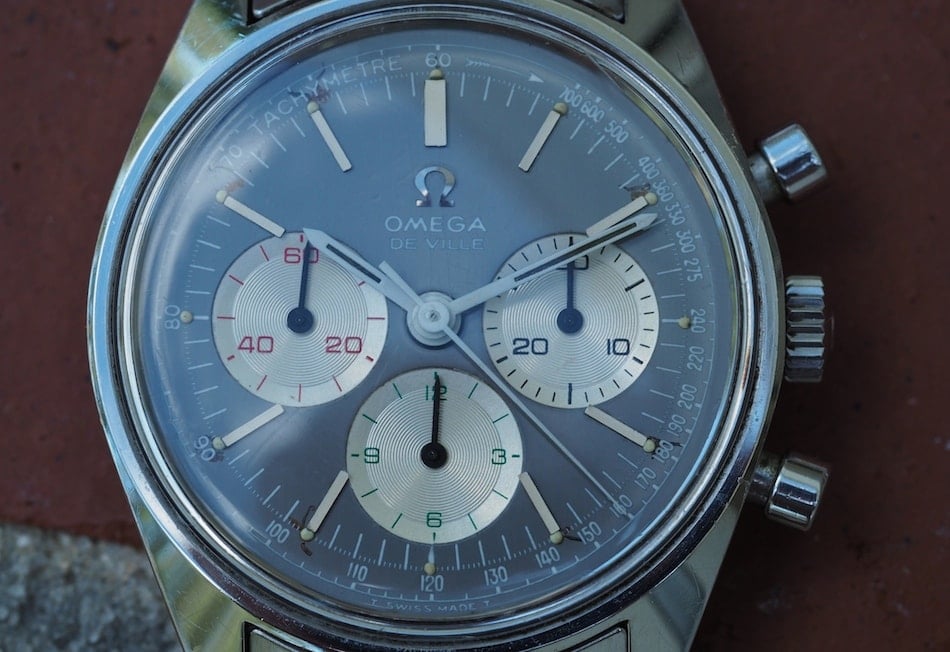 A Dark Grey Dial with Colorful Dial Fonts
The Omega DeVille 145.018 you see on these pages has a dark grey dial that takes on a number of hues depending on the lighting. At times, it turns blue and other times a steely lighter grey. But while the dominant color of the dial is worth the mention, it's the sub registers that make the headlines here. They're white with ridges like most Singer-dialed pieces of the era, but that's not the significant detail; it's the font. With one register's font in green, one in red, and one in black, the DeVille throws a real changeup to an otherwise serious dial.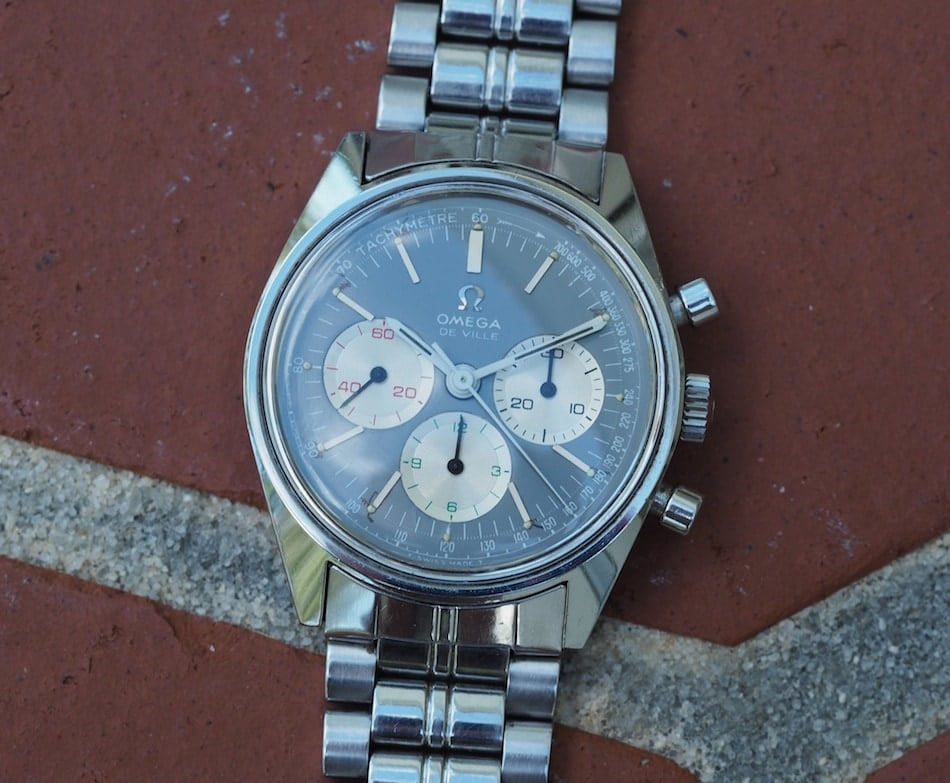 No one really knows why Omega chose to use these colors, but theories seem to center around the 1968 Mexico Summer Olympics where the brand was the official timer. Knowing what we do today about the DeVille – a dressier watch – it seems odd to celebrate a sporting event with this line, but this is the current hypothesis.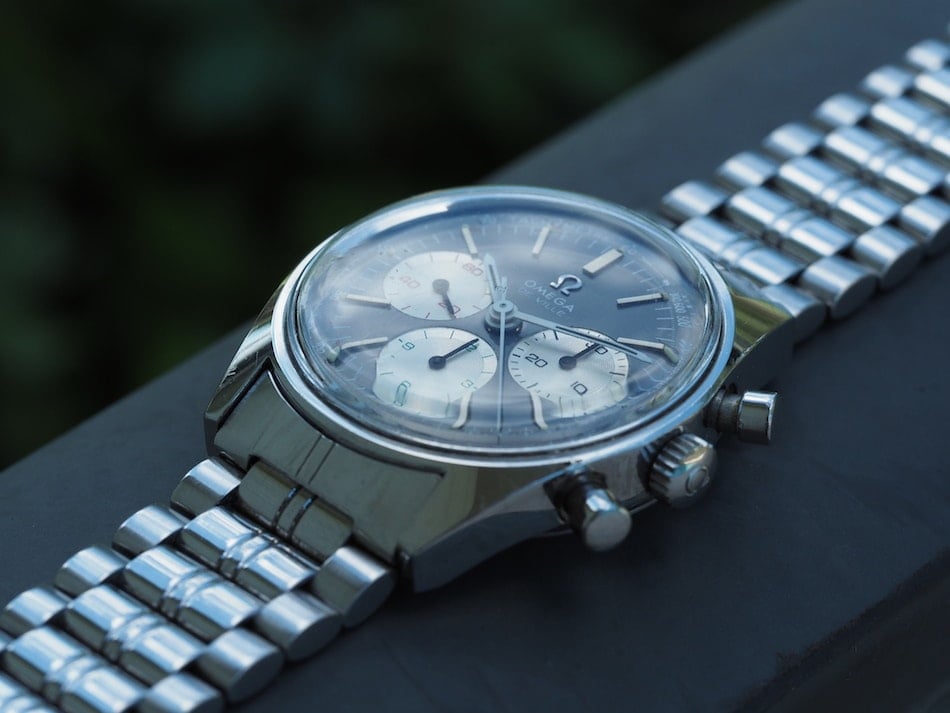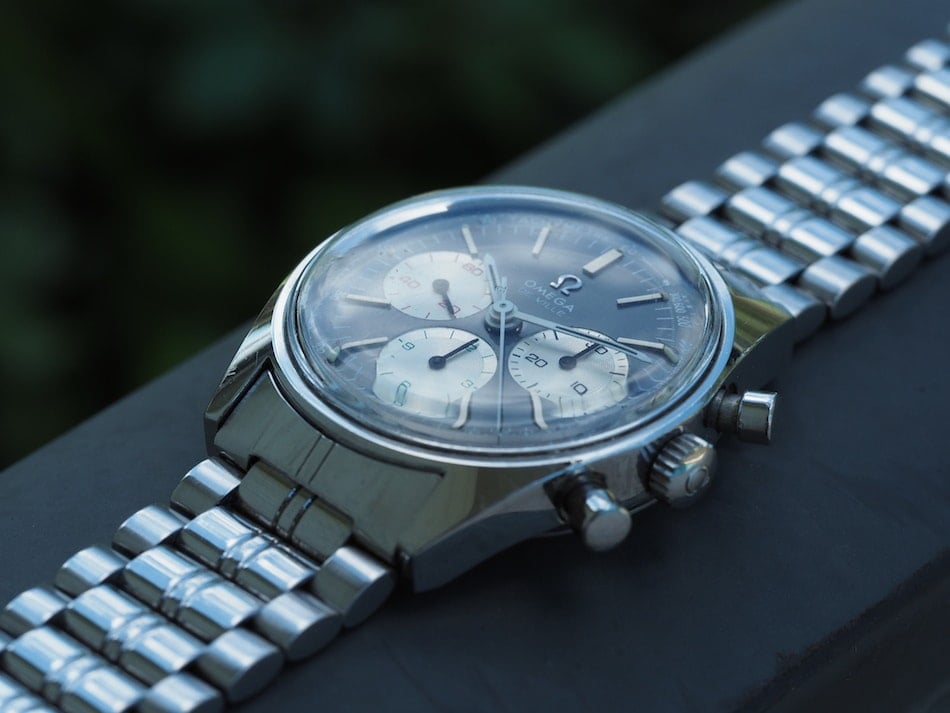 From Omega's Transition Period
Some other details about the Omega DeVille 145.018… Interestingly, the dial contains the old style Omega logo, as does the center of the crystal when viewed at an angle. However, every crown I've seen on one of these watches strangely contains the newer logo. Perhaps this was due to the transition period from old to new at Omega in the 1968-1969 period, but it's one of the few Omegas I've seen where the logo isn't consistent throughout the watch.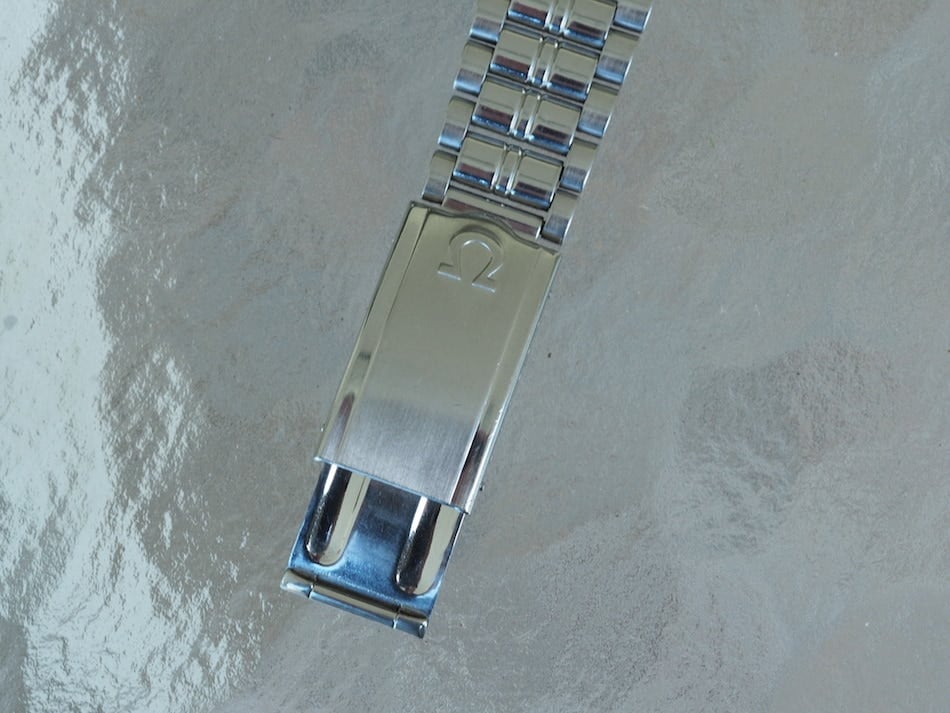 Bracelet-wise, this piece came to me with a 1069 and 524 endlinks and that seems consistent with several I've seen online. It's one of the more ornate bracelets from Omega, with its segmented center links, when compared to some of the brand's hardware from the time, but wow is it comfortable.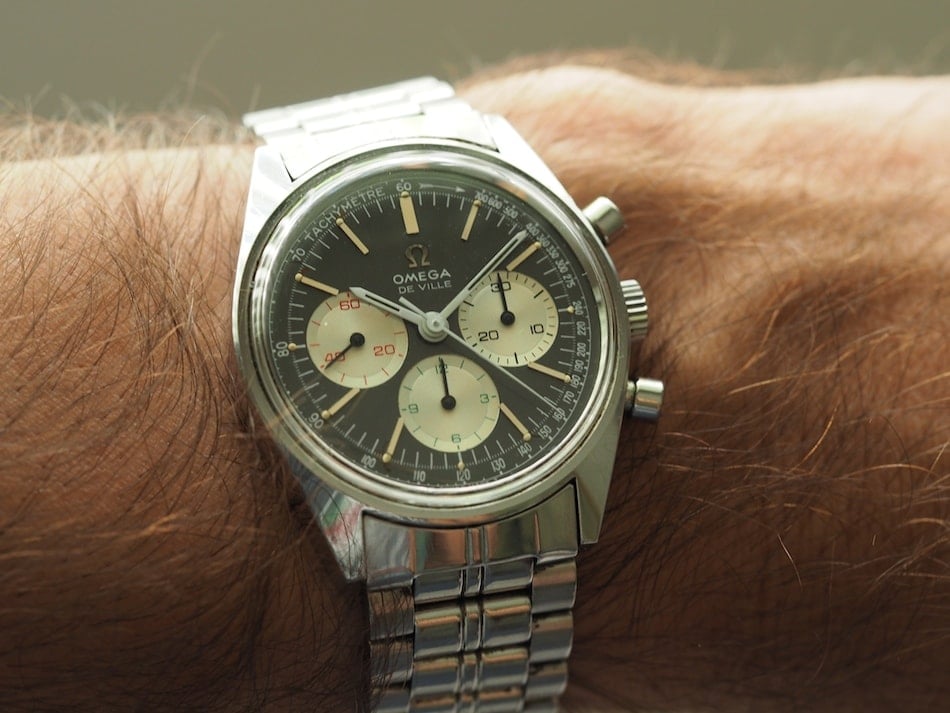 Wears Like a Larger Watch
I tend to have a tough time sizing Omega's bracelets from this era as the links often taper out to the point that they no longer fit under the clasp, but that's not the case here. Many examples of the Omega DeVille 145.018 and its 145.017 brethren are well shown on a strap, but when a bracelet is this comfortable why not use it? If you're a follower of #TBT, then you know I possess a small wrist and, therefore, my judgment on watch size is highly biased. However, this DeVille genuinely wears like most semi-sporty watches of the era. Meaning, take your normal 36mm Datejust and this watch sits similarly on the wrist.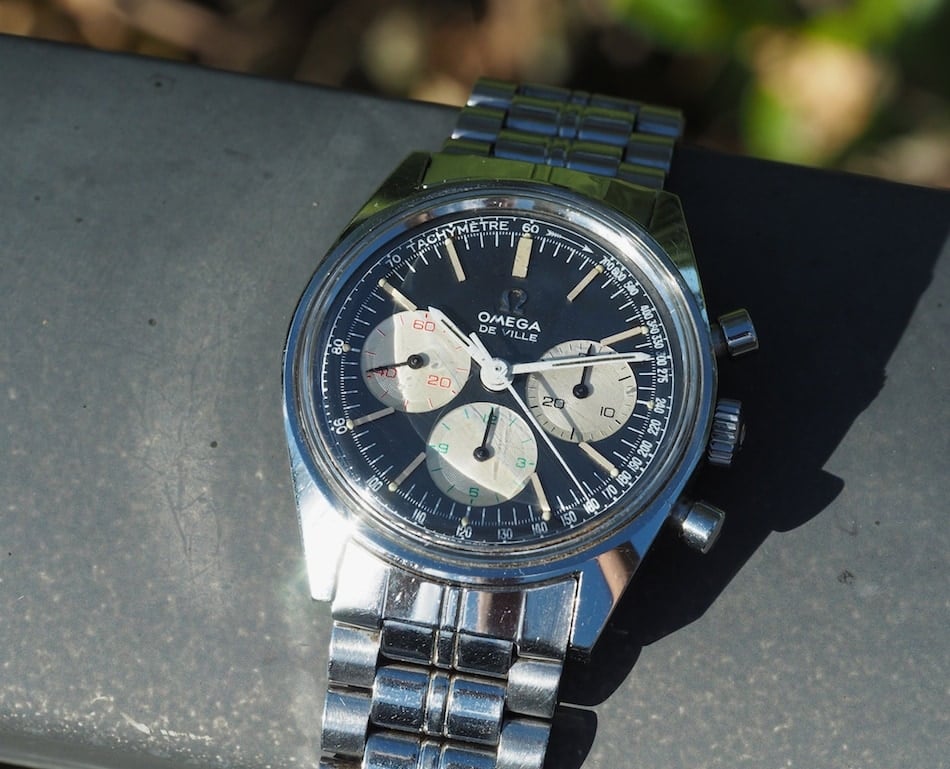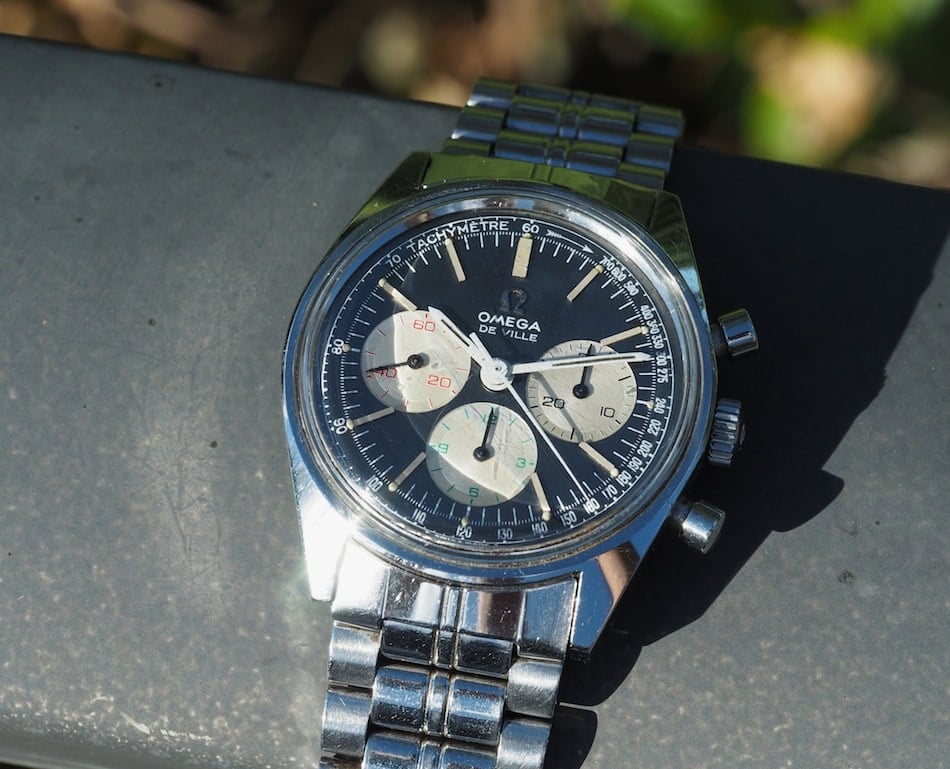 The Omega DeVille 145.018 is a Tough Find
As mentioned, a friend contacted me about this Omega DeVille 145.018 and he made a very friendly offer – one I simply couldn't refuse. As you can see, the watch is in great shape. Aside from some mild dial degradation around the lume pips and a crystal that needs a better polishing, the watch is a beauty. Even the bracelet and clasp are in great shape. Good 145.018's, and 017's for that matter, aren't simple to come by. This rarity contributes to their value and due to this, prices seem to range all over from $2,000 – 5,000. Yes, that's a wide berth, but the price typically relates to the dial color.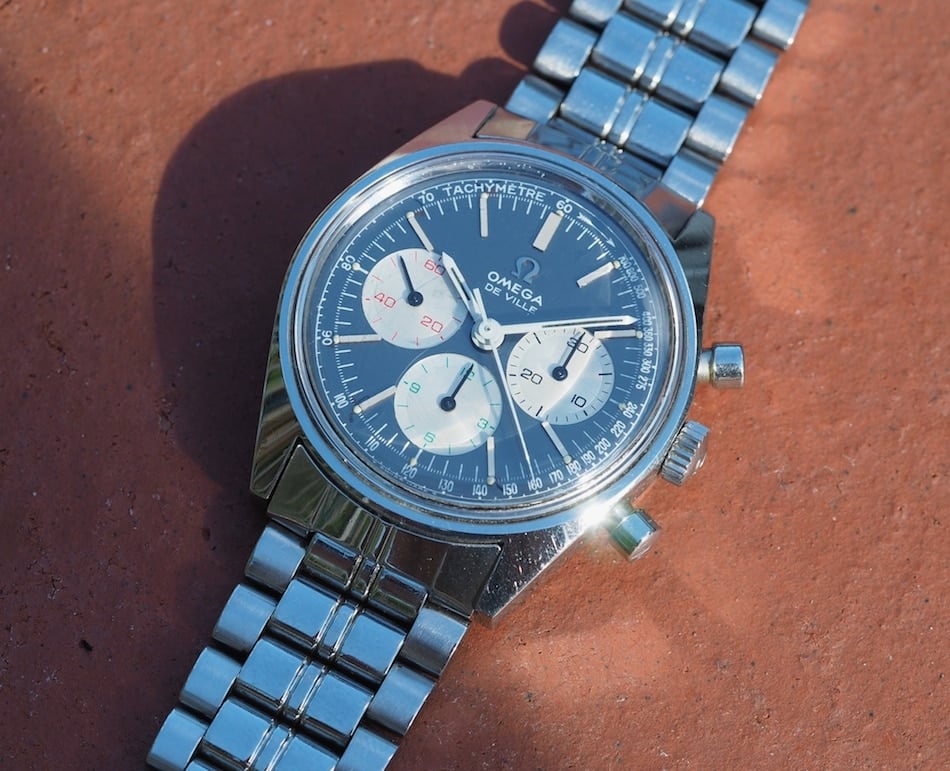 We often talk about how the Speedmaster gets all the love when it comes to vintage Omega chronographs, but there are plenty of excellent pieces aside from the Professional Moonwatch. This Omega DeVille 145.018 is just one good example. Next time you're at a watch shop or a GTG, slip one on your wrist – you might just be surprised by how well it wears.
Watch specifications
Model
De Ville Chronograph
Case Material
Stainless Steel
Case Dimensions
35mm diameter, 40mm lug to lug, 13.5mm thickness, 19mm lug width
Movement
Omega Cal.861 (Lemania 1873 base), hand winding chronograph, 18 jewels, 21,600 bph, 48 hours power reserve
Strap
Stainless Steel bracelet ref.1069 with ref.524 end links
Functions
Time, running seconds, 30-minute counter and 12-hour counter