#TBT Omega DeVille Chronograph 146.017
It's always weird to write from the skies but here I am, tip-tapping away. What else is odd is that today's #TBT subject has been in my possession for less than 12 hours and I was so taken by it that I figured this week was as good a time as any to discuss it. You'll note that, once again, something in gold is on my wrist. I do promise this won't become an addiction, but I do implore you to drop your guard, if only slightly, for the yellowest of metals. I had to, you see, because today's watch is a seriously rare beast. Like any watch, they're out there, but they come up for sale ever so sparingly. In fact, between my Instagram feed and Fratello's, we both received numerous comments from collectors who had never seen one. So what is this watch? Well, today, we talk about the Omega DeVille chronograph ref. 146.017.
Odd date positions make for great watches…
The Omega DeVille chronograph is a piece that I've had on my watch list for some time now, but it was always in the periphery because I never wished to get my hopes up in finding one. I also find that in so many cases, the scond that you focus on chronographs from Omega not named "Speedmaster", there are some serious bargains to be had. There's little difference from model to model when comparing build quality, details, and movement selection. In the case of today's watch, though, uniqueness certainly comes into play. Frankly, the watch actually reminds me of the recently reviewed Nivada Grenchen Datomaster because both are difficult to source and feature a date complication in an odd position: the Nivada at 12:00 and this Omega at 9:00.   More on that detail later, though. So, when one came up for sale on eBay recently in reasonable shape from Lisbon – yes, you may recognize this piece – I gave it a go. Obviously, it worked out in the end and am I ever glad it did because this is one lovely watch.
Let's talk a little about the Omega DeVille chronograph; it's history, the movement employed and the aesthetics. The Omega DeVille was meant to be a dressier line of watches within Omega's offerings and, therefore, this watch was extended as a real niche piece: the sporty dress chronograph. One could tell that Omega was more than a little cautious upon launching the line because the 3-register offering that shares this case design is often seen as a Seamaster DeVille. Perhaps Omega originally wished to extend the Seamaster line or were worried about the success of creating a new DeVille-only line.
Regardless of the brand's motivations or concerns, Omega went all in on this watch because it only contains "DeVille" on the dial.
The Omega DeVille Chronograph was Unloved from Day 1
The Omega DeVille chronograph before you was offered in 1969-1970 and as far as I can tell, it was nearly a "one and done" (or two years) watch. It simply wasn't popular.  It came in a gold plated case with a gold dial or stainless steel with either a black or white dial. I've seen slight variations on the hands where some seem thicker with more lume. Also, I've seen versions where rightmost register shows dots underneath each number and in some cases not. I have no idea if those not containing dots are service dials as seem do not show Tritium usage in the familiar "T Swiss Made T" markings, but it should be noted that dials and hands were available at Watchco at one point up until not so long ago. The fact that the DeVille was only offered in 1970 gives it a comparable history with another rare Omega: the famous Bullhead. However, it's not only the term of production that the two watches share; both pieces shared the same oddball movement.
The Omega DeVille chronograph features Omega's 930 calibre. This movement, aka the Lemania 3872, is a 17-jewel movement and came from the same family that brought us the famous column-wheel 320, 321 calibres found in Speedmasters, Seamasters and assorted other chronographs. Of course, the 321 also became the foundation for the lever-action 861 and current 1861 movements. The 930 is lever-action and obviously differs as it eschews an hour totalizer and instead picks up a non quick-set date function. As mentioned, the only other Omega that utilized this movement was the Bullhead, but everything was shifted counter-clockwise by 90 degrees.
But what a dial!
So by now, you've had it drilled into your noggin that Omega DeVille chronograph is rare, but what attracted me so much? Like in most watches, the dial design did it. In a game of take it or leave it, when it comes to date functions, I'd leave it almost every time. In this case, though, the date window really makes the watch. The odd placement of the black-bordered date window and its ability to blend in so well with the rest of the dial makes the watch highly unique and technical looking in my view. Also, the way it sits inside the running seconds register that has been so simply ordained with thin crosshair lines is a stroke of simple design genius. No, the date window doesn't draw your eye away from the sub registers as in so many other watches; it's perfectly integrated.
Stepping away and viewing the dial on the Omega DeVille chronograph in its entirety shows a very clean design with little writing and sharp features. Omega chose black gloss hands and black applied sticks as hour markers with lume dots at the edge of most. The contrast is really nice against a gold dial that, in almost all other watches, would have likely been adorned with gold details. These black features, along with a black printed Tachymeter scale on the outer diameter help give the "sport" to this sporty dress chronograph.
Adding to this is the choice to use a radial layout for the numerals within the 30-minute totalizer sub-register. This sub register features a step down, which is in contrast to the left register. The inversion makes the right register look smaller than the left and that creates an interesting view.   This look along with the radial dial is subtly aggressive. Interestingly, the radial layout was actually used as a choice by some astronauts on later Speedmaster Professionals. To top it off, because this was 1970, Omega was still using applied Omega symbols, so this piece features that nice high quality detail as well.
Not your normal 35mm case…
The case design found on the Omega DeVille chronograph is a very small step towards the c-case designs that Omega would help make famous during the 1970's as the lugs are quite integrated into the case, but the lugs are still well-defined and suitably lengthy. Furthermore, the strap attachments are not "hidden" as in other models such as the Speedmaster II. The case comes in at 35mm but wears like a true 36mm watch. When compared to a 2447 Heuer Carrera, there's similarity in size and it feels a whole level larger than other 35mm pieces like the recently reviewed Benrus Sky Chief. Credit a slim distance between the edge of the domed acrylic crystal, ample lugs and a 19mm lug width for the larger feel of the watch. The 19mm lug width makes a huge difference as 18mm really would have slimmed down the look and would have required the lugs to taper inwards in a more dramatic fashion.
Other details present are nicely sized pushers and a slimmer signed Omega crown. The screw down case back is stainless steel and optimistically states, "waterproof". Inside, it's interesting to see the small figure of the diver which means that this case was made by EPSA – it's not a compressor. This waterproofing trait looks to have long given up the ghost, though, as the dial certainly shows some moisture spotting. The controls on this watch are smooth and familiar. Plus, it doesn't hurt that after about 18 hours on the wrist, it's keeping perfect time. Finally, regarding the physical aspects of the Omega DeVille chronograph, I'd like to draw your attention to one other oddity.
Omegas and Cockroaches – Oh my!
When I received the Omega DeVille chronograph, I noted something on top of the upper right lug that looked like damage. However, on semi closer inspection, the mark didn't appear to expose any base metal and looked like it could possibly be a hallmark. Sure enough, before heading out to the airport, I pulled out my trusty loupe and found that it certainly is a hallmark. My cursory glance showed the letters "PL" on top of some sort of symbol. Upon reaching the airport, I started looking up historic hallmarks and stumbled upon "PL" atop a cockroach – seriously, of all the regal animals or fair maidens that often accompany these microscopic signets, I had to get the cockroach – and it does mean 14kt gold plated. Here's the crazy thing, though…the hallmark is from Portugal. So, if I had to guess, this watch started life in Portugal and lived there up until only a week ago. I can only also assume that historically, imported goods made of precious metals needed a hallmark for duty assessment. Why they put the hallmark on top of the lug is anyone's guess – perhaps for easier inspection? In any case, I will finally break down and order an Extract of the Archives from Omega shortly to confirm a little history on this rare piece. Short of ordering the extract, we'll also send a note to Omega's Museum Director with the same question. Does the hallmark add value? That's doubtful, but it is interesting from a provenance perspective. I also couldn't find any others online with the added marking.
So, I mentioned that 35mm wears much bigger on this watch and I'll stick to my guns. The Omega DeVille chronographs were available with lovely bracelets, but this piece came without one. They are out there, though, due to the sharing with the more common 3-register pieces, so I may hunt one down. For now, though, I have it on the same MJLeather strap I used on the Jardur that I recently reviewed. For those of you who are still anti-gold, watches in this color look great on a rough and tumble aged leather strap with saddle stitch. It also helps when the watch shows a little age too! If you were looking to go dressy, I'd think that any type of reptile would look amazing on this piece as well.
Want one?  Patience is a virtue…
Finding an Omega DeVille 146.017 chronograph is a true lesson in patience. They're relatively expensive considering their size, but it's clear that the looks and rarity have made them unicorns for certain collectors. Consider $1,500 – 2,500 for the gold plated versions and well over $3,000 for stainless. I found this one for about $1,550 and it looked solid enough to justify the ultimate price. Do note that one is available on eBay for roughly $3,000 today and I think that's well over current fair market value – the seller is open to offers, though. Also, like most vintage chronographs, assume that values are on the upswing. I recall not buying one earlier last year with bracelet for roughly $1,300 in astounding condition; those deals are likely gone. Then again, you never know with gold. As always, assume that finding original parts will be difficult, but servicing the movements shouldn't be an issue as they do share parts with the more common 321/861 family.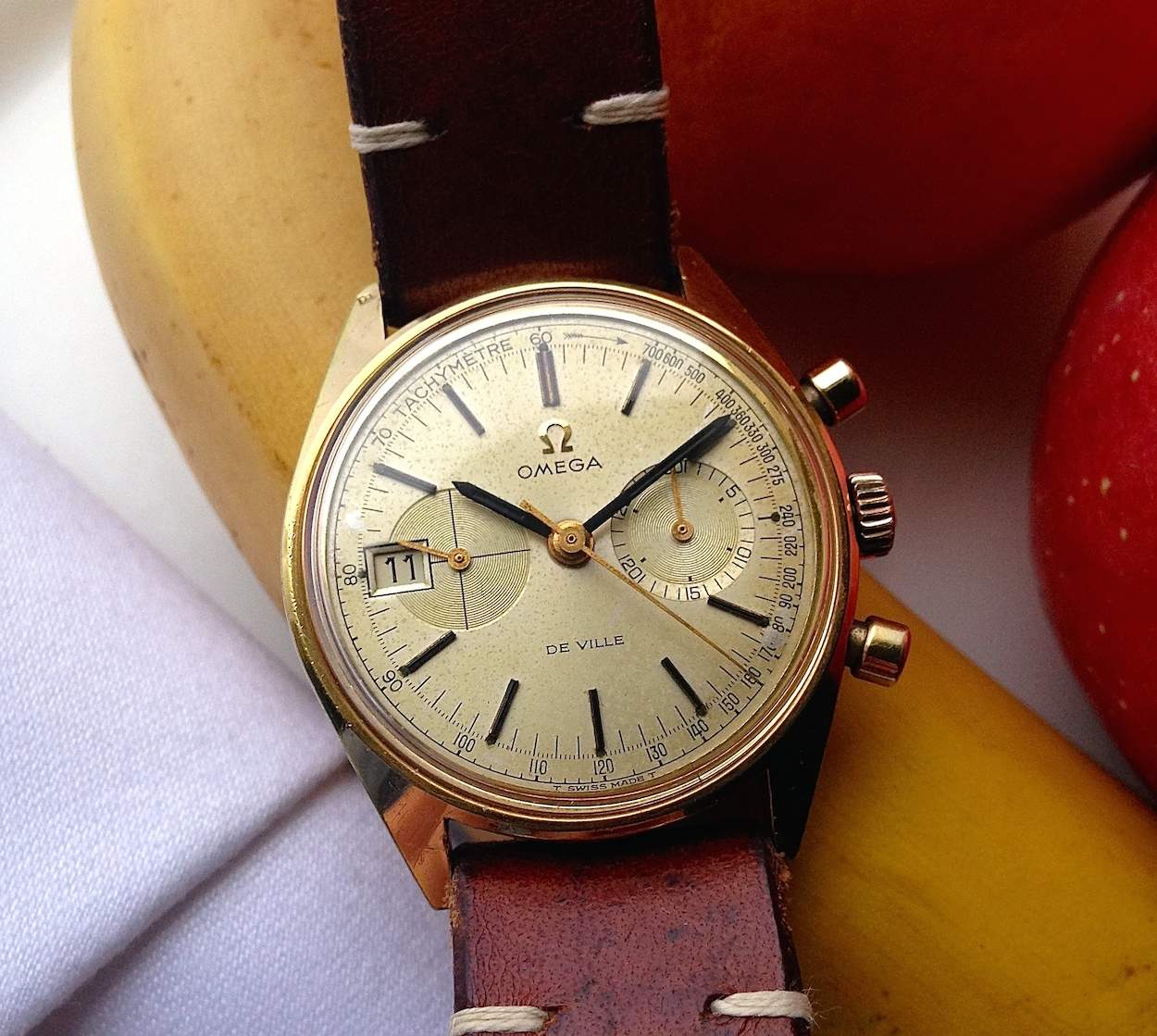 Well, for those who haven't yet been bitten by the "gold bug", I apologize for the high level of recent yellow content. That being said, adding a little color to your collection is never a bad thing and it often comes at a handsome discount. The Omega DeVille chronograph is a rare beast from the house of Omega and it represents wonderful, simple design. If you have more to add about this fantastic piece, please don't hesitate to do so…we'd love to hear from you. Until next week…