#TBT Oris Star ChronOris
Over the last couple months, we've spoken a bit about Oris and their new retro-themed Sixty-Five Diver. It's obvious that we are enthusiastic about the watch and cannot wait to have it on our wrists for trial. Today, though, I'll shift gears and talk about a different Oris piece that deserves some attention if you are into vintage watches. It's a watch that Oris also chose, in 2005, for a newly remade edition that was quite well put together in my opinion. After a few weeks of pricey vintage, #TBT is back in the affordable game with the interesting and attractive Oris Star ChronOris.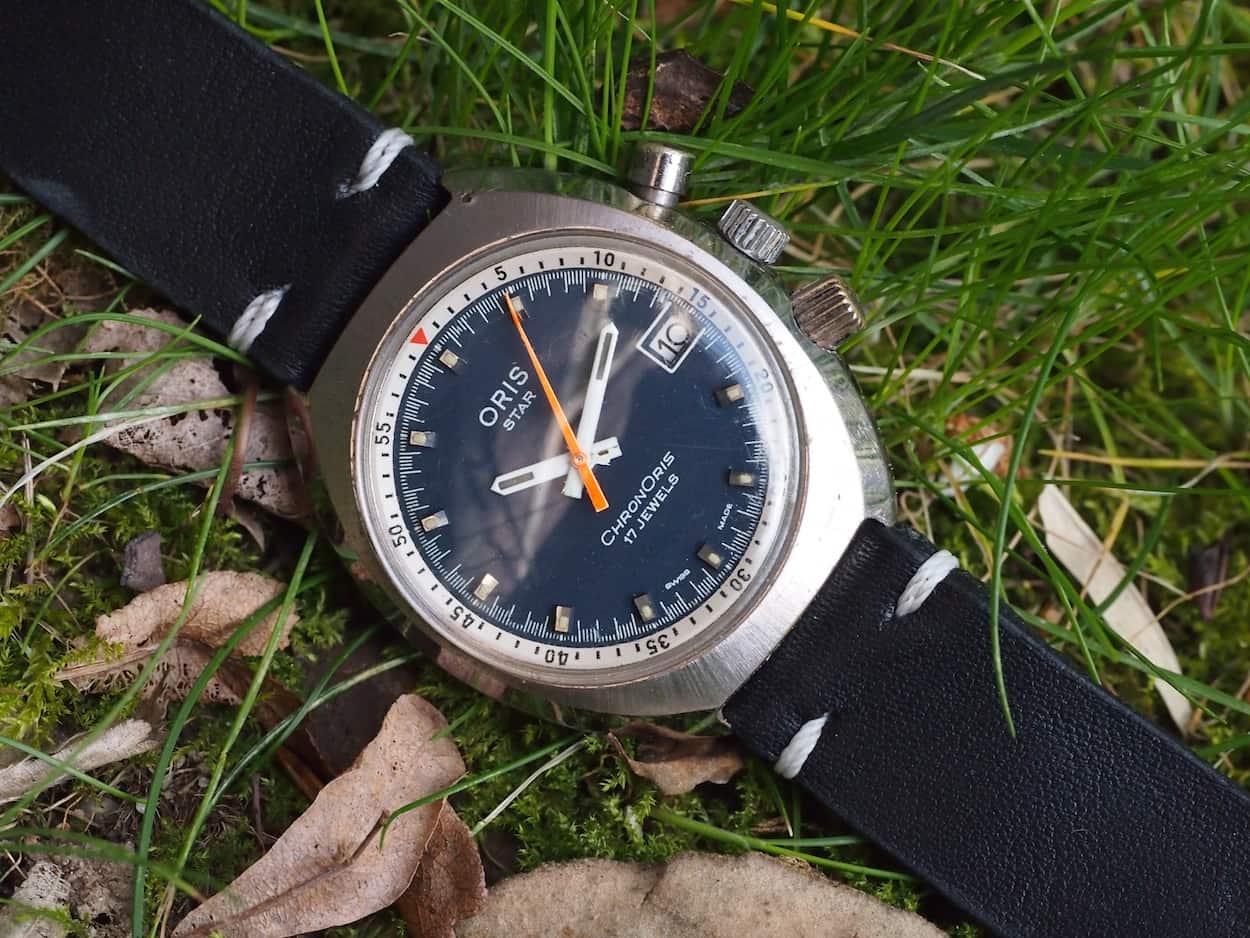 We spoke about the history of Oris a bit during the original preview on the Sixty-Five, so I won't spend much time on it again. However, I do think it is worth stating that we at Fratello Watches admire Oris for its independence and it being somewhat of an alternative choice versus some larger household names. I certainly don't mean to state that the company flies completely under the radar as they are involved in some large sponsorships and their advertising is prevalent. I simply mean that they tend to make some interesting watches versus the norm. The ChronOris featured today is a good example of something slightly different despite its functional resemblance to a very popular watch made around the same time: the Omega Chronostop.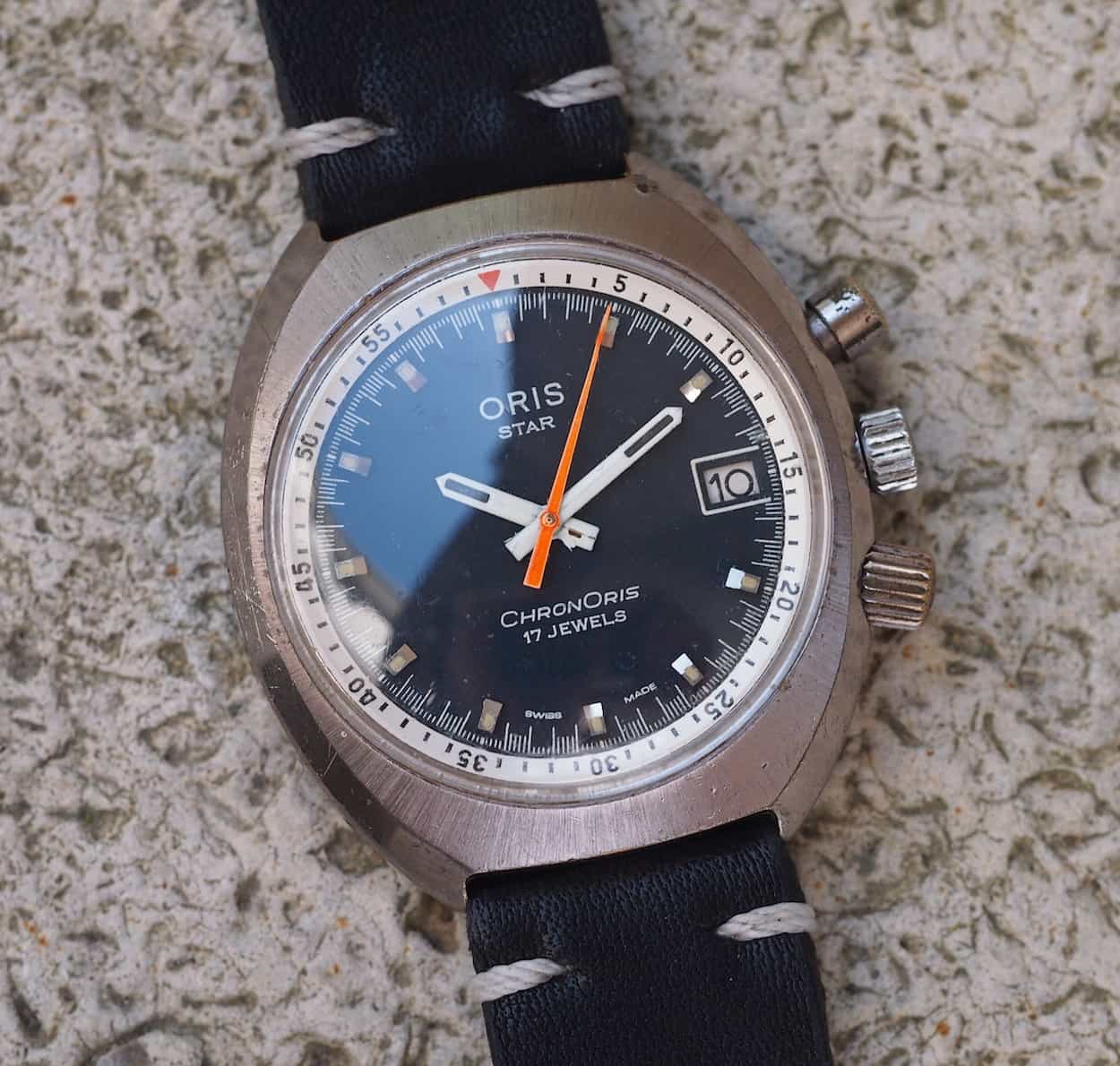 Oris debuted the Star ChronOris in 1970 and made it for several years after this in a couple different cases and dial designs. Some, which provided the inspiration for the 2005 edition, featured loud colors such as orange or even a checkered flag motif on the dial. Others, such as the one in this article, featured a more sedate dial color such this dark blue or silver. The watch is notable as it was Oris' first stab at producing and selling a chronograph. The movement inside, called the Oris Cal.725, was designed by Dubios-Depraz and as far as I know, was not used anywhere else. It's a manual wind movement with date function and contains 17 jewels while beating at 18,000bph.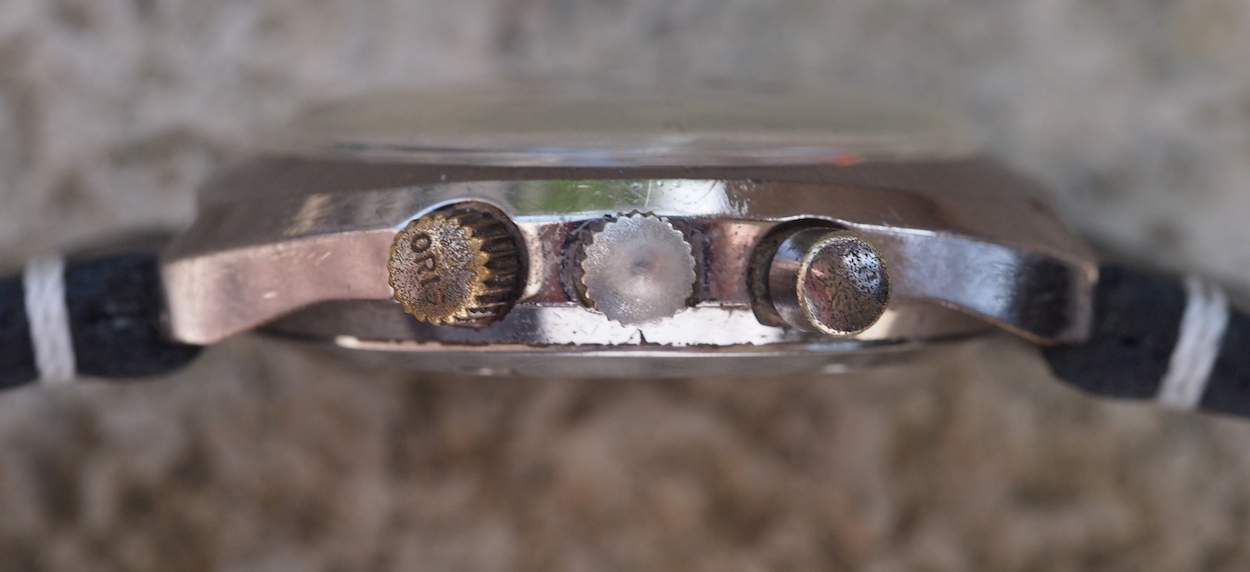 Regarding functionality, the movement in the ChronOris is perhaps not quite as exotic as the one found in Omega's Chronostop (cal. 865 or 920), but it does seem to be a bit less finicky. Let's explain the Omega functionality first. The Omega contains a winding crown and pusher. The pusher is used to start the central chronograph hand and it is used to stop it. The Omega's pusher must be depressed and held to read the elapsed seconds. When the pusher is "let go", it returns the hand to zero in a flyback manner. Like the ChronOris, the Omega does not count the minutes. However, we will see that the Oris at least provides a solution for those who wish to track time past the 60-second mark.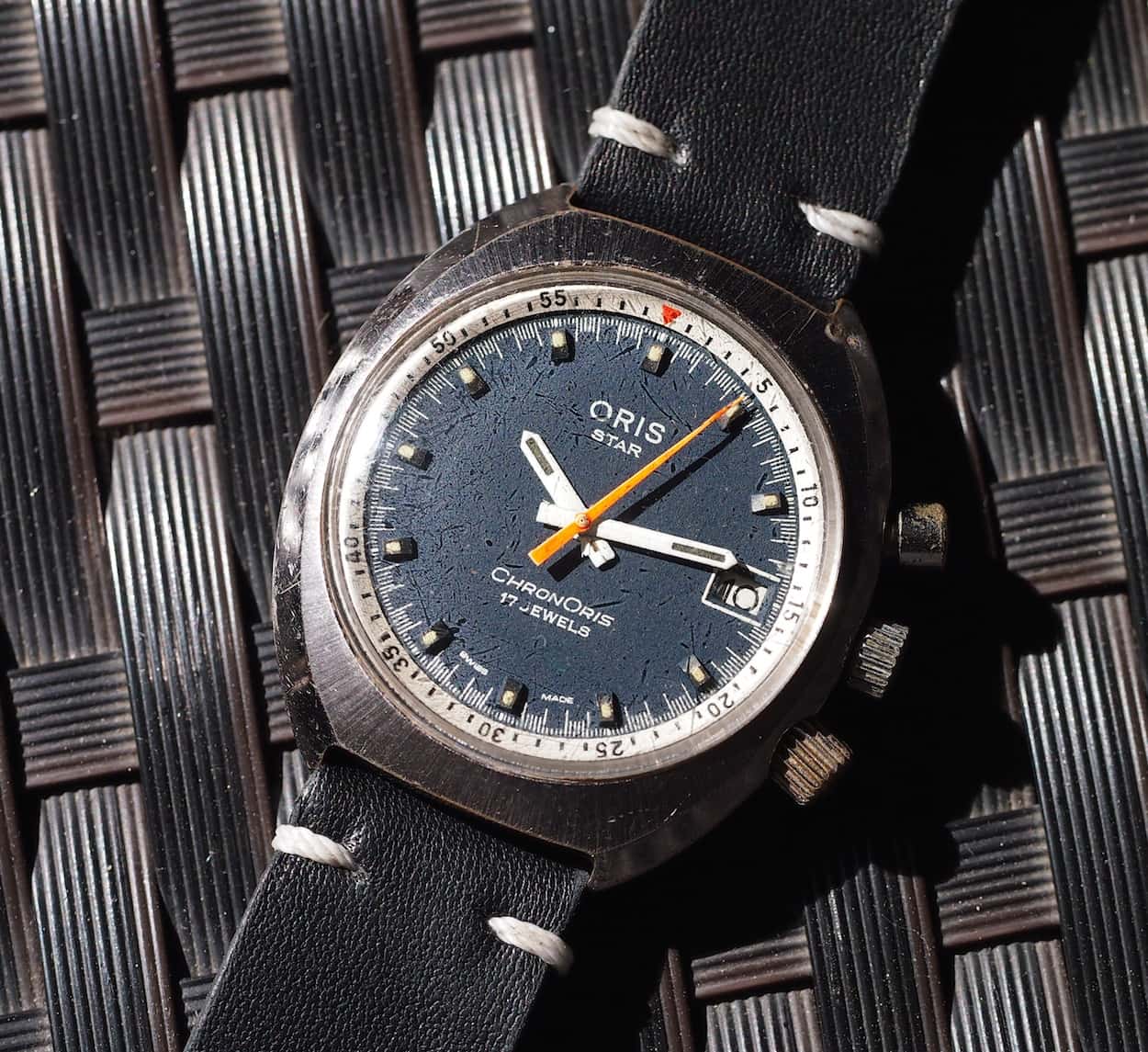 When looking at the ChronOris, you'll notice that it contains three protrusions on the side versus two on the Omega. Functionally, the bottom crown winds the watch while the top pusher controls the central chronograph hand. The hand is started, stopped and returned to zero with the pusher using that sequence. Unlike in the Omega, there is no requirement to hold the pusher down to retain the elapsed time measurement, which is perhaps more convenient. As I mentioned, there is no minutes counter, per se, on the ChronOris, but this is where the upper crown comes into action. The upper crown turns an internal bezel that can be used to measure elapsed minutes. It's certainly a manual method, but it's an enhanced "complication" versus the Omega. It's a nice addition, but interestingly, when we get to the buying notes, we'll discover that this internal bezel is a potential Achilles heel.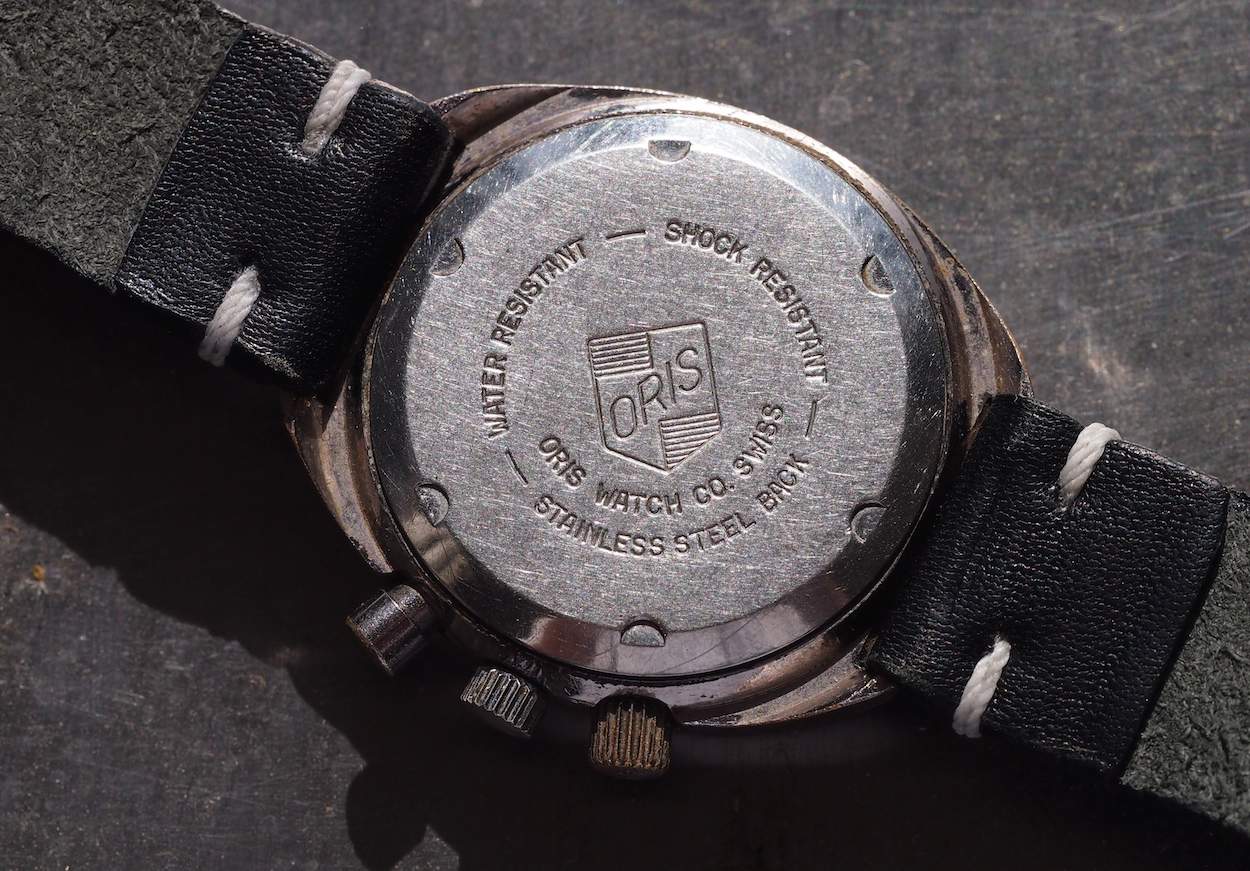 In looking at the aesthetics of the ChronOris, we are met with a very 70's case design with its C-shape and "almost-hidden" 19mm lugs. The case, on the Oris, happens to be plated base metal. It contains a radiating, brushed finish on the top of the case and the aforementioned two crowns and pusher. The well-sized bottom pusher is signed. The acrylic crystal is nicely domed. Moving onto the dial, it's a nice clean design that features a sparse, dark blue color with white printed writing. Hour indices are applied and contain rectangular lume. The outer, rotating bezel is a nicely done in white. Hands are white and arrow-shaped with lume down the middle and what looks to be matching dark blue inserts. Finally, the dart-shaped central chronograph hand provides the main bit of contrast due to its orange color. When looking at the case back, we see a stainless screw down piece that is almost exactly like what we see on the newly released Sixty-Five. Overall, it's a nice looking watch that comes in at roughly 38mm.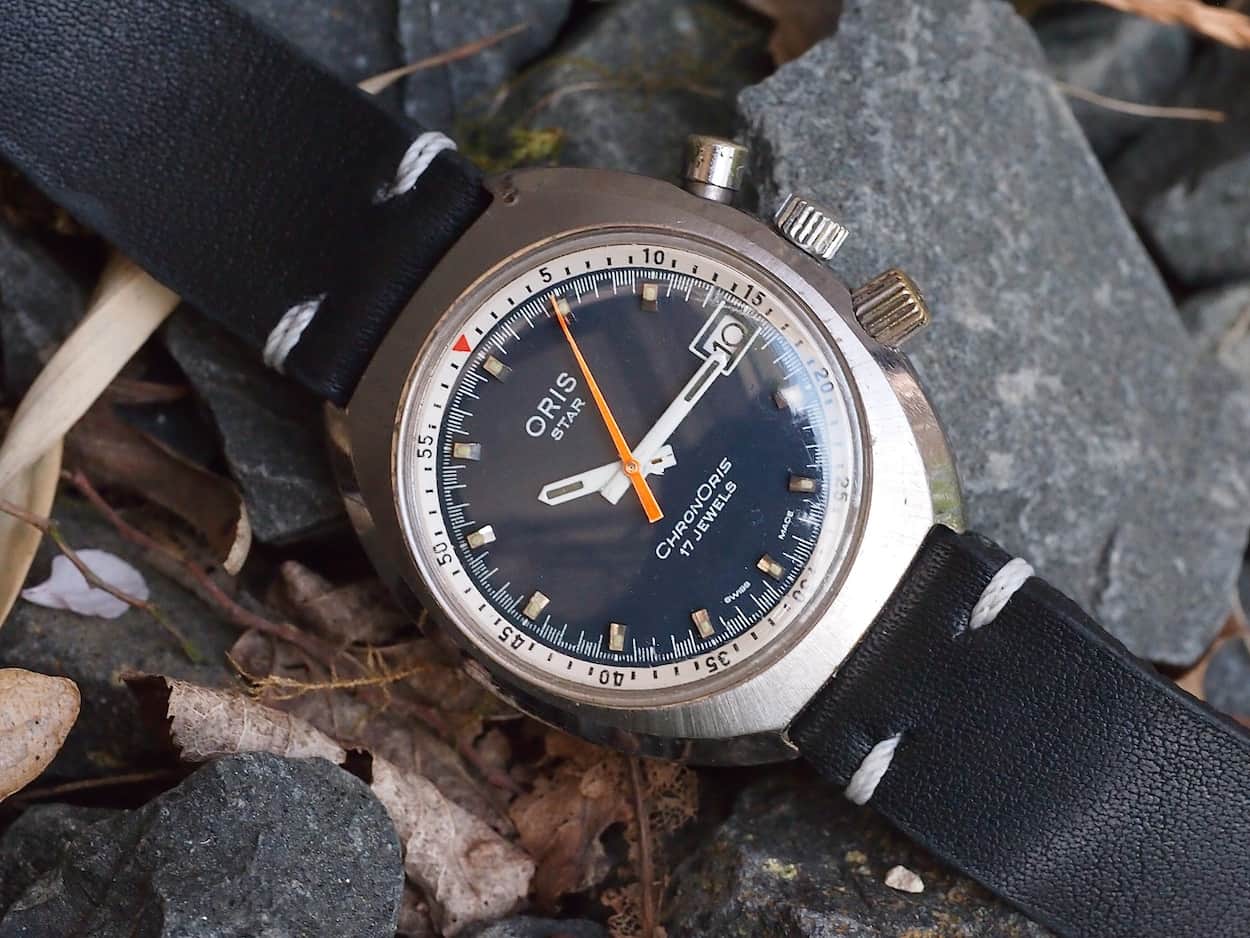 I found the ChronOris you see here on, where else, eBay. I was positively surprised when I saw it, as the pictures in the ad made the gouge on the upper right of the case look much worse. Thankfully, it's not terribly noticeable but it does highlight a weak point of the watch, which is its base metal case, crowns and pushers. These are key pieces to note when buying, as they are often replaced and difficult or impossible to find the correct replacements. Furthermore, while I like the case condition on this piece with its radiating lines, many have been polished and replated with a bright, shiny finish that simply does not do the piece justice.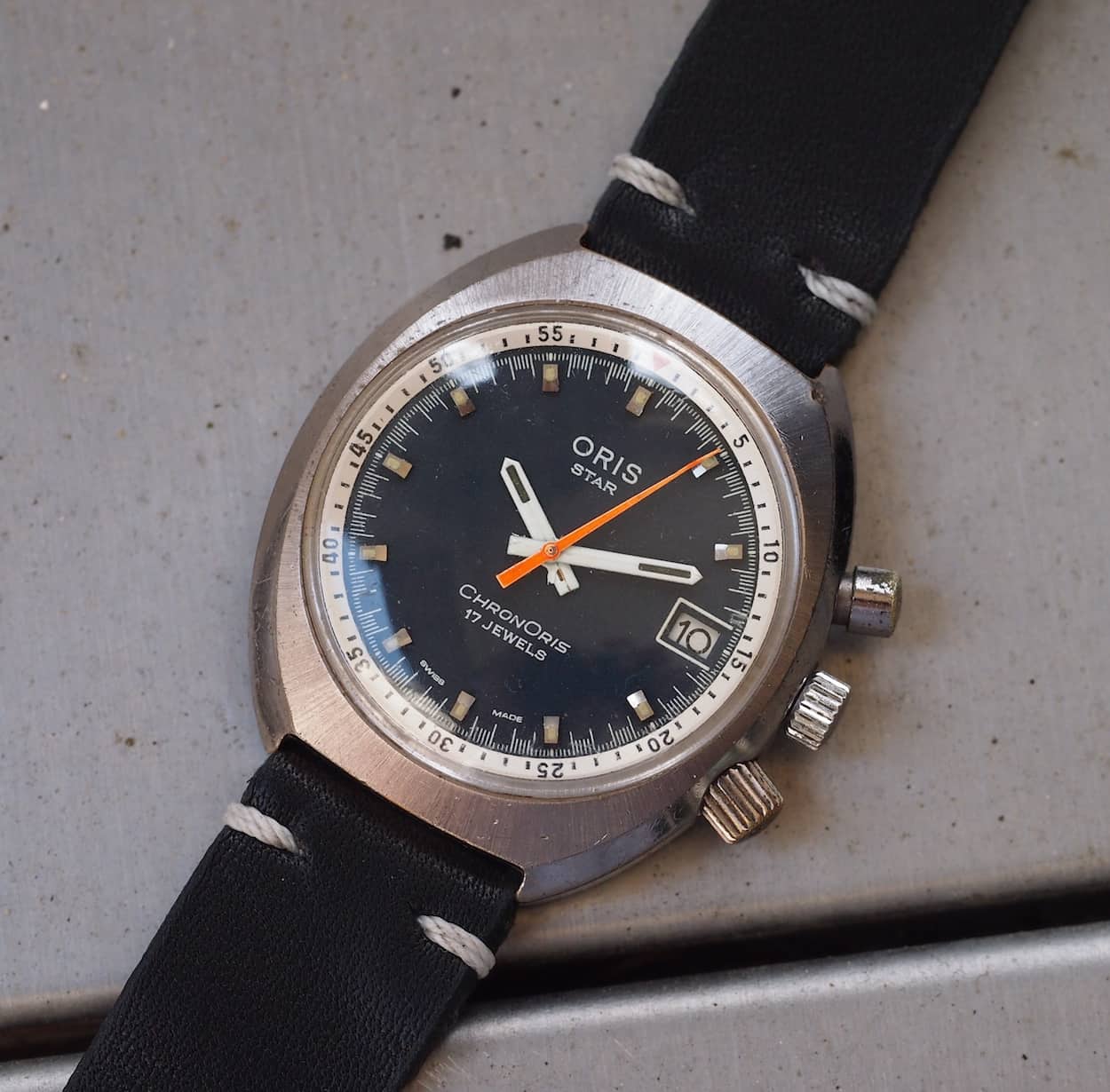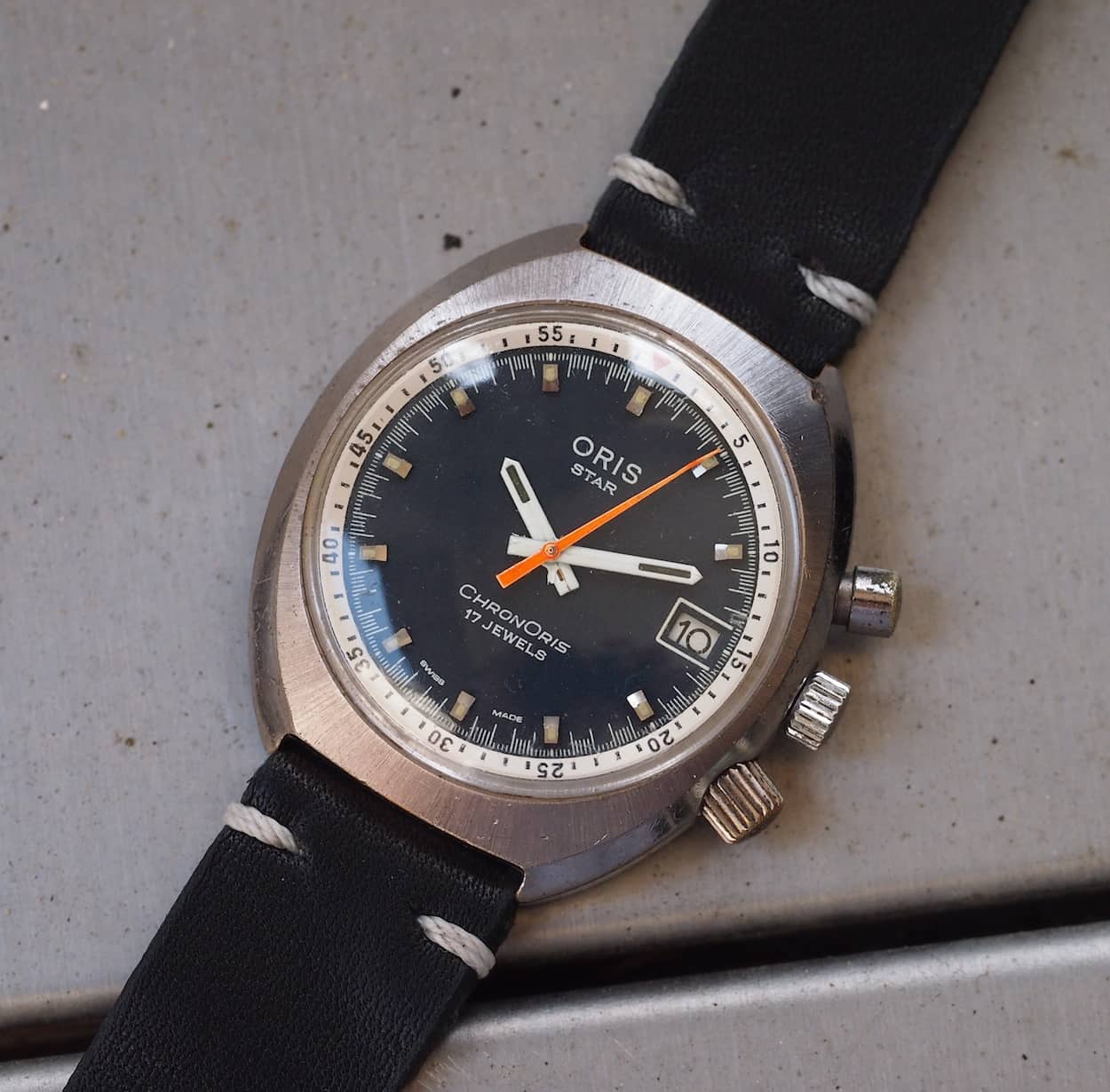 Functionally, I find winding the ChronOris to be a very nice mechanical experience and using the pusher is similar. The internal bezel is tight when using but when I mentioned concern about this, the bezels are also nearly impossible to find should the teeth strip on the back. Wearing the ChronOris is comfortable due to its medium size. I really do like the look of the different crowns and pushers on the side as it gives the watch much of its character. I've paired the watch with a black Horween strap from Detroit Strap Co. I think it looks decent as the watches were originally sold with Tropic Star straps per my contact at Oris. Alternatively, finding a NOS Tropic is a much easier affair than finding original straps or bracelets for most vintage watches.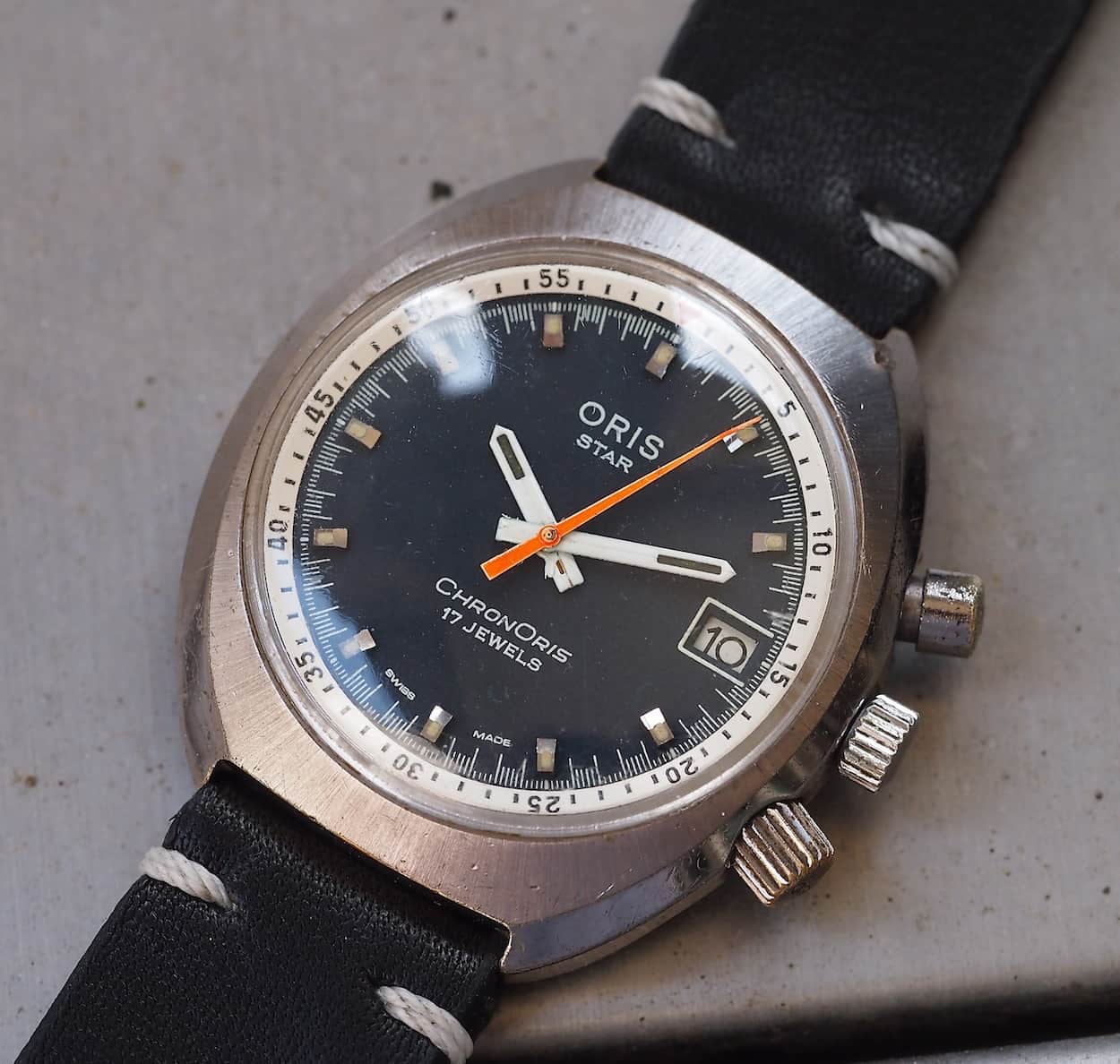 I'd say that finding a ChronOris ranges in the medium difficulty category. Web lore tells us that only 27,000 of these were made over its lifetime, which may or may not be true. Incidentally, articles tell us that Omega made roughly 7x of their competing model. I do see the Oris for sale on forums and eBay from time to time. Pricing seems to range from $400-700 although "steals" do exist. As mentioned, be wary of shiny, re-plated cases, replaced crowns and pushers, and non-functioning internal bezels. Obviously, hands and dials are not easy to replace, so do not expect to find them.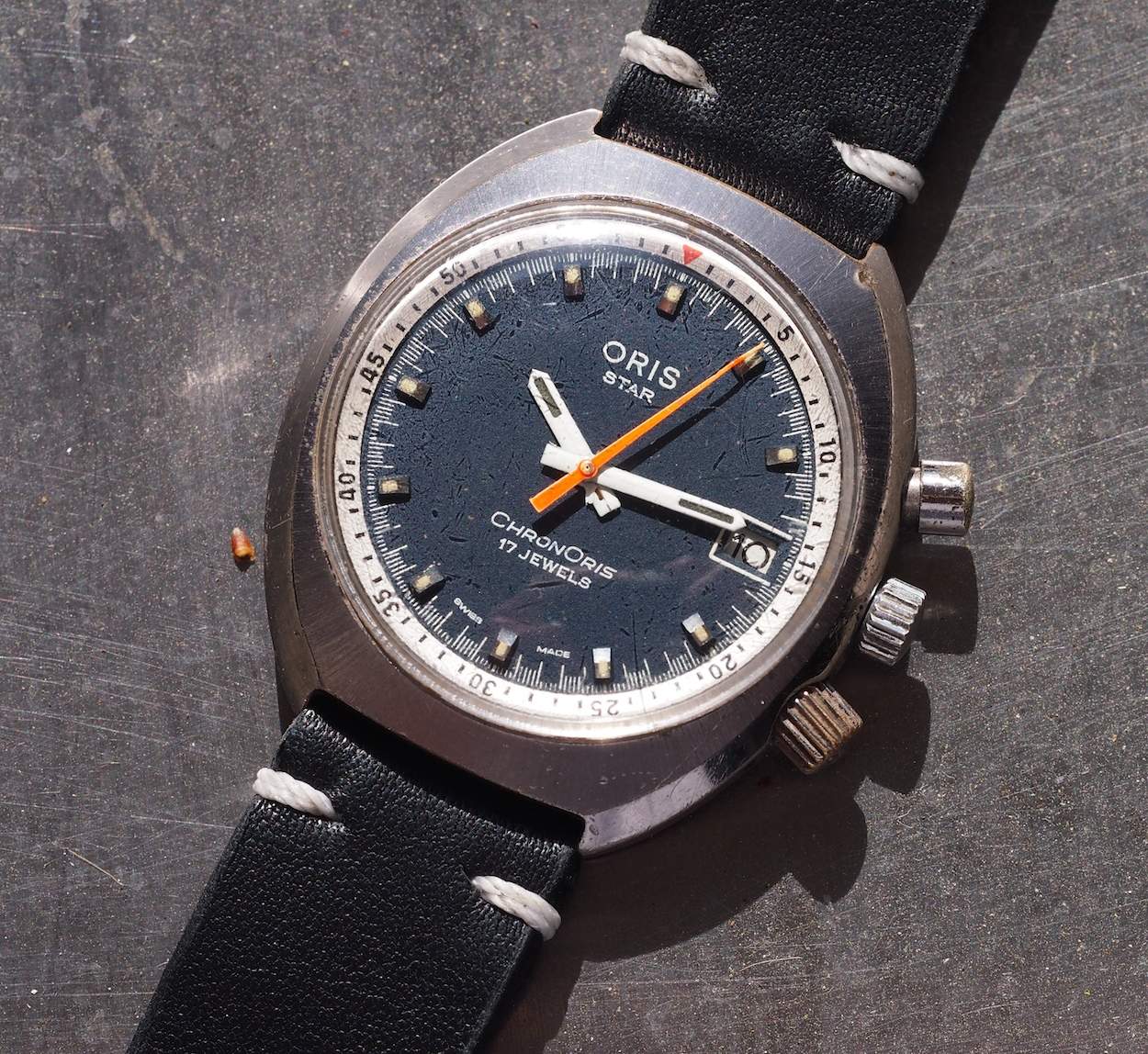 I hope you enjoyed taking a brief look at the niche Oris Star ChronOris. As Omega Chronostop prices continue to slowly climb, this watch presents a nice alternative with similar functionality and is likely more rare. Or, if nothing else, it presents a nice buy in its own right from a company not yet often discussed in vintage circles. Enjoy the pictures of a watch in non-restored condition before it heads off to Oris for a well-deserved service. As always, feel free to share your comments below and any pictures of your ChronOris.