Big Pre-BaselWorld 2015 Surprise! Oris Divers Sixty-Five
Despite my affinity for vintage watches, this time of year is a bit like Christmas morning due to all the new releases to come at Baselworld. So, the bottom line is that, yes, I enjoy new watches as well. What I really enjoy, however, are new pieces that properly draw from a brand's heritage. Certain manufacturers, such as Tudor, have exhibited a talent for introducing revised models based on their back catalog during the past several years. Other brands, which we won't mention, have been less successful. Today, however, on Fratellowatches, we are excited to introduce an unexpected model that we think will be a great vintage-inspired success: the Oris Divers Sixty-Five.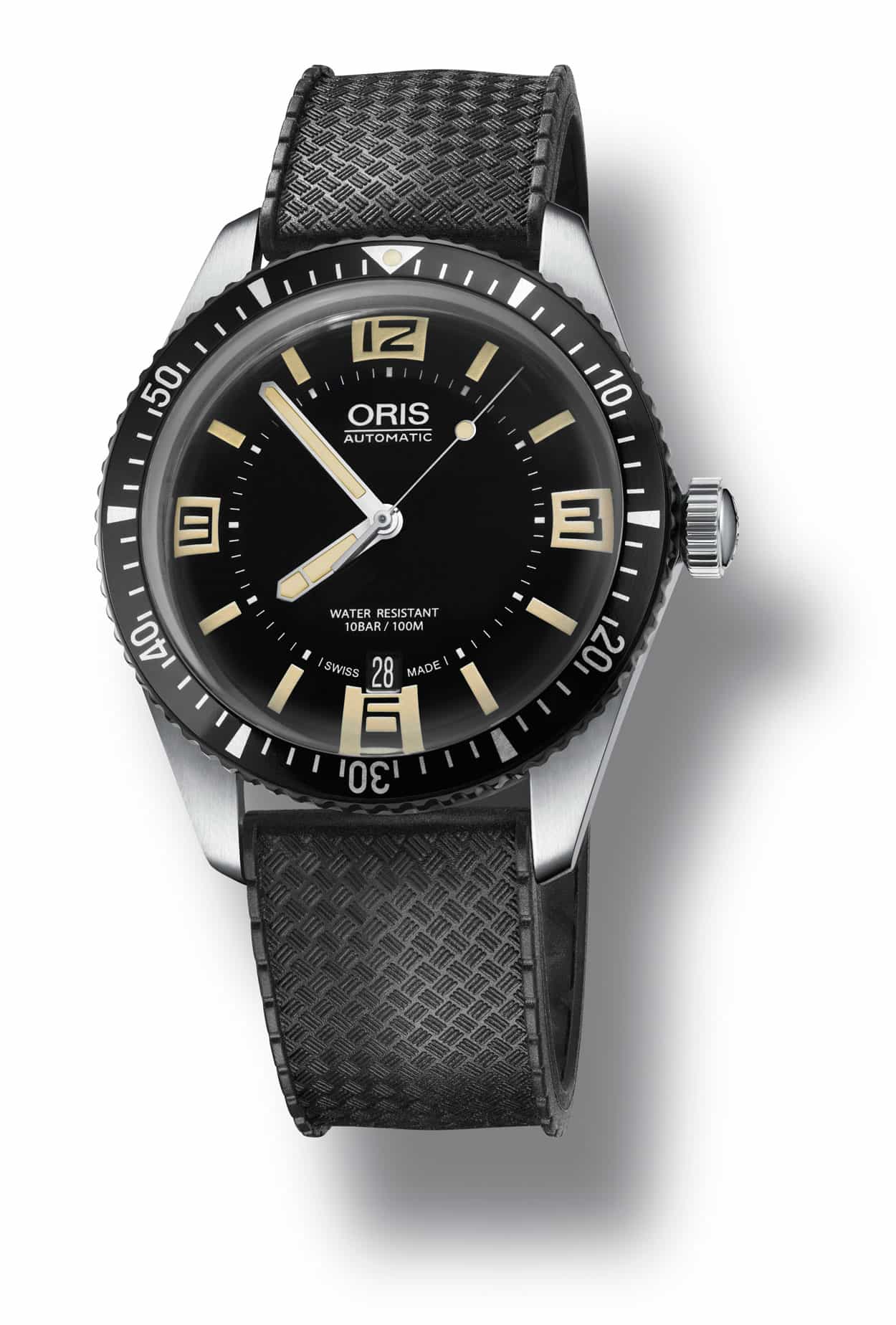 First, let's review some light background on Oris. Oris is an interesting company: they only produce mechanical watches. They were founded in 1904 in Hoelstein, Switerland and remain private to this day. They are notable for having four lines of watches: Motor Sport, Aviation, Culture and Diving. Oris is also the sole supplier to the Williams-Martini Formula One team. Within the Culture line, Oris produces a reasonably well-known series of watches dedicated to famous historic jazz performers. While some of these watches are classically designed, you wouldn't call them retro or vintage. No, the last time Oris really looked to their past was back in 2005 when a nod to their 1970's Chronoris chronograph was introduced. So, needless to say, a vintage-inspired model is a surprise.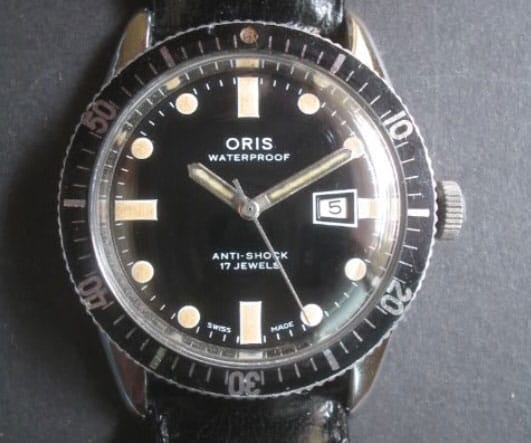 Oris has decided to base the Sixty-Five watch on a diving model from 50 years ago: yes, 1965. My only luck in finding something of this vintage was from a posting on the friendsoforis.com site by user "KennyWYL" from back in 2009. Interestingly, the original Oris used a manual wind movement, chrome plated brass case, contained an angled-bezel date window at 3:00, and contained a water resistance of 100m. It's difficult to tell the diameter on the original 36mm, but Oris' new release states that the Sixty-Five was upsized to fit modern tastes. All in all, it was a nice looking watch but not a standout. By the way, if anyone wishes to post pictures in the comments section of a vintage Oris more closely related to today's release, we'd love to see them!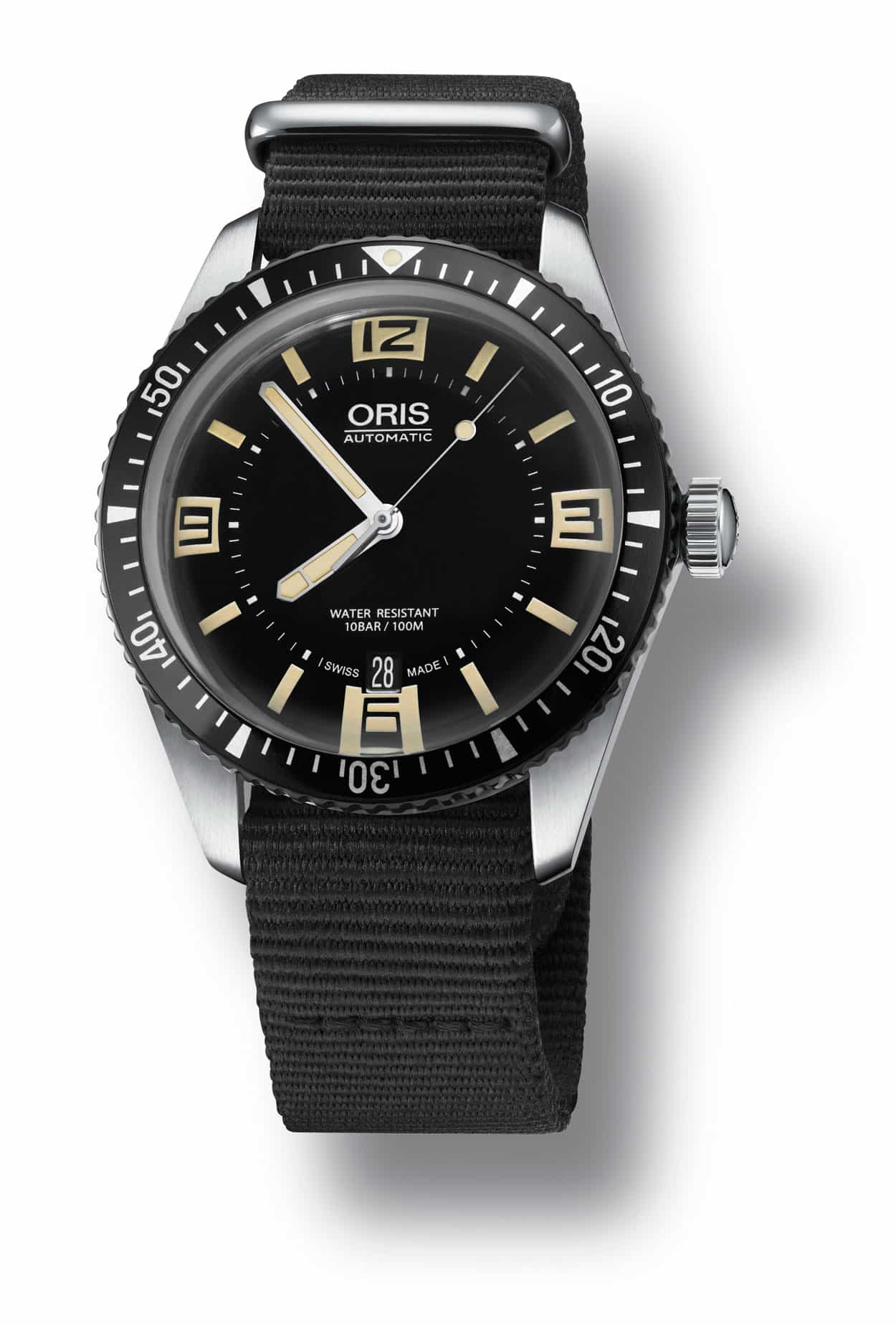 Returning to today, when I think about what makes a vintage-inspired watch successful, it's all in the details. But before I subject you to a dose of opinion on these, let's get down to brass tacks and give you the particulars of the Sixty-Five:
Reference: 733 7707 4064, Oris Divers Sixty-Five
Movement: Oris Cal. 733, based on Sellita SW200. Automatic with hand winding and date at 6:00
Case Diameter: 40mm, Stainless Steel
Water Resistance: 10ATM, 100 Meters
Bezel: Unidirectional with black aluminum inlay and Super Luminova filled zero marker
Dial/Hands: Curved black with printed "Light old Radium" Super Luminova accents. Hands are nickel with Super Luminova accents.
Crystal: Domed sapphire with anti-reflective interior coating
Crown: Screw-in with "Oris" script
Case back: Screw-down with vintage "Oris" logo
Strap Options: Rubber "tropic style" with Oris pin buckle and available NATO with folding clasp.
Price: 1,600 Euros
So, now that we've listed the basics, let's talk initial thoughts on this watch. I'm excited to hear what you, our readers, think but I am deeply impressed with what I see so far. When I'm on the Autobahn in mind-numbing traffic, daydreaming about what it would be like to design a vintage-inspired watch, I go through a checklist. In my opinion, Oris ticked about every box.
First off, Oris' choice of a 40mm case size is a masterstroke. Sure, some retro grouches will decry not using 38 or 39mm but 40mm is the sweet spot for dive watches: just ask the king who uses a crown as their company logo. I simply can't stress enough that a brand could have also easily gone down the 42 or 44mm route and I think this would have ruined the concept; thanks, Oris, for resisting the temptation. A side view also shows a very thin profile: exactly like a 1960's diver. Lug length also seems to be in check with early designs. Finally, a domed sapphire crystal is really a must on these types of watches and we're rewarded with exactly that. It provides a certain warmth to the piece that an angled crystal simply cannot.

The little details are also apparent. Take a look at that subtle winding crown: pill-shaped, finely ridged, and subtly signed. Real thought went into this piece and I'm sure that setting the date, changing the time, and screwing it into the watch body will be a guilty pleasure for the owner. Speaking of date, this is an area where SO MANY watchmakers get it wrong. We've seen countless applications of the date window wrongly placed, wrongly sized, using an upsetting font, or, worse, using a white contrasting date wheel due to cost. I can easily forego a date function, but it doesn't bother me at all on the Sixty-Five because it is nicely integrated into the inner chapter ring at 6:00, uses a non intrusive font and size, and thankfully has a dial-matching black background. Well done!
When we come to the dial, this will be the area that takes the most heat as most WIS decry the use of anything with faux patina. Well, if the stock press photos are anything to go by, this flavor of Super Luminova looks to strike a balance between old and new. It's not "baked" like other interpretations and it doesn't look like an ill-fitting new dial in old-style surroundings. Regarding other dial details, I like the distortion that the crystal creates with the hour markers and am anxious to see their actual shapes in person. Other details on the dial that I like are the right balance of writing and the symmetrical balance. I'm actually fine with Oris' choice to use their current logo as it bridges the piece to their current collection. The overall dial balance, of course, is aided by the date window position. Coming to the hands, Oris drew directly from the historic piece in recreating nicely proportioned hour and minute indicators. The sweep hand adds a nice lollipop pip just inside the inner chapter ring. Everything looks to be well weighted.
Strap-wise, I really like that Oris chose a Tropic design. It fits the watch perfectly and the only other rubber straps that would look as appropriate are, conveniently, other Tropic designs such as the "big hole". The NATO strap strikes me as a nod to current trends but looks good and I am interested to see the folding clasp. Again, though, I'd go with the Tropic based on photos. I'd also like to see a fine "beads of rice" bracelet but price-wise, this would probably be too much. Incidentally, we don't know the lug width. Also, for you strap fans, note that the lugs are not cross-drilled. The convenience would have been nice, but it would not have been consistent with the ancestry.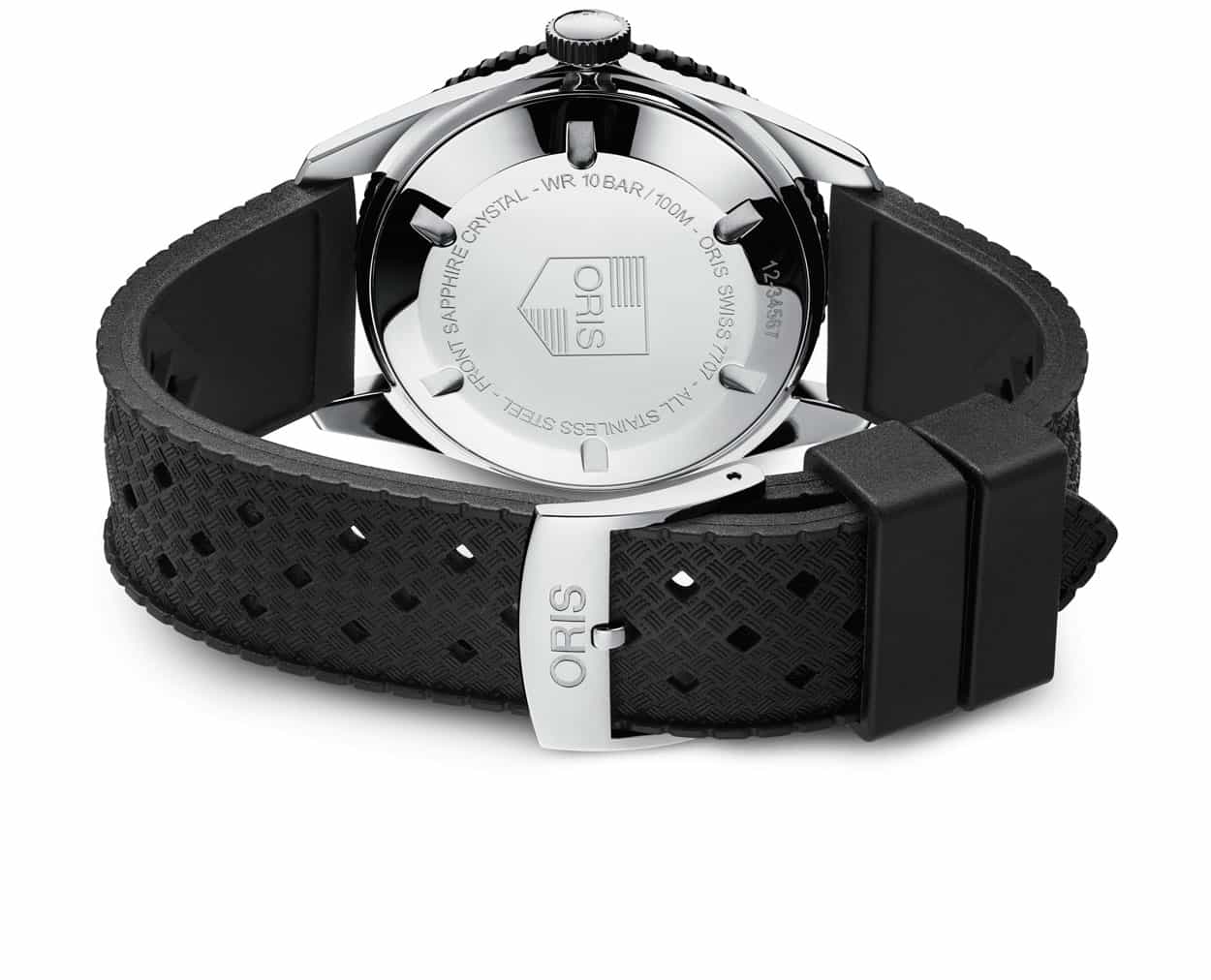 Coming to some functional specs, I expect to hear some concerns about the 100 meter water resistance. While I would have hoped for something a little stronger, the 100 meters is in keeping its ancestor. Furthermore, 100 meters will likely cover the needs of most who will be wearing it. Movement wise, the Oris Caliber 733 is based on the Sellita SW200. This is the ETA 2824 clone and was likely chosen due to availability, cost and other factors. While I can't comment on what Oris actually does to the as far as modifications, it's a workhorse movement and competitive with other watches in this price range.
Finally, we come to pricing. At 1600 Euros, I think that Oris has priced the Sixty-Five attractively, especially considering what has occurred with the Swiss Franc over the past several months. With some shrewd negotiation, it should become even more attractive. At the top of my head, I can picture a battle royale with the following pieces: the Longines Heritage Legend Diver (1780 Euro), the newly released Zodiac Sea Wolf ($995 and up), and the Tudor Black Bay (2500 Euro and up). So, we see that Oris has priced itself competitively in this slowly swelling field of competitors. All use either the ETA 2824 or a clone, are sized within 4mm of each other and capture the vintage diver theme quite well.
We look forward to bringing you more detail on the great looking Oris Sixty-Five with some live pictures. For now, enjoy this pre-release. Baselworld 2015, here we come!
More information on Oris on-line.