#TBT Porsche Design Watch By IWC
The world's first titanium chronograph
It would feel like wearing a real Porsche on your wrist if it were made of steel. The full-titanium case and integrated bracelet seem are robust enough but wear more like your favorite dress watch. Let's dig deeper to discover the charm of the titanium Porsche Design chronograph by IWC.
I have a very dear friend with whom I share not only a passion for watches but also for classic cars. Peter is a Porsche Garage owner, chief mechanic, and trusted caretaker of my 1981 911 SC. Anytime I pass by his workshop, I stop for a while and we chat about life, cars, or watches. As Peter wields a wrench as often as I type, I mostly see him with hands blackened by oil and a Casio watch on his wrist. But sometimes I meet him sporting fancy Breitling or IWC chronograph. It was a few years ago when he showed me his Titanium Porsche Design chronograph by IWC for the first time. I didn't like it back then. Funny how things change…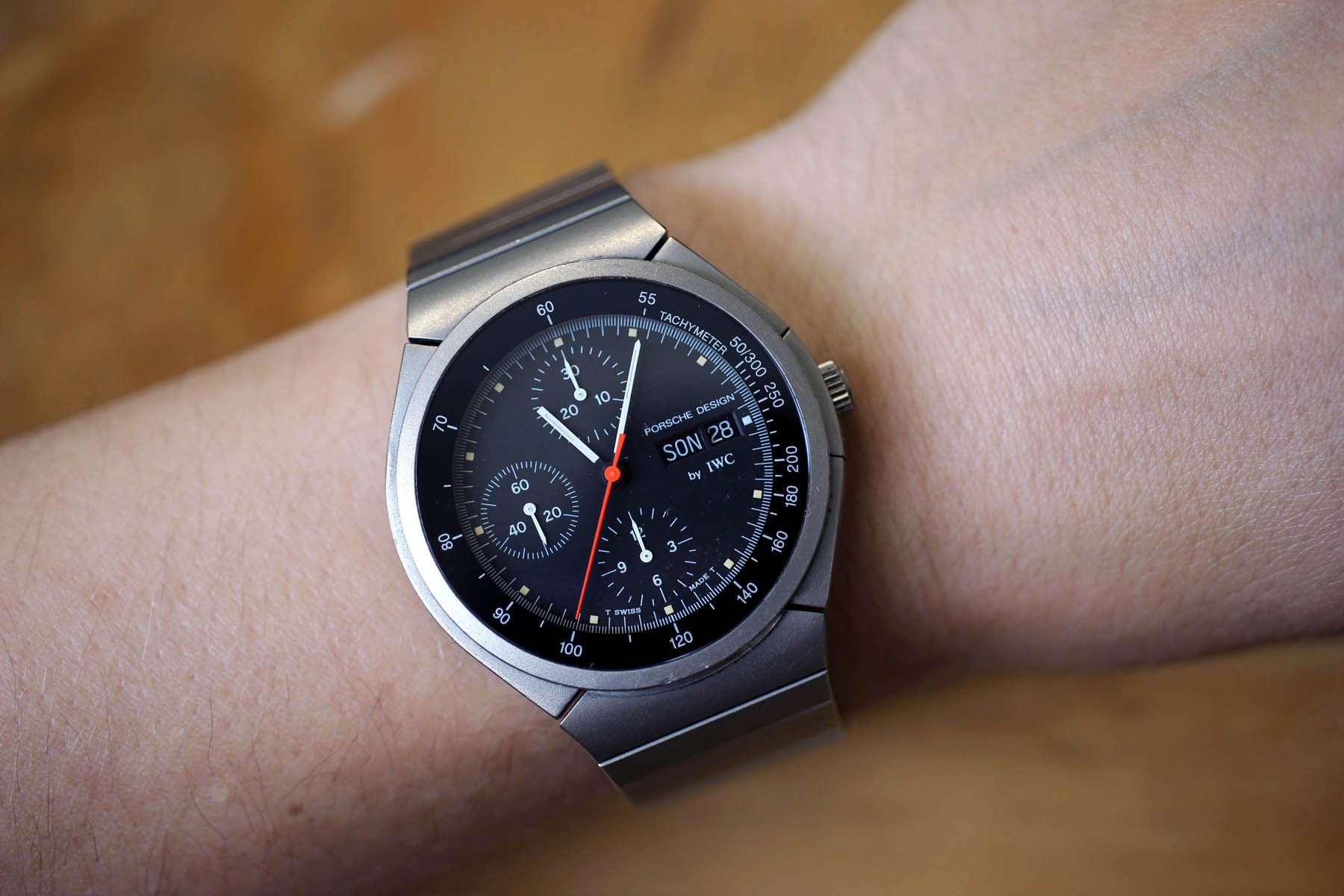 Unexpected drive with Porsche Design by IWC
I have to say, it still hadn't grown on me when he pulled it out during my last visit a few weeks ago. He unearthed it after a few minutes of rummaging through boxes full of Porsche panel instruments, books, and manuals. Peter knows I am into watches and he is happy to loan me members of his collection from time-to-time. This wasn't the first time he'd offered to lend me the Porsche Design by IWC and try it for a few weeks. But this was the first time I said yes. It turns out it was worth changing my mind.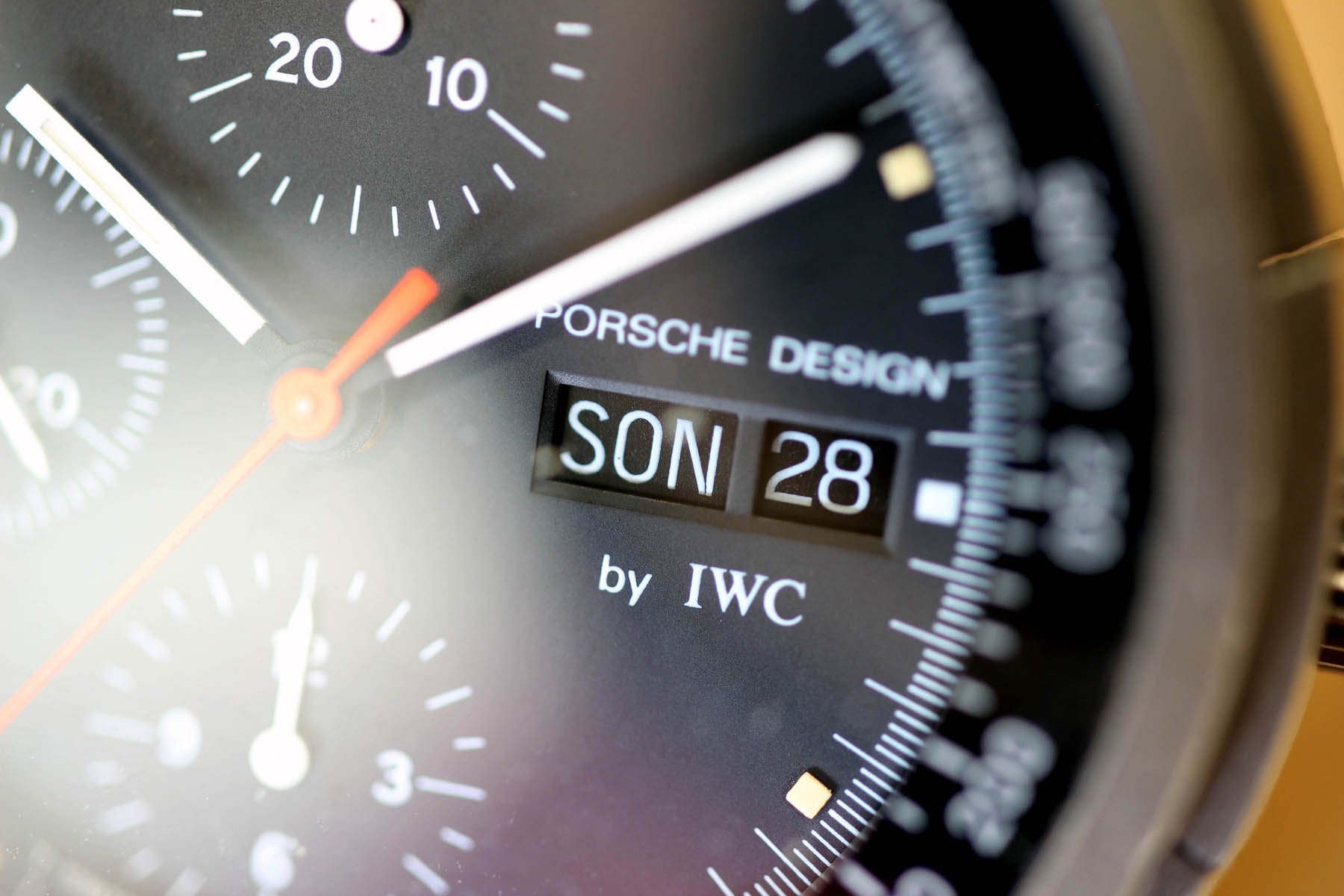 I believe you'd agree that reviewing a watch you love, is the easiest thing in the world, right? But to wear (and fairly analyze) a watch you don't like requires more dedication. In this instance, my resolve was boldened by the fact my beloved Porsche 911 had to spend a few days with Peter. That meant that leaving the garage with his watch strapped to my wrist was the only way I was going home with as many Porsche products as I'd arrived with… As I had nothing better to do during the ensuing cab ride, I started to study my new wristwatch. The fifteen-minute journey provided a novel insight: there was definitely something special about this watch I'd not noticed before.
Advertising poetry
"Titanium. An exotic metal. Twice as difficult to craft as stainless steel. Eight times more expensive. But half the weight. Absolutely non-corrosive. Non-magnetic. Incredibly durable. Thus obviously superior. One of many design decisions typical of the world's first titanium chronograph," says a full-page ad promoting Titan by IWC. It was printed two years after my 911 was manufactured. And in the same year when I was born.
Lightweight surprise
Titanium is hard to press, really challenging to machine, and difficult to polish. I knew the X-8 Chronometer introduced by Citizen in 1970 after years of research and experimenting was the world's first titanium watch. But I have to say I was surprised to learn that Porsche Design IWC was the first chronograph in titanium. Even more surprising was the fact that it took almost another 10 years to bring titanium chronograph to the market.
Rich details
It's interesting to note there is practically no IWC branding in the print ad and no other mention of IWC in the text. A few different dial variations suggest there might have been some negotiations on how it should be balanced in terms of branding. Early 1980s ref. 3700 watches come printed with both IWC and PD logos. I know — Porsche Design and International Watch Co, Schaffhausen in full spelling, results in a busy dial. Multiple fonts, logos, and the TITAN engraving on the case… Were this watch released today it would likely be described as somewhat "extra". But I get it. It was the early 1980s and titanium was a big deal.
Cooperation on this chronograph lasted for almost two decades. There are more Porsche Design chronographs under the Eterna wing in later years, but that's an entirely different story. Coming back to IWC and titanium, in addition to the 3700, references 3702, or the later ref. 3704 also exist. It is the latter of which I borrowed. The dial branding with no logos just the "Porsche Design by IWC" signature seems much more refined. With no Titan engraving on the end-link watch looks far better, in my opinion. Notice also that some references feature Swiss Made, while others read T Swiss Made T.
The buttons are indeed genuine, but sometimes a bit annoying to operate.
A chronograph that doesn't look like a chronograph. Or, at least, the most aerodynamic chronograph you've ever seen. The start/stop/reset buttons are fully integrated into the casing and instead of pushers sticking out, it's just the crown breaking the clean case lines. The buttons are indeed genuine, but sometimes a bit annoying to operate. Unless you press them correctly in the middle, you might find yourself pushing it like crazy. It was 50/50 during my test. Sometimes it was fast, precise, and easy, sometimes it drove me crazy. My Titan was quite dirty, so I will treat it to a dip in the ultrasonic bath and see whether it improves or not.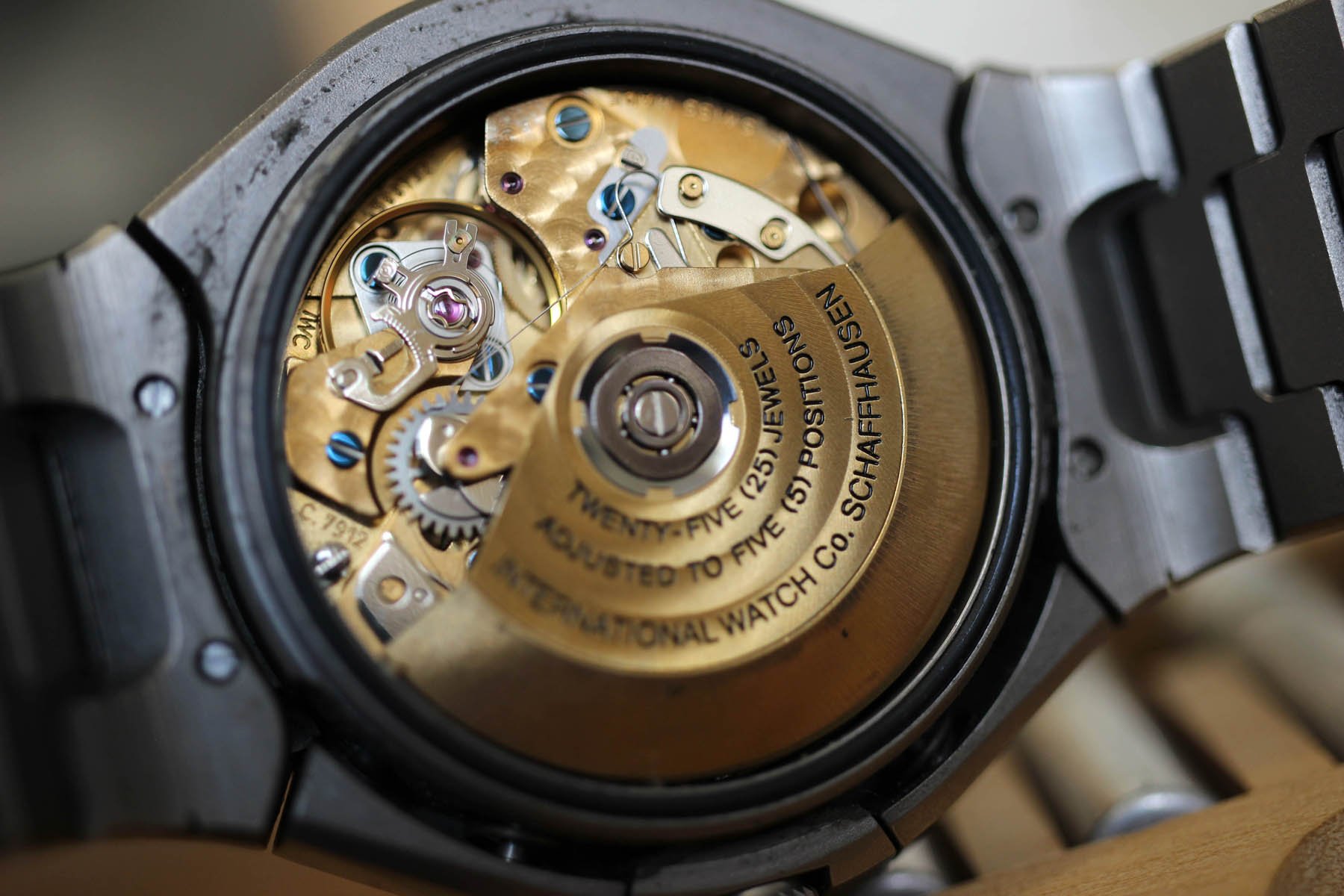 Shotgun notes
A flat and raised tachymeter scale under the sapphire glass looks sporty and gives the dial some depth. The hour and minute hands are surprisingly thin but perfectly legible. The 30-minute counter occupies an unusual spot at 12 o'clock. That's thanks to the day/date complication taking its "normal" place. The integration of such a rich date is not common for a sports chronograph, but I like it. I didn't expect the crown to be a screw-down type. It's slightly recessed into the case and looks good even without any branding.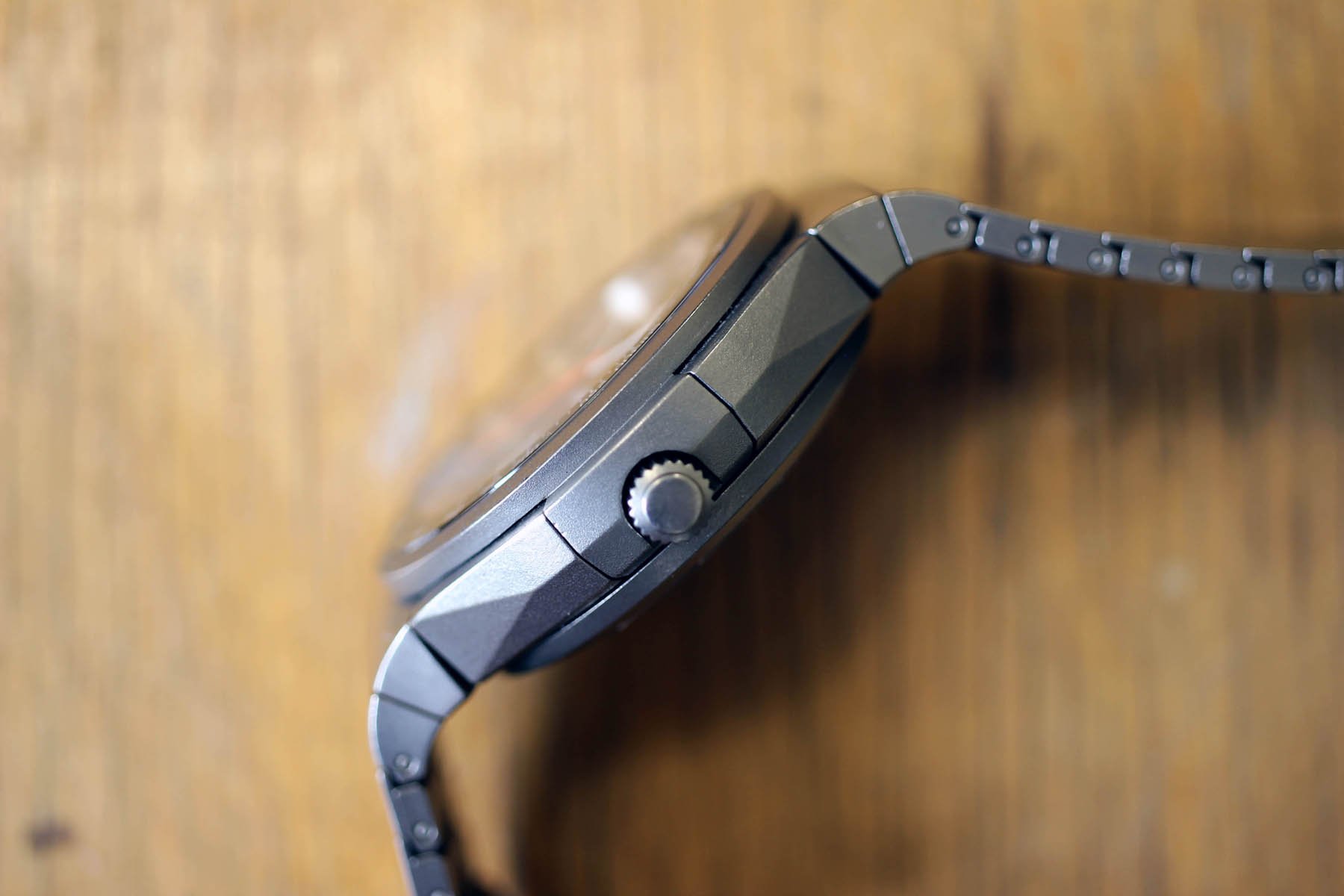 Last thoughts
There is a handful of offerings online, ranging from €1,500 to over €4,000. Many listings don't include movement and inner case back shots and I have the suspicion that they might be listed under the wrong reference. If you consider buying a titanium chronograph by IWC, I urge you to discuss your purchase with other collectors that own one. Make proper due diligence before the purchase and for sure ask for more pictures. Caliber 7912 in my later example is nothing but a reliable Valjoux 7750 with blued screws. Earlier models are not so nicely decorated and come with the unsigned case back also.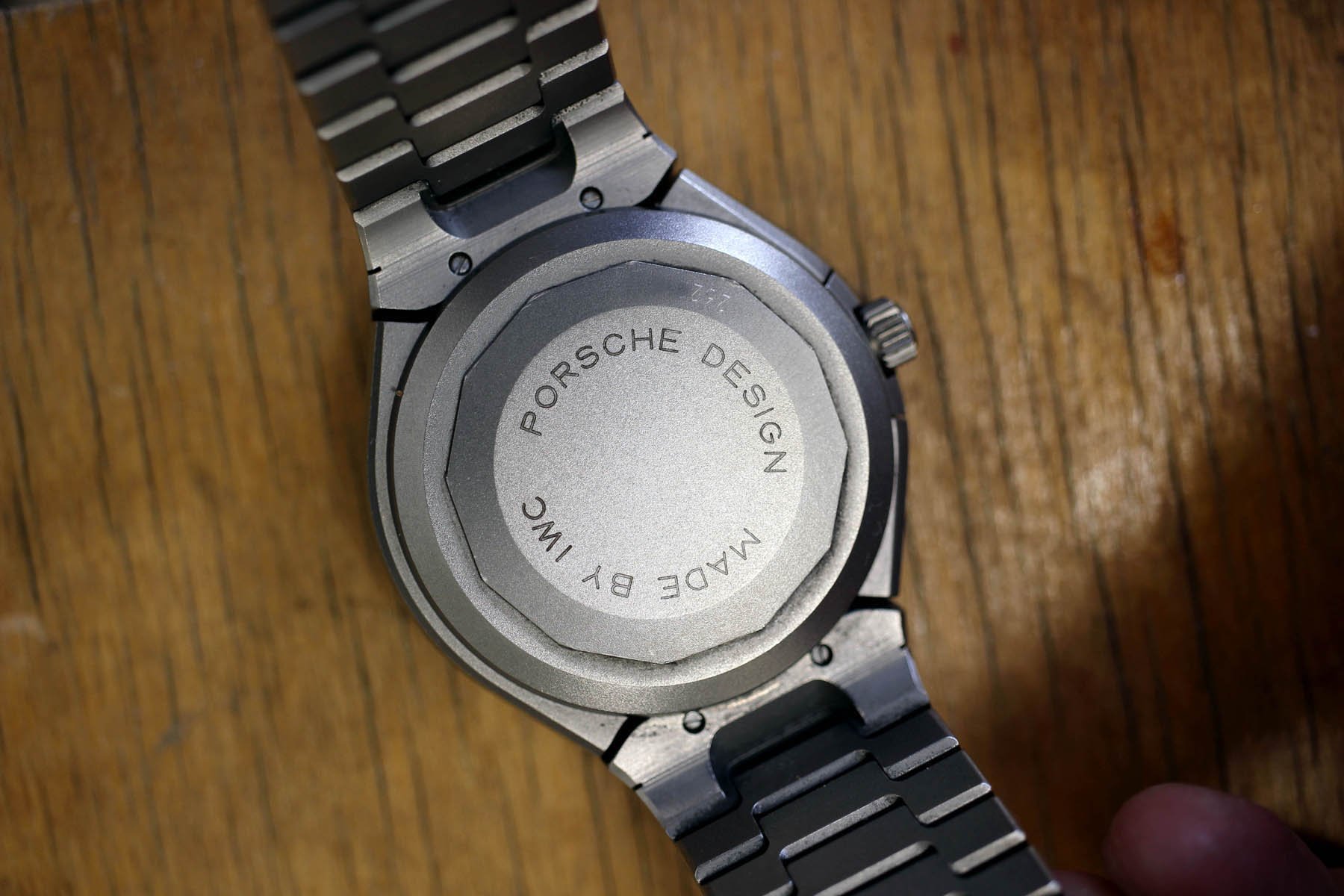 Peter wants to sell his Porsche Design chronograph by IWC as he doesn't wear it for years. Would I buy it after a week on my wrist? I am undecided. Due to its importance, I would rather search for an earlier 1980s TITAN piece. But later models with decent dials I like much more. Which one would you prefer? Let us know in the comments below.