#TBT Sperina Watch With A Crazy 99 Counter
Or a very poor man's Seiko 5718-8000
A recent heated discussion around the Bonhams Seiko auction reminded me of one of the interesting hidden gems I discovered on eBay. The Sperina 99 Counter offers the same "counter complication" as the auction's cover piece, but costs nothing in comparison to the holy grail Seiko.
Speaking of the price, I paid exactly €10 for the Sperina 99 Counter, shipping from the US to Europe included. Just the strap from TwoStitchStraps that's fitted on it is worth five times the price of the Sperina watch. Ridiculous, I know. But the watch is as rare as the holy grail Seiko, believe me. I haven't actually seen another piece since I found this one.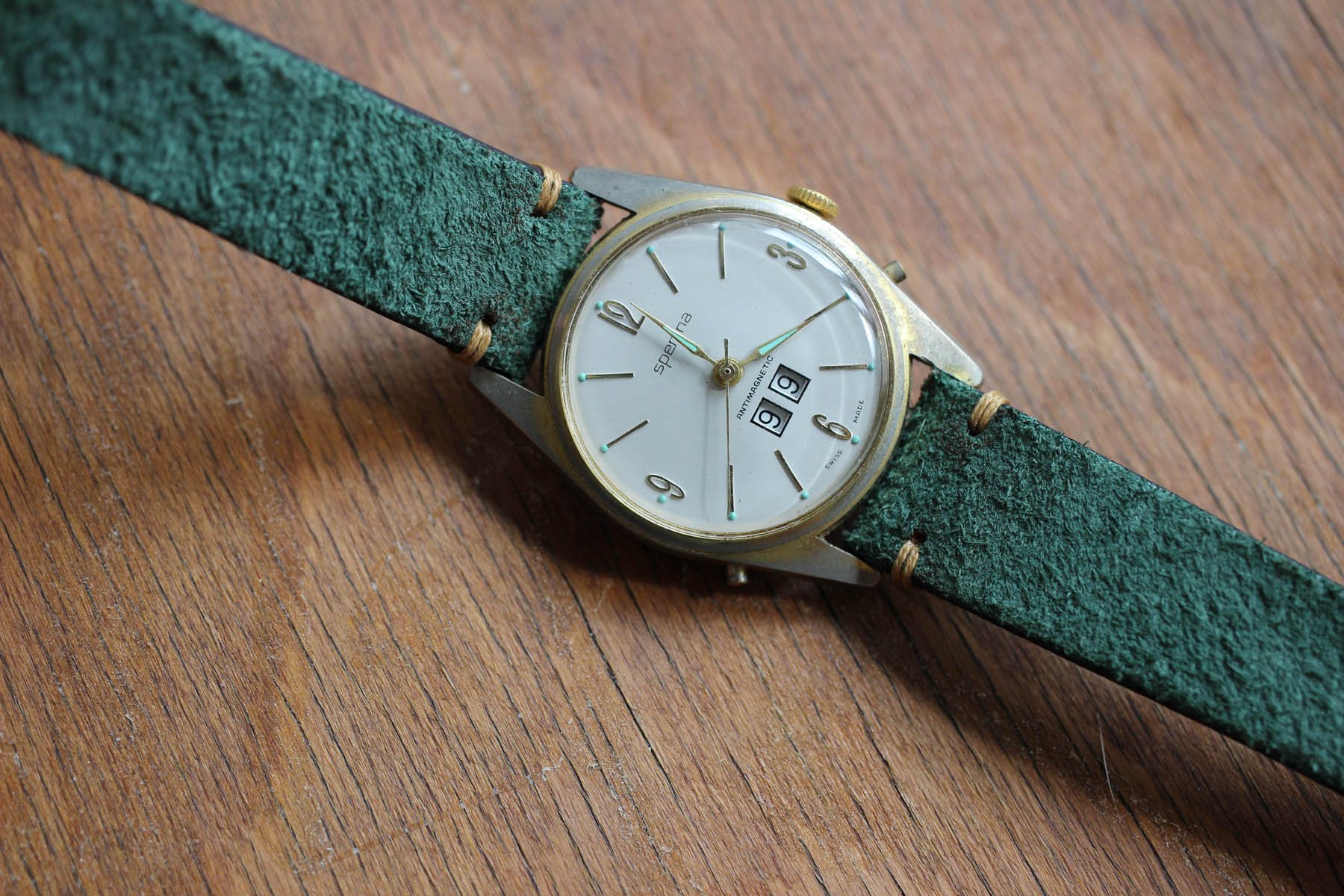 Sperina vs. Seiko
There was a huge storm surrounding the "Making Waves" Seiko auction. You can read about it in Mike's articles here or here. It is no surprise that Lot 717 — the ultra-rare Seiko 5718-8000 — became the auction's cover piece. "Seiko 5718-8000 was produced in 1964 and sold during the Tokyo Summer Olympics. Some estimate that only 50 or so were made," writes Mike. Even with a damaged tachymeter ring, incorrect hour and minute hands, and a polished case, the price hit a more than respectable €15,085.
It's fascinating to observe how some watches reach the pinnacle of collectors' circles. It is even more fascinating to see the ridiculous prices being thrown around all the auction rooms for watches so flawed. Like there is no CONDITION FIRST rule. Don't get me wrong, I get the game and I don't condemn the collectors that bid on this watch. I've bought a few "very consumed" watches myself. But never in that anticipated price range and never in such "Frankenstein" condition.
Not only for aspiring collectors
I take the Bonhams Seiko auction as a great opportunity to remind all the current and aspiring collectors to look beyond what's cool on Instagram and in the big auction houses. We at Fratello Magazine know that there are a lot of young collectors among our readers that would like to start building their collections but find that many pieces they like or want are out of their budget. That's what #TBT is also about — to introduce you to vintage watches for fair money. This is the place to find watches that you are less likely to stumble upon yourselves. Take the Sperina 99 Counter as an example of how cool, rare, and close to big-budget watches your next eBay find might be.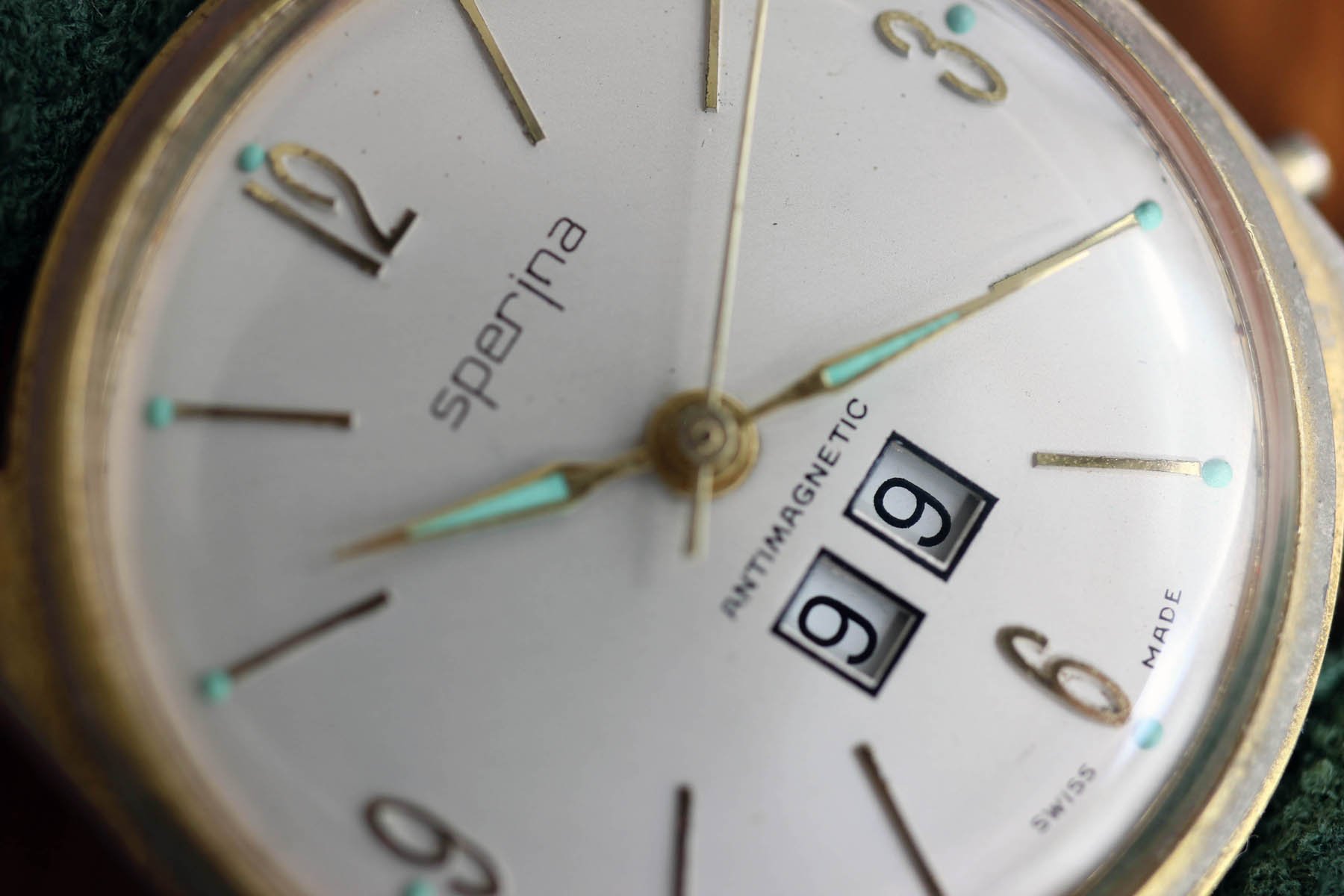 Sperina 99 Counter
It is so bizarre, cheap, and cute that you will love it. Take the case for example. It reminds me of the Seiko 62MAS with its flat lugs or the recent Yema skin divers watch reedition. The tired remains of gold plating cling to naught but the deepest recesses surrounding the Plexi. Despite all this, the case looks amazingly charming to me. It doesn't look like a typical watch with ugly chips from plating on the lugs. With an uneven and visually attractive patina, it looks much more like a bronze case that ages slowly, but surely and beautifully — 10/10 for the case.
The case back looks like a face full of freckles.
The look from the bottom is even more entertaining. The most regarded vintage watches carry a "stainless steel" inscription. If you see a "stainless steel back" inscription, you know you are looking at a chromed watch. I've seen many watch cases half-eaten by the wearer's sweat, leaving an interesting sponge-like structure behind in the bare metal. I can hardly recollect if I've ever seen a "metal back" inscription. Here we go — it's challenging to read, but it's there on the case back, looking like a face covered in cute freckles.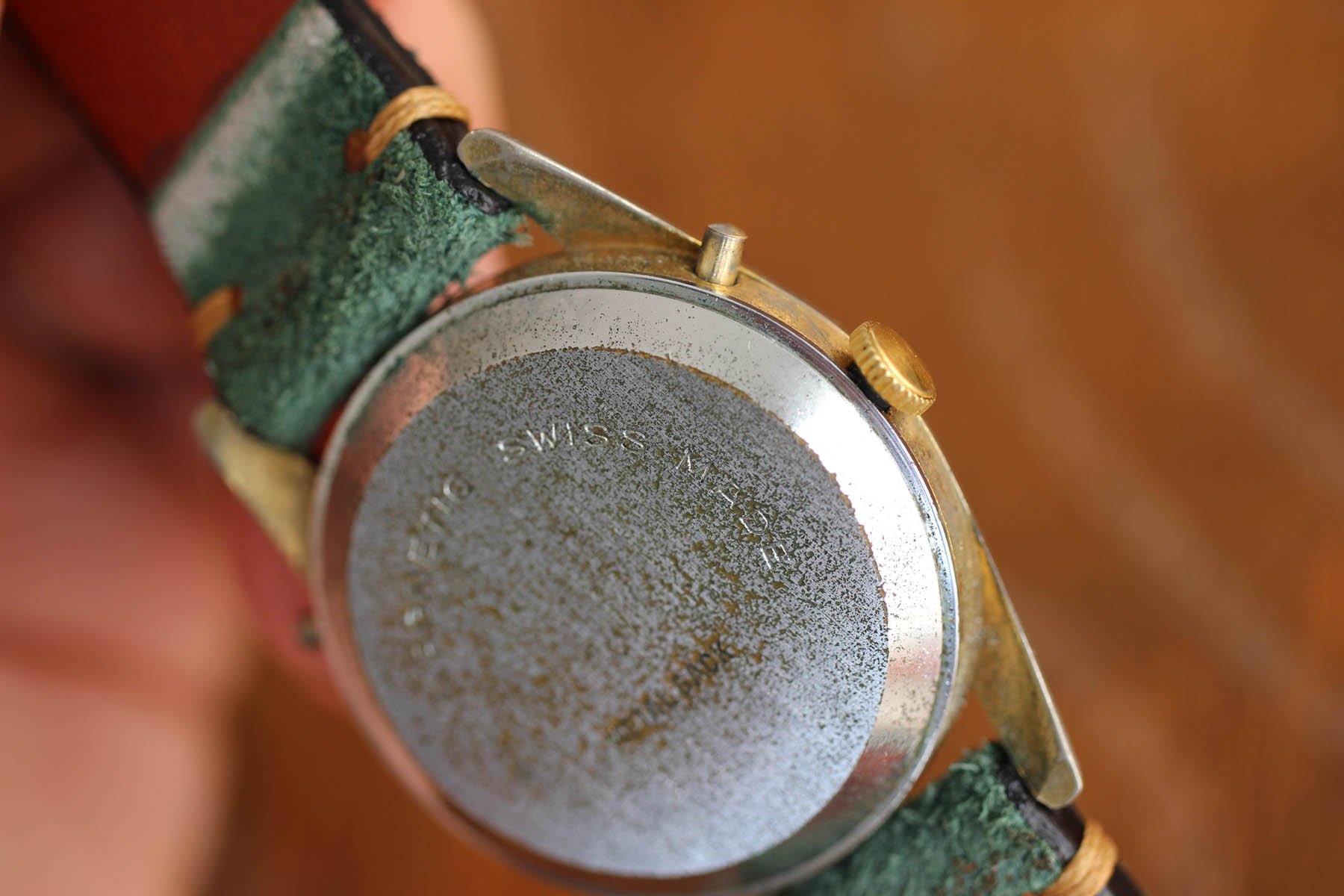 Rescue mission
The Sperina 99 Counter came in with a broken Plexiglass and without a winding crown. Bringing it back to life was not a complicated quest. After full service, the one-jewel (seriously) movement works nicely and precisely. At least it's stamped with a "Sperina Watch Co." symbol. My watchmaker fitted a matching vintage crown from his spares, changed the crystal and the watch looks as good as new. Almost…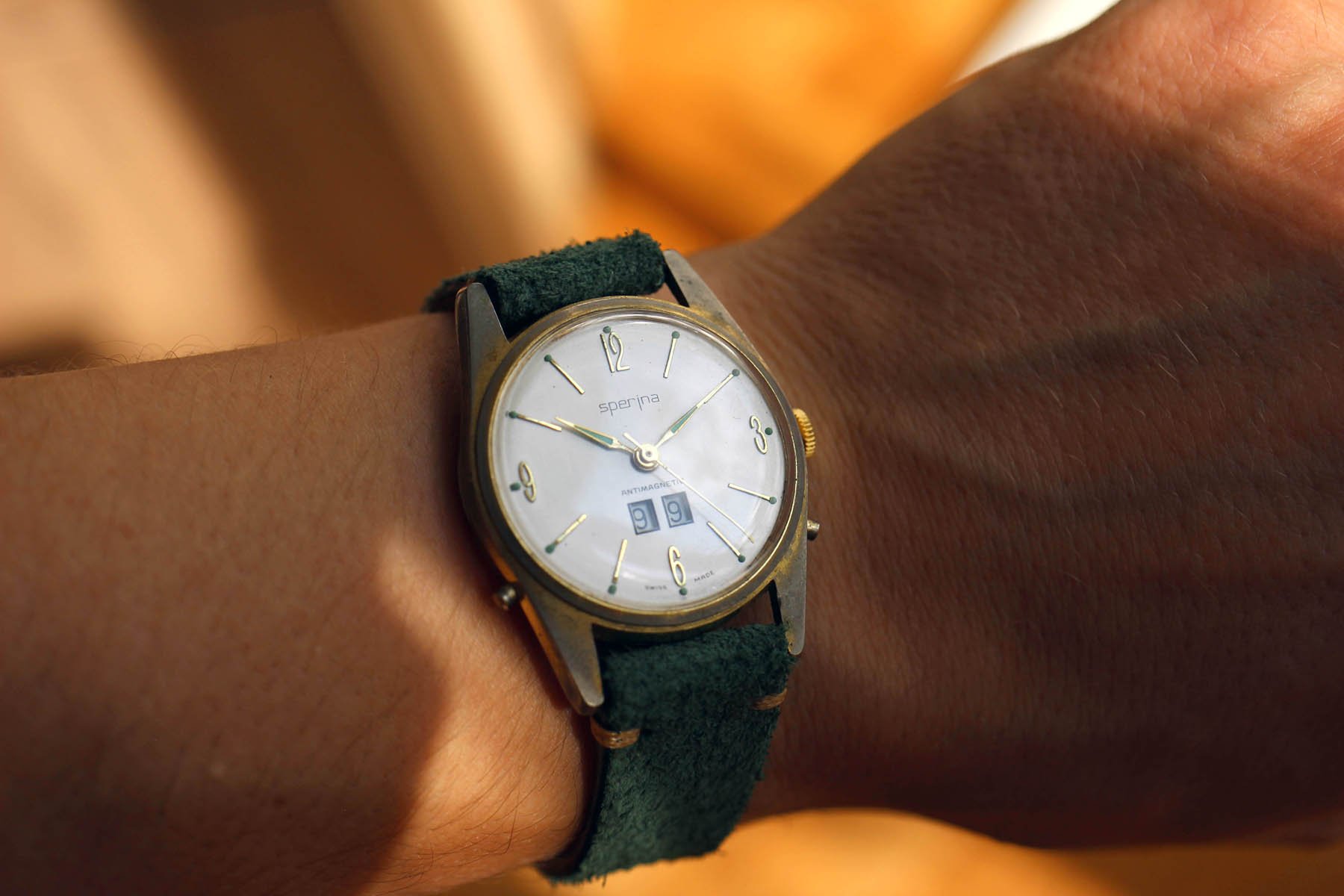 Clean dial
When I saw the heavily patinated case, I could not believe the dial was untouched. The pearl background makes the long indexes stand out nicely. With the green lume dots touching the tip of each index it looks like there is a set of matches placed carefully around the dial. The thin and long 3, 6, 9, and 12 numerals are quite elegant and don't fit completely with the sporty nature of the counter as a whole.
The counter
However cheap the movement looks, the counter clicks and works as if it had 30 jewels. Really, the push pins look terribly poor, but they function flawlessly. The click is quick, snappy, and sharp. I expected the counter to be lazy, but the number discs rotate surprisingly fast and are precise. Even if you are frenetically pressing the pins, the counter moves forward without letting you down. With the right pin, you advance from 0 to 99, pressing the left pin will jump the counter ten numbers ahead.
What could you use it for? Honestly, besides just dumb games, I haven't found much use for it yet. But I have to tell you, that I didn't try very hard. I don't force myself to use complications, it comes when it comes. With the growing understanding of how quickly my one-year-old daughter is growing, I am not afraid of finding a useful moment for it during the many coming games together.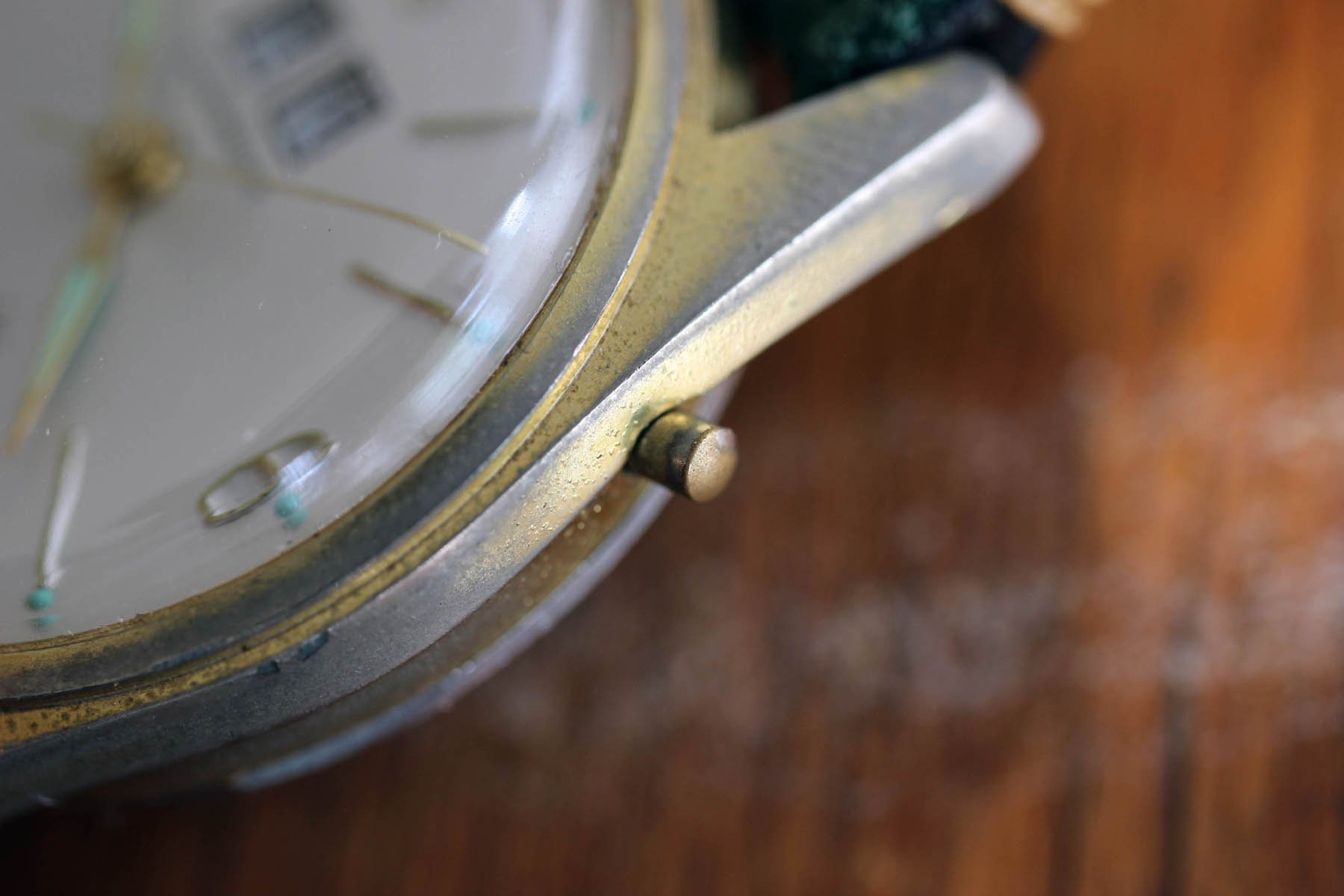 Final thoughts
You know me, I love digging out bizarre watches. The Sperina 99 Counter undoubtedly deserves its place on the #TBT, despite it costing roughly the same as a Big Mac meal. Don't forget that horology is not only about exquisite movements and fine brands. I am not trying to compare it to traditionally established vintage stars or their movements. The Sperina 99 Counter represents "sui generis" watches. I encourage you to find your Sperina 99 Counter or any similar oddity and share your story with us here.
Follow me on Instagram @rosputinsky_tomas