#TBT The Vulcain Y65 Monopusher Pulsation Chronograph Eaten Alive
Another rare gem I found in my own drawer
It's not often that I don't know what I'm buying. I couldn't even recall the last time that happened. Well, my Vulcain Y65 Monopusher had been sitting in my drawer for a few years, and honestly, I had no clue how special it was.
Usually, I know what I'm fighting for when bidding fiercely, even when I'm bidding on a watch I have not seen before. In such a situation, once I am attracted, I first do my research, and then I know what I am after. The story with my Vulcain Y65 Monopusher Pulsation Chronograph deviates from this pattern.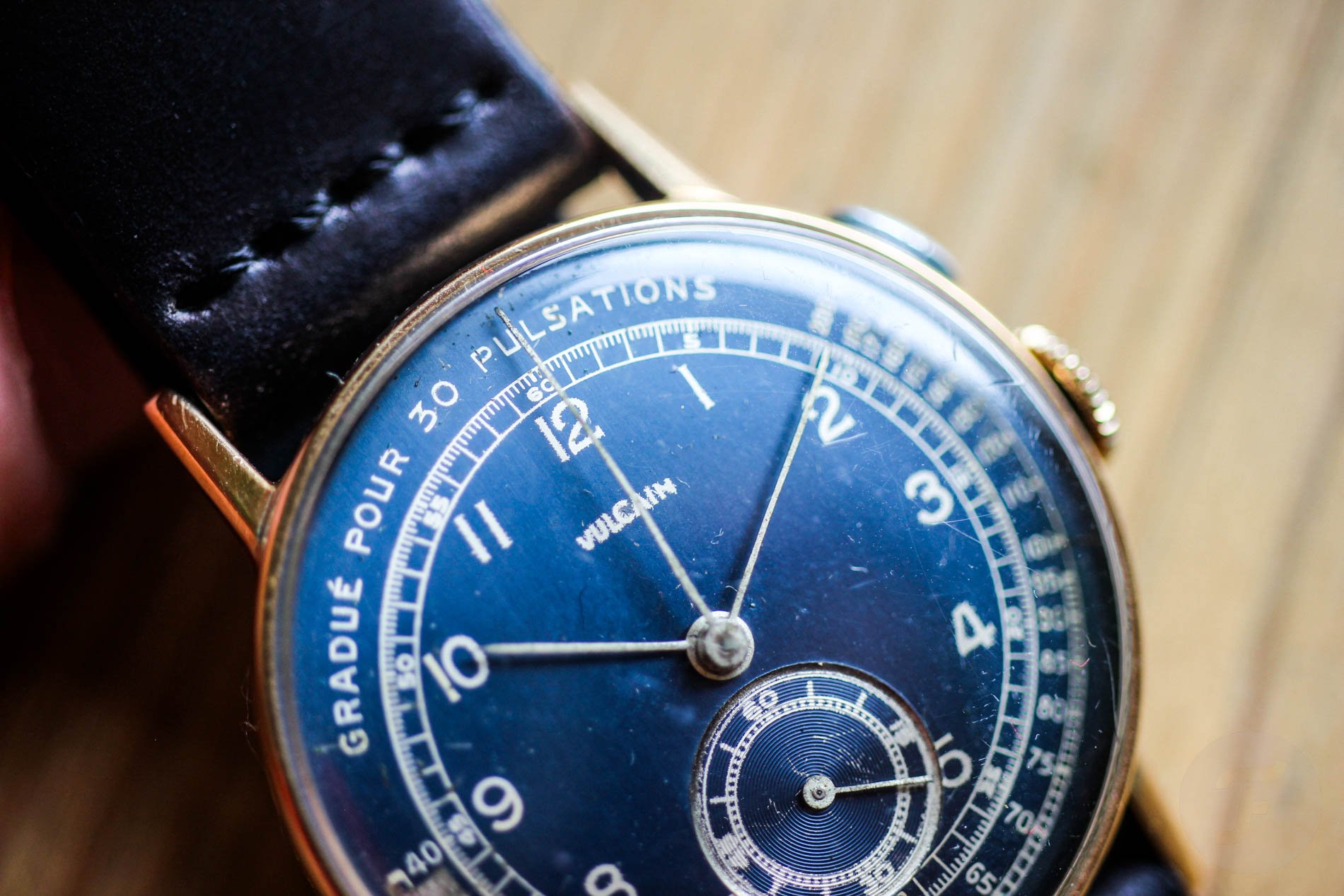 A happy accident
I have no eBay alert set for Vulcain. I don't have an alert set for monopusher watches on eBay either, but I somehow ended up looking at this one. Most likely, I was bidding on some different watch, and I clicked on a seller to see what else he or she had listed. By the way, that's actually a perfect tip on how to enrich your knowledge or get inspired.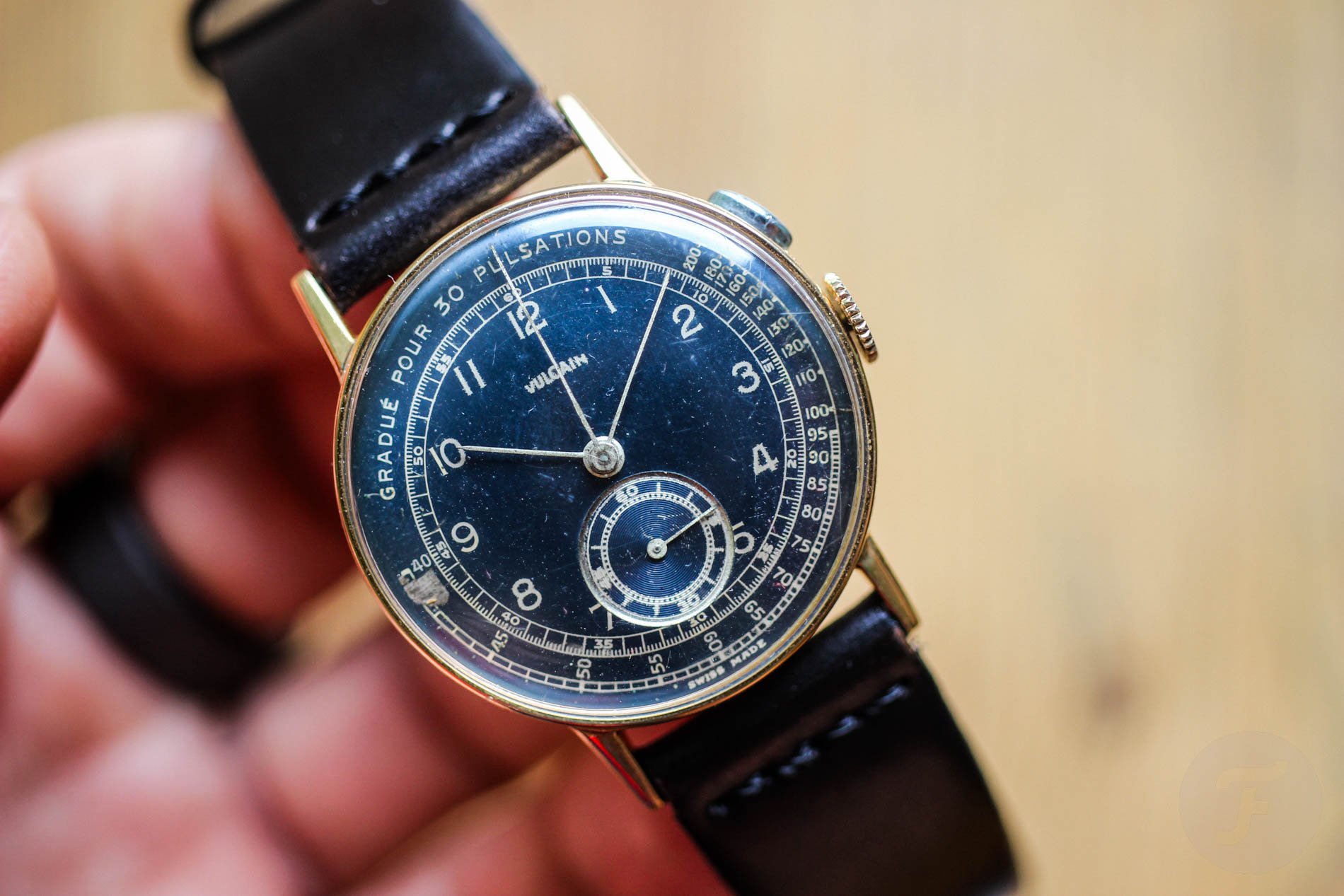 Vulcain Y65 Monopusher Pulsation Chronograph
I believe four out of the five words above explain why I was instantly hooked. I dare say that a monopusher holds a special place in any watch enthusiast's heart. If combined with a black dial and a pulsation scale, you already feel that it's not an everyday find. The Vulcain branding is just the cherry on the cake.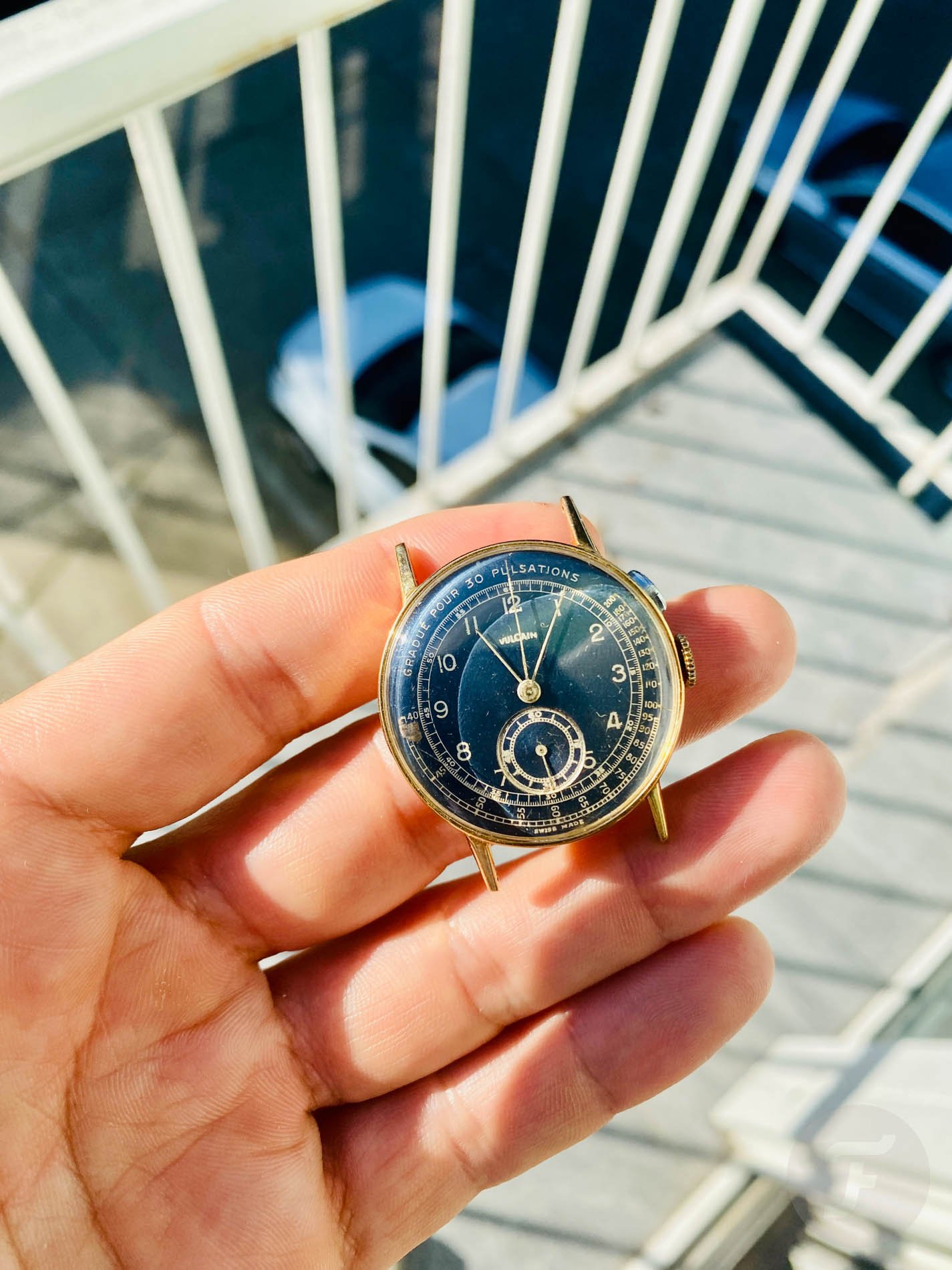 Did I say "black"?
If you look at the pictures, you may feel that I messed with them in post-processing. In some of them, the dial seems to be "blackie" black, and in other photos, it appears to be deep blue. Outside, in direct sunlight, it's perfectly black. When I look at the dial inside our apartment on a shady day, it reflects steel gray or blue tones, making for a pure visual experience.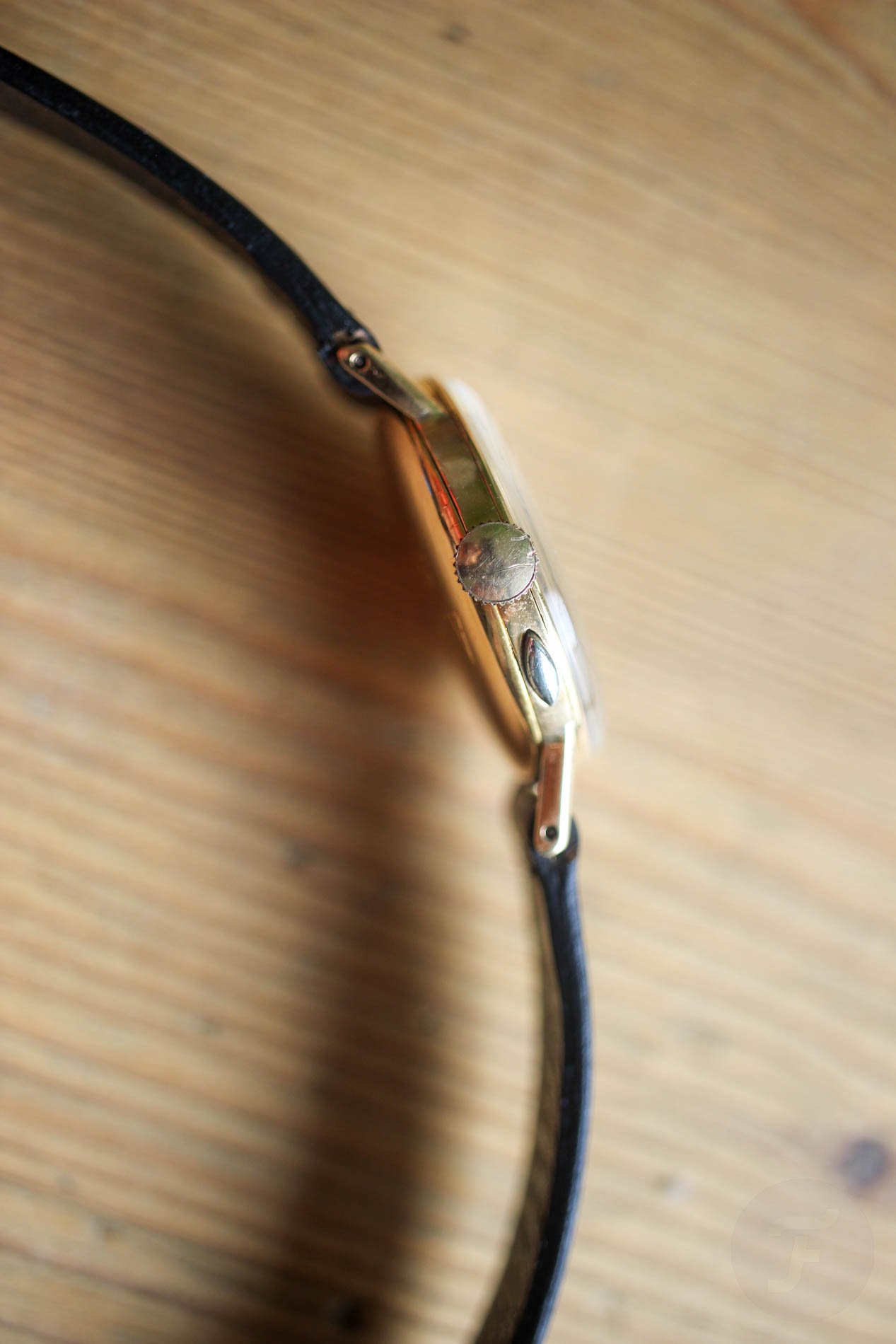 Pulsation-dial magic
A "Gradué Pour 30 Pulsations" inscription is always sensational, no matter what watch you see it on. This undeniably classy dial design suggests the watch may date to somewhere around the 1940s. Everything is tiny but feels big enough. The hair-thin hands look like they will fall off the moment you touch the "slim-fit" crown. I was surprised at how legible the dial is.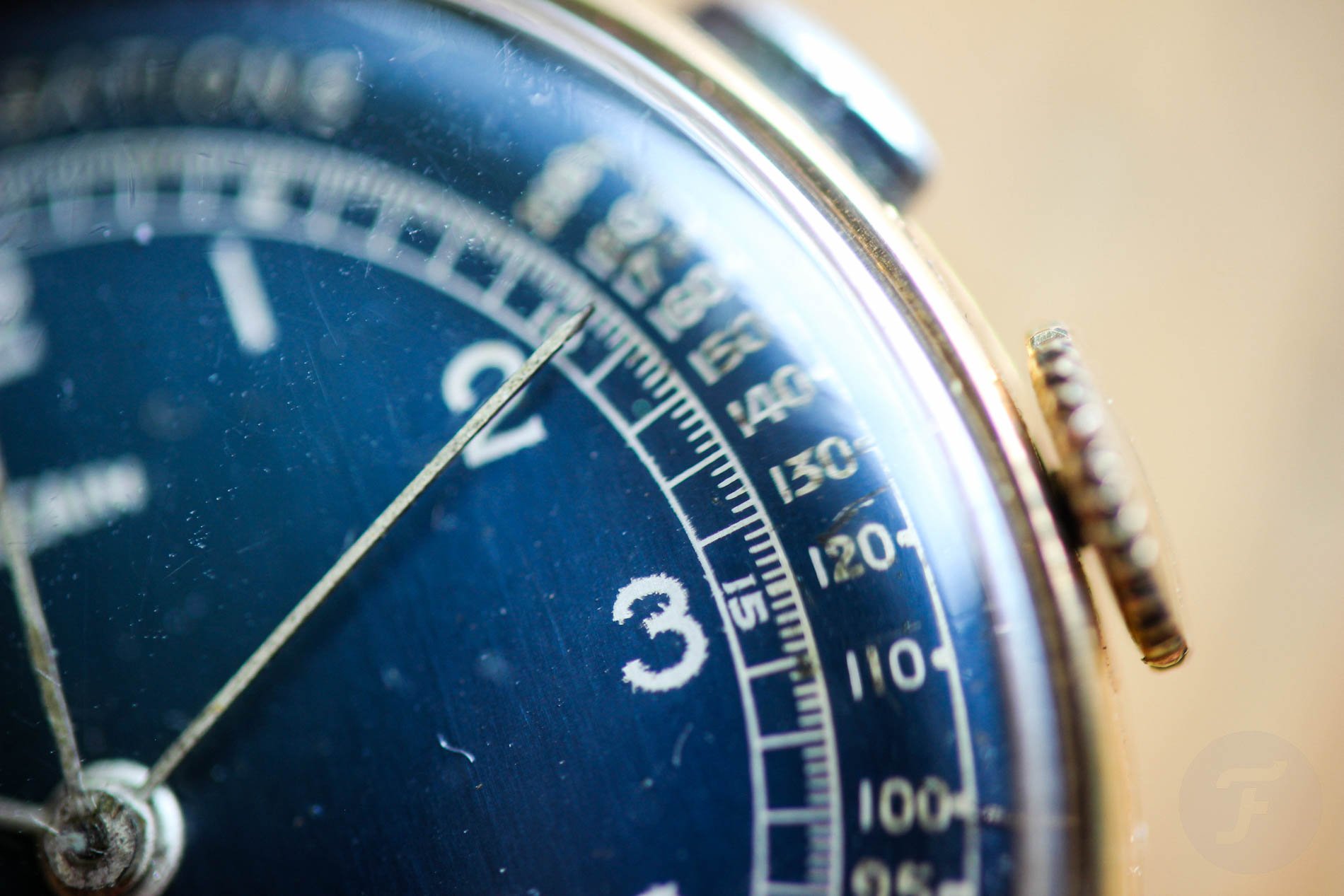 A dial eaten alive
Another fascinating detail about this watch is the patina on the dial. Looking closely, we can see that some imperfections or flaws developed over time. Some of the printing is intact, making the inscription perfectly preserved. "Gradué Pour 30 Pulsations" looks like it was carved out with a scalpel just yesterday. But look at the numeral at 3 o'clock and the erratic blur that developed around the edges.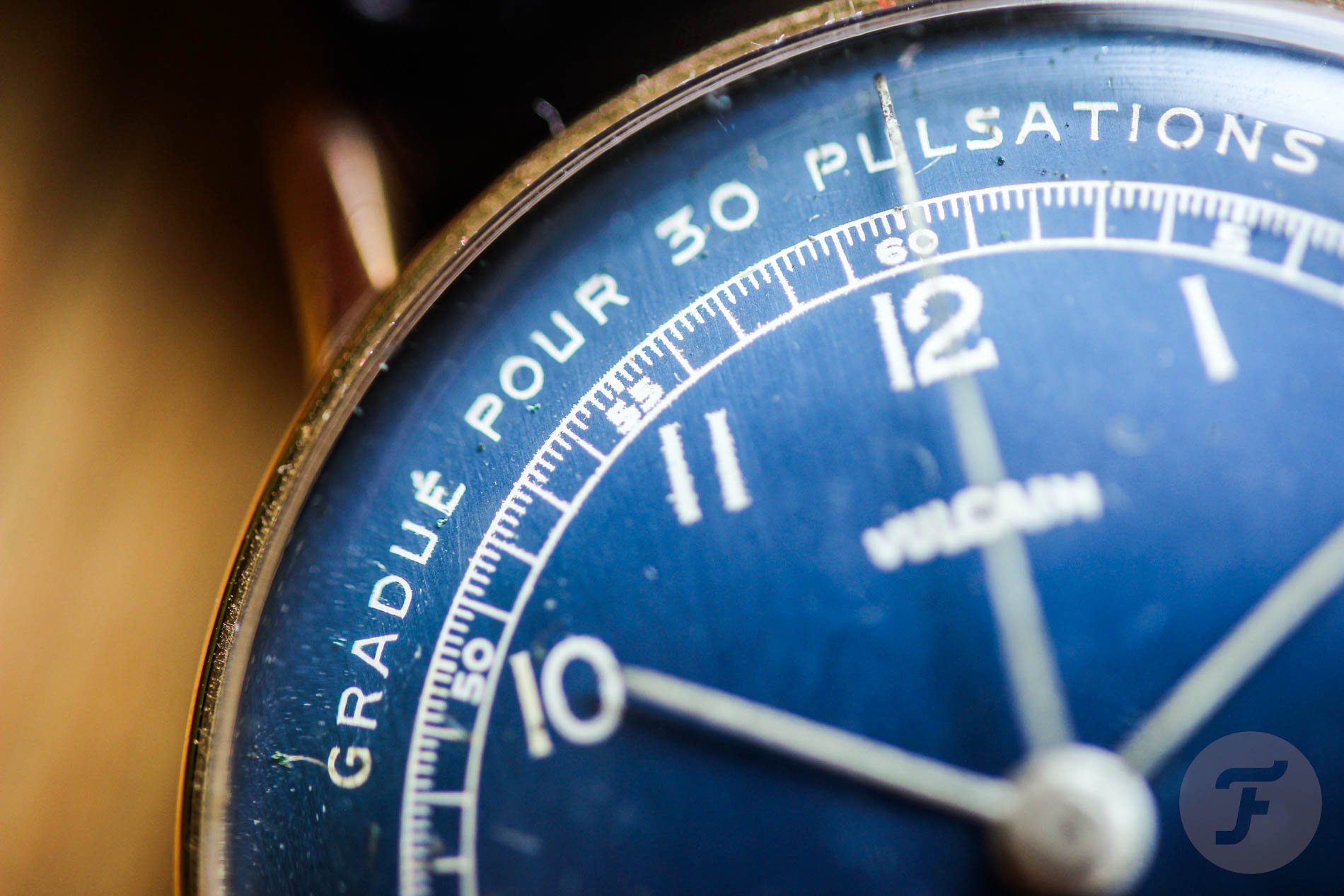 From what I see, we have negative printing here. So it's not numbers and tracks printed over the black dial, but I believe it's black printed over the shiny background, nicely shaping all the numbers and indexes. Over the years, the teeth of time started to bite into the edges of the black color and create an unusual patina effect. Judging from the fact that we are looking at an almost 90-year-old watch, the dial is still in great condition.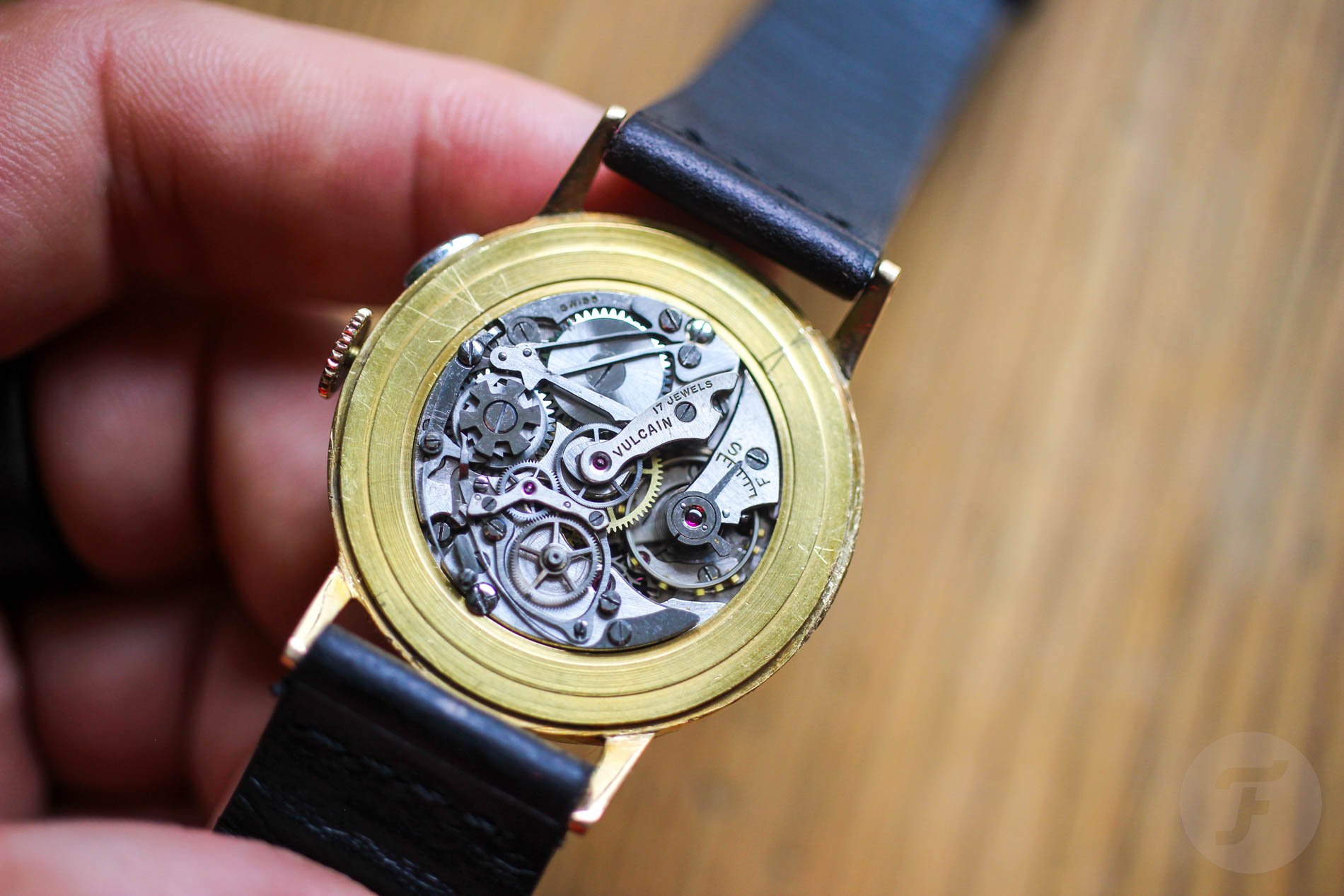 The unknown Vulcain Y65
At that moment of purchase, I was only drawn to the watch's design. I didn't have time to study what was inside, but I pulled the trigger anyway. This purchase is from a time when I was buying a lot of watches, so it somehow sunk in my drawer, and I never got to wear it. I recently decided to bring it into the light and learn more about it. To my great surprise, though, I didn't find much about the watch.
When I feel stuck with an unusual chrono, I don't mind reaching out to real professionals. I poked Sébastien Chaulmontet, the head of innovation and marketing at Sellita. His collection of unusual chronographs is unique, and I hoped he might know this one. "Wonderful," reacted Sébastien, after I sent him a shot of my Vulcain. "A joyful little movement. I hunted mine for many years," he added, confirming that this is not a chronograph you will find easily.
Interestingly, there is one on eBay. It's almost identical to mine, just in a white dress. Well, it's missing the case, and I guess that ruins the excitement I may have just created…
Ladies and armies
One of the very few (previously) available sources I could find says that in the 1930s, Vulcain developed an in-house 10.5-ligne movement with central seconds, the caliber 65 MS. That became the basis for what we are looking at now, a rare chronograph caliber with a column wheel, the Y65. "The small size of this movement allowed Vulcain to produce very fine and elegant counterless chronographs, which might have been popular with ladies and were even selected by the armed forces from Uruguay," says the website.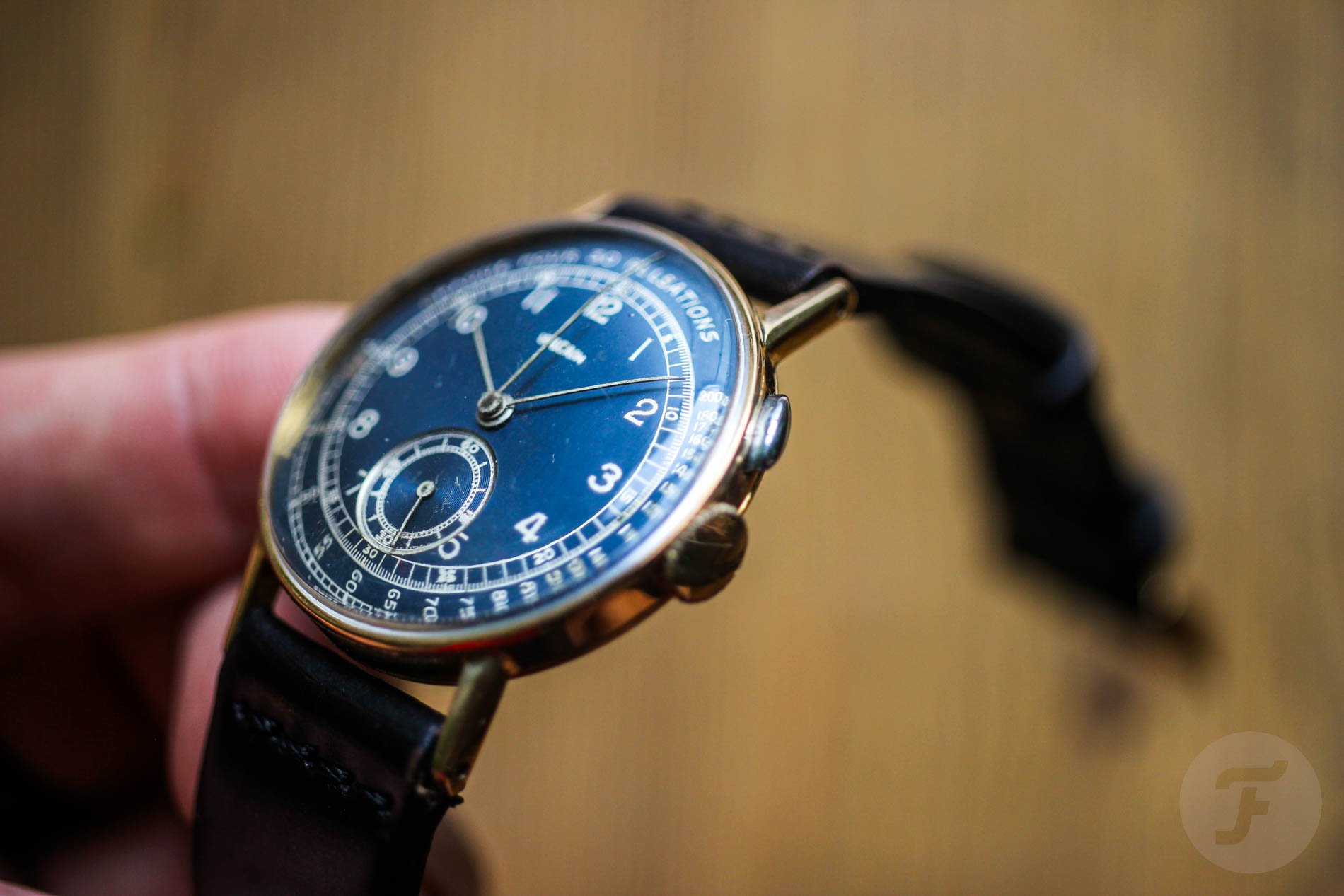 Last thoughts
You never know where the next surprise sits. It may even sit as close as your drawer is. Until I started digging, I had no clue I had a watch that I could barely find another example of. The gold case, oval pusher, and quite unusual (for the time) 19mm lug spacing are other details that make the Vulcain Y65 Monopusher Pulsation Chronograph a great watch to wear and admire. Happy hunting.