#TBT World's First Alarm Wristwatch — The Vulcain Cricket
With caliber 120 from the late 1940s
Mother of Dragons. My Vulcain Cricket is the mother, while other pieces in my collection are dragons. Why? The Vulcain Cricket was the first vintage watch I ever acquired. It rules over the others no matter what.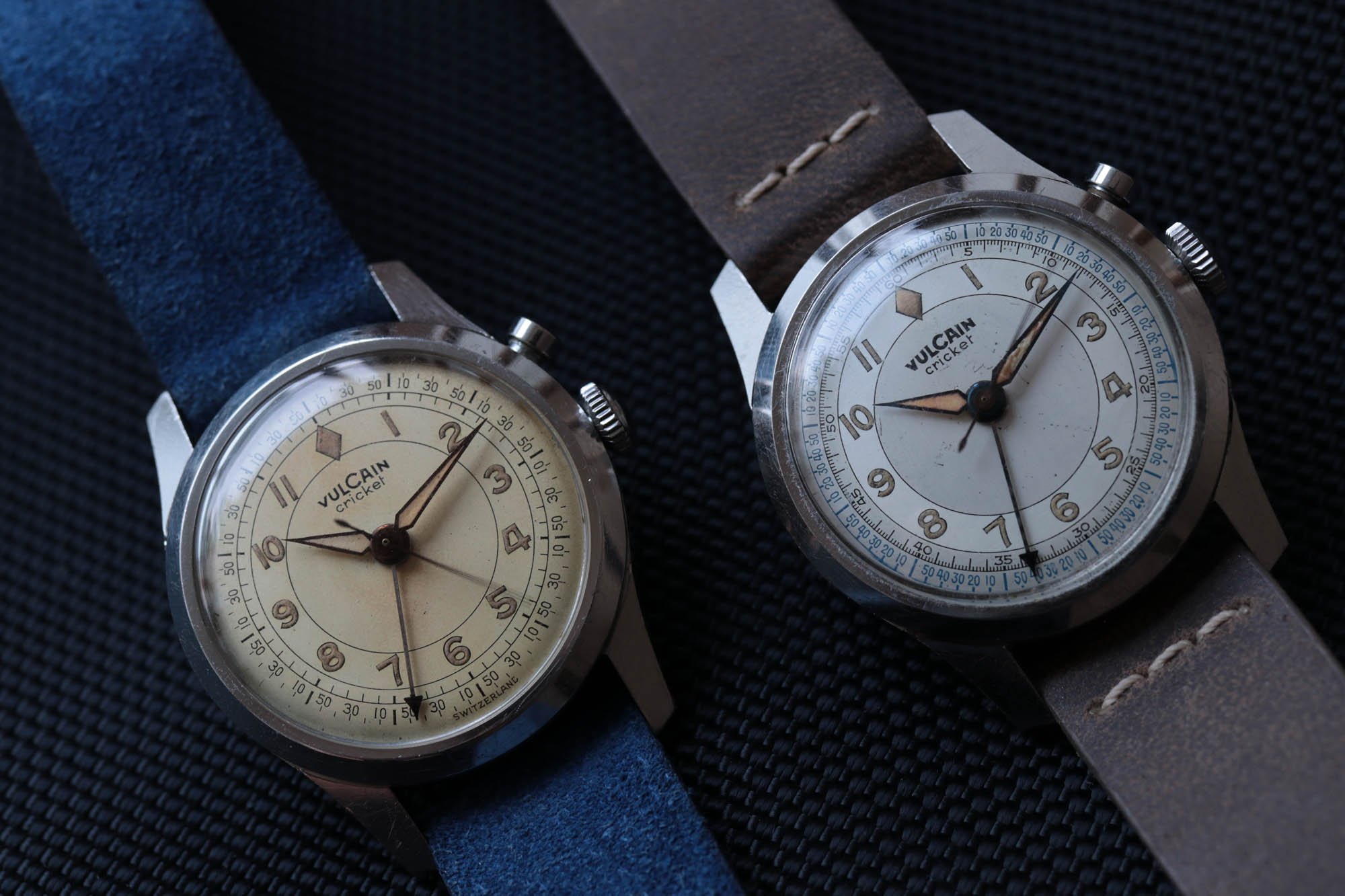 Drawer beginnings
It was long ago that I was sneaking around my father's secret drawers where he kept all of his broken watches. No Vulcain Crickets there. They were all local Czechoslovak watches or some 'random' Russian brands. But I was no less fascinated when I touched the crown and heard the movements ticking. You can imagine – a quartz boy born in the 1980s, introducing himself to mechanical movements.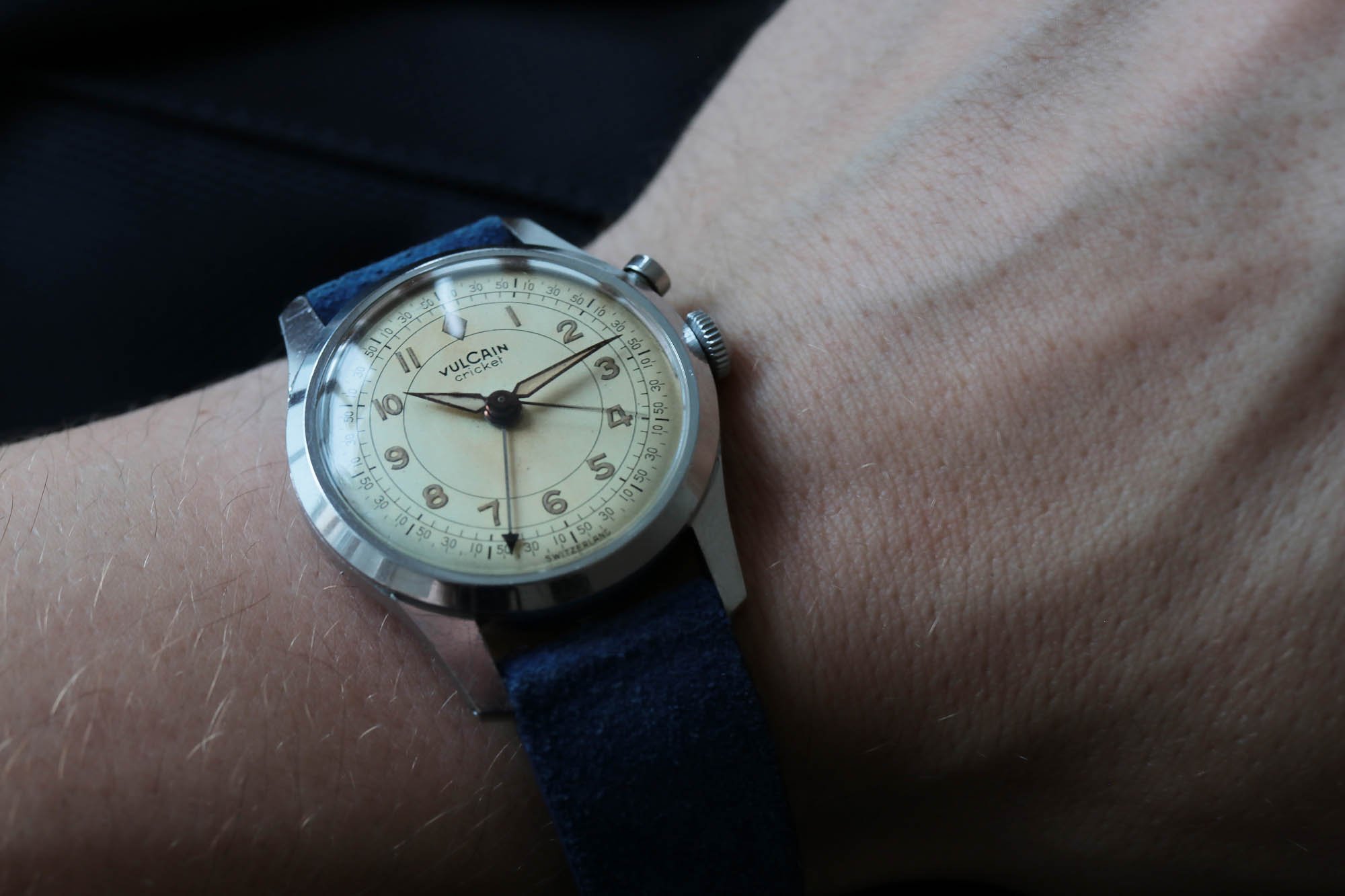 I can imagine that in 1947, the Vulcain Cricket was as hot and desirable as the Apple watch few years ago.
Educated Vulcain purchase
Fast forward two decades and I am ready to spend my first money on a vintage watch. What will it be? Honestly, I don't have a clue how I came across Vulcain Crickets and alarm watches. I remember being completely fascinated. I carried out proper due diligence for weeks to come before I decided on what to buy. No Submariners, no Speedies, no Autavias. I had no clue about the world of vintage watches back then, but in theory, I was ready for the Vulcain. I read everything that was written on Crickets.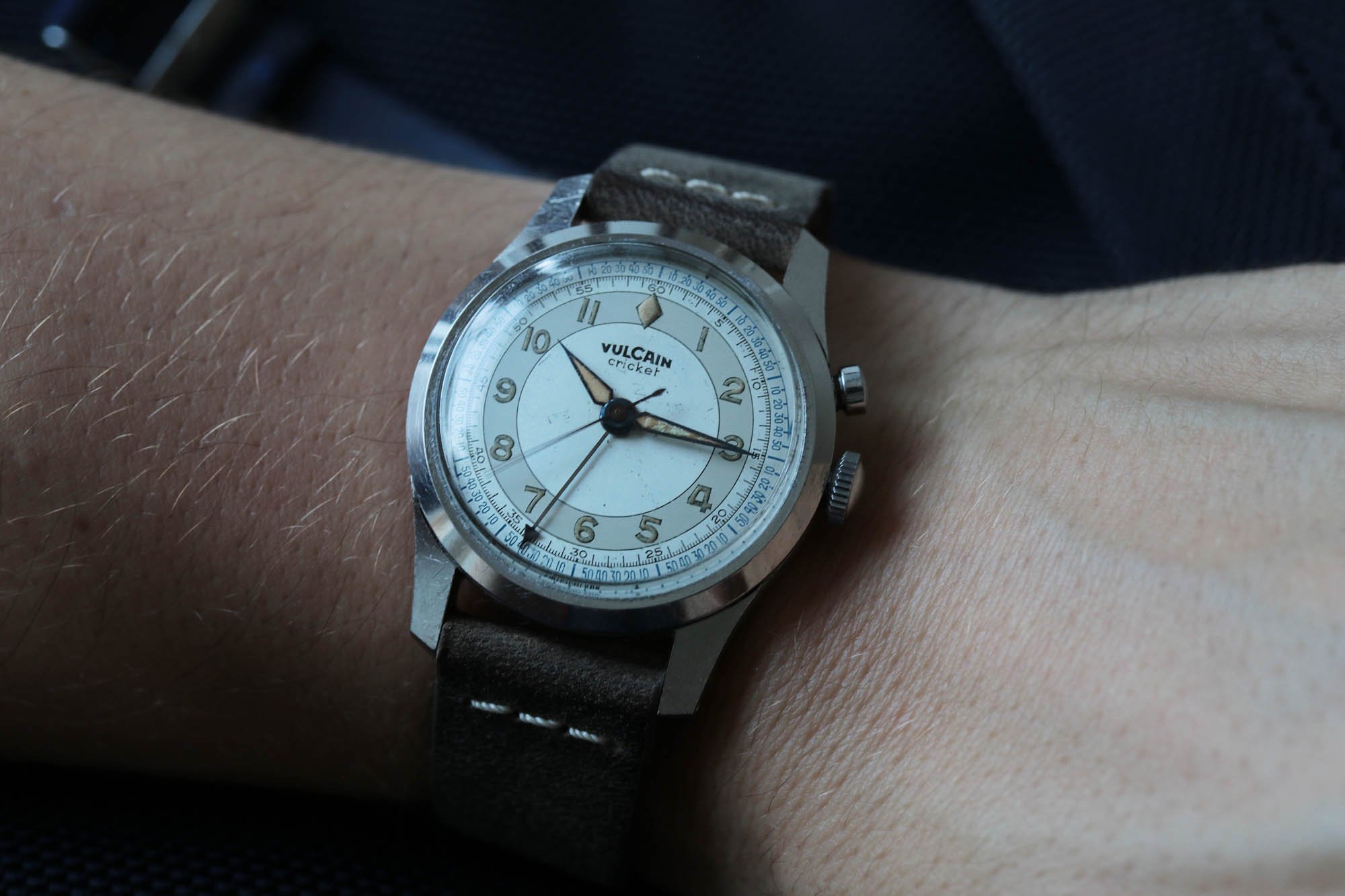 Big Cricket introduction
As an appetiser, you can read Balazs's recent article where he wrote about the Angelus Datalarm. Nice watch, indeed. But Vulcain is the company that rightly bejewelled their ads claiming the world's first wristwatch with an alarm. Or put more simply, a watch that rings. It was in 1947, after five years of research and development, when the mechanical hand-wound Cricket caliber, equipped with two barrels, was introduced. There were two significant challenges to be cracked during the prototyping. One, to fit an alarm complication into such a small case dimension and two, to figure out how to make the sound resonate.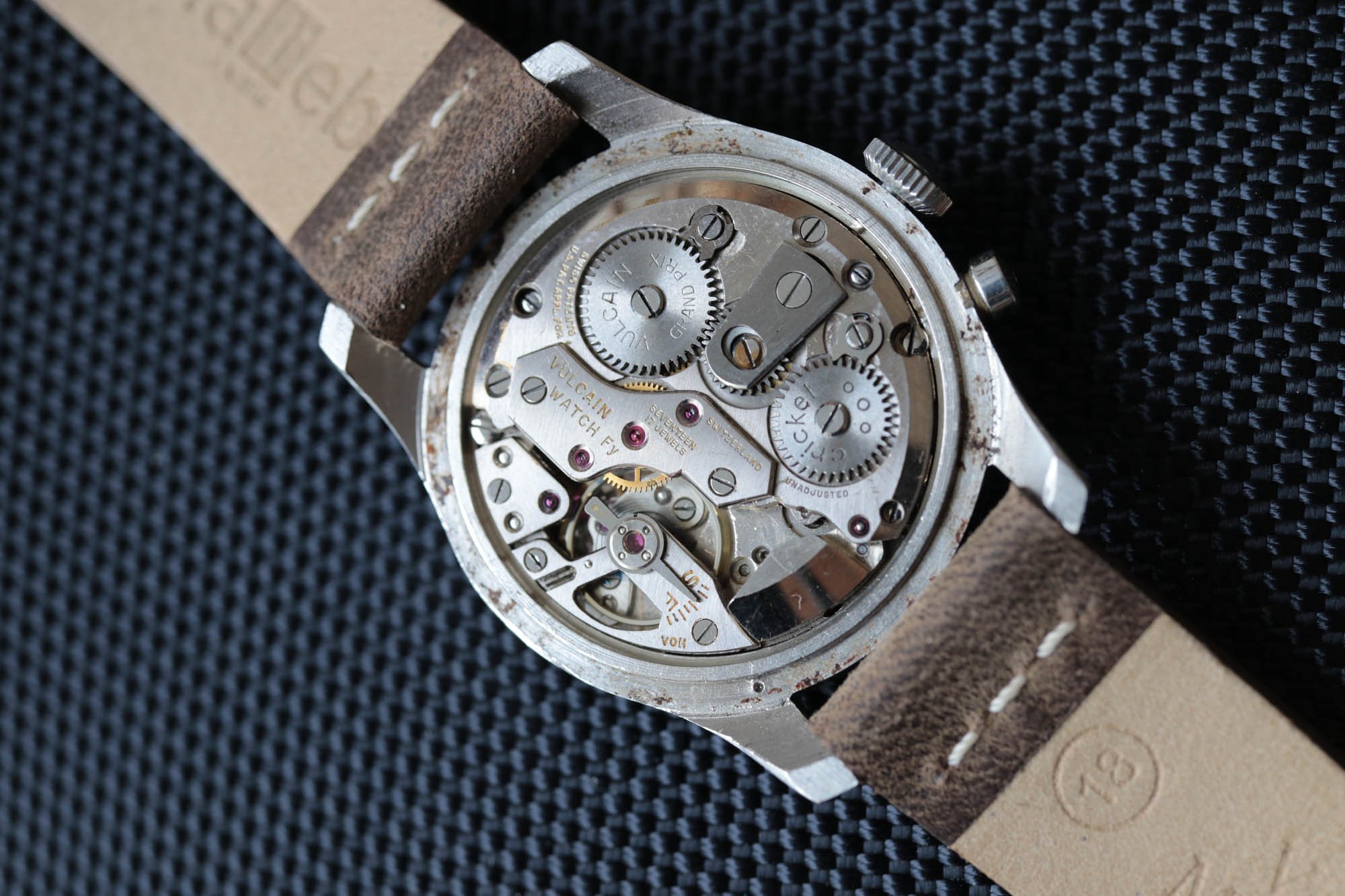 Two barrels
A video of this charming complication is a must in this case. The movement marked 120 is very witty indeed – one barrel stores the energy for the movement and the other for the alarm. If you want to wind the alarm, you have to turn the crown upwards. Turning the crown downwards and you wind the movement barrel. Count in a few positions of the pusher and crown and your first days with the Vulcain will feel like the first miles behind a new car wheel. You are sure you know how it works, but it needs some thinking and training until you get it fully automated.
Magic pusher
I would put the perfectly proportionate pusher sitting at the two on the list of cutest pushers around. You can also recognise it by its little circle in the middle of the cap. Once it is in a default position with the crown kissing the case, you can wind the duo of barrels. It simultaneously indicates the alarm is on. When the alarm puts on a party, you can deactivate it by pressing the pusher into the first position. Press the pusher fully, and the crown jumps out, enabling you to rotate the central alarm hand. Remember that the alarm hand is supposed to turn anticlockwise only. In one of my Crickets, it was turning in both directions, which signalised that something was not okay. My watchmaker fixed the cannon pinion during service, and the problem disappeared.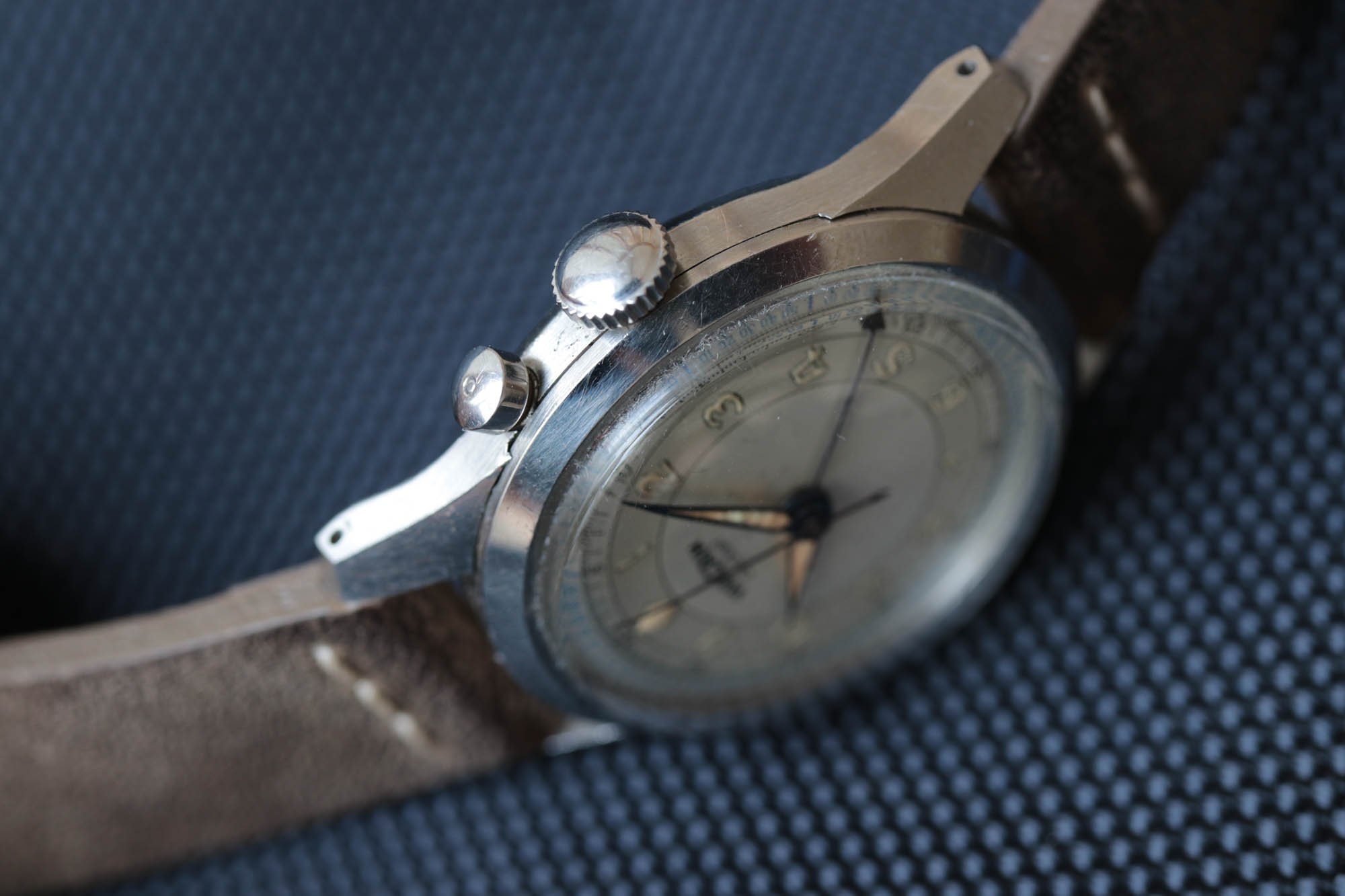 Sound and operations
I can imagine that in 1947, the Vulcain Cricket was as hot and desirable as the Apple watch a few years ago. I would compare being able to trigger an audible alarm signal in such a gentle device to my recent experience of paying for two donuts in a local shop with bitcoin. What a luxury it was to give the alarm its barrel 70 years ago. And what a challenge for watchmakers, as with the new solution the alarm was not stealing any power from the watch. Once fully wound, the alarm can sing for around 25 seconds. Enough to wake you and half the entire block up at 4 am if you forgot to deactivate it in the afternoon. This is all thanks to an additional back case that sticks out a bit, creating enough room for the sound to resonate more. Ask people listening to its sound for the first time what they think. They will try and persuade you that your watch must be 34 centimeters, not 34 millimeters large
Alarm can easily wake you and half the entire block up at 4am if you forgot to deactivate it in the afternoon.
Dial and hands
So many paragraphs written until before the grand finale! THE dial. I don't know if any other watch manufacturer drew a bigger 34 mm diameter than Vulcain did with the Cricket. The watch face is so decent and tidy that it seems as if a cleaning lady was living inside the watch. It is elegant, yet fresh and makes me feel a curious enchantment every time I gaze down upon it. This particular combination of dial and hands is by far the most expressive of the Vulcain Cricket. Radium hands of the earliest Cricket models perfectly match the radium Arabic numerals set in a separate track. Some of the Cricket models have this particular track slightly darker. As if that weren't enough radium, let's slap a big diamond-shaped index instead of the 12!
Judgement of Solomon
I don't like hoarding watches from the same model and ref. I have only two same models doubled at all. The Tourist jumping second with Chezard movement and the Crickets. But to my defence, both watches have some differences, and I am not only counting the patina here. Did you spot the difference immediately? They differ in numerical demarcations on the outer edge of the dial. While both are printed in a thin blue typo, one Cricket has marks for 10-20-30-40-50, that are connected with the additional outer track while the other feels a bit more spacious, without an additional track around the 10-30-50 numerals for the setting alarm. Both have a central alarm hand with a black arrow tickling the alarm numbers gently. Which one do you need? Both, of course.

Complicated relationship
We had quite a complicated relationship with one of the Crickets. We didn't see each other very often. It developed some yellowish tones on the dial that make it completely different in look and feel. It took me some time to grow fond of it (blame the purist part of my soul), but now I consider it very interesting and distinctive. This Vulcain Cricket looks very different, especially under direct sunlight.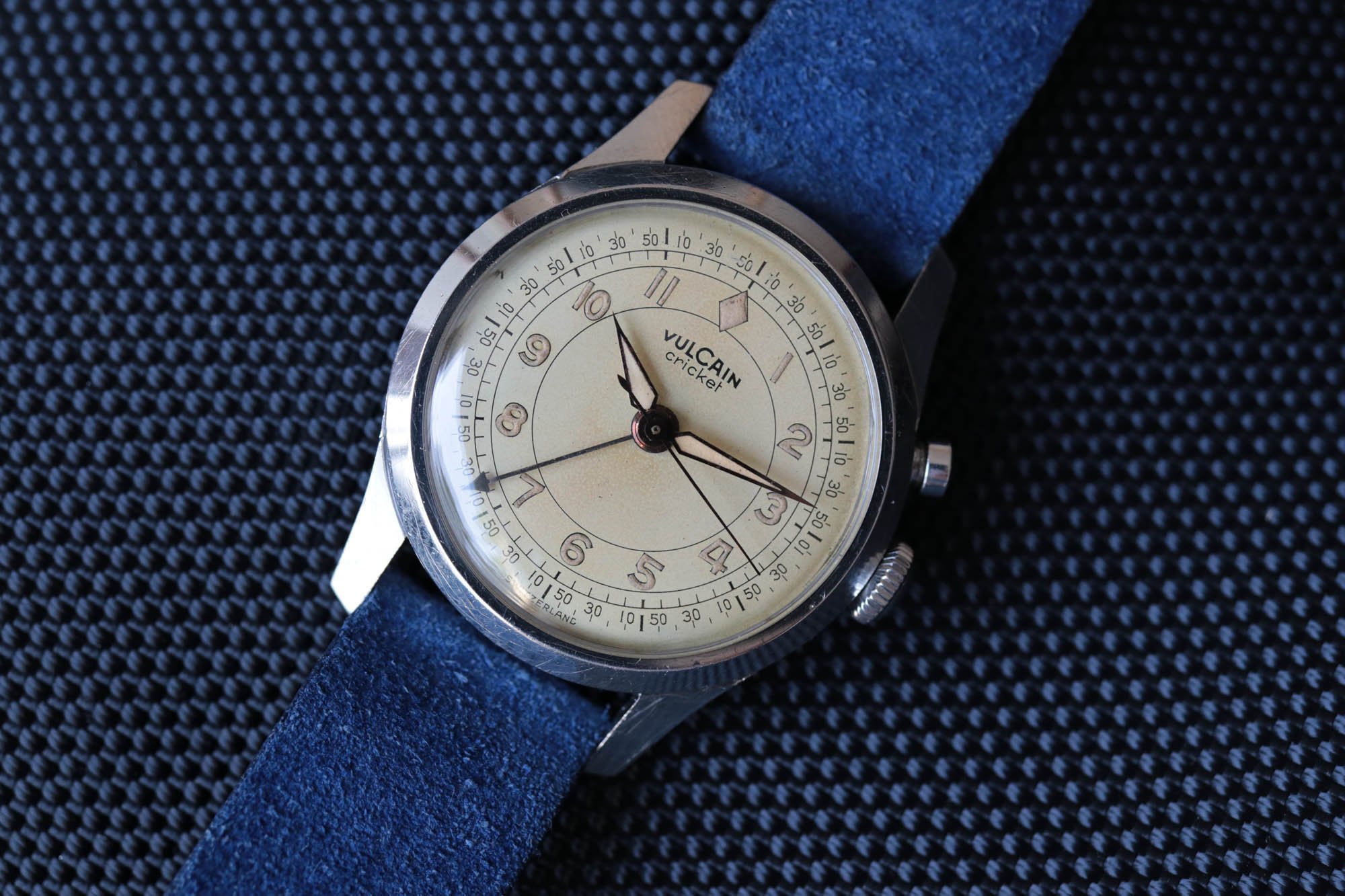 Shotgun notes
Following up on my last article – brief remarks on Crickets from various perspectives. If it was not clear by now, the Cricket name was chosen because the sound is reminiscent of the chirping of a cricket. I found it interesting that there are so many Vulcains with original razor shape edges. I have the feeling that other watches get polished more often (no facts, just a personal observation). You can also find the Vulcain 120 caliber in the Nivada Wanderer, another beautiful watch on my bucket list. Some Crickets sport a red central second hand. More seldom, the same dial style as featured today is also available in 38mm diameter.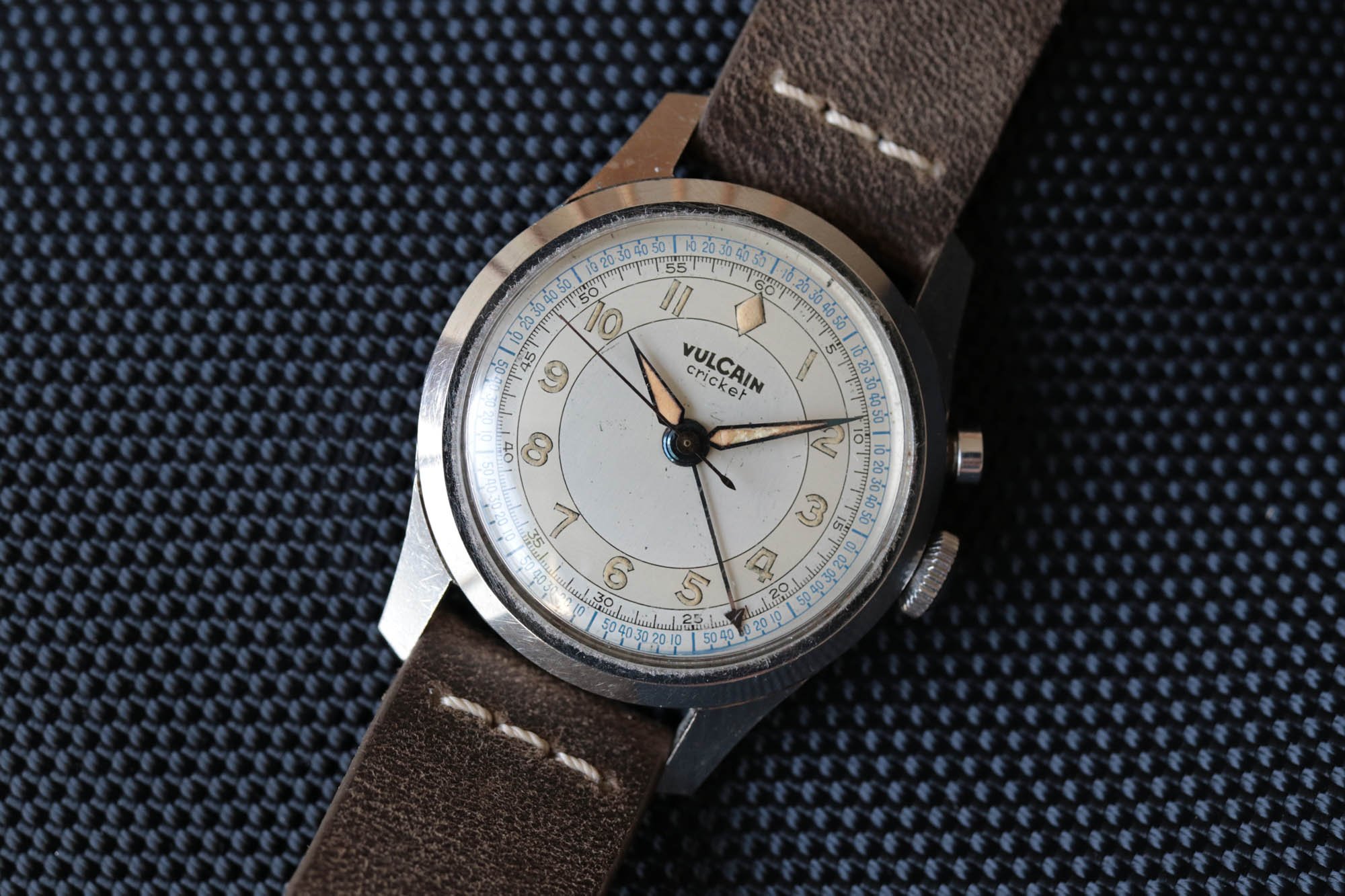 The watch face is so decent and tidy that it seems as if a cleaning lady was living inside the watch.
Being a president
Another reason why to search for a Vulcain Cricket? Obama has one. I might have heard that Trump got one too, but I would rather forget that. Other notable wrists include Nixon, Eisenhower and Truman. It is Truman who is originally connected with the tradition of US Presidents and Crickets. He got one when leaving the office with an engraving saying, "One more please". If you want to experience the feeling of Eisenhower's Cricket going full blast during a press conference, take it to your next doctor's appointment. I promise, the combination of a dead silent waiting room and your Cricket going on the full alarm, a thing to behold. And it doesn't stop there! Imagine a city administration waiting room, a turbulent flight or meeting with new clients. Always a lot of fun. Nowadays I only remember those where the Cricket manages to scare me too.
Uncertain nowadays
Have you wondered while reading these lines where the Vulcain Crickets are now? And why we don't see Crickets any more even though they are in production? Well, good questions. Sensitive. Modern Vulcain Crickets, rebirthed in 2002, are very polarising, to put it gently. For a brand with such heritage, I would expect better marketing and a stronger product. But you make your call – RJ reviewed some of Vulcain Crickets recent production a few years ago. For me, the original Cricket is a no brainer. If you are patient, you can grab some unique pieces in fantastic condition. Next time we meet, and you still don't consider it for your collection, don't be surprised if I come up with an additional ten reasons why a vintage Vulcain Cricket should be yours too.