The Allure of Japanese Independent Watchmaking: Part Four — Kurono Tokyo
Kurono Tokyo brings us Asaoka-infused perfection for the people
Kurono (subtitled Bunkyo Tokyo) is a young brand, typifying the allure of Japanese independent watchmaking. The watches have the rare quality of being budget-friendly while touched by a master. There is a tiered ordering process that gives you the feeling of being part of a small Japanese family, something few brands master. But then Kurono is not your normal run-of-the-mill microbrand. Kurono opens a back door to Haute Horlogerie perfection with a great price point, as a sub-brand of the Japanese master of Art Deco cool, Hajime Asaoka.
A selfish brand?
I went as far as proclaiming Hajime Asaoka to be our eye-opener into the quiet world of Japanese high-end independent watchmakers, and I'm sticking to it.  Asaoka-san tempts us with the allure of Japanese Independent watchmaking, highly limited to the point of many being piece uniques, and rather costly for us mere mortals. One of the ironic reasons for creating the Kurono brand was the fact that, hold on to your hats, Hajime Asaoka has such a full order book that he was not wearing one of his own creations. Thank goodness for the charmingly selfish yet egalitarian act of Asaoka-san, which has given us bright, colorful Japanese cool quirkiness at a temptingly accessible price point. Arigato gozaimasu (google it)! 

Familiar Art Deco for those in the know
While Kurono may not be a brand for the masses, it holds a quietly spoken language of small-cased elegance. Spot-on for those of us with a deep affinity for Japanese design and horology, and photogenic enough to be instant hits on Instagram. Those of you still active on Watch Forums (what?) will know of their curated and limited catalog. What more do you need than a chronograph and two different time-only designs, all within 37 and 38mm cases. Obtaining one is convoluted but democratic. You get a slight advantage as a known collector, with 20% put aside for JDM customers. Kurono has a polite dislike for profiteers, making a refreshing change in these times of stratospheric prices for sold-out watches, Kurono is watching. Those double-priced Chronographs on Chrono24 might belong to a Kurono buyer that will be eliminated from the mailing list, and perhaps it's for the better.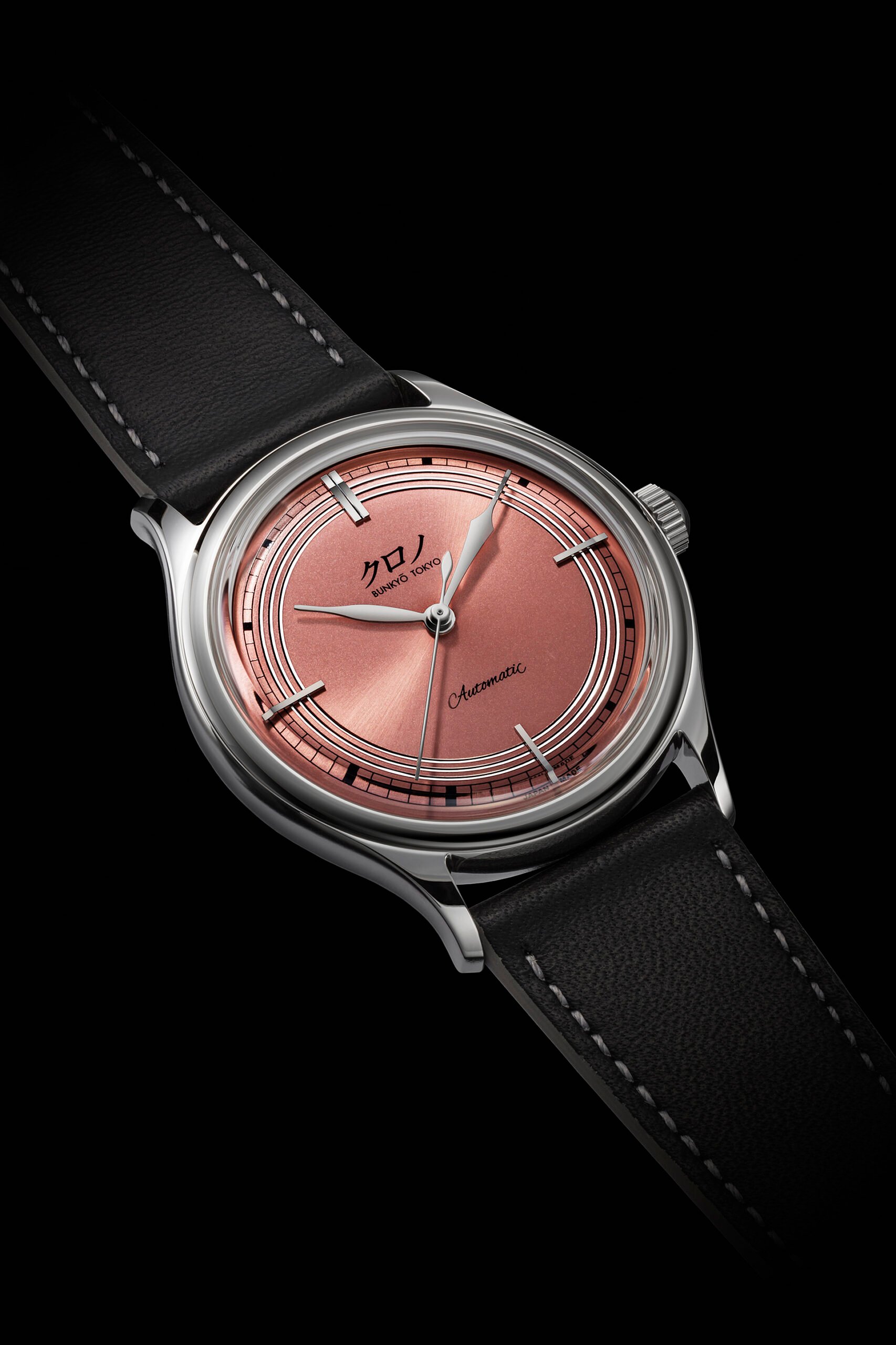 Limited yet accessible
Each Kurono pre-order window opens for 10 minutes, and all orders placed within this time are honored. This is actually quite generous, established brands like Lorier and Massena LAB regularly sell out within minutes, having fans frantically pounding the keyboard in vain. Kurono's JDM models have a boxed Chrono Tokyo logo, while we get Katakana script underlining the Japanese heritage in a more soulful way. Fun Fact: Kurono (silent U) is the Japanese phonetic form of Chrono. From the debut of the eggshell off-white of the three-hander, I have been a big fan, and yes I am on their list though no luck yet, here's holding out for Chronograph 3. Here are the three latest examples of their niche-sharp offerings, which this year has been interspaced by other examples of Japanese craftsmanship like an Urushi lacquer wooden box.

The Allure of the Kurono Toki
In a twist of typical Japanese inspiration from nature, the best salmon dial of 2021 is inspired by no fish. No, the Toki is inspired by the feathers of a bird. The color is called Toki-Iro and is a pale pink color from the feathers of the nearly extinct Toki bird. Hajime Asaoka spent close to a year experimenting with dials to get to the right color, obsessive? Yes, this is pretty far from using that RAL chart you might be familiar with and adds to the charm.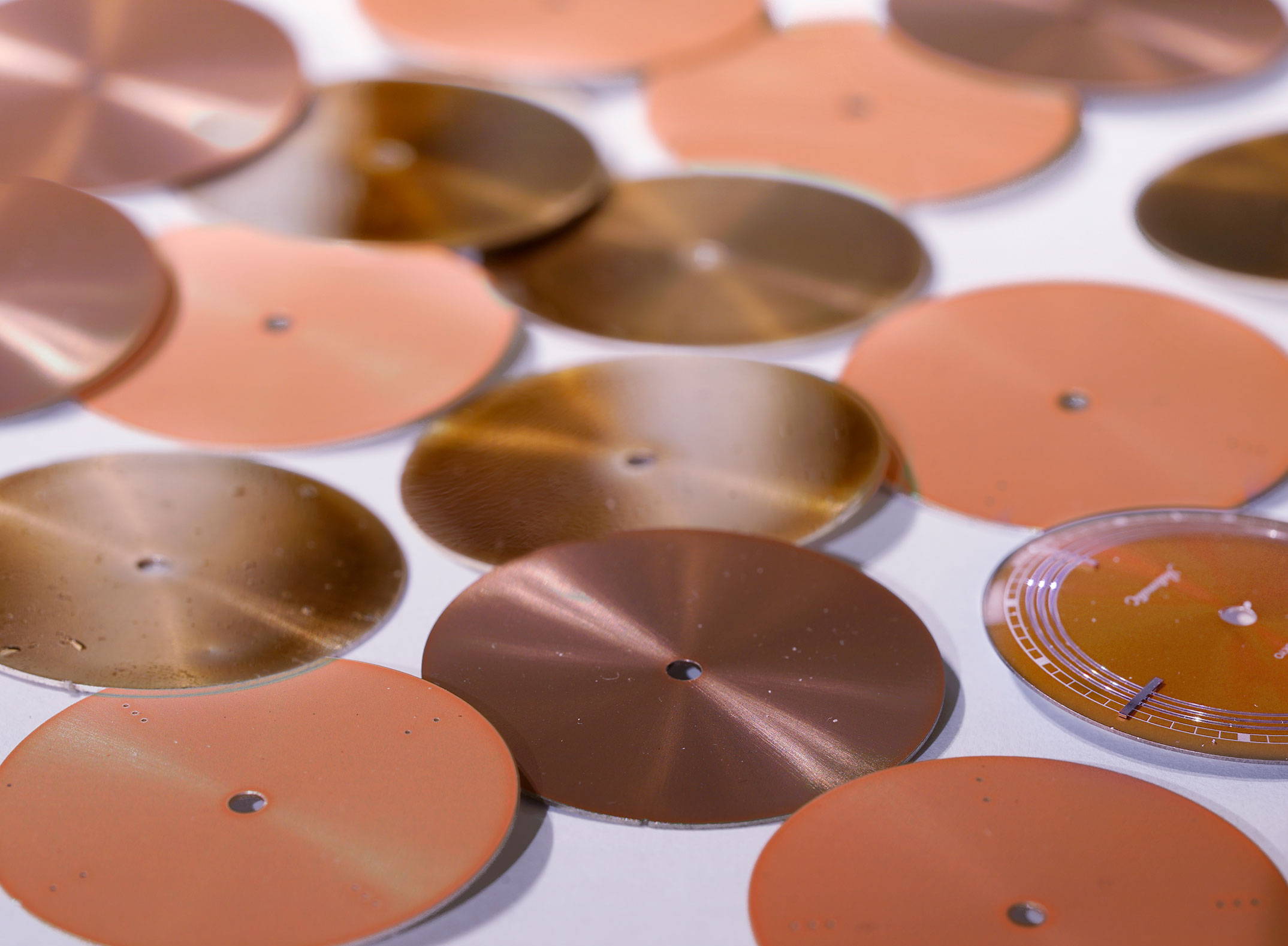 A chameleon-like colour
The Kurono Toki is a salmon lover's delight, with a changeling dial susceptible to the smallest touch of sunlight. It can change its rich beige-pink-golden hue into copper, helped by the deep sunray brushed finish. While I do appreciate the monochrome cool of the first Kurono watches, the splash of green in last year's Mori was eye-catching. This rich salmon touch lifts the dress code to a somewhat contradictory term; an understated Dandy. In its goldilocks, 37mm case, the silk fabric of the Toki sunray salmon dial simply sets a dazzling stage.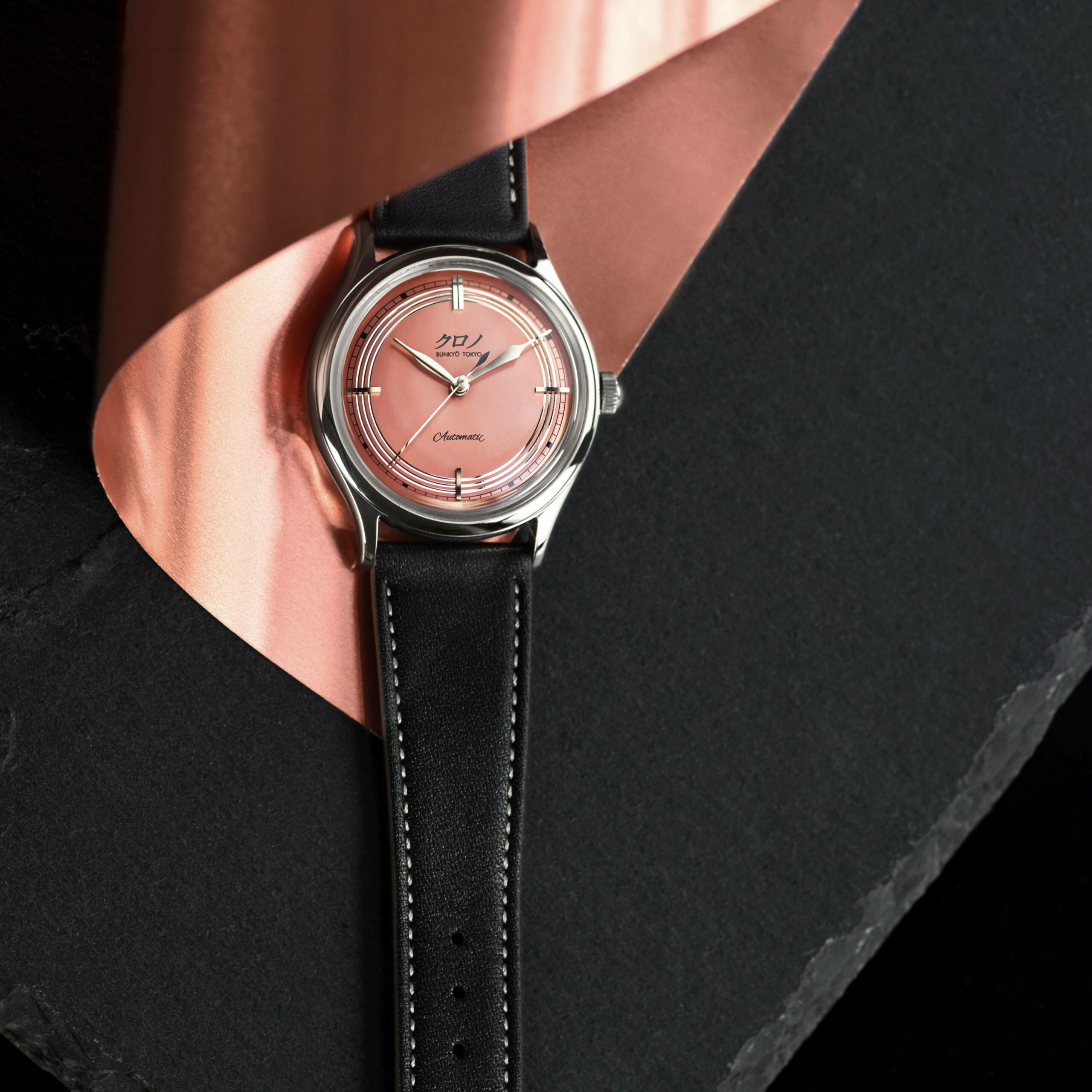 An architectural touch
The architectural details we recognize from Asaoka-san's elaborate handmade pieces are present and delicious. A large index at 12 takes on an architectural appearance, commanding the view. The totem-like edifice and quadrant indexes intersect silvered grooves inside the printed black minute track. The Feuille hands might seem minimalist at first, but Hajime Asaoka's love of polished details turns up the glamour. In keeping with the Art Deco image that says Cocktail Party and a dinner jacket, this is pretty dressy and I love it. And do you know what, after the year 2020 still quite fresh in mind, this is exactly what we need.
My case for the Miyota 90S5
The case is forties-fifties sports chic with swoopy lugs, and a pebble-smooth polished finish. It's a slender design right on point with our resurgence of sub-40mm wearability.  Beating under the smooth case back is a solid Miyota 90S5, a thoroughly refreshing choice. I have had several watches with this movement myself, and it is fairly bullet-proof and surprisingly accurate. This keeps the costs down and I mean, look at the luscious dial. For $1,738 at its launch, the value is outstanding for the dial alone, and when Hajime Asaoka's regular portfolio starts at several tens of thousands of Euros, it's an easy win.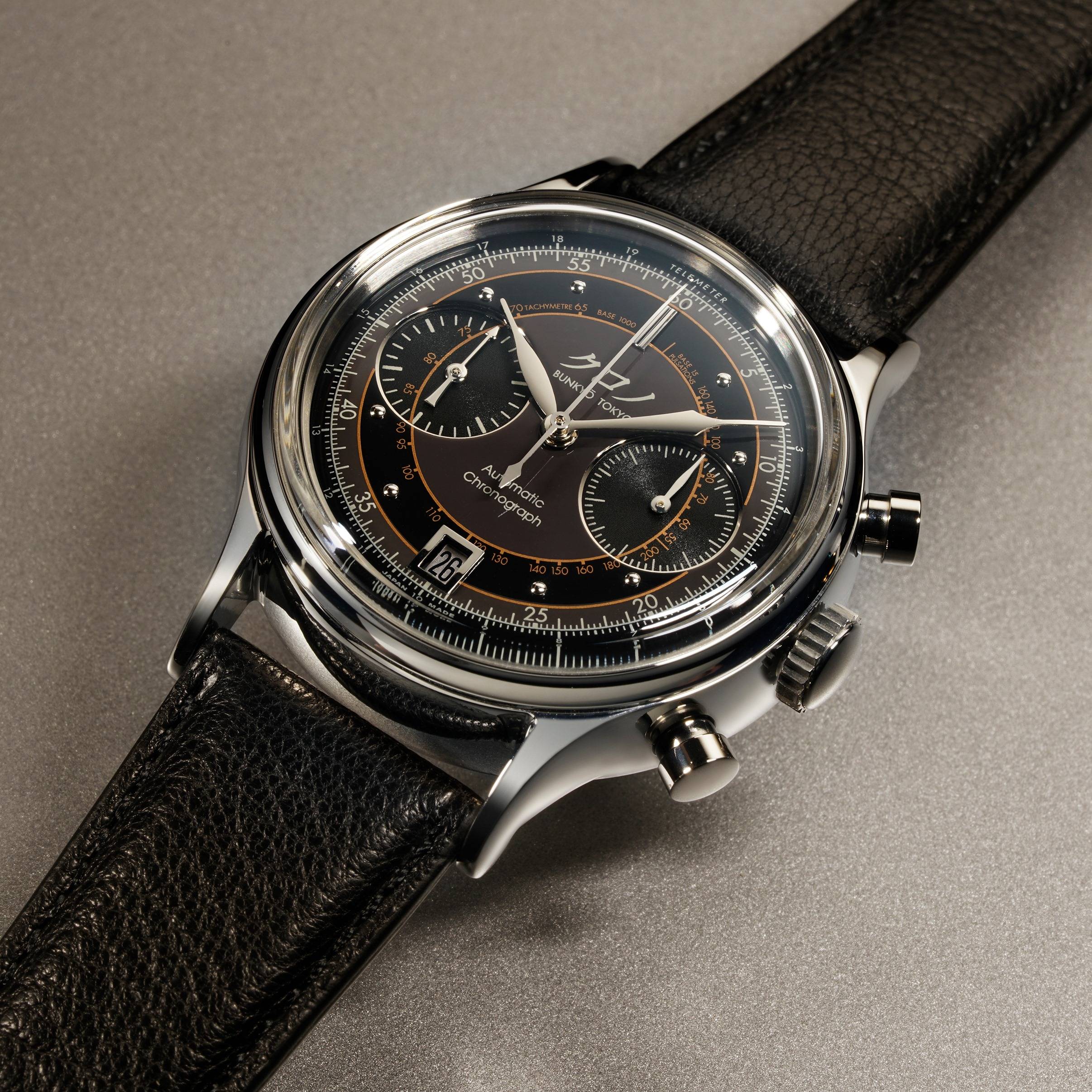 The Kurono Chronograph 2
Like the Toki and the other 37mm three-hand Kurono watches, the Art Deco touch of Hajime Asaoka is strong. The design of the Chronograph, seen here in its second iteration has a chubby, pebble-smooth13.5mm case. A classic mid century chronograph that could be Swiss from the late Forties, with polished details sprinkled on generously. The Chronograph 2 has a dial set within its classic mid-century swoopy-lugged 38mm case that is busy yet formal. The pure quality of the pad printing underlines Asaoka-san's particular sense of style and yes, an obsessive touch.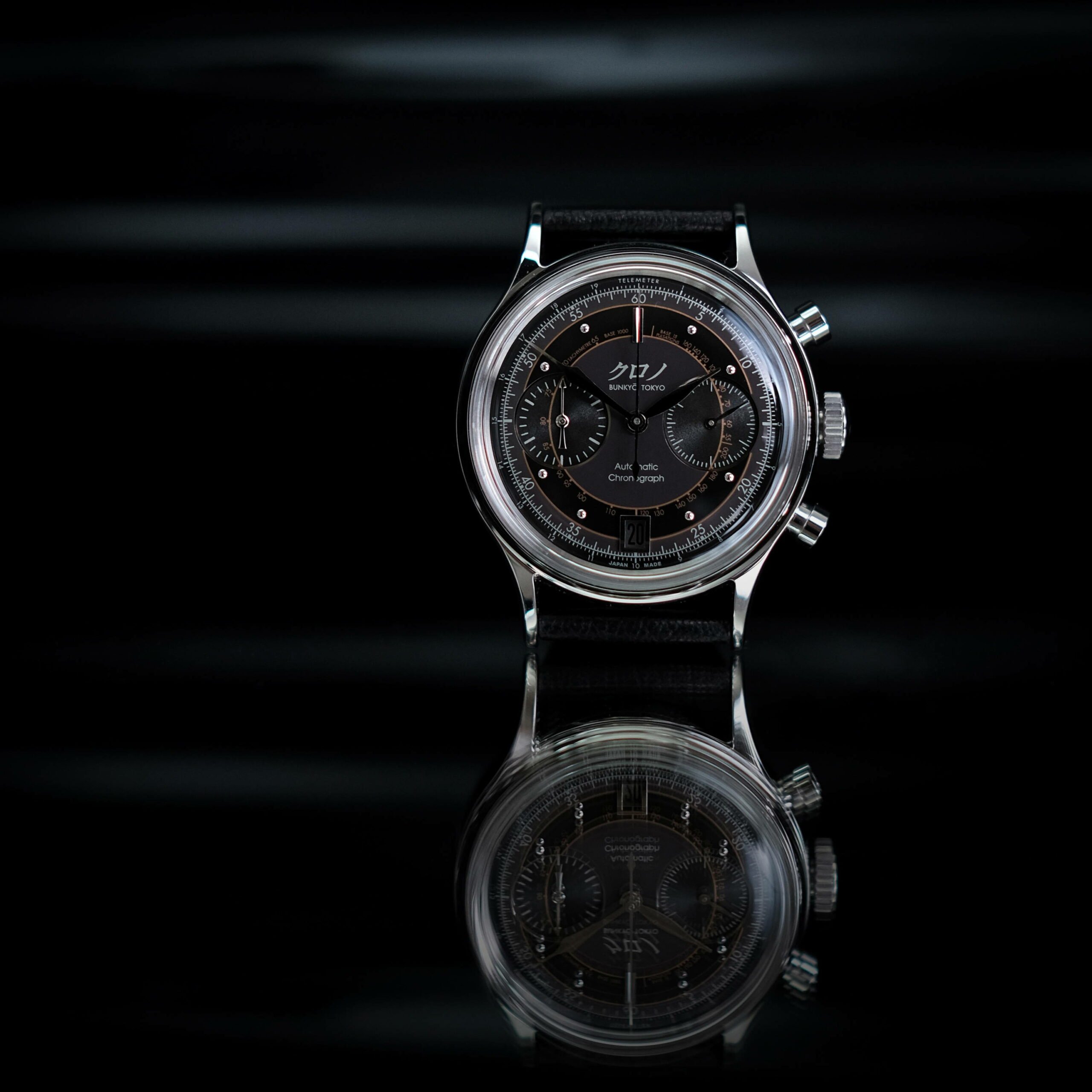 Chocolate delight
My absolute favorite will be the black and brown variant seen here with its rich chocolate detailing. Present are maximalist tachymeter and pulsations scales. not that I'll use them, but the way they adorn the dial is exquisite. Their copper frames boldly intersecting the registers just does it for me, and the color choice is spot-on. The Asaoka signature of a split-monolith index marks 12 o'clock. A proudly framed date at 6 works as vertical balance, and no date-window hating here. Feel free to bash me in the comments, but on this dial it works perfectly.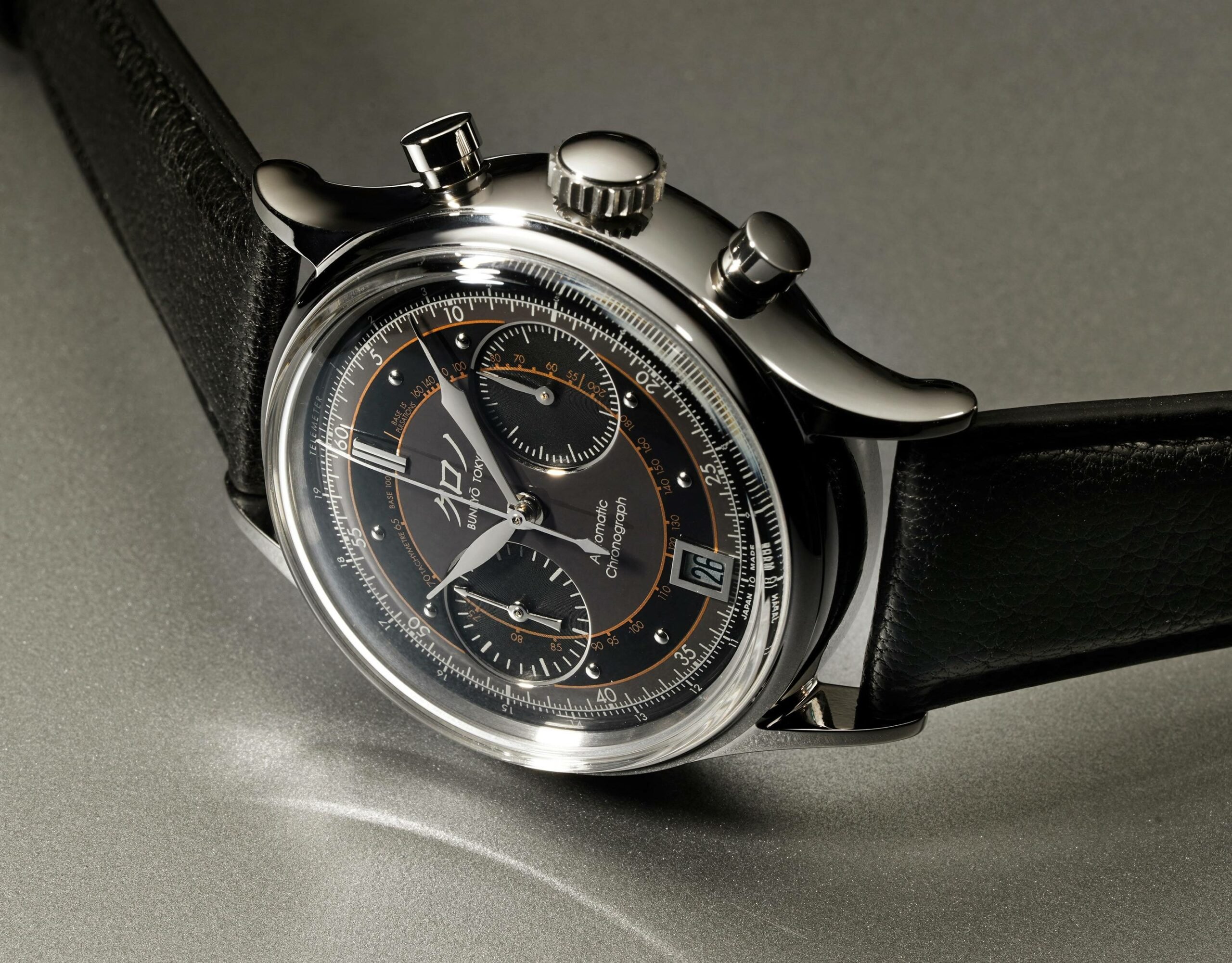 Sharp, polished rivets for the hours sets the tone, and the recessed registers have a polished metal chamfer edge. Superb details for the price, and enhances the elegance of this dress-chronograph. Polished Feuille and sword-ish hands work a treat in giving the information-laden dial a legible edge. To me, the entire package presents proper value. With a retail price of $3,993, this seems a rather good deal. At this point you might question my objective view, as a dedicated Uni-Compax man with a hankering for things Japanese. But seriously, tell me this box-sapphire chocolate elegance doesn't do a thing for you too?
Don't be a movement snob
The movement? It's a a solid Seiko-based NE86A with its magic lever winding system, with some fans claiming the caliber to be too basic. I still claim to be a non-movement snob, and the thoughtful craftsmanship in the Kurono Chronograph 2 presents huge value. It simply feels right, and an in-house bullet-proof movement from Seiko just fits the bill. I'll even confess to being on the list and might be click-ready when a Chronograph 3 comes out next year.
Follow me on Instagram: @thorsvaboe